The 7 Best Eyewear Stores in Dubai
Vision is one of the most important senses in our body. Having good eyesight helps us navigate properly and efficiently throughout the day.
This is why it's important that we take good care of our eyes. One of the ways we can do that is getting prescription eyewear if necessary, or getting some sunglasses to protect them from the sun.
If you're in the market for some good eyewear to maintain the stellar condition of your eyes, here are our top picks for the best eyewear stores in Dubai!
How Much Does Eyewear Cost
These stores usually provide various types of eyewear and accessories for their customers. From contacts to prescription glasses – a lot of choices are available depending on what the client would need.
The table below lists the available items we can get in an eyewear store along with the estimated cost for each of them:
| Eyewear  | Cost  |
| --- | --- |
| Contact Lenses | AED 80 - AED 600  |
| Reading Glasses | AED 70 - AED 800  |
| Computer Glasses  | AED 130 - AED 500  |
| Sunglasses  | AED 200 - AED 2,000 |
| Prescription Eyewear | AED 1,000 - AED 3,000 |
The Best Eyewear Stores in Dubai
1. Optics Souq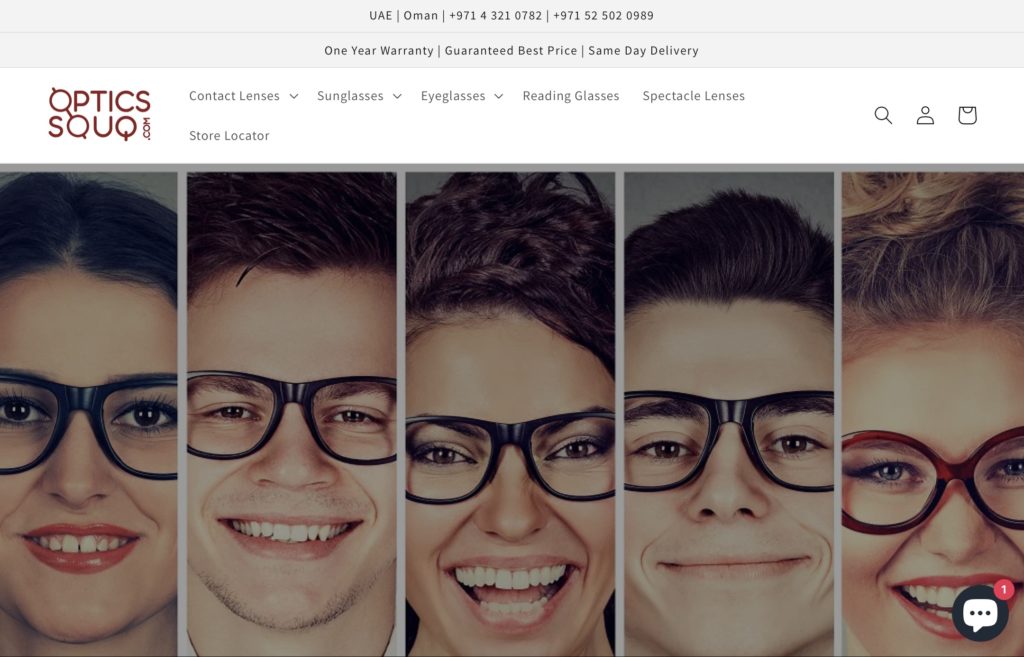 PRODUCTS
Sunglasses, Eyeglasses, Spectacle Lenses, Reading Glasses
WEBSITE
https://www.opticssouq.com/
ADDRESS
Gold & Diamond Park – Building 5 Sheikh Zayed Rd – Al Quoz – Al Quoz Industrial Area 3 – Dubai – United Arab Emirates
CONTACT DETAILS
971 4 321 0782
971 52 502 0989
OPERATING HOURS
Daily: 10am to 9pm (Except Friday)
Froday: 1pm to 9pm
| | |
| --- | --- |
| Criteria | Ratings |
| Variety | ★★★★★ (5/5) |
| Pricing | ★★★★★ (5/5) |
| Store | ★★★★★ (5/5) |
| Customer Service | ★★★★★ (5/5) |
Oh boy, let us tell you about Optics Souq, the eyewear company that made us say, "Who needs 20/20 vision when you've got style?"
Our experience with them was like a breath of fresh air on a sunny day, complete with cool shades to match.
When it comes to convenience, Optics Souq knows how to keep it snappy.
From their user-friendly store to their lightning-fast delivery, they made shopping for glasses a breeze. It's like they have a direct line to the fashion gods, delivering trendy frames right to our doorsteps in record time.
Optics Souq has a cult following that's hotter than a pair of cat-eye sunglasses.
It seems like everyone and their stylish grandma is raving about their impeccable craftsmanship and attention to detail. They've built a loyal community of fashion-forward folks who can spot quality from a mile away.
And what about cost? Well, let us just say, Optics Souq knows how to make our wallets smile.
Their prices are so affordable, it's like finding a hidden treasure chest of designer eyewear. Who needs to break the bank for a pair of glasses when Optics Souq has our back?
They're like the Robin Hood of eyewear, stealing from the overpriced and giving us the best deals.
But it's not just about the price tag; it's the value they provide.
Optics Souq delivers top-notch products that make us feel like runway models strutting our stuff. The quality of their frames and lenses is unmatched, making us feel like we're seeing the world through a stylish filter.
However, they're closed on Sundays. We recommend booking an appointment ahead of time.
User-friendly website
Fast delivery
Cult following
Known for impeccable craftsmanship
Hidden treasure of designer eyewear
Great deals that won't break the bank
Busy during peak hours due to popularity
Customer Reviews
"OpticsSuoq is a game-changer! Their website was so easy to navigate, and I received my order in no time. The quality of their glasses is outstanding, and I can't get enough of the trendy designs. Highly recommend!"
"I'm officially a loyal OpticsSuoq customer! Their reputation is well-deserved. The craftsmanship of their eyewear is top-notch, and the prices are unbelievably affordable. I feel like a fashion icon every time I wear their glasses. Trust me, you won't be disappointed!"
2. Rivoli EyeZone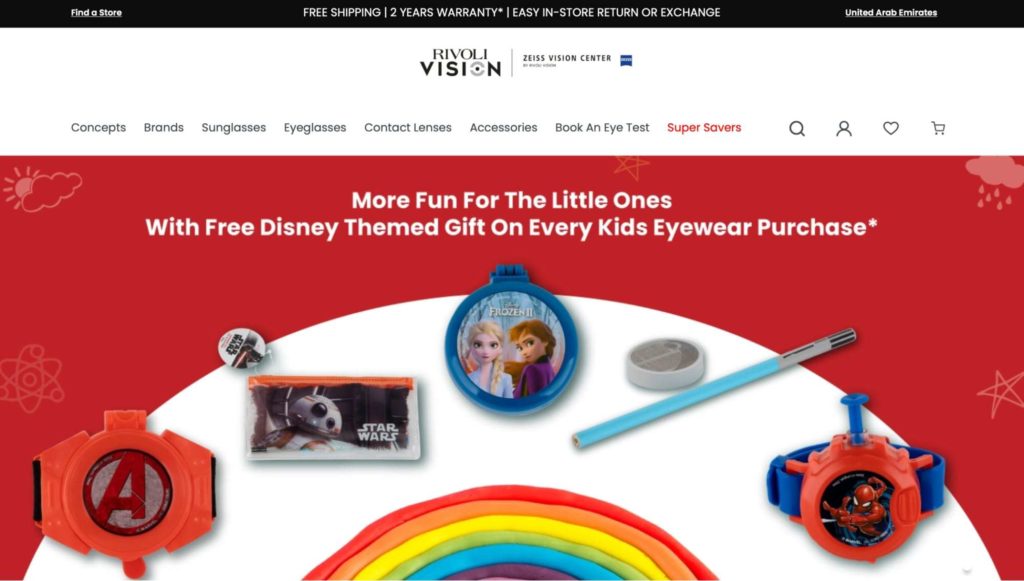 Test
Info
PRODUCTS
Sunglasses, Eyeglasses, Contact Lenses, Accessories
WEBSITE
https://www.rivolivision.com/en-ae
ADDRESS
SF - 204 - Financial Center Rd - Downtown Dubai - Dubai - United Arab Emirates
CONTACT DETAILS
Phone: +971 4 325 3182
OPERATING HOURS
10:00 AM - 12:00 AM (Sunday - Thursday)

10:00 AM - 1:00 AM (Friday - Saturday)
| | |
| --- | --- |
| Criteria | Ratings |
| Variety | ★★★★★ (5/5) |
| Pricing | ★★★★☆ (4/5) |
| Store | ★★★★★ (5/5) |
| Customer Service | ★★★★★ (5/5) |
Opened in 2009, Rivoli EyeZone is a company that is part of the Rivoli Group. This establishment offers a large number of eyewear brands for its clients.
The best aspect of this store is that they have a wide variety of products. They offer optical frames, contact lenses, optical lenses, and accessories.
Aside from that, we've observed that this company has the most brands (both designer and non-designer) included in their roster. They carry Cartier, Omega, Tom Ford, Bulgari, Chanel, and a whole lot more!
So if you're worried about finding the right eyewear for you, no need to fear. There are a lot of options for you!
Another good thing about Rivoli EyeZone is that they have a program that offers a lens replacement for free. Called "Power Change", this service allows replacement for a minimum vision change of +/- 0.5.
Speaking of services, the company also has an online store available for convenience. We recommend visiting here if you do not need prescription eyewear.
Rivoli actually requires clients to make an appointment with their resident optician for the said type of product.
Interested parties can either go on their physical location or their online platform if possible. Just a bit of a heads up though: insurance billing is only available in their actual store.
Overall, we recommend heading to Rivoli EyeZone for their wide range of products, and the services and perks they provide for clients!
Huge product range 
Occasionally has sales and promos 
Has an online shop 
Offers free delivery within the UAE 
For prescription eyewear, appointments are required 
Insurance billing unavailable for their online store
Customer Reviews:
Professional and Helpful Staff
"I have visited shop on the second floor of Dubai mall.Team was helpfull and professional,especially Nikhil. Thank you" – Serxan Memmedov
Quality Service
"I went to Rivoli Eyezone (first floor) Dubai mall. Dr Mumtaz attended to us. He was very thorough in our eye test and really helped my elderly mother with questions about her eye sight. He answered all our questions very patiently and courteously. We highly recommend him for an eye checkup." – Fahmeed Hameed
3. MAGRABi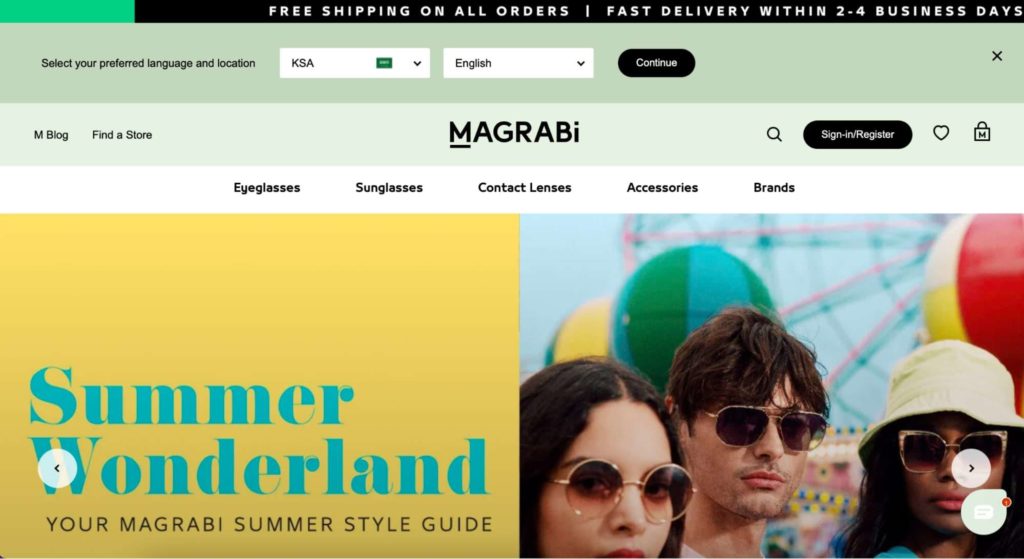 Test
Info
PRODUCTS
Eyeglasses, Sunglasses, Contact Lenses, Accessories
WEBSITE
https://magrabi.com/sa-en/
ADDRESS
Unit GF - 197 - Financial Center Rd - Downtown Dubai - Dubai - United Arab Emirates
CONTACT DETAILS
Phone: +971 800 02000137
OPERATING HOURS
10:00 AM - 11:00 PM (Tuesday - Saturday)

10:00 AM - 12:00 AM (Sunday - Monday)
| | |
| --- | --- |
| Criteria | Ratings |
| Variety | ★★★☆☆ (3/5) |
| Pricing | ★★★★☆ (4/5) |
| Store | ★★★★★ (5/5) |
| Customer Service | ★★★★☆ (4/5) |
Established in 1927, MAGRABi is another store and brand that provides various types of eyewear for interested individuals.
The most note-worthy aspect about this store is that they offer their own MAGRABi-exclusive products. This means that they have their own eyewear designs, such as frames and sunglasses.
However, in terms of variety, this company does not have much to offer. It has a pretty good range of adults' eyewear, though.
It's in the kid's section where you'll discover the lack of choices the most. We honestly recommend saving this store as the last option if you need to get glasses for your child.
Now, aside from operating a well-lit and organized store, MAGRABi has their own online shopping website. A great thing about using their platform is that you can pay for the items in various ways.
The company accepts American Express, Visa, Apple Pay, Google Pay, cash, Visa, and more. That's convenient!
Moreover, they allow returns for any purchased items within 14 days. However, returning a pair of eyeglasses with custom lenses is not permitted in general.
Future clients who will be interested in getting some prescription eyewear from MAGRABi, they will also receive a free eye test in the store.
In short, we think that you should head over to MAGRABi if you are an adult in need of any type of eyewear. Also, with the company's flexibility in payment options, it will be a breeze shopping in this store!
Has a good product range for adults' eyewear
Online store available 
Multiple payment options available
Appointment required for prescription eyewear 
Limited product range for kids' eyewear 
Customer Reviews:
Good Customer Service, Nice Store
"Kind customer service and nice optical store to be visited. Store design interesting and many options to choose compare to other shops … Thanks 😊" -Aisuluu Tabyldy kyzy
Great and Fast Service
"Dear Magrabi team; Unfortunately, my reading glasses broke, so I went to your store in the Marina Mall. A very competent, friendly Chinese doctor remeasured my eyes and determined the new prescription. The new glasses were ready after just one day. I can only recommend this shop. Thank you very much for the great service." – Martin Richling
4. Optifashion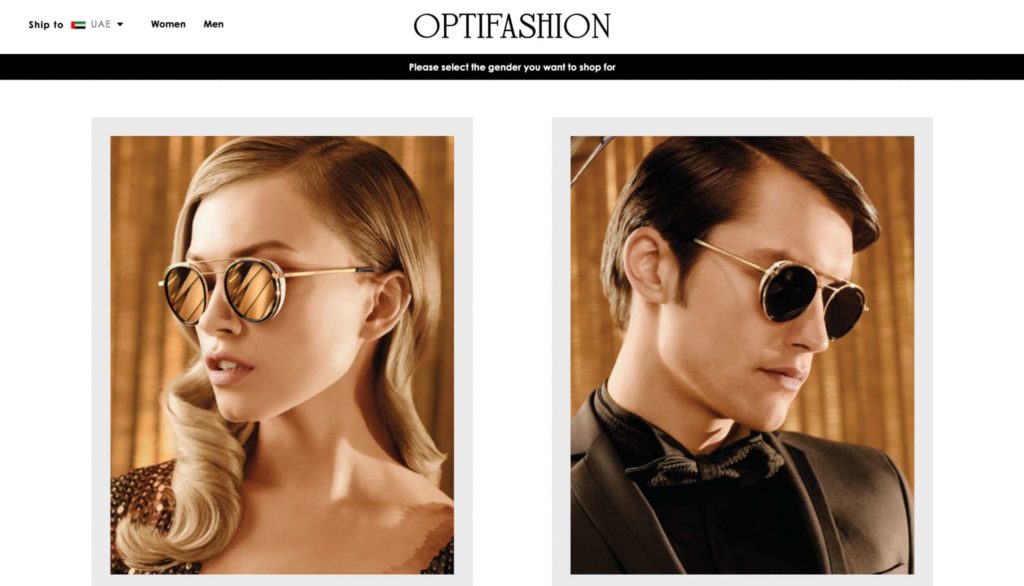 Test
Info
PRODUCTS
Sunglasses, Eyeglasses
WEBSITE
https://www.optifashion.com
ADDRESS
Downtown Dubai - Dubai Mall - Dubai - United Arab Emirates
CONTACT DETAILS
Phone: +971 58 176 2810
OPERATING HOURS
10:00 AM - 11:00 PM (Tuesday - Saturday)

10:00 AM - 12:00 AM (Sunday - Monday)
| | |
| --- | --- |
| Criteria | Ratings |
| Variety | ★★★★☆ (4/5) |
| Pricing | ★★★★☆ (4/5) |
| Store | ★★★★★ (5/5) |
| Customer Service | ★★★★☆ (4/5) |
Optifashion is an Italian-based company that opened stores in the UAE during the early 2000s. Compared to other competitors in the market, what sets this company apart is their focus on fashion.
What we mean by that is, while they do offer the usual prescription eyeglasses, their priority is to provide the most stylish and fashionable eyewear in the market.
With that being said, we've observed that this establishment mainly focuses on selling sunglasses. Clients will be delighted with the amount of choices and styles available for them.
Optifashion offers a lot of designer brands such as Gucci, Dior, Fendi, and more. According to some of the customers we've spoken with, they usually head to this store for brands such as Matsuda and Blackfin.
These brands are rarely seen in other stores, which makes Optifashion one of the few that carries them.
Each purchase comes with a one-year warranty period, which is quite nice. If any manufacturer's defects show up within that time, Optifashion will fix it at no cost.
Moreover, we really like Optifashion's physical store – it is spacious, well-organized, and has an aesthetically pleasing interior. Customers can easily discern and look at all the items available for purchasing.
To sum it up, we recommend shopping at Optifashion for independent brands such as Blackfin and Matsuda. In addition, if you're just looking for a fashionable pair of sunglasses, this shop is the way to go!
Spacious and well-lit store 
Good sunglasses range 
Has an online store 
Free shipping within the UAE 
Occasionally offers sales
Focuses more on sunglasses 
Can get a bit pricey 
Customer Reviews:
Friendly and Helpful Staff, Good Product Quality
"The shop is very nice and cosy, the staff is friendly and helps the customer professionally. I give 5 stars because I am also very satisfied with the purchase (Blackfin)" – Federico, via Google Reviews
Great Product Variety
"Very interesting shop, full of exclusive glasses like matsuda, Hublot, Cutler&Gros & Black Fin among others, great choice of items, my wife super happy and happy wife, happy life👍" – Mauro Casotto
5. OWNDAYS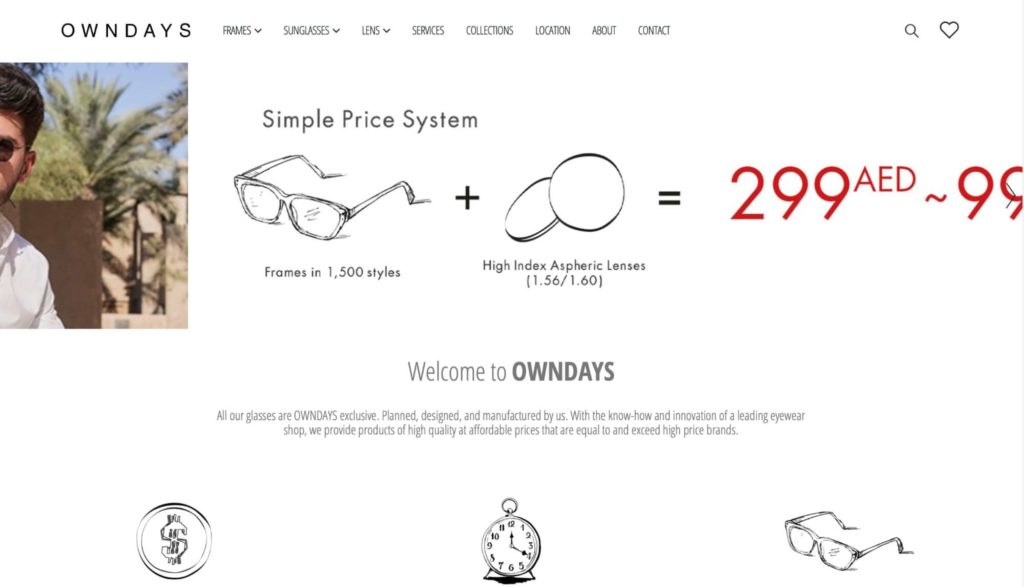 Test
Info
PRODUCTS
Frames, Lens, Sunglasses
WEBSITE
https://owndays.ae
ADDRESS
Downtown Dubai - Dubai Mall - Dubai - United Arab Emirates
CONTACT DETAILS
Phone: +971 4 491 9876
OPERATING HOURS
10:00 AM - 11:00 PM (Tuesday - Saturday)

10:00 AM - 12:00 AM (Sunday - Monday)
| | |
| --- | --- |
| Criteria | Ratings |
| Variety | ★★★★☆ (4/5) |
| Pricing | ★★★★☆ (4/5) |
| Store | ★★★★☆ (4/5) |
| Customer Service | ★★★★★ (5/5) |
Japanese eyewear brand OWNDAYS has been in the business for over ten years. Widening their reach in the UAE, the company has opened a few branches in Dubai.
If you're not familiar with them just yet, do know that you'll only find OWNDAYS products in their stores. From sunglasses to eyeglasses – they carry a wide variety of designs, colors, and shapes.
Looking at their product range, we've noticed that the store focuses on very minimalist and simple designs. So, if you're not brand-savvy and just want simple and clean-looking eyewear, we recommend heading to OWNDAYS.
Another reason why OWNDAYS is one of our top picks is because they can provide prescription glasses in just 20 minutes!
Now, while their base prices are pretty decent, it can get a bit expensive if you ask for more customizations, especially for prescription eyewear. So prepare a fair amount of extra cash if you want to go beyond the shop's basic packages and offers!
Can make prescription glasses in 20 minutes 
Good product range 
Lacks brand variation 
Can get a bit expensive
Customer Reviews:
Fast Service, Good Prices
"An optometrist and prescription glasses store originally from Japan where you can get a pair of glasses made on the spot in about 20 minutes at very affordable prices. Prices start at AED 299 including an eye test, frames and lens, however frames go up to AED 999 and if you opt for any add ons as well as extra thin lenses these cost more. Frames on display are available for purchase and a stock of lenses from -10 to +4 are kept on site to enable prescription glasses to be made so quickly. Just choose a set of frames, get your eyes tested then wait as your glasses are made in 20 minutes. However, if your prescription isn't available or if you need some extras you may need to wait a few of extra days to have your glasses completed." – Adrian M
Good Customer Service
"Amazing unexpected experience. Great hospitality and super relaxing store. My glasses were ready in exactly 20 mn from the moment I have chosen my frame. They used my glasses to make the adjustment, no eyes check required. And « voilà »! I love the price and I love the experience !!! Bravo !" – Marie O Koweit
6. Sight Savers Optics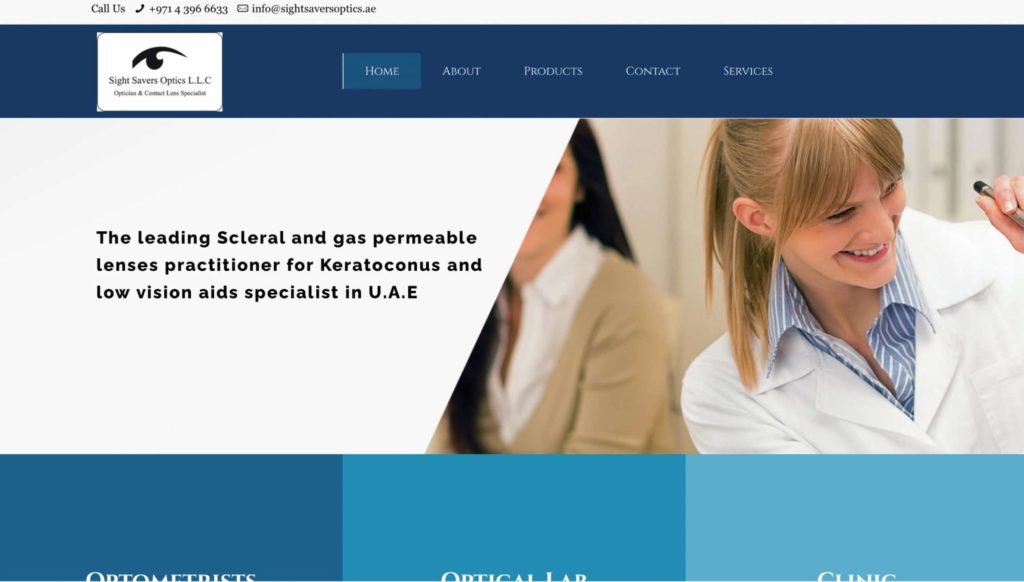 Test
Info
PRODUCTS
Contacts, Low Vision Aids, Safety Glasses, Frames, Sunglasses
WEBSITE
https://sightsaversoptics.ae
ADDRESS
7A Dubai Pyramids building, Karama - 11th St - Dubai - United Arab Emirates
CONTACT DETAILS
Phone: +971 4 396 6633

E-mail: [email protected]

OPERATING HOURS
9:30 AM - 10:00 PM (Monday - Saturday)

9:30 AM - 1:00 PM, 4:30 PM - 10:00 PM (Sunday)
| | |
| --- | --- |
| Criteria | Ratings |
| Variety | ★★★★★ (5/5) |
| Pricing | ★★★★☆ (4/5) |
| Store | ★★★★☆ (4/5) |
| Customer Service | ★★★★☆ (4/5) |
Sight Savers Optics LLC, is a retail opticians company that provides vision care related services. They were established in the year 2000 and have a decent product range.
Sight Savers carries brands like Bvlgari, Gucci, Diesel, and Ray-ban. The store also has scleral contact lenses available for clients who have eye issues such as irregular corneas and dry eyes.
Stepping inside the store, the first thing we noticed is how small the space is. The company organizes things well though to maximize the available space and make it more comfortable for clients.
However, the display can be a bit overwhelming during the first visit. Every brand and model is neatly arranged, yes – but they just look clamped together.
Nevertheless, Sight Savers employs certified Corneal Reshaping Therapy (CRT) practitioners to provide the best contact lenses for individuals. That said, we like that the staff here are quite knowledgeable in what they do.
These specialists are certified by Paragon Vision in the USA.With their expertise, they can create specially designed contact lenses for clients who want to cure their short-sightedness.
Overall, we recommend this store if you want specialized contact lenses done. Their other products are also good, so head over to Sight Savers Optical for a wide variety of eyewear!
Big product range 
Nice and helpful staff 
Has certified CRT practitioners 
Small store 
Limited parking space
Customer Reviews:
Good Customer Service, Large Product Range
"Very good service with better prices than those chain stores. Site savers also give good advise and have large range." – Sandip Bansal
Great Staff, Good Service
"An excellent team led by Ganapathy. My family and myself have a first hand experience for many years. We have always received an excellent service. Here the team serves customers with no hidden agendas and are truly customer centric. So they have won our heart and business always. Would recommend this store and team always. Well done Sight Savers!" – Naresh Jagasia
7. iSpexe – Optical & Optometry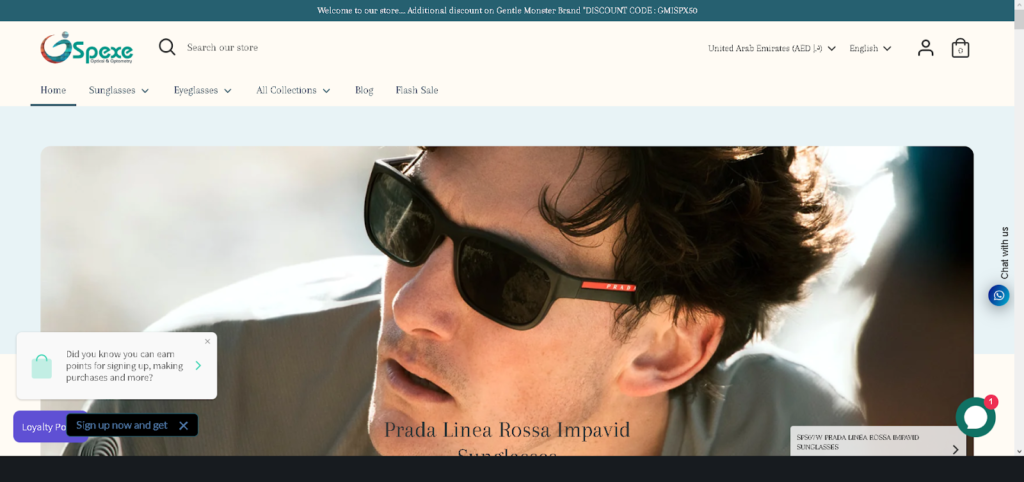 PRODUCTS
Eyeglasses and Sunglasses
WEBSITE
ispexe.com
ADDRESS
iSpexe Optical Trading LLC, Nesto Hypermarket, Al Warsan,
Shop No. 10 , Ground Floor, Dubai DU, United Arab Emirates
CONTACT DETAILS
Phone number: +97144578029
Email: [email protected]
OPERATING HOURS
Monday – Sunday, 10:30 AM – 11 PM
| | |
| --- | --- |
| Criteria | Ratings |
| Variety | ★★★★★ (5/5) |
| Pricing | ★★★★☆ (4/5) |
| Store | ★★★★☆ (4/5) |
| Customer Service | ★★★★☆ (4/5) |
iSpexe provides one of the biggest varieties of products in terms of eyeglasses and sunglasses for men, women, and kids. They have tons of feature brands including RayBan, DKNY, LACOSTE, Prada, Fila, and many more.
Since its inception in 1997, iSpexe has established itself as one of the top organizations in portal services by trading diverse Middle Eastern fashion items. They provide a wide choice of sunglasses and optical frames produced by prominent worldwide firms. Their online portal in the Middle Eastern and Indian markets is a fresh venture that has already received a positive reaction from purchasers in these countries.
Their mission is to always endeavor to please their consumers by offering them with unrivaled quality items. They believe in the process of innovation to improve the future over the present. They are devoted to meeting their customers' demands, and they promote mutual trust with them and among their personnel. They strive to be one of the world's premier optical companies.
Wide range of eyeglasses and sunglasses
Years of experience
100% original quality products
Some eyeglass cases can be on the low quality side due to production lots. (shipped from manufacturer)
Customer Reviews:
Nice shop with wide variety of optical collection
"Nice shop with wide variety of optical collection, great ambiance & also customer friendly behaviour. So if you are looking for the best optical shop in Dubai, do visit iSpexe Optical & Optometry." – Vigi Maheswaran
ispexe have great collections of optical frame.
"ispexe have great collections of optical frame. Bought a beautiful frame. Looking forward to buying sunglasses as they have an amazing collection of branded sunglasses. Worth visit" – THASNIM SAMAD
FAQs About Eyewear Stores in Dubai
---
And there you have it, our top picks for the best eyewear stores in Dubai. Hopefully this piece can be of assistance on your next eyeglasses shopping trip.
Interested in more eye-related guides? Here is our article on the best optometrists in Dubai!