The 6 Best Dog Daycares in Dubai
Dogs love to run, play, and socialize with other dogs, and they can't do that when you're out there working for the both of you. That's why we've reviewed and gathered the best dog daycares in Dubai.
To give your pooch the best day filled with games and friends, we searched all over Dubai for the best dog daycares it can offer. We'll discuss the factors that we considered while choosing and answer FAQs for dog daycares.
How much do dog daycares cost in Dubai?
Dog daycare rates can vary depending on the number and cost of add-ons and the duration and frequency of your dog's stay. Some daycares also offer memberships for discounted rates.
We have made a table of our entries' rates so you can get an idea of how much their services will cost you.
| Dog Daycare | Rates |
| --- | --- |
| Dogwalk | AED20/hour |
| My Second Home Luxury Pet Resort & Spa | AED110/day |
| Petsville | AED15/hour |
| SPOT! | AED15/hour |
| Woof Pet Services | AED10.50/hour |
The Best Vet Clinics in Dubai
Before we get right into our list of the best vet clinics in Dubai, learn about the factors we considered while picking them:
1. Petsville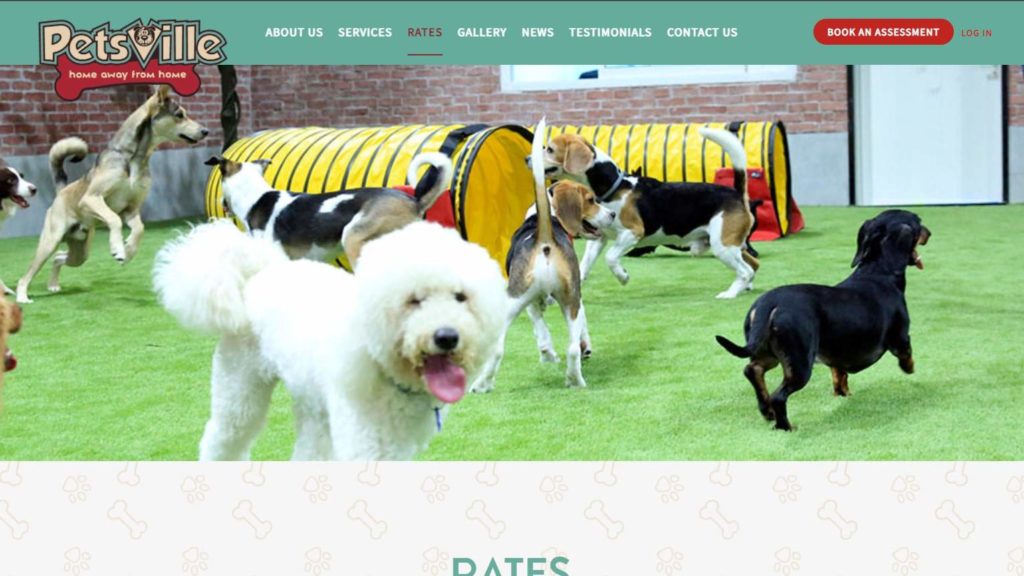 Test
Info
WEBSITE
https://petsville.ae/
ADDRESS
29b street 18-30 Al Quoz Industrial Area 3, Opposite Galadari Driving School
CONTACT DETAILS
+971 4 225 2742

Email: [email protected]

OPERATING HOURS
Every day: 7 AM–7:30 PM
| | |
| --- | --- |
| Criteria | Ratings |
| Cleanliness | ★★★★★ (5/5) |
| Activities & Facilities | ★★★★★ (5/5) |
| Safety | ★★★★★ (5/5) |
| Customer Service | ★★★★★ (5/5) |
| Cost | ★★★★★ (5/5) |
Dubai's favorite and most luxurious doggy daycare, Petsville, really shines in spoiling your pooch with fun activities and high-end facilities. Not only that, they do this while making sure they socialize and are mentally stimulated all throughout the day.
When we took our dog, Coco, to try out their daycare services we knew she was going to get one of her best days.
Right from the moment we walked into reception until we finished the tour, we noticed how clean and orderly it was. The interior was so beautifully designed and felt luxurious that we got jealous of our dog.
One of the handlers told us that all the rooms, including the ones for boarding, are all temperature controlled, which we thought was perfect for the hot and humid climate in Dubai.
The staff didn't have to say it, but it was noticeable that the tiles throughout the daycare were of premium quality, but it was even more impressive when they told us the flooring is antibacterial.
They also assured us that they practice the highest standards for hygiene, sanitation, and comfort all for the sake of our dogs.
And this was evident in the dogs that go there because they all look very healthy with their bright teeth and shiny coats glistening while they played outside.
As part of their membership offerings, we got tempted by their invitations to their weekend community events for the dogs and their owners.
We really wanted to join in on one, but we can only imagine how fun it would be to spend a Saturday to see our Coco enjoy the company of newfound dog friends.
Apart from daycare services, you can also have your pooch trained. The trainers are collaborators with the Pawfect Program.
The program was founded by Aime Orme, one of the few UK-certified and qualified behaviorists in the Middle East, and Petsville provides all kinds of training.
Your dog will be in safe hands because their training techniques have all been studied and approved by behavioral experts to be ethical and effective. We must note that it's recommended that you start having your dog trained while they're still a puppy.
On top of their excellent daycare services, they also offer taxi services for busy households that can't drop and fetch their dogs. All this for some extra charges.
We believe they have your dogs' safety in mind because we experienced firsthand how detail-oriented they were in taking down essential information about Coco.
They asked for copies of her vaccination records, checked her for ticks and fleas, and carefully planned her playgroup by size, breed, temperament, and age.
We were especially impressed by their taking Coco's age into consideration, as the other daycares didn't really consider this aspect of the dog's profile.
Other than that, they also have two indoor areas, for when it gets really hot, and an outdoor playground. All of these areas are segregated by sturdy fences to prevent large dogs from attacking the smaller ones.
They also handled Coco very well, too. Coco's known for being a bit whiny and suffers from mild separation anxiety, but the handlers took the time to get her accustomed to us leaving.
They even offered to send us photos and videos throughout the day for updates on Coco, and we were so grateful, as we noticed that she became more and more comfortable throughout the day.
The handlers are also trained in first aid, and they only use force-free handling techniques and positive reinforcement to encourage safe and harmonized playtimes.
And as if we couldn't get any more impressed by Petsville, we were delighted by the fact that they only charge AED15 per hour, and that goes down if you avail of the whole day package, too.
The assessment on your dog's first session is also free, which is a huge plus because most daycare services charge those separately.
All in all, Petsville is our top recommendation for those who want to leave their dogs with the best handlers in Dubai.
Nothing but excellent services and facilities, plus luxury treatment for our furry friends.
Beautifully designed and clean daycare
Holds local community events for dogs and owners
Training is studied and approved by experts
Offers taxi services for pets
Meticulous in dog assessment and organization
Rates are budget-friendly
The areas gets rowdy often because of many dogs
Customer Reviews
The best daycare team!
"Great place, lots of space, pool, similar dogs – and best of all a professional team. Freddy had a great time in his staycation over there. They care – and it showed in the 'extra mile' steps they took with Freddy. Thank you – he Is coming again! " —Mena Migally, Google Reviews
Eternally grateful
"I sent my little Lola here for grooming, daycare and boarding when traveling. They are exceptional. During grooming today, they noticed an ear infection on my little baby and Claire informed me immediately and the driver dropped her off at the vets. Am eternally grateful for all the amazing people in Petsville. I know Lola is safe in their hands" —Ruth L, Google Reviews
2. WOOF Pet Services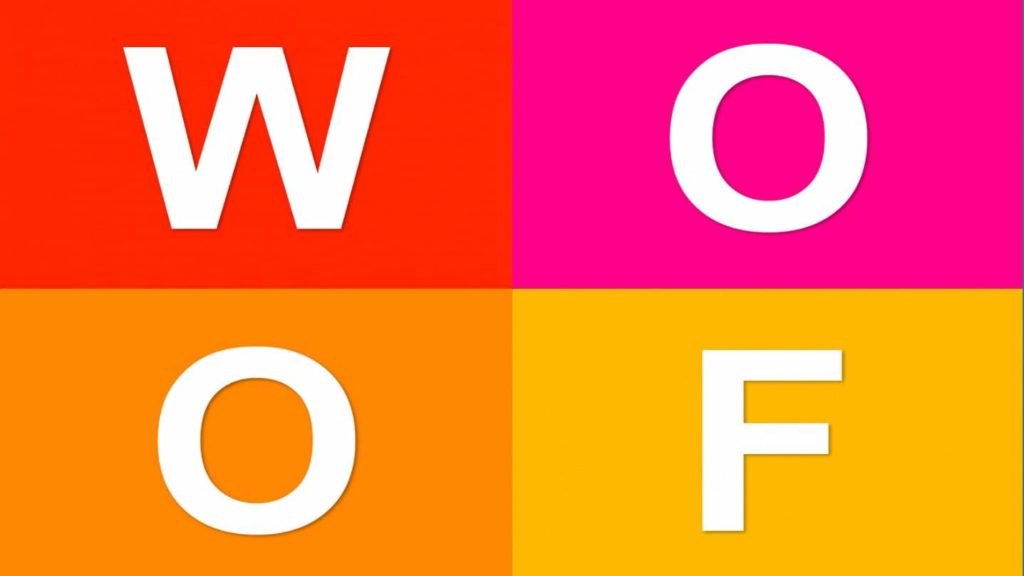 Test
Info
WEBSITE
https://www.woofdubai.ae/
ADDRESS
Opposite Dubai Driving Center - 8th St - Dubai - United Arab Emirates
CONTACT DETAILS
+971 4 338 5488
OPERATING HOURS
Monday to Saturday: 7 AM–6 PM

Sunday: 12 PM–5 PM
| | |
| --- | --- |
| Criteria | Ratings |
| Cleanliness | ★★★★★ (5/5) |
| Activities & Facilities | ★★★★★ (5/5) |
| Safety | ★★★★☆ (4/5) |
| Customer Service | ★★★★★ (5/5) |
| Cost | ★★★★★ (5/5) |
If your dog is extroverted and loves being around his fellow canine friends, then WOOF Pet Services has got you covered.
With over 50,000 square feet of indoor and outdoor spaces for their daycare, WOOF ensures that your dog not only has enough space to run around, but they also have enough dogs for your pet to meet.
However, this can be a double-edged sword for your introverted or socially anxious dogs like our Coco. Having separation anxiety and being surrounded by a lot of new dogs was overwhelming for her.
It took her quite some time to adjust, and she spent the first hour at the daycare standing in the corner.
Thankfully, their handlers, who have been with them since 2009, are very experienced at handling all kinds of dogs.
When they noticed that Coco was too scared to interact with the other dogs in her playpen, one of the handlers took it upon himself to accompany Coco and help her get comfortable.
For its size, the daycare was also amazingly clean, and we didn't smell any kind of offensive odor when we first came in.
A minor drawback, though, is that the large areas and the numbers of dogs were not kind to the ears. But that didn't matter because it was obvious these dogs were healthy and happy to be at WOOF.
Some of them even looked like they just finished taking a bath, and that's when we knew they also offer a grooming service that we ordered for Coco.
When we came back we were so happy about how cleaned and well-groomed she was. They gave her a short trim around her eyes to help her see better, and they trimmed her nails, too.
Coco's handler explained to us that the groomers are well-trained and knowledgeable about the different breed standards. This delighted us, as we don't know the proper grooming for Coco.
Just like other daycares, they also have an admission process that includes an introductory session to evaluate the dog's behavior and meet other dogs in a controlled setting.
This was great for Coco, but it didn't help that much when she saw how many more dogs were waiting for her in the main play area of the daycare.
Unfortunately, this introductory session is required and costs AED52.50, inclusive of an hour for your dog's time there.
After the introductory session, the dogs are then brought into one of the three sections that are grouped based on their personality and size.
These sections are all air-conditioned to help the dogs cool down after playing and to ward off the hot climate in Dubai.
As for their rates, well, they're the cheapest ones yet. Coming in at AED10.50 per hour with additional discounts if you have multiple dogs, WOOF also offers weekly and monthly packages.
All in all WOOF Pet Services is every extroverted dog's dream. They're also great for dogs and owners who need more chances at socializing, and everything is supervised for your dog's safety.
Excellently clean for Dubai's largest dog daycare
Over 50,000 square feet of space
Experienced and knowledgable handlers
Excellent grooming services
Budget-friendly rates
Perfect for extroverted dogs
The daycare can get overwhelming for shy and anxious dogs
It can get rowdy and noisy
Introduction session is charged separately
Customer Reviews
A doggo's safe space
"Such a happy and safe place for our little puppy. The main highlights are the cleanliness and the hospitable staff always ready to help. It's a perfect second home for our little Kenzo!!" —Swathy Rajesh, Google Reviews
Our dog's best friends
"Our toy poodle, James, has been going to woof for years. She has extended stays during the holidays and is always well looked after. Each time we drop her off, she runs to the staff, no matter who happens to be there. She loves her time at woof and we are grateful to have found it. Thanks to all the handlers there for giving her good care." —Rebecca Zidan, Google Reviews
3. SPOT!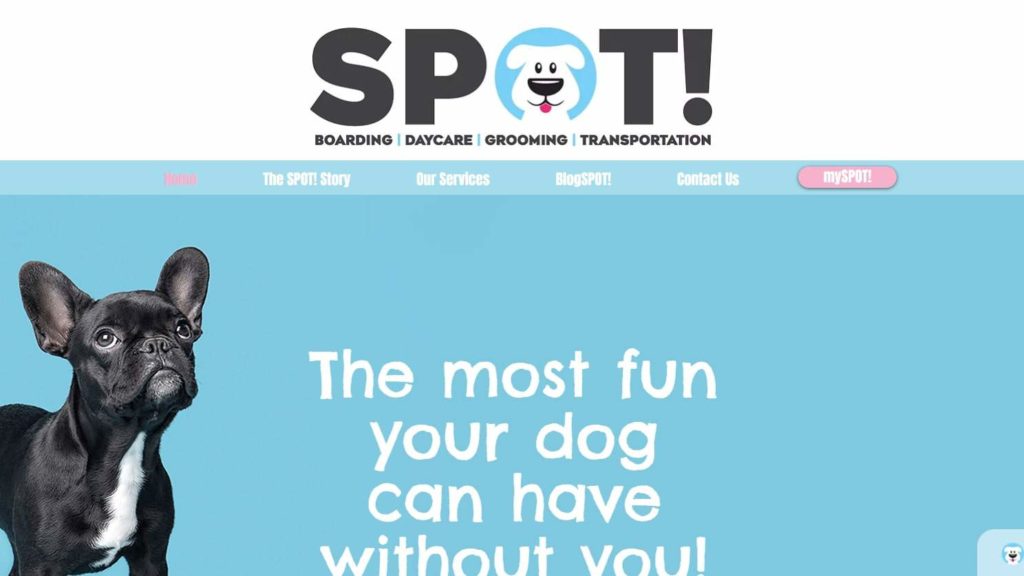 Test
Info
WEBSITE
https://www.spot-global.com/
ADDRESS
Al Quoz: Building 11, 14-4 Street, Al Quoz 4, Dubai, UAE
CONTACT DETAILS
+971 4 347 60 20
OPERATING HOURS
Monday to Friday: 7 AM–7 PM

Saturday: 9 AM–12PM

Sunday: 8 AM–6PM
| | |
| --- | --- |
| Criteria | Ratings |
| Cleanliness | ★★★★☆ (4/5) |
| Activities & Facilities | ★★★★☆ (4/5) |
| Safety | ★★★★☆ (4/5) |
| Customer Service | ★★★★★ (5/5) |
| Cost | ★★★★★ (5/5) |
All the way from New York City, the newcomer to Dubai has proved to be one of the best dog daycares in the city with neighborly budget-friendly rates.
And their neighborliness doesn't just end there. The moment we came in with Coco to try their daycare, we were delighted by their lobby that felt and looked just like a friend's living room.
Homey, quiet, and relaxing, we immediately knew that we can be friends with the people and dogs at SPOT!
We also noticed that they don't sell pet accessories and food, so we asked why, and they shared with us that the main focus is showing Coco a good time.
They aren't there to entice or distract us with things they want to sell, which is kind of a double-edged sword because it's less convenient but definitely more orderly and homey.
We are also big fans of the transparent spacious and cage-free environments for the dogs. It let us see Coco from afar without being bombarded by barks and howls every so often.
However, their daycare is a bit less spacious compared to the other entries on our list. Which is not so bad if you have a socially anxious dog like Coco or maybe even an introverted one.
There were much fewer dogs in one area, which made Coco a bit more confident and assured of herself as she joined the group.
We think that this is also perfect for first-timers who worry about how their dogs would interact with others.
Besides daycare, they can also train your pooch. All of their trainers are certified by the Council for Professional Dog Trainers (CPDT).
For safety purposes, all dogs are separated by size, temperament, and disposition. They also confirm the status of all of their guests' rabies, distemper, parvo, and bordetella vaccines beforehand.
This is the usual practice for dog daycares. However, we would have liked it even more if they also considered a dog's age.
In small playing areas, old dogs are prone to accidents with the walls and may cause fractures and injuries when roughhousing with other dogs.
SPOT! also, has a special platform called mySPOT that members of the daycare can access to manage their pet's profile information, receive messages and special offers, and check the expiration dates of their dogs' vaccines.
But what we like the best is we get photo and video updates of Coco through the platform so we can see what her day was like at the daycare!
And through this, we know that the handlers monitor and supervise the dogs the whole time so that nobody gets bullied during playtime.
Another great part about SPOT! is that their hourly rates are also only AED15, which is very budget-friendly for pet owners leading busy lives.
Daycare is cozy, homey, and quiet
Ambiance and space are perfect for introverted dogs
Trainers are certified by the CPDT
Members get access to the online website for updates
Handlers to monitor and supervise dogs at all times
Budget-friendly rates
Less spacious than other daycares
Dog assessment is not that detailed
Customer Reviews
They gave our doggo attention
"I had been using some of the bigger daycares and boarding places in Dubai but was always a bit wary if my rescue who's a Canaan/shepherd mix Lizzy had enough attention to make sure everything was okay. When I heard of Spot from a few people, I immediately tried them out and I'm so glad I did! The daily reports, pictures, and super fast communication make me feel confident Lizzy is 100% cared for and looked after. As someone who travels a decent amount, this has been a game-changer. They also have great prices which makes their care so accessible and affordable. Can't thank Spot enough!" —Cassidy Lyon, Google Reviews
They have a special touch
"We really liked the unique special touch of the videos and pictures that you provided and the report was lovely. Very professional yet not straight-laced, lovely energy for the overall experience.
Our puppy came back happy to see us, but seemed to really enjoy his stay at SPOT with all his puppy pals, I think it really helped him with interacting with the other dogs, this was his first time away from us and overall it seemed like a great experience.
Thank you to all the staff and we will see you very soon." —Emily White, Google Reviews
4. Dogwalk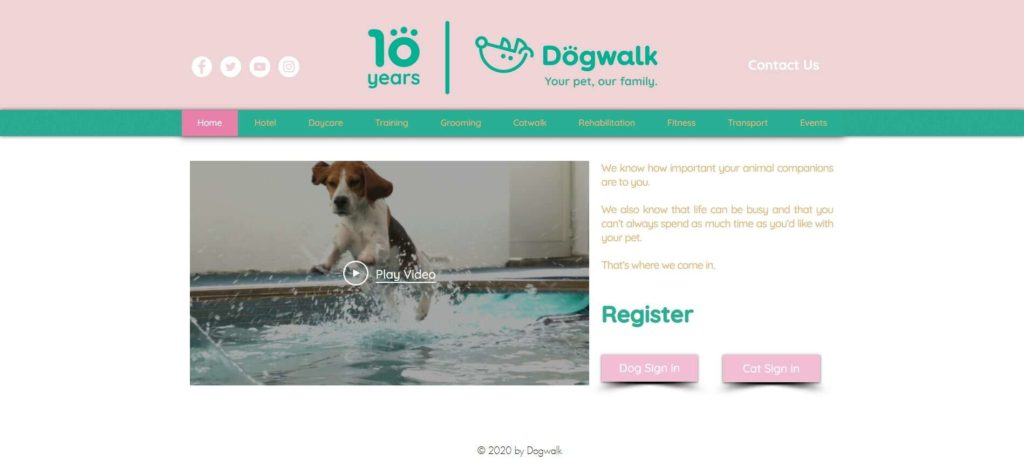 Test
Info
WEBSITE
https://www.dogwalkonline.com/
ADDRESS
Al Quoz - Al Quoz Industrial Area 4 - Dubai - United Arab Emirates
CONTACT DETAILS
04 338 7726

055 509 9835

OPERATING HOURS
Sunday to Friday: 7:30 AM–7:30 PM

Saturday: 8 AM–5 PM
| | |
| --- | --- |
| Criteria | Ratings |
| Cleanliness | ★★★★★ (5/5) |
| Activities & Facilities | ★★★★★ (5/5) |
| Safety | ★★★☆☆ (3/5) |
| Customer Service | ★★★★★ (5/5) |
| Cost | ★★★★☆ (4/5) |
Dogwalk is perfect for those pet owners looking to have their dogs meet new friends or help them come out of their shell.
They offer lots of activities and organize multiple community events for the dogs' holistic enrichment.
When we brought Coco to Dogwalk, we were just in time for their monthly pool party.
Walking into their daycare, we really felt a festive cheer. The energy and spirits are high for both the dogs and the people in there.
One of the staff enthusiastically gave us a tour and showed us their indoor and outdoor parks, which were well-maintained and well-used by all of the dogs there.
They also introduced us to their several services such as a boarding school for training, a weight loss boot camp, and one-on-one activities for socially anxious dogs.
These were all impressive offerings, especially the one-on-one activity because of Coco's separation anxiety. However, we wish that this service wasn't charged separately.
Another drawback for us is the lack of detail in their application form. It only asks for the dog's breed and weight, which leads us to believe that there's no planned segregation based on overall size; you can't tell a dog's size through their weight, especially if it's mixed.
We pushed through with it despite that just to see how they handle the dogs, and we were pleasantly surprised.
They monitored and supervised Coco the whole time and always tried to support her in whatever she tried to do. Our favorite moment was when Coco was too shy to approach one dog, so they both gave them a ball to share.
Another setback for us, though, is their rates, which are definitely a bit more expensive than the other entries on this list.
Their hourly rate is AED20, and their assessment fee is AED 85, which we find to be quite steep.
But all in all, Dogwalk makes it worth your while if you want your dog to have opportunities to make new friends and have amazing experiences with their events and activities
Daycare is energetic and clean
Organizes regular events for all the dogs
Has a lot of services for a dog's development
Handlers are knowledgable and supportive
The application process is flawed
The rates are too expensive
Customer Reviews
They helped my dogs come out of their shells
"I'm always very grateful how reliable the Dogwalk team is – and I've been dealing with them for more than 5 years now. One of my dogs (two Salukis) is rather timid and I had problems finding a place offering daycare that would accept her. With Dogwalk this was no issue at all, they let her be…And give her the space she needs. Both of my dogs are from the shelter, so I even get a discount on the boarding!" —Eva Sieburg, Google Reviews
Keep up the great work!
"This daycare is an amazing place! Very clean with great staff and very welcoming. My Scoobs have been going here for almost 2 years and I couldn't ask for a better daycare. Please keep on the great job that you ladies do.Thank you for everything! ♥️" —Mae Fahim, Google Reviews
5. My Second Home Luxury Pet Resort & Spa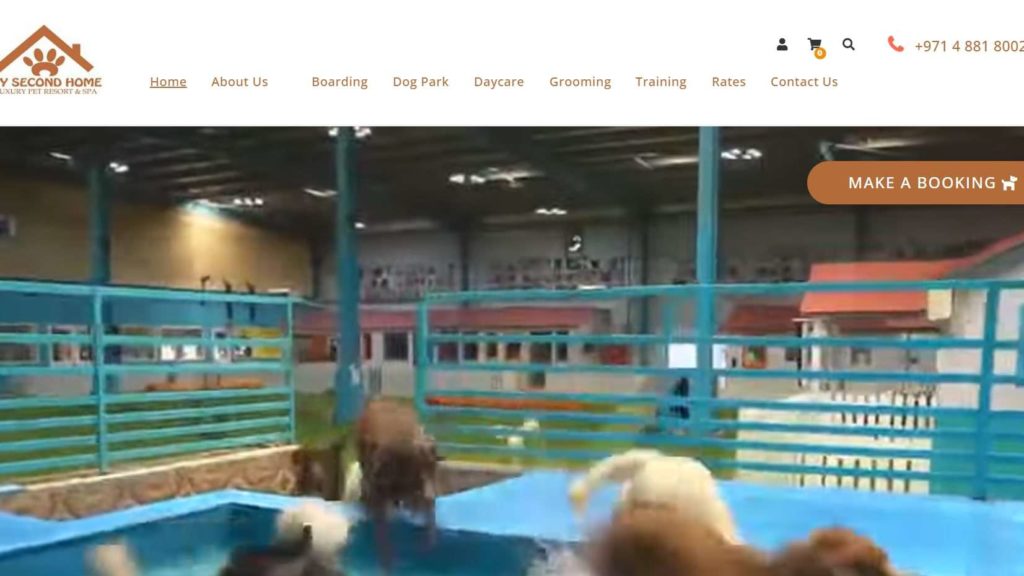 Test
Info
WEBSITE
https://mysecondhomedubai.com/
ADDRESS
369-132 Street 31, Alquoz Industrial Area 4
CONTACT DETAILS
04 546 3889

04 546 3890

OPERATING HOURS
Monday to Saturday: 8 AM–8 PM

Sunday: 7 AM–7 PM
| | |
| --- | --- |
| Criteria | Ratings |
| Cleanliness | ★★★☆☆ (3/5) |
| Activities & Facilities | ★★★★☆ (4/5) |
| Safety | ★★★★★ (5/5) |
| Customer Service | ★★★★★ (5/5) |
| Cost | ★★★☆☆ (3/5) |
My Second Home is well-known for it's largest indoor park for dogs in the whole of UAE. This is perfect for every high-energy dog to play in during summer.
With a large area, it also comes with a jam-packed schedule filled with activities that are sure to tire out your canine companions while you're away.
Despite Coco's separation anxiety and apprehension towards big groups, we wanted to push her and see if she can handle herself in these situations, so we decided to have her try this daycare.
When we first came in and had a peek at their indoor park, we were immediately greeted by the scent of 50+ dogs. That and the bombardment of howls and barks was a bit too much for us.
And it wasn't just us owners who were having trouble with it. We also noticed some less sociable dogs being distraught by the amount of stimulation around them.
And even though the dogs were all segregated, they were all in one big room. This was definitely not fun when one dog starts barking and gets everyone else riled up.
Thankfully, we had a word with Coco's handler and told her that she's not really high-energy and there's no need for her to do all of the activities available.
They followed our wishes, and we were glad that Coco came back to us actually quite happy and energized by the whole experience.
They also sent us pictures of Coco throughout the day as they monitored and supervised her through the activities. We were glad to see that she only played with dogs of the same size and strength, too.
But before we even got to that, we had to go through their meticulous assessment session. It took our handler almost an hour to really get to know Coco before putting her in with the rest of the dogs.
Thankfully, we were patient with the whole process because we noticed how Coco immediately found a group of dogs that she jived with.
Unfortunately, their rates only are packaged by the day. We found this to be less flexible, especially if you're only looking to leave your dog with them for half a day.
But we calculated their rates, and we were surprised to learn that we can actually save more if we leave Coco with them for the whole day.
All in all, while My Second Home can be quite overwhelming at first, the daycare really did ensure that our dog found her pack, which is all we wanted out of it.
Perfect for dogs with lots of energy
All dogs are closely assessed and supervised
Budget-friendly inflexible rates
Indoor park was overwhelming
Introverted dogs may struggle to get adjusted
Assessment took a lot of time
Rates are inflexible
Customer Reviews
Perfect escape for dogs
"Great place for your fur baby to escape the heat and socialise with other dogs. Has a few swimming pools for your dog. They also have great Christmas parties." —Steve Carmichael, Google Reviews
Always a smooth experience with them
"Amazing facilities for dogs! Staff are great, and really care about the dogs always putting their needs first. I can say I fully trust my dog being in their care. She loved everyone there and is always excited to arrive at MSH.
We came in for socialization training for our rescue Willow and we're really impressed by the big improvements she made, and soon she will be ready to go into daycare. I always felt she was in good hands when working with the trainer and handlers.
It's a great day out for both pets and humans!" —Lizelle von Tonder, Google Reviews
6. Zoomies
SERVICES
Dog Daycare
Dog Boarding
Dog Training
WEBSITE
http://zoomies.ae/dog-training-dubai
ADDRESS
11 23rd St – Al Quoz Industrial Area 3 – Dubai, UAE.
CONTACT DETAILS
+971 50 966 2902
[email protected]
OPERATING HOURS
Monday – Friday, 7:00 AM – 7 PM
Saturday – Sunday, 9:00 AM – 5 PM
| | |
| --- | --- |
| Criteria | Ratings |
| Cleanliness | ★★★★☆ (4/5) |
| Activities & Facilities | ★★★★☆ (4/5) |
| Safety | ★★★★☆ (4/5) |
| Customer Service | ★★★★★ (5/5) |
| Cost | ★★★★★ (5/5) |
Zoomies Doggie Daycare is the ideal place in Dubai for high-quality dog daycare, dog boarding, and dog training services. Their facility is intended to give your pet the finest possible care, ensuring that they are secure and happy while you are gone.
They recognize that each dog is unique, and they work hard to ensure that each dog receives the finest possible level of care. Their knowledgeable dog trainers are committed to creating a pleasant and safe environment for all of their canine visitors. They provide dog daycare, dog boarding in Dubai, and even dog training.
Their dog daycare facility has big open play spaces for dogs to run, play, and socialize with their peers. They keep a low dog-to-handler ratio to guarantee that your dog gets the attention he or she deserves. Their personnel are educated to recognize the various needs of different dogs and to categorize them according to size and temperament.
Focuses on your fur pet's well-being
Great attention to detail
Open seven days a week
Customer Reviews
If you are looking for the best place for your dog to be no doubt, it's Zoomies!
"I can't recommend them enough! My dog is incredibly happy every time I bring her to Zoomies. She has her best time there. The guys taking care of the dogs are amazing, you can tell they love animals and they do their job with lot of passion. If you are looking for the best place for your dog to be no doubt, it's Zoomies!" – Claudia Valenti
So so impressed with the level of care and attention to detail at Zoomies
"So so impressed with the level of care and attention to detail at Zoomies. We had our Ben there whilst we were overseas and we are so happy with how healthy and happy he was when we picked him up. We loved our daily updates and seeing him hanging out with his mates. Tia and all the staff are so friendly, helpful and caring toward all of the furry friends. We knew Ben was happy when a few days later we put him in the car to go back for day care and he was SOO excited to see them again. Highly recommended Zoomies " – Frank Alarcon
FAQs About Dog Daycares in Dubai
---
We hope this helps in your search for your doggo's favorite daycare. If you also need help in moving your pet without stressing them out, check out our list of the best places for pet relocations in Dubai.