The 8 Best Divorce Lawyers in Dubai
Featured Image Source: Scott Graham via Unsplash
Getting a divorce is an emotional journey as much as it's a legal one. To get a divorce quickly and without much hassle, get one of the best divorce lawyers in Dubai.
This article contains a guide on how to choose a reliable divorce lawyer who can get you out of your marriage quickly. We've also included a list of the best divorce lawyers in Dubai to make your search easier.
To know the cost of getting a divorce in Dubai, you may refer to the table we've prepared below.
How Much Does a Divorce Cost in Dubai
The table below shows the expenses you should expect from your divorce in Dubai, including divorce lawyers' consultation and hourly fees.
The actual cost may vary as the rate lawyers charge can go up depending on their expertise.
| | |
| --- | --- |
| Amicable divorce | AED8,000 to 25,000 |
| Non-amicable divorce | AED50,000 |
| Consultation fee | AED1,000 to 5,000 |
| Hourly lawyer fee | AED999 to 3,000 |
How to Pick the Best Divorce Lawyer in Dubai
To guarantee you a quick divorce procedure, be sure to choose a trustworthy and capable lawyer. Let these tips below guide you in selecting the best divorce lawyer in Dubai.
Look for a speciality in family law
Lawyers have different specialisations. So, when choosing an attorney for your divorce, find one that specialises in family law.
Particularly, you'd want to get one who has vast experience in handling divorces. If there's a child in the picture, it's best to go for a lawyer who has also handled and won custody cases.
Go for a lawyer you trust
When getting a divorce, you are encouraged to tell your lawyer every information your spouse may use against you. For this, be sure to select a trustworthy lawyer.
Your attorney should make you feel comfortable and allow you to take your time revealing sensitive information regarding your family life.
Discuss the divorce process
The divorce process varies for every couple depending on many factors. One of the biggest ones is the parties' willingness to cooperate.
If it is a mutual divorce, you and your lawyer would mostly just need to discuss terms with the other party. If some disputes need settling, negotiations may be needed. Severe cases usually result in a lengthy litigation process.
Your lawyer will advise on what process is best and less time-consuming for you upon knowing the circumstances of your divorce.
The Best Divorce Lawyers in Dubai
The guide above should help you choose the best lawyer in Dubai for your divorce. To make your search for a qualified attorney faster, we've compiled a list of the best divorce lawyers in Dubai below.
1. Al Rowaad Advocates & Legal Consultancy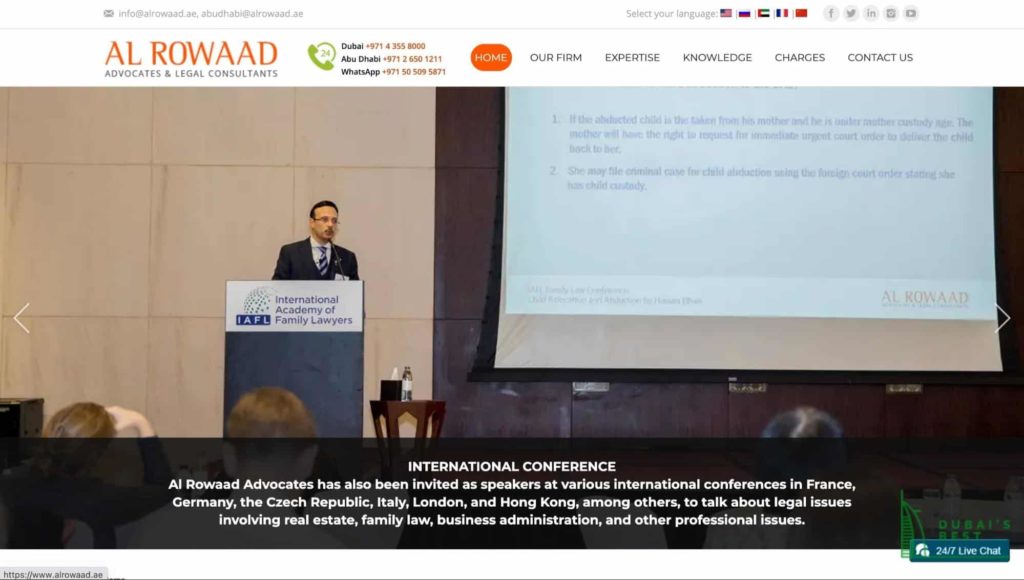 BEST FOR
Sharia-compliant divorce
WEBSITE
https://www.alrowaad.ae/
ADDRESS
The H Hotel Office Tower, 29th Floor, Office 2904, Sheikh Zayed Road, Dubai, United Arab Emirates
CONTACT DETAILS
+971 4 355 8000


[email protected]

OPERATING HOURS
Saturday – Thursday: 9:00 AM – 7:00 PM
Al Rowaad Advocates & Legal Consultancy is a legal firm with branches in Dubai and Abu Dhabi with established lawyers across the U.A.E.
The firm's specialities include family law that follows Sharia principles. They can assist in the separation process as well as child custody and financial settlements.
To best serve local and Dubai-based foreign clients, the firm has legal staff that can speak a variety of languages. These include Arabic, English, Russian, French, Iranian, Urdu, Hindi, and Filipino.
Due to their topnotch service, Al Rowaad Advocates & Legal Consultancy has received multiple awards, including Law Firm of the Year.
Al Rowaad Advocates & Legal Consultancy is led by Dr Hassan Elhais. Dr Elhais has also been recognised as the best legal consultant in the U.A.E, among many other awards.
Shariah-compliant
Multilingual staff
Multi-awarded
Online and onsite consultation available
Customer Reviews
Al Rowaad Advocates & Legal Consultancy is rated 4.9 stars on Google. Morgan Morris, one of Dr Elhais's previous clients, said:
"Dr Hassan Elhais represented me in both my divorce and bankruptcy cases. Never once did I doubt I was in the best possible hands. Phone calls were returned without delay. I'd recommend him best for almost any legal matter. Thank you so much, sir."
Richard Hines also reviewed Al Rowaad Advocates & Legal Consultancy:
"They are very straight forward and professional. These two attorneys worked hard on my custody case and got results beyond my expectations. Their two law offices made it easy and convenient to get any of my concerns addressed and resolved. I would recommend it."
2. BR Law Firm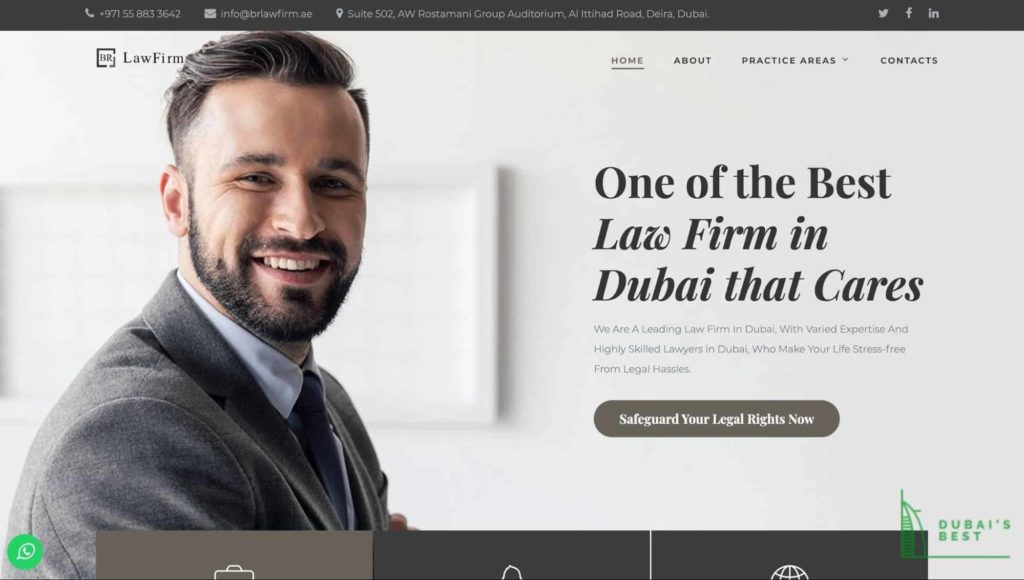 BEST FOR
Quick divorce process
WEBSITE
https://www.brlawfirm.ae/
ADDRESS
Suite 502, AW Rostamani Group Auditorium, Al Ittihad Road, Deira, Dubai – United Arab Emirates
CONTACT DETAILS
+971 55 883 3642
+971 52 927 5999


[email protected]

OPERATING HOURS
Saturday – Wednesday: 9:00 AM – 6:00 PM
Thursday: 9:00 AM – 2:00 PM
With 12 years in legal practice, BR Law Firm in Dubai has expertise in a wide variety of fields, including family and divorce law. In particular, they have vast experience in handling divorce cases across U.A.E. courts.
They are a multilingual and multicultural firm that speaks 28 languages and local dialects. This edge helps them understand their clients better and ensure a favourable ruling for their clients.
As much as possible, they try to enable a quick divorce process for their clients. They also make sure that you are protected from any harm during the entire process.
They are experienced in handling cases that involve domestic violence, child custody, alimony, and maintenance of wife and child, among others.
Handles cases in various U.A.E. courts
Multilingual team
Customer Reviews
Mohsin Hassan reviewed BR Law Firm, saying:
"Thank you for helping me through difficult trials and ensuring the best outcome. I appreciate the time and efforts exerted on my case. I highly recommend this law firm in Dubai."
Meanwhile, Haaziq Shaik Al Habib said:
"It was hard to explain the situation I was in but had the most bizarre days before I got the help of the best lawyers from BR Law Firm. I'm lucky to find this law firm near me. They went over all of my concerns, present problems and lifted my heavy heart. Thanks."
3. TWS Legal Consultants
BEST FOR
Negotiations
WEBSITE
https://www.willsuae.com/
ADDRESS
3307-3308, 33rd Floor, Oaks Liwa Heights Tower- Cluster W, Jumeirah Lakes Towers, Dubai, United Arab Emirates
CONTACT DETAILS
+971 4 4484284


[email protected]

OPERATING HOURS
Sunday – Thursday: 9:00 AM – 6:00 PM
TWS Legal Consultants is licensed by the Legal Affairs Department of Dubai and the Dubai Ruler's Court.
The firm's experienced team of lawyers deals with divorce and separation. They can also take care of cases that deal with financial settlements, custody, and guardianship of children.
TWS Legal Consultants's approach to divorce is to bring both parties to an agreement, which removes the need for lengthy court litigation. Their high success rate for negotiations give clients confidence in their services.
If you're too busy to meet their representative in person, the firm can also set a consultation appointment with you via video call.
For Dubai ex-pats who are citizens of the United Kingdom, TWS Legal Consultants's attorneys are also accredited by the Solicitors Regulation Authority. They handle divorce and family law cases in the UK.
Dubai-licensed
Online consultation is available
Expensive rates
Not well-versed in Sharia laws
Customer Reviews
Douglas Livingstone was pleased with TWS Legal Consultants' service. They said:
"I used the services of TWS Legal Consultants for a personal matter and was most impressed by their overall approach, professionalism and integrity. Would have no hesitations in using them in the future for any other matters or recommending them to others."
Shary Abraham, another previous client, also reviewed:
"I would like to thank the team at TWS for the excellent work you have done to represent me. You approached my complex situation with competency, professionalism and understanding. Well done!"
4. ProConsult Advocates & Legal Consultants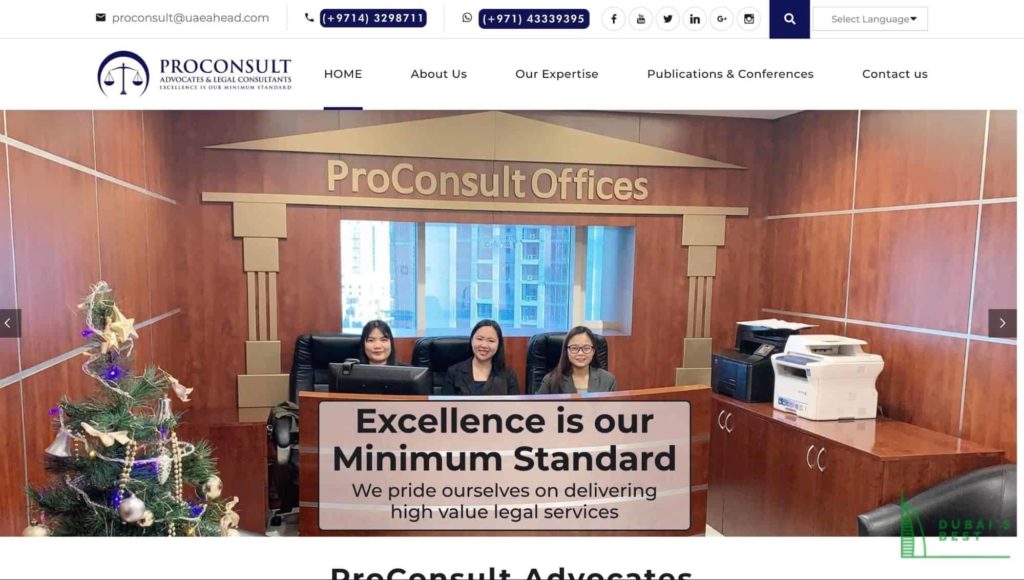 BEST FOR
Multinational divorce lawyers
WEBSITE
https://uaeahead.com/
ADDRESS
Burj Khalifa Blvd., Westburry Offices Tower, 7th Floor Office 707, Business Bay, Dubai, United Arab Emirates
CONTACT DETAILS
(+971 4 329 8711 (Emergency)
+971 50 625 8284


[email protected]

OPERATING HOURS
Saturday: 10:00 AM – 2:30 PM
Sunday – Thursday: 9:00 AM – 6:30 PM
ProConsult Advocates & Legal Consultants' team is well-versed Sharia law, which makes them the best divorce lawyers in Dubai for divorce in Muslim couples.
However, they also provide their services to expatriates. They can represent their clients in other country's legislative proceedings, following their divorce laws.
They can also handle domestic violence cases. For this, they ensure your and your family's protection. They can also help you with getting your spousal support and inheritance.
On top of these, the firm also takes custody and alimony cases. The company can help you with your divorce case through negotiation, mediation or litigation, depending on what is needed.
To cater to more clients, ProConsult Advocates & Legal Consultants has Egyptian, Indian, Lebanese, and Pakistani lawyers in Dubai.
Sharia-compliant
Can handle divorce proceedings for ex-pats
More focused on international law cases
Customer Reviews
Karim Abdel Massihhas this to say about the firm:
"I have dealt with many law firms in the U.A.E. for divorce and family cases, I can say that ProConsult is a great, professional law firm. They are very accurate and knowledgeable. I found their advice and guidance to be tremendously valuable. Thank you for the whole team."
Alfred Blasko also shared their experience with ProConsult Advocates & Legal Consultants:
"Tony of ProConsult is a master in simplifying complex agreements. I'll never forget how the first agreement he drafted for me had a graph on page one to explain the relationship between all parties. I got it immediately."
5. FranGulf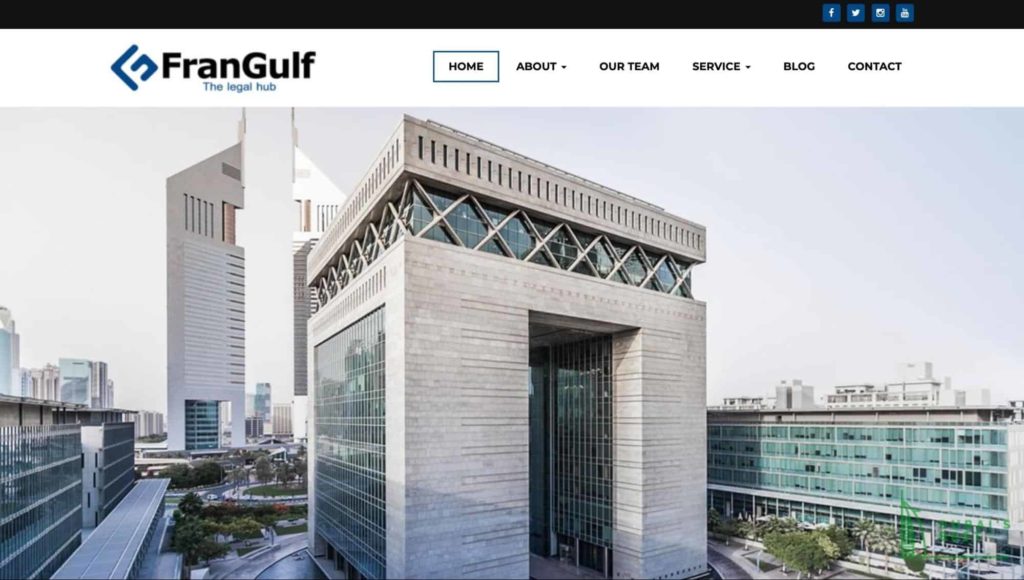 BEST FOR
Financial settlements
WEBSITE
https://frangulf.ae/
ADDRESS
Mezzanine Floor, M#01, Al Owais Building, Al-Majaz 3, Sharjah, United Arab Emirates
CONTACT DETAILS
+971 58 559 7700
+971 6 5544 909


[email protected]

OPERATING HOURS
Saturday – Thursday: 9:00 AM – 9:00 PM
FranGulf's lawyers are aware of how sensitive divorce cases can be, so they try to make the process as stress-free as possible for you. They work hard to guide their clients through each step of the legal process.
Not only that, but they are also dedicated to finding the most cost-effective method to go about your divorce. In the event where you wish to get financial support, they can even help you negotiate financial remuneration from the other party.
Meanwhile, if you don't wish to bring the case to court, FranGulf also gives you the option to choose other methods. In particular, you can opt for conciliation, negotiation, or mediation.
Their lawyers are proficient in Arabic, English, and Hindi to serve a wider range of clients in the U.A.E.
Cost-effective rates
Offers alternatives to litigation
Staff can speak Arabic, English, and Hindi
Long operating hours
Customer Reviews
Maria Gabriz shared their experience with FranGulf. They said:
"I contacted FranGulf legal consultants with regards to a legal matter. I am very pleased with the prompt, transparent, and professional legal advice. They have extensive knowledge of UAE law.
I highly recommend FranGulf legal consultants to anyone seeking legal advice and representation. More power and God bless."
Dishat Raihana also reviewed the firm, saying:
"I'm extremely satisfied with your service. The whole process was hassle-free. I truly recommend FranGulf to all my friends and family."
6. Aramas Family Law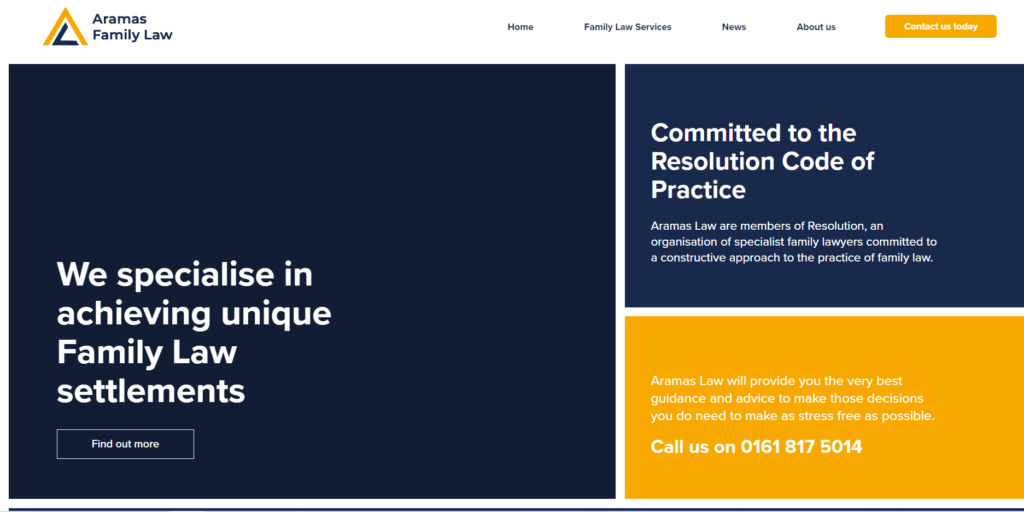 BEST FOR
Family law settlements
WEBSITE
https://www.aramaslaw.com/
ADDRESS
Office 402-403
Al Saqr Business Tower
Sheikh Zayed Road
Dubai, U.A.E
P.O.Box 67476
CONTACT DETAILS
+44 (0)161 817 5014
OPERATING HOURS
Contact for more details
Aramas Law is a boutique law firm that achieves positive family law settlements and offers the best possible experience throughout this challenging time in your life.
They specialize in international expat family law and divorce specialists in the main expat hubs across the world, these include Dubai, Qatar, Kuwait, Bahrain, Singapore, Oman, Malaysia, and others. Furthermore, expatriate British clients call them daily so that they can assist their clients with a range of areas in divorce and family law matters.
Trust them to provide you the very best guidance and advice to make those decisions you do need to make as stress free as possible. They offer effective solutions not only under UK legislation but also offering Shar'ia Law compliant legal solutions.
Furthermore, Aramas Law are members of Resolution, an organization of specialist family lawyers committed to a constructive approach to the practice of family law.
Online and Out of Hours consultations
Free 30 minute initial consultation
Fixed fee divorces, Finance settlement and Pre-Nups
Quick timescales for achieving your goals
Agreed costs agreements for children matters
Empathy, clarity and strength
Rates are unavailable online
Customer Reviews
Here's what past clients have to say about them:
"I was so stressed when getting divorced, everything was a mess and I was on the phone to you daily. Your advice and guidance gave me strength and helped through such dark times, I won't ever forget. I recommend you to anyone I know with family issues, big or small!"
"I was so worried about how my divorce would affect my business and finances. Your expert and calm advice right at the start helped me to negotiate a fair divorce settlement with my husband, avoiding a court battle. I would recommend you highly to anyone."
7. Hamdan Alshamsi Lawyers & Legal Consultants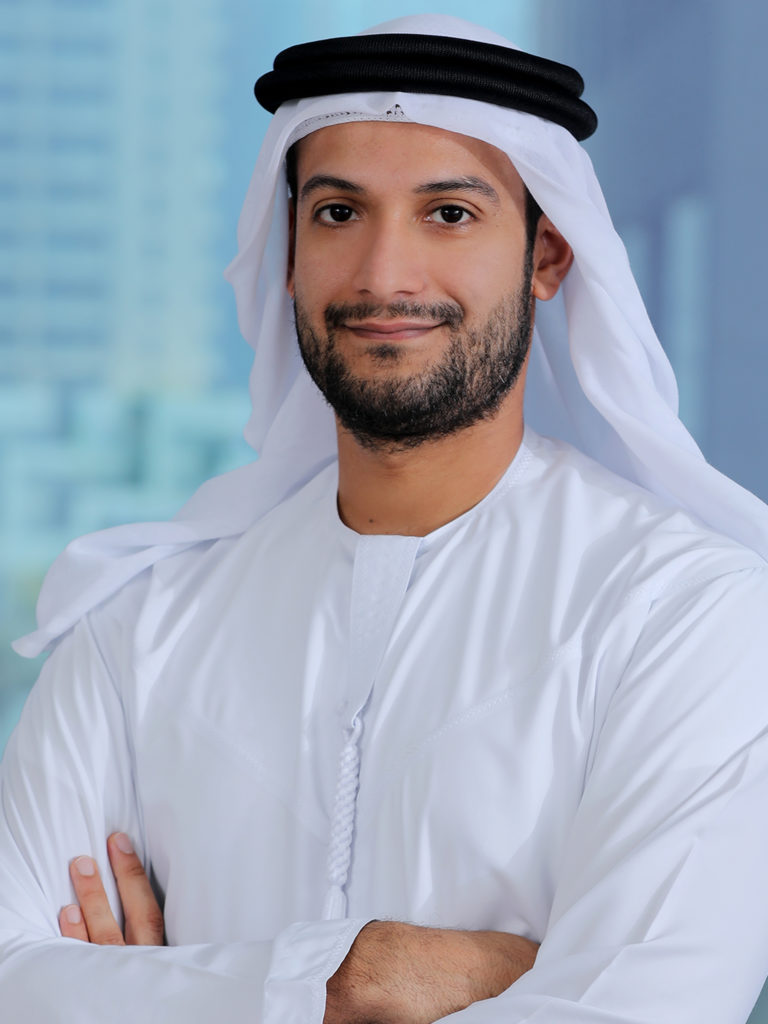 | | |
| --- | --- |
| BEST FOR | Lawyers & Legal Consultants |
| WEBSITE | https://www.alshamsilegal.com/ |
| ADDRESS | Head Office: Office 107, Bay Square, BLD- 07, Marasi Drive, Business Bay, Dubai, UAE. P.O. Box 116564 |
| CONTACT DETAILS | For legal and general inquiries: [email protected] |
| OPERATING HOURS | Sunday to Thursday: 9:00 – 19:00 |
Hamdan Al Shamsi is focused on the subtle and graceful handling of all legal matters, especially when advising clients on family law. Their aim is to explain all the regulatory framework and legal procedures in order to find the best possible solution.
They are beyond kind but professional enough to handle your cases. Every situation is personal and individual, this is why they will tailor their legal advice to your needs.
They are fast-paced workers but they make sure the quality does not suffer. Hence, their excellent work ethics keep their clients from coming back.
Most of their clients consider them as one of the finest firms in Dubai. They work tirelessly to prove every case they handle thus the success of their clients.
Please find below their services in relation to divorce:
Legal Consultation
Marital Settlements
Separation Agreements
Pre-Nuptial Agreements
Divorce
Legal Documentation
Alimony or Maintenance Claims
Child Custody
Domestic Abuse and violence
Guardianship
Attestation of documents
Quick response time for inquiries
Available on weekends on our hotline for emergencies
Good technology behind our processes
Highly qualified international lawyers
Exceptional customer service and friendly approach
Expertise in all areas of practice
Office is closed on weekends but available on the emergency
Customer Reviews
Here's a review from one of Alshamsi Legal's clients:
"Ahmad Al Khalil-the name of the lawyer you need to see in the office. He is very professional with a lot of patience. This gentleman is very helpful and knows what to do in your case. Thank you very much Ahmad. Thank you!" -Akim Usmanov
"Lives up to their excellent reviews and testimonials here, excellent comms and guidance from Jazmine and Ahmed to assist with advice and guidance with a thorough knowledge of the UAE legal system. Highly recommended" -Aaron Stanley
8.  Lawyers in Dubai
Lawyers in Dubai is a company that provides legal advice to clients through their numerous connections with their associate lawyers and other law firms in UAE. They can readily deploy their highly specialized team of legal experts in order to assess and evaluate what is the best solution for a client's legal issue.
With their staff providing service for over 25 years, they continue to work around the clock in order to provide clients the best legal solutions anytime that they need it. However, it is important to note that they are only solely responsible for connecting clients to the most appropriate and best lawyers and law firms that can best handle their cases.
The company is also associated with various law firms and lawyers of various places such as Dubai, Sharjah, Ajman, Ras Al Khaimah, Abu Dhabi, Fujairah, and Umm al Quwain. They make it to a point to connect clients to proactive lawyers who can assist them with the best legal solutions possible.
We recommend this company for clients looking to get connected to highly qualified and excellent lawyers and law firms that can best resolve their cases due to their highly efficient strategy in doing so and careful evaluation to find the best legal solution for each client.
Highly accredited team
Associated to a lot of excellent law firms and lawyers
Highly experienced in the industry
Only provides lawyers and law firms for clients
FAQs about the Best Divorce Lawyer in Dubai
---
With one of the best divorce lawyer in Dubai on the list above, you'll surely be able to get out of your current situation quickly and with the least hassle.
Do you know other lawyers we should add to this list? Let us know by sending us a message.
If your marriage certificate is in another language, you might need to get translation services. Find a reliable provider with this list of companies for the best translation services in Dubai.