The 8 Best Co-Working Spaces in Dubai
Featured Image Source: Helena Lopes via Pexels
Freelance and work-from-home arrangements have recently become popular. However, for some people, working at home is simply impossible. If you're one of these people, you may need to check out the best co-working spaces in Dubai.
In this article, we've provided a guide on how to choose the best co-working space in Dubai that would surely increase your productivity. We've also listed down some well-known co-working spots in the city for you to consider.
For your convenience, we've even researched the cost of renting co-working spaces in Dubai which you will see in a table below.
How Much Do Co-Working Spaces Cost in Dubai
Here is a table containing the usual range of fees for co-working spaces in Dubai. Actual prices may vary.
| | |
| --- | --- |
| Day Pass | AED20 to 300 |
| Week Pass | AED175 to 1,500 |
| Shared Spaces/Flexi Desk | AED650 to 2,500/month |
| Fixed Desk | AED1,259 to 3,250/month |
| Private Office | AED2,995 to 29,000/month |
How to Pick the Best Co-Working Space in Dubai
Different co-working spaces offer different benefits to their members. To make sure you sign up for the best co-working space in Dubai for your needs, check out these tips below.
Look up its amenities
When signing up for a co-working space membership, you're not only paying for the space where you will sit. When choosing a place, you should go for one that offers the most amenities for its price.
Phone booths, shower rooms, plenty of charging hubs, and printing services are only a few amenities the best co-working space in Dubai should offer for free. Many co-working spaces also have events or meeting rooms and photography studios which you can rent for a fee.
You should also make sure that your chosen co-working space has high-speed internet, so you'll be able to perform your job properly.
Check its accessibility
Opt for a co-working space that is open at the time when you're most productive. This guarantees that you'll get work done, making your membership worth your money.
Your co-working space should also be in close proximity to where you or your potential clients live to make travel easier for you.
Check its perks
Free snacks and beverages are some of the common perks co-working spaces offer. Some places also provide free breakfast, lunch, or dinner to their members.
The best co-working spaces also organise community activities for networking as well as seminars and workshops that can help you improve yourself or your craft.
The Best Co-Working Spaces in Dubai
Now that you know what to look for in an ideal co-working space, check out this list of some of the best co-working spaces in Dubai based on our research.
1. Nook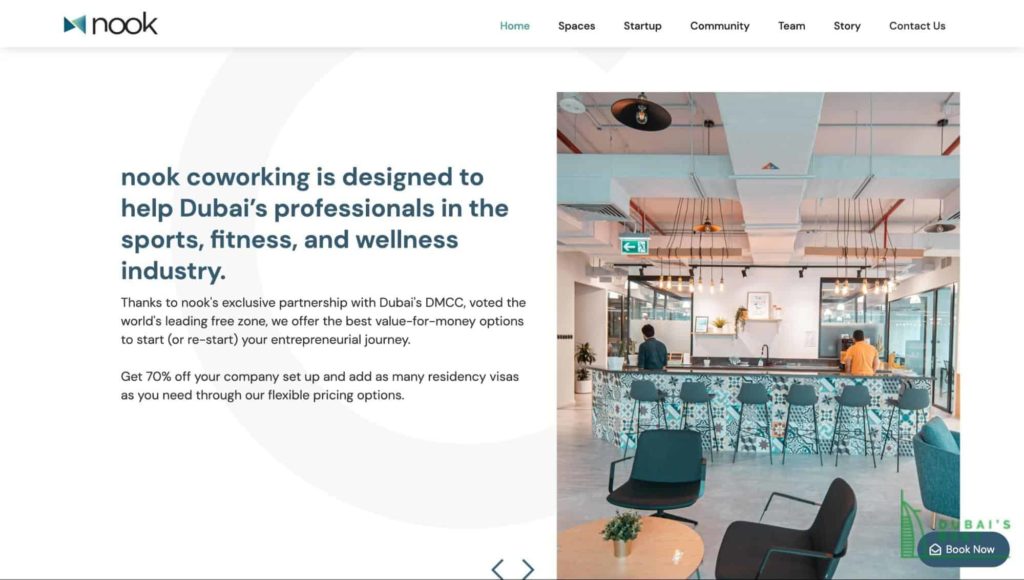 BEST FOR
Services and facilities for fitness and wellness startups
WEBSITE
https://www.nookwork.ae/
ADDRESS
One JLT, Level 2, 02/02 Jumeirah Lake Towers, Dubai, United Arab Emirates
CONTACT DETAILS
04 405 4100
OPERATING HOURS
Sunday – Thursday: 8:00 AM – 8:00 PM
Friday & Saturday: 9:00 AM – 3:00 PM
Nook has nearly every kind of facility you may need to do your job.
They offer shared spaces, dedicated desks, meeting and consultation rooms, and events spaces. On top of these, you can also organise classes at their gym and studio.
Their amenities include high-speed wifi, lockers, refreshments, and printing services. They also have a dedicated parking area in the building for your convenience.
What makes them one of the best co-working spaces in Dubai is that they offer value-for-money, especially to new entrepreneurs.
They offer a special package to kick off your fitness or wellness startup. They even partnered with the Dubai Multi Commodities Centre to help you obtain your business license for a cheaper price.
Open daily
Wide range of facilities and amenities
Dedicated parking area
Customer Reviews
A Google review from a highly-satisfied member reads:
"By far the coolest and most functional co-working/business centre in Dubai. Gym, yoga studio, auditorium, pantry and stacks of open plan seating options. Pleasingly cheap too!!! Perfect for Entrepreneurs (me) and small businesses. Get involved!"
2. Nest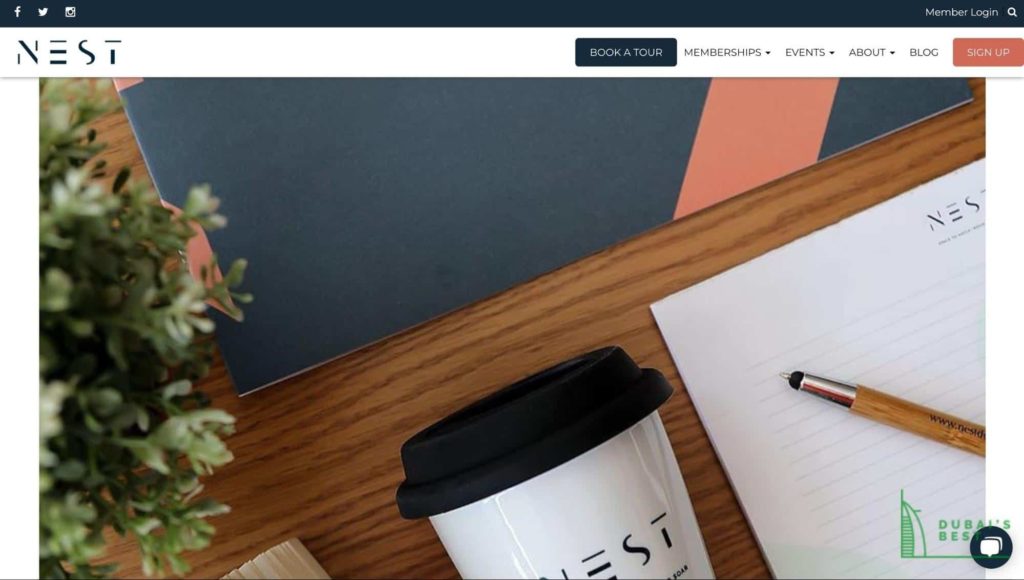 BEST FOR
Wide variety of membership packages; group membership
WEBSITE
https://www.trypwyndhamdubai.com/nest/
ADDRESS
Al Saef 1 Street, 1st Floor, Barsha Heights, Dubai, United Arab Emirates
CONTACT DETAILS
+971 4 247 6699
+971 4 247 6677


[email protected]

OPERATING HOURS
Saturday – Thursday: 8:00 AM – 9:00 PM
Nest has different membership packages to suit your working schedule. There are even options for group membership for 2 to 6 people to help you save on cash.
The membership benefits at this co-working space include unlimited coffee, business center services, and room credits.
Nestled within Tryp by Wyndham, a major internationally branded hotel, it also provides perks such as free valet parking, dining discounts, pool and gym access, and more.
Nest is conveniently located near the Dubai Internet City, Dubai Media City, Dubai Internet City and Knowledge Village, making it ideal for freelancers and entrepreneurs alike.
Free parking
Numerous perks
Convenient location
Closed on Fridays
Expensive fees
Customer Reviews
Morgan-Jon Alston reviewed:
"Amazing place to work. Fast internet, great coffee, free basement parking, comfortable seating and work spaces, ticks all the boxes! Cher and Andrew are great hosts and are always willing to help. Highly recommend!"
3. WitWork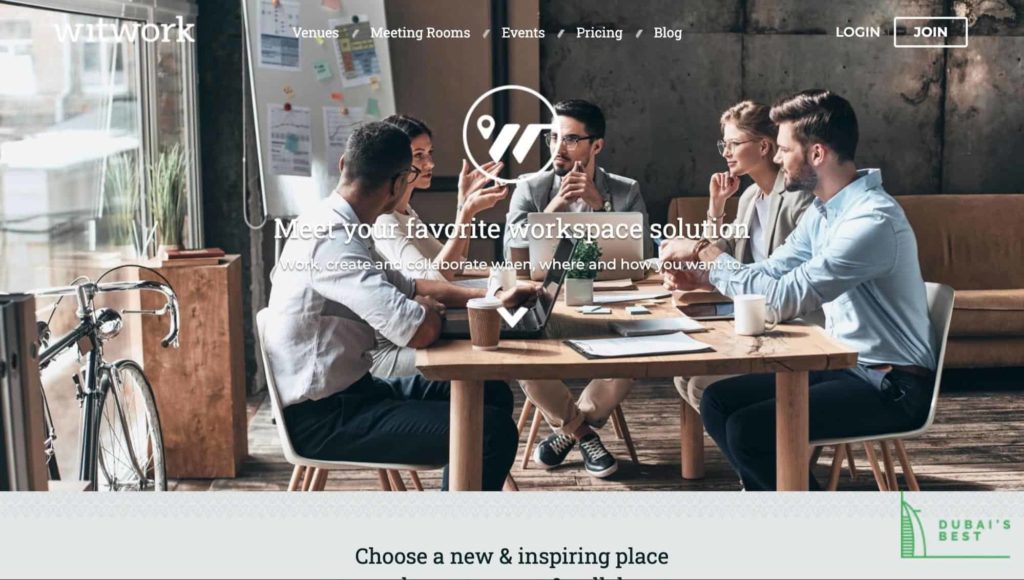 What makes Witwork one of the best co-working spaces in Dubai is its innovative take on co-working. It features a different co-working experience which allows you to do your work to a different place each time.
WitWork has a multitude of venues such as cafes and restaurants in Dubai and the U.A.E. which all members can enjoy. You can also find quieter locations as well as places to hold meetings and events.
The best thing is that WitWor's co-working membership comes at a cheaper price than regular co-working spaces.
Multiple locations in Dubai and the U.A.E.
Cost-friendly membership fee
Not all locations have dedicated parking spaces
Different opening and closing hours per location
Limited quiet locations
Customer Reviews
A highly-satisfied client reviewed:
"I've worked from many WitWork locations in Dubai. Specifically, the WitWork Rotana Lounge is very convenient in terms of location and services. Great concept, cool people!"
4. Our Space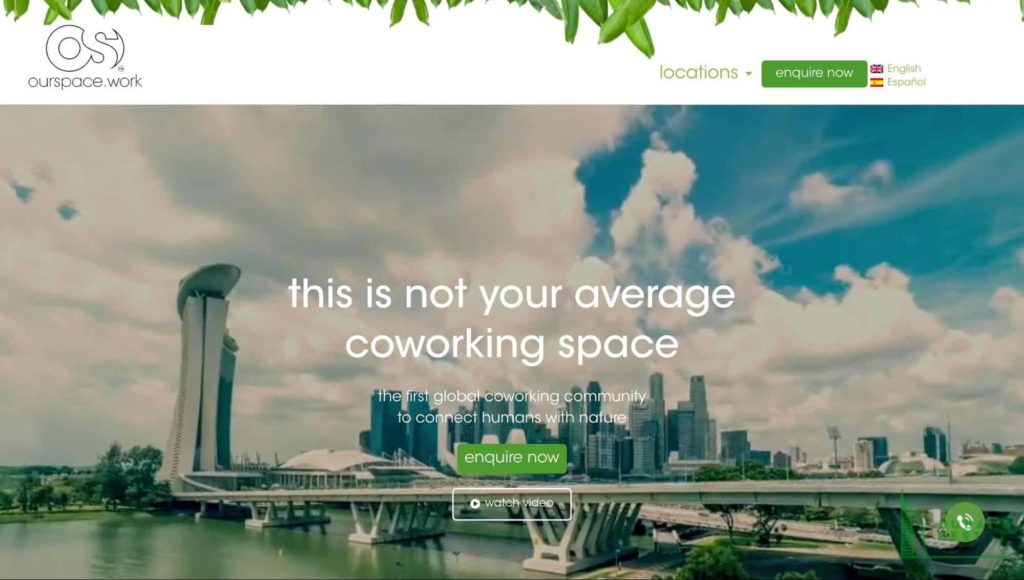 | | |
| --- | --- |
| BEST FOR | 24/7 accessibility |
| WEBSITE | https://os.work/ |
| ADDRESS | Our Space at Lamborghini, Sheikh Zayed Road, Exit 41, Dubai, United Arab Emirates |
| CONTACT DETAILS | 04 524 0434 |
| OPERATING HOURS | Open 24/7 |
Our Space has an array of working spaces, including co-working areas, meeting rooms, office spaces, and an events space.
To provide you avenues to cope with stress, they also have tantrum and zen rooms. Plus, they have a cafe and spa facilities for moments when you just want to relax.
Members have access to Our Space 24/7, although some facilities are not available outside normal office hours.
What's more, Our Space offers stunning views of the Burj Khalifa and Burj Al Arab. It is also located near Jumeirah, Business Bay, the Mall of the Emirates, and many of Dubai's top restaurants and hotels so you can easily meet with your clients.
Convenient facilities
Open 24/7
Ideal location
Some facilities are closed outside regular office hours
Parking fee is a separate cost
Customer Reviews
An Our Space member left a positive review:
"Our Space Dubai was such a pleasant experience! The aura and aesthetic design of the place was beautiful, and I love the fact that there was a large variety of co-working space options to choose from.
What exceptionally stood out for me about Our Space was the willingness of the staff to go above and beyond to support the members and provide the ideal business solution.
There are very few places out there that understand the value that comes with collaboration, and Our Space creates an environment where such relationships can be fostered. In Dubai, there is definitely nothing quite like them."
5. A4 Space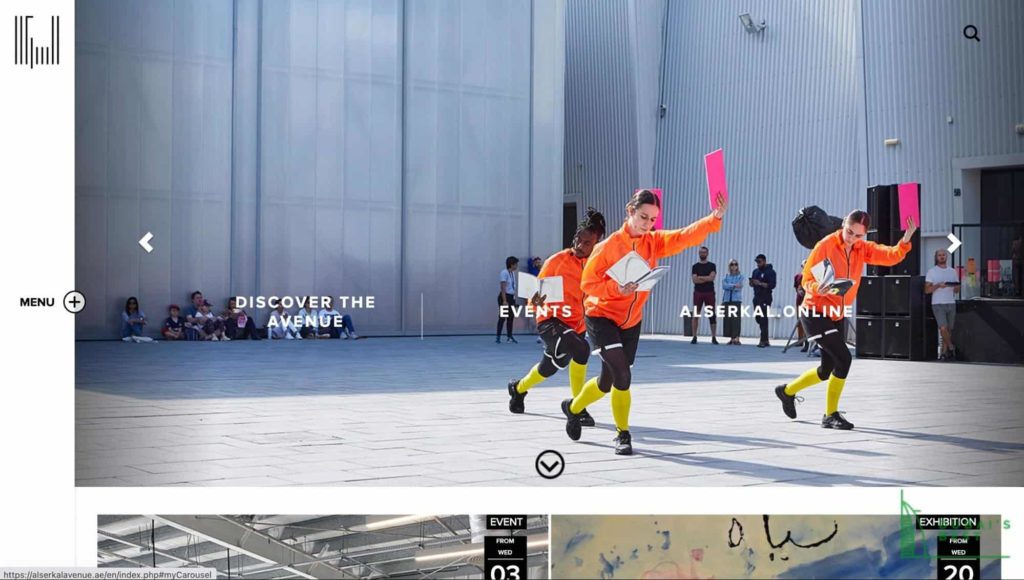 A4 Space is a free-to-use co-working space located in Alserkal Avenue, an industrial compound turned arts and culture hub in Dubai.
The place is equipped with free wifi, a theatre room, and a cafe. You can also find books donated by creatives at its mezzanine level.
Surrounded by art galleries, cosy cafes, and specialty stores, the place is ideal for artists and other creatives who wish to be inspired by other people's art. You can also join various events such as workshops that happen regularly within the vicinity.
Free-to-use
Located in a booming arts and culture hub
Plenty of enjoyable events
Slow internet
Parking area is located outside the compound
Customer Reviews
Shamil Ahamed shared:
"Glad that I heard about this beautiful place. A peaceful lovely place to work or study. The ambience is perfect to work on your own and no one will bother you."
6. LetsWork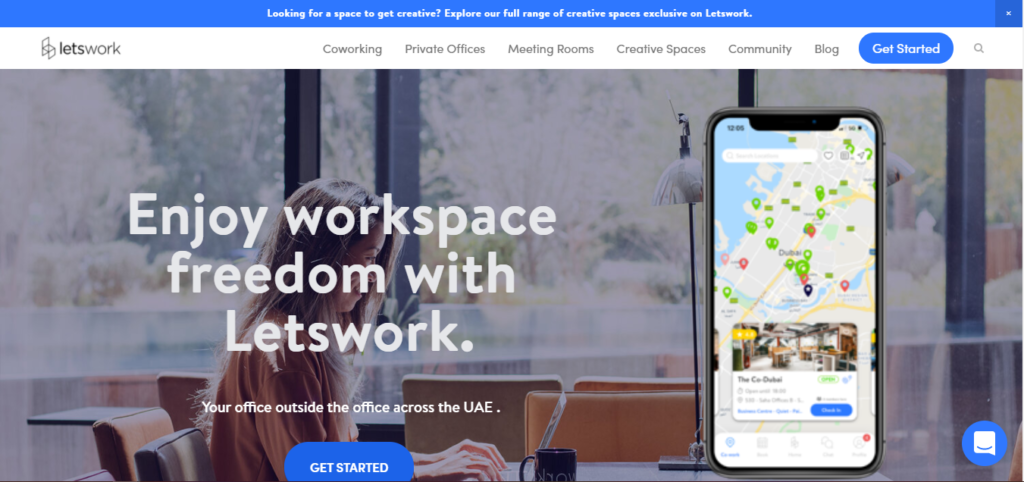 What's unique about LetsWork is their membership that can let you have an access to 100+ co-working spaces, hotels, and work-friendly cafes across UAE!
People like them because of their three types of membership: Day, Flexi, and Month membership. these memberships are more affordable, flexible, and inspiring. They are also in partnership with amazing locations that offer spaces that can inspire people to meet, create, and innovate.
A small group of three or a team of 20 employees, they will tailor a package to suit your needs! A few things they can include are group discounts, bulk day-passes, and private meeting rooms!
25% off for first timers
Has an application you can download
Operating hours are unavailable on their website
Customer Reviews
Here are some reviews from LetsWork's previous customers:
"Letswork offers a fantastic 'office outside the office' experience across the city. All our needs are catered to for a productive day of work – the unlimited tea and coffee is a great plus!"
"Letswork has given our regional Inmarsat team a home while we wait on the completion of our new office. letswork has enabled us to continue operating effectively and with the flexibility that we require."
7. Fluid Meet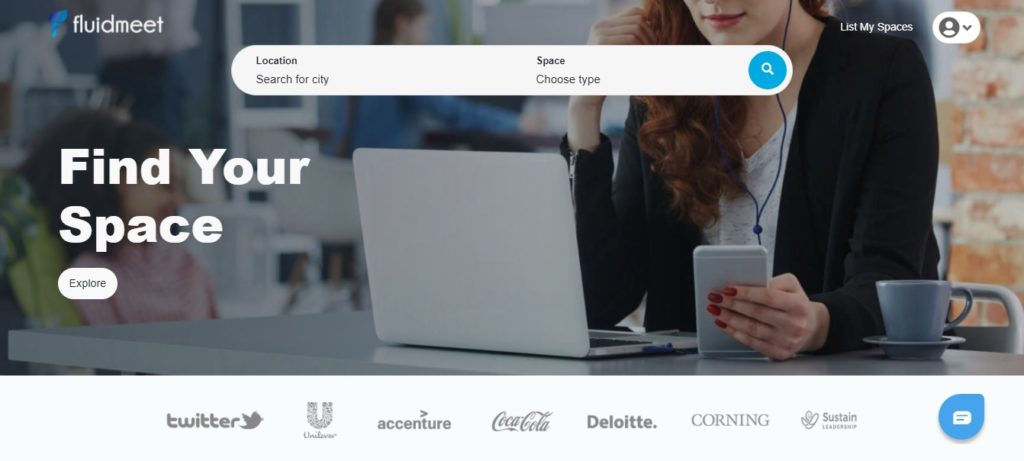 Fluid Meet is not an office nor a co-working space, rather it is an online website that allows people to browse for spaces within the country.
What's great about their site is that you can not only search for spaces in UAE, but also in London, UK, and Mumbai, India as well. You can even specify what type of space you need, whether it is an office, banquet halls, meeting rooms, or co-working spaces.
After filling out the needed information, they will give you all the spaces in that area and you can know more about them by checking out their photos and reading guest reviews. If you are satisfied with the place, you can easily book through their website.
Now if you have a space, you can be one of their Fluidmeet Partner and they will help you gain more guests!
Rates per space are available
Photo and customer reviews are accessible 
Customer Reviews
Here are some reviews from previous customers:
"Great service Highly elegant workspaces at the best prices Try it out"
"prompt services efficient procedures excellent utilization and logistics"
"Excellent service, great inventory of meeting spaces for any business. Highly recommended"
8. Sentro Group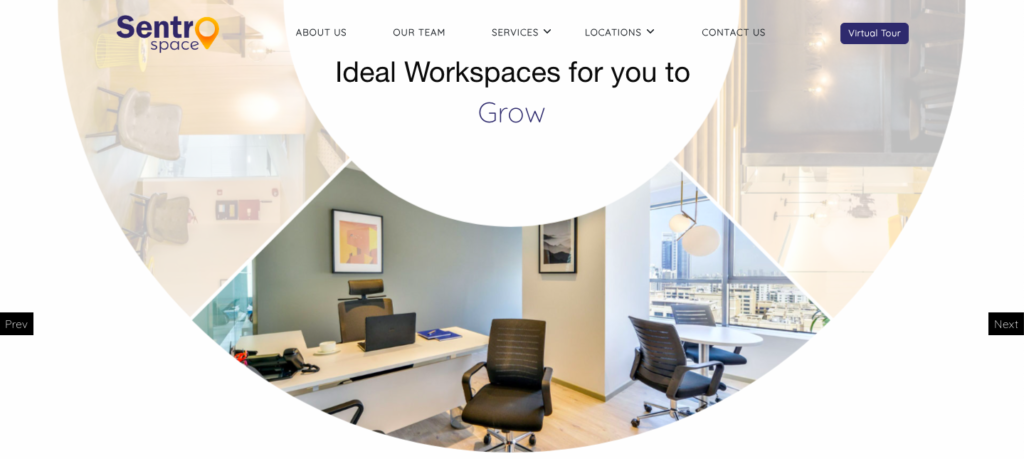 | | |
| --- | --- |
| BEST FOR | Premium Private Office Spaces |
| WEBSITE | https://sentrospace.com/ |
| ADDRESS | Sentro Business Center,1107,11th Floor Sheikh Zayed Road, The Onyx Tower 2, The Greens, Dubai, United Arab Emirates |
| CONTACT DETAILS | [email protected] | +971-501842869 | +971-43999496 |
| OPERATING HOURS | Contact for more information |
Sentro Group is a premium business center that offers top notch private office spaces.
What we like about them is their focus on innovation and productivity, so they've created their work spaces to ensure these.
Their offices spaces creates a dynamic and collaborative environment for different businesses as well as startups and freelancers.
We like how they cater to a variety of needs, whether a customer needs a cost-effective shared office space or a dedicated private office they have these options.
They also have spacious meeting rooms and training rooms with state-of-the-art technology to be conducive for productive meetings and the like.
Their options include private offices, virtual offices, co-working spaces, meeting rooms and event spaces.
We think their perfect for modern day entrepreneurs looking to bring their businesses to new heights.
Their rentals are all-inclusive and their place is conveniently located in a great building. We highly recommend!
Variety of space options
All-inclusive rentals
Cost-effective spaces
Operating hours unavailable
Customer Reviews
"It is truly Dubai's Modern working space with high end technology"
FAQs about the Best Co-Working Spaces in Dubai
---
That's it for our list of the best co-working spaces in Dubai! With one of the spots mentioned above, you'll surely find a venue that works best for you.
If there are other cool co-working hubs you wish us to add to this list, let us know by sending us a message.
Finally, if you happen to be looking for a web design firm for your startup's website, you can also check out our list of the best web designers in Dubai.