The 5 Best Banquet Halls in Dubai
Whether you're doing a corporate event or a soiree, there are a lot of options for venues out there! And one of these most popular choices is a banquet hall.
Also known as a function hall or a special purpose room, it is used usually for large-scale social or business events. Here are our picks for the best banquet halls in Dubai for your next event!
How Much Do Banquet Halls Cost
Prices can vary depending on the overall vibe and aesthetic of the hall. But first, allow us to explain what we mean by types.

First, a rustic space refers to areas that have a retro charm, rustic styling, and industrial-looking halls.
The second type is called an artistic venue. Venues of this kind are usually where creative mix-use spaces are associated with.
Mix-use spaces are buildings that have different applications. So a venue can have a kitchen, party hall, and an office in some cases.
Industrial, the next kind, is a mix of modern design aesthetics and elegant, classic touches. One can expect a lot of metal accents, exposed brick walls, and high ceilings. Some would also come with an outdoor area!
If you are interested in nature-filled or inspired spaces, maybe this last type (of the same name) would match your tastes. Venues of this type usually have outdoor or indoor scenic views.
With all of the types explained, here are the estimated prices per hour of the various types of banquet halls:
| Banquet Hall Type | Estimated Cost / Hour |
| --- | --- |
| Rustic | AED 1285 |
| Artistic | AED 275 |
| Industrial | AED 605 |
| Nature | AED 5500 |
The Best Banquet Halls in Dubai
Here are the following considerations we've looked at as we assessed the different halls in this list
1. Holiday Party Hall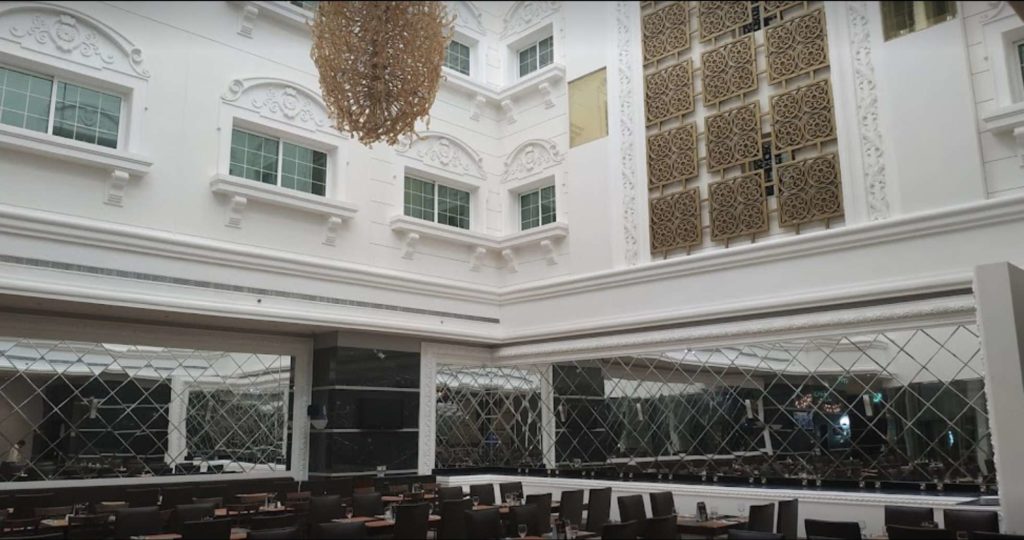 | Test | Info |
| --- | --- |
| SERVICES | Event Rentals, In-house catering, In-house DJ Services |
| ADDRESS | 15 15th B St - Al Hamriya - Dubai - United Arab Emirates |
| CONTACT DETAILS | Phone: +971 50 858 4113 |
| OPERATING HOURS | 8:00 AM - 12:00 AM (Monday - Sunday) |
| | |
| --- | --- |
| Criteria | Ratings |
| Venue | ★★★★★ (5/5) |
| Amenities | ★★★★☆ (4/5) |
| Guest Capacity | ★★★★☆ (4/5) |
| Parking | ★★★☆☆ (3/5) |
Opened in 2017, Holiday Party Hall is a place where formal events and gatherings usually take place.
The venue, judging from its classic and elegant style, is an indoor industrial type. We recommend holding pre-wedding parties, wedding receptions, and other corporate events in the Holiday Paty Hall.
But mostly, we noticed that the company owning this spacious area takes on mostly wedding projects. If you're looking for an experienced venue in terms of handling matrimonial parties and gatherings, then this party hall might be for you!
But, aside from being a staple wedding venue, this hall can also accommodate other event types. Holiday Party Hall can be customized to serve various functions.
It can be turned into an auditorium-type area, where the hall boasts a stage and multiple chairs for seating. For more dinner-focused gatherings, the hall can also be filled with multiple tables as well!
We would note that this place is big. It can hold 1,200 standing guests and can accommodate 750 seats for an event.
If you're looking for a venue that can hold a smaller party, we recommend looking for a smaller space. We think this party hall is best for large-scale events only.
Heads up though: parking space is very limited. Warn your guests beforehand, or find an alternative parking space for them, because it's very small compared to the amount of guests they can accommodate inside.
Overall, we recommend Holiday Party Hall for big scale events that would want a more elegant-looking, industrial-type of venue!
Large space
Has a big amount of seating capacity
In-house DJ, decorators, and caterers available
Outside hires not allowed
Limited parking space
No alcohol allowed
Customer Reviews:
Good Service
"So so impressed by the food and service. I hosted my daughter's wedding reception on 16 March 2019. The managers were very helpful. The decor team worked and developed bespoke floral backdrop and the floral centre pieces .Great job decor team. The food was excellent as always. The service staff was also very courteous and fast. I will definitely recommend this place." – LCT Uniforms, via Google Reviews
Beautiful Location, Helpful Staff
"Great party Stunning venue very well suited for our conference. The staff was helpful and went the extra mile to try to accommodate our requests and the catering service was really good. A special thank you to Patience and the Operation team. There was a hiccup with the service provided by an external A/V company, though. Other than that, Gibson Hall is a thoroughly recommended venue for conferences." – Chaat Bazaar
2. Al Karama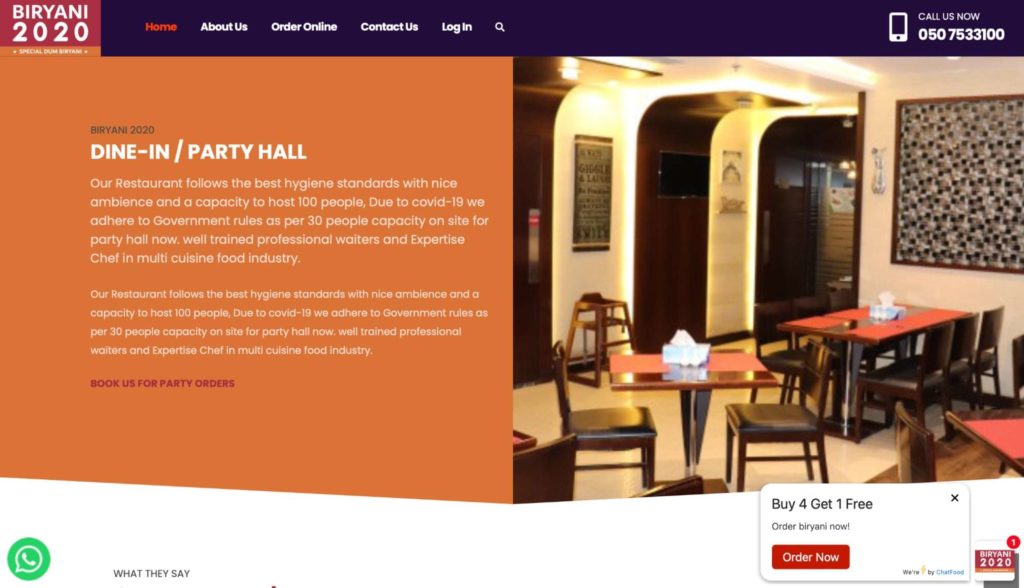 | Test | Info |
| --- | --- |
| SERVICES | Dining, Party Rental, Banquet Venue |
| WEBSITE | https://www.biryani2020.com |
| ADDRESS | Al Waleed Hotel Apartments - 2nd St - Oud Metha - Dubai - United Arab Emirates |
| CONTACT DETAILS | Phone: +971 50 558 3404 |
| OPERATING HOURS | 10:00 AM - 11:30 PM (Monday - Sunday) |
| | |
| --- | --- |
| Criteria | Ratings |
| Venue | ★★★★★ (5/5) |
| Amenities | ★★★★☆ (4/5) |
| Guest Capacity | ★★★☆ ☆ (3/5) |
| Parking | ★★★★★ (5/5) |
This space is for more intimate gatherings.
Al Karama Party Hall, opened in 2016, is a hall that can host 300 to 500 guests. This isn't the least we've seen, but it is a small number compared to the rest of its competitors.
This location is ideal for indoor celebrations that will involve close family and friends. From simple to lavish wedding receptions, Al Karama Party Hall handles intimate gatherings.
In terms of amenities, this hall actually provides catering and food for its clients. The company has been serving food to regular customers outside of events, so rest assured that they're quite experienced in this aspect.
Another great thing is that well, alcohol is an option for events. Provided that adults will be the one partaking in drinking, the venue can provide drinks for guests.
However, they do not allow guests to bring their own caterers or drinks. So if you're ever going to rent their venue, you can only avail the packages they can offer to you.
What's great about them is that they offer customized setups, in combination with you renting their venue depending on your needs and budget.
The venue might be smaller than the others, but thankfully, their parking space matches the number of guests they can handle. So you can have a large event without worrying about where your guests are going to park.
Overall, we recommend Al Karama Party Hall for intimate gatherings and events!
Multiple venue rooms available
Large parking space
Mostly accepts events that need food
Limited guest capacity
Customer Reviews:
Large Parking Space
"We had our baby girl's naming ceremony. It was overall a great and comfortable experience for us. Hall is really nice and the kerala sadhya was pretty good too. There is a big RTA parking right Infront of it. So parking was not a problem at all. I would recommend this place." – Sarath Mohan
Great Catering, Good Service
"It's very different places in Dubai,, fantasting Food, also very nice place,, I love it ,, and very nice people 👍👍 enjoying to party then you can definitely go to all Waleed palace party hall.. I think, you definitely enjoy this party." – Santosh Subba
3. Mina Garden of The Westin Dubai Mina Seyahi Beach Resort & Marina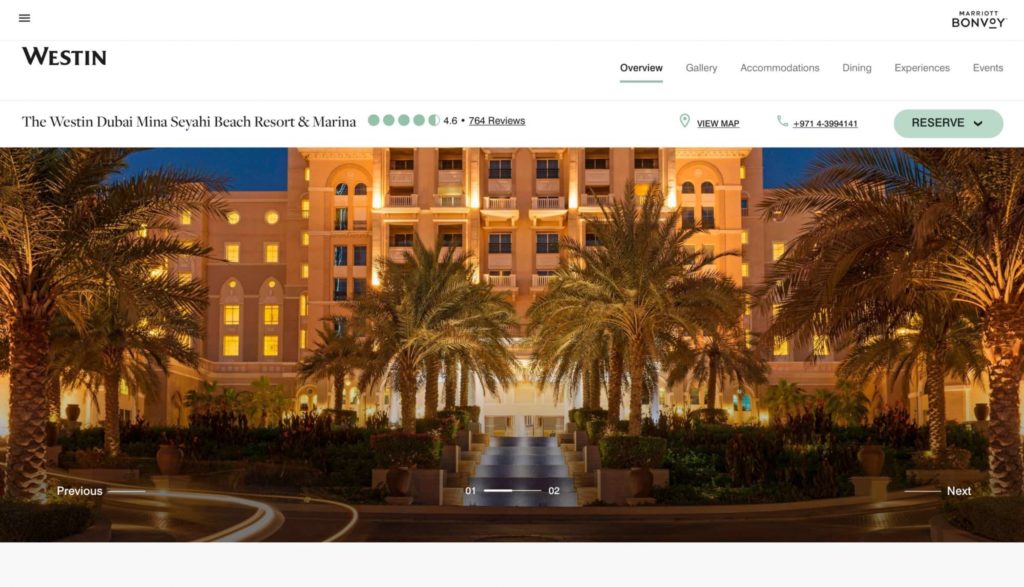 | | |
| --- | --- |
| Criteria | Ratings |
| Venue | ★★★★☆ (4/5) |
| Amenities | ★★★★★ (5/5) |
| Guest Capacity | ★★★★☆ (4/5) |
| Parking | ★★★★★ (5/5) |
The Mina Garden is part of The Westin Dubai Mina Seyahi Beach Resort & Marina, a luxury establishment for tourists and events.
The garden, as its name suggests, is a beautifully-landscaped outdoor hall that hosts the scenic view of flora and the beach near it. We like it here because guests can enjoy the breeze of the sea during events.
Here's a bit of a bummer about it though: the maximum capacity isn't ideal for very large events. The Mina Garden can only hold up to 200 guests, which is the least we've seen out of all the halls we've looked at.
Nevertheless, if you want a scenic party or event, you definitely need to ring up the staff at the Mina Garden.
Now, moving on to amenities, the resort staff offers their own catering services. What's great about that is that they can fully concoct a menu that fits the guests' dietary requirements, such as 100% halal food.
Guests can also book an accommodation in the actual resort if they want to stay after the event.
The Garden Mina is a great event venue for weddings, parties, and celebrations. We recommend booking this venue for its scenic location and the resort's amenities as well!
Accommodations available
Scenic location (near a beach)
Large parking space
Limited guest capacity
Weather-sensitive location
Customer Reviews:
Easy to Access
"Nice place for weddings, easy access and very good venue." – Salah Mounir
Scenic Location, Good Service
"Great beach and exceptional service. Especially from Sugam. He really made our day." – Bart ter Horst
4. Majma Ahlul Bait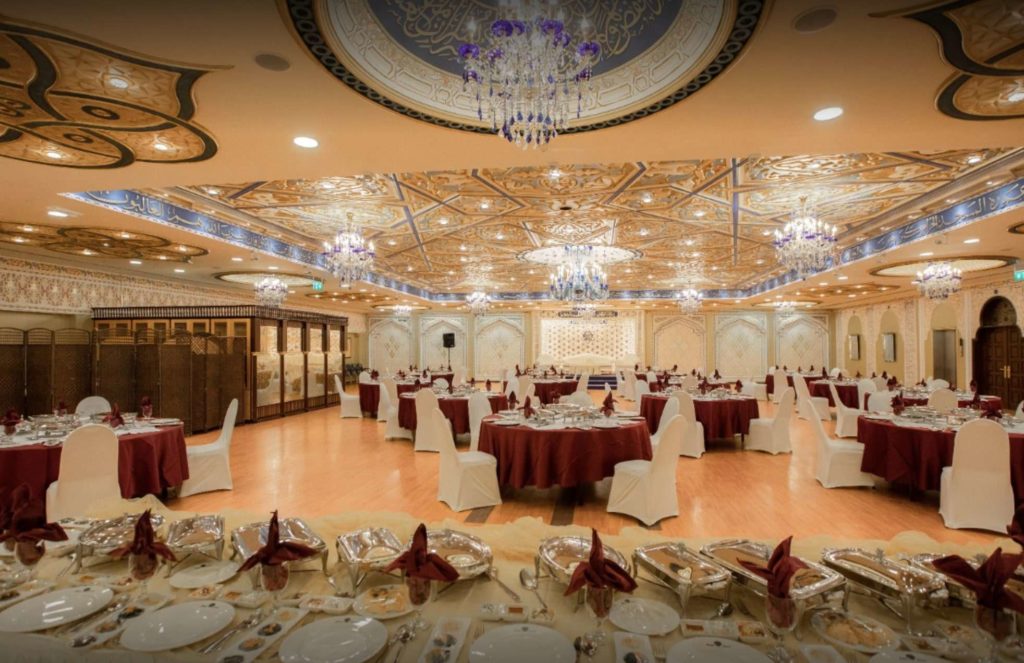 Test
Info
SERVICES
Event Rentals
ADDRESS
8 42nd St - Al Jaffiliya - Dubai - United Arab Emirates
CONTACT DETAILS
Phone: +971 50 534 1840
OPERATING HOURS
11:00 AM - 11:00 PM (Saturday - Thursday)

2:00 PM - 11:30 PM (Friday)
| | |
| --- | --- |
| Criteria | Ratings |
| Venue | ★★★★★ (5/5) |
| Amenities | ★★★★☆ (4/5) |
| Guest Capacity | ★★★★★ (5/5) |
| Parking | ★★★★☆ (4/5) |
Majma Ahlul Bait is a luxurious-looking banquet hall that can seat over 700 guests.
One thing we'd like to say upfront is that this venue is beautiful. Even without any decorations, the interior of the building hosts intricate carvings and accents.
It certainly feels like an elegant ceremonial hall, which is perfect for weddings. Speaking of which, we must point out that this venue mainly hosts such events.
It's also very well-lit on its own, so guests can enjoy the splendor and extravaganza of an event and the location very well.
Moving on, this venu can also cater other formal functions such as corporate meetings or family gatherings.
But do take note that they only host no alcohol and no pork functions in Dubai. This means that the menu for an event will have to follow those rules.
On the other hand, in terms of amenities, this space also comes with enough parking space for its seating capacity. There's definitely no need to worry about your guest's cars during the function.
If you're eyeing this venue as a potential location for your next function, we do recommend calling them up for more information.
Overall, for their wide, spacious, elegant and luxurious halls and their other amenities, Majma Ahlul Bait is a great venue for formal events!
Spacious, luxurious halls
Well-lit space
Large parking space
Limited dining options
Further contact is required for more information
Customer Reviews:
Stunning Location, Great Guest Service
"Many banquet halls are built and immaculately designed, yet many aren't able to maintain themselves. This hall, however, is not one of them. This hall is absolutely stunning, and the management has beautifully maintained the integrity of its structure and values. I would highly recommend you to book this place for your wonderful and special day, and leave everything up to the management because they are true professionals and are in it for your best interest only." – Azhar Salyed
Amazing Service, Beautiful Hall
"It's a wonderful feeling when guests attending a marriage compliment the bride and groom and their families as to how amazing the venue and the food is. The quality of service, quality of food, lighting on stage, lighting in the halls, parking facility, everything is so organised and professional. Ali bhai and Tabreez bhai have helped immensely from the start to end. Worth a review and recommendation." – Afrein Nasir
5. Obaid Al Helou Party Hall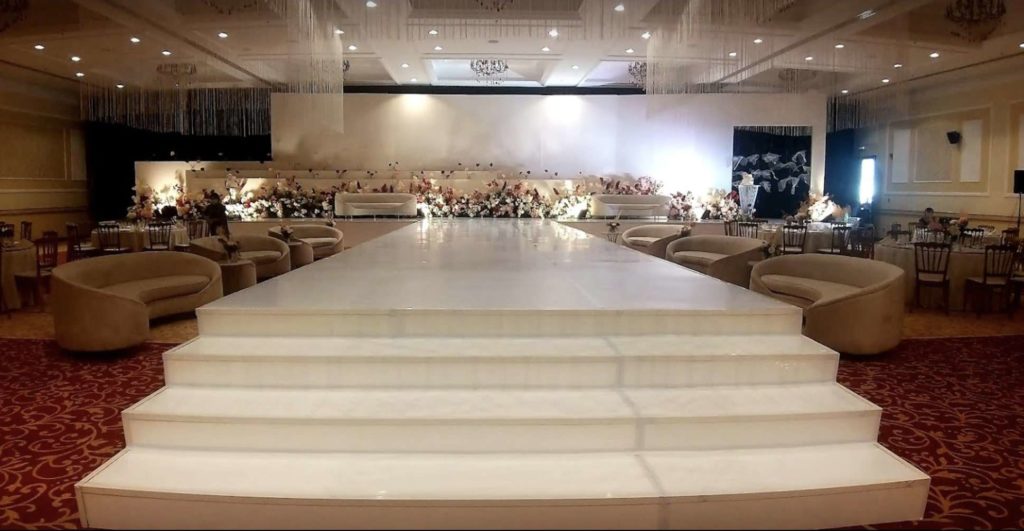 Test
Info
SERVICES
Event Rental Services, Catering Services
WEBSITE

https://www.obaidalheloweddinghall.com/

ADDRESS
67 43 C St - Al Mizhar - Al Mizhar 1 - Dubai - United Arab Emirates
CONTACT DETAILS
Phone: +971 4 285 0086
OPERATING HOURS
10:00 AM - 7:00 PM (Saturday - Thursday)

10:00 AM - 7:30 PM (Friday)
| | |
| --- | --- |
| Criteria | Ratings |
| Venue | ★★★★★ (5/5) |
| Amenities | ★★★★★ (5/5) |
| Guest Capacity | ★★★★☆ (4/5) |
| Parking | ★★★★★ (5/5) |
Obaid Al Helou is a multi-purpose hall that caters to exhibitions and weddings. They can also do other formal events, but we've observed that they lean more toward matrimonial parties or ceremonies.
They even have a specific website for their wedding venue services!
Anyways, this particular hall is large. At an estimate, it can hold from 300 – 500 people.
Matching the number of guests it can host, the venue also has an accompanying parking space. Visitors, guests, and organizers will be at ease placing their vehicles here during a function.
Now, in terms of amenities, they offer catering, decoration, and sound system services for clients. They also have different offers depending on the event that will be hosted in their venue.
For example, Obaid Al Helou has various offers for weddings. They usually provide an all-in-one package deal where the staff of the hall will be in charge of the organization, and they will also provide photographers, sound systems, and catering for the event.
What's nice about this venue is that their staff can handle the event organization themselves. If prompted or hired, they offer their expertise in making the function happen from start to finish.
We believe that their dedication to event planning is what sets them apart, aside from having a spacious area as a venue.
If you're on the lookout for a venue that can host a huge number of guests, offers catering and has event planning services then look no further! Obaid Al Heli is a venue you can definitely call.
Large hall
Big parking space
Offers catering services
Focuses more on hosting weddings
Requires contact for more info
Customer Reviews:
Large Venue, Reasonable Prices
"The venue is large and tidy. The price range is reasonable. The managment of the hall are so helpful." – Tasahil M, via Google Reviews
Beautiful Hall, High Privacy Provided
"The hall is spacious, beautiful and very clean, high privacy, excellent for parties, events and weddings, and the price is great!" – Hamda, via Google Reviews
FAQs About Banquet Halls in Dubai
---