Where to Jet Ski in Dubai?
Looking to take a break from the hot climate without sacrificing your desire for speed? Take your adventure out on the water by riding or renting a cool jet ski in Dubai!
Common jet ski destinations include beaches like the JBR Public Beach or La Mer as well as businesses like Seawake, Hydro Watersports and Shark Jetski. It's just about picking a place that's convenient for you before indulging in some aquatic fun!
With that said, let's check out some of the best options for where to jet ski in Dubai as well as what other amenities you can expect!
Where can you jet ski in Dubai?
1. Check Out Activities at Mamzar Beach Park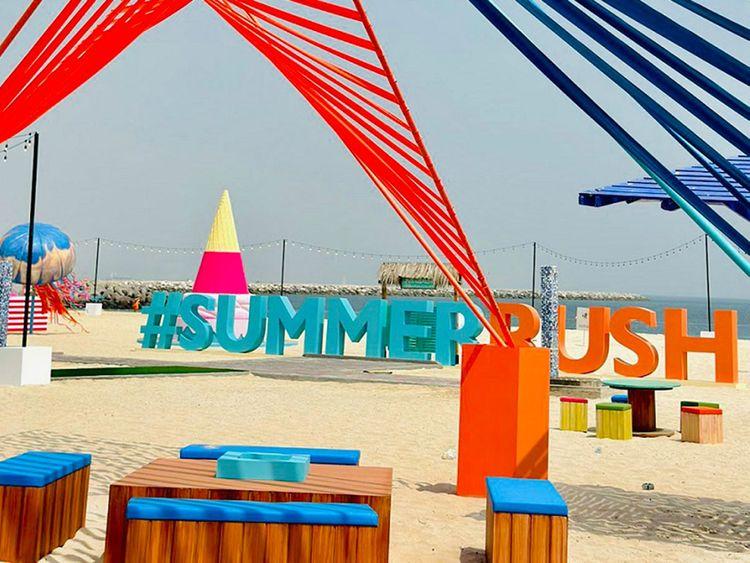 Location: Al Mamzar Beach St., Al Mamzar Dubai
Hours: Mondays – Sundays: 8:00 AM to 10:00 PM
Price Range: $
With an impressive five pristine beaches perfect for sunbathing, swimming, or playing water sports, Mamzar Beach Park immediately comes to mind when it comes to jet skiing in Dubai.
The park is home to various attractions and amenities, easily providing plenty of things to do for both friends and families alike.
Open from 8 AM to 10 PM, the park is perfect for all occasions– whether it be a day of fun in the sun or a cool stroll by the sea in the evening. The various amenities present, such as clean bathroom facilities and free Wi-Fi make enjoying the park easier.
After enjoying water activities, visitors may take advantage of the park's grassier areas to host their own picnics or barbecues. Others may want to take a scenic route and go up the observation tower to enjoy a bird's eye view of the entire park. 
For any visitor hoping for a park to satisfy any occasion, Mamzar Beach Park is definitely a must-visit. Make sure to bring plenty of sunscreen, a beach towel, and even swimming equipment to get the most out of the day!
Pro Tip:

External parking at Mamzar Beach Park is free, but parking within the beach comes with additional parking fees to keep in mind.
2. Play Water Sports at the Jbr Public Beach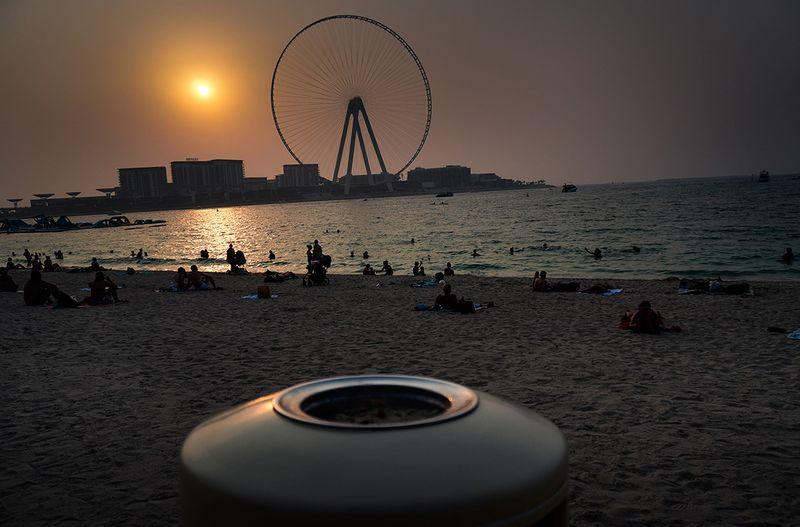 Location: Jumeirah Beach Residence, Dubai Marina, Dubai
Hours: 
Sundays – Wednesdays: 7:30 AM to 10:00 PM
Thursdays – Fridays: 7:30 AM to 11:00 PM
Price Range: No entry fee
Popular among the water sports crowd and crowned as one of Dubai's biggest beaches, the Jumeirah Public Beach is one of the go-to destinations for anyone hoping for a day of water-filled fun.
The beach spans the historic district of Dubai all the way to The Palm, and is completely free– no entrance fee needed. Its white sand and clean waters make a great backdrop for every occasion. 
The wide sea plays host to various water activities, matching perfectly with the equipment rental kiosks present along the beach. Visitors hoping for a quieter vibe can also bask in their designated swimming areas for a quick dip and some alone time.
After enjoying the various attractions available at the beach, visitors may also take a stroll along its wooden walkways and end the day with the stunning view of Dubai from the beach.
Pro Tip: 

The beach may be open until late at night, but customers should take note that the shower facilities close at 9 PM! Freshening up before leaving is a must.
3. Enjoy the Mild and Soft Waters of the la Mer Beach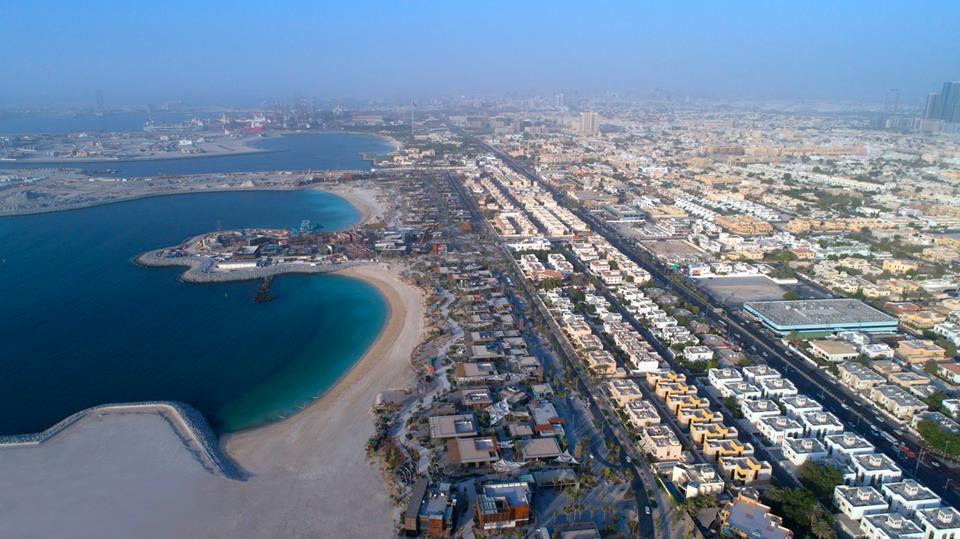 Location: 2A St, Jumeirah, Jumeirah 1, Dubai
Hours: 
Sundays – Thursdays: 10:00 AM to 10:00 PM
Fridays – Saturdays: 10:00 AM to 12:00 AM
Price Range: $$
The La Mer Beach is another amazing waterside destination to check out in Dubai. For one, it's got a very long stretch of sand and water to have a relaxing walk on and a wide variety of shops and restaurants to take shelter in once the sun gets too hot.
Aside from the restaurants, you also get kiosks and businesses offering equipment rental services and shops. No need to worry about forgetting your goggles here!
As far as the water experience goes though, visitors particularly like how easy it is to float on the water. As such, we recommend the beach for any beginners looking to learn how to swim in Dubai.
Taking a jet ski on the water at La Mer Beach allows you to really absorb the breeze and take in some of the art and murals that decorate the many establishments. It also has a fun night life by the boardwalk, complete with dazzling fairy lights for a magical evening.
All in all, the La Mer's golden sands, salty sea breeze and turquoise waters definitely make the perfect backdrop for any occasion, be it a fun day out with family or a romantic night for two.
Pro Tip: 

Fancy a jet ski experience even if you don't know how? Sign up for a guided jet ski tour over at the water park!

You can get the fast ride and the nice breeze without worrying about actually using the vehicle well!
4. Take a Stroll Down the Dubai Marina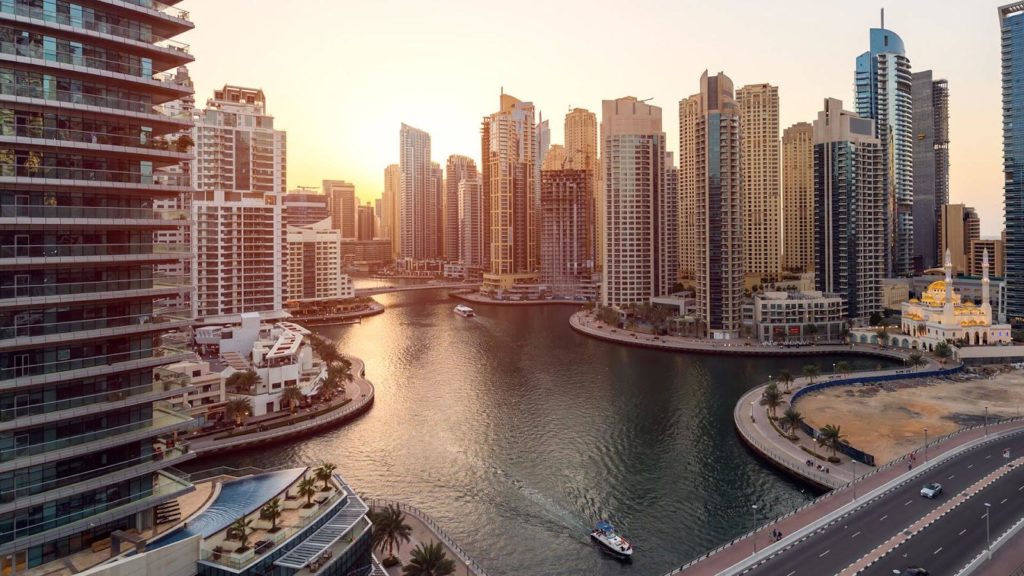 Location: Dubai Marina, Dubai
Hours: 
Sundays – Thursdays: 10:00 AM to 10:00 PM
Fridays – Saturdays: 10:00 AM to 11:00 PM
Price Range: No entry fee
When it comes to all things water related, the Dubai Marina cannot be passed up as a destination. Home to both towering skyscrapers and a vast fleet of luxury yachts along its many marinas, visitors are guaranteed a luxurious time. 
The Dubai Marina is home to various attractions and businesses alike, leaving visitors spoilt for choice when exploring the neighborhood. Equipment rentals for water activities are, of course, available in abundance.
The most well-known way of enjoying the Dubai Marina's waters is through renting one of the many boats available in the area. These range from large, historical dhow boat cruises to more quiet affairs on a private yacht.
At the end of the day, after the rush of earlier activities, visitors won't find themselves too pressed for time to find lodging and good food– Dubai Marina teems with all manners of cuisines and attractions to make the most of your visit.
Pro Tip:

The best time to explore the Dubai Marina is at night, when all the lights of the area come on. Alternatively, going late in the morning can also help tourists avoid the larger crowds. 
Try out these Jet Ski Services and Companies in Dubai!
1. Feel the Rush at Hydro Watersports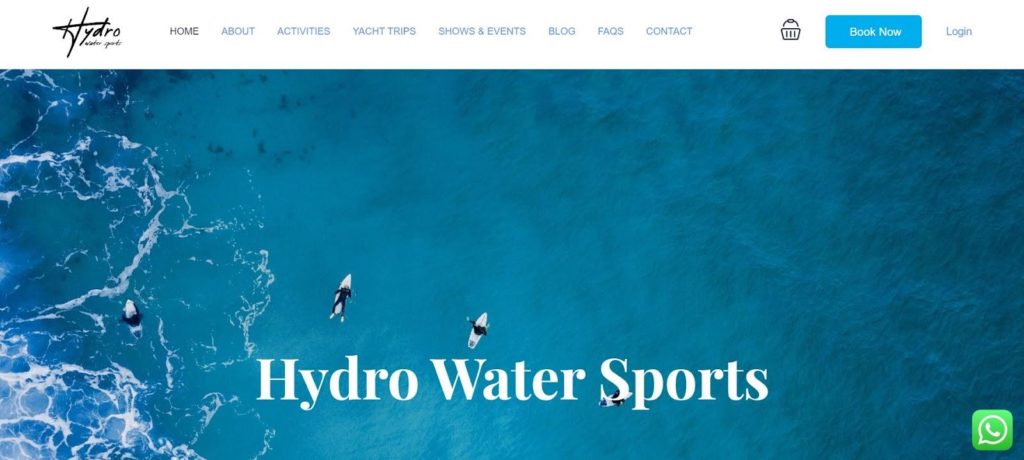 Activities: Flyboard Activity, Jetpack Activity, Wakeboarding, Private Boat, Windsurfing
Location: Oceana Palm, Jumeirah, Dubai
Social Media: Instagram; Facebook
Website: https://hydro-watersports.com/ 
Hours: Mondays – Sundays: 10:00 AM to 6:00 PM
Price Range: $$$
Hydro Water Sports has been providing water activities for all demographics since its initial establishment. The company deals in both non-motorized and motorized activities, ensuring that every audience has a little something.
The activities offered at Hydro Water Sports range from more relaxed cruises along electric boats to high-adrenaline activities. Customers can try to stay on a banana boat afloat together, or thrill seekers can try their jetpack activities.
Those hoping for a more luxurious cruise, however, can opt to go for one of Hydro's luxury yacht trips– spoilt for choice between private yachts of all shapes and sizes, from 48 feet to a whopping 101 feet cruiser.
Lastly, to enjoy the best of its offerings, visitors may want to try catching one of their nightly shows. These range from simple demonstrations of their flyboards and jetpacks to full on LED lights and musical performances!
Pro Tip:

Don't forget your passport if you're a tourist! Most of the venue's water activities won't need much documentation, but jet ski takers must bring their passport to partake in the rides. 
2. Sail the Seas with Seawake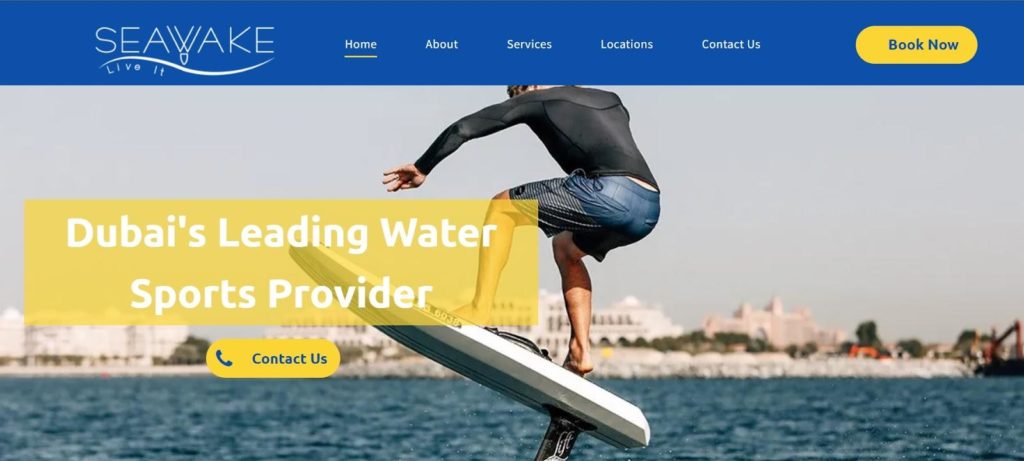 Activities: Jet Ski, Flyboarding, Wakeboarding, Parasailing, Windsurfing
Location: Dubai Harbour, Dubai Marina, Dubai
Social Media: Instagram; Facebook
Website: https://www.seawake.ae/ 
Hours: Mondays – Sundays: 10:00 AM to 5:00 PM
Price Range: $$
As a company that bills itself as the premiere marine and watersports company, Seawake specializes in a wide variety of water activities. These aren't restricted to just sports, going out to include fishing and simple boating.
The activities offered by the company can be enjoyed individually or with a group of friends. Large groups may want to test their balance on the big donut, or soar through the waters on their special fly fish inflatable sled!
Seawake also offers cruises– whether on one of their private boats or on a luxury yacht. The best of Dubai's waters are within Seawake's reach, from the Dubai Canal to the Marina.
Lastly, anglers will find themselves spoilt for choice with the fishing spots Seawake leads you to. They go beyond normal rod and line fishing into deep fishing and trolling, where they'll even allow anglers to keep their best catch!
Pro Tip:

Getting thirsty on the trip? Seawake's staff are known to give complimentary water bottles during and after activities to help wash down the adrenaline!
3. Soar with Nemo Watersports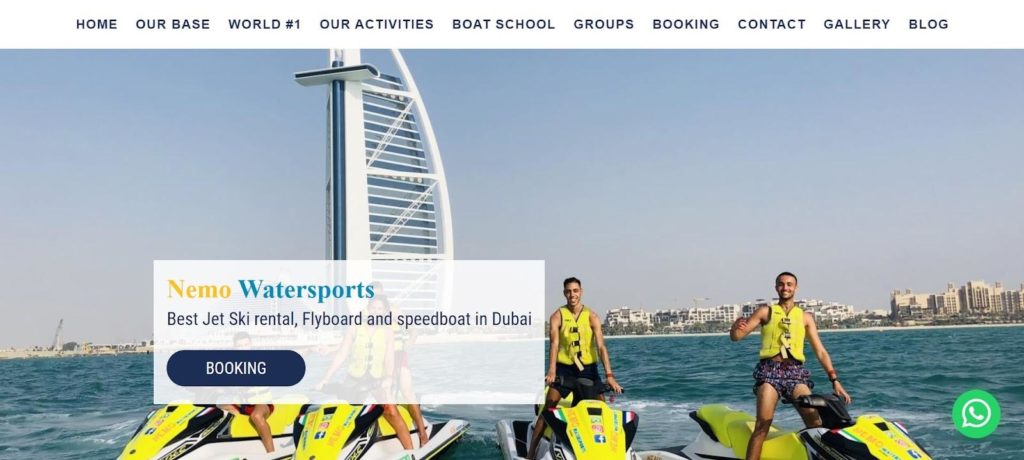 Activities: Jet Car, Jet Ski Tour, Parasailing, Flyboard, Tubing & Adrenaline Tour
Location: Fishing Harbour, Jumeirah St, Umm Suqeim, Umm Suqeim 2, Dubai
Social Media: Instagram; Facebook
Website: https://www.dubai-jetski.com/ 
Hours: Mondays – Sundays: 7:00 AM to 7:00 PM
Price Range: $$$$
Umm Suqeim's very own Nemo Watersports is a space that shouldn't be passed up when seeking the fun of water activities! Nemo provides activities from sunrise to sunset, providing thrills and rides since 2015.
Nemo Watersports is easily reachable through public transport and by car. The marina the company is based on has ample parking space both outdoors and indoors, so customers will never need to worry about walking too far.
Thrill seekers will enjoy their extreme activity options– from a customary jet ski briefing tour to flyboarding next to the Burj al Arab. Customers can get a bird's eye view of the whole area by going on one of their parasailing tours! 
Finally, for a quieter time, customers can arrange to have a private event on one of Nemo's yachts. Given the proper time, the company will even be able to arrange catering for the event as well.
Pro Tip:

Newcomers to jet skiing may want to book their experience for the morning– as the waves are known to be quite high during nighttime.
4. Swim like a Shark at Shark Jetski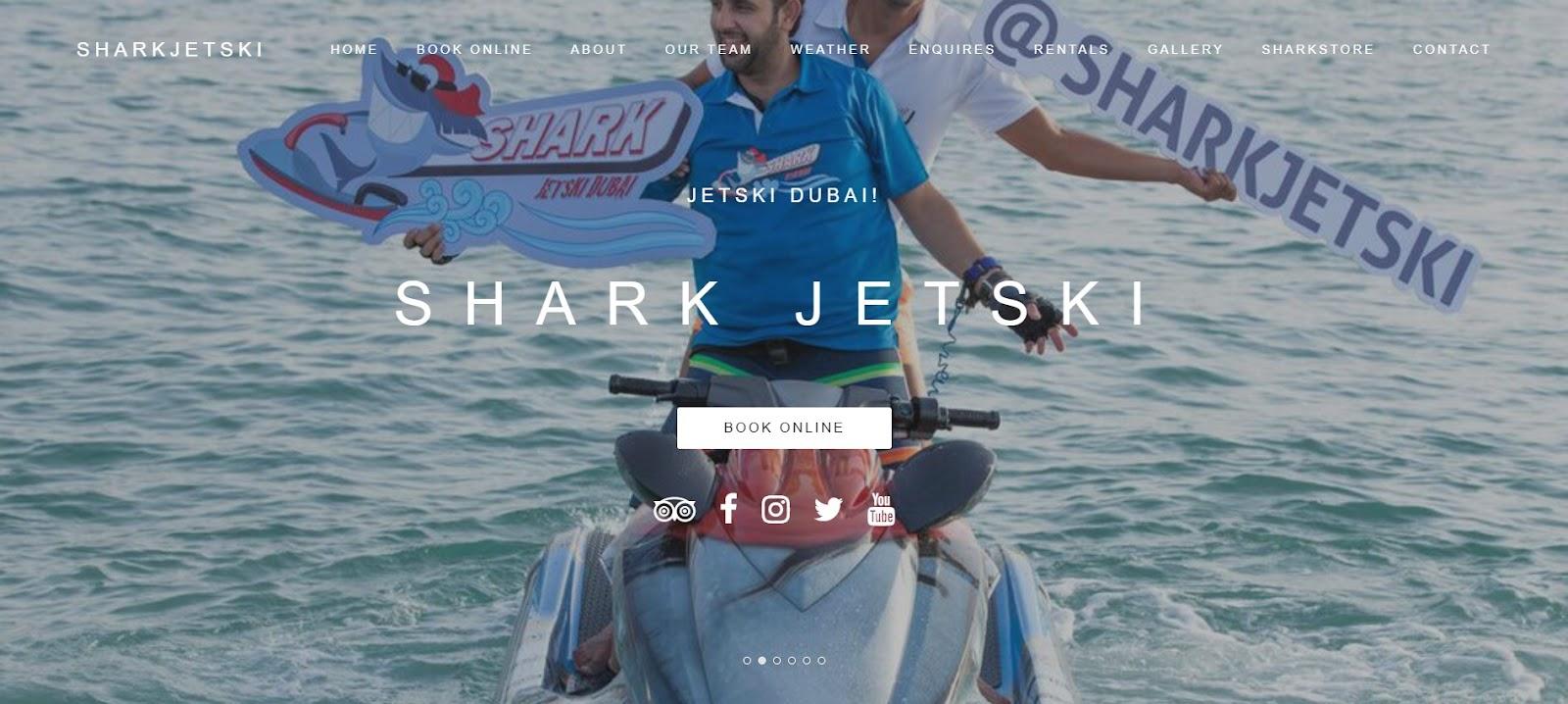 Activities: Jetski Rental, Jetski Ride, Flyboard, Yacht Rental, Parasailing
Location: Shark Jetski rental and boats rides, Dubai Marina, Dubai
Social Media: Instagram; Facebook
Website: https://sharkjetski.com/ 
Hours: Mondays – Sundays: 8:00 AM to 8:00 PM
Price Range: $$$$
Shark Jetski, compared to other activity providers on the market, does exactly what it says on the tin. With over 10 years of experience in the thrill ride industry, Shark Jetski focuses on the rental and riding of a wide fleet of jet skis and boats.
They offer a wide variety of rides for rent at the company. Customers are spoilt for choice for their chosen ride, ranging from sleek blue and white cruisers to those themed with shark imagery, befitting their name.
Groups may want something bigger, however, and may be better off renting one of their shark boats instead. Still, some friend groups may want to try keeping balance on the banana boats as a fun bonding activity.
Should you find yourself unsure of your choice, Shark Jetski also offers specialized packages to help maintain value for money and make booking and renting their equipment an easier process.
Pro Tip:

Went over the edge? There are certain areas in the water that are considered out of bounds of the tour, so always keep an eye on your guide! 
5. Take to the Air and Water with Sky and Sea Adventures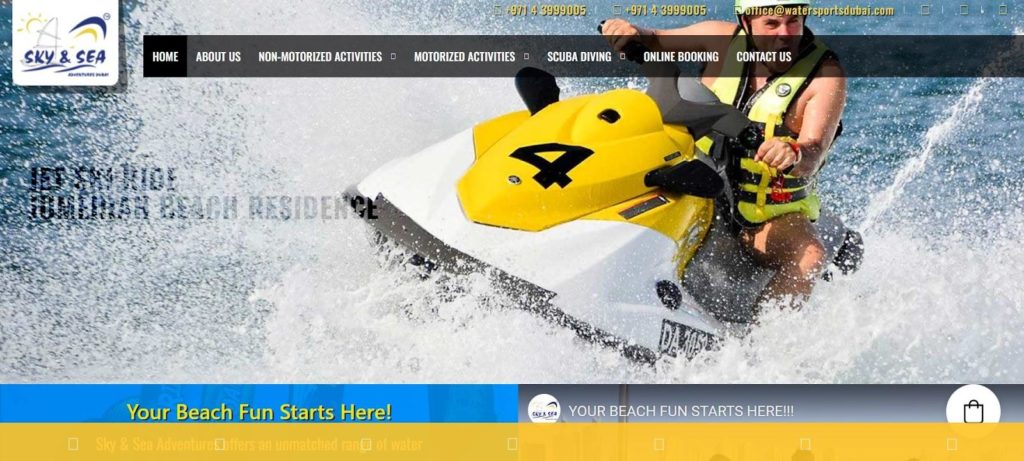 Activities: Non-Motorized Activities, Motorized Activities, Scuba Diving, Kayaking, Jet Ski
Location: Hilton Jumeirah Beach Hotel, Dubai
Social Media: Instagram; Facebook
Website: https://www.watersportsdubai.com/ 
Hours: Mondays – Sundays: 8:30 AM to 6:00 PM
Price Range: $$$
Sky and Sea Adventures began in 1991 as a water sports brand out of Turkey– upon landing on the UAE's doorstep in 1998, it has since become a beloved provider of water sports and activities in the area.
They offer a wide amount of activities, going beyond non-motorized and motorized to full-on deep, scuba diving for a closer look at all the marine life.
Anglers will also find themselves in good company when visiting Sky and Sea Adventures! As fishing packages require a minimum amount of guests to be participating, it's a great opportunity to catch fish and socialize with fellow anglers.
Lastly, thrill seekers will find a great place to show off with their two-person jet ski packages. Take a loved one or a friend along to glide through the sleek waters of Dubai for fun!
Pro Tip:

When purchasing tickets for an activity at Sky and Sea, note that they are valid for one year– this is because certain activities need preparation time. Always confirm your starting dates with the captain. 
A few things to know before enjoying a ride on a jet ski in Dubai:
Do jet ski rides have an age limit?
To legally own or rent a jet ski on your own, you must be at least 18 years of age or older. Younger riders may be allowed to ride only with a guide or a parent present.
Do I need to pay for gas when riding a jet ski?
No, you won't have to pay for gas when renting a jet ski. This is generally included within the rental cost, so when you get a jet ski, expect it to be fueled up and ready.
Are reservations necessary for renting a jet ski?
Given the popularity of the sport, it is definitely wise to book or reserve a jet ski ahead of time, especially in its peak seasons. This is also applicable for if you plan to go with a group to ensure there are enough available for everyone.
Are jet skis safe to ride?
Jet ski controls are surprisingly simple and intuitive, and most rentals will always run beginners through a 10 to 15 minute safety and driving course to ensure no harm comes to the rider.
Do I need a license to rent a jet ski?
If you are just renting a jet ski, then no– you don't need a license to rent and drive one. However, you are required to rent from a licensed rental company. Similarly, jet ski owners must have their jet skis properly registered.
---
We hope you had a great time feeling the waves and wind on a jet ski in Dubai! Make sure to follow us for some more guides on fun activities and venues in the city, like our list of great activities on the water here!