Exploring the Best Diving Spots in Dubai
The sea presents plenty of opportunities for exploration and adventure, making it a very popular activity in the world. So if you're a traveller interested in seeing what kinds of underwater sights you can see, you'd be happy to know Dubai has this covered too.
From amazing natural underwater formations, ancient shipwrecks, and even man-made aquatic marvels, there's no shortage of activities to try out. So let's don our wetsuits and take the plunge down the best diving spots here in Dubai.
Checking out the Best Diving Spots in and around Dubai
Sharm Rock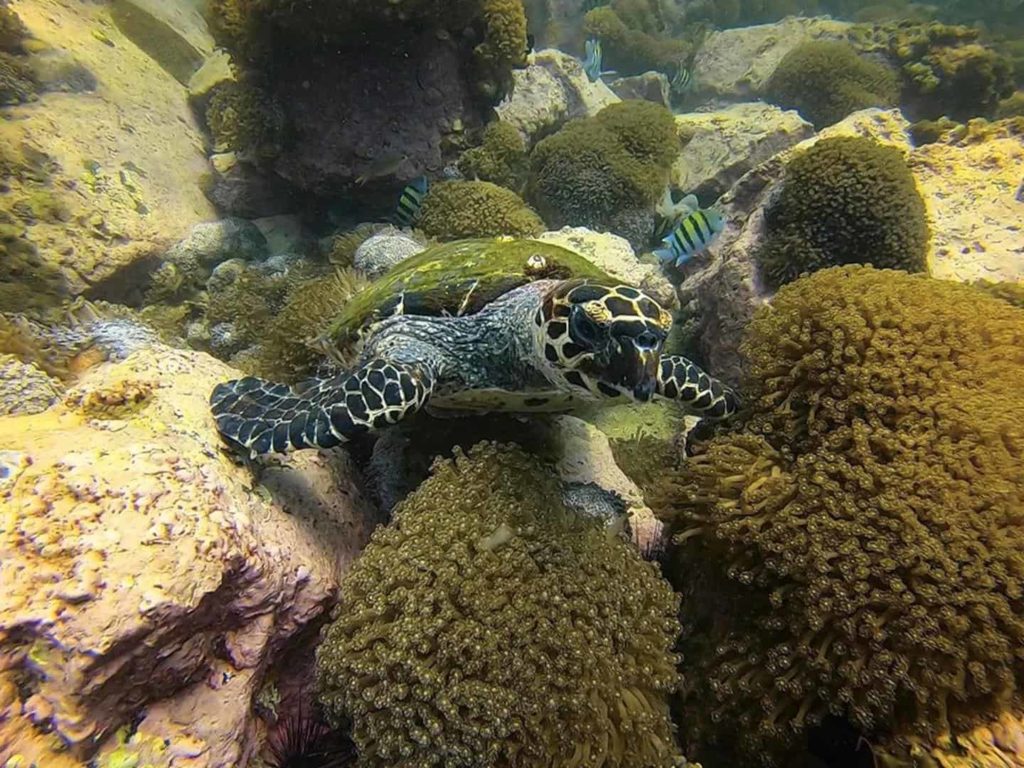 Depth: 15 meters
Location: Al Fujairah
Fish: Turtles, Cuttlefish, Jaw Fish
Price Range: $$
A diving site in Fujairah popular among novices and experts alike. Sharm Rock has earned the nickname of the "3 Rocks Pinnacles" due to its landmark– three rock formations peeking above the surface.
The diving site itself is known for its soft corals, known to be home to various species of fish including cuttlefish, mackerel and jawfish. Predatory fish such as eels and reef sharks can also be spotted, along with turtles.
Sharm Rock is a beloved diving spot for all experience levels due to its calm waters and shallow depth, making it a good practice spot for snorkeling and a variety of other diving experiences. 
With a visibility of around 5 to 20 meters, this diving site is a must-visit destination for any aspiring divers, ranging from trial divers to professional ones, especially thanks to its reputation as a beautiful night diving site. 
Pro Tip: 

Sharm Rock may be called the "3 Rocks Pinnacles", but experienced divers may be able to lead you to the secret fourth rock! You may even be able to get a glimpse of the whale sharks that pass by the site occasionally.
Martini Rock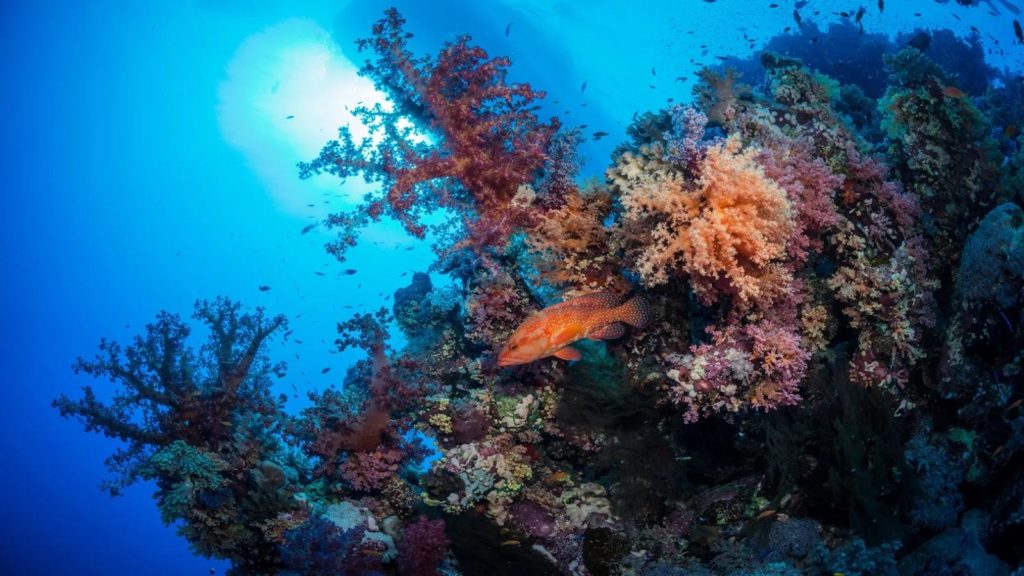 Depth: 19 meters
Location: Al Fujairah
Fish: Arabian Mackerel, Trevally, Moray eels
Price Range: $$
With a location just off the East Coast, Martini Rock is a reef so named for its distinctive shape, bearing similarities to the rim of its namesake glass. It is home to a variety of soft coral and reef fish.
Martini Rock's namesake is far from being its only charm point, however. The corals populating the dive site come in a variety of unusual and eye-catching colors, ranging from bright oranges to deeper purples.
The variety of reef fish that can be found at the site are also wide. Among others, you'll be likely to find snappers, lionfish and burrfish in abundance, alongside predatory moray eels and gophies hiding in the sandier areas.
Not a bad place to see some of your favorite seafood live in their natural habitat eh?
On a good day, Martini Rock can reach up to 20 meters of visibility, while normally having around 5-15 on average. Divers start from 12 meters and can keep going until 20 meters to fully take in the beautiful sights. 
Pro Tip: 

When diving at Martini Rock, make sure to be careful around the seafloor, especially the sandy gullies– rays are known to camouflage themselves halfway through the sand. 
Mariam Express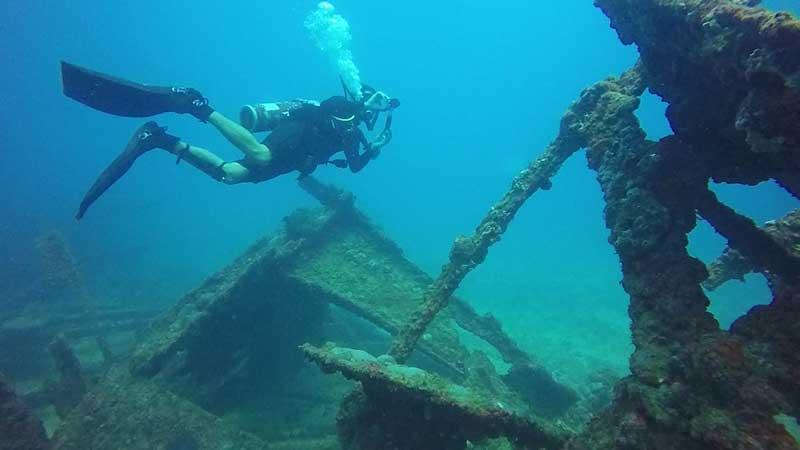 Depth: 25 meters
Location: Dubai
Fish: Yellowtail Barracuda, Torpedo Rays, Nudibranchs
Price Range: $$$
The 45 to 60 minute ride from Umm Suqeim Harbor is only the first leg of this journey– the Mariam Express is the first wreck diving site on this list, located 25 meters deep into the sea.
The Mariam Express was a cargo ship that ferried cargo from Dubai to Iraq. However, strong currents and a cargo overload caused it to capsize in 2006, with the wreck now playing host to a wide variety of marine life.
A few examples would include a variety of ray species like spotted eagle rays and torpedo rays, swimming alongside exotic fish such as flatworms and yellowtail barracudas.
With its rich history and variety of fish, the Mariam Express is definitely one of the first go-to destinations for divers hoping to take their first steps into the advanced world of wreck diving. 
Pro Tip: 

The Mariam Express's wreck itself spans 18 to 25 meters of its depth– the safest depth to descend to for novice wreck divers would be just in the middle, at 21 meters deep. 
Zainab Wreck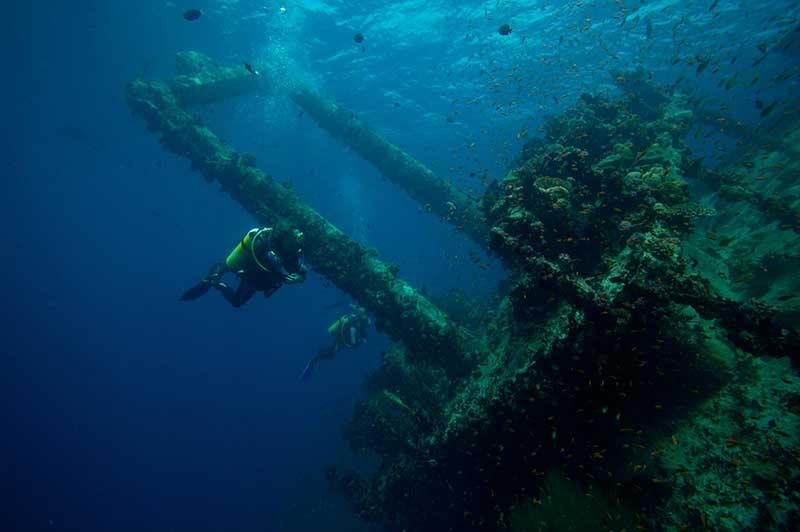 Depth: 29 meters
Location: Dubai 
Fish: Yellow snappers, barracuda, batfish
Price Range: $$$$
Zainab Wreck is a dive site popular among all divers– not just those specializing in wreck dives. This saltwater dive site found off the coast of the Dubai Creek is home to various marine life and several years of history behind it.
By far the most popular destination is the Seasroun Five, which used to be an oil carrier travelling from Iraq. After sinking down to around 30 meters under the sea, the ship eventually came to be known as the Zainab Wreck.
Nowadays, the wreck site has become a popular habitat for a large number of marine life of all sizes. Smaller oysters and fish populate the area, while rays and snappers tend to circle the wreck.
Barracudas also tend to shoal up around the wreck during the winter. So be careful when diving around these times since you can find them in every nook and cranny of the old ship.
The site is accessible all year round and is only about 40 minutes away from the coast of Dubai. You can even find it among some dedicated diving services providers in the city.
With only 8 to 9 meters of visibility, Zainab Wreck is a challenging but ultimately rewarding wreck dive, perfect for testing divers hoping to continue pursuing and exploring the hobby.
Pro Tip: 

The minimum depth for exploring Zainab would be 20 meters, with a maximum depth of 30– but the interior of the ship is easily accessible, making exploration fairly easier for divers. 
Dibba Rock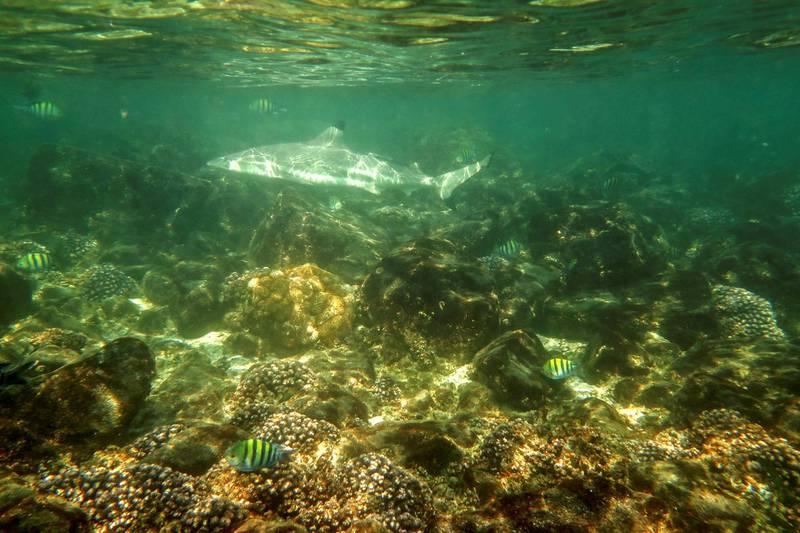 Depth: 30 meters
Location: Al Fujairah
Fish: Spotted Eagle Rays, Green Turtles, Blacktip Sharks
Price Range: $$
Despite its inconspicuous looks compared to its fellow diving sites in Fujairah, Dibba Rock's host of colorful corals and easy navigation makes it a popular pick for divers all around Dubai. 
The site is marked by its abundance of corals, with soft, boulder and whip corals coming in greens and purples. They release their polyps for feeding in the evening time, which can be quite the pleasing sight.
Dibba Rock is particularly renowned as a site for green turtle sightings, though it is, of course, host to various other marine life as well. Black-tipped reef sharks and clownfish are notable examples.
The site is best explored in the evening, when the corals are fully swaying and the fish sleep in nearby formations. The rock's ease of navigation and nice aesthetic make it especially popular among night divers. 
Pro Tip: 

Divers hoping for a quick circuit should definitely take the dive on at high tide– as the side closest to the shoreline gets to be only 3 to 4 meters deep. Dibba Rock's turtles also tend to come out more often during high tide! 
Checking out some popular diving services in Dubai
Brave the Depths of Deep Dive Dubai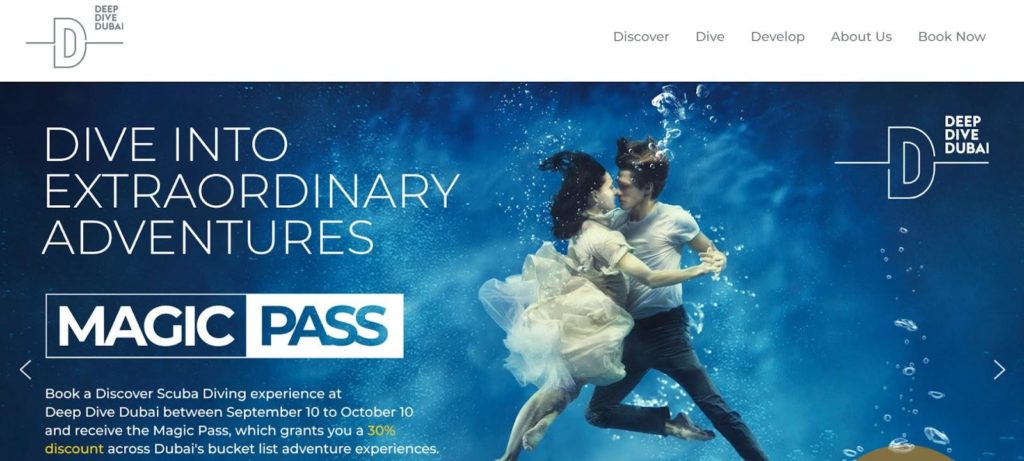 Activities: Scuba, Snorkeling, Free Diving, Shallow Dive, Experiences for Kids
Location: Deep Dive Dubai, Nad Al Sheba 1, Dubai
Social Media: Instagram; Facebook
Website: https://deepdivedubai.com/ 
Hours: Mondays – Sundays: 9:00 AM to 6:00 PM
Price Range: $$
Deep Dive Dubai isn't called one of Dubai's most premier spots for diving for nothing. This diving company in Al Sheba boasts the title of having the deepest swimming pool in the world.
The center's claim to fame is its 60-meter deep diving pool, filled with over 14 million liters of water. This pool is home to Deep Dive Dubai's very own underwater city, able to be explored by divers of all levels.
Thanks to the center's focus on interior diving, it is also immune to bad weather conditions that could otherwise cancel diving plans– guaranteeing fun for the whole family 365 days a year.
Deep Dive Dubai sticks true to its name by entertaining all forms of diving with its record-setting pool– from scuba diving to free diving, and from novices to full on enthusiasts. What's not to love? 
Pro Tip: 

There are limits to the depths divers can descend depending on their qualification! Beginner and trial divers may only descend as low as 20 meters, while experts can go to 30 and below. 
Explore the Sea at Nemo Diving Center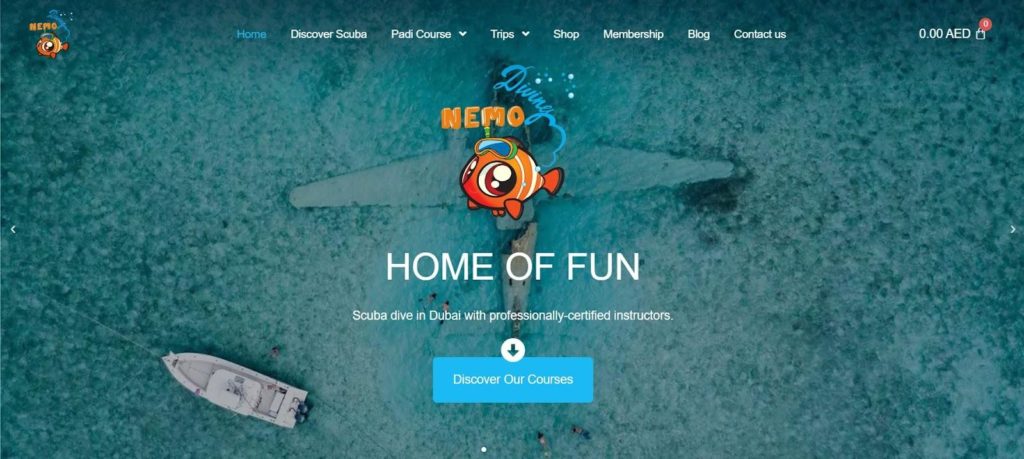 Activities: Scuba, Freediving, Deep Dive, Snorkel Trips, Outside Trips
Location: Azure Residences, Shop 5&6, The Palm Jumeirah, Dubai
Social Media: Instagram; Facebook
Website: https://nemodivingcenter.com/ 
Hours: Mondays – Sundays: 9:00 AM to 8:00 PM
Price Range: $
Nemo Diving Center is a familiar name in the diving scene in Dubai. With an original establishment in 2014, the diving center has slowly risen up the ranks to become one of Dubai's most trusted diving centers and charters.
The center is well-known for its trips to various popular diving sites, including some mentioned above, like Sharm Rock and Dibba Rock. It also offers diving trips to sites like Musandam and various spots in Al Fujairah.
They offer a wide range of diving courses for interested learners. These can range from discovery and trial courses to full on certification PADI courses for those hoping to take diving as a professional hobby.
With a vast fleet of boats, various destinations and diving sites on offer, and skilled instructors ready to show any aspiring diver the ropes, Nemo Diving Center is a definite visit. 
Pro Tip: 

Nemo Diving Center is home to several deals and offers to ensure that divers can explore the hobby without breaking the bank– some of them even lasting for two to three days to get the most bang for your buck. 
Get a Crash Course in Diving at Scuba Shade Diving Center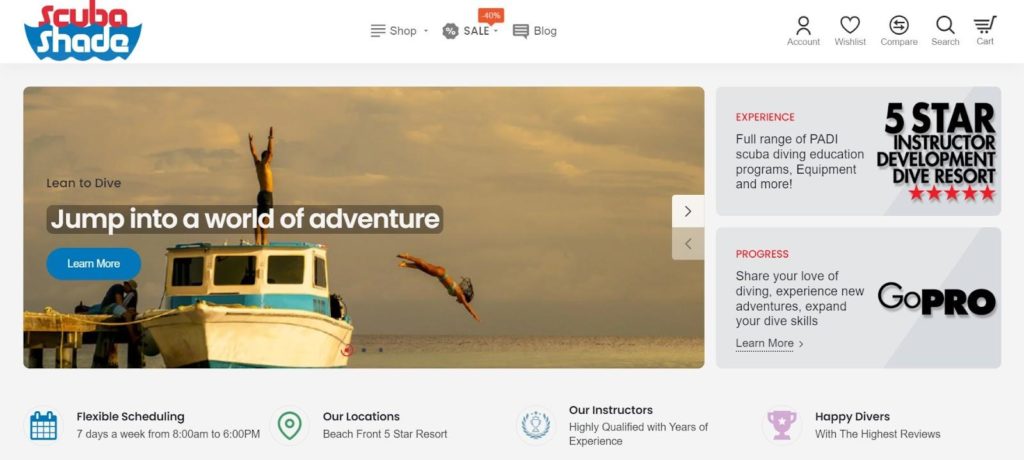 Activities: PADI Courses, Tec Courses, Dive Trips, Rescue Diving, Open Water Diving
Location: Habtoor Grand Resort, Autograph Collection, Al Falea Street, Jumeirah Beach, Dubai
Social Media: Instagram; Facebook
Website: https://www.scubashade.com/ 
Hours: Mondays – Sundays: 9:00 AM to 6:00 PM
Price Range: $$$$$
Scuba Shade is a company focused on the proper education and training of would-be divers. With a commitment for helping customers appreciate the aquatic environment of Dubai, the company doubles as both a dive resort and an equipment retailer. 
The resort offers a wide range of PADI courses for every experience level, ranging from entry level to professionals. They also have specialty courses for those wanting a more specific diving experience, such as those wanting to go night diving or wreck diving.
As soon as a diver is ready to jump into the water for their own, they can easily avail of the company's own dive trips. All the equipment they need can also be purchased or rented from Scuba Shade directly.
From beginner to professionals, Scuba Shade is an all-in-one diving company, covering equipment, education and exploration in one place. The place is open pretty much the entire week too so you just need to pop in anytime!
Pro Tip: 

Scuba Shade's training dive site is near the Skydive Dubai airstrip, which may have low visibility in hotter months! Learners can try booking with the company when the weather is cooler to fully appreciate the underwater views. 
Have an unforgettable dive at Bermuda Diving Center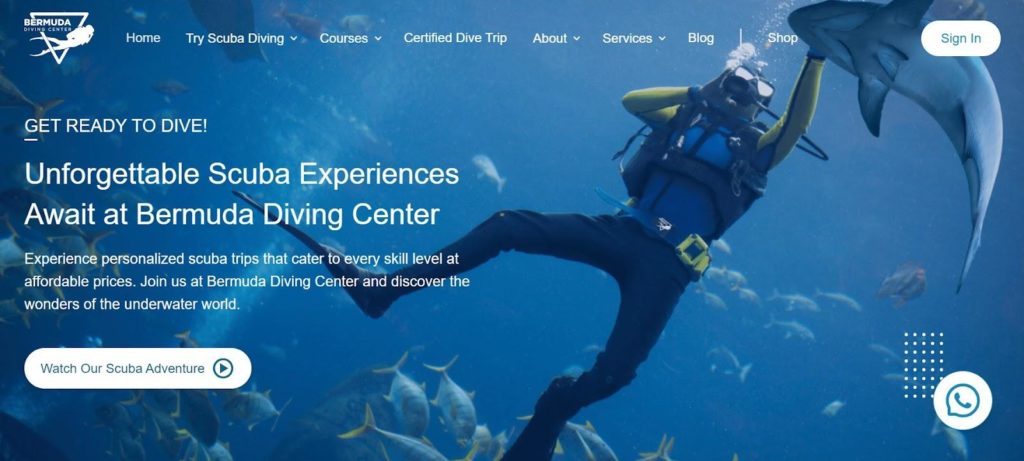 Activities: Try Dive, Try Scuba Diving, Certified Dive Trip, Open Water Course, PADI Seal Team
Location: Villa 604, Al Wasl Rd, Jumeirah, Jumeirah 3, Dubai 
Social Media: Instagram; Facebook
Website: https://scubadiving.ae/ 
Hours: Mondays – Sundays: 8:00 AM to 9:00 PM
Price Range: $$
Originally landing in Dubai in the year 2017, Bermuda Diving Center is known for its various diving destinations and certified instructors. The center happily welcomes divers of all levels, qualifications and ages.
The center, located in Al Wasl, hosts a wide variety of diving courses for interested learners. These lessons, ranging from starter courses to full divemaster ones are carried out in their in-house swimming pool. 
As an incentive, the Bermuda Diving Center hosts dive trips for PADI certified divers, boasting its very own boat equipped with all the necessary gear. Refreshments are also on board, and lunch and pictures are all part of the package!
Additionally, we also think their equipment maintenance services can be valuable for experienced divers too. The Bermuda team will happily help you with the pre-dive, thoroughly cleaning off the sand, salt, and other debris from your gear.
With the above in mind, the Bermuda Diving Center is a solid choice for divers, being able to practice everything they learn on the courses with a trip afterwards. We would recommend their wreck dives for thrillseekers. 
Pro Tip: 

Groups hoping to get more bang for their buck can try availing the center's packages, bundling their beginner diving lessons with tickets for either a dhow cruise or the AquaFun water park! 
Dive with the pros at Drar Diving Center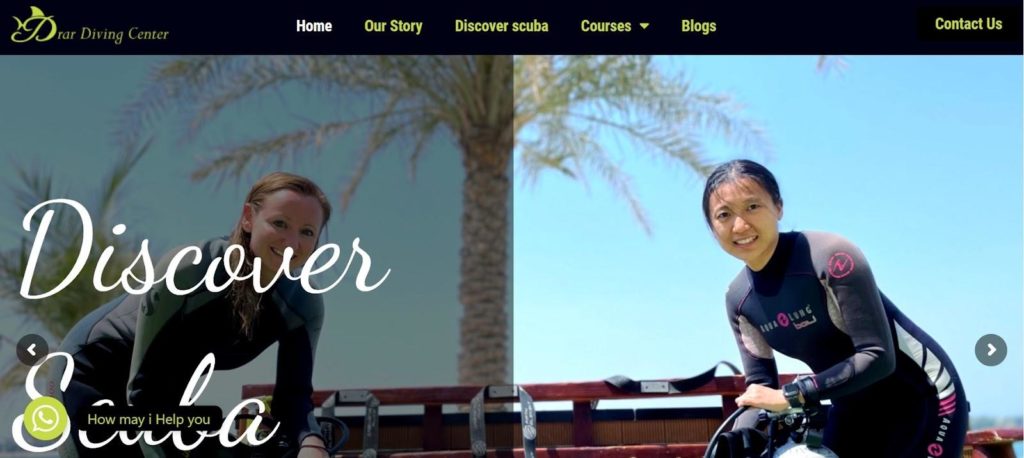 Activities: Open Water Course, Rescue Diver Course, Dive Master, Scuba Refresher, Advanced Courses
Location: The Beach, JBR Beach, Al Mamsha St, Jumeirah Beach Residence, Dubai
Social Media: Instagram; Facebook
Website: https://drardivingcenter.com/ 
Hours: Mondays – Sundays: 7:00 AM to 7:00 PM
Price Range: $$$$
Drar Diving Center is a recent addition to the ever growing list of diving centers within Dubai, having only arrived in 2020. Nevertheless, this center's reputation for its Japanese business ethos has garnered it a stellar reputation among learners.
The diving center is host to various PADI courses, including advanced and divemaster courses. A particular specialty would be their scuba refresher courses for divers looking to get back into the hobby after not partaking in a while. 
Despite having a smaller team than most diving centers, Drar Diving Center is also notable for the quality of their instructors– having over 10 years of experience in the diving industry and a friendly, welcoming attitude towards their clients.
All of these qualities make the Drar Diving Center the perfect institution to begin one's journey into all sorts of diving experiences– or even continue or restart it, especially for older divers. 
Pro Tip: 

Drar Diving Center isn't just focused on diving courses– it is entirely possible to try out other water sports with them, such as electric foil boarding, jet skiing and stand up paddle boarding. 
Some things and tips to know when you're going diving in Dubai: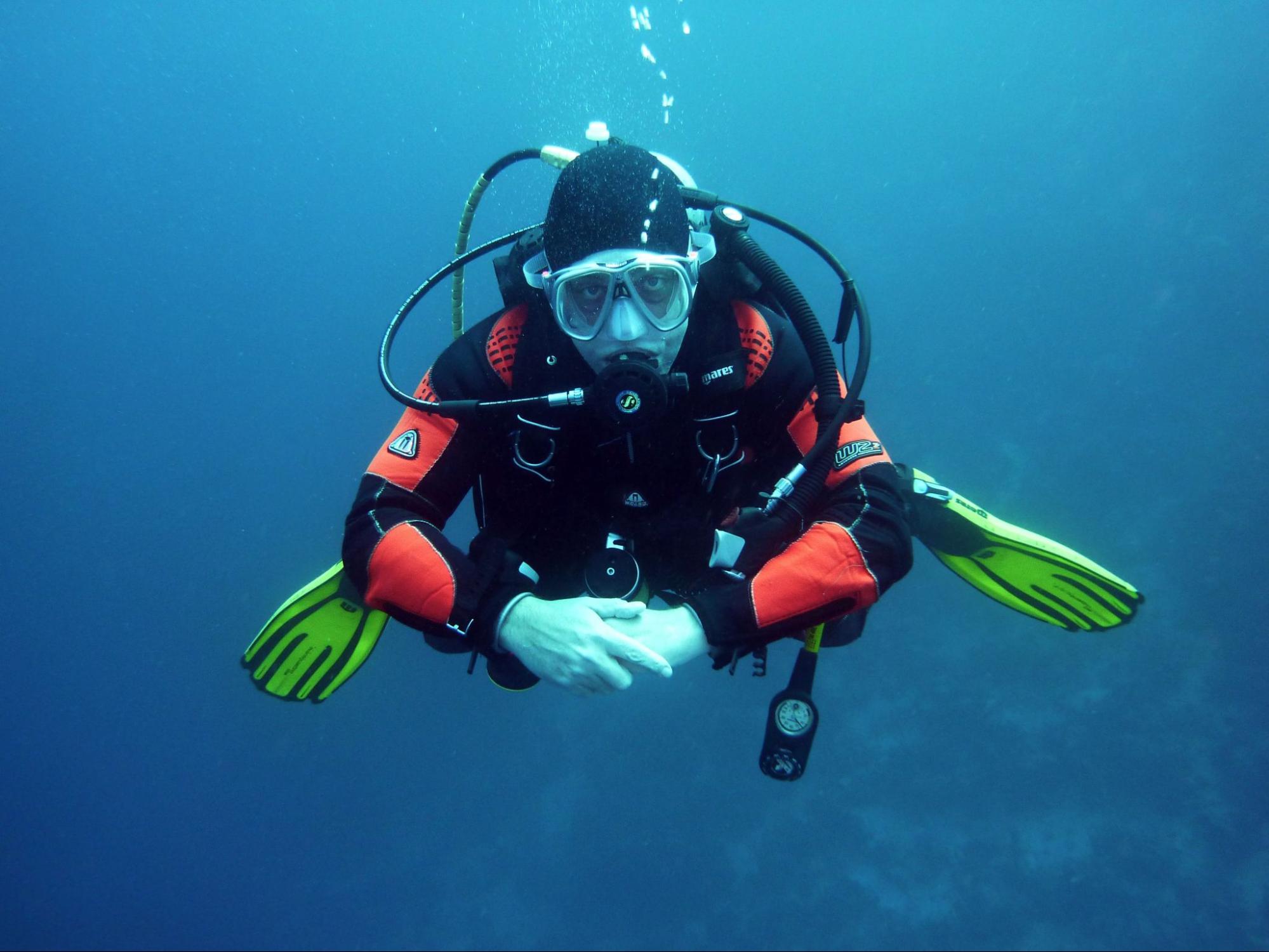 Do I need swimming experience when I go diving?
Yes, you do need swimming experience when you go diving. This is important if you decide to enroll in a diving course or specialized trip down to a wreck or such.
However, you don't immediately need them if you just plan on doing a trial dive indoors. It's a good way to get started getting your diving experience too.
What's the difference between freediving and scuba diving?
The difference between freediving and scuba diving is the equipment used. With scuba diving, you're using self-contained underwater breathing apparatus (SCUBA) in order to keep breathing as you explore.
Freediving is usually done without any. You just need to rely on your own lungs as you explore the deep water though some technically do wear equipment like goggles, fins, and masks.
Which type of diving should I try when visiting Dubai?
What type of diving you try will depend on your preference and purpose. If you're interested in just testing your limits and getting up-close with the underwater world then freediving might work better since it's a lot more mobile and low-cost.
However, those interested in going on deeper dives, exploring wrecks, and even researching underwater habitats, then scuba diving allows you to stay for much longer. You can explore your surroundings at your own pace so long as you still have oxygen.
Is there a minimum age for diving in Dubai
The minimum age for diving in Dubai can go as low as 10 years old, provided there's parents or guardians present. However, you might need to be 12 to 15 years old for trying deeper dives.
When's the best season for diving in Dubai?
The best time and season for dibing in Dubai would be in the summer from May to September, or winter which is from November to April. This way, you'll be able to experience the water at a more comfortable temperature.
Is it recommended to dive at night?
No, it's not recommended to dive at nighttime, especially for beginner divers. Only advanced divers with the proper qualifications and experience in open water courses are allowed to take night dives.
What tips should I keep in mind when exploring wrecks around Dubai?
The two main tips to keep in mind is to not be complacent and to know your limits and comfort zone. Try not to overestimate your abilities and attempt to get into more difficult spaces or advanced dives if you know you don't have the experience for it.
Additionally, you can't be complacent even if you're an experienced diver. Even when you've explored the place a hundred times before, you should always stay fresh and alert during every dive.
---
All of these sites make for amazing destinations, especially if you're interested in seeing what lies below. Whether you're a beginner looking to brave the deep for the first time or a seasoned veteran looking for new sights, Dubai has a great diving spot for you.
Make sure to check out some of our other activities such as skydiving in Dubai here, if you're interested in soaring high in the sky and sea while you're in the city.