The Best Travel Guide to Old Dubai: All You Need to Know
When it comes to a more historical destination that really sheds light on how the locals live, Old Dubai is one of the best places to check out. It's an amazing addition to your itinerary if you're looking to do a historic tour of the city.
To help you get started, we've put together this travel guide to help you navigate Old Dubai. Read on to see what you can expect from this historic neighborhood as well as other amazing points of interest.
What is Old Dubai?

Old Dubai is the nickname given to the area occupied by some of the region's historical districts, most of them located along the renowned Dubai Creek.
It's home to plenty of older stalls, shops and cafes frequently visited by locals. This is definitely a great spot to learn about Arabian culture and history.
The cities of Old Dubai are made up of the historical districts, quarters, and commercial hubs of the region, particularly the four districts Bur Dubai, Deira, Al Karama, and Al Satwa.
As Old Dubai isn't one district on its own, having a specific location to tell a taxi driver would be helpful– however, visitors can try going to the Burjuman Metro Station, transferring to Al Ras, then walking to the Dubai Gold Souk and Deira proper.
What makes Old Dubai special and significant is simply its existence. It's a stark contrast to the glitz, glamor, and rapid growth of a place like Downtown Dubai.
Instead of modern features, it's a lot more dedicated to preserving a trip back through time, back during the region's formative years. As a result, it's a very eye-opening destination for most visitors.
The Best Time to Visit Old Dubai
The best time to visit Old Dubai would be November until March, when the temperatures are a little bit colder. This makes it easier to get around on foot in order to check all the sights and shops.
Otherwise, you can visit Old Dubai anytime; it's not a seasonal destination. Most activities and live entertainment typically start at 5 PM so if you're big into the nightlife, you might want to wait until then.
Known Districts in Old Dubai
Bur Dubai

A historical district standing on the west of the Dubai Creek, Bur Dubai is a destination well-known for being a central hub for recreation of all kinds, as it caters to a good variety of people, from shopaholics to foodies and locals. 
The most well-known part of Bur Dubai is, of course, the old Al Bastakiya district– now the Al Fahidi Historical Neighborhood. Its reputation as Bur Dubai's heart and soul makes it a must-visit for those hoping for the best of Old Dubai.
Deira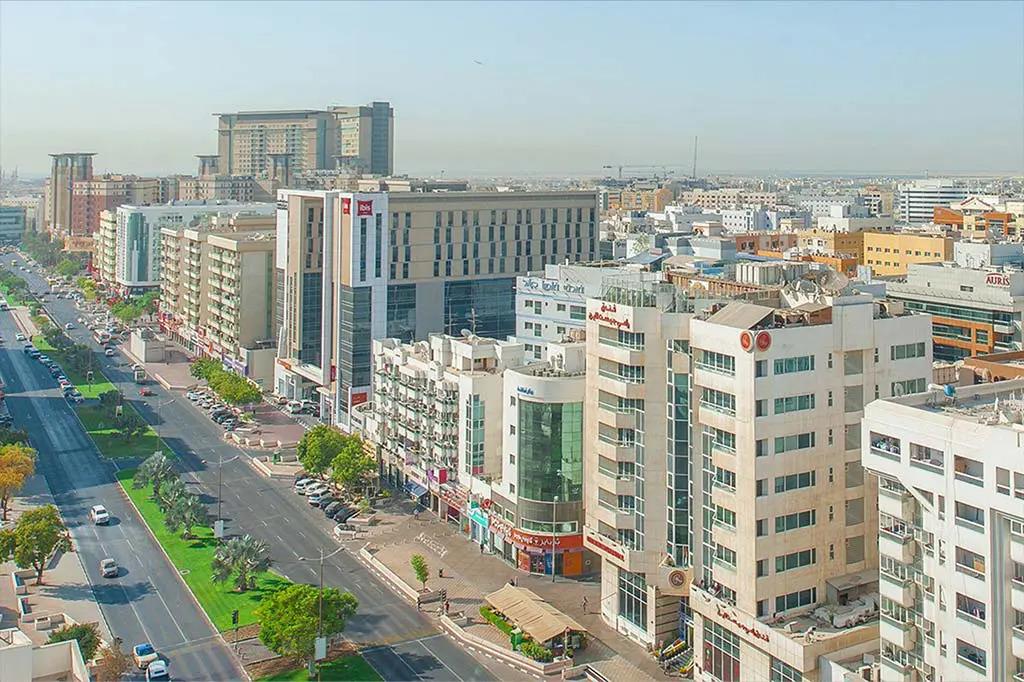 If one crosses the Dubai Creek from Bur Dubai, they would likely find themselves in Deira– a historical district known for the presence of various souks and the various wharfs housing a fleet of traditional boats.
Age-old souks, almost as old as the region itself, line the streets of this district– the bustling marketplaces a massive part of its charm. As most people say: to explore the streets of Deira is to experience a piece of Dubai's history first-hand.
Al Karama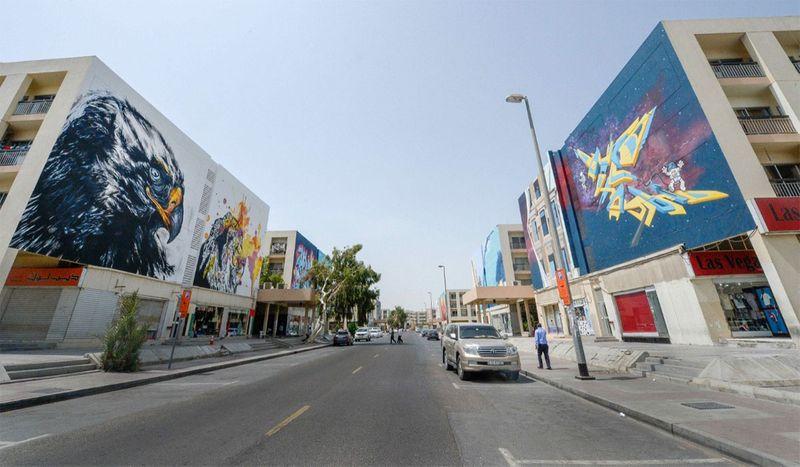 Within reach of just one train ride on the Dubai Metro down the Red Line, Al Karama is one of the liveliest neighborhoods to be found among the Old Dubai quarters– known for showing everyday life beyond Dubai's towering skyscrapers.
Even with only two square kilometers in size, Al Karama houses a good amount of people– enough for it to be considered the most populous residential area in the region. The many transport services housed here also make it a main travel hub within the city.
Al Satwa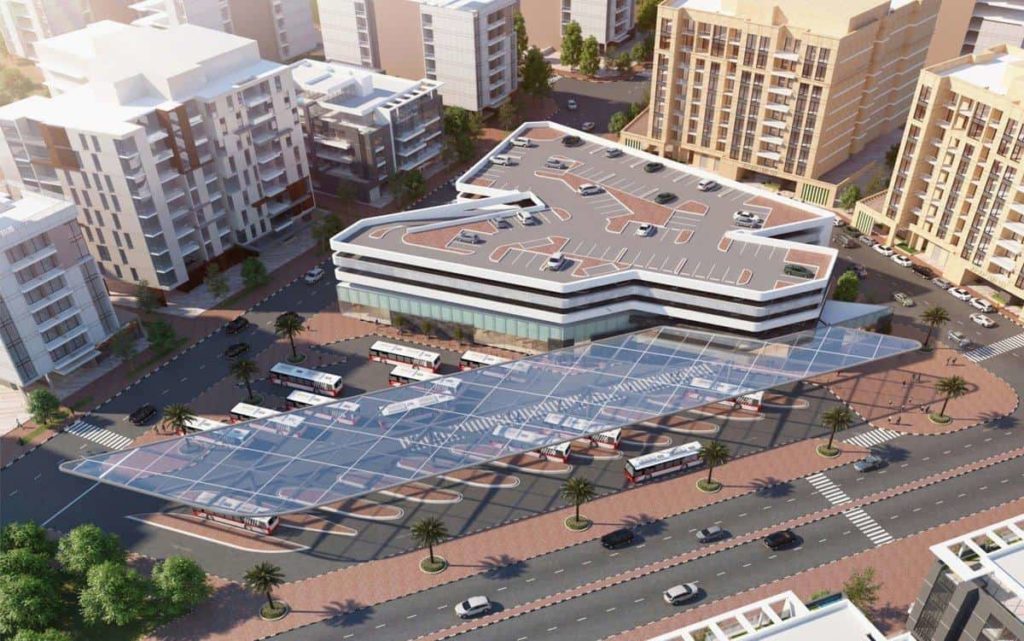 With a nice blend of buildings flanked by greenery and a good amount of retail outlets, Al Satwa, to the southwest of Bur Dubai, is one of the historical districts of Old Dubai and a hub for the South Asian community within Dubai.
Al Satwa is considered to represent the street life of Dubai, with large murals depicting or inspired by their heritage decorating the district. The district is also quite well known to be the topic and setting of the spoken word photo-novella, Satwa Stories.
Where to Stay in Old Dubai
XVA Art Hotel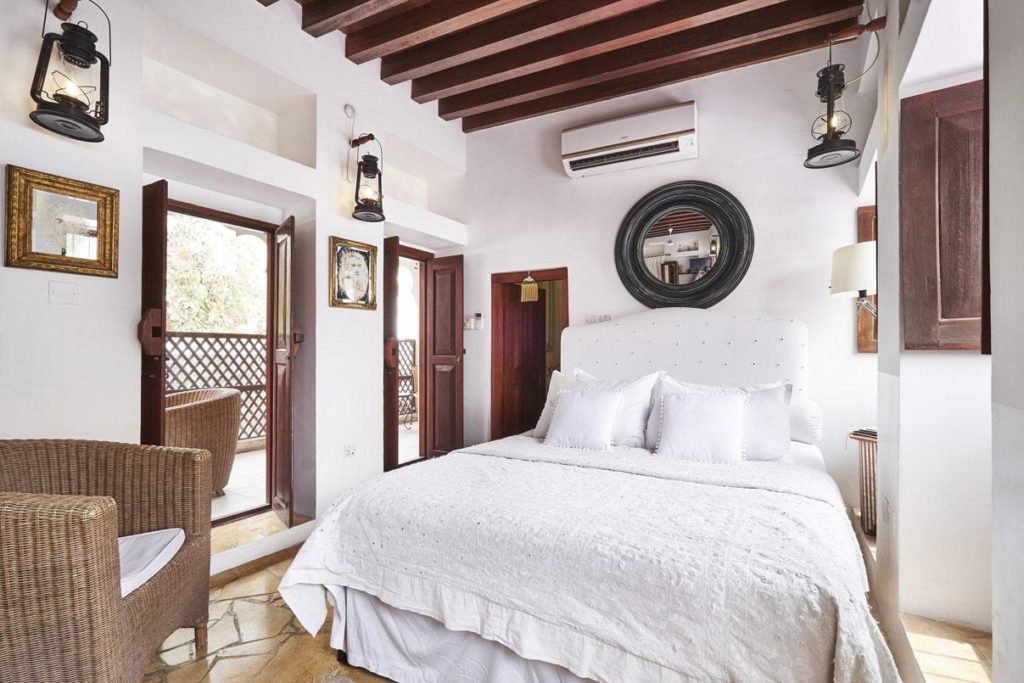 Address: 777X+JXM, Al Fahidi St, Bur Dubai, Al Fahidi Neighborhood, Near Dubai Museum, Dubai
Contact Details: +971 4 353 5383; [email protected] 
Website: https://www.xvahotel.com/ 
Social Media: Instagram; Facebook
Hours: Open 24 hours, 7 days a week
Pricing: $$$$
Established in 2004 as a melting pot of heritage and design, the XVA Art Hotel is one of the best places to stay in Old Dubai, helped further along by its location in the very heart of the historical Al Fahidi neighborhood.
With a decor style reminiscent of old Dubai, its maze-like corridors hearken back to a Persian style, especially in its architecture. Its location near the Dubai Creek also garners the hotel some fame for the views.
The rooms themselves are very streamlined, filled with Middle-Eastern art. The amenities included with each room range from coffee making facilities to minibars and free Wi-Fi– room upgrades include having an outdoor seating area for private use.
To fully embrace the art theme of the entire hotel, other amenities in it feature its very own art gallery, as well as a design shop– courtyard dining with vegetarian options, too, are just another one of its highlights. 
Pro Tip: 

The best rooms to stay at are either on the 2nd courtyard or the rooftop– do keep in mind that there are only three rooms on the roof, so be sure to book in advance if you want to take in the view! 
Arabian Courtyard Hotel & Spa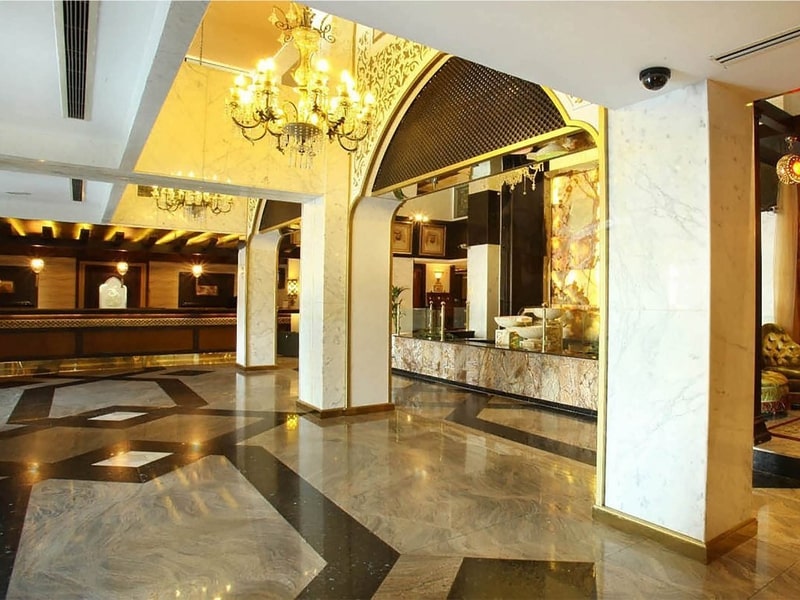 Address: Arabian Courtyard Hotel & Spa, Al Seef Area Opposite Dubai Museum, 46500 Dubai
Contact Details: +971 4 351 9111; [email protected] 
Website: https://www.arabiancourtyard.com/ 
Social Media: Instagram; Facebook
Hours: Open 24 hours, 7 days a week
Pricing: $$
A four star hotel boasting classic Arabian heritage decor, 172 fully furnished rooms and a good location, the Arabian Courtyard Hotel & Spa is a reliable hotel for locals, tourists, and business travelers alike.
With a strategic location just in front of the Dubai Museum, its proximity to metro stations such as the Al Ghubaiba and Sharaf DG stations also ensure a good flow of transport to and from the hotel. 
The rooms themselves are quite spacious and decorated rather royally, with large beds and a provided workstation. Special lights for reading and satellite TV in every room also ensures entertainment for every guest, along with a good view of the museum.
The hotel's amenities certainly do not fall behind, with services catering to both business purposes and relaxation purposes. The meeting areas are clean and spacious, and their very own spa promises ultimate wellness for the hotel's guests. 
Pro Tip: 

If the view of the Dubai Museum isn't to your liking, then the alternative is booking a road view room– especially on the top floor, as those tend to be surprisingly quiet: ensuring peace and quiet. 
Al Seef Heritage Hotel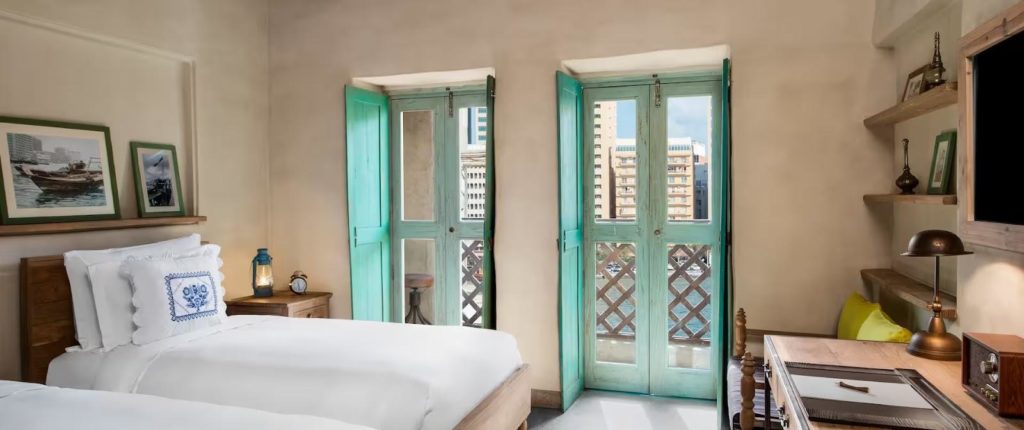 Address: Dubai Creek, Al Seef St, Umm Hurair 1, Dubai
Contact Details: +971 4 707 7077; [email protected] 
Website: https://www.hilton.com/en/hotels/dxbasqq-al-seef-heritage-hotel-dubai/ 
Social Media: Instagram; Facebook
Hours: Open 24 hours, 7 days a week
Pricing: $$$
Al Seef Heritage Hotel is the crowning hotel within the Al Seef district– with a close proximity to various souks and water taxis. With the Burj Khalifa just 10 kilometers away, it's definitely a hotel for both heritage fans and contemporary lovers.
With a central theme that makes you feel like you've taken a step back into the past, the Al Seef Heritage Hotel has quite the captivating architecture and decor. This lends the hotel quite the peaceful and serene atmosphere.
The rooms are quite minimalist, with clean white walls and wooden furniture. The views offered are either that of the souks, or that of the Dubai Creek– the latter is a particular crowd favorite among the guests. 
Amenities at the hotel feature meeting rooms for any business groups traveling through, along with an on-site restaurant quite famed for its traditional cuisine. The 24 hour room service is also rather appreciated. 
Pro Tip: 

The Al Seef Heritage Hotel is positioned in such a way that you'll probably have to take public transport to get to any particular landmarks, so keep traveling money handy! Alternatively, car owners will find a very wide parking space in the basement. 
Where to Eat in Old Dubai
Arabian Tea House Restaurant & Cafe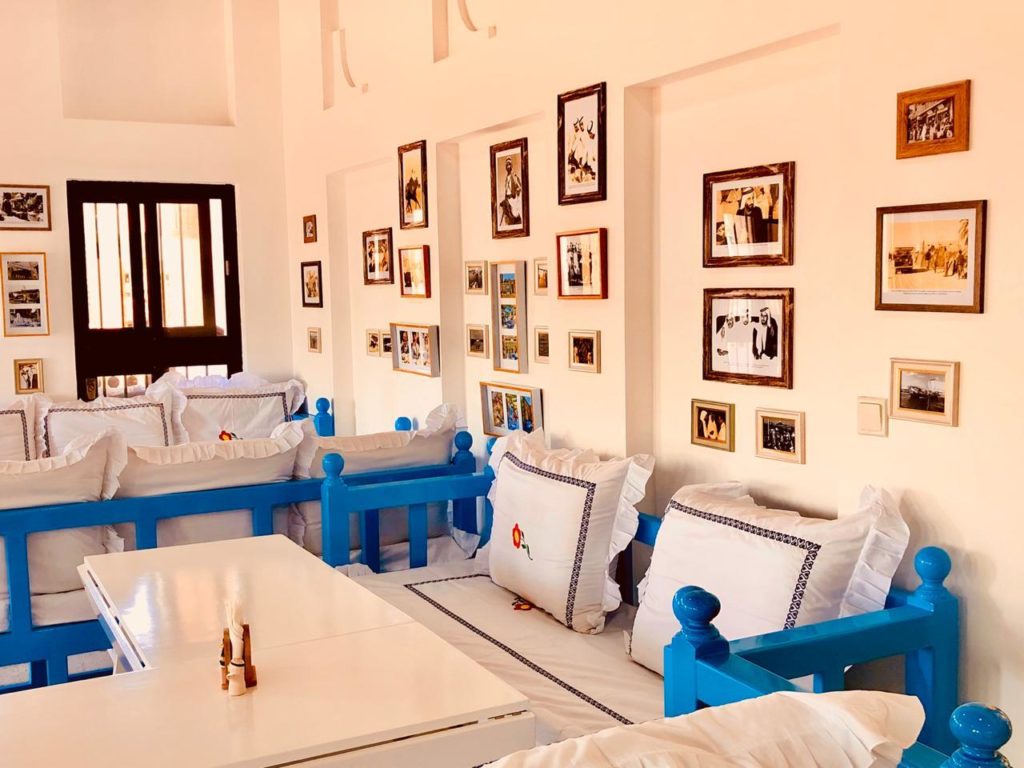 Menu: Emirati and Arabic Appetizer, Sandwiches, Main Course, Barbeque, Traditional Sweets
Address: Al Bastakiya, Opposite Al Mussalla Post Office, Al Fahidi Street, Meena Bazaar, Dubai
Contact Details: +971 4 353 5071; [email protected] 
Website: https://arabianteahouse.com/ 
Social Media: Instagram; Facebook
Hours: Mondays – Sundays: 7:00 AM to 11:00 PM
Pricing: $$
Originally known as the Basta Art Cafe, the Arabian Tea House is still one of the most historical restaurants to be found in Old Dubai, serving up classics incorporating both Emirati and Arabic flavors.
As a particular stand-out ingredient, lamb stars in a vast amount of the dishes on the menu. Whether speared on a stick or served on their own, the lamb dishes like their ryash barbeque are always good choices. 
To go along with their heartier meals, the hummus and pita served at the restaurant are also crowd favorites, especially the latter. Their flatbread comes freshly baked, ensuring warmth and flavor as it reaches the table.
Finally, as both a sweet end to the meal or just a treat to snack on while waiting for everything else in the meal, their luqaimat sweets go particularly well with their famed karak iced tea, which is cold and refreshing. 
Pro Tip: 

If you happen to visit the tea house at around 4:00 PM to 7:00 PM, definitely don't miss out on their special afternoon tea set, for only 127 AED. It is served with a good amount of snacks, sweets, and karak tea. 
Aseelah Middle Eastern & Emirati Restaurant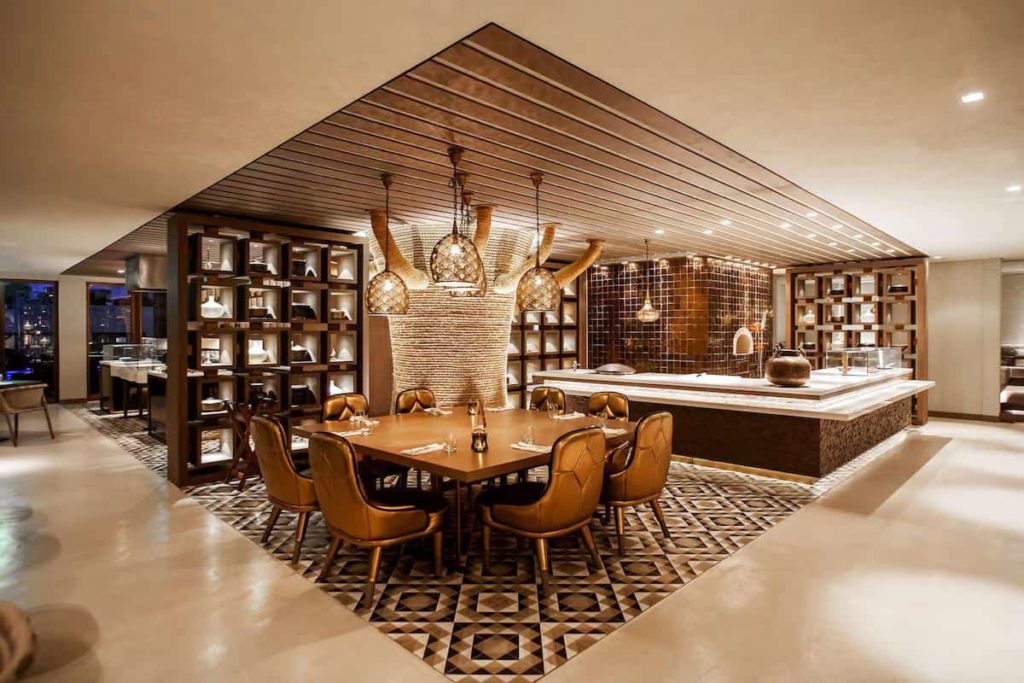 Menu: Traditional Dishes, Soups, Main Course, Dishes Made With Local Ingredients, Desserts
Address: Level 2, Radisson Blu Hotel Dubai Deira Creek, Baniyas, Dubai
Contact Details: +971 4 205 7033; [email protected] 
Website: https://www.radissonhotels.com/en-us/hotels/radisson-blu-dubai-deira-creek/restaurant-bar/aseelah 
Social Media: Instagram; Facebook
Hours: Mondays – Sundays: 12:30 PM to 11:00 PM
Pricing: $$$
With a focus on Emirati and Middle Eastern cuisine, Aseelah is a reliable place to catch a bite at when planning to visit any of Old Dubai's districts. Its location at the Radisson Blu Hotel ensures a good place to stay, as well.
Their menu of grilled dishes are definitely worth checking out, especially when they have a live barbeque station ongoing. The lamb kebabs and chicken kebabs are all flavorful and fresh off the grill, while seafood lovers can have some grilled prawns. 
Those hoping for something else might find their camel stew a particular choice– served with mashed potatoes, dried apricots and bezar spices. Alternatively, the Arabian lobster with herbed pilaf also makes for a good main course.
The dessert menu at Aseelah is also not one to scoff at– customers can have some classic date pudding with passion ice cream, or maybe even the pumpkin mille-feuille with pumpkin mousse and sweet cream over puff pastry. 
Pro Tip: 

Aseelah is known for hosting buffets during the Eid season, making it a good place to break your fast when the season rolls around. These buffets are also good value for money, and run late into the night. 
Al Ustad Special Kebab
Menu: Cholo Khoresht, Special Kabab, Lunch, Dinner, Different Mixes
Address: Ground Floor, Bahwan Plaza, Al Mussallah Road, Mankhool, Dubai
Contact Details: +971 4 397 1933; 
Website: https://alustadspecialkabab.has.restaurant/ 
Social Media: Instagram
Hours: 
Saturdays – Thursdays: 11:00 AM to 1:00 AM
Fridays: 5:30 PM to 1:00 AM
Pricing: $
With over 40 years and counting of service, Al Ustad Special Kebab is a restaurant that is popular for its Iranian cuisine and great value for money, making it a hotspot for tourists and locals alike.
As it introduces a taste of Iran into Dubai, meat lovers will find themselves spoiled for choice with the various kebabs on the menu. A standout would be their mixed kebab platter, featuring lamb, beef and chicken all in one already.
Every serving of the meals at the restaurant are accompanied by the restaurant's trademark saffron rice, which is very fragrant and filling, as well as a good palate cleanser for the heavy meats.
If you're not a fan of saffron, then you can opt for their green rice instead, which has beans instead of saffron. Or, if you don't like rice in general, opt for their hummus to go with the meal! 
Pro Tip: 

The portion sizes at Al Ustad Special Kebab are known to be large. Customers are best to keep this in mind for when they're ordering: alternatively, this makes Al Ustad a great place to host group meals. 
What to Do in Old Dubai
Bur Dubai
Indulge in Some Fashion Shopping at the Textile Souk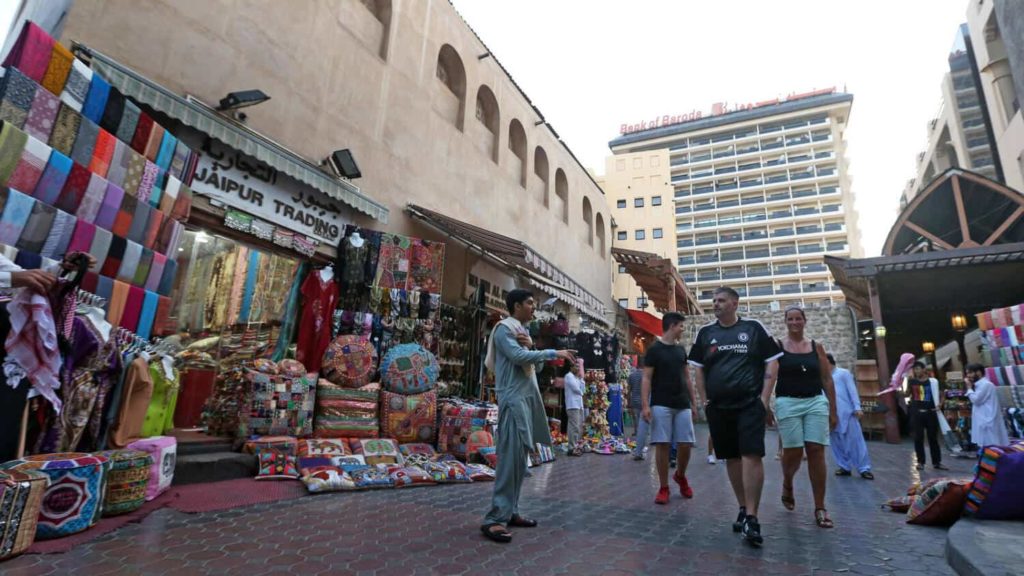 Fashion fans will enjoy shopping in the Textile Souk. For us, it's a very reliable place to get different types of fabrics for personal projects as well as other items like cushions and pashminas.
The Textile Souk remains to be one of longest standing traditional markets in Dubai, with rows upon rows of walkable stalls. It's definitely a nice place to check out in the afternoons once the sun isn't too hot in the sky.
Get Ready to Shop Until you Drop at Meena Bazaar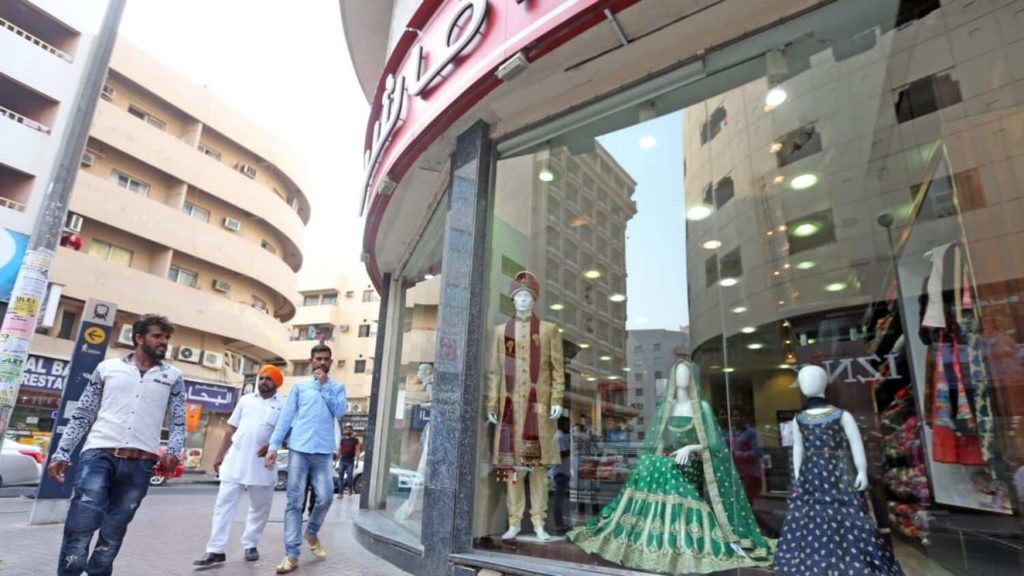 Fans of Indian culture and cuisine, on the other hand, will definitely want to consider paying a visit to the Meena Bazaar. Various Indian restaurants that line the area offer authentic classics and dishes for every flavor profile.
Aside from the food, visitors will also be able to find anything from handmade apparel to specialized jewelry. Meena Bazaar isn't known as Bur Dubai's "Little India" for nothing, so we would definitely recommend giving this area a visit.
Take a Tour of the Saeed Al Maktoum House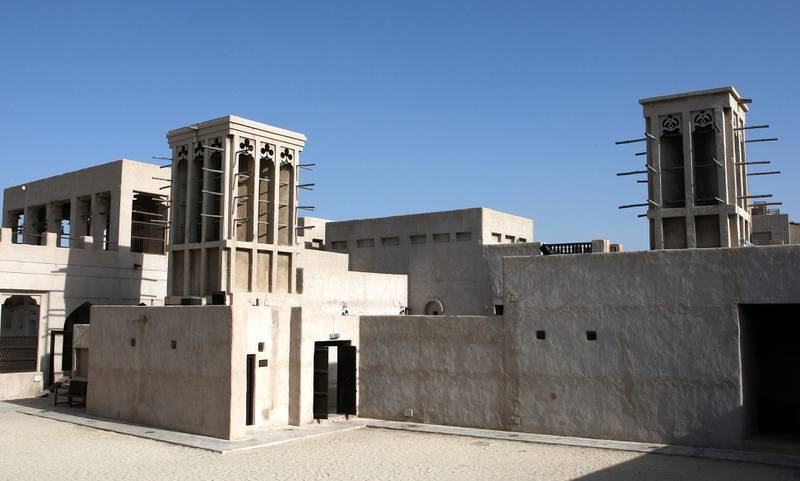 Learners and historians alike will want to pay a visit to the Saeed Al Maktoum House, the former residence of Dubai's founding family– now open to the public and hosting various art pieces and artifacts that highlight the city's long history.
Everything about the house itself is historical, from its architecture based in the late 19th century to the personal portraits held within. We think history buffs will enjoy a guided tour of the place, especially with all the trivia they can pick up.
Deira
Check out the Variety of Spices at the Spice Souk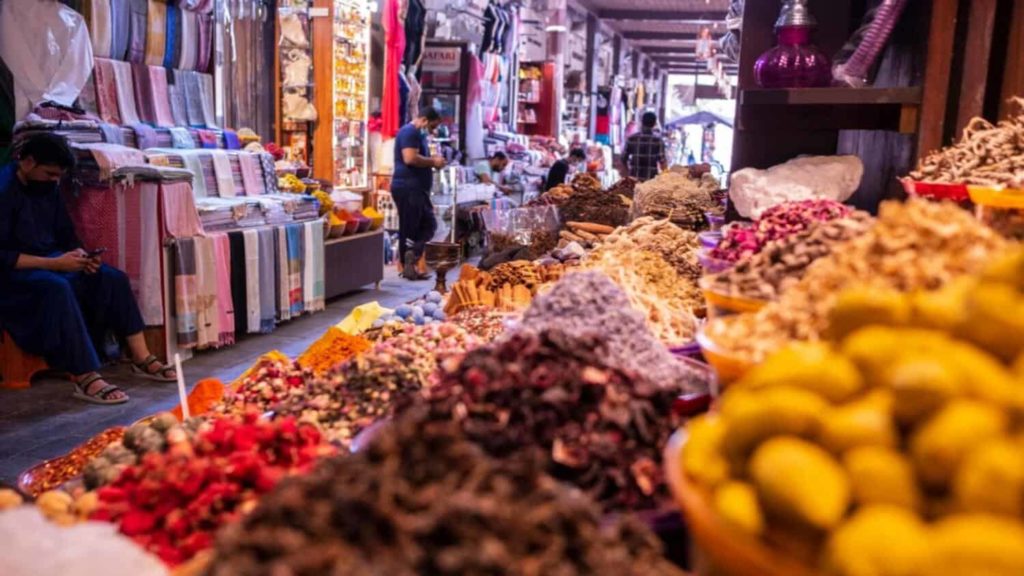 One of the first known destinations at Deira is the Spice Souk, a traditional market that specializes in trading–as its name implies– exotic spices. You should be able to find most of your needs here from cinnamon and paprika to cloves and cardamom.
As with most Arabic-style marketplaces, you're encouraged to bargain with the shops here in order to get the best deal. It's a great place to stock up on some of the essential kitchen ingredients whenever you're out in the area.
Experience a Boat Tour of the Deira Creekside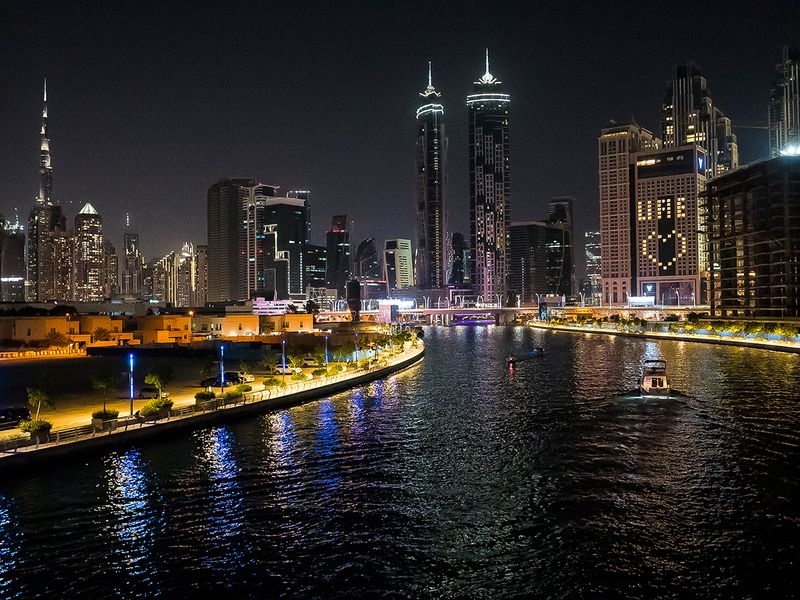 If one ventures a bit further from the souks, then they will reach the Deira Creekside– the division between this district and Bur Dubai. For years, it was considered Dubai's main connection to the rest of the world because of its location.
The Deira Creekside is a nice, scenic stop for when you just want to relax and take pretty pictures of the landscape. You can even take a ride on a dhow boat for a more 'authentic' exploration if you're so inclined.
Find your Favourites at the Deira Waterfront Market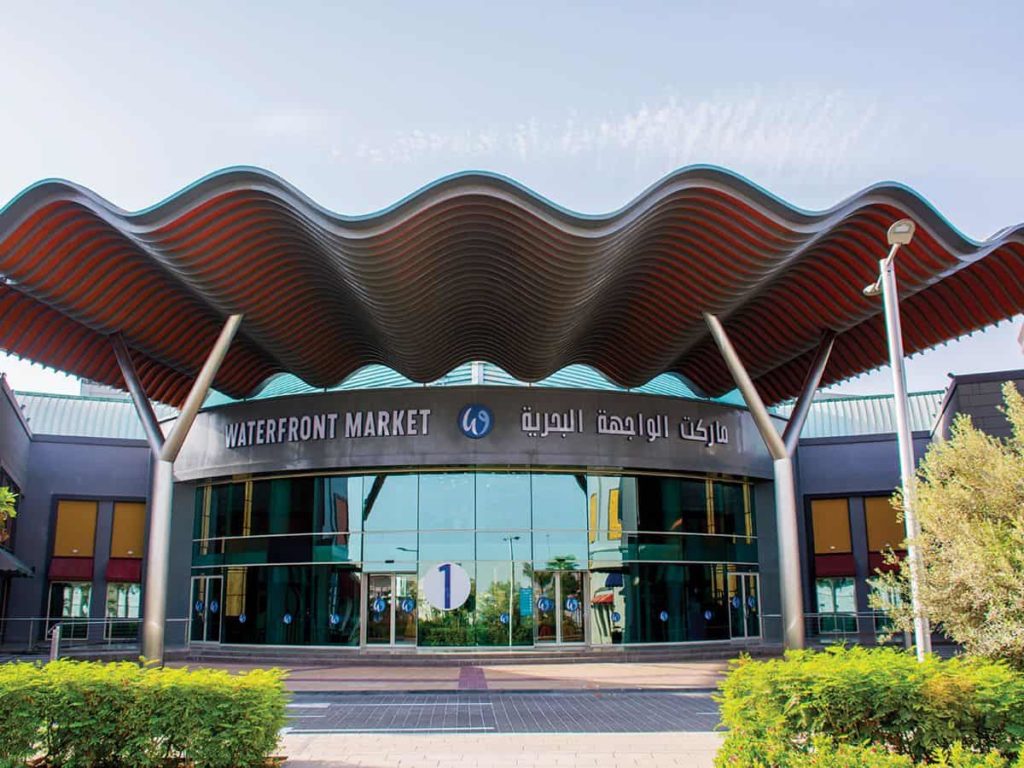 Fresh seafood, from lobster to kingfish, can be found in droves at the Deira Waterfront Market. Quite convenient in our opinion, since you may just have the cravings for some nice seafood dishes after exploring for some time.
If you want, you can even wait until the late evenings since the prices are at their most affordable. The best part is, the Waterfront Market also carries other ingredients like vegetables so you can get all of your food shopping done in one go here.
Al Karama
Enjoy a Bright Evening at the Dubai Garden Glow Park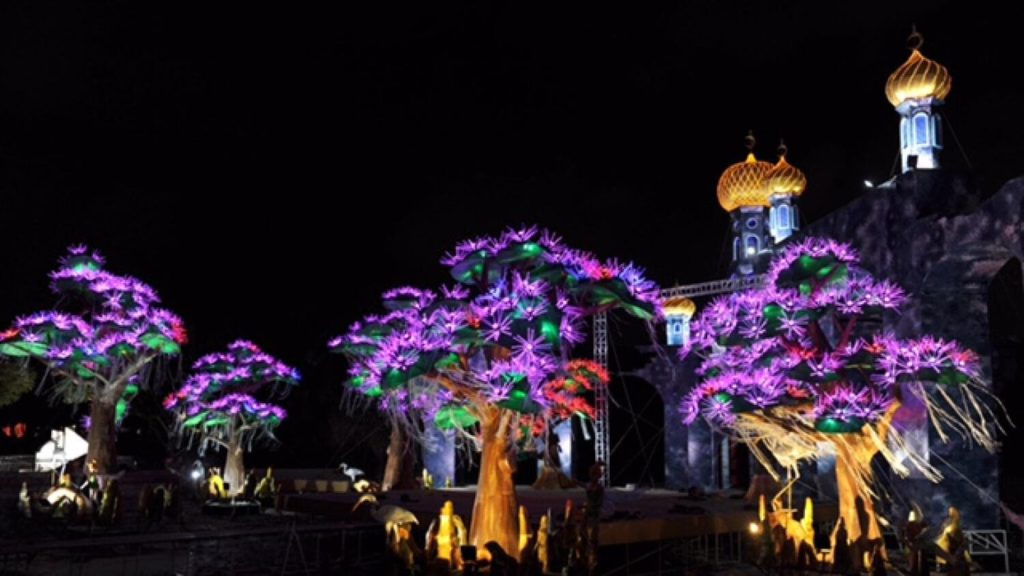 Al Karama places a lot of value on its art, and the Dubai Garden Glow Park is one of its most well-known attractions. Visitors can walk down the glow-in-the-dark park when it opens in the winter season and marvel at the various exhibits on display.
The park itself is made up of various attractions as mini-venues. The Glow Park treats guests to a neon light show of glow in the dark statues, while other parks such as the Magic Park and the Dinosaur Park present life-sized optical illusions and sculptures.
Set a New Personal Record at the Zabeel Park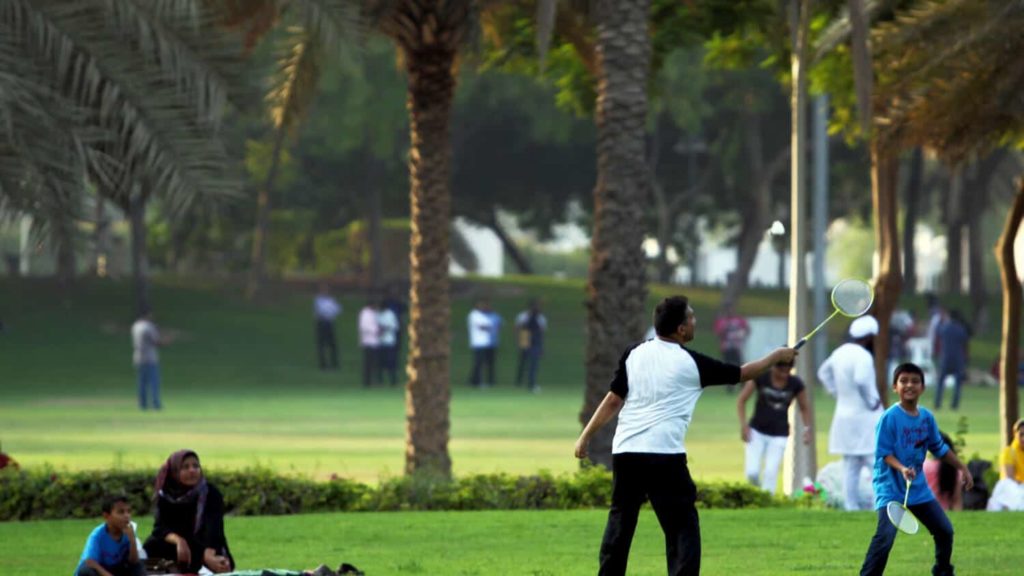 As one of the largest parks in Dubai, Zabeel Park houses various sporting options, a fitness center, and even plays host to seasonal flea markets. This park, boasting a size of 120 acres, holds the honor of being Dubai's largest park.
The live music areas at the park lends it a lively ambiance, with various areas and kiosks to enjoy oneself at. The park has also recently played host to a Guinness World Record attempt for the largest number of nationalities participating in a yoga event. 
Entertain the Inner Child in Children's City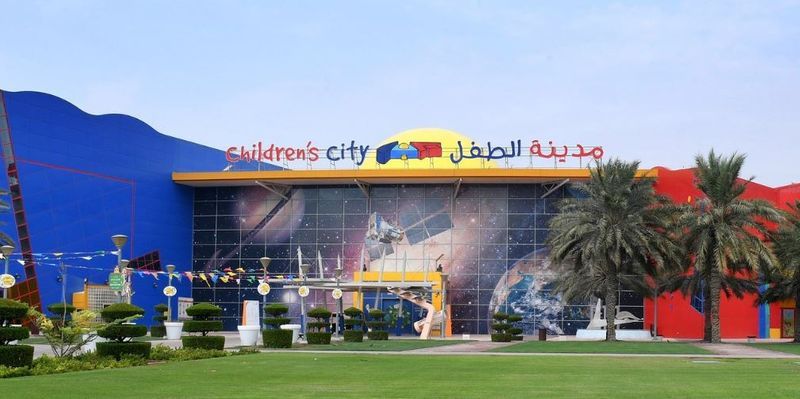 Families will definitely want to visit the Children's City activity center in Creek Park, letting kids of all ages explore various interactive activities, all in the name of having a fun learning experience.
The venue has several galleries dedicated to various fields of learning, from science to history. Kids can visit the Space Exploration gallery to get up close with a replica of the Apollo aircraft, and pick up on other civilizations at the International Culture gallery.
Al Satwa
Admire the Flowers Down at Plant Street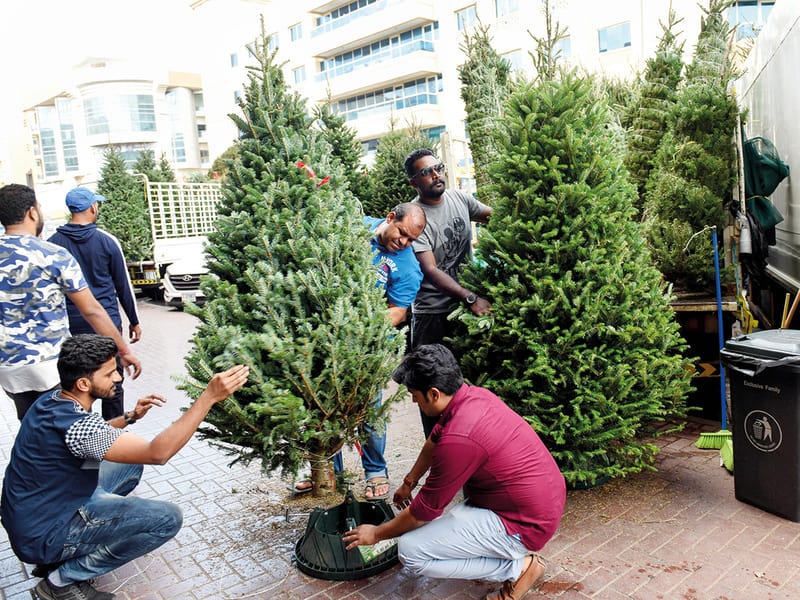 Al Hudaiba Street—or, Plant Street, so nicknamed for its flowers, is just one of Al Satwa's beloved spots to take a stroll at, providing visitors to the district a quiet place away from the rest of the high-rise city's fast-paced atmosphere.
Plant Street is especially known among the horticultural sector of Al Satwa, its walkways lined by various plant nurseries and flower shops—the streets are always lively with various traders chatting with their regular customers.
Explore the Stores at Al Ghazal Mall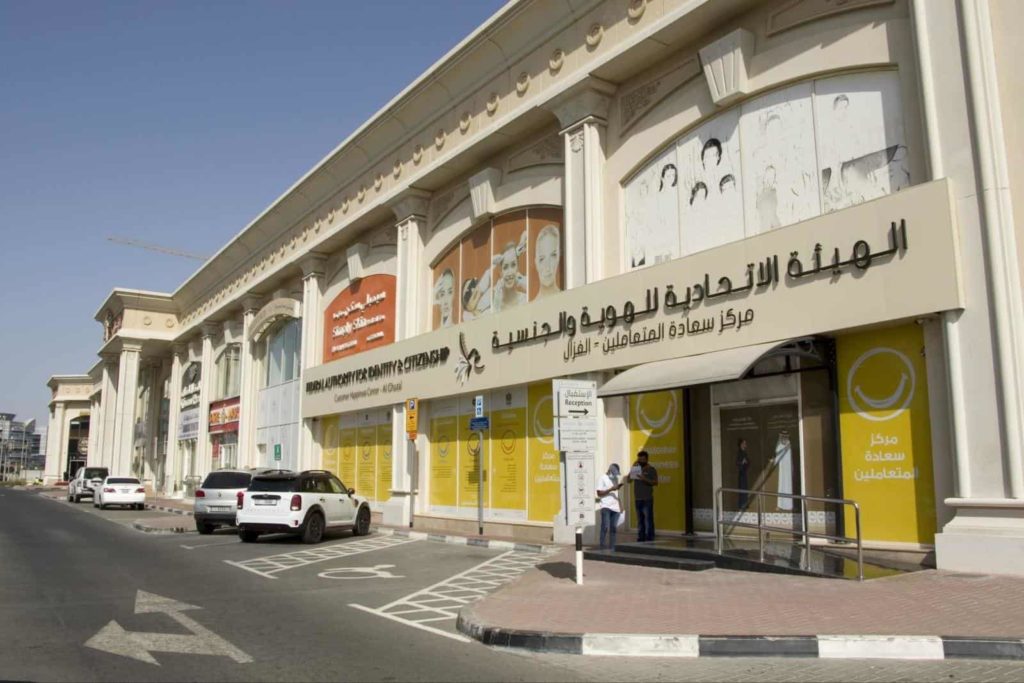 Al Ghazal Mall is a good example of the retail stores within the neighborhood, catering to everything from high fashion to home décor and offering an indoor shopping experience in the neighborhood that just can't be beat.
This rather compact shopping center is home to a good amount of business centers and wellness areas, from day spas to hair salons. There's also clothing stores around the mall, with footwear, handbags and accessories galore.
Shoot Some Hoops at Al Satwa Park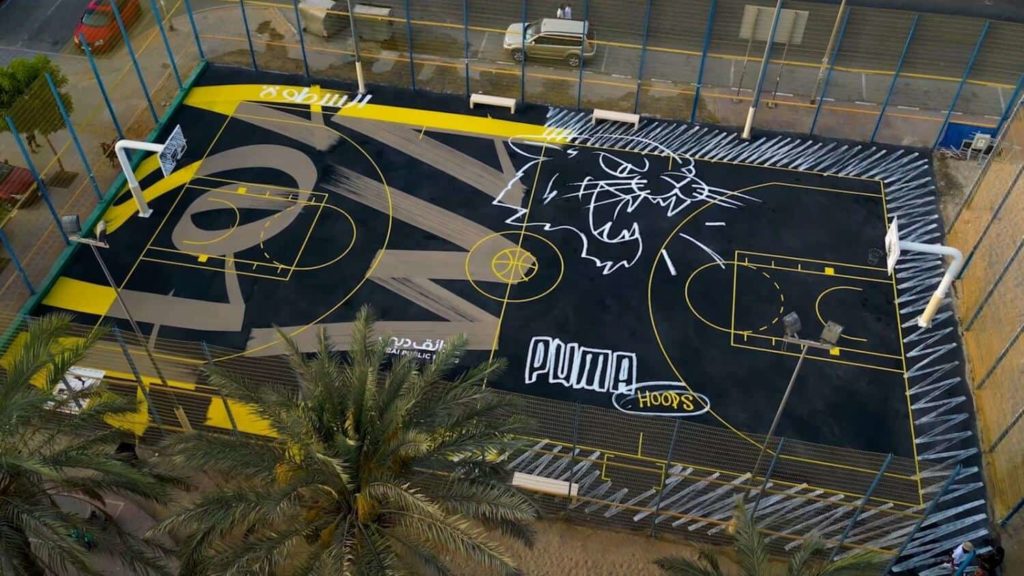 Finally, there's always Al Satwa Park. With the park's recent redesign bringing more attention to the sports-related courts, it has become a healthy hub for athletes and casual players alike to score a few points.
For those wanting to relax, though, Al Satwa Park can also be a nice slice of peace away from the rest of the district, where one can take a moment with their friends and family, at any time of the day.
Our Personal Picks:
Embark on a Cultural Trip at the Dubai Museum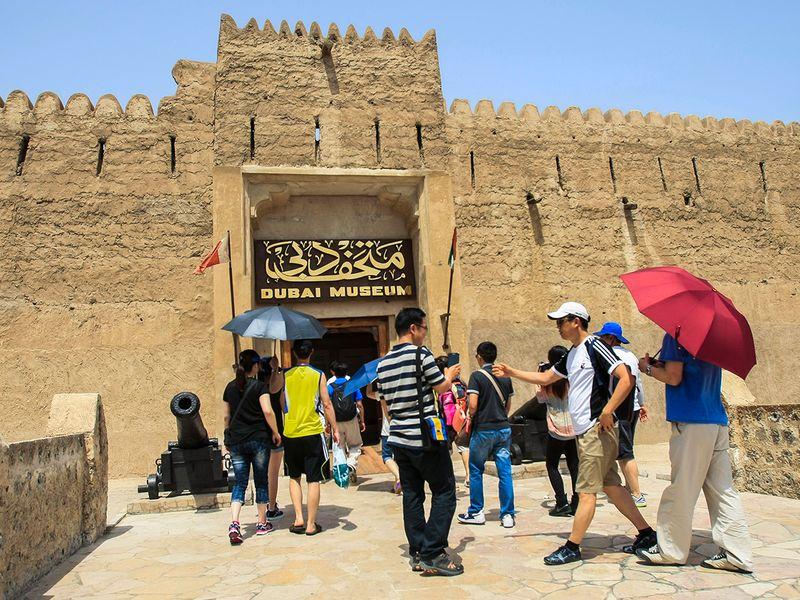 The Dubai Museum's location isn't just special– it's historical as well, as it is located in the oldest building in the city. Built inside the Al Fahidi Fort, which was built originally in 1787 and later refurbished in 1971 as the Dubai Museum proper.
For as low a price as 3 AED for entry, visitors to the Dubai Museum will be treated to life-sized dioramas that depict the city in its earlier ages, featuring traditional Arab houses– showing life before the discovery of oil.
The museum is also home to a good amount of artifacts from Dubai's history, both from locals and foreign objects, as results from trading with other communities across the peninsula. These range from traditional music instruments to whole dhow boats!
With mannequins set up at every turn to mimic the day to day of old Dubai, from merchants at souks to Bedouin tents, the Dubai Museum is sure to take you on a trip back in time and history.
Ride an Abra Down Dubai Creek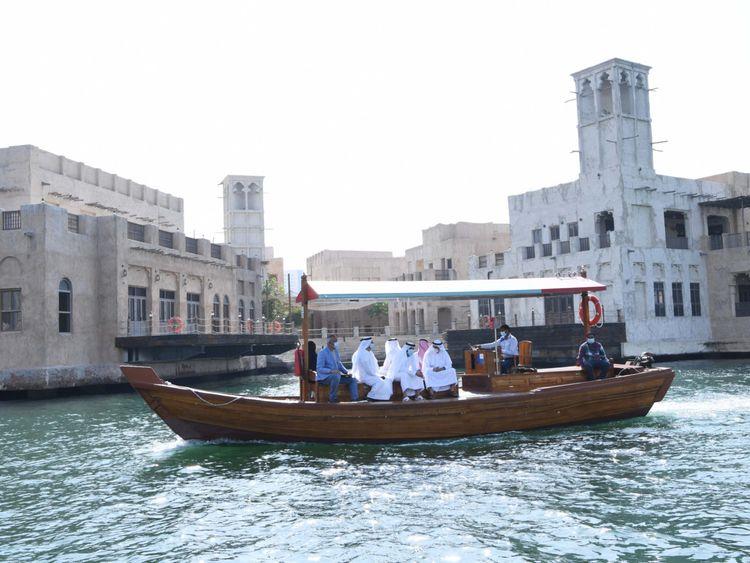 With a length spanning just over 24 kilometers, the natural saltwater creek that is the Dubai Creek exists not only to act as the separation point between Bur Dubai and Deira, but as a historic site for the pearling industry in Dubai.
The creek's reputation and history makes it one of the best natural tourist destinations in Dubai, with its waterfront being lined with restaurants and traditional souks. The local lifestyle in the area embodies Dubai's history to the fullest.
Hobbyist fishermen are also likely to enjoy themselves here, given that two of the most known fishing spots in the region are located at the bridges that span the Dubai Creek– the Al Maktoum and Al Garhoud bridges.
Indeed, the Dubai Creek's most well-known feature are the traditional abra boats moored at its ports– for only 1 AED, visitors can take a leisurely ride from one side of the Creek to the other, going from Bur Dubai to Deira or vice versa.
Buy the Best Jewelry at the Dubai Gold Souk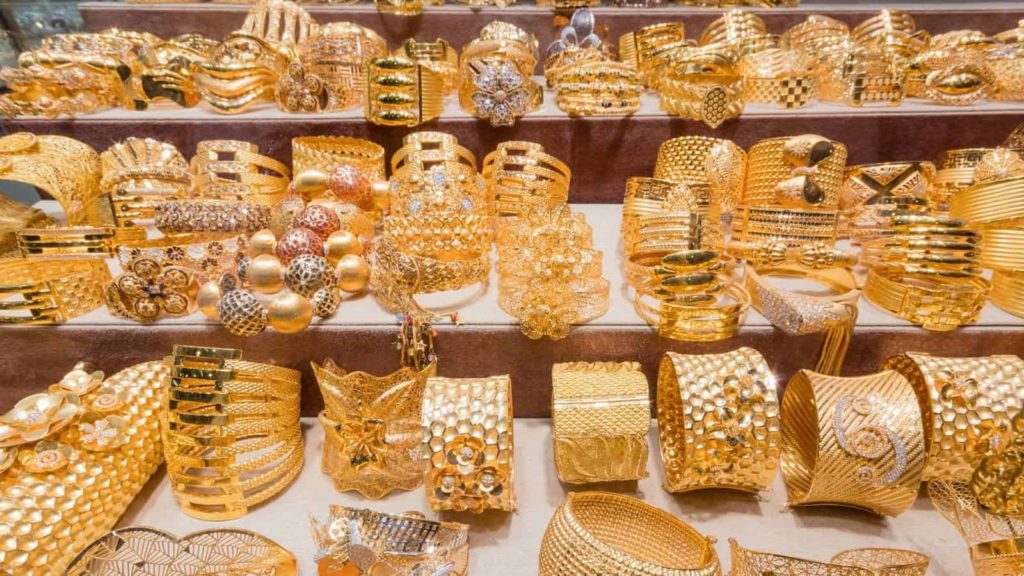 As one of Dubai's oldest traditional markets, the Dubai Gold Souk is the destination for the very best in traditional shopping within the region. With over 380 retailers, there's sure to be something for every person that walks through its alleys.
The long, market stall lined pathways of the souk are home to a vast amount of authentic, local merchandise, carefully screened by experts to ensure the best quality. Some of the stalls have even been there for decades!
In addition to this, as its name implies, the Gold Souk's market is chock full of jewelry and precious gold– sure to delight any jeweler. The gold, platinum and diamonds found at the market range from different carats and priced fairly. 
To top it all off, the Dubai Gold Souk was also home to the world's longest handmade gold chain– the 22 carat, Dubai Celebration Chain, spanning over 5 kilometers in honor of the Dubai Shopping Festival's 20th anniversary.
---
We hope you're able to find this travel guide helpful for your visit to Old Dubai. Make sure to check our website for other amazing guides and reviews, such as these essential travel tips for beginners looking to explore the world!
Also, make sure to check out some of our local reviews, like this quick guide to the Dubai Marina for anyone interested in seeing what the city is like by the water.