The Top Fishing Spots in Dubai
Dubai may not be the first stop you think of when it comes to fishing but we assure you, there's plenty of types to catch in its waters. Likewise, there's plenty of nice fishing spots for you to indulge in this hobby.
You can catch a good number of fish near bridges like Al Garhoud or Al Maktoum as well as more traditional water spots like the Dubai Marina, the Al Mamzar and Jebel Ali Beach, and of course, the Dubai Creek.
So read on and see what these places have to offer anglers like yourself!
Al Garhoud Bridge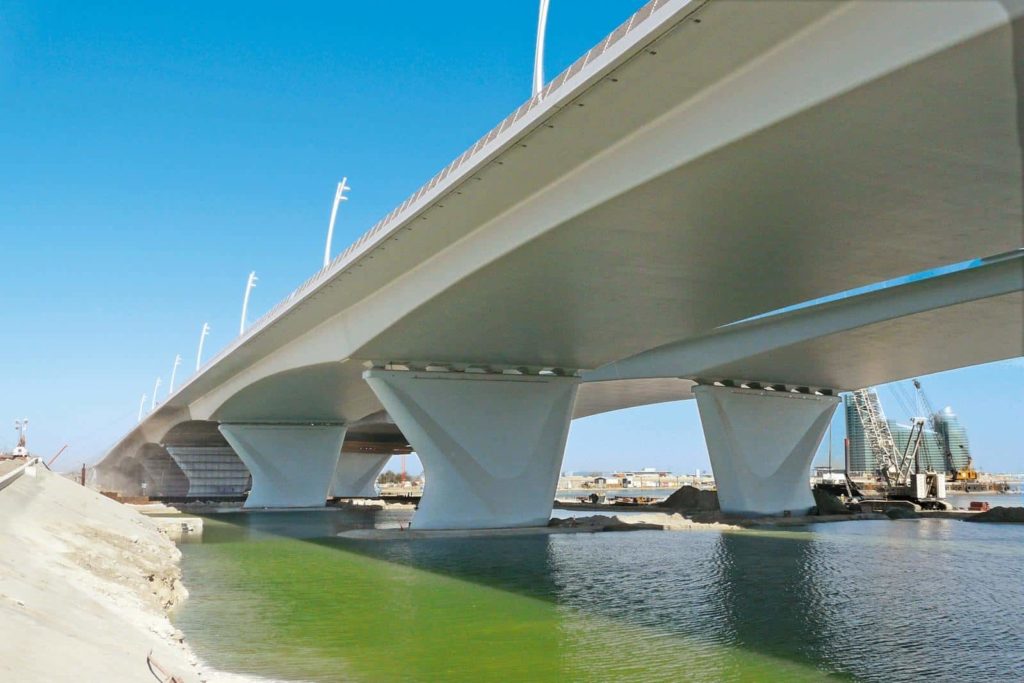 Fish: Milkfish, Tilapia, Striped Bass
Location: 68JP+V5Q, Umm Hurair 2, Dubai
Operating Hours: Open 24 hours, 7 days a week
Entry Fee: AED 4
Al Garhoud Bridge is one of the more well-known fishing spots in Dubai. It was initially constructed to ease traffic between Dubai and Sharjah, and is one of the few bridges that cross over the Dubai Creek.
Under the bridge is where the main fishing spots can be found, as well as the places to relax around it. It's home to a good amount of vegetation, along with treating any visitors to views of the various boats and dhows taking off at the creek.
In our opinion, it's a great place to admire a scenic water view while waiting for the fish to nibble on the line.
With the bridge offering some parking spaces, feel free to fish under the cool shade of the bridge. Common species found include barracudas and tilapias, which are a favorite of anglers who frequent the area. 
Pro Tip: 

Under the bridge, there's a large hole with some particularly deep water– this is considered the best place to fish at the Garhoud Bridge. You can try to snatch up a rarely spotted tilapia! 
Al Maktoum Bridge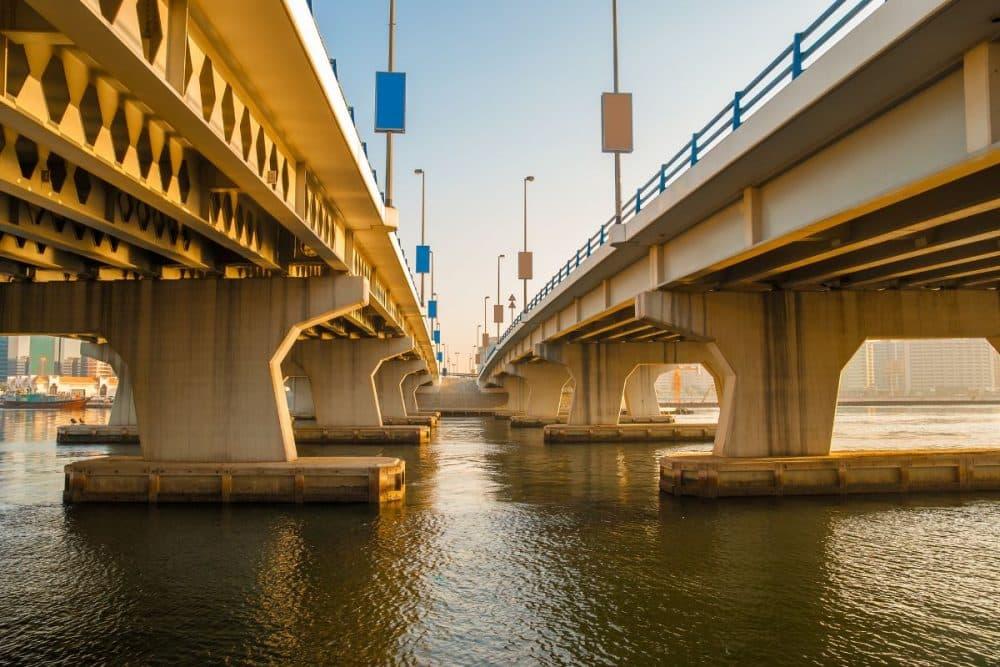 Fish: Catfish, Carp, Barracuda
Location: Near Salik Al Maktoum Gate, Umm Hurair Road, Riggat Al Buteen, Dubai
Operating Hours: Open 24 hours, 7 days a week
Entry Fee: No entry fee
With a length spanning over two miles and a picture-perfect view of the Dubai skyline, Al Maktoum is one of the two bridges of Dubai Creek.
Similar to its counterpart, under the bridge is where Al Maktoum's fishing spots lie. There may be plenty of other fishermen casting their lines out on both sides of the bridge, so be prepared.
To better avoid the crowds and the sun, though, you can go fishing at Al Maktoum either earlier on in the morning or in late evening. These are also times where the fish may be more active, so it enhances the chances of getting bites.
Anglers should observe the waters closely and try to reel in at the most opportune time!
The host of fish available in Al Maktoum's waters are also rather varied, with some particular stand-outs being catfish and carps of all sizes. Visitors will never find themselves disappointed at this place. 
Pro Tip: 

The bridges of Dubai Creek, Al Maktoum included, get quite crowded during the summer season– be sure to pack some essentials to keep yourself cool and shaded and find a quiet space away from most of the crowd. 
Jumeirah Fishing Harbour
Fish: Sultan Ibrahim, Barracuda, Trevally
Location: 552X+WC4, Umm Suqeim, Jumeirah 3, Dubai
Operating Hours: 
Fridays – Tuesdays: 7:30 AM to 10:00 PM
Wednesdays – Thursdays: 7:30 AM to 11:00 PM
Entry Fee: No entry fee
Completed in 2014, the Jumeirah Fishing Harbour is a good place to fish because it's also an area dedicated to celebrating and supporting the hobby.
It's made up of three individual harbors, located at Jumeirah 1, Umm Suqeim 1 and Umm Suqeim 2. Each one contains accommodations for fishermen, along with areas more geared towards tourists visiting.
Aside from being a fishing destination, Jumeirah Fishing Harbor is also rather popular for being a haven for seafood and tourism. Fish markets in the Jumeirah 1 and Umm Suqeim 1 harbor ensure the freshest catch for the various seafood restaurants.
With a vast array of boatyards, equipment warehouses and boat repair centers to support anglers everywhere, Jumeirah Fishing Harbor is a must-visit. Common species that can be found include the Sultan Ibrahim and trevallies.
Pro Tip: 

While there are plenty of fishing spots to be found at the harbor, you're most likely to find the most marine life around the surrounding beach. Be careful around the slippery rocks, though!
Al Seef Road Dubai Creek

Fish: Tilapia, Kingfish, Sea Bass
Location: Dubai Creek Tower, 1st Street, Umm Hurair 1, Dubai
Social Media: Instagram; Facebook
Website: https://alseef.ae/en 
Operating Hours: 
Mondays – Thursdays: 10:00 AM to 10:00 PM
Fridays – Sundays: 10:00 AM to 12:00 AM
Entry Fee: No entry fee
Al Seef District, found along the shoreline of Dubai Creek, celebrates the old and the new. Its two spaces are dedicated to both heritage and contemporary architecture.
Al Seef is perfect for leisurely strolls down the streets, especially in the Al Fahidi Historical Neighborhood. However, the biggest draw for fishermen in the Al Seef area is the presence of D Marina, Al Seef's private marina.
With over 68 berths to support a good array of vessels, Al Seef's D-Marin allows visitors to appreciate the water however they like. Visitors can take a ride on one of the many dhows for a relaxing cruise or just take a nice photo of the aquatic landscape.
Anglers may be more interested in the many yachts at the marina, though – where anglers can scoop up tilapia, kingfish, or maybe even a sea bass over the creek waters. 
Pro Tip: 

One of the draws to this area is the presence of various waterfront restaurants and a floating market. Visitors can visit the various dhow boats for a floating dinner to unwind. 
Jebel Ali Beach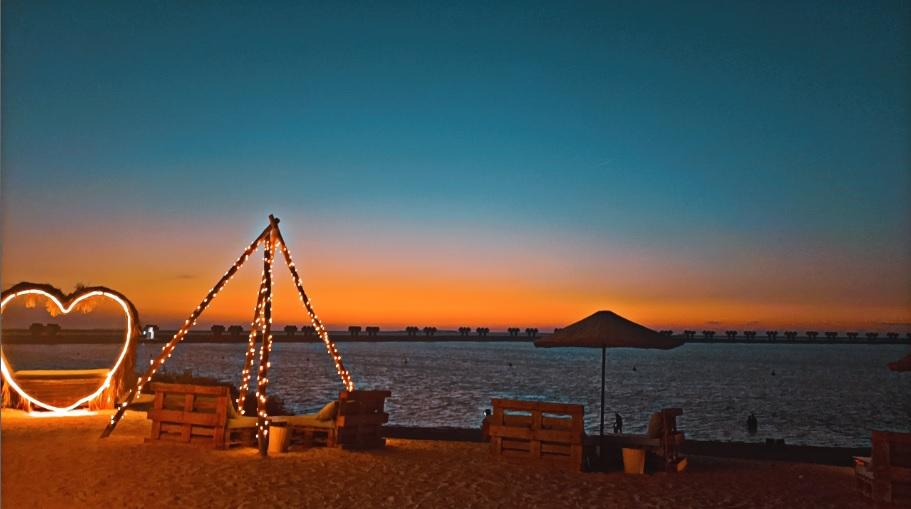 Fish: Kingfish, Barracuda, Snappers
Location: Public Beach, Mina Jebel Ali, Dubai
Website: https://jebel-ali-beach.business.site/ 
Operating Hours: Open 24 hours, 7 days a week
Entry Fee: No entry fee
Jebel Ali's beach, located on the southern outskirts of Dubai, is a popular spot for fishing. Plenty of marine life that can be found within its vast waters!
There's much to do aside from fishing at Jebel Ali Beach. After fishing, visitors can try spending the night under the stars at the beach – just bring a tent, blankets and enough food!
Thrill seekers might find themselves more interested in the water sports that can be found in the area. The wind conditions of Jebel Ali make for a good area to try out jet skiing, surfing, and kite surfing, among other sports. 
At the end of the day, fishermen will find themselves in good company at Jebel Ali, with various like-minded hobbyists and plenty of fishing boats for rent. If kingfish is on your list, then definitely try fishing here. 
Pro Tip: 

While the seas of the Jebel Ali Free Zone and beach are teeming with all kinds of marine life, be sure to check in with the locals for any fishing restrictions.
Dubai Marina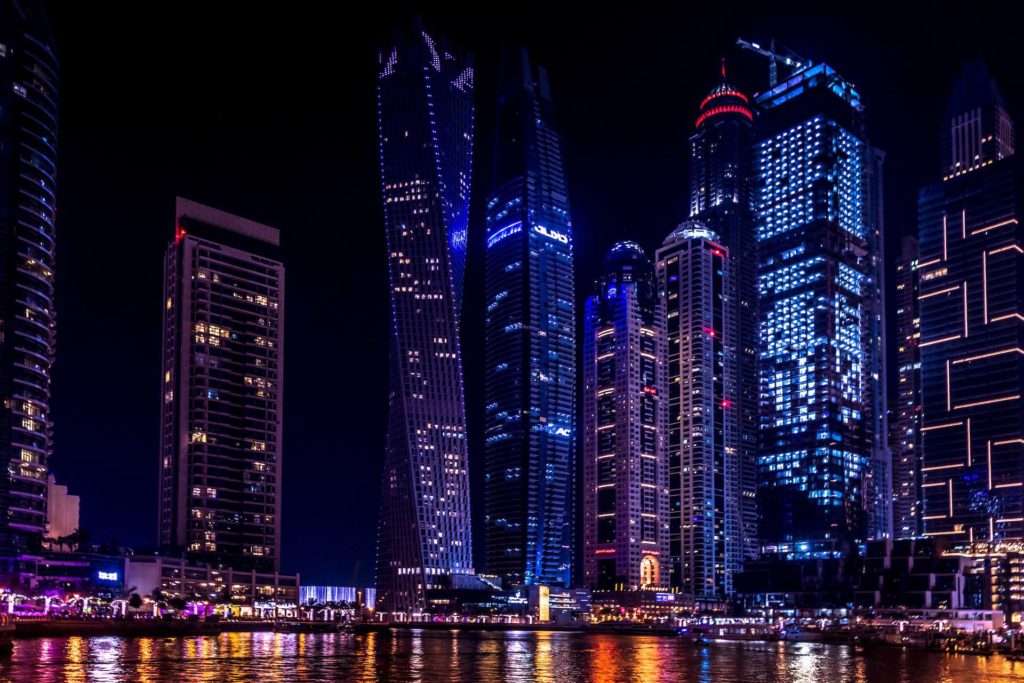 Fish: Tuna, Groupers, Cobia
Location: Dubai Marina, Dubai
Social Media: Instagram
Website: https://www.dubai-marina.com/ 
Operating Hours: 
Mondays – Thursdays: 8:00 AM to 10:00 PM
Fridays – Sundays: 8:00 AM to 12:00 AM
Entry Fee: No entry fee
With an abundance of marine life, clean waters for miles and a reputation as one of Dubai's top destinations in general, the Dubai Marina is also a well-loved fishing spot! 
As one of the more affluent destinations in the region, Dubai Marina sees its fair share of would-be anglers coming to try their luck.
Of course, the aquatic scene is also pronounced in the Dubai Marina, with various charters and yacht clubs populating the area. It's not uncommon to see upscale yachts carrying tourists and fishermen alike.
The marine life in this man-made marina is also surprisingly rather varied, with species like tuna, groupers and cobia making frequent appearances in the water. Some fishermen have also reported being able to find quite large kingfish!
Pro Tip: 

Dubai Marina is home to quite the number of fishing charters, yacht clubs and boatyards. The best way for those looking to fish is to definitely try and check in with one of them, so as to travel in a group. 
Al Mamzar Beach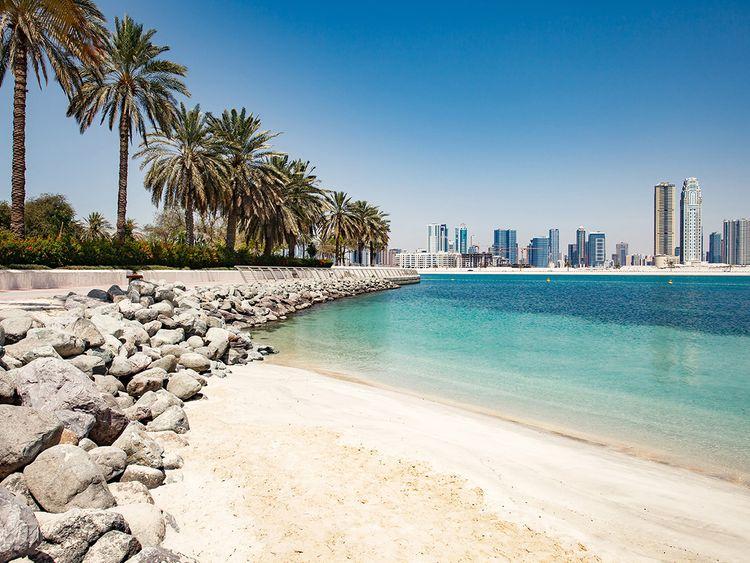 Fish: Jellyfish, Sea Bream, Sha'am 
Location: Al Mamzar Beach St, Al Mamzar, Dubai
Operating Hours: 
Sundays – Wednesdays: 8:00 AM to 10:00 PM
Thursdays – Saturdays: 8:00 AM to 11:00 PM
Entry Fee: AED 5
Because of its relatively recent fame, Al Mamzar is also quite a ways away from most of the larger crowds of fishermen in Dubai. If you're hoping for a more quiet, private time, then this fishing spot should be your best bet.
Particular places to fish in at Al Mamzar would include the Al Mamzar Beach Park, located on the other side of the Dubai Creek. With it housing five beaches, you'll never run out of places to fish to your heart's content. 
When the waters grow warmer during the winter season, you might be able to catch some migrating bluefin tunas. Otherwise, be wary of jellyfish as you cast your lines out– they can sting pretty bad. 
Pro Tip: 

Al Mamzar is also home to its biggest tourist attraction, the Al Mamzar Corniche beach strip, which is one kilometer long. But do take note that it's forbidden to fish there as well as waters designated for swimming and bathing areas.