Top Seven Water Parks in Dubai
Dubai can be pretty hot, even when it's not summer. But that doesn't mean that it's lacking in places to cool off!
Those looking to enjoy the wind and waves can easily do so among the top water parks here in Dubai!
The top water parks in Dubai include the Aquaventure Waterpark, the Jungle Bay Waterpark, Aquafun Waterpark, the Legoland Waterpark, Splash 'n' Party, Aqua Parks Leisure, and Splash Park.
See what they have to offer below!
Zip down the huge slides at the Aquaventure Waterpark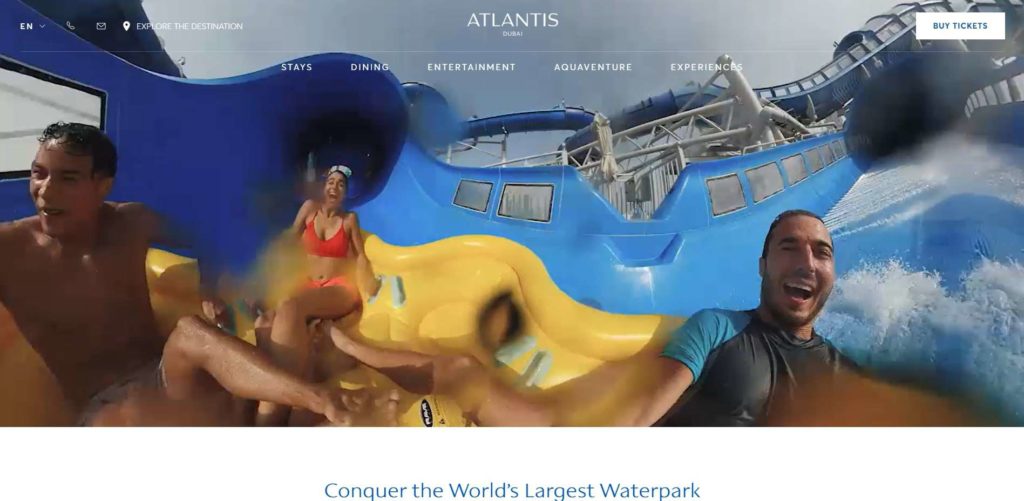 Facilities: Zoomerango, Leap of Faith, Blackout, Poseidon's Revenge, Aquaconda
Location: Atlantis The Palm, Crescent Road, Dubai
Social Media: Facebook; Instagram
Contact Details: +971 4426 0000; [email protected] 
Hours: Mondays – Sundays: 9:45 AM to 6:30 PM
Price Range: $$
When it comes to water parks in Dubai, it would be remiss of us not to mention the largest and brightest of the bunch– the Atlantis's Aquaventure Water Park, boasting over 105 slides and experiences for guaranteed family fun.
Located at Atlantis, The Palm, Aquaventure is most famed for being a record holder in the Guinness World Records for the most water slides in a water park!
The park's rides can accommodate both individuals and groups– try zooming down the Aquaconda or the Shockwave, built especially as family water coasters.
Prefer to go down it solo or have something to prove? Thrill seekers should definitely try going down the Leap of Faith– and if that's not enough, its scarier sister, Blackout.
Finally, for the competitive soul in all of us, the Hydra Racer guarantees some good, competitive fun– be the first to reach the bottom and win the Trident! 
Pro Tip:

If you have a pair of them, definitely bring some water shoes! You can wear them on the water slides, plus they'll keep your feet safe from the summer heat while you walk around the huge premises of the park!
Feel like a Whizzard at the Jungle Bay Waterpark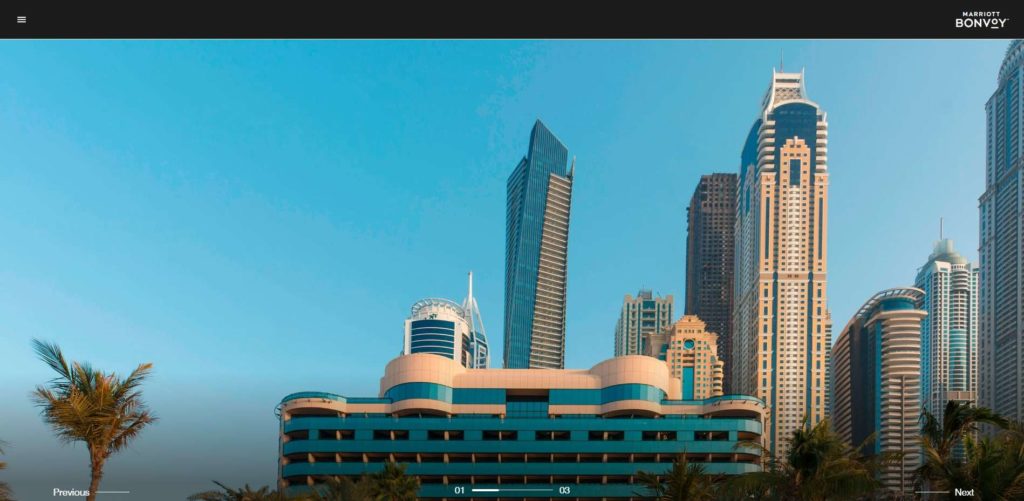 Facilities: The Whizzard, Body Slide, AquaPlay, Kids' Slides, Family Waves
Location: Le Meridien Mina Seyahi Beach Resort & Marina, Dubai Marina, Dubai
Social Media: Facebook; Instagram
Contact Details: +971 4399 3333; [email protected] 
Hours: Mondays – Sundays: 9:00 AM to 5:00 PM
Price Range: $$
Emerging as Le Meridien's contender among Dubai's best water parks, Jungle Bay Waterpark's aquatic island adventure promises a whole day of fun for any visitor.
Right on the shores of Mina Seyahi at the Dubai Marina, the waterpark's minimalist, white and blue color scheme fits in perfectly with the ocean views that go along with its attractions. The surrounding greenery also helps visitors feel more of that island vibe!
Not one to lose out to its other compatriots in the waterpark game, Jungle Bay boasts thrill rides of over 130-meter lengths. Roar down the Whizzard and take in the ocean breeze!
For families, the AquaPlay areas also offer hours of fun for the little ones– these, along with providing a clear line of sight, assure parents that their children are safe!
Finally, to relax with a whole group, try out the Family Waves wave pool– weather the tide as best you can! 
Pro Tip:

Some of the rides at Jungle Bay, like the Whizzard and the Body Slides, don't have a height restriction– this, coupled with how wide their slides are, ensures that you and the little ones can have as much fun as possible!
Bounce in the air at the AquaFun Waterpark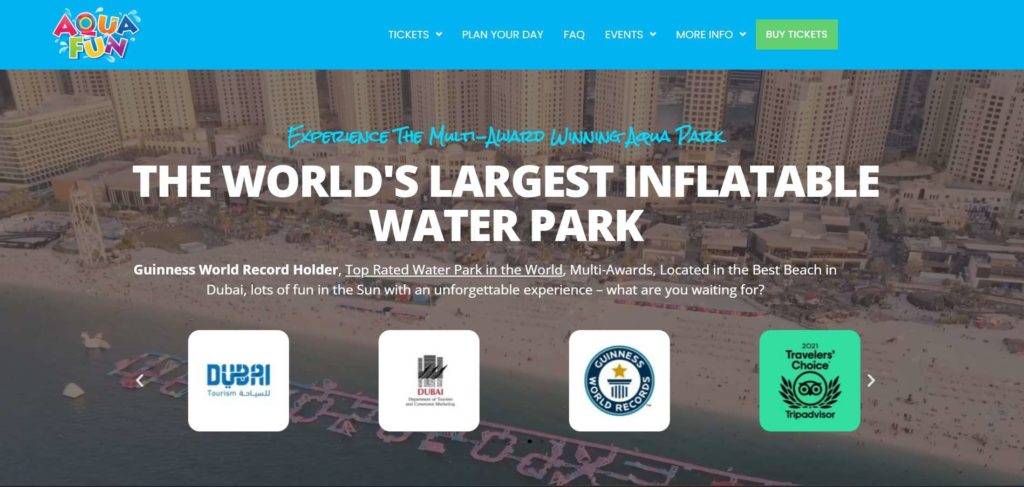 Facilities: Inflatable Park, Lazy River, Obstacle Course, Bathing Areas, Beach Lounge
Location: The Beach, opposite of Jumeirah Beach Residence, Dubai
Social Media: Facebook; Instagram
Contact Details: +971 54 522 6663; [email protected] 
Hours: Mondays – Sundays: 9:00 AM to 5:30 PM
Price Range: $$
When you think of a waterpark, what do you expect? Water slides, wave pools? What if we told you that at AquaFun Waterpark, you can have all that while floating over the Gulf Sea?
Achieving the coveted Guinness World Record for being the largest inflatable aqua park– boasting over 72 and counting obstacle courses, bouncy castles, and of course– water slides and more! 
Thrill seekers will surely enjoy the fully inflatable park's various obstacle courses! Run, swing and bounce through the attractions– and don't worry, if you slip off, the water's always there to catch you.
The park's unique attractions also make it a good place to throw family gatherings or birthday bashes– simply avail one of their special event packages!
Lastly, AquaFun is always pushing the boundary of how large it can be– try checking out what sentence they're spelling this time from a bird's-eye view if you can! 
Pro Tip:

Tuckered out of all the fun at sea? No worries– you can rent a private tent to have some shade away from the sun and a place for the whole family to rest if need be.
Experience building your own at the Legoland Waterpark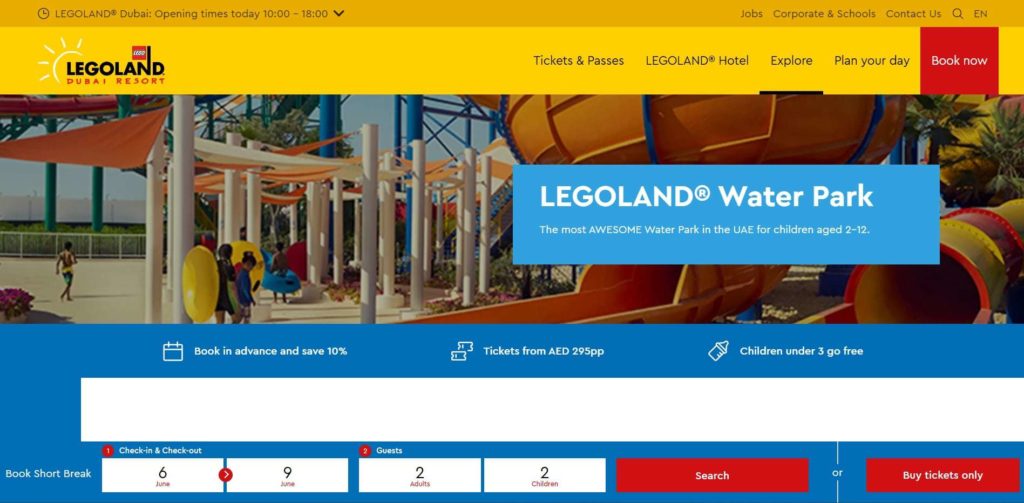 Facilities: Build a Raft River, Splash Safari, Slide Racers, Wave Pool, Tidal Tube
Location: Dubai Parks & Resorts, Sheikh Zayed Road, Dubai
Social Media: Facebook; Instagram
Contact Details: +971 4820 3123; [email protected] 
Hours: 
Mondays – Fridays: 10:00 AM to 6:00 PM
Saturdays – Sundays: 10:00 AM to 7:00 PM
Price Range: $$
Who ever said that you can only build Lego on land? With Legoland Dubai's very own Water Park, the dream of building bricks on water can finally be achieved! 
The water park itself is very colorful and, of course, has design elements coming from its namesake brand– guaranteeing hours and hours of fun for the kids. It's a children's dream come to life!
Visitors can put their building skills to the test at the Build-a-Boat section…or take it a step further and go into the Build-a-Raft river, which lets you build your own life-sized Lego raft and float around a lazy river.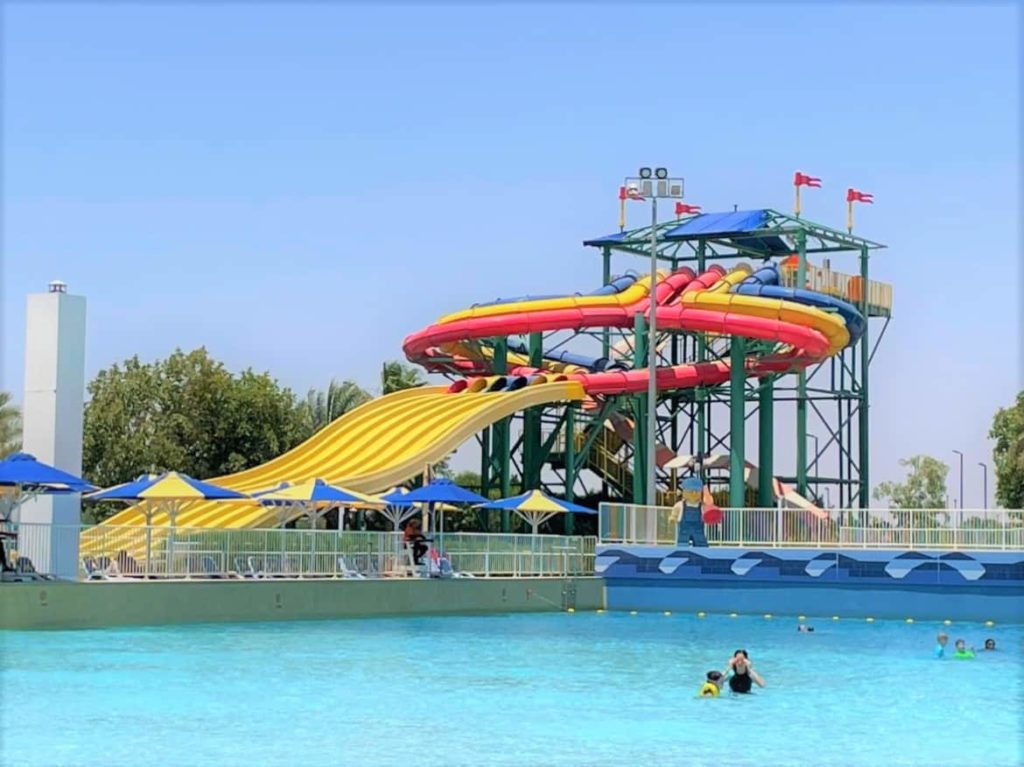 Try not to get dizzy going on the rides though.Sliding down the Splash 'n' Swirl and Twist 'n' Spin with your friends can make for quite a fun afternoon of going down endless twists and turns!
Finally, if you haven't had enough of the competitive spirit, go down the Slide Racers with up to six of your friends!
Pro Tip:

Though the water is most refreshing during the summer season, consider going to the park from November to March– when the weather is pleasant and better to walk around in.
Splash and Party at Splash 'n' Party Kids Waterpark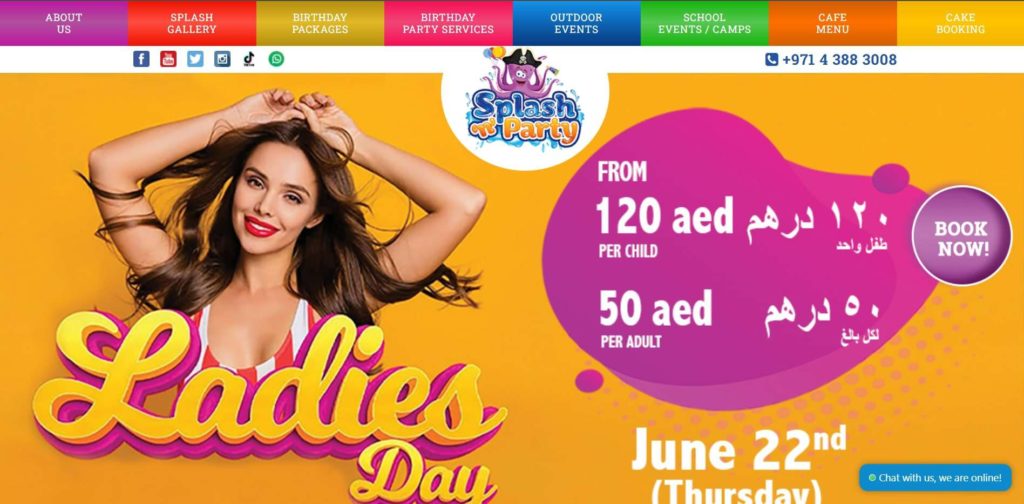 Facilities: Kids Camps, Themed Birthday Parties, Inflatable Slides, Under the Sea Party, Mermaid Party
Location: Al Safa 2, Street 8A, Villa No.1, Jumeirah, Dubai
Social Media: Facebook; Instagram
Contact Details: +971 4388 3008; [email protected] 
Hours: 
Mondays – Thursdays: 9:00 AM to 8:00 PM
Fridays – Saturdays: 9:00 AM to 9:00 PM
Price Range: $$
For the newest and coolest in water parks, look no further than the Splash n Party Kids Waterpark! Splash N Party's outdoor water park and lively events are sure to keep any family excited, entertained, and happy.
Winning the award for Best Party Venue of the Year 2019, Splash n Party promises a fiesta of fun, water and sweets to anyone who visits!
Featuring attractions such as splash pads and water slides, hours of fun are guaranteed for all the kids– while adults can relax, grabbing a refreshing drink at the venue's very own cafe. 
As a birthday venue, the park certainly can't be beat. The various packages offered promise fun tailored to each child's favorites– want to be an underwater royal, or whizz through the water like a superhero? You got it!
This is surely a must-visit for any family seeking out some aquatic fun. So make sure to pop in for a visit next time you're in the area!
Pro Tip:

If you're planning to host a birthday party at Splash n Party, keep their restrictions in mind! For example, they may have a visitor limit, like 10-15 kids. Check the package details before choosing!
Feel the pleasant breeze at the Aqua Parks Leisure
Facilities: Frog Jumps, Monkey Bars, Climbing, Inflatables, Obstacle Courses
Location: 61 2 C Street – 3, Umm Suqeim, Dubai
Social Media: Instagram
Contact Details: +971 50 242 8128
Hours: Mondays – Sundays: 8:30 AM to 7:00 PM
Price Range: $
Prefer somewhere a little bit out of the way– but still want to enjoy the beachside views that Dubai takes pride in? Hop over to Aqua Parks Leisure, the hidden gem of Kite Beach!
Aqua Parks Leisure is known for being a freshwater swimming pool water park– the first in Dubai, even. Blue, white and yellow attractions stand out against the beautiful shores of Kite Beach. 
Seeing as it's fully inflatable, visitors are encouraged to wear vests to help with the floating– especially across their many obstacle courses on the deep water!
Test your climbing strength on the monkey bars and keep your balance over the round, bouncy bridges. Rest assured that the fresh water's always there to cushion the fall– just remember to hold your breath!
With over 21 various activities for friends and families alike, what's not to love? Kids especially should enjoy stretching their legs and cooling off in the fun colored pools!
Visit Aqua Parks Leisure when you have the time– it's definitely worth it for you and your family and friends!
Pro Tip:

Aqua Parks Leisure can be booked for private events! The venue will be completely your group's for the first hour, though the last complimentary 30 minutes will have the venue open to the public. Keep it in mind!
Experience a splashing surprise at the Splash Park – Dubai Hills Estate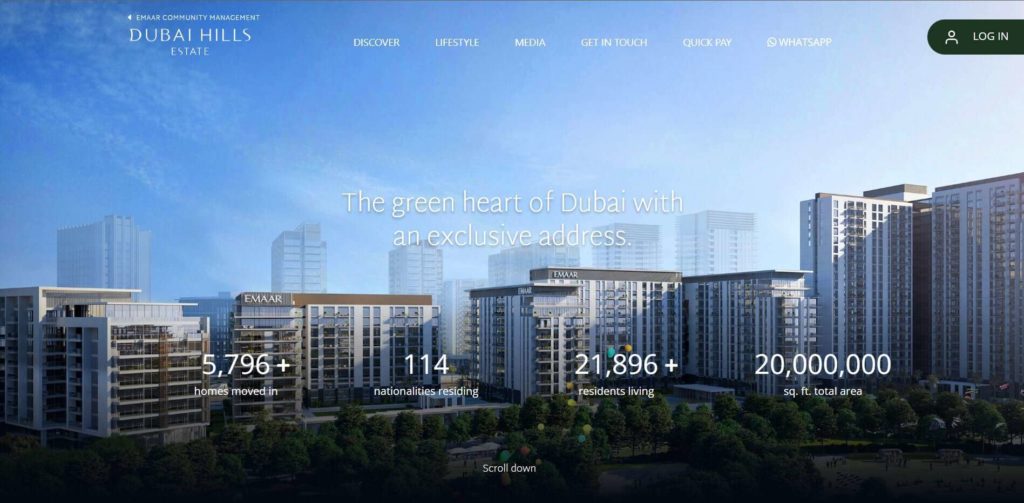 Facilities: Splash Park, Skate Park, Ice Rink, Artificial Beach, Outdoor Gym
Location: Dubai Hills Estate, Dubai
Social Media: Facebook; Instagram
Contact Details: +971 4367 3672; [email protected] 
Hours: Mondays – Sundays: 10:00 AM to 7:30 PM
Price Range: $
Tucked away in the residential suburb of the Dubai Hills Estate, Dubai Hills' own park, located in the very heart of the estate, features a splash park: especially great for families!
Protected from the sun with refreshing water, the Splash Park features a good amount of slides and tunnels, along with an artificial beach to lounge around and relax on. 
Let the kids brave the twists and turns of the slides while dodging the spray of water from the roundabout. No need to worry about sunburn either as there's adequate shelter thanks to the sail shade!
But before going in, make sure to warn any kids about the large bucket hanging above the whole park– or don't, and watch them get a splashing surprise.
The Splash Park is only one attraction of the Dubai Hills Park, but it is definitely one of the best for beating the heat. Make sure to visit if you're ever in the area! 
Pro Tip:

Entrance to either the Skate Park or the Splash Park comes with its own complementary popcorn– handy, huh? Do take note that getting the ticket for entrance to both only comes with popcorn for one, though!
---
Hopefully all these attractions cooled you off while providing the adrenaline you were looking for! There's plenty of amazing parks and entertainment to be found in Dubai provided you know where to look!
Check out our other guides, such as this list of the best indoor playgrounds in Dubai here. Find the next fun destinations to check out on your next day off and get started on your adventure today!