The Best Dubai Global Village Travel Guide
Billed as the "ultimate family destination for culture, entertainment, dining, and shopping" in the region, the Dubai Global Village is a fantastic addition to your travel list whenever you visit the region in the winter seasons.
It's definitely got something for everyone though that does mean it can be daunting to explore at first glance. That's why we did all the work for you below!
The Best Time to Go
The best time to go to the Dubai Global Village is anytime it's open! It's open from October to April, occupying a good portion of the winter season so you should encounter fairly pleasant weather throughout your stay.
Once you're actually inside, note that it stays open from 4:00 PM to 12:00 AM on weekdays and 1:00 AM on the weekends. It's best to go during the evening hours in this case, when the crowds are finally quite thin.
Important Notes on the Dubai Global Village
Currency: United Arab Emirates Dirham (AED).
Remember to bring your money in cash as not all shops are able to process card payments. There's ATMs on the premises if you need to withdraw.
Language: Given that it's a tourist destination, languages spoken at Dubai Global Village vary a lot. However, you should be able to get by fine with English as well.
How to Get Around the Dubai Global Village
Entry Fee: AED 15
How to Get Around the Dubai Global Village
Trains: While there is no direct metro station that leads to Global Village, visitors may instead ride to one of the four bus stations closest to the Village and take one directly to it.
Buses: There are four main bus routes to directly reach Global Village: Centrepoint Metro Station in Rashidiya, the Union Metro Station in Deira, in Al Fahidi, and from the Mall of the Emirates Metro Station, with the ride taking from 30 minutes to an hour.
Taxis: Global Village highlights three taxi services that can be booked in order to directly travel to it! Take your pick from Careem, Uber, or RTA Taxi.
Exploring the Village: There are rickshaws and in-park taxis around the place for easy access. The rickshaws in particular are good for visitors starting from the parking area, since it can take them anywhere in the vicinity.
Where to Stay While Visiting the Dubai Global Village?
Premier Inn – Dubai Silicon Oasis Hotel
Address: Sheikh Mohammed Bin Zayed Rd, Dubai Silicon Oasis, Industrial Area, Dubai
Contact Details: +971 600 50 0503; [email protected] 
Website: https://mena.premierinn.com/en/hotel/dubai-silicon-oasis 
Social Media: Facebook; Instagram 
Hours: Mondays – Sundays: 8:00 AM to 8:00 PM
Pricing: $$
The Premier Inn Silicon Oasis Hotel boasts comfortable rooms at budget-friendly prices!
Located at the very heart of the Dubai Silicon Oasis Authority, the hotel stands quite close to a variety of attractions aside from the Village– such as IMG World of Adventure and Sports City.
By way of amenities, the hotel certainly doesn't fall behind: guests can relax in the hotel's swimming pool, with both cold and hot options to suit any temperature. To keep in shape, there's also a 24/7 gym!
Finally, the Silicon Oasis Hotel also has its own free shuttle bus service, for ease of traveling for guests.
Pro Tip: 

The Premier Inn Silicon Oasis Hotel's position places it just a good 15 minute drive by car from the Global Village, which is very handy for would-be visitors!
Studio One Hotel
Address: Studio One Hotel, Dubai Studio City AE, Dubai
Contact Details: +971 4581 6800; [email protected] 
Website: https://studioonehotel.com/ 
Social Media: Facebook; Instagram 
Hours: Open 24 hours, 7 days a week
Pricing: $$$$
As a definite destination for everything from dining to social interaction, the Studio One Hotel possesses a very stylish and modern aesthetic, reflected by its amenities and rooms.
The decor is quite modern and eclectic, with each room coming with top of the line smart TVs and comfortable beds. There are also self-service stations for a minibar and tea and coffee facilities.
In terms of amenities, the Studio One Hotel serves as quite the venue to host meetings, with capacities ranging from 10 up to 30 people all at once.
Lastly, for those seeking relaxation, the hotel also has access to a 24-hour gym, pool, and its own beauty salon. What a deal!
Pro Tip: 

Studio One Hotel has received quite the amount of praise for its excellent customer service– should you find yourself in need of anything else for your stay, rest assured that they will do the best to accommodate you!
Park Inn by Radisson
Address: First Avenue Mall & Hotel, Turin Boulevard Road, Motor City, Dubai
Contact Details: +971 4249 4100; [email protected] 
Website: https://www.radissonhotels.com/en-us/hotels/park-inn-dubai-motor-city 
Social Media: Facebook; Instagram 
Hours: Open 24 hours, 7 days a week
Pricing: $$$$
Built overlooking the Dubai Autodrome and in the perfect position to get an amazing view of the Marina skyline, the Park Inn is a marvel in Motor City, containing a good variety of amenities and recreation to keep every guest entertained.
With clean, spacious rooms overlooking the skyline, guests are guaranteed a comfy stay with good climate control, flat screen TVs, and free Wi-Fi!
You can get the most out of the hotel's location near the Autodrome by going up to the outdoor pool, overlooking the track in all its glory! The hotel even has its very own on-site car rental!
Pro Tip: 

Should you find yourself at the Park Inn in the summertime, the rooftop pool should be a must-visit! The pool is just at the right depth for any children that may be present, and non-alcoholic beverages are available.
Where to Eat in Dubai Global Village?
Krua Thai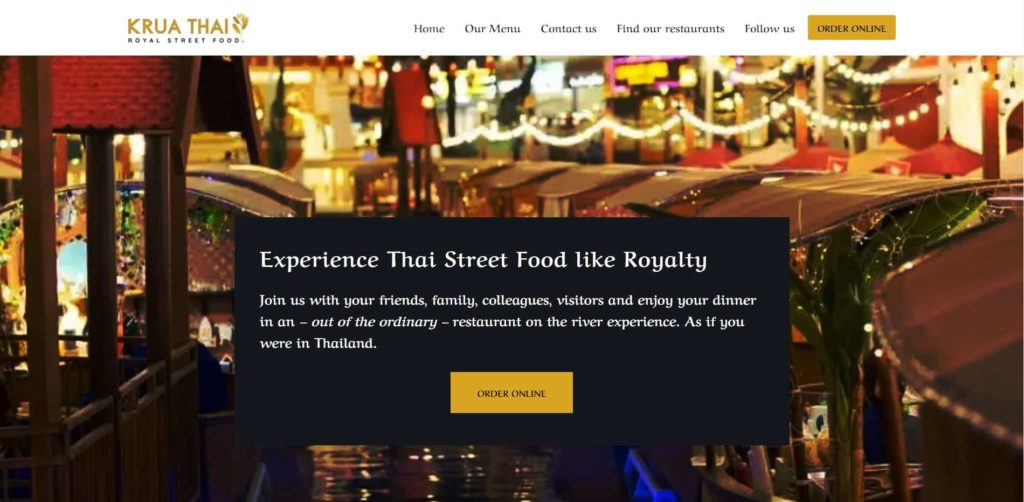 Menu: Pad Thai, Tom Yum, Rice and Fried Rice, Curries, Noodles
Address: Shop No. 16, Floating Market, Global Village Dubai
Contact Details: +971 56 394 2424; [email protected] 
Website: https://www.kruathaidubai.com/ 
Social Media: Facebook; Instagram 
Hours:
Sundays – Wednesdays: 4:00 PM to 12:00 AM
Thursdays – Saturdays: 4:00 PM to 1:00 AM
Pricing: $$$
Located in the Far East Pavilion, Krua Thai attracts attention with the restaurant's presentation itself– serving food right out of a boat at the floating market. It's also in quite a quiet corner in the market, so you'll be able to dine in peace!
Keeping true to its name, Krua Thai serves authentic cuisine from Thailand, taking its customers on an expedition back to its home country.
Two of the restaurant's offerings stand out in particular. The first is their tom yum soup, which is hot and spicy– perfect for the winter season, and served with prawns and jasmine rice.
The other is their best seller, the pad thai– freshly cooked and stir-fried in sweet tamarind sauce.
Pro Tip: 

One of Krua Thai's appeals is the customization of its best selling dishes– always check to see what options are available for their pad thai and tom yum soup!
Bosnian House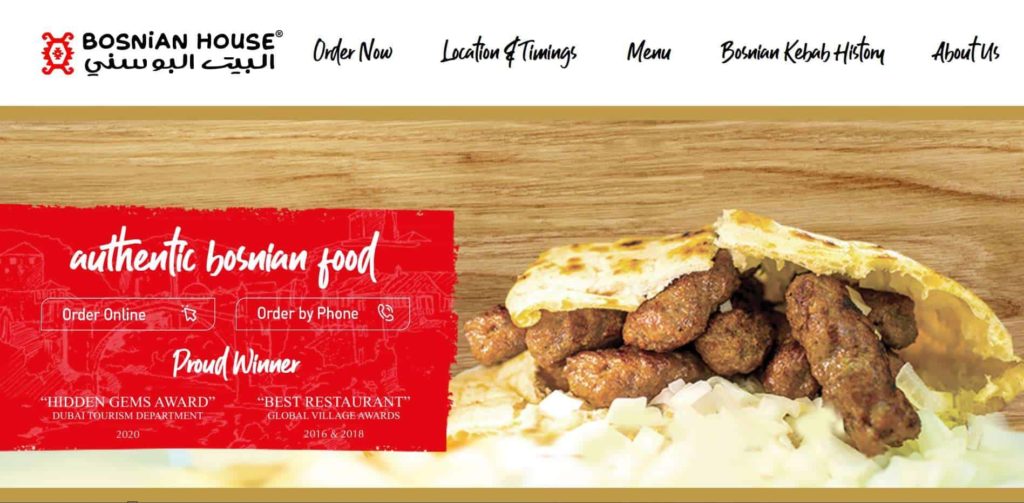 Menu: Starters, Main Meal, Set Menu, Desserts, Extras & Kids Meal
Address: Restaurant Street, Global Village, Dubai
Contact Details: +971 4211 8000; [email protected] 
Website: https://www.bosnianhouse.net/ 
Social Media: Facebook; Instagram
Hours: 
Mondays – Fridays: 4:00 PM to 11:30 PM
Saturdays – Sundays: 4:00 PM to 1:00 AM
Pricing: $
Famed for bringing authentic Bosnian cuisine to the scene since 2015, its offerings are sure to give guests a much needed protein fix while exploring every nook and cranny of the Global Village.
Bosnian House has the bonus of having an actual sit-down area too, so you can rest your weary legs and get some energy back with its offerings!
Sit down and refresh yourself with their cold drinks– have some authentic ayran, a savory yoghurt drink. Or maybe you want to energize with some steaming hot Bosnian coffee instead? 
Where Bosnian House shines is its kebabs– served along with your choice of pita or stuffed pita! The kebabs are very flavorful and juicy, grilled to order to ensure the best freshness possible.
Pro Tip: 

As Global Village is still open when Iftar rolls around, be sure to swing by Bosnian House if you want to break your fast. They offer special Iftar menus.
Food o' Clock
Menu: Live Station Items, Kids' Meals, Burgers, Sandwiches, Pizzas
Address: Opposite China Pavilion, Sheikh Mohammed Bin Zayed Road, Global Village, Dubai
Contact Details: +971 56 525 0808
Website: https://www.instagram.com/foodoclockrestaurant/?hl=en 
Social Media: Instagram 
Hours: 
Sundays – Wednesdays: 4:00 PM to 12:00 AM
Thursdays – Saturdays: 4:00 PM to 1:00 AM
Pricing: $
Food o'Clock doesn't have much of a specialization– instead, serving a rather wide variety of dishes, all up to par. Choices ranging anywhere from tacos, to classic burgers, to even ramen and pizza will ensure every palate leaves the restaurant satisfied!
By way of beverages, they even have quite the assortment as well. Fancy a tall smoothie or milkshake? Or maybe you want to have a nice mocktail instead?
Vegetarians will find themselves quite happy with the vegetarian pizza served– and spice chasers will definitely want to try the chicken cheese ramen!
Lastly, those who love shrimp will definitely want to try this restaurant out– why not try their dynamite and tempura shrimp?
Pro Tip: 

If it is open, definitely try to nab one of the restaurant's upper level terrace seats. Aside from being quite refreshing in the winter season, it also provides an amazing view of the Global Village as a whole!
What to do in Dubai Global Village?
Visit the World via the Village's Pavilions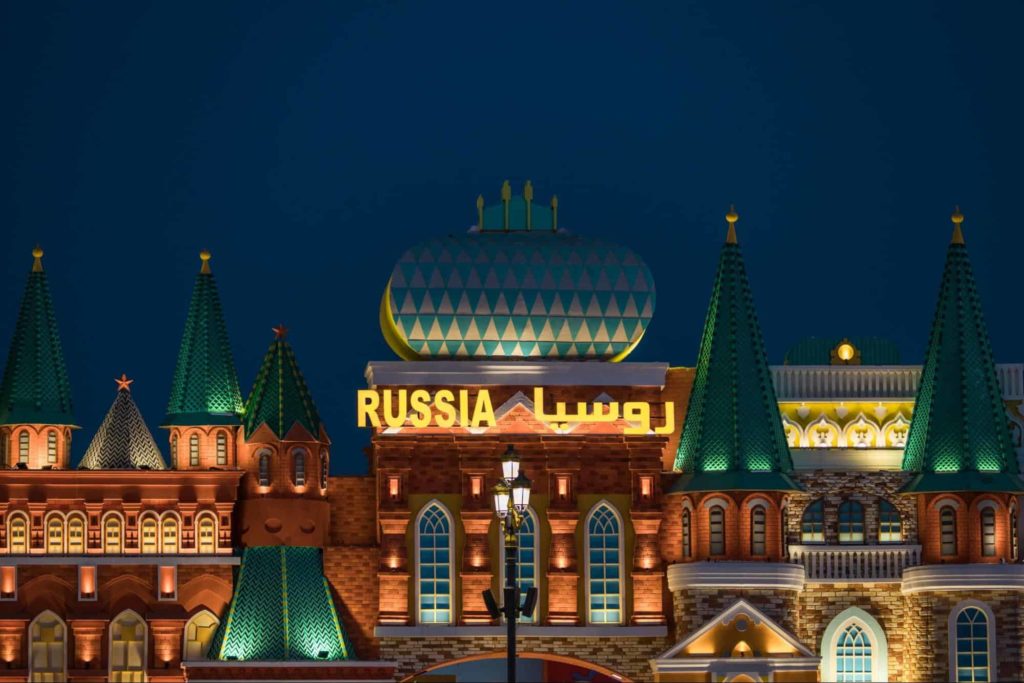 The Global Village's biggest selling point is the ability to go around the world in the span of five hours to a few days– and this is especially achieved with the various pavilions representing various countries.
With 27 pavilions in their most recent season, visitors can look forward to a good amount of entertainment! Some pavilions hold amazing performances of cultural shows– showcasing all the best folk songs and dances traditional to the pavilion's home country!
The pavilions make for great shopping experiences as well, showcasing authentic products from the various cultures along with homemade, artisanal works made by local craftsmen.
Lastly, each pavilion also comes up with its own selfie spots– take a commemorative photo among the dazzling architecture of the Global Village.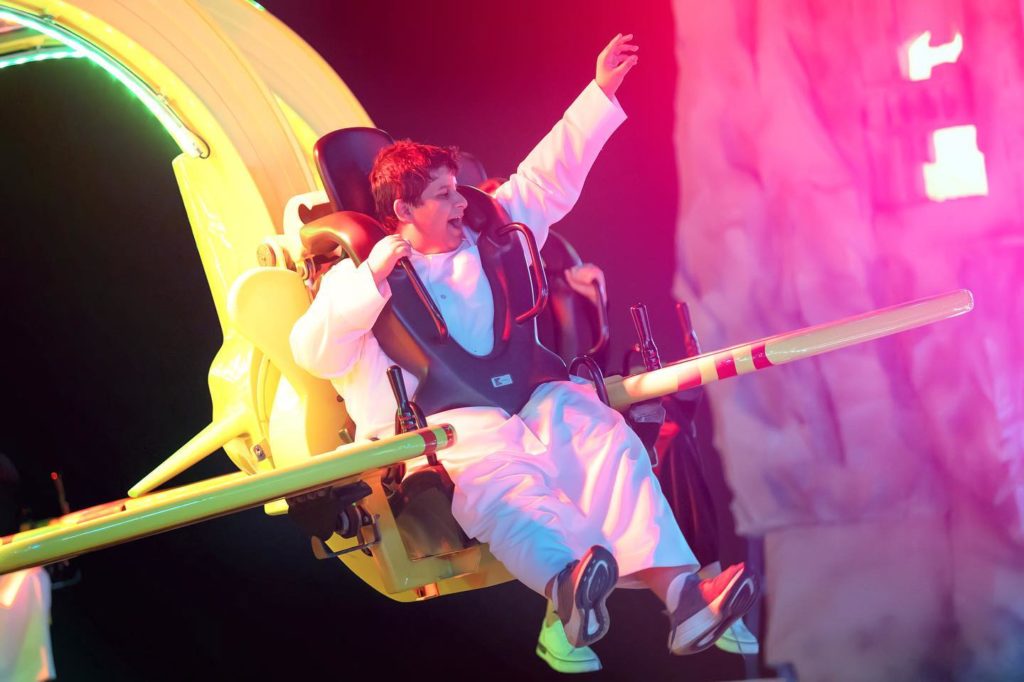 Boasting over 170 rides and attractions to satisfy every visitor, the Carnaval is a bustling area dedicated to fun and entertainment– like an arcade blown up to the very extreme.
Theme park goers will find themselves happy with the various rides present, all of them varying in intensities. Daredevils can look forward to high-intensity rides, while those looking for a relaxed time can simply swing the seconds by.
Feeling competitive? The Carnaval has you covered! Living up to its name, it also boasts a wide variety of games– ranging from arcade classics to amusement park must-haves, like darts and hoops. 
Lastly, the Carnaval's experience zones promote all the best team-building and bonding experiences among groups with its amazing attractions.
Prepare to Be Amazed with Ripley's Believe it or Not!
Ripley's Believe it or Not at Global Village has three attractions, all of them focused around its namesake franchise's love for the eccentric.
The first would be the Odditorium– a classic museum housing only the best in unusual artifacts. Aside from that, pop culture fans will find themselves pleased at the memorabilia on display, as well.
Feeling up to a dizzying experience? Why not take your friends down to the Marvelous Mirror Maze, where your group can take pictures among the reflective halls of this whimsical labyrinth?
Finally, there's the Moving Theater– a 4D theater that'll let its watchers experience everything from the tallest drop to the bumpiest rides for the best kind of immersion possible.
---
We hope you enjoyed your time exploring the Dubai Global Village! Make sure to follow Dubai's best for other travel guides, such as this comprehensive guide to exploring Downtown Dubai on your next trip!