The 6 Best Places for Oil Change in Dubai
Oil change is a critical maintenance service for every automobile out there. Without regular oil changes, the oil inside the car turns into sludge and stops from reaching every part of the vehicle.
So we scoured the city to give you the best places for an oil change in Dubai.
We're also sharing with you the factors we considered in choosing, and will be answering some FAQs about oil change in the city.
How much does oil change in Dubai cost?
The cost of having your car's oil changed depends on the type of vehicle, the kind of oil that is needed, and the company's rates.
To give you a starting point, we've made a table of the cost of an oil change depending on the type of engine oil being used.
Note that these prices are exclusive of the facility's own pricing and rates, as these vary from one center to another.
| Engine Oil | Price Range |
| --- | --- |
| Conventional Oil | AED70 - AED275 |
| Semi-Synthetic Oil | AED100 - AED300 |
| Synthetic Oil | AED238 - AED460 |
The Best Places for Oil Change in Dubai
Before we get right into our top picks for the best places for an oil change in Dubai, here are the factors we considered for our entries on this list:
1. The Gearbox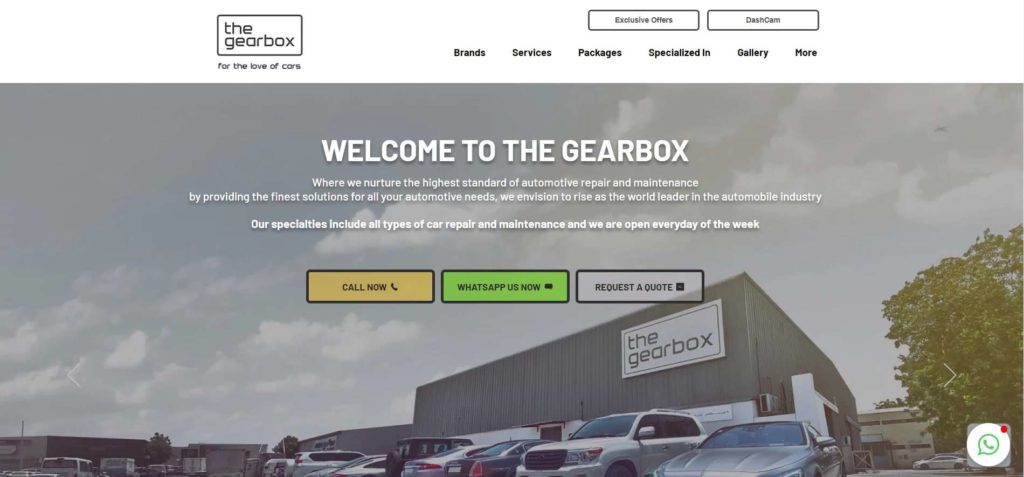 Test
Info
SERVICES
Oil Change, Maintenance and Repair, Scanning and Diagnostics, AC Services, Major and Minor Services, Transmission Repair, Engine Repair, Brakes Services, Suspension Services, Battery Services, Paint Services, Ceramic Coating Services, Convertible Roof Repair, Rim Repair
WEBSITE
https://www.thegearbox.ae/
ADDRESS
The Gearbox Auto Services, Al Quoz Industrial 4, 16 D Street - Dubai
CONTACT DETAILS
+971 800 458
OPERATING HOURS
Monday to Saturday: 8 am - 8 pm

Sunday: 9 am - 6 pm
| | |
| --- | --- |
| Criteria | Rating |
| Experience | ★★★★★ (5/5) |
| Service Quality | ★★★★☆ (4/5) |
| Range of Services | ★★★★★ (5/5) |
| Accessibility | ★★★★★ (5/5) |
Utilizing the latest best-in-class technology to deliver the highest standard of repair and maintenance in Dubai, The Gearbox is more than equipped to perform all kinds of maintenance tasks for any kind of automobile.
We love how we got assigned to specific mechanics that specialize in the car we had as each mechanic in its garage has expansive experience on specific types and brands.
However, having specific mechanics specialize in one area means that some mechanics will be full and unavailable, and thus cannot accept some specific kinds of cars.
The service was accommodating and we really appreciate them for letting us know the details and possible issues that may arise according to the things they've observed during the oil change.
And it's great that they took the initiative to bring these up because The Gearbox offers so much more services that go farther beyond maintaining vehicles.
From repairs to paint jobs and customizations, The Gearbox has state-of-the-art equipment to face mechanical problems head-on.
And getting our car was super hassle-free, too! The Gearbox picked up and delivered our car back to us for free.
So it does not matter that it only has one location in the city, because its reach covers the whole area, and saves customers the hassle of having to bring it in themselves.
Mechanics are experienced and specialization in their own areas
Accommodating service
Covers all kinds of mechanical services
Some mechanics are not available for specific kinds of cars
Customer Reviews
Excellent customer service
"Excellent customer services, very reliable and do a great job on the car. They are also much quicker than many of their competitors and also as they deal with very high-end cars, their prices are much more reasonable than many many in the area, though the guy made a huge list of parts and write all the prices without confirming with any dealer. They did give me a big list of work that was not immediately needed and upon inquiring they said it can last another 6 months plus easily so I did get the work done that was really needed. The manager is quite a young guy and I think still has a lot to learn especially when dealing with customers, a smile goes a long way. But I am sure with time, he will get better though, with me, he was quite okay. All in all, a happy customer." —Mohammed Akhter, Google Reviews
Would definitely recommend
"Land Rover Defender just came out of service contract from the dealership and immediately taken to the gearbox for new service contract. I've been in contact with the workshop manager for a while and all my expectations were met, really recommend their contract as you'll get to enjoy loyalty discounts and exclusive offers. Will be coming back soon for next Land Rover Major Service." —Jordan Greyson, Google Reviews
2. 1337 Mechanic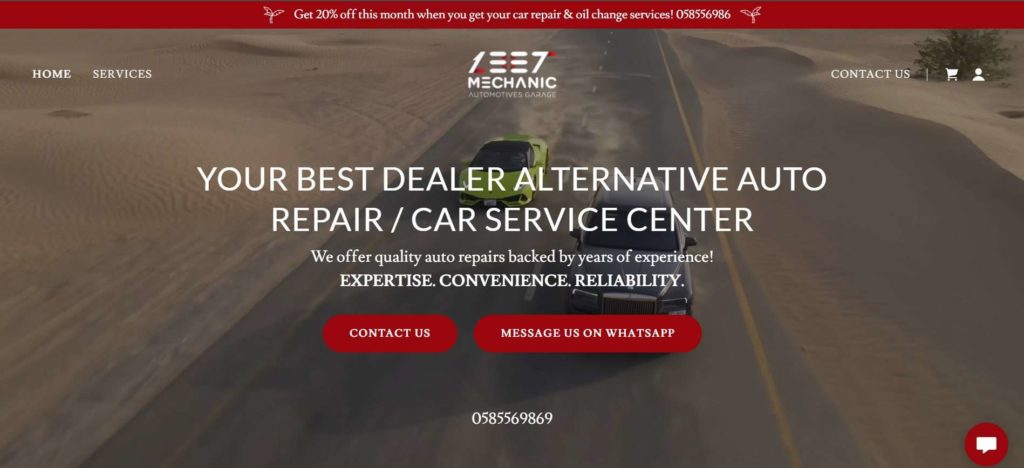 Test
Info
SERVICES
Oil Change, AC Service and Repair, Brake Service and Repair, Pre-Purchase Inspection, Alignment and Tire Balance, Coolant and Hydraulic Fluids, Suspension Repair, Mercedez-Benz Airmatic Suspension Repair, Classic Car Restoration, Fleet Maintenance
WEBSITE
https://1337mechanic.com/
ADDRESS
1337 Mechanic Automotives Garage - 15 St - Dubai - United Arab Emirates
CONTACT DETAILS
+971585569869
OPERATING HOURS
Monday to Friday: 8:30 am - 6:30 pm

Saturday: 8:30 am - 5:30 pm
| | |
| --- | --- |
| Criteria | Ratings |
| Experience | ★★★★★ (5/5) |
| Service Quality | ★★★★☆ (4/5) |
| Range of Services | ★★★☆☆ (3/5) |
| Accessibility | ☆☆☆☆☆ (0/5) |
With veteran management and experienced mechanics, 1337 Mechanic has the knowledge and skills to back up its promise of providing high-quality services.
With mechanics with at least 20 years of experience, these veteran professionals know their craft and their way around machines.
The service is just as great. Operated by highly experienced Emirati car enthusiasts in USA & UAE workshops, the staff takes their craft seriously.
What we appreciate about 1337 Mechanic's service is that it's honest. Its confidence in its staff's competence allows it to guide and let us know arising issues within our car.
Other than its excellent routine maintenance services, 1337 Mechanics also does common repairs, classic car restorations, fleet maintenance, and pre-purchase inspection.
We really like the fact that its services cover everything from pre-purchase all the way to restorations.
Amazingly, the team's skills can provide niche services that are very much sought-after amongst car enthusiasts.
However, we would have liked to see services focused on beautifying and customizing vehicles as its experience can really ensure that any alterations to the car are safe and won't cause damage.
Another weak point is the lack of accessibility that the 1337 Mechanic provides. Not only does it only have one location, but it also doesn't provide pick-up and delivery services for convenience.
Mechanics have 20 years of experience
Operated by experienced car enthusiasts
Wide range of services
Lacks customization services
No pick-up and delivery services
Customer Reviews
The best garage in Dubai
"The best garage I have come across in Dubai. Mr. Abdul Aziz is friendly, very honest which is hard to find these days, and has a lot of knowledge when it comes to cars. His team is equally amazing. I highly recommend it this garage to everyone who is looking for a fantastic service." —Moni Eldred, Google Reviews
Great garage!
"This was the first time to use their services and definitely not the last time, the way they explain the issue and show in details and keep following up and so specific with the issue that you aiming for. Trustworthy, and they earned it very well
Recommended hundred times, will always be back for any other services required
Mr. AbdulAziz was more than magnificent and he is such a gentleman
Keep it up always and inshallah for the best always" —Islam Saleh, Google Reviews
3. zDegree
Test
Info
SERVICES
Oil Change, Brakes Services, Mechanical Services, AC Services, Car Inspection, Car Recovery Services, Car Wash, Car Detailing, Window Tinting, Headlight Restoration, Wheel Rim Repairs
WEBSITE
https://www.myzdegree.com/
ADDRESS

4th Street - Al Quoz - Al Quoz Industrial Area 4 - Dubai - United Arab Emirates




Has 2 other locations in the city

CONTACT DETAILS
+971 800 9334733
OPERATING HOURS
Monday to Saturday: 8:30 pm - 8 pm
| | |
| --- | --- |
| Criteria | Rating |
| Experience | ★★★★★ (5/5) |
| Service Quality | ★★★★★ (5/5) |
| Range of Services | ★★★★☆ (4/5) |
| Accessibility | ★★★★★ (5/5) |
With state-of-the-art facilities in multiple locations, including one at a gas station, zDegree is always a stone's throw away from everybody's house.
With experienced and certified mechanics in the shop who specialize in a wide range of car brands, zDegree is a garage that can perform routine maintenance checks for every car owner.
And the service is just as great. The staff that we encountered was very accommodating and friendly, they even showed us the lounge where we could wait for our oil change to be done.
zDegree offers more than just oil changes and routine maintenance tasks, too. It handles repairs and pre-purchase inspections and specializes in tire services.
However, we noticed that it lacks customization and styling services, which we think is a missed opportunity because zDegree has the equipment to accommodate this — all that's missing is a team who specializes in it.
And as for the accessibility, this garage is almost unbeatable. With 3 locations in Dubai, an online tire shop, and mobile van services, zDegree provides the most convenient and efficient service out there.
It definitely is its strongest point because not many garages in Dubai have multiple locations that cover 4 districts nor a van service that is one call away to cover the rest of the city.
Experienced and certified mechanics
Accommodating and friendly service
Has a wide range of services
Has multiple locations all over the city
Offer mobile van services for convenience 
Lacks customization services
Customer Reviews
Excellent and timely service
"Excellent and timely service – so parts were made available very quickly once the diagnosis was made. The repairs, despite being quite complex, were down very quickly. I was very well looked after extremely well by Abid – very responsive and excellent at keeping me updated! Much easier dealing with helpful people! Thank you." – Martin Tarr, Zomato
Satisfying service
"Excellent service by talented staff @ reasonable cost-effective price.
Thanks to Mr. Shabbir and his team for their great efforts, technical knowledge, and timely work for both cars.
Used their services at both the ZDegree branches located at Al Qouz and DIP and always had a fully satisfactory experience
1000% peace of mind, pocket-friendly, reliable, trustworthy, careful, clean work for vehicle maintenance
Keep rocking guys you are great 👍🏻" -Farook Ruwala, Google Reviews
4. AutoPro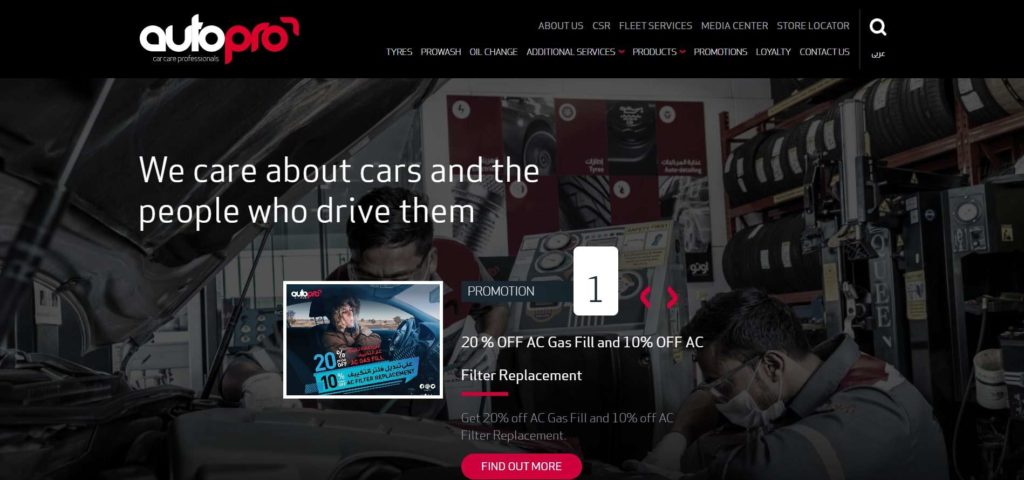 Test
Info
SERVICES
Oil Change, Battery Services, Brakes Services, Emission Testing, AC Services, Detailing, Steering Repair, Suspension Repair, Tinting
WEBSITE
https://www.autopro.ae/
ADDRESS

Site 7001 - Al Nahda Road, Opposite Al Bustan Center - Al Twar 1 - Dubai - United Arab Emirates




Has 41 more locations in the city

CONTACT DETAILS
+971 4 239 0573
OPERATING HOURS
Every day: 7 am - 11 pm
| | |
| --- | --- |
| Criteria | Rating |
| Experience | ★★★★★ (5/5) |
| Service Quality | ★★★★★ (5/5) |
| Range of Services | ★★★★☆ (4/5) |
| Accessibility | ★★★★★ (5/5) |
With a whopping 42 locations all over Dubai, AutoPro is one of the largest networks of automotive facilities in the metro.
Its car care professionals are more than certified to perform mechanical tasks. They are also certified to teach as AutoPro has an academy for budding prolific mechanics.
We love that it doesn't let the number of its garages bring down the quality of its mechanics, and even ensures that it continuously has highly competent ones with its academy.
Another great benefit to having multiple locations is the number of customers coming in is spread thin, so we really got an immediate and quick service without any hassle.
The staff was pretty unbiased and honest when it came to our car, too. They really took the time to give their professional opinion on what needs to be done to prevent issues that may appear in the future.
However, when it comes to the shop's range of services, there is only so much you can fit into smaller multiple garages.
While it still covers the basics, such as common repairs, it seems that oil change, car washing, and emission testing are the only maintenance services it offers.
As for its accessibility, well what else can we say? It has more than 40 locations in Dubai, so it's no surprise to us that it feels like Autopro is there every time we turn a corner.
Has over 40 locations in Dubai
Mechanics are certified to perform mechanical services and teach them
Quick and efficient service
Wide range of services
Lacks more maintenance services
Customer Reviews
Amazing service
"This is my first service experience with AutoPro, they are professionals, knowledgeable, honest and customer focus. The staff is thorough in their work and gives neutral advice without pushing for extra stuff. I am satisfied with them. Thanks!" – Adil Haider, Google Reviews
Had a really good experience with them
"I want to thank Saiful Islam for his professional service started by greeting me with a warm smile, listening carefully to what I needed, and taking me through the new rewards app and following up after the payment to make sure I get the rewards points.
I had a really good experience and good customer service" – Maroo Marwan, Google Reviews
5. Wheels Spa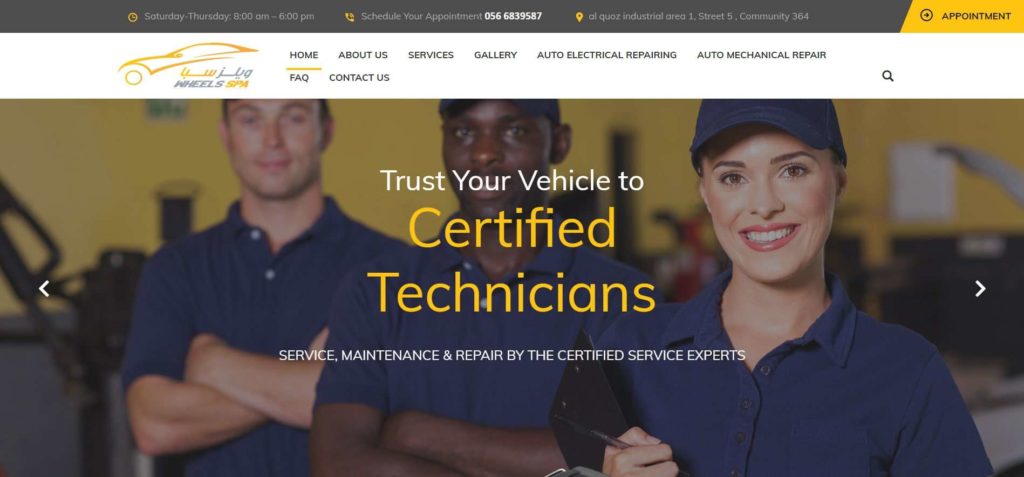 | Test | Info |
| --- | --- |
| SERVICES | Oil Change, Auto Mechanical Repair, Auto Electrical Repair, AC Repair and Maintenance, Auto Denting and Painting, Engine Cooling System Repair and Maintenance, Full Car Detailing, Mobile Auto Repair Services |
| WEBSITE | https://www.wheelsspa.com/ |
| ADDRESS | Al Quoz industrial area 1, Street 5, Community Warehouse No. 25, 364 - Dubai - Dubai - United Arab Emirates |
| CONTACT DETAILS | +971 4 349 7300 |
| OPERATING HOURS | Saturday to Thursday: 8 am - 6 pm |
| | |
| --- | --- |
| Criteria | Rating |
| Experience | ★★★★★ (5/5) |
| Service Quality | ★★★★★ (5/5) |
| Range of Services | ★★★★☆ (4/5) |
| Accessibility | ★★★☆☆ (3/5) |
A member of the Professional Auto Service, an elite performance network, Wheels Spa is an independent automotive service facility with world-class standards.
Its 32 technicians are certified by service experts in the industry and operate under global standards for automotive services.
We also like that besides oil changes, it has a variety of maintenance services and does common repairs.
However, we noticed that it really lacks a specialized focus on some automotive repairs that could give it the edge against other competition.
We would have liked to see it offer car restoration services since Wheels Spa has a knack for fixing and maintaining luxury cars.
Despite that, it shines in the quality of service it provides. The service was quick and the receptionist was attentive and friendly.
We enjoyed a cup of coffee while waiting for our oil change to be done while the mechanic also came up to us to explain the whole process and gave us a few notes to help maintain our car better.
However, its accessibility is definitely one of its weakest points. We understand that being an independent service facility means it is more difficult for it to expand.
Despite that, Wheels Spa makes up for its only one location with great mobile auto services.
We just wish it would include maintenance services because it only accommodates repair jobs.
Has 32 certified mechanics
Covers all common repair and maintenance services
Quick and efficient service
Offers mobile auto repair services
Only has one location
Lacks specialized services
Customer Reviews
Impressed with the quality of service
"First time I have used this garage and very impressed at the quality of service and professionalism. I will use them on a regular basis from this point.
Highly recommend. The owner is very customer-centric. Good value, fair price, and most importantly HONEST ASSESSMENT!!!" – Kash Rafique, Google Reviews
Will definitely come back here
"Super happy with the service. The Guys at WheelsSpa are very friendly, polite, and fast.
Absolutely coming back here again and not even thinking to look for another Mentanence company. Recommend all my friends to visit WheelsSpa." – Erma Lotosova, Google Reviews
6. Mega Fix Tyres
Test
Info
SERVICES
Tires, battery services, oil change, brakes, and wheel alignment.
WEBSITE
https://megafixtyres.com/
ADDRESS
7th St - Al Nahda - Al Qusais Industrial Area 3 - Dubai - United Arab Emirates
CONTACT DETAILS
+(971) 4 220 5780
+(971) 56 4338083 (Fahad)
[email protected]
OPERATING HOURS
Monday - Saturday, 9 AM - 9 PM
Mega Fix Tyres is one of the best car maintenance and repair service companies in Dubai. They are known for their excellent oil and tire changing services regardless of your model.
With their experienced and highly trained technicians, you can rely on them to give the highest level of automotive quality and care, from a simple oil change to vehicle brake repair service, steering and clutch, and diagnosing why those dashboard warning lights are on.
Their previous customers like how they ensure that your car operates ideally and that you leave completely satisfied. They are also satisfied by how they are able to repair your automobile without voiding the manufacturer's guarantee.
Among the services they provide, their oil changing service is one of the most requested because of their well-trained mechanics who work quickly and efficiently so that you can go back on the road.
They know the importance of keeping the engine lubricated since it allows your vehicle to run smoothly and safely. Thus, it should be changed along with their filters regularly to keep your car's engine in good shape and can even extend its lifespan.
State-of-the-art technology
Specialist Service
Affordable pricing
Exclusive customer Lounge
Customer Reviews
Great place to get your tyres changed and also oil change and brakes etc
"Great place to get your tyres changed and also oil change and brakes etc. Got our 4tyre change done with brake pad replacements and brake disc polishing. Car feels really good. Staff was experienced and they handled the car with care. Definitely recommended going he" – Raashid Kazi
heir prices are unbeatable and deliver high level of trust and care to Car Owners
"Highly recommend for their transparency and educating Clients on correct Tyre specs for safety of driving rather than just being cost conscious. Their prices are unbeatable and deliver high level of trust and care to Car Owners. They have tyres for almost all Car brands. To put it simply, can't find a better one than Megafix in this region." – Raj Iyer
FAQs about Oil Change in Dubai
---
We hope this helped you in finding a suitable place for an oil change in Dubai. Also, if you're looking for other car maintenance and repair services, then check out these articles: