The 5 Best Office Furniture Stores in Dubai
With the right furnishings, even an office space can feel like home. In fact, studies have shown that setting a comfortable atmosphere at work can even boost overall productivity.
In order to help you get the high-quality and durable furniture that your office needs, we have compiled for you the best office furniture stores in Dubai.
How much does office furniture cost in Dubai?

The cost of various office furniture depends on the type of material used in its construction.

A metal desk would naturally cost more than a wooden desk. Likewise, ergonomic chairs are also more expensive compared to regular office chairs due to their special functionality.

Below is a list of the average cost of common office furniture to help you prepare your budget:
| Test | Info |
| --- | --- |
| 6x6 office desk | AED3,300-25,700 |
| Workstations | AED6,600-18,500 |
| Office chairs | AED1,500-3,500 |
| Storage and Filing Cabinets | AED1,650-5,500 |
The Top Office Furniture Stores in Dubai
There are quite a few factors you need to take into consideration before you start shopping for office furniture. For example, you mustn't settle for less expensive furnishings if it means sacrificing the product quality.
That's why we evaluated the office furniture stores in this listicle based on the criteria listed below:
1. OFFICEMASTER.AE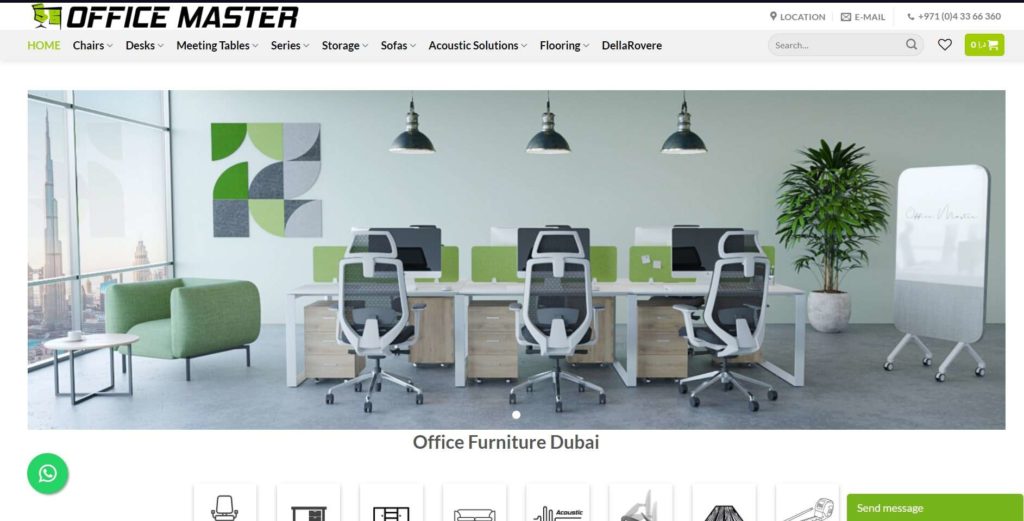 Test
Info
PRODUCTS

• Office sofas

•Executive desks

•Conference desks

•Meeting tables

•Workstations

WEBESITE
https://officemaster.ae /
ADDRESS
34 6th St, Al Quoz, Dubai, United Arab Emirates
CONTACT DETAILS
+971 4 336 6360
OPERATING HOURS
Sunday - Friday, 8 AM - 6 PM

Saturday, 8 AM - 4 PM
| | |
| --- | --- |
| PRODUCT QUALITY | ★★★★★ |
| PRICES | ★★★★☆ |
| DELIVERY | ★★★★★ |
| WARRANTY AND RETURN POLICIES | ★★★★☆ |
| CUSTOMER SERVICE | ★★★★★ |
A local furniture manufacturer with more than 20 years of experience, OfficeMaster is known for its modern and durable furniture.
In fact, we were actually amazed when we found out about some of their previous clients.
Just to name a few, it includes big brand names like Samsung, Ford, and Hotel Indigo. Amazing right? Knowing that these companies trust OfficeMaster really gives you a lot of assurance when it comes to the quality of their products and services.
Although high quality sometimes comes with a price, as we noticed that their products are a bit on the more expensive end of things. So we recommend coming with a well-prepared budget before looking into them.
But for all that it's worth, their selection is truly diverse and you'd definitely find something that appeals to your taste.
You can also count on your purchases to last for a long time, since they source their raw materials from reputable suppliers. This especially true for furniture pieces they've locally manufactured.
We also love their interior design and fit-out services, wherein they showcase their talent for space management and office branding. You should definitely check them out if you're looking for a company with expertise in ergonomic designs!
Also, you wouldn't be disappointed by their fast and efficient delivery services. Even their warranty terms are reasonable and they even offer extensions for it.
Trusted by big name brands
Excellent furniture designs and quality
Specialty in ergonomic furniture
Higher price points
Return policy only covers 7 days
Customer Reviews
Quick delivery
"I was looking for a professional computer desk and an ergonomic chair to setup my workstation for long time sitting behind computer for editing photos, then I Bought them online from this company, easy and simple with quick delivery." – Hosein DL
Innovative ergonomic office chairs
"Indeed the best in dubai! Best innovative Ergonomic office chairs! Affordable , high-quality office furniture with an Amazing management ! And most importantly: Very on-time ! I highly recommend!!" – Hedi Gou
2. Office Plus Furniture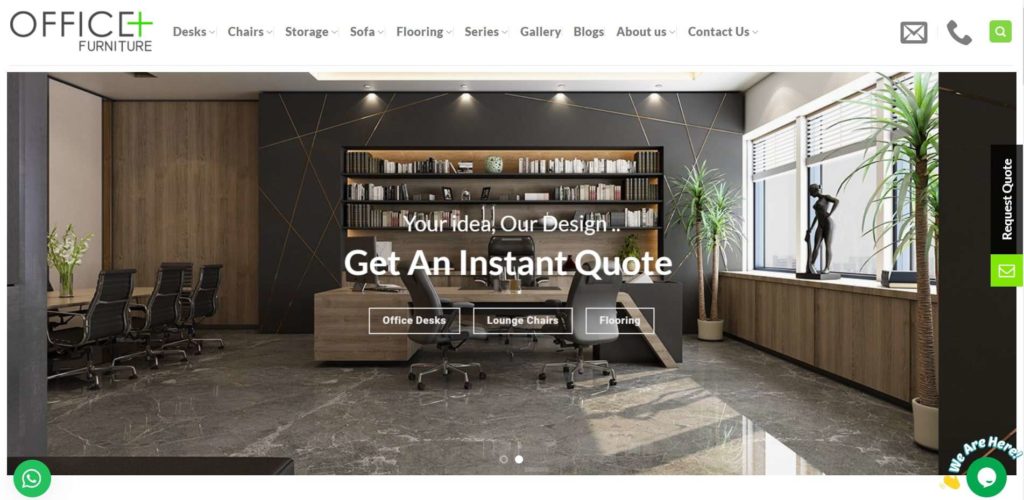 Test
Info
PRODUCTS

• Executive desks

•Conference tables

•Office chairs

•Display cabinets

•Lounge seating

WEBESITE
https://officeplus.ae/
ADDRESS
Warehouse No, 6 6A St, Al Quoz, Al Quoz Industrial Area 3, Dubai, United Arab Emirates
CONTACT DETAILS
+971 4 239 0885
OPERATING HOURS
Saturday - Thursday, 8 AM - 7 PM

Friday, 10:30 AM - 4 PM
| | |
| --- | --- |
| PRODUCT QUALITY | ★★★★☆ |
| PRICES | ★★★★★ |
| DELIVERY | ★★★★★ |
| WARRANTY AND RETURN POLICIES | ★★★★★ |
| CUSTOMER SERVICE | ★★★★☆ |
OfficePlus has been in the industry for over a decade. As you can expect, it uses its experience to provide customers with high-quality products and services that you can only get from one of the best office furniture stores in Dubai.
The first thing we loved about OfficePlus is their professional and accommodating design team.
They've helped us with many things, including furniture design, material selection, 3D layouts, and office space planning.
We were also able to properly visualise the proposed office space with the help of their advanced 3D rendering program. Highly recommend them for their superb design consultation services.
Although we've received a report that their leather office chairs don't match the rest of the company's products. We've heard that it began peeling off after three months of use, so you may want to keep that in mind before purchasing one.
Other than that, we have to say that their delivery services are also amazing. They definitely live up to their reputation of arriving on time,
If you happen to order from their online store, OfficePlus also offers you with more payment options compared to most other stores. They even accept cash-on delivery for certain items, and we really love them for that.
On-time delivery
Several payment options available
Excellent design consultation services
Poor leather quality on some office chairs
Complaints about poorly-informed store personnel
Customer Reviews
Fantastic Work
"Fantastic work. Fitted out our office with custom specs within 1 week. They are well equipped for sure to handle good volume and deliver without compromising quality. Thank you" – Rameez Muneer
Excellent collection of office furniture
"I was amazed to see their excellent collection of Office Furniture when I had a tour of their showroom. Great Designs, Latest Collection, Best After Sale Service, Top Quality & Suitable Prices. The Quality in their furniture is not something that one finds in other office furniture brands in the market." – Abdullah Afzal
3. WORKSPACE.AE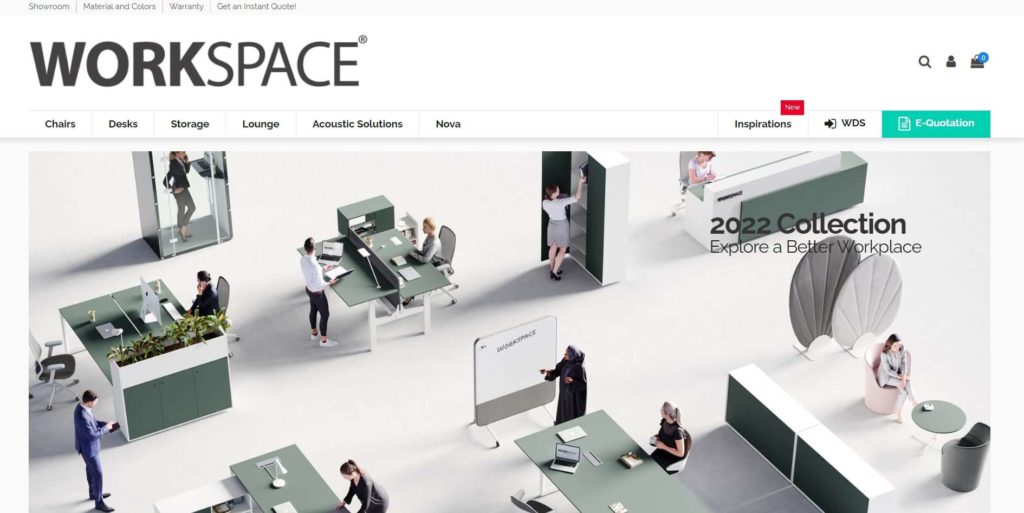 Test
Info
PRODUCTS

• Conference chairs

•Meeting tables

•Reception desks

•Filing cabinets

•Office white boards

WEBESITE
https://workspace.ae /
ADDRESS
Ground Floor, Dnata Bldg, Sheikh Zayed Rd, Dubai, United Arab Emirates
CONTACT DETAILS
+971 4 344 0009
OPERATING HOURS
Monday - Saturday, 8 AM - 6 PM
| | |
| --- | --- |
| PRODUCT QUALITY | ★★★★★ |
| PRICES | ★★★★★ |
| DELIVERY | ★★★☆☆ |
| WARRANTY AND RETURN POLICIES | ★★★★☆ |
| CUSTOMER SERVICE | ★★★★★ |
As a Dubai-based designer, manufacturer, and distributor of office furniture, WORKSPACE has a lot of good points that earned it a place on this list.
First of all, it has developed Workspace Design Studio (WDS). It is a furniture design visualisation tool that allows you to create uniquely designed rooms through its selection of stylish office furniture and floor decorations.
It also provides worldwide shipping, although they could definitely work on their delivery system. We've seen reports of customers waiting much longer than they'd expected to wait, only to get the wrong item.
Their base shipping fee is also pretty expensive, with one reviewer pointing out that they were being charged AED240 even though they just live next door. We'd really appreciate it if in cases like these, they'd allow in-store pickups.
We also think that their return policy is pretty strict. After all, you're only given three days after delivery to return the product.
But on the other hand, we're definitely amazed by the professionalism and skills of their installation team. The assembly and installation manuals for overseas customers are also comprehensive, and they're very easy to follow even if you don't have prior experience.
We can also assure you that whatever it is that you're looking for, you'll definitely find it in their store. Their selection is pretty impressive.
From ergonomic chairs and height adjustable desks to planter cabinets and acoustic office pods, they pretty much have everything that you can think of.
Office interior design tool available
Reliable and friendly installation team
Lifetime warranty on ACE frames and drawers
Uncoordinated delivery services
Strict return policies
Customer Reviews
They have done a great job
"We have furnished our office in Dubai with full range Workspace's furniture and I can say they have done a great job. They assisted us in our floor planning and selection of finishes by their visualization tool." – Lucas O
Variety of furniture options
"Unique modern office furniture, professional team, variety of furniture options. Selected the items I liked from the website, generated a quote and just passed by the showroom to confirm the order and agree on the delivery." – Jean Hariz
4. Mahmayi Office Furniture (Main Office)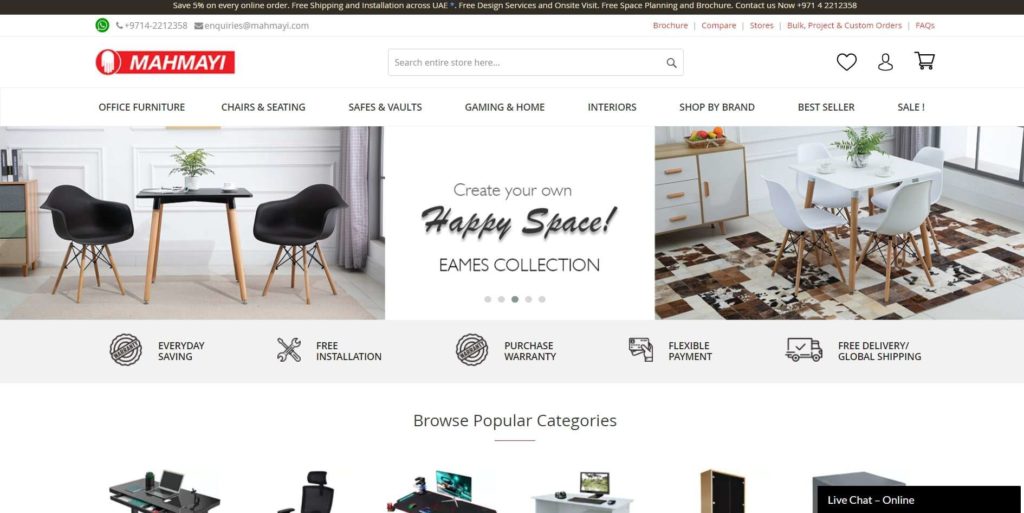 Test
Info
PRODUCTS

• Office partitions and cubicles

• Cable management

• Desks and cabinets

• Reception furniture

• Ergonomic furniture

WEBESITE
https://mahmayi.com/
ADDRESS
Zaa'beel St, Al Karama, Dubai, United Arab Emirates
CONTACT DETAILS
+971 4 221 2358
OPERATING HOURS
Monday - Saturday, 9:30 AM - 8 PM
| | |
| --- | --- |
| PRODUCT QUALITY | ★★★★★ |
| PRICES | ★★★★★ |
| DELIVERY | ★★★★★ |
| WARRANTY AND RETURN POLICIES | ★★★★☆ |
| CUSTOMER SERVICE | ★★★☆☆ |
With more than 30 years of experience in the industry, Mahmayi Office Furniture has grown into one of the best furniture stores in Dubai. It stocks an impressive range of more than 1,500 innovatively designed office furniture.
Their inventory and delivery system is also well-coordinated, so you don't have to jump from one branch to another.
Also, if you're looking for a store that accepts bulk, project, or custom orders, then Mahmayi is your go-to place. They will work with their industry partners and manufacturing centres to cater to your needs.
You can also count on them to deliver your special orders within the timeframe you've specified.
One area that Mahmayi can definitely work on though is their customer service. We've verified it for ourselves and found that indeed, no one's taking the calls for inquiries.
Their return policies are also strict as well, and you're only given 5 working days from the date of purchase to return the item. You won't also get your cash back, but instead they will offer you store credit.
Nonetheless, we'd like to commend Mahmayi for their fair delivery rates and superb free installation services. The warranty period for each office furniture also extends over reasonable timeframes, so you don't have to worry about it.
Bulk and custom orders available
Reasonable delivery prices and warranty periods
Wide selection of office furniture designs
Complaints about unresponsive customer service
Return policy only covers five working daysComplaints about unresponsive customer service
Customer Reviews
Excellent and prompt service
"Excellent and prompt service. I was able to set up my office space within a week with their service! Thanks and highly recommend it." – Anushree Dople
Truly satisfied with the product
"Wide selection on tables and chairs. Bought a gaming chair recently. Excellent product, affordable and more importantly no issues on my posture. For me it was important as I am spending lot of time on the chair. Very good service. All my queries were answered and received the product within expectations. Truly satisfied with the product and service. Definitely recommended." – Philip Alexander
5. Mr Furniture Manufacturing LLC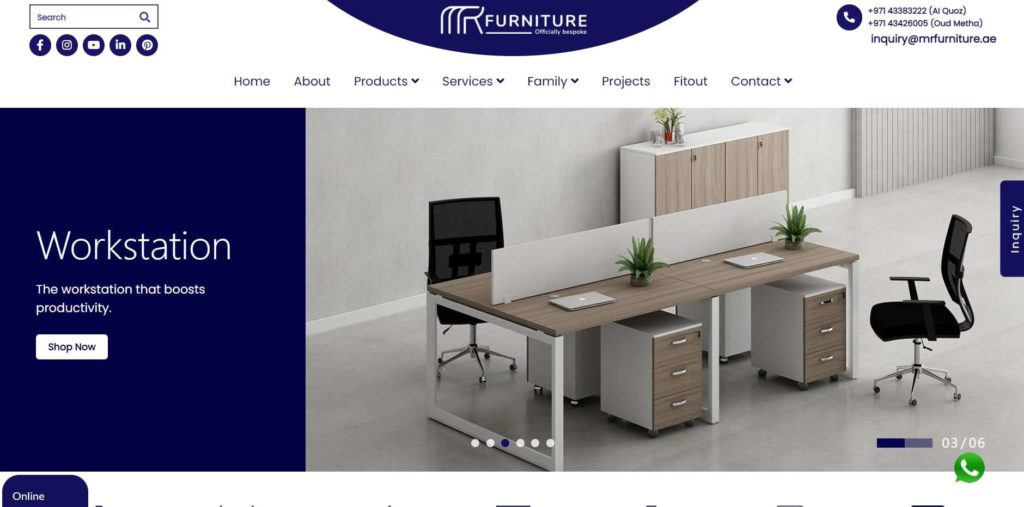 Test
Info
PRODUCTS

• Executive Desks

•Workstations

•Chairs

•Cabinets

•Flooring

WEBESITE
https://www.mrfurniture.ae /
ADDRESS
opposite Dubai Driving School, Al Quoz, Al Quoz Industrial Area 3, Dubai, United Arab Emirates
CONTACT DETAILS
+971 55 552 2613
OPERATING HOURS
Monday - Saturday, 9 AM - 5:30 PM
| | |
| --- | --- |
| PRODUCT QUALITY | ★★★★★ |
| PRICES | ★★★★★ |
| DELIVERY | ★★★☆☆ |
| WARRANTY AND RETURN POLICIES | ★★★★☆ |
| CUSTOMER SERVICE | ★★★☆☆ |
As one of the best office furniture stores in Dubai, Mr Furniture offers more than just sleek and trendy office furnishings.
If you're also looking for someone who will help you in designing your office, their design solution team can work with you on that. They will transform your space with tailor-made and luxury office furniture that suits your needs.
We also find their track record to be pretty impressive. They've only been in business for more than a decade, but they've already completed over 500 projects with more than 1,500 satisfied clients.
If you've ever been to Latifah Tower or Business Bay Red Dot, you'll be surprised to know that Mr Furniture is actually behind their office design and furniture. Pretty impressive, right?
But one thing that Mr Furniture needs to work on is their delivery pace. One previous client has reported that it took them more than a month to receive their order, when store personnel informed them that it would only take a week.
Their return policies are also reportedly vague and it can be pretty difficult to process with their customer service.
Nonetheless, their prices are fairly competitive and the quality of their office furniture shows that they've been built to last.
Customisation and design solutions available
Vast collection of office furniture
Offers panel cutting services
Several complaints about delivery delays
Unresponsive customer service
Customer Reviews
Huge collections displayed
"I would Personally recommend everyone to have a Visit Mr. Furniture as they have a huge collections displayed and they even do customize the furniture as per our Ideas and Designs. All the staffs are well Mannered and are Helping. You dream for a Furniture, tell them a design and color, they will make it for you. Mr. Furniture will accomplish your Needs and Requirements for Furniture." – Abdul Irshad
Furniture is of high quality
"We have just opened our first office in JLT, Highmoon Furniture assisted us with the fit out of the office. I selected the furniture in their showroom assisted by Manu who was extremely helpful throughout the whole process.The furniture is of high quality, great design and value for money. I wouldn't hesitate to use Highmoon again or recommend to my contacts in Dubai. Thank you for your service." – Afshin Sajedi
FAQs about Office Furniture Stores
---
---
That's all for now and we hope that you've found the office furniture store for you. If you feel like there are more stores out there who deserve a spot on our list, don't be shy and let us know!
Meanwhile, if your office space is not yet ready for use, you may want to check out the best co-working spaces in Dubai.