The 5 Best Job Listing Websites in Dubai
Finding jobs can often be hard to do, especially ones worth keeping, because of the competitive market.
Thankfully, Dubai is a large cyber hub for many different job listing websites. To find out which ones are truly effective, we went and asked former and current job hunters to give you Dubai's best job listing websites.
How We Picked Dubai's Best Job Listing Websites
Before we get right into our list of Dubai's best job listing websites, here are the factors we considered for our entries on this list:
1. Dubizzle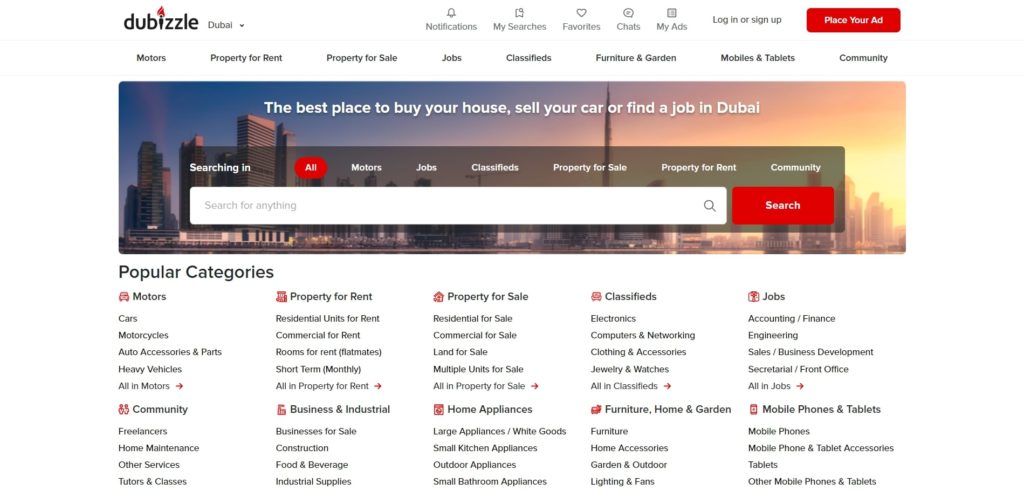 | | |
| --- | --- |
| Criteria | Rating |
| Popularity | ★★★★★ (5/5) |
| Interface | ★★★★☆ (4/5) |
| Algorithm | ★★★★★ (5/5) |
| Features | ★★★☆☆ (3/5) |
Differentiating itself from the competition with its unrivaled interface and vacancy search function, Dubizzle is one of the most popular job listing websites in the city.
Neatly organized into many different categories, job finding here is streamlined because of its interface design.
Job opportunities are grouped into different key industries, while its resources section contains practical tips that job hunters can use to make a great impression on recruiters.
However, we find the website a little bit too text-heavy, and this would not be such a problem if it was laid out more consciously, but the multiple columns of text can often be overwhelming to look at.
When it comes to its algorithm, its holistic vacancy search function instigated by keywords of the job seeker's choosing makes job hunters' efforts more fruitful.
CV uploading is also such a hassle-free process because it has an integrated system that involves smart search filters so the HR managers find their details.
On top of that, we can use the job-sharing functionality to spread the word regarding what employers are looking for.
Where it is lacking is in its features. Unlike many other job listing websites where it is easier to build a network with socially focused features, Dubizzle acts more like Craigslist than LinkedIn.
One of the most popular websites in the city
The interface is designed to help organize job-hunting
The algorithm is designed to prioritize job opportunities with vacancies
Lacks features that could help build networks
The interface is relatively too text-heavy
2. LinkedIn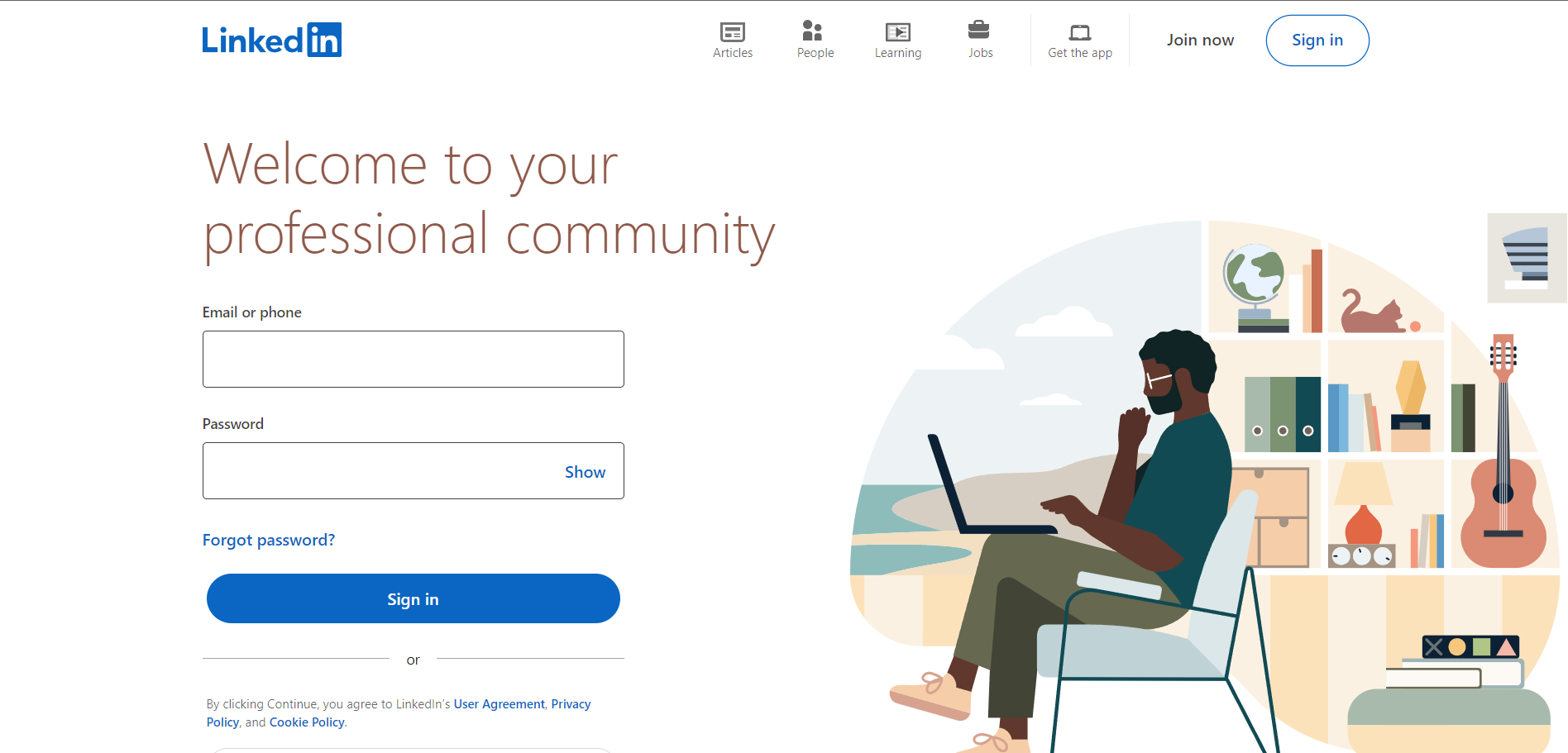 | | |
| --- | --- |
| Criteria | Rating |
| Popularity | ★★★★★ (5/5) |
| Interface | ★★★★☆ (4/5) |
| Algorithm | ★★★★★ (5/5) |
| Features | ★★★★☆ (4/5) |
The ultimate hub for job listings, recruitment, and applications, LinkedIn has an unrivaled ecosystem that is designed to connect job hunters with companies.
When it comes to popularity, recruiters and job hunters have full access to opportunities in Dubai, in the entire UAE, and anywhere in the world.
However, its interface needs some getting used to because all of the tabs that form large parts of its ecosystem can be often overwhelming and hard to navigate.
With a little bit of patience and regular use, LinkedIn operates more of a social media platform than a job listing website, and we love this because reaching out and meeting new people is an essential part of job hunting.
Its algorithm effectively tracks the kinds of jobs you apply for and connects you with more related opportunities. This leads to consistent search results whenever we start our regular job-hunting sessions.
The best part of its features is its LinkedIn Premium which, for a fee, provides users exclusive access to information like profile views, the number of applicants on a job posting, and your profile rank compared to other candidates.
With this, we get valuable information that can help us get a leg up on other job hunters who are applying for the same jobs.
However, it is disappointing to learn that we have to pay for this just to have access to these details.
Globally the most popular job listing website
Interface and ecosystem operate like a social media platform
Effective job application tracking
LinkedIn Premium offers invaluable details that can help job applications
The interface can be hard to pick up at first
Some features are locked behind a paywall
3. Indeed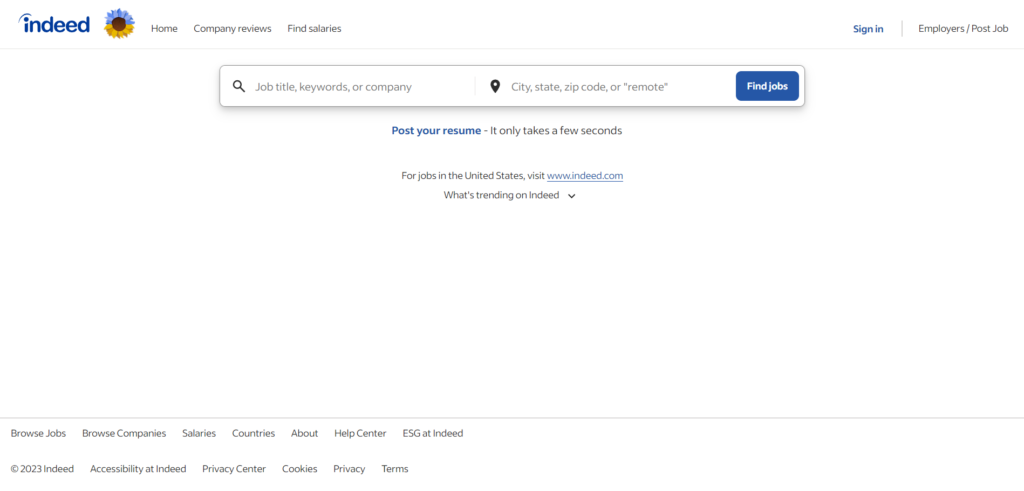 | | |
| --- | --- |
| Criteria | Rating |
| Popularity | ★★★★☆ (4/5) |
| Interface | ★★★★★ (5/5) |
| Algorithm | ★★★☆☆ (3/5) |
| Features | ★★★☆☆ (3/5) |
One of the leading free job listing websites in the UAE, Indeed is known for having one of the most extensive sets of job opportunities.
While this means that opportunities largely abound for many job hunters, we have come to learn that recruiters often use this website to only shortlist candidates.
This means that while the chances of us getting contacted by a recruiter are high, we often find ourselves struggling to get a job offer because many industries still prefer to prioritize applications from popular platforms such as LinkedIn.
When it comes to its interface, we love Indeed's straightforward approach to it. Minimal, organized, and streamlined, the website is one of the easiest ones we have ever used.
On top of it, we are able to conveniently narrow down job opportunities by title and location. This means that we can focus on a set of jobs, while still remaining flexible when it comes to salary and many other aspects.
However, we are disappointed by how simple its algorithm is. It does not offer any tracking systems and users are not able to connect with other users that could help widen their network.
This means that Indeed is only a straightforward job listing website that values its simplicity for better or for worse.
Has the most extensive job postings
Straightforward and easy-to-use interface
Recruiters only use it to shortlist applicants
The algorithm does not help track job searches
Lacks features that encourage network-building
4. Bayt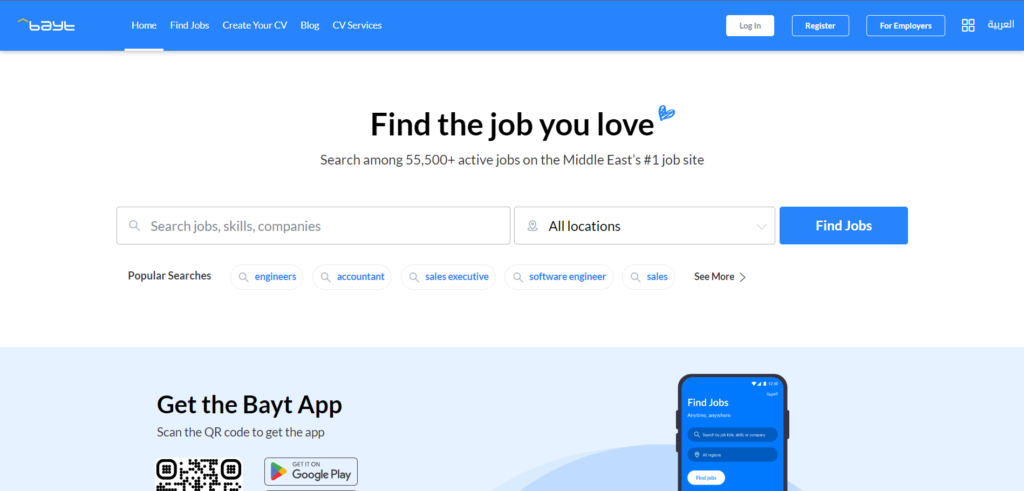 | Test | Info |
| --- | --- |
| WEBSITE | https://www.bayt.com/ |
| ADDRESS | Grosvenor Business Tower, Office 2302 - Dubai - United Arab Emirates |
| CONTACT DETAILS | +971 4 449 3100 |
| HOURS | Monday to Friday: 9 am - 6 pm |
| | |
| --- | --- |
| Criteria | Rating |
| Popularity | ★★★★☆ (4/5) |
| Interface | ★★★★★ (5/5) |
| Algorithm | ★★☆☆☆ (2/5) |
| Features | ★★★★★ (5/5) |
Specifically made for job hunters and recruiters in the UAE, Bayt is a job listing website that also offers helpful resources to help locals and expats get an edge and chase a career they can be proud of.
While it may not be as popular as our other entries, Bayt deserves a shoutout for being quite big in the local job-hunting scene.
A major reason for this is that this job listing platform chooses to focus on the cultural and behavioral aspects of work culture in the country. Because of this, job hunters in Dubai often prefer this over international job listing websites.
On top of that, the interface is quite straightforward and simplistic. The ease of navigation lets us dive right into applying for jobs without having to learn anything beforehand.
However, this is held back by its algorithm's equally simplistic formula. The lack of a tracking system, which is only compensated with a saving feature, dampens the website's efficiency when it comes to job searching.
However, we love its features that include helpful resources such as resume evaluation that candidates can use to build their profile.
This is quite invaluable because it is free, an advantage that makes all the difference when LinkedIn's same feature is hidden behind a subscription fee.
Made specifically for job hunters and recruiters in the UAE
Simple and straightforward interface
Has resources resume evaluation for users
The algorithm is too simple
Global job opportunities are rare
5. Oliv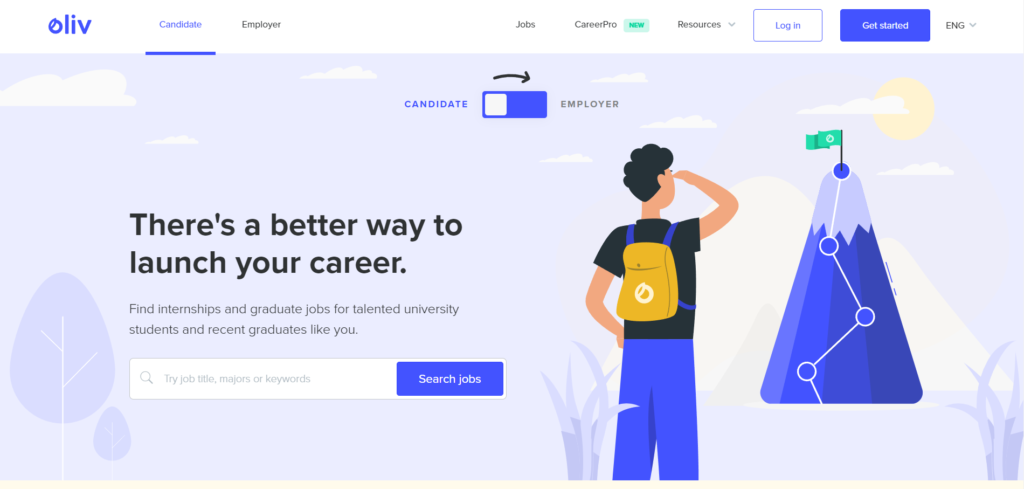 | Test | Info |
| --- | --- |
| WEBSITE | https://oliv.com/ |
| ADDRESS | International Business Tower, Office 1101, Business Bay, Dubai, UAE, P.O.Box 309119 |
| CONTACT DETAILS | |
| HOURS | Monday to Friday: 9 am - 5:30 pm |
| | |
| --- | --- |
| Criteria | Rating |
| Popularity | ★★★★★ (5/5) |
| Interface | ★★★★★ (5/5) |
| Algorithm | ★★★★☆ (4/5) |
| Features | ★★★★☆ (4/5) |
Formerly known as IntersMe, Oliv helps pave the way for the careers of fresh graduates and many other job hunters seeking better opportunities.
What makes this job listing website so popular is the opportunities such as trainee programs and internships that help many students and university graduates accumulate the experience they need.
Many leading recruitment agencies and companies use this to connect with young minds, which is also another reason why this website is so popular at the moment.
Of course, its comprehensive design helps a lot with it too. With its multiple filters and efficient tracking system, anyone can easily navigate through the website, and make every job hunting session fruitful.
And because of both of those tools in its website, its algorithm can easily connect users to many other related job and career opportunities.
However, we do wish it had a feature that uses its algorithm to help users connect with each other because young professionals, fresh graduates, and interns need to build their network as much as they need opportunities.
And speaking of features, we do love that it offers LinkedIn makeovers, which we think is such an invaluable addition to Oliv's website. This is a highly effective way to jumpstart every job-hunting period for everyone.
Made for fresh graduates, young professionals, and interns
Easy-to-navigate website
Underutilized algorithm
Features lack the ability to help build networks
FAQs about Job Listings in Dubai
---
We hope this helped you find your favorite job listing website in Dubai. Also, if you're looking for more job-hunting recommendations, then check out these articles: