Top Seven Iftar Buffets in Dubai
Food plays an important part in our culture and traditions and Islam is no exception. As such, eating at an Iftar buffet in Dubai is always observed as part of the Ramadan celebrations and many establishments start running special around this time.
So if you're looking to participate in the celebrations while enjoying some good, well-made food in the area, keep an eye out on the specials these amazing establishments provide on your next visit:
Enjoy smoky and savoury fare at Barbecue Delights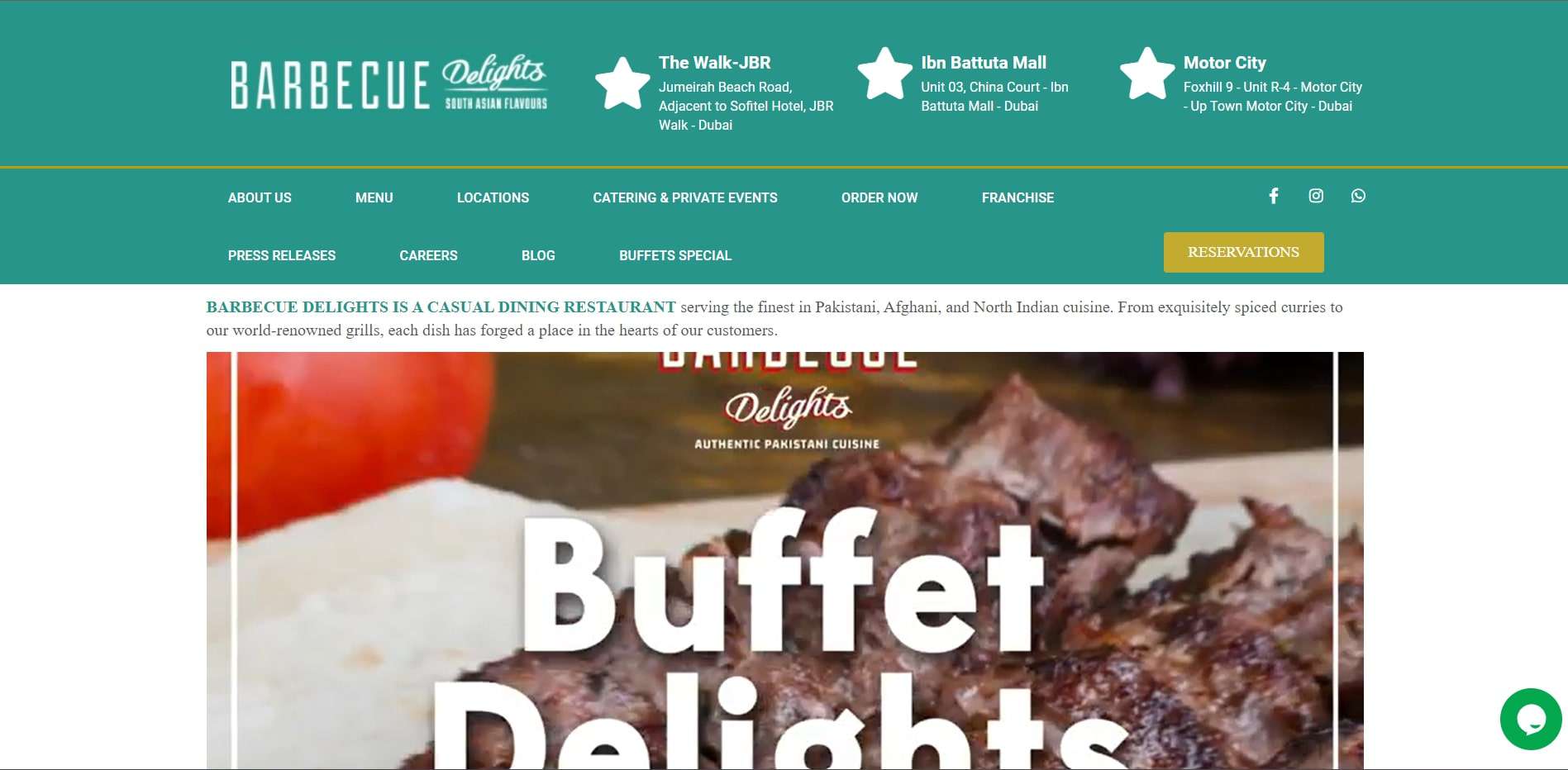 Menu: Iftar Items, Live Barbecue, Curries, Breads & Rice, Desserts
Location: Jumeirah Beach Road, Adjacent to Sofitel Hotel, JBR Walk, Dubai
Social Media: Instagram; Facebook
Hours: Mondays – Sundays: 11:30 AM to 12:00 AM
Price Range: $$$
The branch on Jumeirah Beach Road for one, is quite the destination, giving its diners a nice view of the Jumeirah Beach. Its close proximity to the Sofitel Hotel also makes it easier for visitors to find accommodations if they have the means.
Inside, Barbecue Delights boasts an amazing open kitchen design which pairs well with their charcoal-based cooking.
The restaurant specializes in kebabs, but you can get an assortment of grilled items such as garlic fish, large prawns, some vegetables, and even mutton for those who really want that traditional flavor.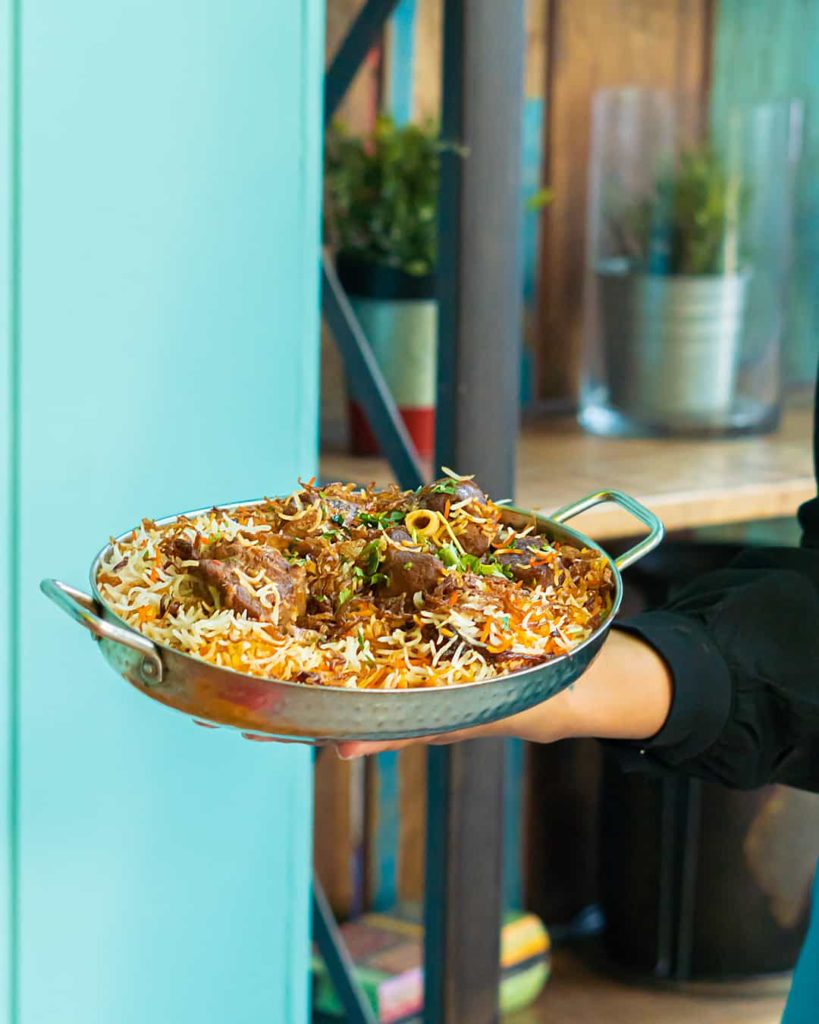 Of course, aside from these amazing grilled meats, you can also pair them with naan bread or biryani, making for a complete meal in itself. While you're at it, why not partake of some seasonal fruit or samosas that often accompany the buffet?
You can also get curries; all inspired from Northern Indian cuisine in case you're interested in items with some slight heat and strong flavour.
Once you're all done, you also get your choice of beverage whether it's something served hot like black or green tea or something like a mint lemonade for particularly hot days in order to feel refreshed.
To summarise, Barbecue Delights provide a great location by the seaside, an array of impeccably cooked food, and a festive atmosphere once the crowds start coming in. We definitely see it as an amazing stop for experiencing Iftar in Dubai.
Pro Tip:
All that food takes a little bit of time to prepare– this is a restaurant where you can afford to not necessarily turn up on the exact opening times on regular days. Additionally, their weekends tend to be quite light on customers. 
Savour nice Japanese cuisine at Netsu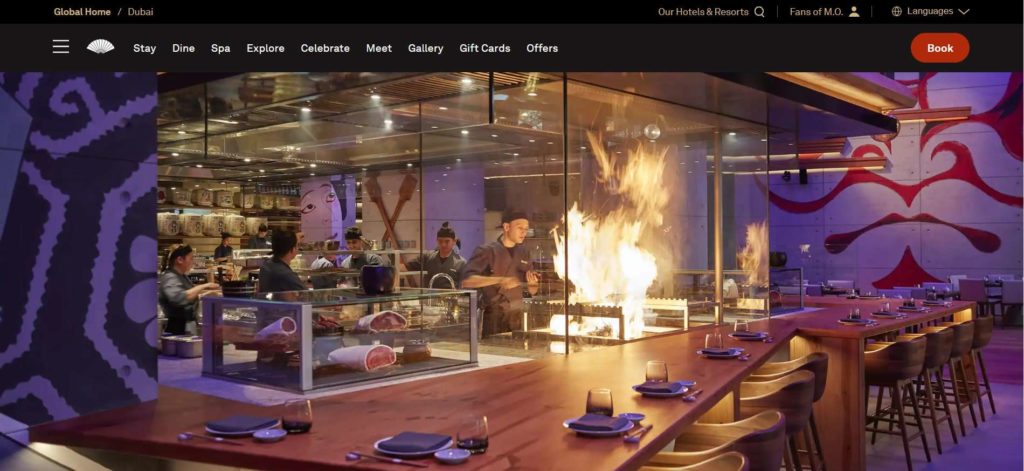 Menu: Warayaki Grill, Nigiri Sushi and Sashimi, Dessert Platter, Table Side Experience, Chef's Omakase
Location: Jumeirah Beach Rd., Jumeirah, Jumeirah 1, Dubai
Social Media: Instagram; Facebook
Hours:
Sundays to Thursdays: 6:30 PM to 11:30 PM
Fridays: 6:30 PM to 12:00 AM
Saturdays: 12:30 PM to 3:30 PM | 6:30 PM to 12:00 AM
Price Range: $$$
Ever wondered what it's like to try an Iftar composed of Japanese-style favorites and dishes? Head down to Netsu for your next Ramadan celebration to experience exactly that.
Located in the Mandarin Oriental Hotel, Netsu's location offers a lot of facilities and amenities for unwinding after the occasion. There's a nearby pool and the restaurant itself has an outdoor seating area for you to enjoy the meal by the water.
You'll have to reserve this in advance however–the outdoor seating is very popular after the fast.
Like Barbecue Delights, Netsu also employs an open plan kitchen in order to accommodate their warayaki-style cooking where you slow roast the food over straw. Chefs say that it not only helps it absorb more flavor while also providing some spectacle for onlookers.
Despite that though, it's the food where Netsu truly shines. Their Iftar is perfect for people who may want to continue avoiding red meat for a while, providing diners with nice seafood and vegetables as an alternative.
Their salmon teriyaki, for example, is a particular standout. It provides a soy-sweet flavour to the palate while balancing it with a nice crunch from its crispy skin and its accompanying grilled vegetables.
For those who really do want to dine on red meat though, then we definitely recommend checking out the prime Wagyu beef. It's cooked on the warayaki grill so it's delightfully tender, melting in your mout and blasting your tongue with that nice roasted flavour.
Likewise, the restaurant isn't too expensive though it's not cheap either. Overall, Netsu is a very solid choice for hearty dishes and a nice addition to the best Iftar buffets in Dubai for its strong value for money.
Pro Tip:
If the Iftar sharing menu is not quite to your palate, then Netsu also offers two different sharing menus to satisfy every palate– the Chef's Omakase menu, which focuses on the Wagyu A5 beef, and their Signature Sharing Menu with vegetarian and non-vegetarian offerings.
Eat a hearty meal with a nice view at Jun's
Menu: Cold Littles, Hot Littles, Grill, Not So Littles, Sides
Location: Sheikh Mohammed bin Rashid Blvd., Downtown Dubai, Dubai
Social Media: Instagram; Facebook
Hours:
Mondays – Fridays: 12:00 PM to 3:30 PM | 6:00 PM to 2:00 AM
Saturdays – Sundays: 12:00 PM to 4:30 PM | 6:00 PM to 2:00 AM
Price Range: $$$$
Jun's is a good place to break your fast– featuring progressive Asian-American cuisine headed by Chef Kelvin Cheung, in the very heart of Downtown Dubai. 
Featuring views of the historic Burj Khalifa, Jun's is home not only to a whole host of dishes infused with Chinese flavors, but also a variety of cocktails, making full use of their classy interior and luxurious ambiance.
Open for lunchtime at around 12:00 PM to 3:30 and later for dinner at 6:00 PM to 2:00 AM, this restaurant is a must-visit should you be looking for a good place to dine at Sheikh Mohammed bin Rashid Bouelevard.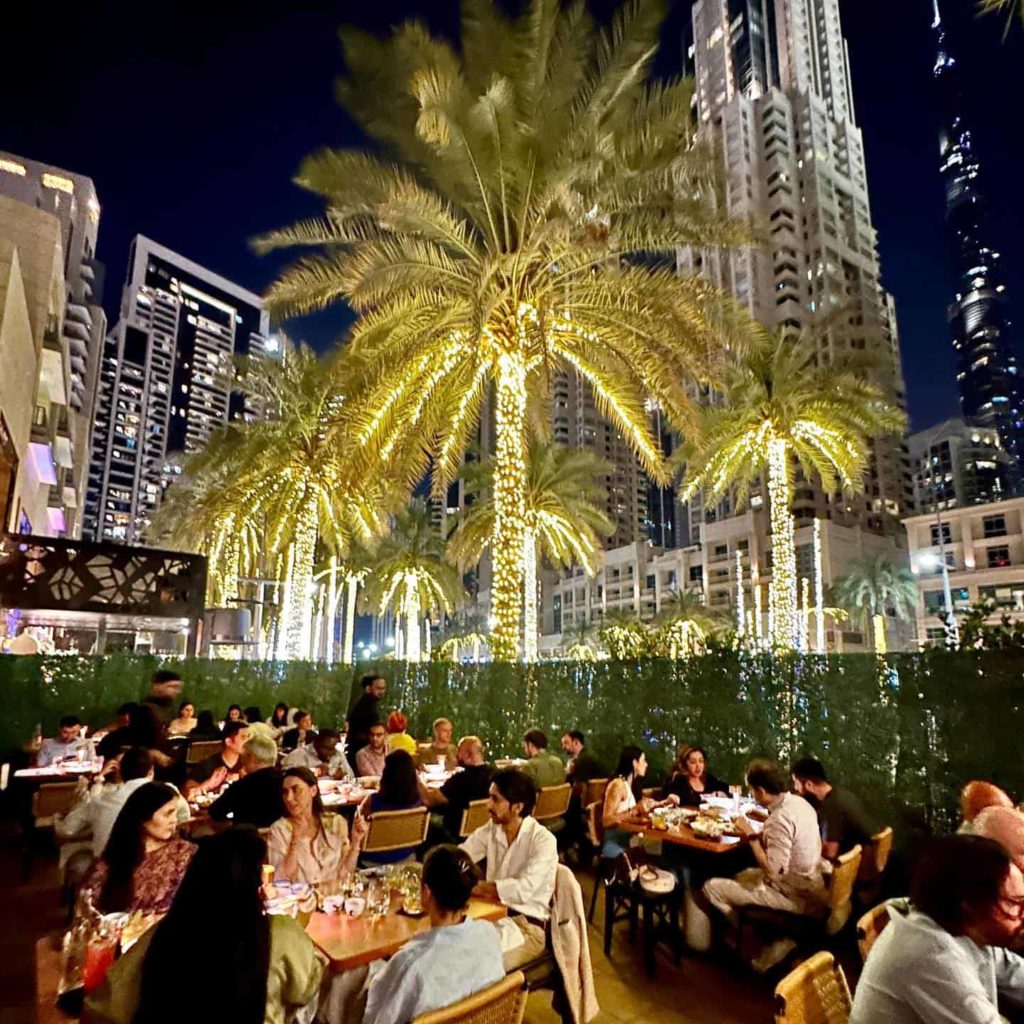 So, how did we feel about their special Ramadan menu?
The meal starts with miso butternut squash soup, which is quite hearty– partnered with fresh dates and a welcome drink, they set the stage for the following courses, like a Mezze platter with classic Asian treats like hummus and lumpia.
Their main course is quite large, consisting of Malaysian wagyu short rib mandi clay pot rice served alongside delectable dishes like braised lamb neck congee and sweet and sour snapper– enough for sharing between everyone at the table.
With the feast ending on sweet desserts like date pudding and luqaimat, a traditional Arabic dumpling, guests are sure to get a filling Iftar experience dining at Jun's.
Jun's Restaurant prides itself on being a place where one can celebrate the everyday joys of life– as far as places to celebrate to break your fast at, it  can't be beat.
Pro Tip:
If visiting Jun for more than just the Iftar buffet, then definitely try to go for one of their weekday business lunch sets, getting a three-course meal of starters, mains and desserts for only 130 AED.
Dine with a breathtaking view of the Marina at Lo+Cale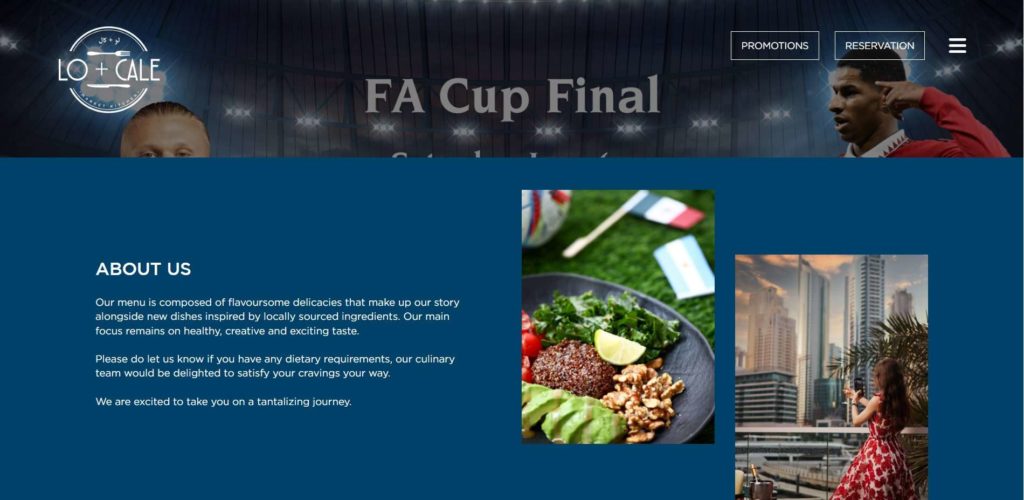 Menu: Breakfast, Cold and Hot Starters, Signatures, Grill, Desserts
Location: Crowne Plaza, Al Yahoom St, Dubai Marina, Dubai
Social Media: Instagram; Facebook
Hours: Mondays – Sundays: 6:30 AM to 2:00 AM
Price Range: $$
Visitors hoping to break their fast at a picturesque location near the waterfront, are in luck– Lo+Cale at Crowne Plaza is a great place to break your fast with their Iftar buffet.
Priding themselves on providing a place to unwind, Lo+Cale's position at the Crowne Plaza promises a breathtaking view of the Dubai Marina on the outdoor terrace. Of course, visitors may also opt to stay inside, with the cool interior lighting and design.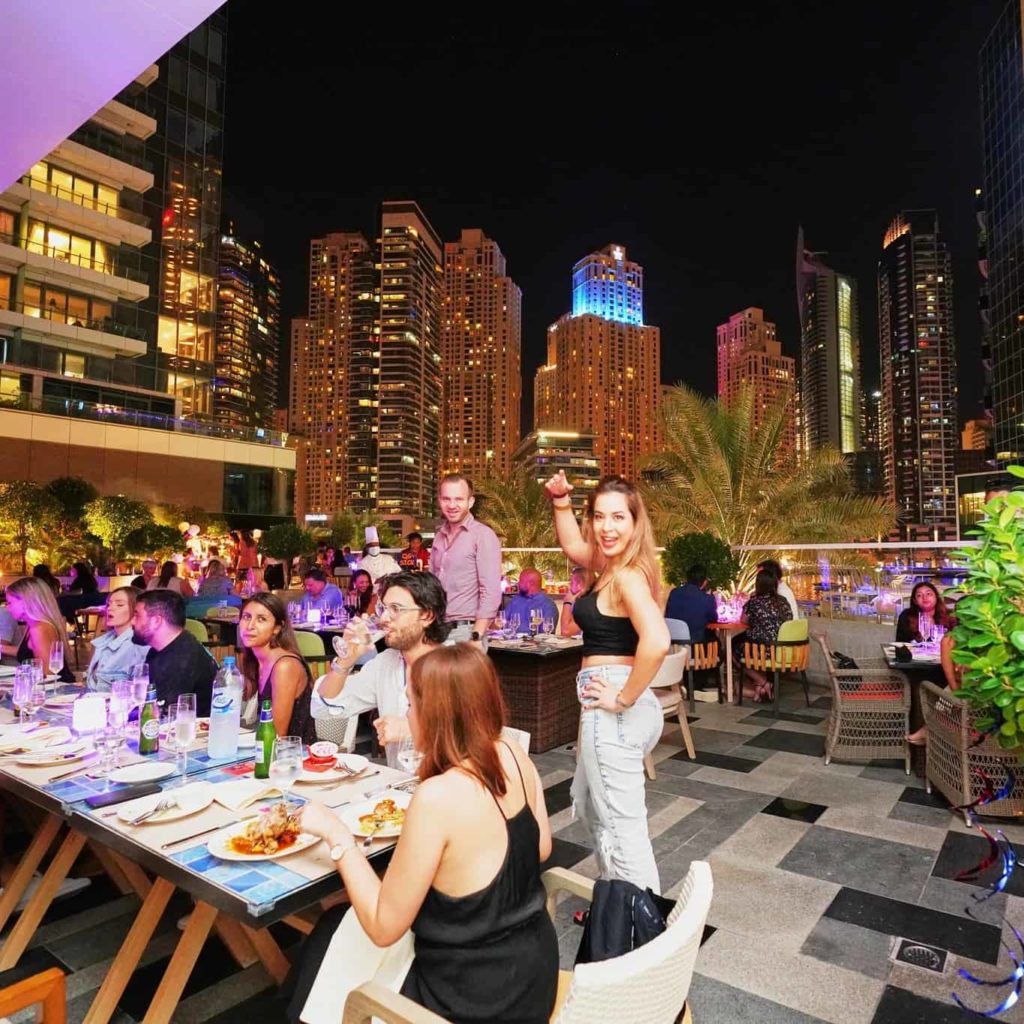 Inside, there's a good amount of international cuisine to savor, from English breakfasts to their Sunday roast. The restaurant being open from 6:30 AM to 2:00 AM makes it a perfect place to stop by at any time.
With the sun going down and the restaurant now offering an Iftar buffet special, how well does it hold up?
How about starting with some fresh dates and juices or even a prawn cocktail for some traditional and luxurious fare? Alternatively, there's a lot of homemade bread and fresh salads around for those looking to go meat-free this early.
At the live cooking stations, visitors will find a whole host of grilled delights– from traditional shawarma to charcoal-grilled lamb kofta skewers. If you can't decide between all these, try one of their mixed grill platters for the variety!
Lastly, to round off the feast, Lo+Cale also offers a range of Arabic sweets. Care for a baklawa to end the night? Just don't have too many so as to not upset your stomach going home!
Lo+Cale's Iftar spread promises both tradition and flavor– with live cooking stations and music, it's truly a great place to regain your energy after the fast.
Pro Tip:
Lo+Cale is also a worthwhile visit for its themed brunch and drunch sets based on the holidays and special occasions. For example, they serve dishes like fish and chips during football games, which can be great for groups looking to catch the game.
Get a nice meal from down under at Yalumba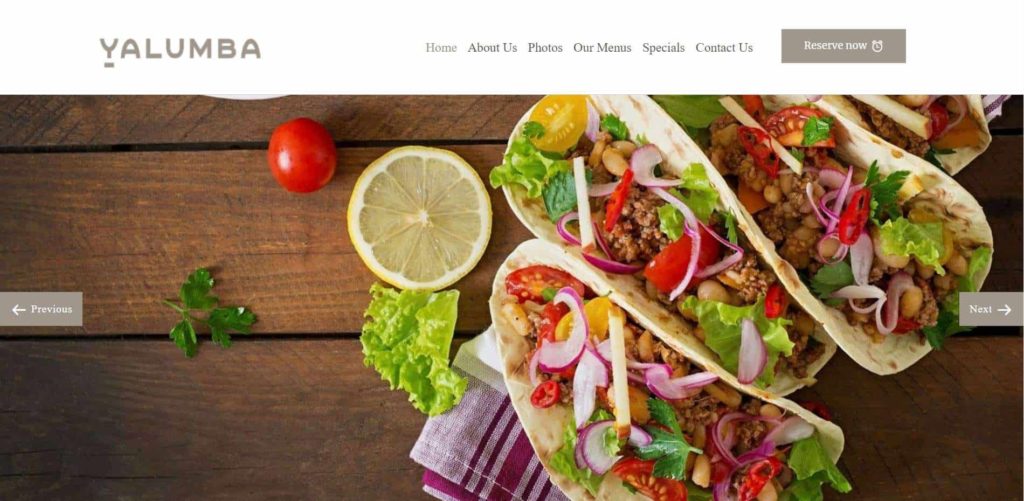 Menu: All Day Dining, Between Bread, Pasta, Main Course, Sweet Endings
Location: Le Meridien Dubai, Airport Road, Dubai
Social Media: Instagram; Facebook
Hours:
Sundays: 6:30 AM to 11:00 AM | 1:00 PM to 4:00 PM | 7:00 PM to 10:30 PM
Mondays: 6:30 AM to 11:00 AM
Tuesdays – Saturdays: 6:30 AM to 11:00 AM | 7:00 PM to 10:30 PM
Price Range: $$
Located in the Le Méridien Dubai Hotel & Conference Centre, visitors can expect a warm and happy "Ramadan Kareem!" from other locals dining at Yalumba.
Its namesake is derived from the region in South Australia and you can expect to dine on some cuisines coming in from this territory. Indeed, the menu is a lot more international in theme, even when it comes to its Iftar specials.
The restaurant is a very cosy place to dine in. It's very warm and homely, reminding us of an old period home in Australia complete with a nice outdoor kind of feel.
As for the food, they have a special Ramadan menu for people looking to dine once their fasting period is over. This special menu is composed of authentic Arabic favorites, ranging from kebabs or lamb served with a freshly-prepared manakeesh.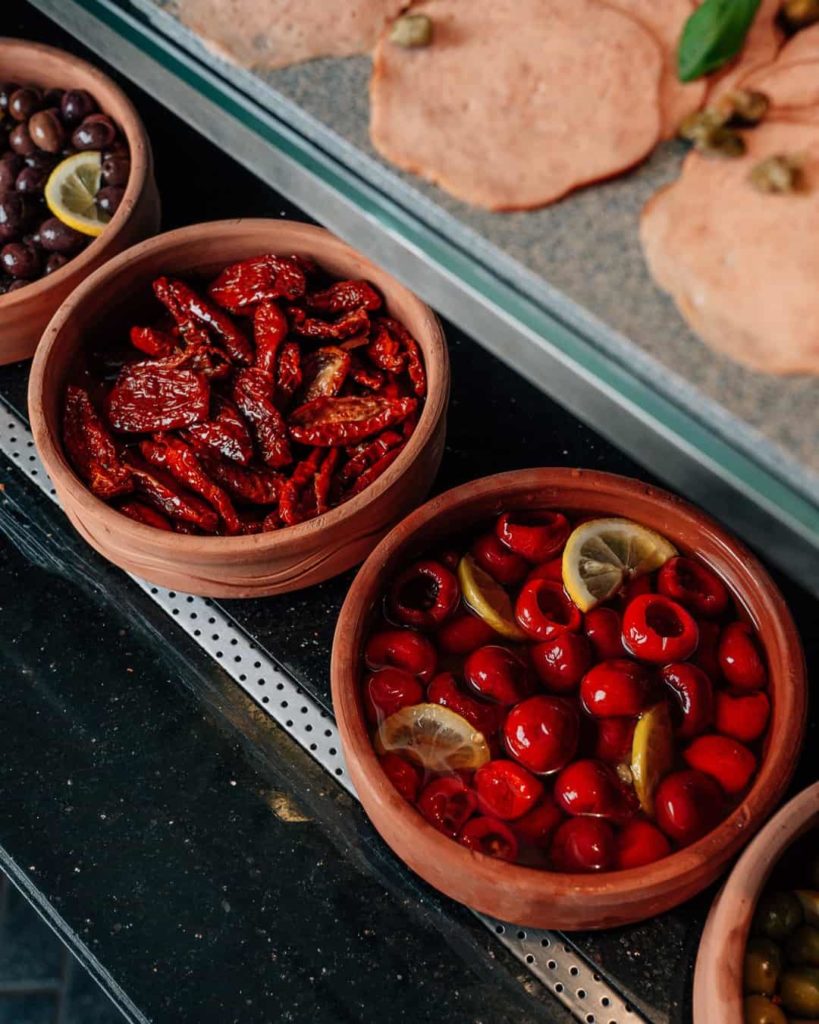 Their meat is cooked over their live kitchen area, creating an almost communal effect as the diners wait for their orders to be fired up.
Alternatively, there's also non-grilled dishes such as a stewed chicken garnished with lemon slices as well as a nice seafood fried rice for those craving for the bounties of the sea.
While you're at it, you may also want to check out the extensive desserts corner; typically filled during Iftar with all sorts of Indian and Arabic sweets like jalebi, pastries, and all sorts of cakes.
After that, you can wash all of your food down with a wide assortment of fresh fruit juices, with flavors ranging from orange to cranberry juice.
With all that delicious food at the table, it's no wonder Iftar is always a fun, happy family affair at Yalumba. We definitely recommend giving it a visit.
Pro Tip:
Outside of Iftar, those with kids may also want to visit Yalumba during its special Saturday brunches. They hold plenty of fun activities like a magic show and a few art and decorating stations to keep kids entertained.
Watch some cool table theatrics at the Farzi Café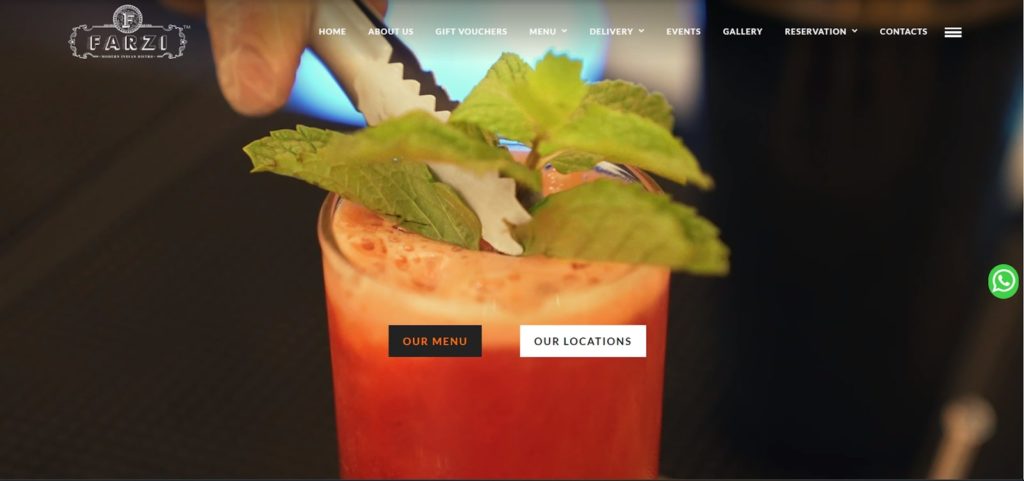 Menu: Soups & Salads, Sliders & Kulchas, Roast & Grills, Small Plates, Sharing
Location: Dubai City Walk II, Building No 5, City Walk II, Al Safa, Dubai
Social Media: Facebook; Instagram 
Hours: 
Sundays – Thursdays: 10:00 AM to 11:00 PM
Fridays – Saturdays: 10:00 AM to 12:00 AM
Price Range: $$$
Billed as a restaurant serving a very modernist dining experience, Indian bistro Farzi Café has also opened its doors for Iftar celebrants!
With a location in the Dubai City Walk, the café fits right into the contemporary landscape of the neighborhood. Try to get a seat outdoors to take in the ambiance.  
Open from brunch to late in the night, Farzi's interior is designed to be quite sleek and modern, with cozy colors: in honor of its traditional cuisine and chic presentation.
Amuse yourself after the fast with the bistro's penchant for table theatrics, and dig into their sumptuous Iftar menu.
Farzi Café's specialty is Indian cuisine– traditional recipes updated to have contemporary presentations, while giving some their own Farzified flair.
Their Iftar set menu breaks the fast with a very fruity sampler, featuring dates, exotic fruits, and street snack samosas, served alongside caramelized pineapple.
After that comes the appetizers of kebabs and lamb chops and chicken tikka, and finally getting to the main meal of butter chicken, dal makhani and basil chicken biryani– very filling.
Ending off your night with some traditional Indian ice cream, definitely make Farzi Café a place to visit to break your fast this Iftar. 
Pro Tip: 
Farzi can get quite busy, especially on the weekends! Be sure to reserve ahead if you plan on dining. 
Check out affordable food at the Claypot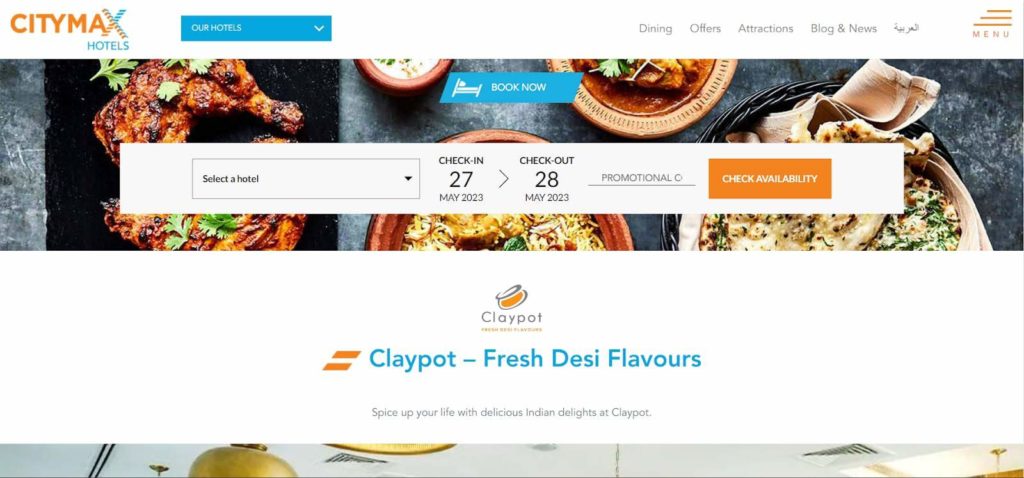 Menu: Chatori Galli, Salads, Tandoor, Curries, Bread Basket
Location: Citymax Hotel Bur Dubai, Lobby Level, Street 74, Mankhool, Dubai
Social Media: Facebook; Instagram 
Hours: 
Mondays – Wednesdays, Saturdays: 12:00 PM to 3:00 PM | 7:00 PM to 11:30 PM
Thursdays: 12:00 PM to 3:00 PM | 7:00 PM to 12:30 AM
Fridays: 12:30 PM to 3:00 PM | 7:00 PM to 12:30 AM
Sundays: 12:00 PM to 4:00 PM | 7:00 PM to 11:30 PM
Price Range: $
If you want to break your fast without breaking the bank, some of the best value for money you can get is at Claypot.
Found in the heart of the city in Bur Dubai, the restaurant stands in close proximity to a good amount of entertainment– plus, its location in the Citymax Hotel provides a good place to stay.
The vibe and interior design of the restaurant itself is very vibrant, with white walls and brightly colored seating– sure to be pleasing to the eye.
This fits well with the cuisine that the restaurant serves, which is focused on North Indian recipes and Pakistani cuisine.
To break the fast, during Claypot's Iftar special, dates will be available on every table– alongside a sweet fruit syrup called jallab.
Take some hot and cold mezze to start yourself off– like some light kebabs and falafel. Have some hummus along with a taste of Indian street food.
Finally, dig into the signature fare of the restaurant, including chicken masala and dal makhani, ending the night off with some sweet ras malai.
The vibrant atmosphere and eclectic tastes of the various foods in the restaurant are sure to make an invigorating Iftar. 
Pro Tip: 
Claypot features a buy five, get one free offer for its Iftar menu– it's a perfect deal for larger groups choosing to celebrate Iftar together! 
---
We hope you're able to get a good meal after participating in the celebrations here in Dubai! Make sure to check out some of our other listings for amazing dining establishments as well, such as the best spots for business lunch in Dubai here.