Top Food Delivery Apps in Dubai 
Imagine this: You're in the mood for a juicy shawarma after a busy day, or maybe some creamy biryani that makes you feel cozy. But you don't have the time or energy to go out and enjoy a meal.
Don't worry, I've got you covered with a list of the best delivery apps in Dubai!
Need help determining which apps to download? Check out our guide to Dubai's top food delivery apps below.
Talabat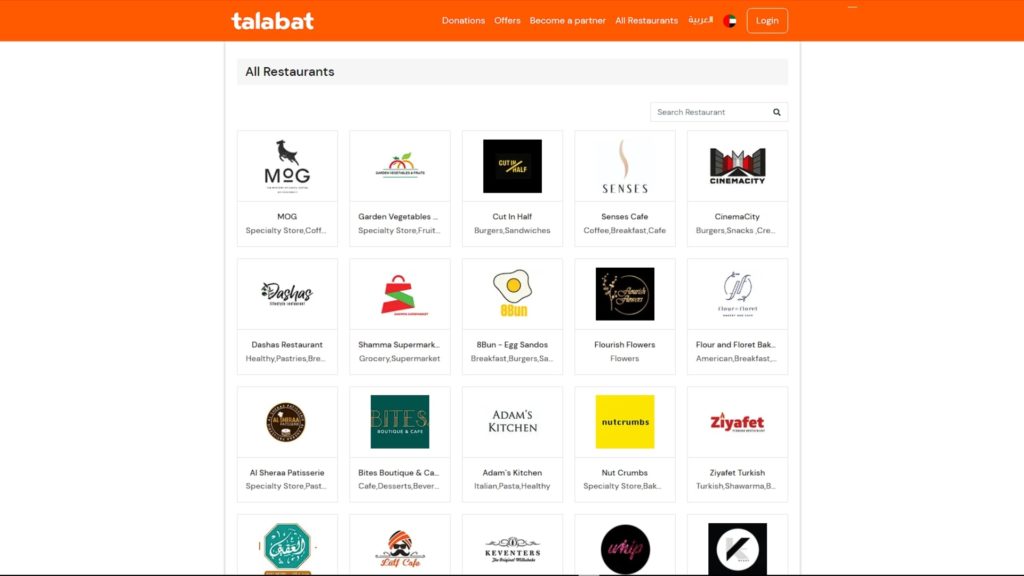 Website: https://www.talabat.com/uae
Operating hours: Open 24 hours, 7 days a week
Talabat was established in 2004 and has expanded its reach to numerous countries across the Middle East and North Africa. Talabat offers various delectable options, including pizza, burgers, sushi, salads, desserts, and more.
Furthermore, you can narrow your selections based on location, ratings, prices, promotions, and dietary preferences. Payment can be made through cash or card upon delivery or online.
But here's where things get really exciting, Talabat has partnered with Abu Dhabi Commercial Bank (ADCB) to offer the unique 'Talabat ADCB Credit Card.' This card is more than just a regular credit card – it's your gateway to a world of benefits that will make your taste buds dance with joy.
With this card, you can get an incredible 35% of your Talabat credit (AED 350!) back on your first ten orders each month. And there's more! Enjoy free delivery from Talabat-pro restaurants on orders over AED 50 and from shops over AED 100.
And the best part? For every transaction you make, whether home or overseas, you'll receive 1.25% of the transaction value back as Talabat credit the following month. You can apply online here.
Plus, you can accumulate cashback points with every order, which are redeemable for future purchases. If you're in a rush or prefer not to create an account, Talabat even provides a guest. 
Pro tip:

Consider signing up for the Talabat Pro membership. This subscription service saves dirhams like a pro and gives you access to benefits, from savings on delivery fees to doubling reward points.
Careem (Uber Eats)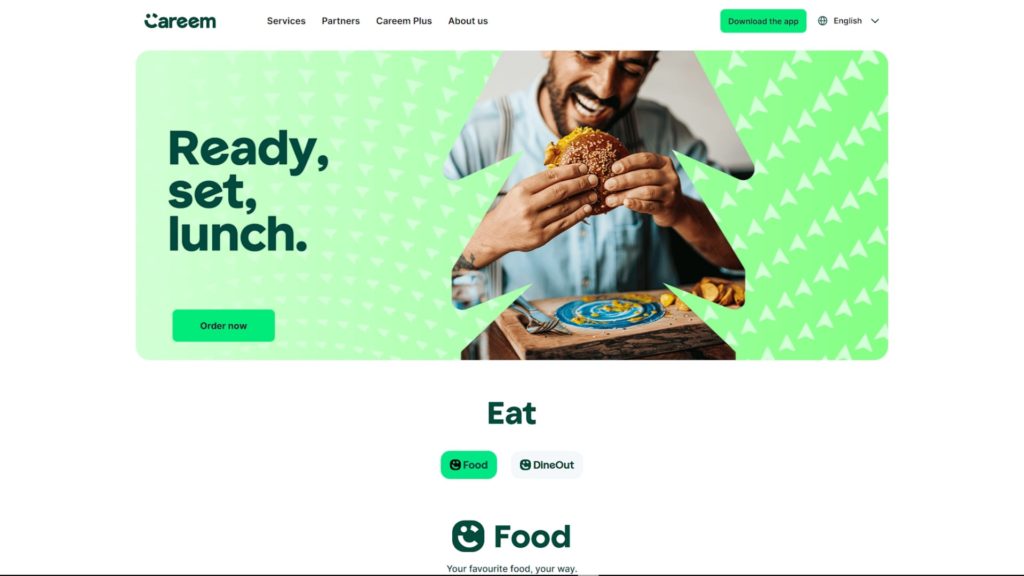 Website: https://www.careem.com/en-AE/food
Operating hours: Open 24 hours, 7 days a week
Careem is another leading food delivery app in Dubai that is part of the ride-hailing app of the same name. It was founded in 2012 and operates in over 100 cities across 14 countries in the Middle East, Africa, and Asia.
It offers food delivery services from hundreds of restaurants in Dubai, ranging from fast food to fine dining. You can choose from various cuisines, such as Indian, Chinese, Italian, Lebanese, Turkish, and more.
In addition to food, you can also order groceries, flowers, medicines, and other essentials. This app lets you track your order in real-time and save your favorite orders for easy reordering.
You also have the choice to settle the bill with cash or card upon delivery or make an online payment. Furthermore, each order you place can earn Careem rewards points, redeemable for rides or charitable donations.
Pro tip:

Use the "early bird" feature to get discounts on your orders. This feature offers discounts on your orders when you make them before a specific time. For instance, if you place your order before 11 am, you can snag a 20% discount.
Deliveroo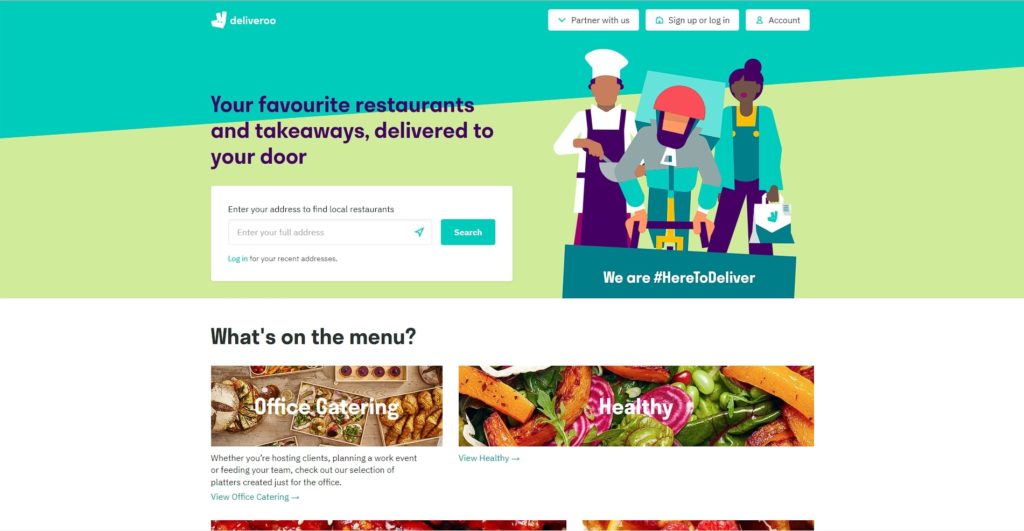 Website: https://deliveroo.ae/
Operating hours: 8 AM to 12 AM, 7 days a week
Deliveroo hooks you up with many local restaurants and takeaways. You can get your favorite meals brought straight to your place, whether you're hankering for a cheesy sandwich, a burger, or some biryani.
The app lets you follow your order's journey from the kitchen to your door, so you'll know when it's arriving. They also offer platters for office catering, healthy choices, affordable eats, desserts, and dishes to share.
Though it has fewer restaurant choices than Talabat or Careem, it stands out for its fast and reliable delivery. And here's something interesting: they've got Deliveroo Editions – special kitchens for delivery only, giving you more options.
Pro tip:

Take advantage of the "Only on Deliveroo" section of the app. It features a selection of restaurants and dishes exclusive to Deliveroo that you won't find them anywhere else.
NowNow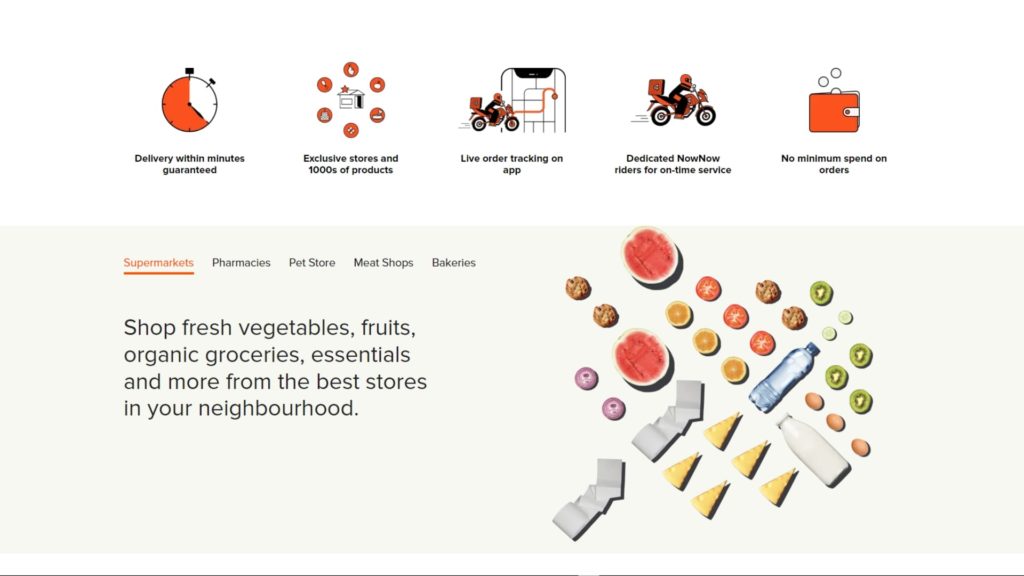 Website: https://www.noonnownow.com/
Operating hours: 8 AM to 12:30 AM, 7 days a week
NowNow by Noon is an all-in-one delivery app that delivers groceries and more in under an hour. It's available across Dubai, Abu Dhabi, Sharjah & Al Ain.
This app enables users to order groceries, medications, pet supplies, and fresh meat from affiliated stores.
You can make orders throughout the day as long as the partner stores are open, It imposes a fixed delivery fee of AED 5 per order.
No need to worry about hitting a minimum order – you're free to order as much or as little as you'd like. Payments are hassle-free with options including cash, credit cards, and debit cards.
Plus, every order you make earns you points that can be used for discounts or even free items. And that's not all; NowNow presents a loyalty program that treats you to special perks like free delivery and exclusive discounts.
Pro tip:

If you want to cut costs on groceries, electronics, and beyond, consider NowNow Plus. For just AED 39/month, you can enjoy limitless free deliveries.
EatEasy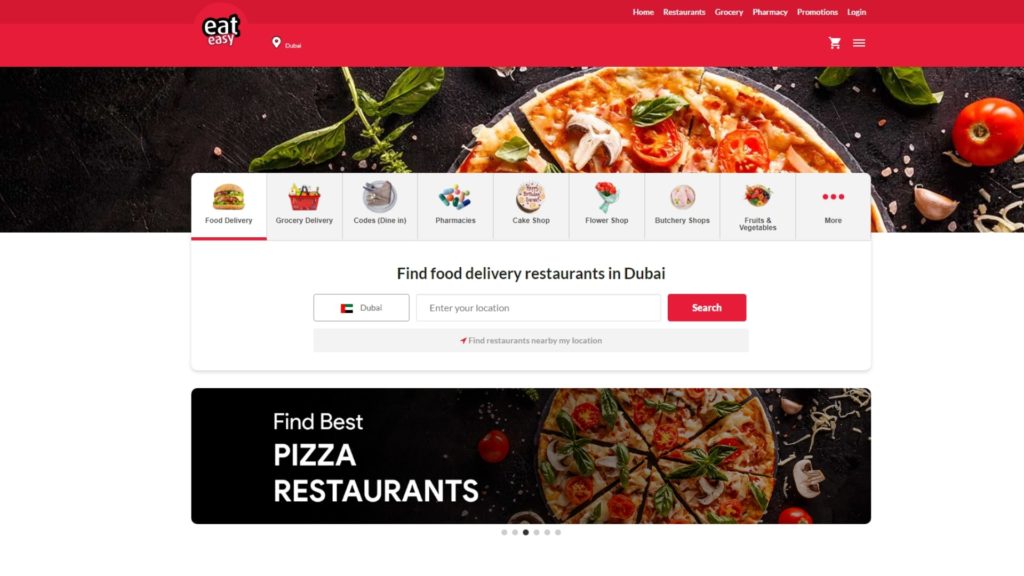 Website: https://www.eateasy.ae/dubai
Operating hours: 10 AM to 6 PM, 7 days a week
EatEasy is a leading online food and grocery ordering app in Dubai, founded in 2013. With EatEasy, you can order food for delivery from over 10,000 restaurants like La Petite Maison, Ruya, and Indus and do your grocery shopping from local groceries and supermarkets.
You can place an advance order for food and grocery delivery and schedule a particular date and time to place an order.
The app allows you to search and filter restaurants according to food type, cuisine, payment type, minimum order, delivery time, delivery fee, and location.
EatEasy also offers a cashback program where you can earn cashback on every order to redeem free food from different restaurants.
Pro tip:

If you're dining at a restaurant partnered with EatEasy, you can use the app to scan the QR code on the table and view the menu on your phone. You can also place your order and pay through the app, without waiting for the waiter or the bill.
Eat Clean ME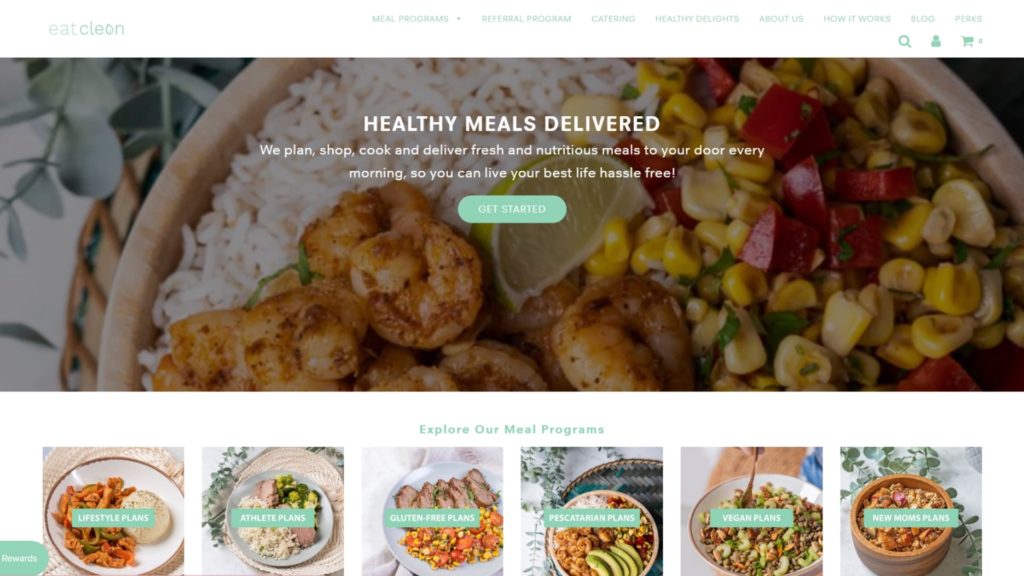 Website: https://eatcleanme.com/
Operating hours:
Monday – Sunday except Friday, 9 AM to 6 PM,
Friday – Closed
Eat Clean ME is a bespoke healthy food ordering app in Dubai that offers healthy meal programs for those looking to lose weight, lean up or gain some healthy mass. With its easy-to-use platform, getting on a meal plan is now hassle-free.
The app offers a variety of meal plans, including Athlete Plans, Pescatarian Plans, Gluten Free Plans, Diabetic Plans, and Healthy Delights Meal Programs. You can also choose from Lifestyle Plans such as Vegan Plans, Vegetarian Plans, and New Moms.
Pro tip:

If you want to get free meals, you can join the Eat Clean ME referral program. You can invite your friends and family to try Eat Clean ME and get a free meal for every referral.