The Top Spots in Dubai to Go Dune Bashing 
There's something for every adrenaline junkie in Dubai. From hot air balloon rides to sky diving, the city has plenty of activities to get your heart pumping.
But if you're looking for a truly authentic Arabian experience, you have to head to the desert and try dune bashing.
What Is Dune Bashing?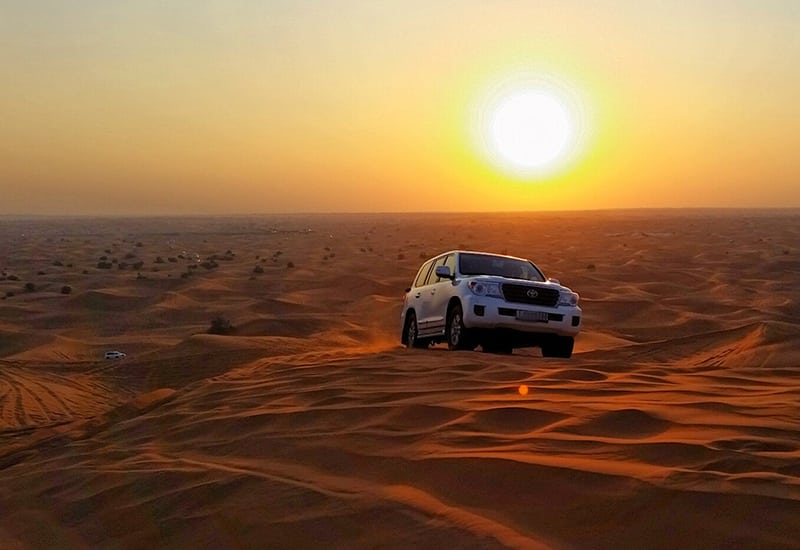 Dune bashing is a desert safari activity where you ride in a 4×4 vehicle driven by an expert driver that will ride up and down the massive sand dunes at high speeds.
Adventure seekers from around the world call this activity the quintessential Dubai desert experience because of how it compares to riding a roller coaster.
Dune bashing also allows guests the chance to see the vast Arabian desert while getting their dose of adventure.
This is why dune bashing is offered as part of many desert safari packages where guests have the option to explore the desert during the day or stay overnight in a Bedouin camp.
It was even rated by Tripadvisor as the world's best bucket list experience.
The Best Spots in Dubai to Go Dune Bashing
If you're brave enough to try dune bashing in Dubai, here are the best spots in and around the emirate to get your dose of adrenaline rush.
Fossil Rock
Website: https://www.visitsharjah.com/en/activities/nature/fossil-rock/
Address: Sharjah – United Arab Emirates
A 50-minute drive away from Dubai's city center brings you to one of the most remarkable natural landmarks in the UAE.
Fossil Rock is a natural rock formation that rises in the middle of the desert in Sharjah.
But this isn't just any rock because it's also embedded with marine fossils that date back for thousands of years. Fossil Rock is proof that the UAE was once underwater.
The desert surr ounding Fossil Rock also has some of the best sand dunes in the country, so it's the perfect spot for dune bashing, quad biking and even sandboarding.
After riding up and down the dunes, you can also visit the Mleiha Archaeological Center to learn more about life in the desert and the country's history.
You can also spend the night in the desert at one of the Bedouin camps in the area, so you can experience what it's like to be in the desert at night.
Pro tip:

Since dune bashing is part of desert safari packages to Fossil Rock, make sure to find one that fits your budget. Some agencies offer day tours while others offer overnight tours depending on what you want to experience.
Al Badayer Desert
Website: https://www.visitsharjah.com/regions/central-region/al-badayer/
Address: Al Madam – Sharjah – United Arab Emirates
One of the top destinations for adventure seekers, Al Badayer Desert is located 45 minutes away from the city center of Dubai in the Hatta/Oman highway in Sharjah.
Known for its dark red colored sand and massive sand dunes, Al Badayer is famous for dune bashing because it has some of the best desert drivers in the country.
The Al Badayer Desert is also home to several archaeological sites and if you choose to spend the night in the desert, it has the Al Badayer Oasis.
This eco-retreat has luxury tents and suites where you can relax after a day of dune bashing.
Pro tip:

Find a travel operator that offers a complete desert safari package to the Al Badayer desert, so you won't have to think about anything during your visit. Since the desert can get packed during peak season, it's best to book ahead to secure your spot, especially if you're staying overnight.
Lahbab Desert
Address: Southeast Dubai – Dubai – United Arab Emirates
Contact details: +971 54 704 6373
The Lahbab Desert is another favorite spot for dune bashing because of its beautiful red dunes.
A 50-minute drive from the city center will take you to the Southeastern part of the Emirate of Dubai where you can find this huge desert.
The Lahbab Desert's dunes are more challenging than other parts of Dubai, so you have to be prepared for an extra thrilling ride.
You don't need to worry about safety, however, since the drivers here are highly experienced in the terrain and will surely give you the best ride of your life on the dunes.
The Lahbab Desert also has other activities like sandboarding, camel riding and quad biking.
You can even stay the night at one of the Bedouin Camps owned by wealthy locals who are close to Dubai's Royal family.
This area also has a huge camel breeding facility and a camel track race, so make sure to check that out during your visit.
Pro tip:

You can't book dune bashing alone since it's offered as part of a desert safari package. So, make sure that you set aside a budget for this experience if you want to try it, especially if you're with a group.
Al Awir Desert
Address: Al Awir – Dubai – United Arab Emirates
The Al Awir Desert is one of the nearest spots in Dubai where you can try dune bashing and other desert activities.
Located 35 minutes away from Dubai, this desert has small and large dunes that guarantee a thrilling ride.
The desert is also a great place to experience Arabian life in one of the campsites without going too far from the city center.
Pro tip:

Find a good travel agency that offers a complete desert safari tour to the Al Awid Desert. This should cover your transportation, activities and accommodation if you wish to stay overnight.
Al Faya Desert
Address: Sharjah – Dubai – United Arab Emirates
If you're looking to level up your dune bashing adventure by riding down some of the steepest sand dunes in Dubai, you should head to the Al Faya Desert.
Located 50 minutes away from the city center in Sharjah, this desert is known as "The Big Fall" because of its huge sand dunes that only the most skilled drivers can maneuver.
Prepare to experience the thrill of riding a roller coaster as your driver goes up and down those massive sand dunes that will surely satisfy your thirst for adrenaline.
Al Faya is also known for its ruby sand, which makes it one of the best areas to explore if you want to take beautiful pictures in the desert.
This desert is also more vast than Al Badayer and you can spend the night in a camp to experience it for a longer time.
Pro tip:

Plan your trip to the Al Faya Desert early, so you have enough time to check your options on different desert tour packages in the area. This will help you save money and make sure that you have everything you need including all the activities like dune bashing, quad biking, camel riding and sandboarding.
Tips for Dune Bashing in Dubai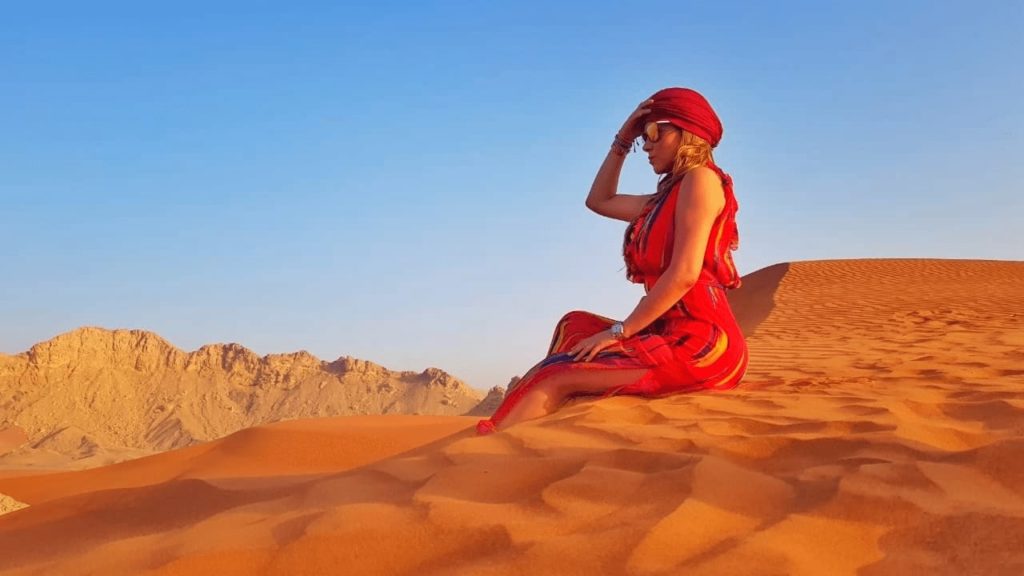 Before heading out to the desert for the ultimate dune bashing experience, here are some tips that will help you make the most of your trip:
Be prepared for the long ride.
A trip to the desert will take anywhere from 45 minutes to more than an hour from the city center, so your tour provider will pick you up early in the morning.
Get some sleep the night before and eat a good breakfast before heading out, so you can be ready for the long ride ahead.
Comfort should be a priority when dressing up for your dune bashing experience. Wear light clothing and long pants that sand won't easily get into.
It's also very important to wear closed shoes like sneakers, so you can move comfortably when doing activities in the desert.
Of course, you should pack an extra pair of clothes, a jacket and a hat or scarf since it can get breezy in the afternoon, especially during winter.
Although food is included in most desert safari tours, it's best to bring your own snacks and water, especially if you're traveling with kids.
Remember that you're in the middle of the desert, so having snacks and water will keep you from going hungry and dehydrated while enjoying the desert safari.
This should be a no-brainer since you'll be exposed to the heat for hours while exploring the desert.
After your dune bashing experience, you'll be given time to go down the car and walk around the desert to admire the vast landscape.
You can also try other activities like quad biking or sandboarding, so make sure that you apply sunscreen to protect your skin from the sun.
Make sure that you're in good shape.
Dune bashing is not for the faint hearted since it can really get your heartbeat up.
So, if you have any medical condition that could be triggered by adrenaline or stress, it's best to get clearance from your doctor first or avoid the activity altogether.
You don't want to get a heart attack in the middle of the desert, so it's best to go dune bashing only if you're in the best of health.