The 5 Best Cinemas in Dubai
Don't get us wrong, we love streaming movies from the comfort of our homes, but there are just cinematic masterpieces that require watching it with the big screen and the crisp high-quality surround sound system.
Fortunately, Dubai knows what high-quality entertainment is like, and this shows in the different cinemas found throughout the city.
From luxurious mall cinemas to cozy and unique boutique ones, we always have the right choice for any kind of movie.
So we visited some of the highly recommended places to give you our top cinemas in Dubai!
How much does going to a cinema in Dubai cost?
The cost of going to a cinema depends on what type of cinema you are going to, and the features that are included in the viewing experience.
The usual price of a movie ticket usually costs around AED35-AED50 for the standard viewing, and AED120-AED170 for the platinum viewing.
How We Picked the Best Cinemas in Dubai
Before we get right into our best cinemas in Dubai, here are the factors we considered for our entries on this list:
1. Roxy Xtreme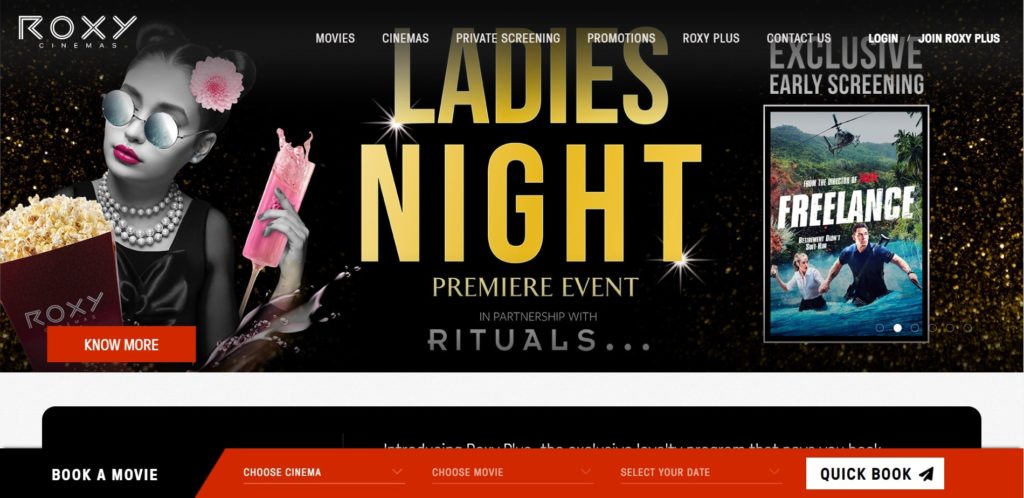 Test
Info
WEBSITE
https://www.theroxycinemas.com/
ADDRESS
Dubai Hills Mall-Dubai United Arab Emirates

Has 4 more locations throughout the city

CONTACT DETAILS
800 ROXY(800-7699)
OPERATING HOURS
Every day: 10 am - 11 pm
| | |
| --- | --- |
| Criteria | Rating |
| Programming | ★★★☆☆ (3/5) |
| Features | ★★★★★ (5/5) |
| Quality | ★★★★★ (5/5) |
| Service | ★★★★☆ (4/5) |
Known for housing the Middle East's largest cinema screen, the Roxxy Extreme is 28 meters high and 15.1 meters wide 一 the size of two full-size tennis courts.
It is also equipped with state-of-the-art laser projection and DOLBY ATMOS sound, which is the best that you can get anywhere in the Gulf region.
We love how it has no holds barred when it comes to providing the best equipment for the viewing experience because it means that we are watching our films the way it was meant to be watched.
However, the programming is definitely a weak point as it really just shows blockbusters and the occasional critically acclaimed drama films. If you are looking for some indie hits, documentaries, and a highly curated program, then this is not for you.
But know that your blockbuster-viewing experience will always be perfect with its Director's Boxes that seat 12 people in private and come with food served by a personal waiter.
We also love that all of its cinemas have the Platinum and Silver services each offering reclining seats and premium food.
However, the personal waiter service can often feel bothersome as it can be a disturbance for your fellow viewers when you are calling and talking to the waiter.
Despite that, we love its smooth and quick online booking system and just the fact that we are able to order actual full meals while watching a movie.
Houses the biggest screens in the Middle East
Has Director boxes with a personal waiter
All cinemas offer reclining seats and food
Quick and smooth online booking system
Programming mainly focuses on blockbusters only
The personal waiter is bothersome when you're watching with other people
Customer Reviews
In my opinion, one of the best cinemas in Dubai
"In my opinion, one of the best cinemas in Dubai for an all-round great experience. To begin with, the recliner seats in silver are very comfy and enjoyable. The food is also top tier with the nachos being a must-get, although the popcorn was more on the stale side for my liking. In addition, FAZAA members can enjoy a 20% discount." —Haseeb Ahmad, Google Reviews
The best cinema in Dubai
"The best cinema in Dubai.
Recliner seats for ordinary tickets. Phone chargers and promotions are amazing. Date night, Ladies' night, etc. and the interior looks fancy. The sound is awesome. No more fogging issues on the screen 😃" —CT, Google Reviews
2. ScreenX by Reel Cinemas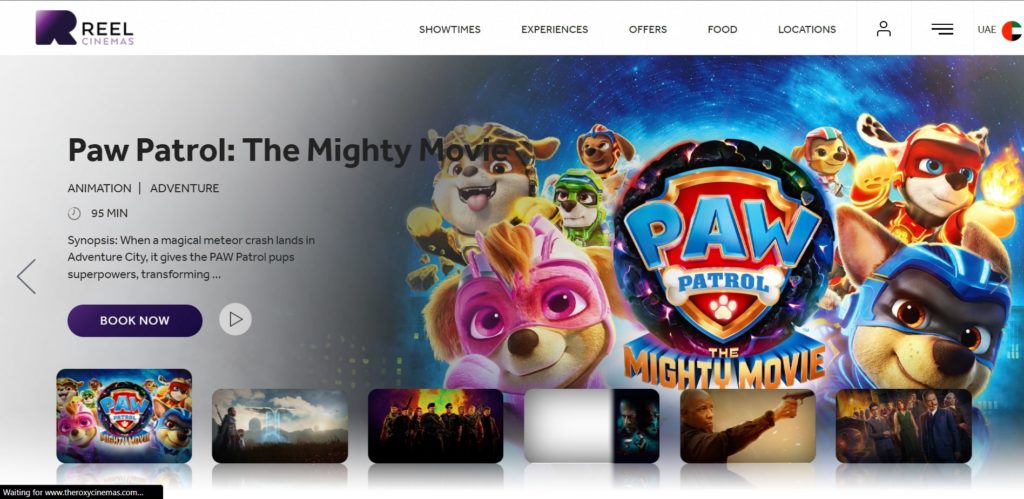 | Test | Info |
| --- | --- |
| WEBSITE | https://reelcinemas.com/en-ae/ |
| ADDRESS | The Dubai Mall - Financial Center Rd - Downtown Dubai - Dubai - United Arab Emirates |
| CONTACT DETAILS | 800-DUBAI-MALL (800 38224 6255) |
| OPERATING HOURS | Every day: 10 am - 12:35 am |
| | |
| --- | --- |
| Criteria | Rating |
| Programming | ★★★★☆ (4/5) |
| Features | ★★★★☆ (4/5) |
| Quality | ★★★★★ (5/5) |
| Service | ★★★★★ (5/5) |
If you want an immersive viewing experience, then nothing does immersive better than ScreenX by Reel Cinemas, where movies feel like they are happening outside of the screens.
It is the country's first multi-projection screening system that offers a 270-degree cinema screen for the audience. We love how every time we watch a big-budget film here, the ultra-wide screens take up even our peripheral vision, engaging us in the movie.
However, because of the way it is set up, ScreenX was built for blockbusters, like action movies, and does very little to enhance the viewing experience of other genres.
It is obvious in its programming because all its screens are superhero movies, animated movies, and the latest big-budget releases. Despite that, we can't help but enjoy our time here because it really brings out the best in these kinds of movies.
It also lacks features that could help enhance our viewing experience. Besides its dine-in restaurants and candy bars, it does not really have anything else to offer.
As for the service, we enjoyed the online booking system it has. We also loved its weekly discount offers that we often avail of whenever we want to watch something with our friends.
Has the country's first 270-degree cinema screen
Offers one of the most immersive viewing experiences
Efficient online book system
Has weekly discount offers
Limited extra features that elevate the viewing experience
Only shows blockbusters
3. Cinema Akil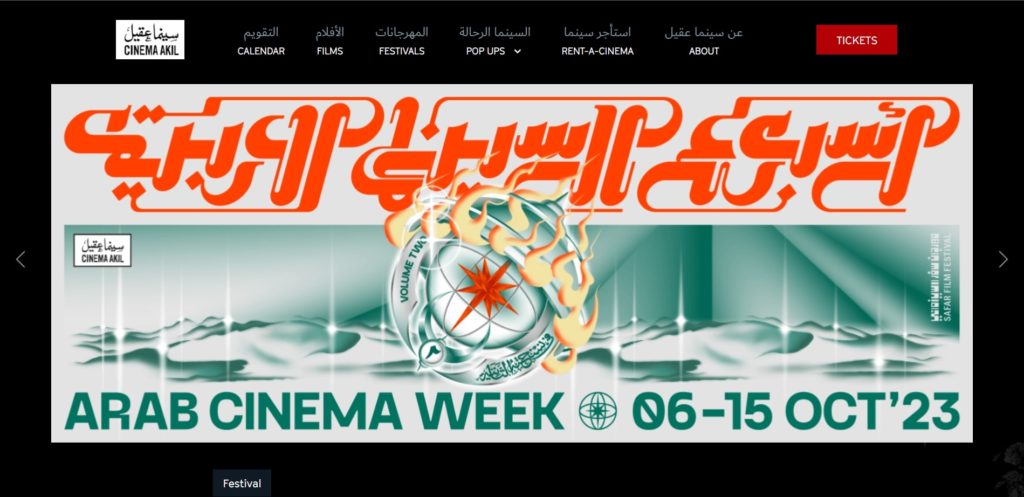 | Test | Info |
| --- | --- |
| WEBSITE | https://cinemaakil.com/ |
| ADDRESS | Warehouse 68, Al Serkal Avenue, Dubai, UAE - Dubai - United Arab Emirates |
| CONTACT DETAILS | +971 800 7777 |
| OPERATING HOURS | Every time 11 am - 1 pm |
| | |
| --- | --- |
| Criteria | Rating |
| Programming | ★★★★★ (5/5) |
| Features | ★★★☆☆ (3/5) |
| Quality | ★★★★☆ (4/5) |
| Service | ★★★★★ (5/5) |
Offering a platform for rising filmmakers and curating independent flicks that are taking the world by storm are what Cinema Akil does best.
We love cozying up amongst the mismatched cushions on its old cinema seats and celebrating the authentic creativity of films that are usually overlooked by the mass audience.
On top of that, it also has theme programs, like our favorite Studio Ghibli week. We also just appreciate that it can show dozens of films every week.
But it is disappointing, yet understandable, that it pales compared to our other entries when it comes to the features of the cinema. We love that it has an adjoining tea shop, Project Chaiwala, but it does not offer anything else other than that.
When it comes to quality, Cinema Akil does not really have anything to offer that is cutting-edge or completely unique. But for the kind of movies it shows, it has really made the most out of the repurposed warehouse that it has.
When it comes to service, we really can't deny how dedicated it is to promoting films and encouraging everyone to support both local and global productions.
The staff were very friendly, and we can really feel the passion for what they do. On top of that, we don't have to worry about driving down to its location all the time because Cinema Akil organizes pop-ups and festivals all over the city.
Promotes global and local indie productions
Has thematic programming
Organizes pop-ups and festivals
Friendly service
Lacks additional features
Does not really have cutting-edge technology
Customer Reviews
It is truly the best cinema for me in Dubai
"It is truly the best cinema for me in Dubai. Visited for the first time yesterday night to watch the first feature film by Martin Scorsese's "Who's That Knocking at My Door". I've had such an awesome experience watching the movie alone. Peaceful ambiance, super comfy chairs, tea, and a great movie.
You can find a small caffe at the entrance so you can enjoy tea or coffee before or after the session.
Definitely will come back. Thank you for giving me the opportunity to watch real masterpieces." – Oleksandr Martiukhin, Google Reviews
We watched the Wong Kar Wai features and had a really great time!
"We watched the Wong Kar Wai features and had a really great time! I love the concept and wish Cinema Akil all the very best. Looking forward to enjoying more screenings at your wonderful cinema." – Charlene Chong, Google Reviews
4. IMG Worlds of Adventure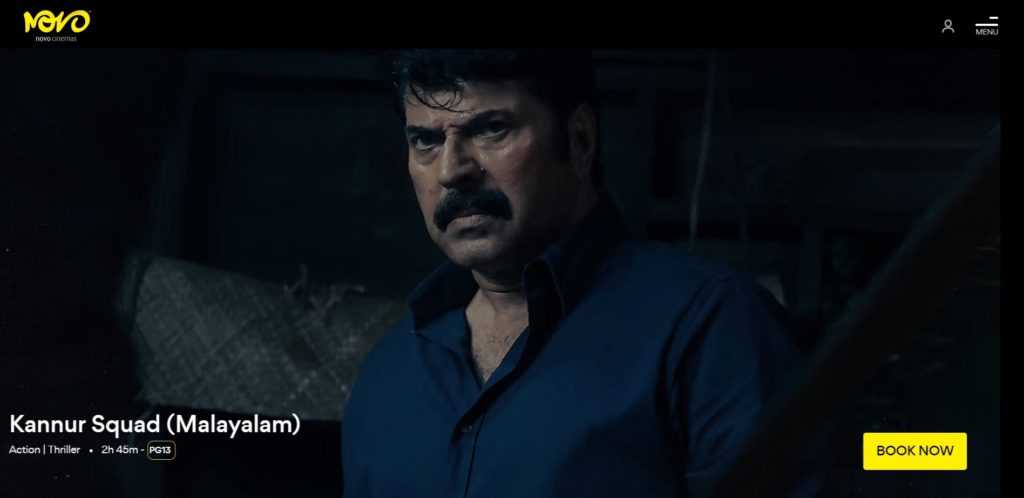 | Test | Info |
| --- | --- |
| WEBSITE | https://uae.novocinemas.com/ |
| ADDRESS | E311, SHEIKH MOHAMMED BIN ZAYED ROAD, CITY OF ARABIA, DUBAI, UAE |
| CONTACT DETAILS | +971 4 403 8888 |
| OPERATING HOURS | Every day: 12 pm - 10 pm |
| | |
| --- | --- |
| Criteria | Rating |
| Programming | ★★★★☆ (4/5) |
| Features | ★★★★☆ (4/5) |
| Quality | ★★★★★ (5/5) |
| Service | ★★★★☆ (4/5) |
Located in the biggest indoor theme park, IMG Worlds of Adventure is Dubai's biggest IMAX cinema screen that measures 24.4 meters wide and 13.8 meters high. Now you can enjoy a movie with your jaw on the floor long before the climactic battle.
It houses 360 guests who can all enjoy its 4k laser projection system that enables ultra-high fidelity, preserving the authentic quality of the film as it was shot and edited.
So it is safe to say that the quality of its cinema house is almost unrivaled by other cinema houses in the city, in terms of the equipment it uses.
Its programming is definitely one of its weaker points as it only ever shows blockbusters and flicks that are popular enough to break through the mainstream.
So if you are expecting to see the trending indie movies that are rounds around the festival circuit, then this isn't for you.
When it comes to its features, well we have to say that what it has to offer is quite unique. Being in a theme park, we definitely enjoyed a few of the attractions and rides that were only a few steps away from the cinema house.
However, the downside to this is that everyone has to enter the theme park and pay the appropriate rates for it, which is not so good if you just want to watch a movie.
Has Dubai's biggest IMAX screen
Cutting-edge tech for its projection system
Located in a theme park
Only shows blockbusters
Have to enter the theme park just to get to the cinema houses
5. Megaplex Cineplex Grand Hyatt
| Test | Info |
| --- | --- |
| WEBSITE | https://uae.voxcinemas.com/ |
| ADDRESS | Grand Hyatt - Umm Hurair 2 - Dubai - United Arab Emirates |
| CONTACT DETAILS | +971 600 599905 |
| OPERATING HOURS | Every day: 10 am - 2 am |
| | |
| --- | --- |
| Criteria | Rating |
| Programming | ★★★★★ (5/5) |
| Features | ★★★★☆ (4/5) |
| Quality | ★★★★★ (5/5) |
| Service | ★★★★☆ (4/5) |
Guests of the Grand Hyatt Hotel will be pleased to know that one of the most coveted cinema experiences, Megaplex, is just a short walk away from their rooms.
A huge space that is home to multiple 4DX screens, we always come to VOX Cinemas Cineplex Grand Hyatt for the ultimate audio and visual treat fit for movie buffs.
Each 4DX cinema house is fitted with motion chairs, scent, wind, water, and light effects that are sure to pull you right into the screen by engaging all four of your senses 一 perfect for a high-budget action blockbuster that will have you on the edge of your seat.
And we love that its special equipment allows it to determine the programming of its movies. So while it limits the types of films it shows, we would not have it any other way because it would not make sense otherwise.
On top of that, while it only has a cinema food concession stand, we love that it diversifies our choices.
We enjoyed its many options including onion bhaji, dal vada, seekh kebab hot dogs, parmesan truffle fries, waffles smothered in creamy Nutella, and the regulars of popcorn, candy, and soda slushes.
When it comes to service, it really does not have much to offer besides its online booking system which almost every cinema house has at this point in time.
Despite that, the service quality we got from the staff has been spectacular. They were nothing but friendly and efficient with their work.
Has multiple 4DX screens that offer an excellent immersive viewing experience
The movies shown are perfect for the viewing setup that it offers
Has a diverse range of food choices available
Friendly and efficient service
Only has a food concession stand for its features
Nothing special about its service features
Customer Reviews
Always enjoyed watching movies at the Grand Hyatt VOX Cineplex
"Always enjoyed watching movies at the Grand Hyatt VOX Cineplex. The cinema boasts a serene and comfortable ambiance with multiple screens and a superb sound system. Easy parking and accessibility to the screens are a great convenience. Additionally, the cinema features a dedicated kids' play area, a cafe, a sports bar with bowling lanes, VR simulators, arcade games, and more. People of all ages can find something to enjoy at this entertainment complex. Overall, the Grand Hyatt VOX is an excellent venue to relax and hang out." – Silpa Nair, Google Reviews
Probably the best place to enjoy your cinema
"This cinema brings back lots of nostalgic moments of when my wife and I used to live in Bahrain and visit Dubai.. probably the best place to enjoy your cinema and only cinema.. easy to park and quickly enter and exit making it my number 1 choice when it comes to watching a movie at a theatre." – Anand Subramanian, Google Reviews
FAQs about Cinemas in Dubai
---
We hope this helped you find your favorite cinemas in Dubai. Also, if you're looking for other recommendations on what to do to spend a day off, then check out these articles: