Madame Tussauds Dubai: What You Need To Know
Want to enter a parallel universe where you can casually meet your favorite actors, musicians, and even royalty? You can at Madame Tussauds Dubai — well, sort of.
As a world-famous wax museum, Madame Tussauds Dubai takes guests on an exciting adventure through the lives of famous people from entertainment, sports, history, and more.
If you're ready to be starstruck, read on to discover what Madame Tussauds Dubai has in store for you.
What is Madame Tussauds Dubai?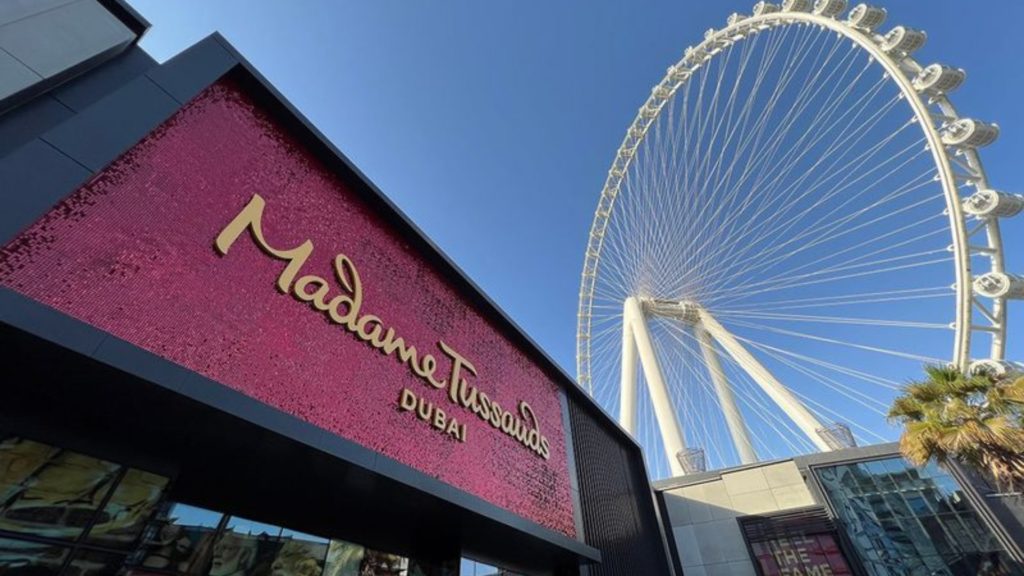 Madame Tussauds Dubai is a world renowned wax museum. It features lifelike wax replicas of celebrities, historical figures, and cultural icons.
Located on Bluewaters Island, this wax museum is one of the region's most visited attractions. Inside the museum, you'll find over 60 wax figures meticulously mimicking icons from film, music, sports, and politics.
You can rub shoulders with the wax figures of legends like Elvis Presley and Marilyn Monroe or snap a selfie with the wax sculptures of modern-day stars like Zendaya and Lewis Hamilton!
Best Time to Go
The best time to visit Madame Tussauds Dubai is typically during the winter, from December to February, when the weather is more pleasant.
While the museum opens earlier on weekends, these days also attract more visitors than weekdays. If you want a quieter experience, consider visiting on a weekday.
Things to Know
Website: https://www.madametussauds.com/dubai/
Location: Bluewaters Island, Dubai
Operating hours:
Sunday to Thursday: 12 pm to 8 pm
Friday and Saturday: 10 am to 8 pm
Entry Fee:
Standard Admission Ticket: AED 145 (Online price)
Exclusive Fame Experience: AED 305 (Online price)
Saudi National Day Offer: Was AED 145, Now AED 90 (Online Exclusive)
UAE Resident Offer: Was AED 145, Now AED 110 (Online Exclusive)
Standard Entry and Wax Hands: AED 180 (Online Exclusive)
Entry + Spider-Man Combo: AED 210 (Online Exclusive)
Madame Tussauds + The View at The Palm Combo: Was AED 245, Now AED 220 (Online Exclusive)
Madame Tussauds & The London Project Combo: AED 325 (Online Exclusive)
Age restrictions: There's no age limit, but children under 16 must be with an adult over 18.
Dress code: Casual. The tour will proceed if you dress appropriately, but note that beachwear isn't permitted.
Parking situation: There's paid parking validation for visitors for AED 10 per hour. This is valid for 3 hours and cannot be extended.
Time Needed: Plan for a visit of approximately 1 to 1.5 hours to walk around the museum.
How to Get Around
Getting to Madame Tussauds Dubai is easy, with several transportation options available. You can choose from the following methods:
By Car: Follow the E11 highway and take the turnoff for Bluewaters.
By Metro: The Dubai Multi Commodities Centre (DMCC) Metro Station is the closest metro station. It's a 20-minute walk to the island via the Bluewaters pedestrian bridge.
By Bus: Jumeirah Beach Residence 2, Seaside, is the nearest bus stop. From this stop, it's a 10-minute walk over the Bluewaters pedestrian bridge.
By Taxi: Taxis are easily accessible throughout Dubai. Simply inform the taxi driver that you wish to visit Madame Tussauds in Dubai.
By Ferry: The ferry offers a convenient route directly to the island. The closest station is Bluewaters Marine Transport Station.
What to Expect and See at Madame Tussauds Dubai
Wax Figures of Renowned Personalities
Stepping into Madame Tussauds Dubai feels like entering a star-studded gala. The lifelike wax figures, meticulously crafted down to the finest detail, represent a range of celebrities, from Hollywood stars to sports legends.
Here are some notable wax figures at Madame Tussauds Dubai:
Queen Elizabeth II
Albert Einstein
Beyoncé
Sheikh Mohammed bin Rashid Al Maktoum
Mohammed Salah
Nelson Mandela
Marilyn Monroe
Brad Pitt
Sheikh Zayed
Lady Gaga
Interactive Experiences
More than just a visual treat, Madame Tussauds Dubai invites guests to engage and interact. You can pose alongside Brad Pitt on a movie set or challenge Cristiano Ronaldo to a penalty shootout.
The museum encourages you to touch and feel (and even converse with) the figures. It's a place where you can step into the shoes of your favorite celebrities for a moment and live in their world.
Educational Insights
Beyond the glitz and glamour, Madame Tussauds Dubai serves as an educational hub. There's a narrative that goes along with each figure, illuminating their accomplishments, challenges, and contributions to their respective fields.
Madame Tussauds Dubai offers an educational tour called "The Art of Creation: Behind-The-Scenes Tour." This curriculum-based program supports vital areas of the STEM and Arts curriculum.
The tour aims to bring subjects to life in new and exciting ways, providing schools with unique behind-the-scenes insights. The Madame Tussauds team is available to provide information and assist with taking pictures.
The museum beautifully intertwines entertainment with knowledge, making it a perfect spot for both leisure and learning.
Where to Eat Nearby Madame Tussauds Dubai
Gazebo Restaurant
Address: Kuwait Street, Bur Dubai
Phone: +971 4 580 8411
Pricing: $$$
Book now
Gazebo Restaurant is a haven for Indian food lovers. The ambiance is warm and inviting, with traditional Indian decor that transports you to the subcontinent.
Their barbecue and seafood options are a must-try, especially the Tandoori Prawns. The service is attentive, and the restaurant is known for its extensive range of Indian breads like Naan and Rotis.
Puerto 99 Restaurant
Address: Bluewaters Island
Phone: +971 4 557 6627
Pricing: $$$
Book now
Puerto 99 offers a vibrant Mexican experience. The restaurant is adorned with colorful decor and Latin music that sets an upbeat mood.
Their steakhouse options are succulent, but their range of healthy Mexican dishes is the real star. The outdoor seating offers a great view, making it fun for daytime and nighttime outings.
Schoko Fabrik
Address: Bluewaters Island
Phone: +971 4 578 6121
Pricing: $$
Book now
Also on Bluewaters Island, Schoko Fabrik is an international cuisine restaurant with a modern twist. The interior is sleek and contemporary, providing a relaxed atmosphere.
While there's much to choose from on the menu, we think you'll enjoy the Crepes stuffed with tomato, mozzarella, and basil pesto for their insane flavor and genuine Italian atmosphere. You can also try their desserts, particularly the chocolate fondue. 
Where to Stay Nearby Madame Tussauds Dubai
Sofitel Dubai Jumeirah Beach
Address: The Walk – Jumeirah Beach Residence – Dubai
Phone: +971 4 448 4848
Pricing: $$
Book now
The Sofitel Dubai Jumeirah Beach is both a lifestyle destination and a hotel. The hotel combines French elegance with Dubai's local culture, providing a unique and immersive experience.
The rooms are luxurious, offering unparalleled views of the Arabian Gulf. Also, stepping out of this hotel foyer leads you onto "The Walk," Dubai's bustling promenade known for its vibrant shopping, dining, and entertainment options.
The hotel is also a 10-minute walk to the DMCC Metro Station, making exploring other famous landmarks convenient.
Caesars Palace Dubai
Address: Caesars Palace – Bluewaters Island – Dubai
Phone: +971 4 556 6666
Pricing: $$$
Book now
Caesars Palace Dubai is your private oasis on Bluewaters Island. You can find a secluded beach stretching for 500 meters and temperature-controlled swimming pools here.
The resort blends luxury and modernity, overlooking the clear waters of the Arabian Gulf. It's also so close to Madame Tussauds Dubai that you could practically wave hello to a friend in the museum from here! 
Rixos Premium Dubai JBR
Address: The Walk – Al Mamsha St – Jumeirah Beach Residence – Dubai 
Phone: +971 4 520 0000
Pricing: $$
Book now
Rixos Premium Dubai JBR is a 35-storey urban lifestyle hotel in the heart of Dubai's Jumeirah Beach Residence. The hotel offers 414 stylish rooms and suites with direct access to the beach.
It's known for its panoramic views overlooking the beach and the world's largest Ferris Wheel, Ain Dubai. The hotel is near popular shopping destinations like The Walk, Dubai Marina Mall, and the Mall of the Emirates.
It features nine award-winning dining outlets, including STK, Black Tap, and Azure Beach Club. For a complete luxury experience, the hotel also offers shopping at concept retail stores like Rodeo Drive, Via Rodeo, and Ocean Drive.
Other Things to Do Nearby Madame Tussauds Dubai
Relax at Qua Spa
Qua Spa is a sanctuary of relaxation on Bluewaters Island, just a 2-minute walk from Madame Tussauds. The spa offers a range of treatments, from massages to facials, all designed to rejuvenate your senses.
The ambiance is tranquil, with dim lighting and soft music that instantly puts you at ease. You can also enjoy steam rooms, saunas, and relaxation lounges as part of their spa experience.
Visit Oblong Contemporary Gallery
Oblong Contemporary Gallery is a little-known gem on Bluewaters Island, and it's only three minutes away from Madame Tussauds. The gallery showcases modern and contemporary art from emerging and established artists.
The gallery works in tandem with its artists to promote their work in both Dubai and Forte dei Marmi and to maintain a consistent, high standard of quality throughout both galleries.
Gallery Oblong is dedicated to being a cultural hub that connects the United Arab Emirates and Italy.
Explore the Amazing Views of Ain Dubai
Ain Dubai is the world's largest observation wheel on Bluewaters Island. The 3-minute walk from Madame Tussauds is well worth it for the stunning panoramic views of Dubai's skyline.
Each capsule is air-conditioned and offers a comfortable viewing experience.
The wheel also has a dining option where you can enjoy a meal while enjoying the views. It's a breathtaking experience, especially at sunset.
Experience the Vibrant Atmosphere at Bliss Lounge
Bliss Lounge is a beachfront lounge 12 minutes from Madame Tussauds at the Sheraton Jumeirah Beach Resort. The lounge offers a relaxed vibe, comfortable seating, beach views, and a diverse menu.
Whatever your mood, Bliss Lounge has what you're looking for, from cocktails to a full meal.
Consider ordering their seafood platter if you're a fan of fresh seafood. It typically includes seafood options like prawns, oysters, and mussels, all perfectly prepared. 
Enjoy at Marina Beach
Marina Beach is a stretch of clean, white sand along The Walk, and it's only a 14-minute walk from Madame Tussauds. Sunbeds, umbrellas, and other beach facilities are available here.
It's a popular spot for swimming and water sports, with jet ski rentals available. The backdrop of skyscrapers provides a unique beach experience, blending natural beauty with urban sophistication.