The Lakes to Explore in Al Qudra 
We bet you never imagined yourself visiting lakes on a trip to Dubai. After all, it's a city in the middle of the desert!
But if you're familiar with Dubai, you'll know that it never fails to surprise. In Al Qudra, you'll be treated to some of the most spectacular lakes in the city – and the emirate.
So, if you're up for a good adventure, let's explore all the lakes that you'll find in Al Qudra.
Love Lake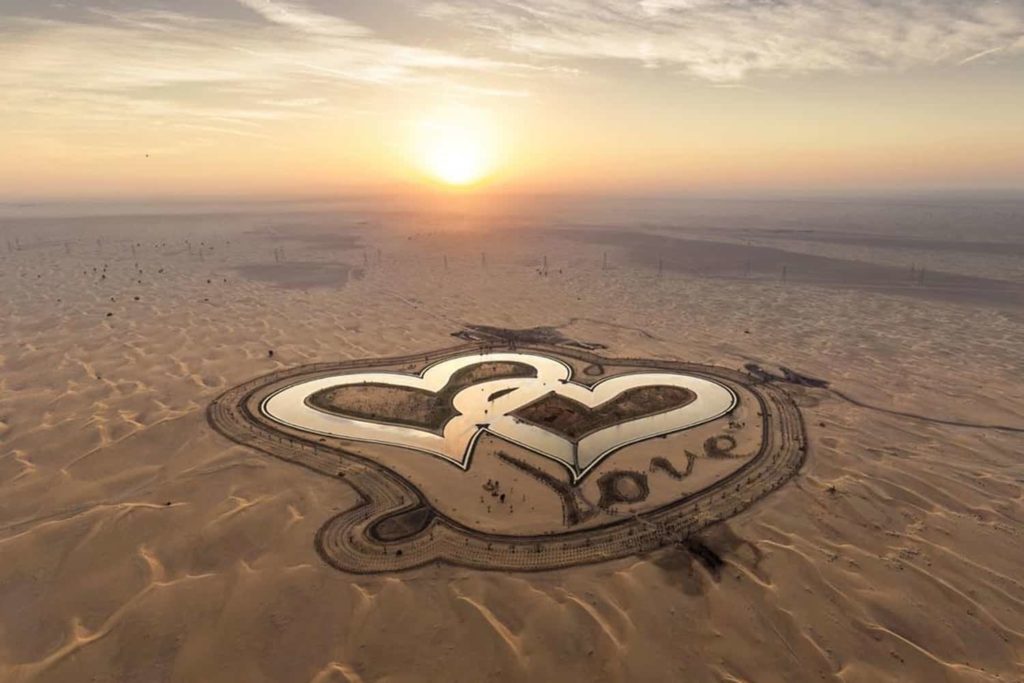 One look and it's easy to see why this lake was named Love Lake.
Launched in November 2018, it was the Instagram post of Dubai's Crown Prince Sheikh Hamdan bin Mohammed bin Rashid Al Maktoum that catapulted Love Lake into fame.
True to its name, the lake is shaped like two interconnected hearts and located in the middle of the Al Salam desert dunes in Al Qudra.
But more than its unique shape, the lake is also home to more than 100 animal, marine and plant species, making it a must visit if you want to experience Dubai's natural landscape.
Love Lake also has a lot of great spots for taking photos and even an area where you can have barbeque with family and friends.
If you want to spend more time here, you can even go camping as long as you follow the lake's rules of setting up only in designated areas and observing cleanliness during your stay.
Pro tip:

There are no restaurants, cafes or stores in Love Lake. So, if you want to stay here longer, make sure to bring your own food to cook or stop at the Last Exit to grab some food before heading out to the desert.

You're not allowed to feed the animals, fish and birds in the area.

If you want to go camping, bring your tent and pack blankets, as this area can get quite cold, especially during the winter months.
Moon Lake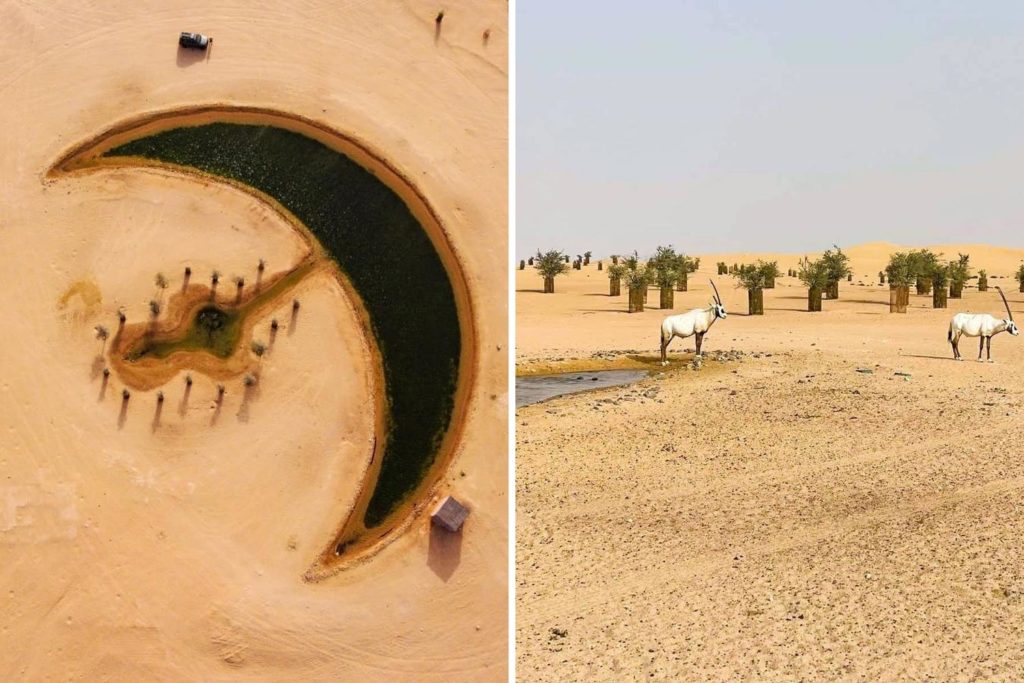 Of course, Dubai wouldn't just stop at creating a heart-shaped lake. Paying homage to the Islamic faith, a beautiful crescent-shaped lake stands out from the desert.
Moon Lake is just a few minutes away from Love Lake, but you need to ride a 4×4 vehicle to reach this area since it's nestled in the middle of the sand dunes.
Unlike Love Lake, this lake doesn't have as many plants and trees, although you'll probably see a few Arabian oryx and gazelles resting or enjoying a drink by the lake.
Pro tip:

If you plan to visit Moon Lake, it's best to head out to the desert early to have more time to enjoy this area and explore other lakes nearby.

This area doesn't have a lot of shade, so bring your own hats and umbrellas if you want to spend a longer time here.

Bring your own food and drink since you won't be able to buy anything while in this part of Al Qudra.
Lake of Expo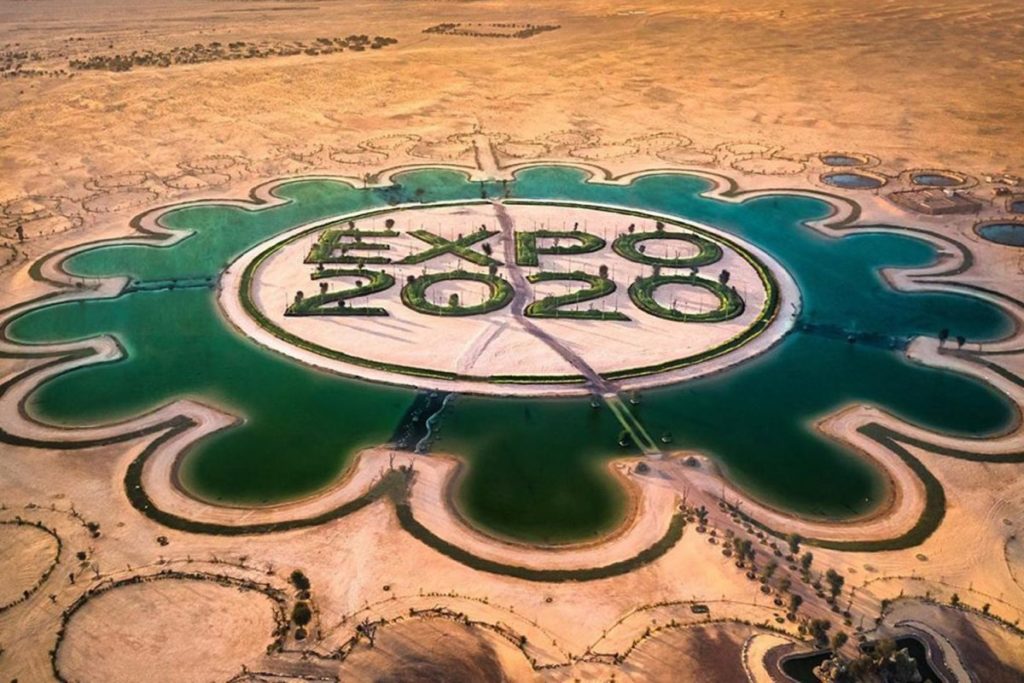 Expo 2020 Dubai was one of the biggest international events hosted by the city and it was also the first of its kind to be held in the Middle East, South Asia and Africa.
So, it was only fitting that Dubai created a lake that honored this milestone, thus, Lake of Expo.
This enormous man made lake is located near the Al Maktoum International Airport and can be visited for free.
The lake is designed after the expo logo with a mini island in the middle where you can relax, take some photographs and just soak in the sights surrounding you.
The lake is also visible from above if you're flying from the Al Maktoum International Airport.
Pro tip:

The lake can be crowded, especially during peak season, so it's best to visit early in the morning or right before the sun sets.
Stingray Lake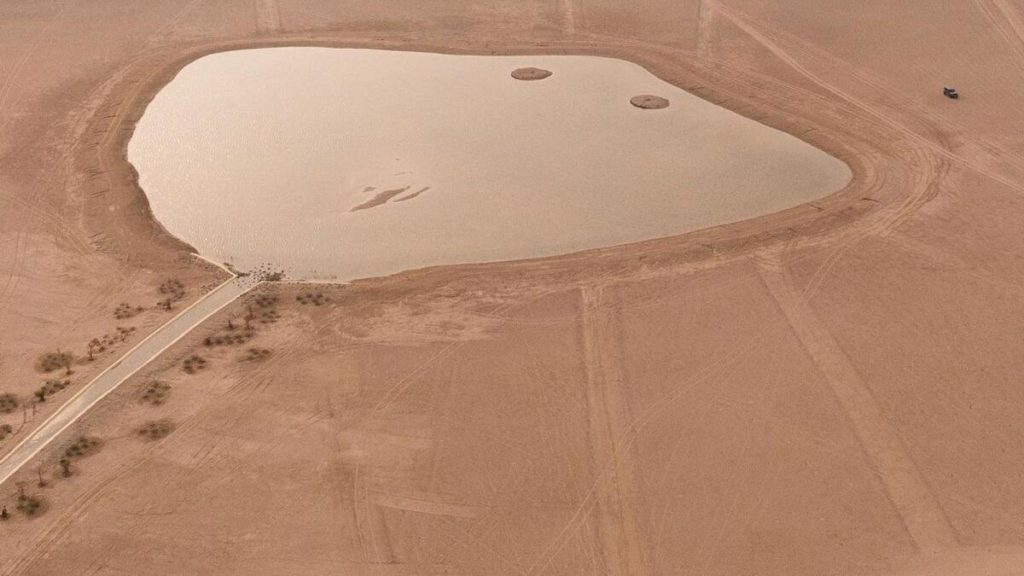 Adding to Al Qudra's unique list of lakes is Stingray Lake named after its shape that resembles one of the most popular marine animals in the world.
The lake was first discovered by South African expatriate and photography enthusiast Dan Newton who lives in Dubai.
On one of his trips to Al Qudra, Newton used his drone, which was legal to use at the time, leading to the discovery of this uniquely shaped lake.
From above, you'll see that the lake itself resembles the body of a stingray with two small masses of sand serving as its eyes.
The road that leads to the lake also resembles the stingray's antenna adding to its unique charm.
Pro tip:

Stingray Lake is not as developed as the other lakes in Al Qudra. So, if you plan to explore it, make sure to bring food, water and shade to enjoy the place.
The Last Lake of Al Qudra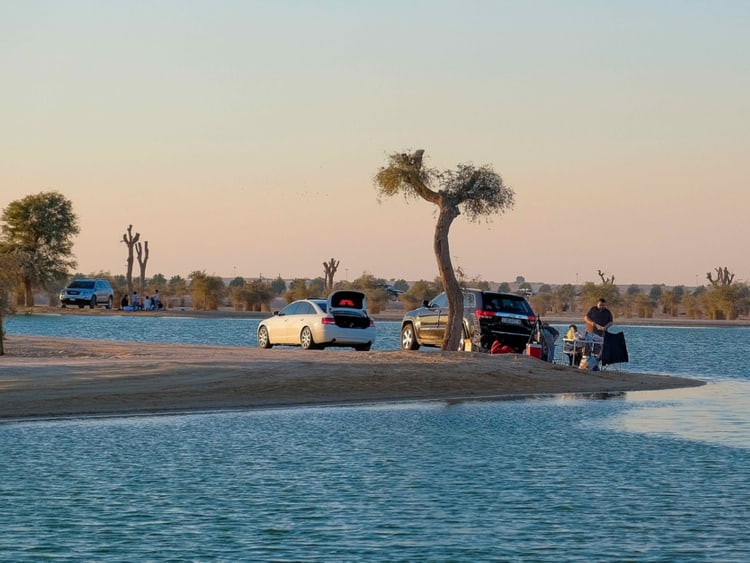 Wrapping up our list of lakes in Al Qudra is its most popular spot.
The Last Lake of Al Qudra is part of the Saih Al Salam desert and it features a stream of lakes surrounded by plants and trees that make for a refreshing sight amidst the expansive dunes.
The lake is part of the Al Marmoom Desert Conservation Reserve and it's home to hundreds of species of animals including the famous Arabian Oryx and some migratory birds.
This area serves as an oasis for both humans and animals who visit Al Qudra because it offers shade, water and a place to relax and take in all the beautiful sights in this part of Dubai.
If you're lucky, you can spot a pack of flamingos and other birds during migration or meet some of the local animal species in this area.
Pro tip:

Make sure to wear comfortable clothing and shoes to make the most of your visit to the lake where you can run on the jogging track, walk around or go camping.

Pack all your essentials since this area is quite far from the city center and you won't find any stores or restaurants nearby.