Exploring The Love Lake in Dubai: A Romantic Oasis Amidst the Desert
Hey there, lovebirds! Are you looking for a romantic getaway in Dubai? If so, look no further than Love Lake. This hidden gem is located in the serene Al Qudra Oasis and is the perfect place to show love.
So, don't miss out on the chance to experience the enchantment for yourself. Keep reading to learn more about Love Lake Dubai!
What Is Love Lake in Dubai?
Love Lake is an artificial reservoir that exhibits a unique interlocked heart shape. It covers an area of 55,000 square meters and harbors more than 100 species of animals, flowers, and plants, attracting visitors worldwide.
The Dubai Municipality and the Department of Tourism and Commerce Marketing came up with this name to highlight the lake's romantic vibes and make it a special place that celebrates love and affection.
When Sheikh Hamdan bin Mohammed bin Rashid Al Maktoum, the Crown Prince of Dubai, posted a picture of the lake on Instagram, it immediately gained popularity and is a go-to spot for both locals and tourists today.
Best Time to Go
The best time to go to Love Lake Dubai is during the winter months, from October to March. The weather is cooler during this time, which makes it more comfortable to be outdoors.
We also recommended visiting an hour before sunset to enjoy the beautiful views.
During the summer, be aware of the heat. The temperatures can reach 40 degrees Celsius (104 degrees Fahrenheit), so it's important to stay hydrated and wear sunscreen.
Things to Know
Location: Love Lake, Al Qudra Road, Dubai, United Arab Emirates
Operating hours: Open 24 hours a day, seven days a week.
Age restrictions: There are no age restrictions for visiting Love Lake Dubai.
Fees: There are no fees to visit Love Lake Dubai.
Parking: Parking is free.
How to Get Around
By car: If you're coming from Dubai International Airport, take the E611 road and exit at Al Qudra Road. The lake will be on your right-hand side.
By metro: The nearest metro station to Love Lake Dubai is the Al Qudra Station on the Red Line. You can take a taxi or walk to Love Lake Dubai from the station.
By taxi: You can flag down a taxi on the street or book one in advance.
By bus: There's no direct bus service to Love Lake Dubai. However, you can take the 67 bus to Nakheel Stables. From there, you can walk or take a taxi to Love Lake Dubai.
Where to Stay Nearby Love Lake Dubai
Bab Al Shams Desert Resort and Spa
Address: Al Qudra Road – Opposite Endurance City – Dubai – United Arab Emirates
Phone: +971 4 809 6100
Pricing: $$
Book now
Bab Al Shams Desert Resort and Spa is a luxury resort located in the desert, about 20 minutes from Love Lake. It has a beautiful setting with views of the dunes and offers various activities, including camel riding, stargazing, and spa treatments.
The resort is designed to resemble a traditional Arabian village, with winding pathways, traditional architecture, and lush gardens. The rooms have private balconies or terraces with views of the desert.
Al Maha, a Luxury Collection Desert Resort & Spa
Address: RMF6+6X7 – Dubai – United Arab Emirates
Phone: +971 4 832 9900
Pricing: $$$
Book now
Al Maha is a secluded desert resort in the heart of the Dubai Desert Conservation Reserve! This luxurious desert resort embraces the beauty of the surrounding landscape with its authentic Arabian architecture and open-air walkways.
The suites are a dream come true, boasting private pools, terraces, and stunning desert views. Don't miss their signature offering, the Desert Escape – an exclusive private tour of the desert guided by a knowledgeable Bedouin guide.
Studio One Hotel
Address: Dubai Studio City – Dubai – United Arab Emirates
Phone: +971 800 788346
Pricing: $
Book now
This hotel is a sleek and contemporary gem with a rooftop pool that offers stunning city views. They have 141 rooms, including 19 extended-stay studios and apartments, making them suitable for any kind of traveler.
You can indulge in delicious Lebanese cuisine at one of their restaurants, savor the authentic flavors of Italy at another, and if you're a steak lover, the steakhouse will not disappoint.
Where to Eat Nearby Love Lake Dubai
Sonara Camp
Address: Dubai Desert Conservation Reserve – Dubai – United Arab Emirates
Phone: +971 4 223 8011
Pricing: $$
Website
Here, you'll experience a culinary journey with traditional Bedouin cuisine, prepared skillfully over an open fire. The ambiance is authentic, with goat's hair and palm frond tents in traditional Bedouin style.
The open-air dining area creates a captivating setting, especially with the mesmerizing campfire. The food is simply divine – from succulent lamb tagines to the delectable shuwa, a slow-cooked lamb dish – your taste buds are in for a treat.
Last Exit Al Qudra
Address: Al Qudra Rd – Dubai – United Arab Emirates
Phone: +971 800 738245
Pricing: $
Website
Last Exit Al Qudra, is a popular pit stop for travelers nearby Love Lake. The setup is unique and fun because of all the food trucks lined up like a mini paradise for foodies.
You'll find an array of mouthwatering choices, ranging from classic burgers and pizzas to flavorful shawarma and falafel. The variety ensures that there's something for every craving.
One of the best parts is the spacious outdoor seating area where you can relish your meal while gazing at the mesmerizing desert landscape.
Clap Restaurant Dubai
If you have a passion for Japanese cuisine with a modern twist and enjoy a well-curated wine and sake list, Clap Restaurant in Dubai is an absolute must-visit.
It's a chic and modern eatery, promising an upscale dining experience with a creative twist on traditional Japanese dishes.
The menu is a treasure trove of delectable options. From the freshest sushi and sashimi to the perfectly crispy tempura and the mouthwatering robatayaki, every dish is a delightful journey for your taste buds.
What to Do at Love Lake Dubai
Have a Picnic
Love Lake is stunning and surrounded by luxuriant vegetation, making it the ideal location for a picnic with your loved ones. The lawns nearby are almost perfect, creating a lovely setting for a romantic picnic.
And the best part is that you can enjoy the sights of various bird species like black swans and common cranes that call the lake their home. Bringing your food and drinks is a great idea, and there are designated spots for picnics and barbecues.
Some even have BBQ pits, while others are covered, so you can stay protected from the sun or rain.
Camp Overnight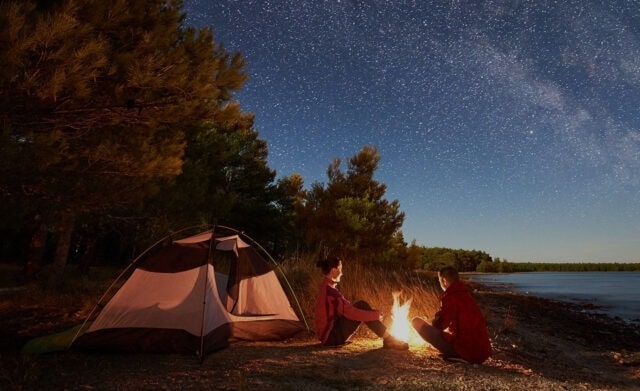 Several designated camping areas near the lake have convenient amenities such as BBQ pits, toilets, and showers. If you don't have your camping equipment, no worries! There are vendors nearby where you can rent tents and other essentials.
For a comfortable night camping experience, bring a tent, light bulbs, a torch, pillows, and bedding-like comforters. During the summer, a light night suit should suffice, but for winter camping, it's essential to pack warm clothing like woolies.
We highly recommend bringing sufficient warm comforters for winter camping to keep you cozy and enjoy the experience to the fullest.
Go Bird Watching
Love Lake Dubai is a real paradise for birdwatchers! There are many different birds, like ducks, geese, and swans. But the best time to visit is in the winter, when many migratory birds come to hang out.
It's amazing to see all the different types of birds, including graceful flamingos, majestic pelicans, and elegant herons. You can watch them doing their thing: swimming, flying, and searching for food in the lake.
Go for a Walk or Run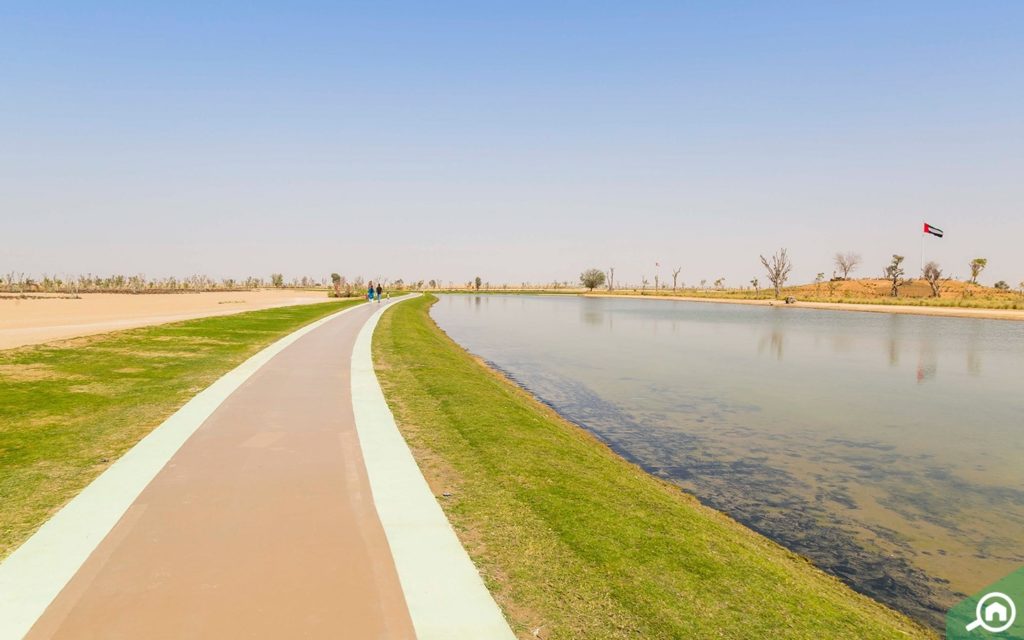 The walking path around Love Lake is open daily from 6:00 AM to 10:00 PM, giving ample time to enjoy. It caters to all fitness levels, making it perfect for everyone.
You'll find benches along the path for resting and admiring the surroundings. Plus, designated picnic areas allow for a delightful lunch or snack break.
The well-maintained pathways offer a smooth and enjoyable walking experience, while the breathtaking views of the heart-shaped lake add a touch of romance to your outing.
Visit the nearby Al Qudra Cycle Track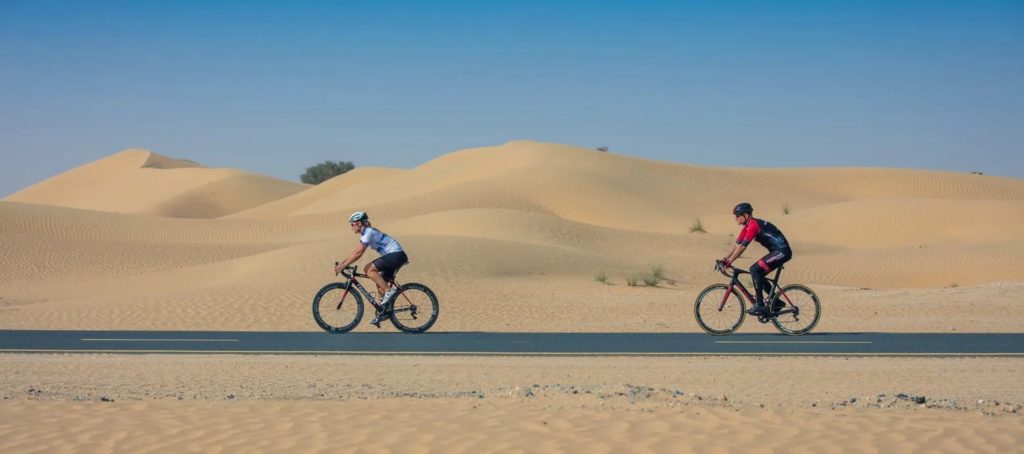 Al Qudra Cycling Track is a popular destination near Love Lake for seekers and fitness enthusiasts. It has an 86km long cycling track with amazing views of the desert. You might glimpse local wildlife – including the Arabian oryx.
There's a Love Lake Cafe located on the edge of Love Lake. They offer bike rentals for AED 50 for 30 minutes. You can glide peacefully along the tranquil waters of the heart-shaped lake.
It's important to note that bicycles are unavailable for rent during specific times. This includes Friday prayers (1:30–2:30 PM) and Ramadan (hours may vary).
Where to Shop in Love Lake Dubai
Wafi City
Address: Oud Metha Rd – Umm Hurair 2 – Dubai – United Arab Emirates
Phone: +971 4 324 4555
Website
Wafi City, is a fascinating haven of shopping, dining, and entertainment in Dubai! Having wandered through its ancient Egyptian-themed marvels. The attention to detail is awe-inspiring – from majestic sphinxes to impressive pyramids,
You'll feel like you've stepped into the heart of ancient Egypt. The diverse array of over 300 stores, including renowned high-end designer brands, ensures a shopping paradise for fashion enthusiasts. As you stroll through the complex, you'll be enticed by the delightful aroma of the various restaurants, cafes, and bars scattered around, offering a delectable assortment of cuisines to satisfy any craving.
Outlet Village Dubai
Address: Mina Jebel Ali – Dubai – United Arab Emirates
Phone: +971 800 738245
Website
This premium outlet mall is a haven for fashion enthusiasts with a wide selection of over 150 stores, showcasing renowned brands like Armani, Burberry, Calvin Klein, Coach, Hugo Boss, Ralph Lauren, and many more.
The variety is impressive, from sportswear giants like Adidas, Nike, and Puma to luxury fashion houses like Salvatore Ferragamo and Tommy Hilfiger.
Tips or Reminders When Going to the Love Lake
Arrive Early: The Love Lake tends to get crowded during weekends and public holidays. To avoid crowds and have a more peaceful experience, plan your visit on a weekday or arrive early in the morning.
Stay Hydrated: The desert climate can be unforgiving, even during the cooler months. Ensure you carry an adequate water supply and stay hydrated throughout your visit.
Dress Comfortably: Wear comfortable clothing and appropriate footwear suitable for walking. Don't forget to wear sunscreen and a hat to protect yourself from the sun.
Respect Nature: Love Lake is an ecologically sensitive area. Please refrain from littering, feeding the birds, or disturbing the wildlife in any way.
Capture the Sunset: Witnessing the sunset over Love Lake is a truly magical experience. Stay till dusk to capture breathtaking photographs and cherish unforgettable moments.
Bring Snacks: While there are refreshment kiosks around the lake, consider bringing your own snacks and beverages for a more relaxed and personalized picnic.
And besides, there are only a few vendors there, and their goods are expensive, sometimes even double the price.
Check Operating Hours: The official operating hours of Love Lake vary depending on the season. Before planning your visit, check the current operating hours to avoid any inconvenience.
FAQS on Love Lake Dubai