Ladies' Day Dubai: Enjoy the Best Perks in the City of Luxury
Are you looking for a fun day out with your girlfriends? Look no further than Ladies' Day in Dubai!
With offers from hotels across Dubai, including discounts on pool access, beach access, and more, there's something for everyone.
If you're planning to participate in Ladies' Day in Dubai, let's get familiar with the details. So, read on!
What is Ladies' Day in Dubai?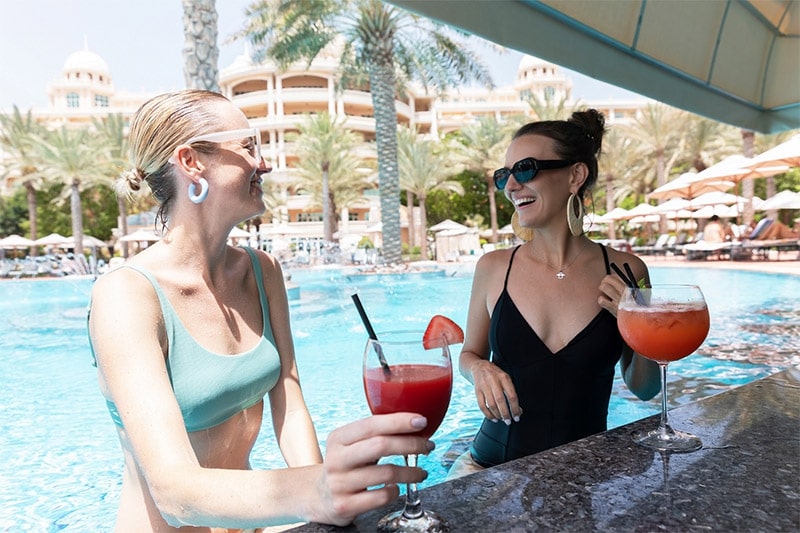 Ladies' Day in Dubai is a special event dedicated to women, offering an extraordinary experience to relax, unwind, and pamper themselves. It's usually hosted by upscale hotels, beach clubs, and entertainment venues across the city.
Ladies Day in Dubai typically occurs on Tuesdays, Wednesdays, or Thursdays. However, the specific day of the week may vary from venue to venue.
On Ladies' Day, women can enjoy various perks, including free entry to some of the city's top pools, unlimited complimentary beverages, and even meals.
Complimentary Pool and Beach Access: Most Ladies' Day events offer free access to the venue's pools and private beach areas. Spend your day soaking up the sun, sipping cocktails, and lounging in luxury.
Spa Treatments and Wellness Sessions: Pamper yourself with rejuvenating spa treatments and wellness sessions. Enjoy soothing massages, facials, and other beauty services that refresh and revitalize you.
Delectable Dining Experiences: Indulge in a delectable culinary journey with various food and beverage options. Many venues offer complimentary snacks, buffets, and signature cocktails to tantalize your taste buds.
Exclusive Discounts and Offers: Ladies' Day often comes with exclusive discounts on products and services, allowing you to splurge on your favorite brands at reduced prices.
Live Entertainment and Music: Experience top-notch live entertainment and music performances to keep the energy high throughout the day. Dance to the beats of talented DJs and musicians and make memories that will last a lifetime.
Networking and Socializing: Ladies' Day in Dubai is a fantastic opportunity to meet like-minded women worldwide. Engage in meaningful conversations, create lasting connections, and build valuable relationships.
Where to Experience Ladies' Day in Dubai
Cove Beach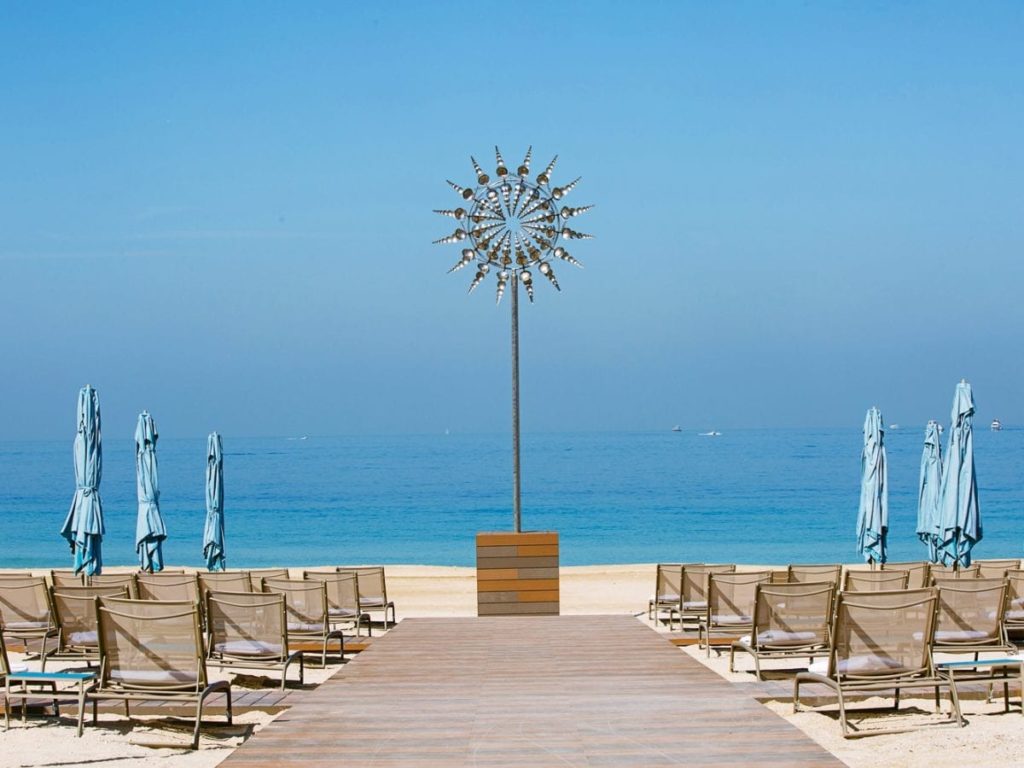 Cove Beach at Caesars Palace Dubai hosts a popular Ladies' Day every Wednesday. If you go for the silver package priced at AED 149, you can enjoy a five-hour free-flowing supply of rose and sangria from noon until 5 pm.
They'll even set you up with a cozy bean bag on the beach. For AED 199, you can go all out with unlimited drinks, a yummy lunch platter from the buffet, and a comfortable sunbed.
My suggestion? Call the venue directly to learn more about the different packages they offer for ladies, and remember to book ahead to secure your spot.
FIVE Palm Jumeirah
FIVE Palm Jumeirah presents a fabulous Ladies' Day at their Praia venue on Mondays. Ladies have two enticing options: they can savor 3 drinks and a delightful 3-course menu for just AED 199, or they can go for 6 drinks at the same price.
Moreover, there's an irresistible choice of unlimited wine paired with a chef's lunch selection of sushi, specialty grills, and desserts, all for AED 150.
FIVE Palm Jumeirah hosts a Secret Ladies Day at Beach by FIVE on Thursdays. The packages start at an affordable AED 150, and even gents can join in with a minimum spend of AED 300.
The Beach by FIVE offers a calm escape to Dubai's trendiest beach club, where you can dip in the famous infinity pool, relax on luxurious VIP sun loungers, or groove to the beats of regular DJ events at The Penthouse.
Maiden Shanghai has got you covered if you're up for a private karaoke experience for groups and celebrations. Alongside gourmet Chinese cuisine and artisan drinks, the prices start at AED 199 per person.
Zero Gravity
Zero Gravity in Dubai Marina presents a fantastic Ladies' Day every Thursday at Dubai's highest beach club. Ladies are in for a treat with complimentary pool and beach access, available on a first-come, first-served basis.
For an even more indulgent experience, there's an option to opt for unlimited grapes and cocktails for just AED 99, while gentlemen can join in by paying AED 199.
To secure free entry, it's a good idea to register at 0-gravity.ae/events or email [email protected]. The doors open at 10 am and remember to dress in beachwear to make the most of the sunny vibes.
Bla Bla Beach and Pool
Bla Bla Beach Club, situated in Jumeirah Beach Residence (JBR), is a chic and trendy beach club that hosts an exciting Ladies' Day every Tuesday between 12 pm and 3 pm.
During this time, ladies can relish pool and beach access with the added perks of unlimited drinks and a complimentary lunch.
Not to be left out, guys can also partake in the fun with a special deal. For ladies, there are two options: an AED 150 package that offers unlimited selected cocktails, wines, and soft drinks, or an AED 220 package for unlimited sparkling rose.
Barasti Bar & Grill
Barasti Beach Bar, located at Le Meridien Mina Seyahi in Dubai Marina, offers a Ladies' Day experience every Monday and Tuesday from 9:00 am. to 4:00 pm.
These days, ladies can enjoy five beverages for just AED 99, and to top it off, they get a generous 50% discount on food.
For those who visit on Mondays, there's an additional perk: if ladies bring a lemon between 9 am and 11 am., they will receive two extra drinks as a special treat.
On Tuesdays, the ladies wearing full pink swimwear will be granted free access to all between 9 am and 11 am, and they can also enjoy a complimentary welcome drink and a free appetizer.
Sho Cho
Sho Cho actually has two ladies' days in Dubai:
The Beach by Sho Cho: A beachside restaurant and bar also located at Dubai Marine Beach Resort & Spa.
Their Ladies' Day is held every Wednesday from 11 am to 5 pm, where women can revel in unlimited house beverages, including beer, wine, cocktails, and a delightful set menu and beach access, all for AED 250.
Sho Cho: It's a Japanese restaurant and lounge at Dubai Marine Beach Resort & Spa. Their Ladies' Night occurs every Wednesday from 7 pm to 11 pm.
Ladies can enjoy unlimited drinks and a set menu for AED 155, making it a perfect choice for a fun and delightful evening.
Azure Beach
Azure Beach, a beach club at Rixos Premium Dubai JBR, presents a delightful ladies' day experience every Tuesday and Wednesday from 10 am to 5 pm. Women can use five drink vouchers for AED 200 per person during this special event.
These vouchers can be redeemed for various beverages, including house beverages, bottled water, soft drinks, coffee, and tea.
As an additional treat, ladies receive complimentary sunbeds and towels on Ladies' Day, ensuring a comfortable and relaxing time at the beach club.
While men are welcome to join the fun, they must meet a minimum spending requirement of AED 200 to participate in the enjoyment.
Wane by SoMiya
Wane by SoMiya, situated at The Address Dubai Marina, offers an extensive Lady's Day experience throughout the week, from Mondays to Sundays, from 8:00 am to 6:00 pm. Each day comes with its unique offerings for the ladies.
Ladies can enjoy complimentary pool access on Mondays and Tuesdays, providing a perfect opportunity to relax and unwind. On Wednesdays from 12 pm to 6 pm, bring a special treat for ladies with three house beverages available for only AED 100.
Thursdays offer another chance for free pool access, adding to the enjoyable options. Fridays from 12 pm to 5 pm present an irresistible deal with unlimited wines and cocktails for only AED 100.
On Saturdays and Sundays from 1 pm to 5 pm, ladies can indulge in unlimited wines, cocktails, and a delectable food platter for AED 200, creating a fantastic weekend experience.
Additionally, gents are warmly welcomed on Saturdays and Sundays with an AED 300 package that offers unlimited wines, cocktails, and a food platter from 1 pm to 5 pm.
Coco Lounge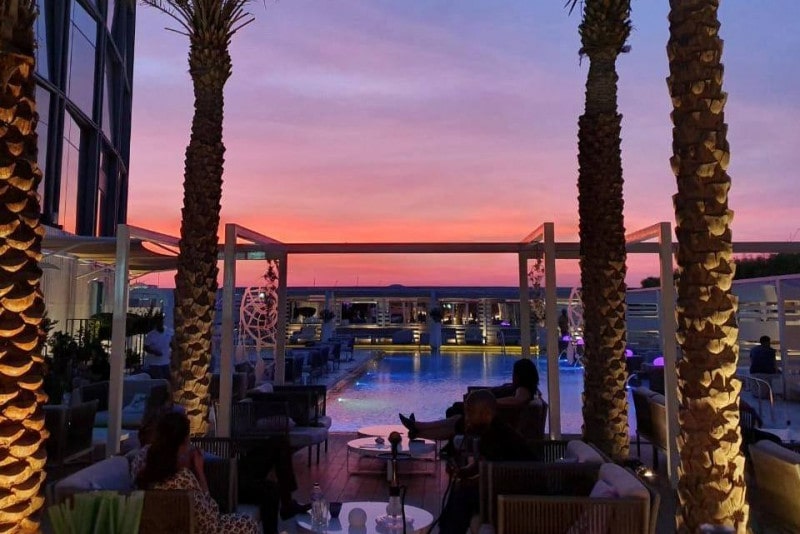 Coco Lounge, located at the Media One Hotel in Media City, brings forth a Ladies' Day experience on Mondays and Thursdays from 12:00 pm to 7:00 pm.
Ladies can indulge in unlimited rose, grape, and pink martini cocktails on Mondays for just AED 149.
As for Thursdays, ladies can treat themselves to unlimited house grapes and cocktails for only AED 129, plus they get a bonus of a generous 30% discount on food from 7 pm to 12 am.
How to Avail Ladies' Day in Dubai
To partake in the extravagant celebration of Ladies' Day in Dubai, you need to plan and secure your spot at the preferred venue. Here are the essential steps to avail yourself of Ladies' Day:
Check Event Calendars and Reservations
Keep an eye on the event calendars of venues for the announcement of Ladies' Day. Once the date is confirmed, make your reservations early, as these events tend to fill up quickly due to their immense popularity.
Choose the Ideal Venue
Select a venue that aligns with your preferences and budget. Whether you prefer a lively beach club party or a serene day at a luxury hotel, Dubai has various options to cater to every woman's desires.
Purchase Tickets or Packages
Once you have chosen your preferred venue, purchase your Ladies' Day tickets or packages. Some venues offer all-inclusive packages covering food, beverages, and entertainment, providing a hassle-free experience.
Dress to Impress: Dubai's Ladies' Day events are known for their chic and fashionable crowd. Dress to impress and embrace the glamorous atmosphere by donning stylish swimwear, cover-ups, and accessories.