Exploring the Dubai Safari with Quad Bikes
While Dubai may have developed a reputation as a thriving metropolis, its natural wonders are nothing to scoff at either. Their beaches and their desert attractions are very popular places to check out.
If you wish to explore the desert landscape in an exciting manner, then renting a quad bike for a desert safari may just be the activity for you. It's quite risky but it can offer a rewarding time outside the city.
What is a Quad Bike?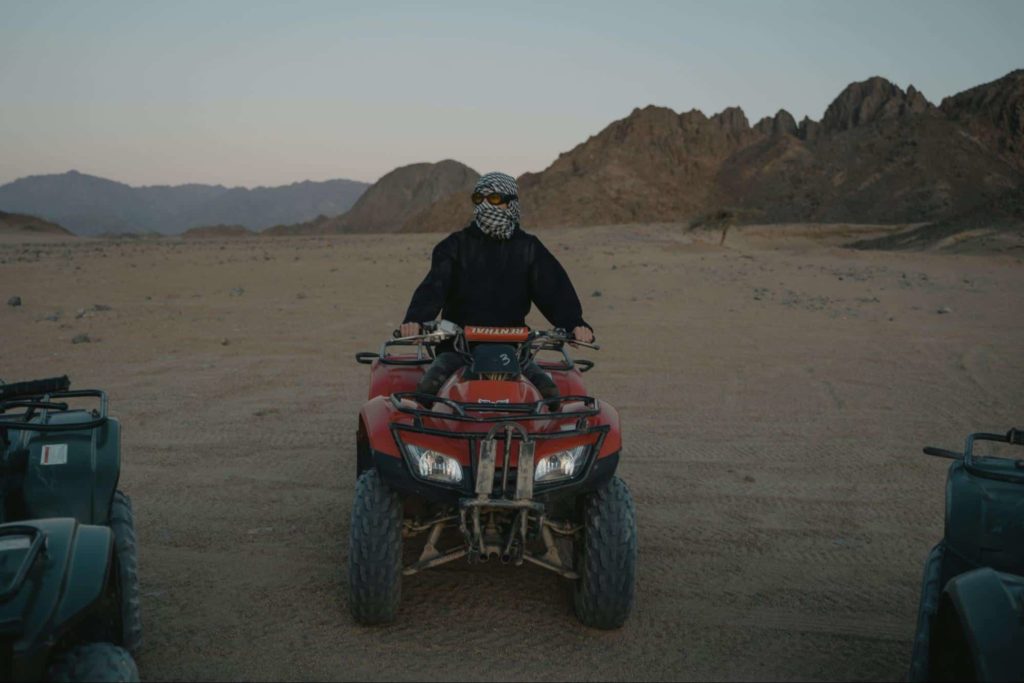 Photo by: Tima Miroshnichenko
Quad bikes are three or four-wheel terrain vehicles with both navigation and low-pressure tyres. They are also commonly referred to as ATVs or all-terrain vehicles.
They are sturdier than standard two-wheel motorcycles, giving them better balance that's perfect for exploring multiple terrain. This makes them a great way of exploring Dubai's desert environment.
Most of these bikes have four main engines and can be divided into two main categories: sports and utilities.
Sport ATVs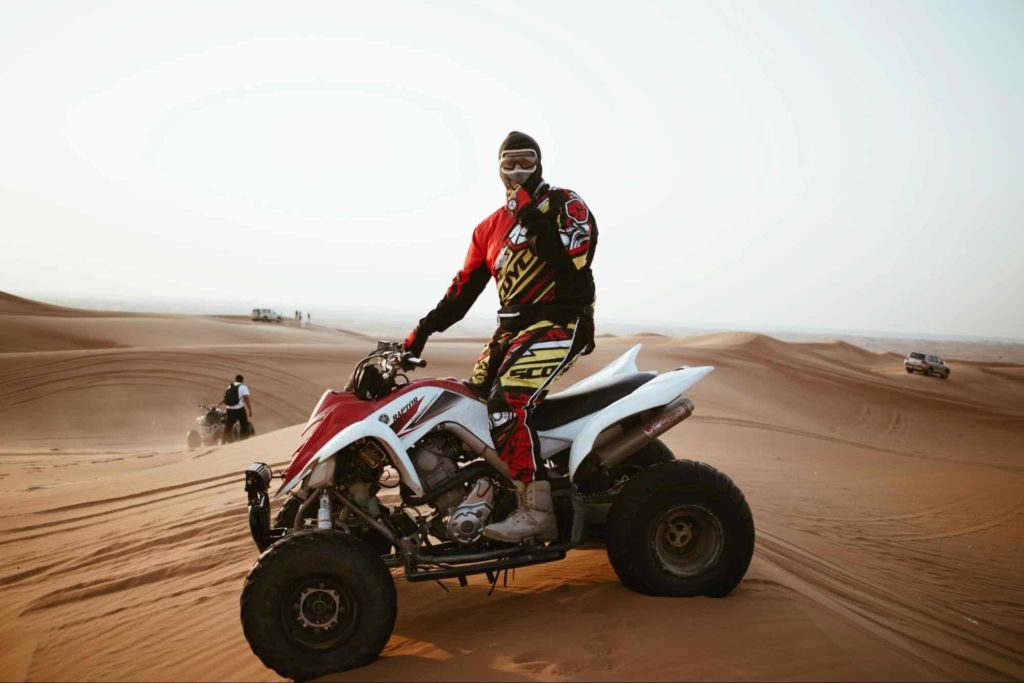 Photo by: Elena Saharova
Sport ATVs tend to be lighter and feature excellent manoeuvrability. They're primarily designed for racing across different terrains like rocks, mud, and even desert sand.
They have a long travel suspension and high output. They also feature a lot of customizability and owners can equip different parts and accessories depending on their needs.
Sport ATVs are quite demanding to use, given their nature. It will need a lot of stamina, strength, and undivided attention from the rider in order to make full use of this type during your adventure.
This makes them perfect for experienced thrill-seekers.
Utility ATV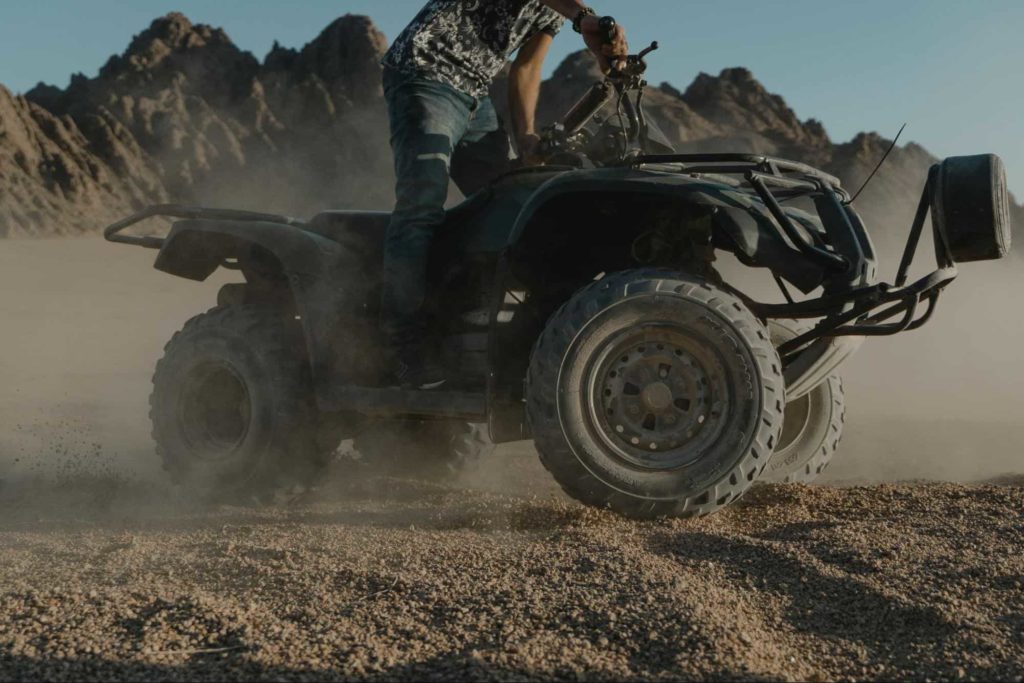 Photo by: Tima Miroshnichenko
Utility ATVs are typically considered to be the more durable cousin of the Sport ATV.
They have a large motor and short travel suspension, making them a good workhouse for farm work, ploughing, and hunting (but only if people are using the electric variant with its quieter engines).
Utility ATVs feature larger tyres and less options for attaching different parts. However, this makes them a bit easier to ride, making them perfect for beginners looking for a mixture of work and play with their ride.
What is the Process of Owning a Quad Bike or ATV in Dubai?
When going on a quad biking adventure in Dubai, there are a few rules you need to consider before you can take your vehicle out for a spin.
First, you need to be at least sixteen years old to go solo quad biking in Dubai. Also, remember that these quad bikes can only be operated off-road, such as the sand dunes in the desert where these are a popular means of exploring.
You also need to be physically fit enough to handle and use the vehicle that you're buying. It shouldn't be too demanding but people who aren't that physically fit may have to keep it in mind.
Remember that it's recommended to only have one rider per quad bike and avoid taking any passengers with you on the desert. It's important to avoid losing your balance when riding across the sand dunes of Dubai.
Then, you need to register your quad bike with the Roads and Transport Authority (RTA) in Dubai. The overall registration process shouldn't be too different from any other vehicle you register with the RTA.
You will also need comprehensive insurance for the quad bike. It is important that it's issued by an insurance provider that's recognised in the Emirate.
For a quad bike that you own, you'll also need a licence in order to use the vehicle. You can coordinate this with the RTA as well.
After that, it's just a matter of wearing the necessary safety gear. These typically have helmets, some body armour, knee pads and wrist guards, and of course, glasses to protect your eyes from the sun and sand.
Make sure to bring a lot of drinking water as well. Avoid taking any alcoholic beverages or any heavy medications prior to the ride to keep safe.
What about Renting a Quad Bike from an Operator?
If you're renting a quad bike instead, then you should be able to skip the whole registration process. It is the operator's job to register all of the vehicles they have in the business.
You also don't need to worry about owning a licence if you rent a quad bike under a tour package.
Just make sure to listen attentively to the safety training and other courses provided by the operator. After all, driving the ATV on the desert floor is different from driving on a regular dirt road.
It's also mandatory to sign an indemnity form before you proceed if you're going to be quad biking under a vendor provider. This releases them from liability for any damage or injury so remember to drive carefully.
After that, you need to put on the necessary safety gear. Once again, some operators may provide these equipment for you, reducing the need to carry a lot of these items.
Of course, using your own equipment does provide some peace of mind, especially if you're concerned about health and possible illnesses.
Wear comfortable clothes and pack some extra ones to change into, in the event a lot of sand gets in the folds of your clothes. It's recommended to stick with some loose clothing for comfort but be careful not to have any bits snag on the machinery.
Do not forget to conduct a pre-riding inspection of the vehicle assigned to you. While operators do their due diligence to make sure all of their vehicles are in working order, it still pays to check things like tyres, rims, and controls for damage.
Remember to stay in the group while driving. It's essential for avoiding any unforeseen accidents or anyone accidentally getting lost during the drive.
Lastly, always make sure to keep your distance from other drivers and do not compete with their speed while cruising. You don't want any collisions or accidents in the sand after all.
Enjoy the ride. Remember to keep to the tour to avoid any unforeseen incidents while you're out on the road. 
What is the Best Way to go Quad Biking in Dubai?
To make it convenient for you, you can choose to book a desert safari tour from different tour operators in Dubai. They can also supply you with an ATV you can use in case you don't have or don't want to buy your own ATV.
From there, you have a number of companies and options that you can choose from, with each experience varying from vendor to vendor. Here are some of the more popular picks:
Big Red Adventure Tour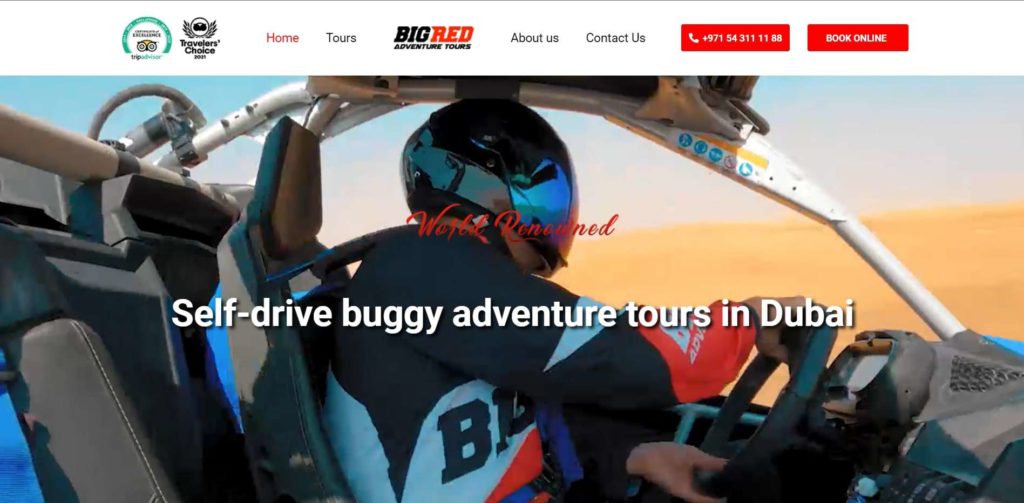 SERVICES
Sunset Tours, Custom Tours, Buggy Tours, Private Tours, Night Buggies
WEBSITE
https://www.bigreddxb.com/
ADDRESS
Big Red Adventure Tours, Dubai
CONTACT DETAILS
Phone: +971 54 311 1188 / +971 50 436 6405

Email: [email protected]

OPERATING HOURS
Mondays - Sundays: 10:00 AM to 11:00 PM
Big Red Adventure is one of the leading desert safari companies in the UAE. They offer a chance for visitors and residents to get away from the usual beach and shopping malls to explore a different side of Dubai.
They provide all the necessary gear you'll need in order to enjoy the tour which makes them convenient as you don't have to lug a lot of things in our opinion.
From there, you can have a memorable time having a buggy adventure across the vast Arabian desert using an array of different vehicles offered by the company.
You can go on a simple single-seat buggy for as low as AED 800, or you can get more specialised tours like on a larger 4-seater, or a vehicle specialised for exploring the dunes during the night.
There are even private tours for a more intimate yet still adventurous day out with a significant other, or one that includes dinner options so you don't have to worry about going hungry.
Arabian Horizons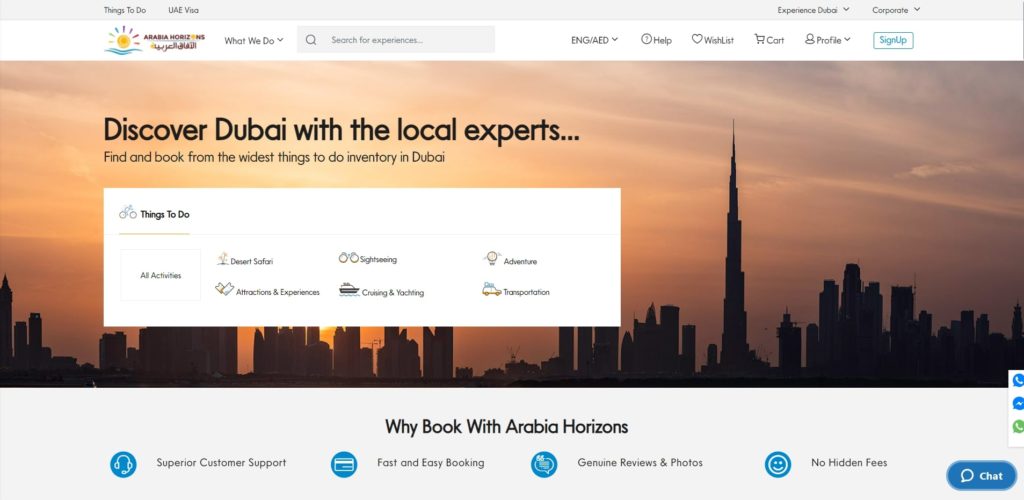 SERVICES
Cruises & Yachts, Desert Safari, Tourist Transportation, Adventure & Sightseeing
WEBSITE
https://arabiahorizons.com/
ADDRESS
Al Manara Tower - 1706, Dubai
CONTACT DETAILS
Phone: +971 4294 6060 / +971 50 540 2520
OPERATING HOURS
Saturdays - Thursdays: 8:30 AM to 6:00 PM

Closed on Fridays
For a comprehensive package of multiple fun things to do in Dubai, you can look to Arabia Horizon tours. They typically cover a wide range of activities such as visiting popular attractions, cruises, and of course, desert safari.
Under their desert safari packages, you can choose the duration of your stay, starting for as low as three hours up to overnight stays if you wish. You can also choose from different vehicles that you can surf the dunes in.
We found their extreme adventure package to be a good buy for quad biking. It can be bought for as cheap as AED 265 for four hours while also giving you the option to freely cancel the tour up to forty-eight hours in advance.
Arooha Dubai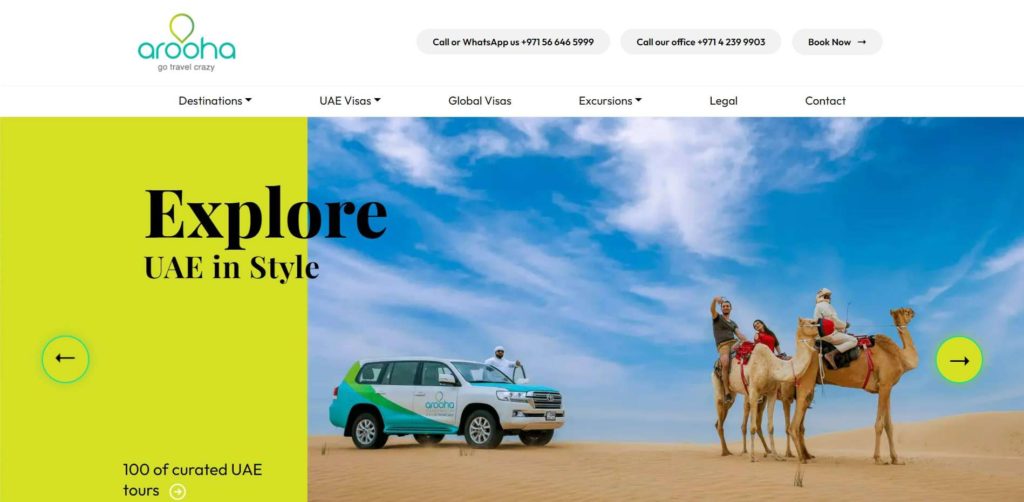 SERVICES
UAE Visas, Global Visas, Destination Tours, UAE Excursions
WEBSITE
https://www.aroohatours.com/
ADDRESS
Shop No 1 Khalid Bin Al Waleed Building, Khalid Bin Al Waleed Road, Al Suq Al Kabeer, Bur Dubai, Al Fahidi, Dubai
CONTACT DETAILS
Phone: +971 4239 9903 / +971 56 646 5999
OPERATING HOURS
Mondays - Saturdays: 9:00 AM to 10:30 PM

Sundays: 5:00 PM to 10:00 PM
Regardless of what you want to do in Dubai and how you want to experience it, you can always count on the tour packages offered by Arooha Tours Dubai. You can get the help of their travel consultants to organise a memorable stay in the city.
For beginners, we also recommend trying the guided quad bike tour offered by Arooha Tours. It is relatively inexpensive at AED 150 per person and lasts for three hours.
You can also avail of different experiences such as romantic dinners, skydiving, self-driving boats, and even cruises once you're done spending time in the dunes for a while.
---
With even the desert offering tremendous amounts of fun activities and unique experiences, it's no wonder Dubai is a top tourist destination all over the world.
Regardless of what you want to do, or what you wish to see or visit, the city has something to offer, ensuring that you will never get bored and you will walk away with a lot of fun memories to look back on.