Activities You Can Do In Dubai At Night On A Budget
Just like any city, Dubai is also home to busy nightlife. Usually, when we think about nighttime activities, we go clubbing or bar hopping, right?
Well, sometimes that can be quite expensive. But don't worry – there are affordable options out there!
Here are some of the activities you can do in Dubai at night on a budget!
What are the best activities I can do in Dubai at night?
The best activities you can do in Dubai at night include visiting the Dubai Fountain, going to the Al Fahidi historical neighborhood, and booking an Abra Boat Night Tour in Dubai Creek.
Additionally, you can also do some stargazing, or go to Dubai's Global Village!
Watching the Dubai Fountain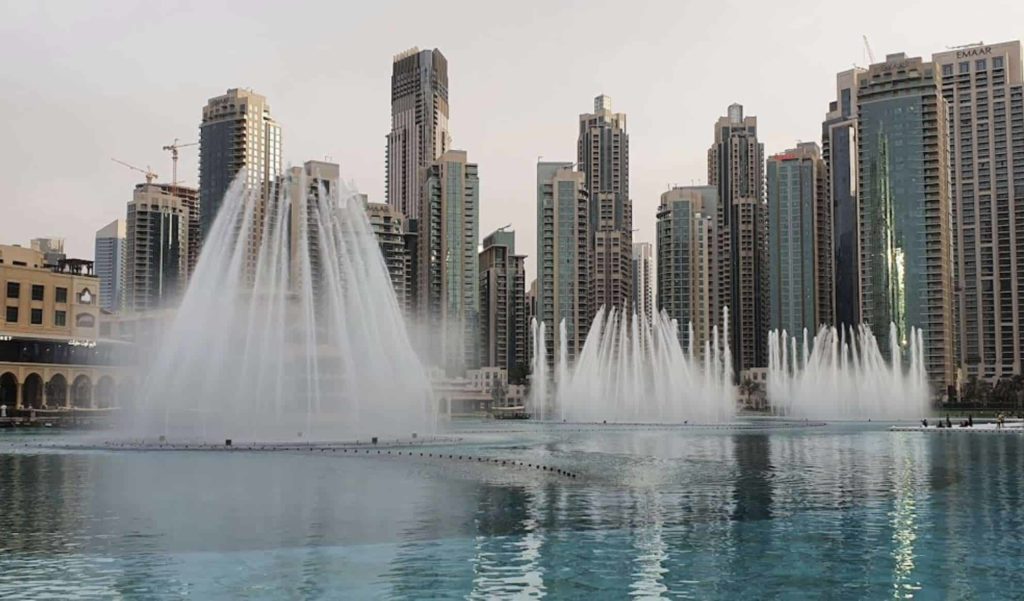 Image credit: Shaun Coppard 
| | |
| --- | --- |
| LOCATION | Sheikh Mohammed bin Rashid Blvd - Downtown Dubai - Dubai - United Arab Emirates |
| OPERATING HOURS | Open 24 hours. (Monday - Sunday) |
| CONTACT INFORMATION | Phone: +971 4 567 2030 |
The Dubai Fountain is a landmark located near the Burj Khalifa Lake. This location is known for its daily fountain shows.
Yes, you can even catch some of it at night! This may be quite an unusual choice, but there's fun involved in taking in the sights of water and choreographed lights dancing to the tune of some of the popular songs in the world.
The show starts every 30 minutes, and you don't have to pay for anything as it is free. Find a spot to sit or hang out near the Dubai Fountain, grab some food if you want, and enjoy the spectacle.
The show runs every 30 minutes from 6:00 PM to 11:00 PM. 
Things To Consider While Visiting The Dubai Fountain
Aside from watching near the fountain, the location is also home to multiple attractions that can add more depth to your experience.
One of them is The Dubai Fountain Lake ride, a boat ride that brings you closer to the fountains. It's situated near the Burj Khalifa, and you can get a ticket to the Abra ride for only AED 65.
The Lake ride is open from 5:45 PM to 11:30 pm. We advise arriving 30 minutes before to get good seats!
If you're interested in this, we recommend booking at least a few hours or days in advance. You can still buy tickets on the day you want to ride, though it will be difficult to get the timeslot you want as it may be packed.
On the other hand, if you don't want to stand in crowded areas near the fountain to catch the show, there are places where you can sit and enjoy the view. Some restaurants in the Dubai Mall allow customers to dine and watch the fountain show.
We recommend opting for watching from these establishments if you have extra cash to spare!
Visit the Al Fahidi Al Bastakiya Neighborhood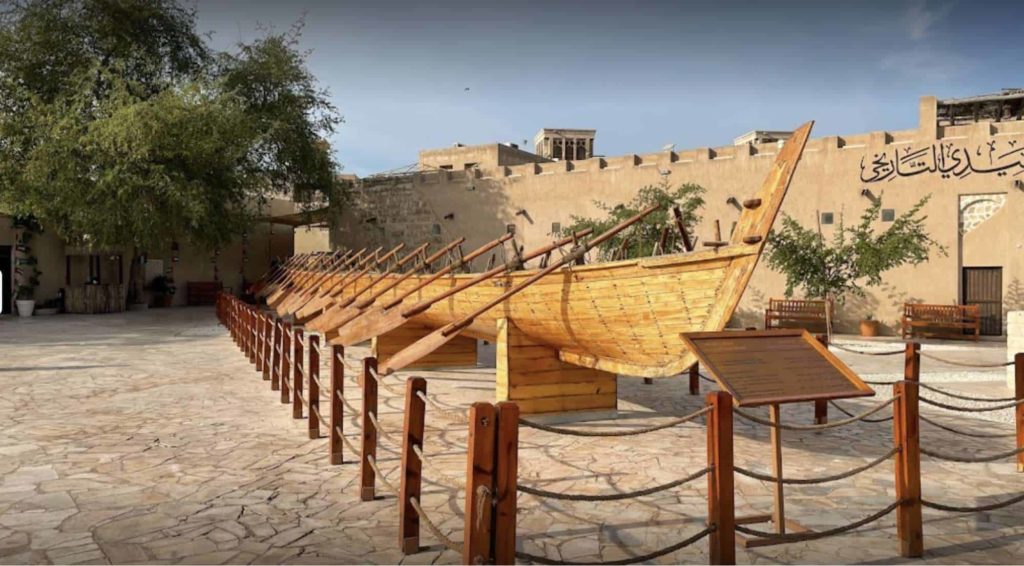 Image credit: Abhilash VG/Google Reviews
| | |
| --- | --- |
| LOCATION | Bur Dubai - Al Hamriya - Dubai - United Arab Emirates |
| OPERATING HOURS | 7:00 AM - 8:00 PM (Monday - Sunday) |
The Al Fahidi is a neighborhood that hosts various stores, and buildings, that show the architectural history of the city.
The usual sights that tourists flock to here include the Al Fahidi Fort and the Dubai Museum.
The Al Fahidi Fort contains the Dubai Museum that showcases the history of the city. Their vast and rich past is explained through easy-to-read exhibits and dioramas.
We recommend visiting if you're a big fan of exploring an area's history. This is an inexpensive option for something fun to do as you will only have to pay AED 3 for a ticket.
You can also visit the Fort (and its museums) at night as it is open on Fridays and Saturdays from 8:30 AM to 8:30 PM.
We do recommend trying to call the staff earlier to inquire if they are open, as there are some instances where they aren't really open due to maintenance and other events.
Another option is to just take in the sights and walk around the city. There is no general admission fee to enter the neighborhood.
Walk around and bask in the nightlife of the city, and appreciate the elegance and appeal of Dubai's architecture at night. However, if you do get tired, there are some establishments that are open until very late in the evening.
One of these restaurants is the Arabian Tea House. They offer coffee, tea, and different varieties of traditional cuisine.
They are open until 11:00 PM and can be easily seen near the entrance of the area.
Things We Recommend While Visiting The Al Fahidi
When you visit this historical location, we advise following the placed health and safety protocols dictated by the government. These are for your safety and the residents as well.
Also, make sure to dress moderately. For Al Fahidi, follow the UAE's general rule for the public dress code.
Avoid short bottoms, sleeveless tops, and shirts with vulgar or offensive designs or images printed on them.
If you want your visit to go smoothly, we recommend bringing some documents with you such as passports and IDs. This is because some places or attractions will ask for identification cards to verify your identity.
Lastly, if you're planning to pre-book activities and guided tours at the Al Fahidi Quarter, do it days before. Also, make sure that your tour will follow the framework set by the government.
Check if the travel and tour company you hired are registered at Dubai's local tourism authority as well.
Abra Boat Night Tour in Dubai Creek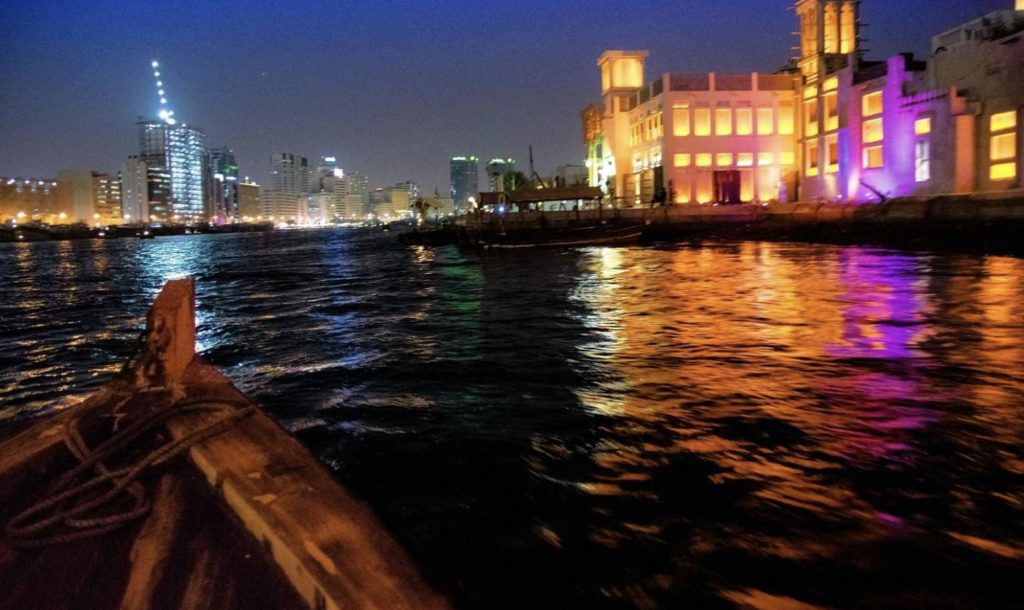 Image credit: Fil Seaton via Tripadvisor 
| | |
| --- | --- |
| LOCATION | Dubai Mall, Deira City Centre, Madinat Jumeirah, etc. |
| OPERATING HOURS | 7:00 PM - 8:00 PM |
An abra is a traditional boat used in transporting people from different parts of Dubai. It also serves as a tourist attraction, providing tours along the Dubai Creek.
There are multiple options for you to choose from on how to avail this ride. You can opt for the public transportation option, in which you grab a ticket for only AED 1 to AED 2.
If you want a more private and guided tour through the popular sights in the city, this said system also offers a private option for AED 120 per hour. Note that there wouldn't be any additional refreshments or food for this option.
Now, if you want the full-on guided tour with some snacks, food, and commentary, we recommend booking on private companies. One example is the Amazon Tours UAE.
The company offers a 60-minute boat tour to catch the sunset to early night of the Burj Khalifa. They also offer refreshments and commentary on board.
The rate for this kind of tour goes around AED 130 to AED 500 per person. If you have the extra budget, try this out!
Ultimately, the choice will be up to you. We recommend coordinating with your chosen travel agency to help organize or book your boat tour for you. 
What To Consider While Booking For An Abra Night Tour
As we've said earlier, there are different companies that offer public and private tours. If you'd like to avoid the communal rush for the public abra, we recommend booking a private tour. 
Alternatively, if you'd like to book other commercial options, we recommend taking note of the meeting time and location for your tour.

First, we advise that you book weeks or months in advance before your trip to fully secure the boat tour.
Second, try to get a hotel near the meeting point so you don't have to rush through traffic to meet the set time. We recommend arriving at least 30 minutes before the agreed upon meeting time.
Lastly, take note that there are different kinds of abra boat rides, ranging from the traditional boat to an air-conditioned, closed type. We recommend the modern abra if you want to avoid bad weather or just want a cool ride through the Creek. 
Star Gazing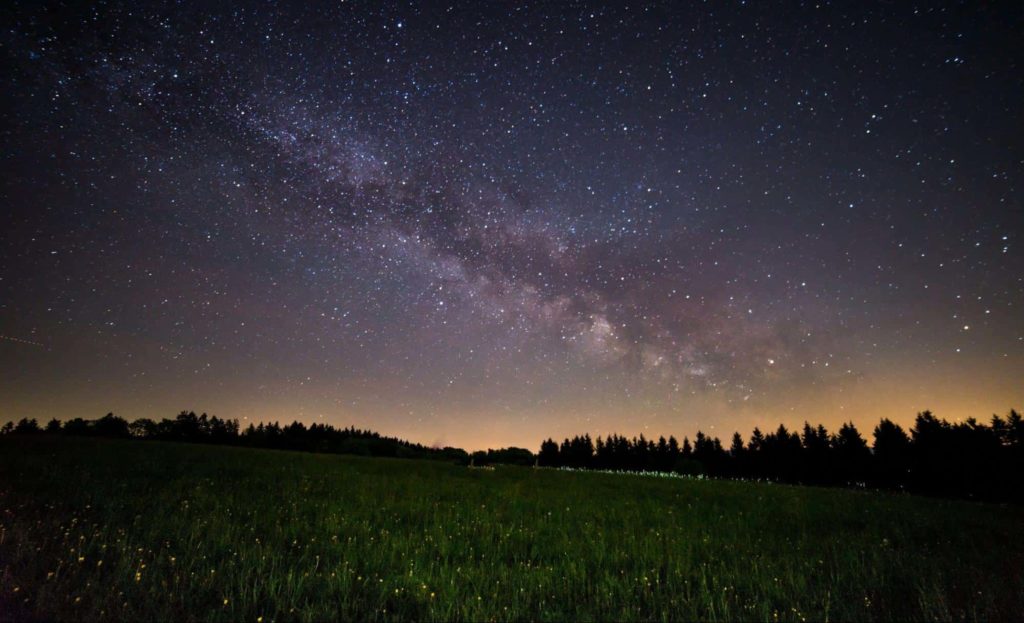 Image credit: Pixabay/Pexels 
| | |
| --- | --- |
| LOCATION | Dubai Astronomy Group, Al Thuraya Astronomy Centre, Mushrif Park, Mushrif - Dubai |
| OPERATING HOURS | 10:00 AM - 10:00 PM (Monday - Sunday) |
| CONTACT INFORMATION | Phone: +971 4 221 6603 |
Why not take the opportunity to go stargazing at night?
Dubai Astronomy Group is an organization dedicated to promote the field of Astronomy in the middle east. They do this via holding events and astronomy tours for residents and tourists alike.
One of the events they hold are stargazing sessions. Depending on the organizer, you can actually get a spot in the group for free of charge.
Usually though, they are priced at around AED 70 to AED 120 per person. Aside from stargazing, the organization also offers other discussions and astronomy events of other celestial objects, such as planets. 
Our Recommendations While Stargazing
Now, we recommend booking or calling the organization at least months beforehand to check if there will be a stargazing party during your arrival in the city.
During the star party, we advise bringing warmer clothes as the temperature in the city drops during the evening.
You can also decide to star gaze on your own while camping out at night. We recommend stocking up on food, gear, and equipment as you enjoy the starry sky! 
Visit The Global Village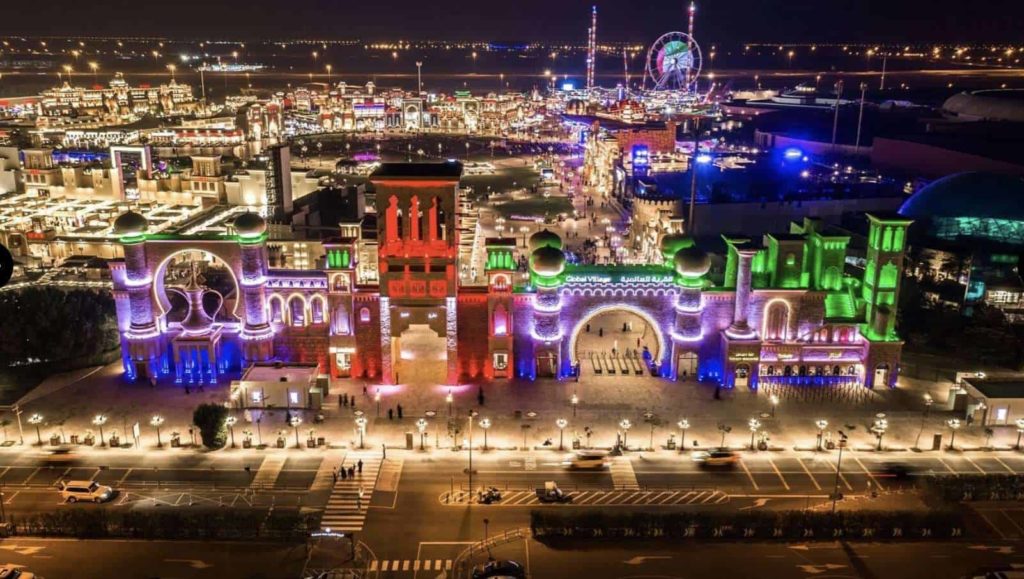 Image credit: Global Village via Tripadvisor
LOCATION
Exit 37, Sheikh Mohammed Bin Zayed Road and Emirates Road, Dubai
OPERATING HOURS
4:00 PM - 12:00 MN (Saturday - Wednesday)

4:00 PM - 1:00 AM (Thursday- Friday)

(Mondays for ladies and children.)
Dubai is home to multiple theme parks that provide quality entertainment and fun to people of any age and gender.  
A seasonal favorite and classic is the Dubai Global Village. It has events, rides, shows, food, and shopping booths. You can usually find this open during November to April.
Entry fees are priced around AED 20 per person if you buy it directly at the gate. However, you'll get a discount of AED 5 if you buy it online or through the Village's dedicated application. 
What To Consider When Going To The Dubai Village
As we've said, this park is seasonal. If your primary aim is to get a chance to visit the Global Village, we recommend visiting around the winter months.
The park also has certain rules that you need to remember and follow while you're enjoying the activities inside it. One of them is that smoking is not allowed.
The second is that public display of affection (such kissing and hugging) is not allowed. Aside from that, any other indecent behavior is also forbidden.
The park also follows the traditional dress code in the UAE. Visitors (regardless of gender) are required to wear clothing that covers the torso, shoulders, knees, and legs.
Lastly, pets are not allowed, unfortunately. We recommend hiring a sitter or putting them into a boarding house so they don't feel neglected or alone. 
---
We hope that any of these suggestions can be something that will be included in your activity list as you visit Dubai. Sometimes, you don't need to go into a fancy establishment or dine in a fancy restaurant to maximize your tourist experience.
Take in the sights, immerse yourself in the culture, and everything will be alright (and most importantly, fun)!
Related Articles