The Green Planet Dubai: An Eco-Friendly Paradise in the Desert
Imagine a place where nature and the city coexist in perfect harmony. A place where you can explore the richness and diversity of life on Earth.
Welcome to Green Planet Dubai, the ultimate destination for nature lovers and urban adventurers alike. Here, you'll find a stunning oasis of greenery that transforms the landscape of Dubai.
You'll witness the amazing feats of engineering and design that make this vision possible. You'll learn how we can create a better future for ourselves and our planet.
Join us as we take you on a journey through this incredible world of wonder and inspiration. Let's find out why Green Planet Dubai is more than just a destination, it's a way of life!
What Is the Green Planet Dubai?
The Green Planet Dubai is an indoor facility that functions as a zoological garden and botanical garden, representing the essence of a tropical rainforest.
The Green Planet is located in the City Walk area of Dubai. Inside, you can find a special dome that houses more than 3,000 plants and animals from all over the world.
The dome, built in 2016, is shaped like a cube and covers an area of 60,000 square feet. Its outside appearance has two parts: one part has a round glass structure, while the other part has small circular openings.
As you explore the bio-dome, there's a spiral slope from the fourth floor and see reptiles and informative displays on each level.
The Green Planet also offers opportunities for overnight camping and hosts various events like birthday parties and corporate functions.
Initially managed by zoOceanarium Group, it's now owned by Dubai Holding Entertainment and is housed in a fascinating glass building with an origami-like design.
Best Time to Go
The perfect time to visit The Green Planet Dubai is in the morning when there are fewer people around. It's better to go on weekdays because there are fewer crowds compared to the weekends.
Here are some specific times to keep in mind when visiting The Green Planet:
Weekdays, before 11 AM: This is the quietest time of day to visit The Green Planet. You'll have plenty of time to explore the rainforest without worrying about too many people around.
Weekends, after 3 PM: If you're going on the weekend, try to go later in the day. The crowds will start to thin out after 3 pm, and you'll still have enough time to enjoy the rainforest.
Early morning or late afternoon: If you're visiting during the summer, it's best to go either early in the morning or late in the afternoon. The weather will be cooler during these times, and you'll be less likely to feel too hot and sweaty.
Things to Know
Operating hours: Monday – Sunday 10 AM to 6 PM
Age restrictions: 3 years old and above.
Fees:
Adult: AED 125
Child (3-12 years): AED 95
Senior (60+ years): AED 105
Family (2 adults + 2 children): AED 360
Student (with valid ID): AED 105
Parking: AED 20 for the first hour and AED 10 for each additional hour.
How to Get Around
By car: Take the Al Wasl Road exit from Sheikh Zayed Road. Then simply follow the directions indicated by the signs leading to City Walk, and you'll find The Green Planet on the right side of the road.
By taxi: Just tell the taxi driver you want to go to The Green Planet. They should know where it is, and the cost will be around AED 20 to AED 30.
By metro: Get off at the Business Bay Metro Station. Once you leave the metro station, walk towards Al Wasl Road. The Green Planet will be on your right side.
By bus: Take the number 29 bus that goes to Al Wasl Road. Once you see the stop near The Green Planet, get off the bus. Then, just walk to The Green Planet from there.
What to Do at the Green Planet Dubai
Explore the Four Levels of the Bio-Dome
The Biodome in The Green Planet Dubai is a big enclosed structure designed to recreate the conditions of a tropical rainforest. They carefully control things like temperature, humidity, and lighting to make it feel like the real thing.
Inside the biodome, you'll find lots of different plants and animals that you can watch and interact with! It's also used for research and conservation as scientists study how rainforests work and come up with ways to keep them safe and healthy.
The Green Planet is divided into four levels, each representing a different part of a tropical rainforest. The highest level lets you walk among the tops of the trees.
The middle level is where the majority of plants and animals reside, offering an opportunity for exploration, while the lowest level provides insight into the functioning of the rainforest ecosystem.
Meet the Animals
The Sloth Encounter: There are two sessions available to interact with sloths: 1:30 pm and 3:30 pm. You have the chance to capture photographs and gain an understanding of their significance to the rainforest!
The Bird Encounter: The Bird Encounter is limited to a maximum of 6 participants. This encounter takes place once a day at 11:30 am and lasts for 20 minutes.
During this time, you can have a close-up experience with birds like toucans, caiques, or other small parrots.
Reptile Encounter: This encounter takes place three times a day at 1:00 pm, 2:00 pm, and 4:00 pm, each lasting for 20 minutes.
The reptile encounter offers you to take pictures while holding or standing next to them and learn about where they live.
Creatures of the Night: In this underground attraction, the day and night cycle is controlled. Inside, there are various animals including slow lorises, lace monitors, Burmese pythons, and tokay geckos, to name a few.
Creatures of the Night offers three daily sessions: 10 AM – 1 AM, 12 PM – 1 PM, and 2 PM – 3 PM. Each session lasts about an hour, with a 15-minute introduction and 45 minutes to explore the exhibit.
Visit the Canopy Cafe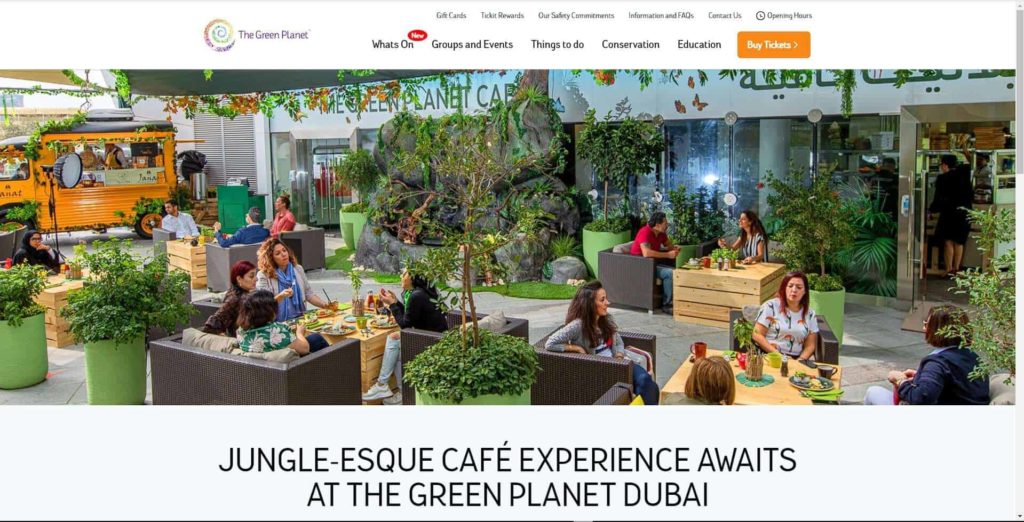 Dubai's Green Planet has given its café a delightful makeover, transforming it into a rainforest-themed terrace. Families can drop by anytime from 10:00 am to 6:30 PM to savor a jungle-inspired breakfast, lunch, or dinner experience.
The cafe has put together a special menu just for kids, offering tasty treats like scrambled eggs, pancakes, pizzas, burgers, hot dogs, and more.
But that's not all! They've also created a new play area where children can have a blast sliding, climbing, and enjoying themselves in a safe space.
The Green Planet takes pride in serving a diverse range of healthy and sustainable dishes, all prepared using fresh ingredients sourced from their farm.
Camp in the Rainforest
Experience the comfort of spending the night in cozy tents at The Green Planet, starting at 7:00 pm and ending at 8:00 am the following morning. Throughout this duration, exclusive access will be granted to explore the captivating rainforest.
Included in this adventure is a guided scavenger hunt and a tour to gain knowledge about the enigmatic nocturnal creatures. In the evening, you can unwind while watching a nature-themed movie and have a delightful time roasting marshmallows.
Moreover, the opportunity to closely encounter animals awaits. With well-trained staff and security measures in place, guests can sleep securely and rise early to participate in feeding the animals.
Additionally, a complimentary breakfast from The Green Planet Cafe is provided for your enjoyment.
Adopt an Animal at the Green Planet
The Green Planet has a unique offer where you can adopt their cute animals for an entire year. The adoption package includes Lemon the sloth, Kendrick the lemur, Amal the slow loris, Goldie the Blue and Gold macaw, and Coco the Toco Toucan.
These animals will be taken care of by the trained staff at The Green Planet, and your adoption will help with research and education. It supports programs for breeding, protecting habitats, and studying behavior.
Adopting and sponsoring a Green Planet animal is a gift that contributes to a good cause. If you choose the Gold Adoption Package, Additionally, there is the option to enjoy a Behind-the-Scenes tour, which is available daily at 12 PM and 2 PM.
Go Snorkelling with the Cichlid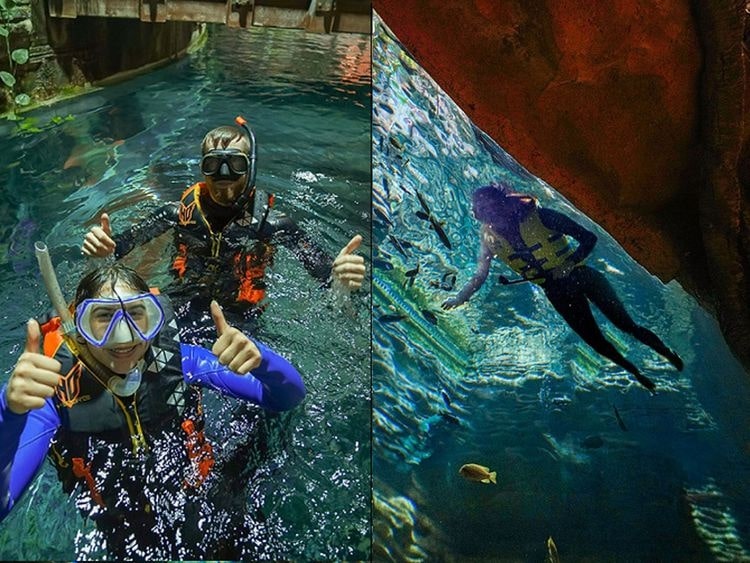 Swim alongside thousands of colorful African cichlid fish from more than 30 species, including the peacock cichlid, blue acara, and fire mouth cichlid.
Don't worry about getting lost or hurt because the snorkeling experience is conducted in a controlled and safe environment.
They provide you with all the necessary equipment like a mask, snorkel, and fins, and your guide will be there to help you every step of the way.  You can learn about cichlids and enjoy the beauty of a tropical rainforest.
Enroll Your Kids in Summer Camp in the Rainforest!
Children can learn all about natural ecosystems and conservation in a really fun and exciting way.
At the camp, junior campers can explore things like habitats, animals that don't exist anymore, and how to protect nature by playing interactive games and doing arts and crafts.
The Summer Camp in the Rainforest at The Green Planet Dubai is an annual event. It usually runs from July to August, but the exact dates may vary from year to year. It's open for kids between the ages of five and twelve.
Where to Eat Nearby the Green Planet Dubai
Baku Cafe
Menu: Azerbaijani cuisine
Address: City Walk 2 – Dubai – United Arab Emirates
Contact details: +971 4 299 9081
Pricing: $$$
Website
Baku Cafe serves a variety of Mediterranean dishes like hummus, baba ghanoush, falafel, and shakshuka. They have tasty cocktails and refreshing mocktails there.
We love the warm and inviting ambiance of Baku Cafe. The walls are decorated with traditional Azerbaijani artwork.
Graze Gastro Grill
Menu: Steak
Address: Al Multaqa Street, La Ville Hotel & Suites CITY WALK – Dubai – United Arab Emirates
Contact details: +971 4 403 3111
Pricing: $$$
Website
Graze Gastro Grill is well-known for its amazing steak, a wide range of wines, and lively atmosphere. They use a special charcoal oven to cook their steaks, which gives the meat a unique flavor and texture.
Their wine list is extensive and includes wines from all over the world. They even have wine experts who can help you choose the perfect wine to go with your meal.
The restaurant has a modern and stylish look, with warm colors and windows that let you see the city.
LookUp Rooftop Bar
Address: Al Multaqa Street, La Ville Hotel & Suites CITY WALK – Dubai – United Arab Emirates
Contact details: +971 4 403 3111
Pricing: $$$$
Website
LookUp Rooftop Bar is a cool and modern bar located on a rooftop where you can see the amazing Burj Khalifa. The bar has a stylish and urban atmosphere with a modern design, and there's a DJ who plays music in the evenings.
LookUp Rooftop Bar offers a wide selection of cocktails, wines, and tasty snacks. The cocktails are creative and well-prepared, and the snacks are perfect for sharing with others.
Where to Stay Nearby the Green Planet Dubai
La Ville Hotel & Suites
Address: Al Multaqa St – Al Wasl – Dubai – United Arab Emirates
Contact details: +971 4 403 3111
Pricing: $$$$
Book now
La Ville Hotel & Suites is a stylish 5-star hotel located in Dubai's City Walk neighborhood. It's part of the Autograph Collection, a group of Marriott hotels known for their unique and fashionable accommodations.
The hotel rooms at La Ville Hotel & Suites are spacious and well-furnished. They come with free Wi-Fi, high-tech plug-in panels for streaming media, and amazing views of the city.
The rooftop infinity pool is a big hit among guests, as it offers stunning panoramic views of Dubai, including the famous Burj Khalifa and the city skyline.
LEVA Hotel, Mazaya Centre
Address: Mazaya Centre – Sheikh Zayed Collector Rd – Al Wasl – Dubai – United Arab Emirates
Contact details: +971 4 526 6000
Pricing: $$$
Book now
LEVA Hotel, Mazaya Centre is a stylish and modern 4-star hotel situated on Sheikh Zayed Road, overlooking Downtown Dubai. It serves as an urban destination for shopping and dining.
The hotel boasts 178 trendy and contemporary rooms and suites, all well-appointed with a range of amenities and comforts. Each room features a kitchenette, flat-screen TV, satellite channels, and tea and coffee making facilities..
Rove City Walk
Address: Sheikh Zayed Rd – Trade Centre – Trade Centre 1 – Dubai – United Arab Emirates
Contact details: +971 4 241 9700
Pricing: $$$
Book now
Rove City Walk is a lively and pedestrian-friendly zone that offers a diverse range of dining options, bars, shops, and attractions. The hotel itself features a rooftop pool, providing breathtaking city views.
What makes it particularly appealing is that the pool remains open 24/7, allowing guests to enjoy a swim at any time. The hotel is adorned with captivating artwork that showcases the rich and varied culture of the city.
Where to Shop Nearby the Green Planet
City Walk
Address: Al Safa St – Al Wasl – Dubai – United Arab Emirates
Contact details: +971 4 590 5090
Pricing: $$-$$$$
Website
City Walk is a place in Dubai where people can walk around and enjoy shopping, eating, and entertainment outdoors. It has more than 300 stores, including fancy fashion brands, cool boutiques, and shops where you can buy souvenirs.
Besides shopping and eating, you may want to check out the Coca-Cola Arena, which is a big place with 17,000 seats where they have concerts, sports events, and other shows.
Boxpark
Address: Al Wasl Rd – Al Wasl – Dubai – United Arab Emirates
Contact details: +971 800 738245
Pricing: $-$$$$
Website
Boxpark Dubai is a mall in Al Wasl that looks like a bunch of shipping containers. Inside, there are more than 100 stores to buy fashionable clothes, eat at restaurants, and relax in cozy cafes.
They also have a cinema with eight screens that show the newest and most popular movies. If you're in the mood for some fun, they have a bowling alley too.
Throughout the year, Boxpark Dubai hosts lots of different events. They have live concerts, exciting festivals, and busy markets where you can buy all sorts of things. It's a cool place to explore, shop, eat, and have a great time.
Mercato Shopping Mall
Address: Jumeirah Beach Road – Jumeirah – Jumeirah 1 – Dubai – United Arab Emirates
Contact details: +971 4 344 4161
Pricing:$$-$$$$$
Website
Mercato Mall is designed to look like a charming town from old Italy. It opened in 2002 and got its name from the Italian word for "market."
The mall features a shopping area spanning 22,900 square meters (247,000 square feet) and a total space covering 59,900 square meters (645,000 square feet).
At Mercato Mall, you have the opportunity to catch a movie. They have a multiplex cinema with seven screens that is run by VOX Cinemas, renowned for its customer-focused cinema experience in the Middle East.