Travel Mistakes: Things Tourists Should Never Do in Dubai
Did you know that in Dubai, tossing even a tiny wrapper on the ground could land you in a world of trouble? Yes, you heard it right!
Dubai is very strict with its rules. You could end up with a hefty fine or, much worse, experience the "luxury" of a jail cell.
To avoid any mishaps, we've compiled some essential tips on what to avoid on your Dubai trip. Read on to find out more!
Don't Use The Left Hand Inappropriately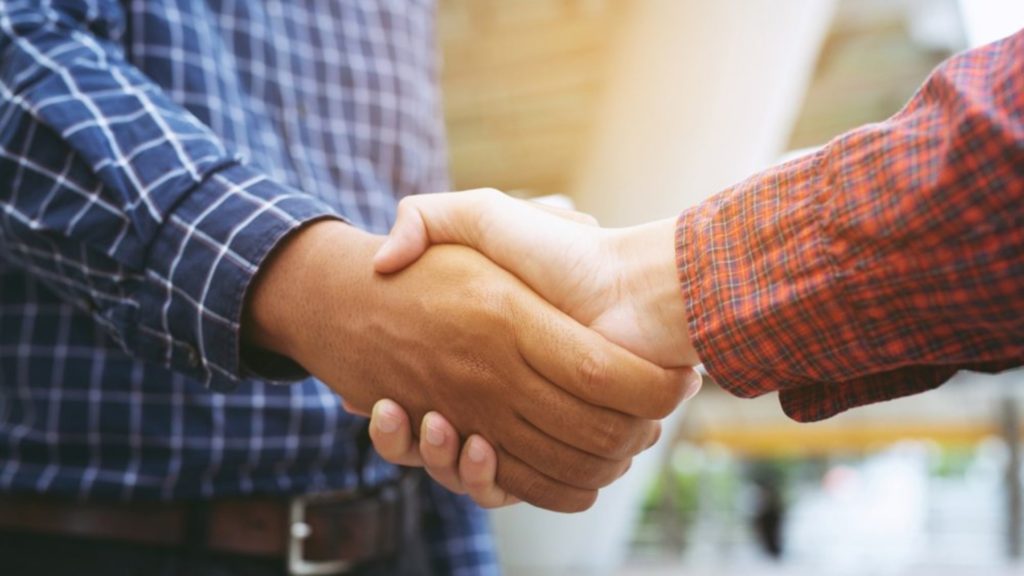 In Dubai, it's offensive to use your left hand for things like saying hello or passing items, especially food. If you hand over a plate of dates with your left hand, folks might raise an eyebrow, but some might still be cool about it.
This practice actually comes from using the left hand for personal hygiene, like washing up after hitting the restroom.
So, it's not just about dining etiquette. It's pretty much an everyday thing you'll want to follow to be respectful of Dubai's customs.
Pro tip:

When you're in Dubai, keep that left hand tucked away—maybe even in your pocket, so make sure your bottom clothing has one! 

Keeping your left hand discreetly out of sight can minimize your chances of accidentally committing a cultural faux pas. 
Don't Disregard Public Etiquette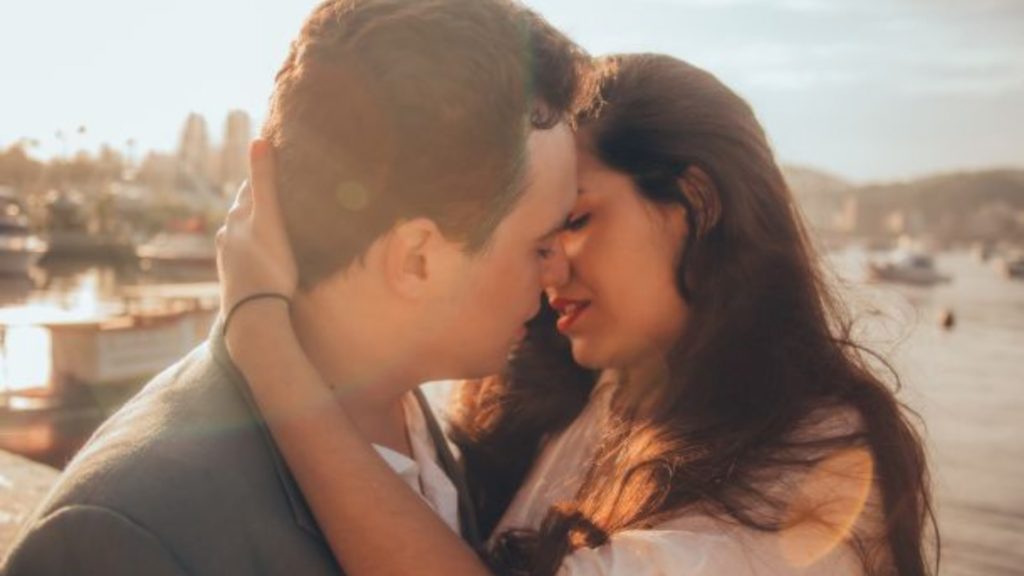 Dubai is all about privacy and modesty, so you've got to play by the local rules for a smooth visit. Here's the lowdown: no public displays of affection like kissing or hugging are allowed here.
It's best to be respectful and keep your loving moments private. This way, you can have a hassle-free visit with your special someone.
Pro tip:

If you're in Dubai looking to meet people, try Tinder. It's a popular app here, perfect for tourists looking to socialize. 

Plus, it can help you tackle the dating challenges in this conservative region. Swipe right and explore Dubai's dating scene!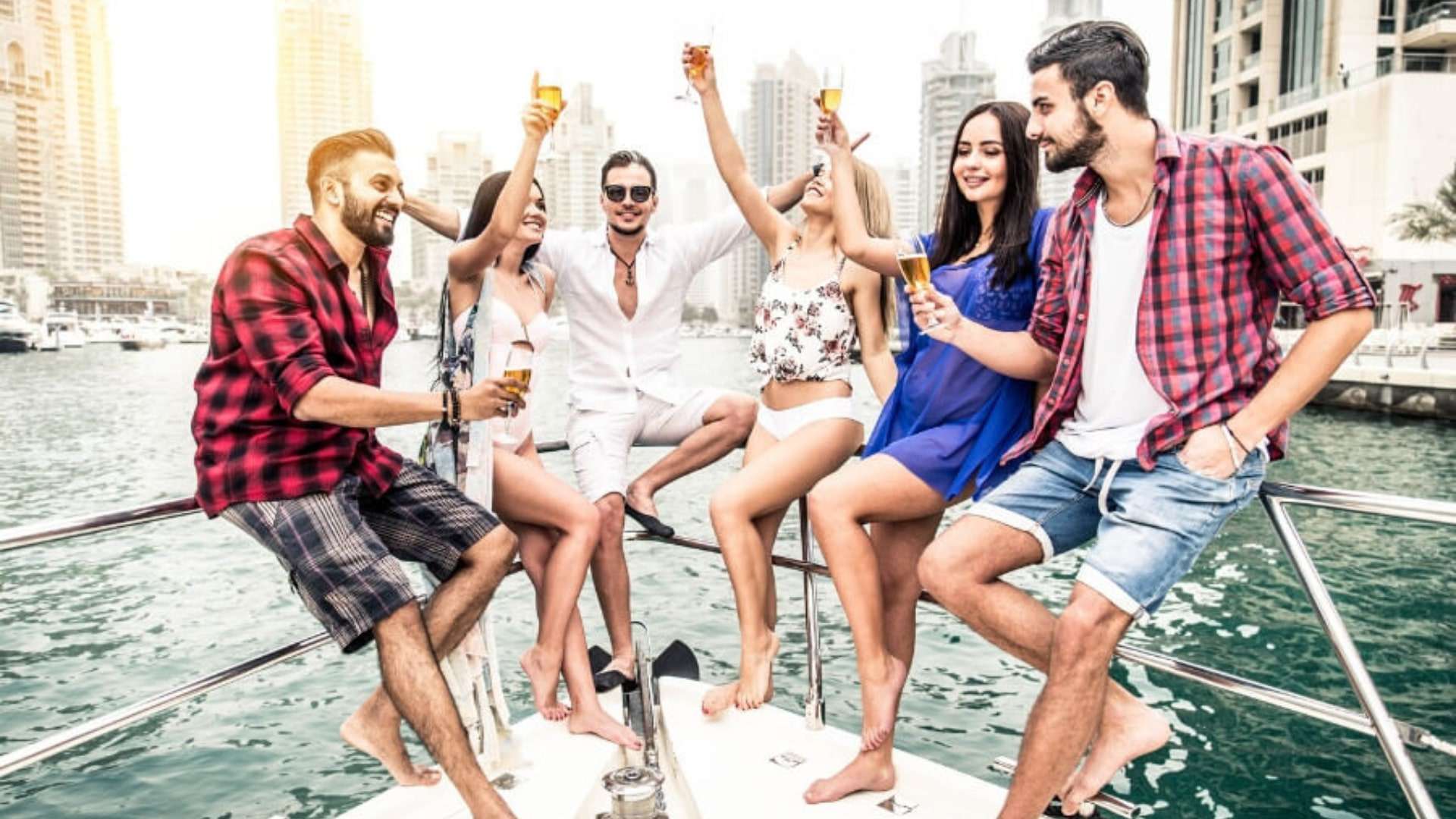 Dubai's nightlife is lively, with plenty of places like hotels, bars, and restaurants where you can legally sip on some booze. But here's the deal—don't go getting hammered in public spots outside those joints, or you'll be in hot water.
You need an alcohol license, and you've got to be at least 21 to drink. If you're caught without a permit, you could end up in jail for 6 months, shell out AED 5,000, or both!
So, better grab that license if you want a tipple without trouble.
Pro tip:

We suggest hitting up licensed bars like So Be in Jumeirah, which has a rooftop bar and lounge that offers panoramic views of the Arabian Gulf and the Dubai skyline.
Don't Ignore Dress Codes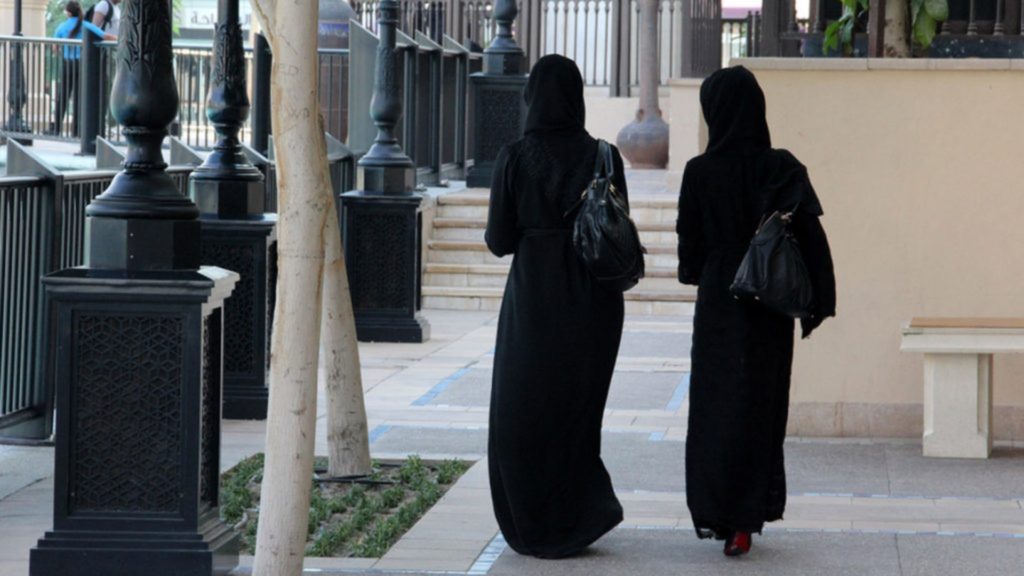 When you're in Dubai, the dress code plays by Islamic rules. Even though it's a modern city, modest clothing is the name of the game in public places. For guys, that means no shorts or sleeveless tops.
Ladies should rock dresses or skirts that cover their knees and skip the revealing tops. When you're at the beach or pool, normal swimwear is cool, but it's best to cover up when you're done swimming.
If you don't follow these rules, you might get some side-eye or a stern warning from the local authorities. So, it's best to keep it respectful in your wardrobe choices.
Pro tip:

If you'd like to dress freely in Dubai and not worry about the dress codes, consider getting a long, loose coat or cardigan. It'll cover your shoulders, arms, and legs. 

Underneath, you can wear your favorite clothes like tank tops, shorts, skirts, or dresses without drawing too much attention or criticism from locals. 
Don't Utter Offensive Language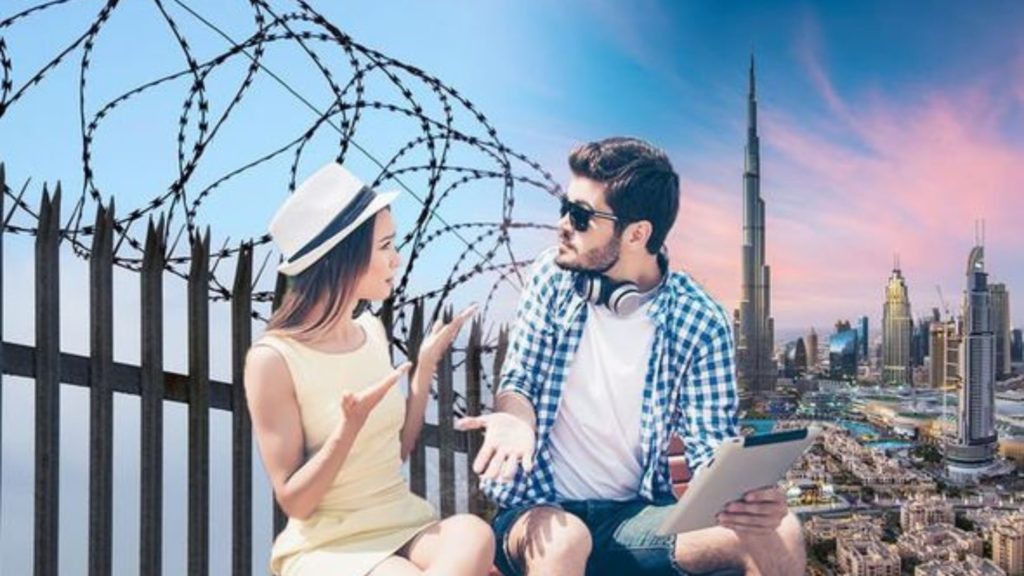 Using bad language or swearing in Dubai can get you into trouble, like fines or even a jail stint. They take this stuff seriously. And it's not just about cursing; even jokes or comments about religion, culture, or politics can land you in hot water.
Imagine being in a bustling souk (market) or mall, loudly discussing a touchy subject. That could lead to misunderstandings or legal headaches. So, it's best to mind your words in Dubai.
Pro tip:

Why not broaden your vocabulary in Dubai? Boost your travel experience by picking up some local lingo! 

Learning a few common Arabic phrases like "Marhaba" (hello) and "Shukran" (thank you) can make everyone feel more at ease and convey your respect for the local culture. 
Don't Snap Photos Without Permission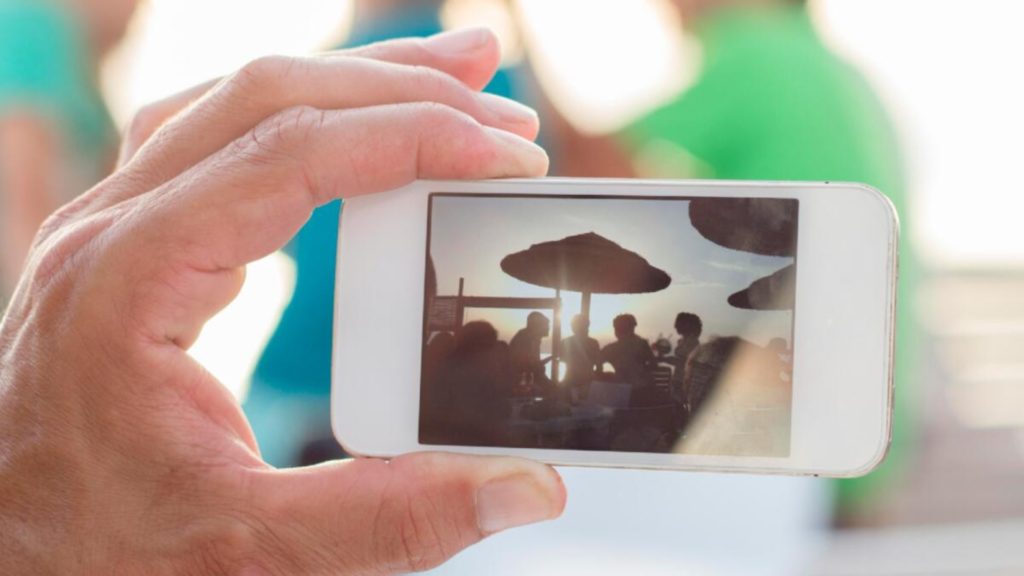 Dubai is a photogenic city, but you've got to be mindful about snapping shots, especially of people, especially local ladies. It's not just about being polite; sometimes, not asking can lead to misunderstandings or legal hassles.
And steer clear of photographing government buildings, military spots, or industrial areas—that's a security no-no.
Pro tip:

If you want to take some cool shots of landmarks, buildings, or stunning scenery, make sure you check with the folks in charge or the place's management for the green light.

In certain places, like Madinat Souk Jumeirah, they might ask you to cough up a fee, fill out a form, or flash your ID before you start snapping those pics. 
Don't Carry Medication Without a Prescription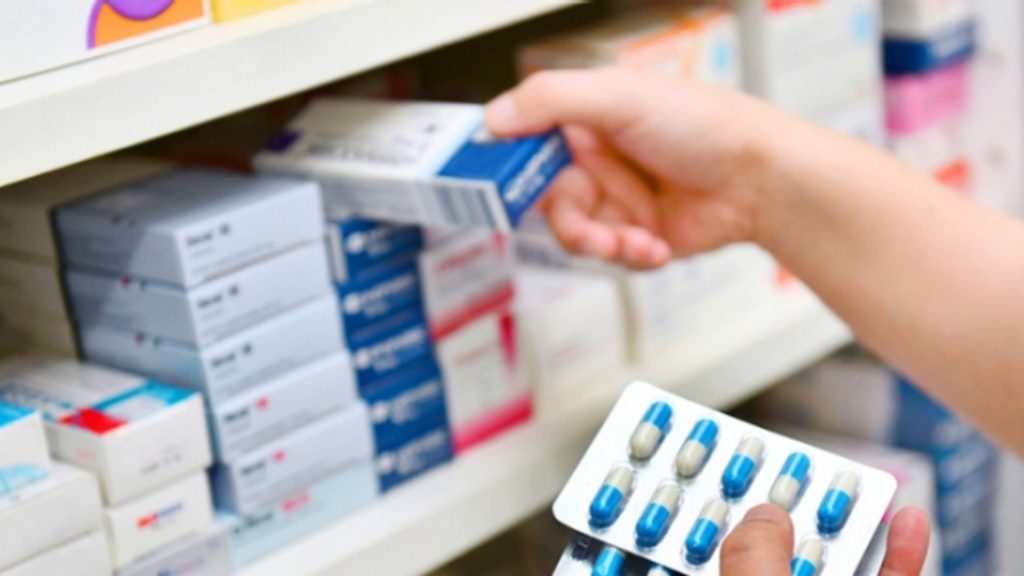 Watch out for your medications in Dubai because their drug laws are pretty strict. If you've got over-the-counter or prescription meds, make sure you've got all the right paperwork sorted.
For example, if you show up at Dubai Airport with a basic painkiller or sleeping pill that typically needs a prescription, you could find yourself in a bit of a bind.
They might give your stuff a thorough once-over or even cause you some hassle. So, it's best to err on the side of caution and stick to the rules.
Pro tip:

If you're using any medication that's on Dubai's controlled substances list, like those with codeine or diazepam, you'll need to score a permit from the UAE Ministry of Health and Prevention before your trip.

You can do this online by filling out a form and uploading your prescription along with a copy of your passport. The permit won't cost you a dime and is valid for 2 months, but note that you can only bring a maximum of 30 days' worth of meds. 
Don't Overlook Ramadan Customs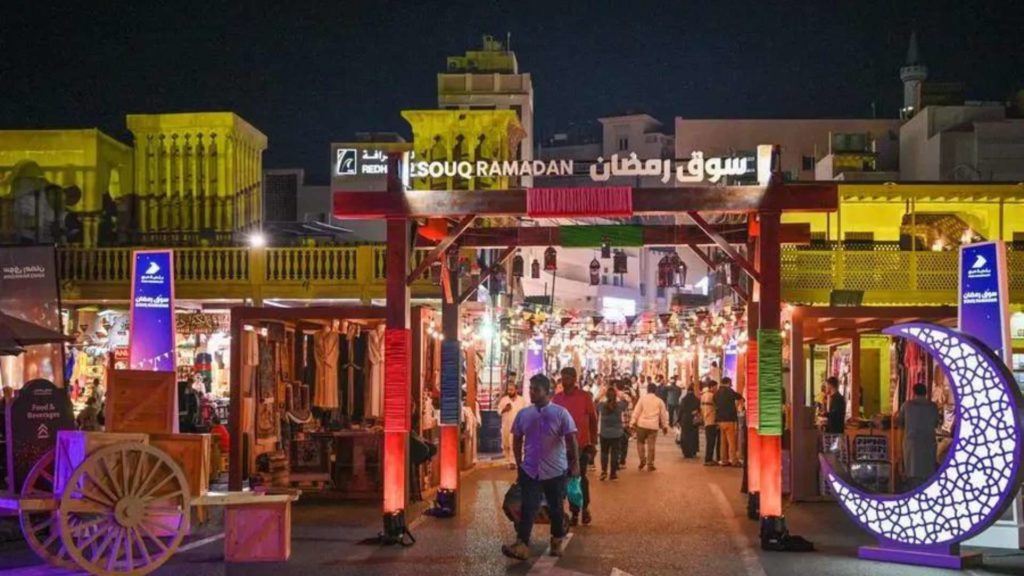 During Ramadan, a special month for Muslims, fasting happens from sunrise to sunset. That means you can't munch, sip, or smoke in public during those hours.
Imagine grabbing a snack or a sip of water in a park at that time—not cool. It could rub folks the wrong way, and you might find yourself in trouble with the locals or authorities.
Overall, it's best to be mindful and avoid these things in public during Ramadan.
Pro tip:

When you're unsure about where to eat, drink, or smoke in Dubai, it's a good idea to ask someone who's familiar with the area, like a local friend, hotel staff, or a tour guide.

They can also recommend the top spots to experience the Ramadan vibe, such as iftar buffets, night markets, and cultural events.
Don't Display Rude Hand Gestures While Driving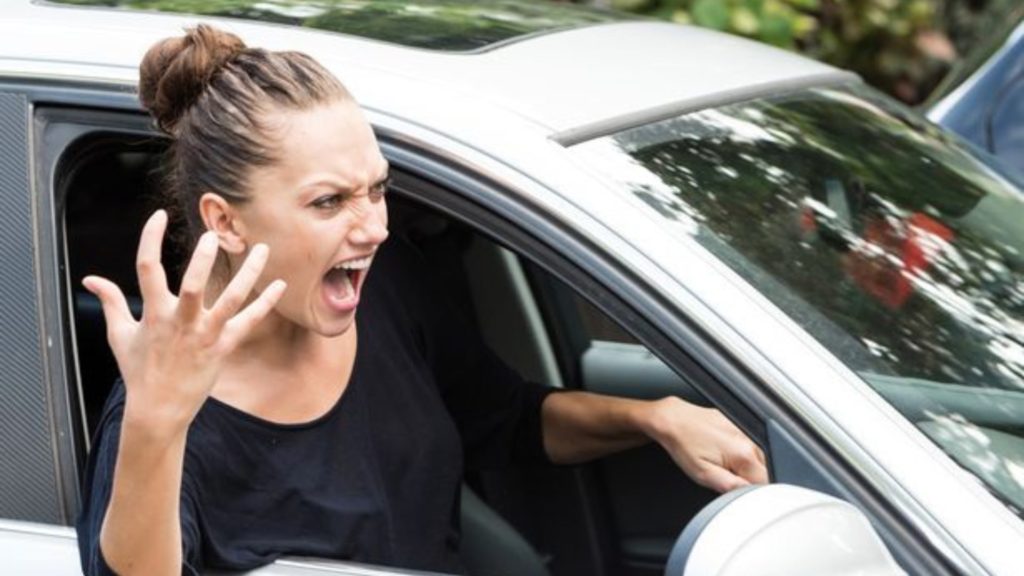 Driving aggressively and flashing rude hand signals, like the not-so-friendly middle finger, can get you in trouble in Dubai.
If you flip the bird at someone who cuts you off near the Burj Khalifa, things can get ugly real quick. So, it's smart to stay calm, steer clear of these actions, and keep the peace on the road.
Those who come across drivers who are being reckless or overly aggressive may reach out to the authorities or the local police. In many places, they've got special hotlines just for this kind of situation. 
Pro tip:

Try your best to stay calm and collected when driving in Dubai, no matter what's happening around you. Tune in to calming music or podcasts to help you unwind and take your mind off, especially the traffic.
Don't Bring Prohibited Items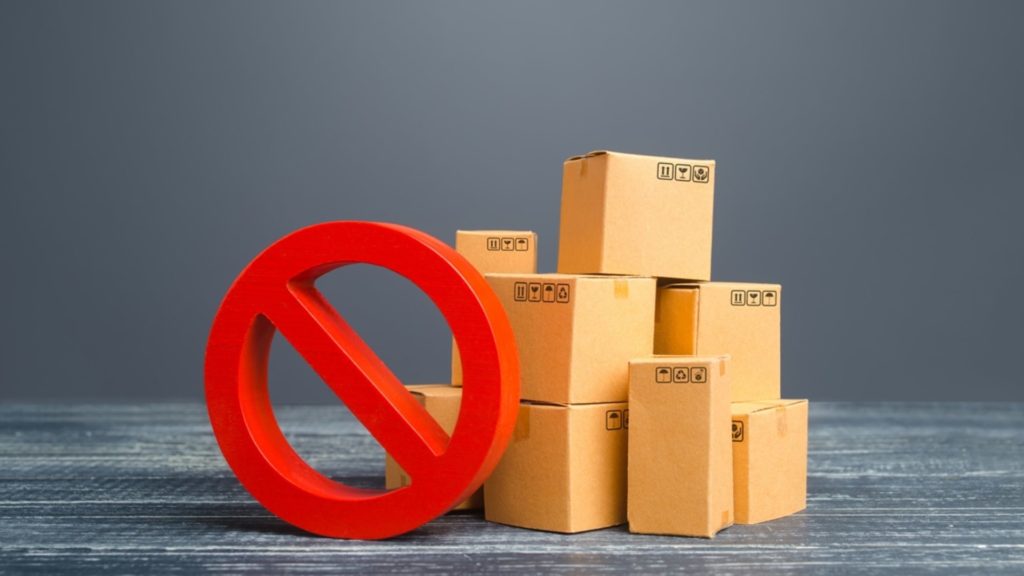 Dubai has a list of no-nos, like porky products, adult-themed items, and stuff from Israel. If you pack your suitcase with these, they could get snatched away, and you might find yourself in a legal pickle.
For example, bringing a magazine with risqué content or a porky snack without realizing it can cause problems and delays when you hit customs. So, it's good to double-check and make sure you're not toting any banned goods.
Pro tip:

Instead of bringing pork to Dubai, you can enjoy local halal delicacies like lamb, chicken, beef, camel, and seafood.
Don't Disrespect the Royal Family in Public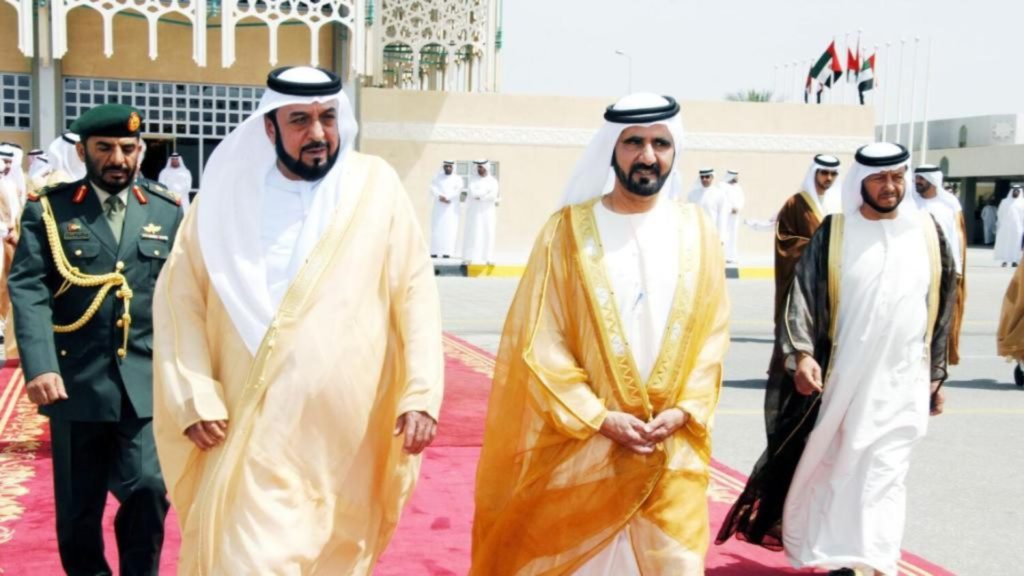 It's crucial not to disrespect the royal family in Dubai, especially in public. The UAE has strict rules to safeguard the honor and reputation of the rulers and their families.
Any talk or action that slings mud at them is seen as a crime and can land you in deep trouble, even if you're just chatting it up with pals at a Downtown Dubai café.
You've got to watch your words because someone might overhear them, and next thing you know, you're in a pickle. So, it's best to steer clear of any disrespect to stay out of a jam.
Pro tip:

When you're hanging out in public in Dubai, it's a good idea to steer clear of political discussions or delving into the royal family's affairs.

But if these topics happen to come up in a conversation related to something else and it's all in a safe, respectful context, make sure to address the royal family with their appropriate titles, like His Highness, His Excellency, or Sheikh. 
Don't Neglect Environmental Rules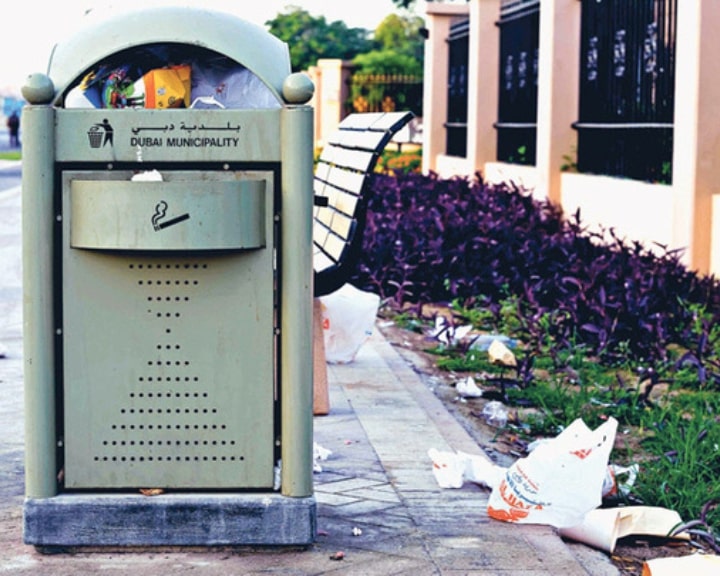 Dubai's all about being eco-friendly and taking care of the environment. Disrespecting it can lead to fines and mess up the city's green goals.
For example, littering is a big deal in Dubai—you could get slapped with hefty fines for tossing your trash the wrong way. So it's advised to do your part, toss your trash in the right place, and follow the recycling rules.
Pro tip:

Join in on Dubai's green initiatives—hop on public transport or lend a hand at beach clean-up events! Not only is it good for the city, but it can also make your trip more awesome by making new friends.
Don't Live Together without Getting Married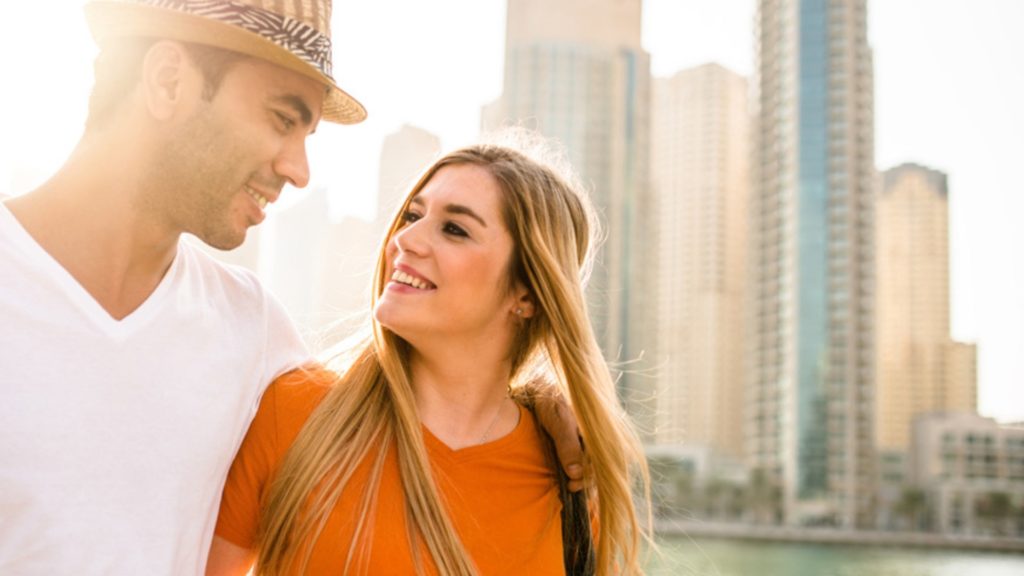 Dubai used to be all about following Sharia law, which meant unmarried couples couldn't live or sleep together.
But in November 2020, the UAE government changed the rules. Now, unmarried couples can live together in Dubai without worrying about fines, arrest, or deportation.
The problem is, not everyone's on board with this change. Some folks still hold tight to cultural and religious values.
Some landlords might say "no" to unmarried lovebirds renting their spots. Plus, some hotels might want to see a marriage certificate before letting you cozy up, and some peeps might not appreciate public smooching.
Pro tip:

Why not stay in separate hotel rooms? Many hotels in Dubai offer adjoining rooms or suites, allowing you and your partner to stay in close proximity while maintaining separate accommodations. 
Don't Eat in Public Transport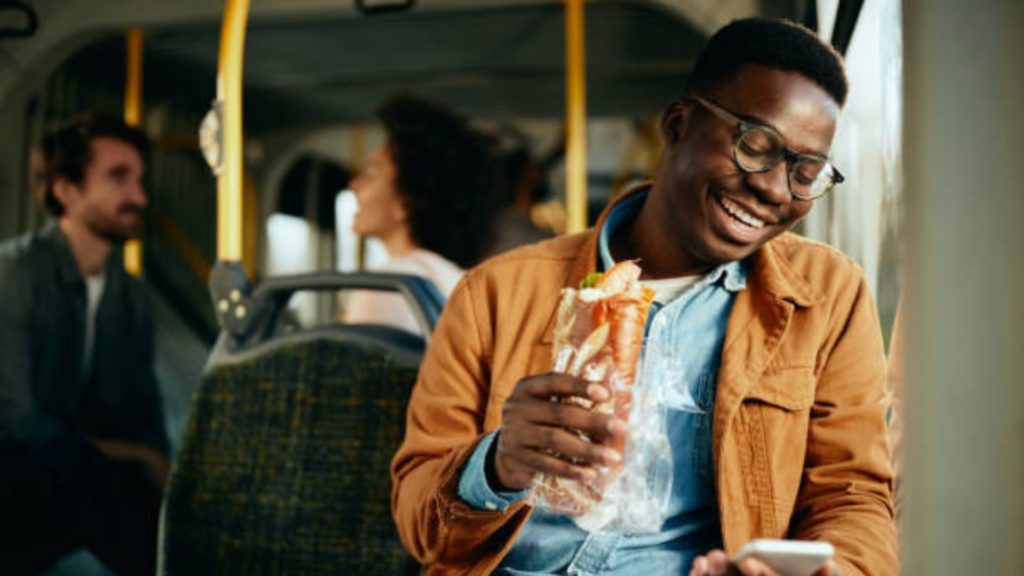 Eating on public transport in Dubai? Not a great idea, and it's kind of rude. Dubai's all about keeping things clean, showing respect, and creating a friendly vibe for everyone.
Dubai's buses, trams, and Metro want everyone to have a comfy ride. Eating can cause spills, funky smells, and mess, and that's not what they're aiming for.
Pro tip:

In Dubai, we suggest eating in public places, like the Dubai Fountain, La Mer, and Jumeirah Beach Residence (JBR). These areas are set up to make sure things stay clean!
Don't Discuss Racy Topics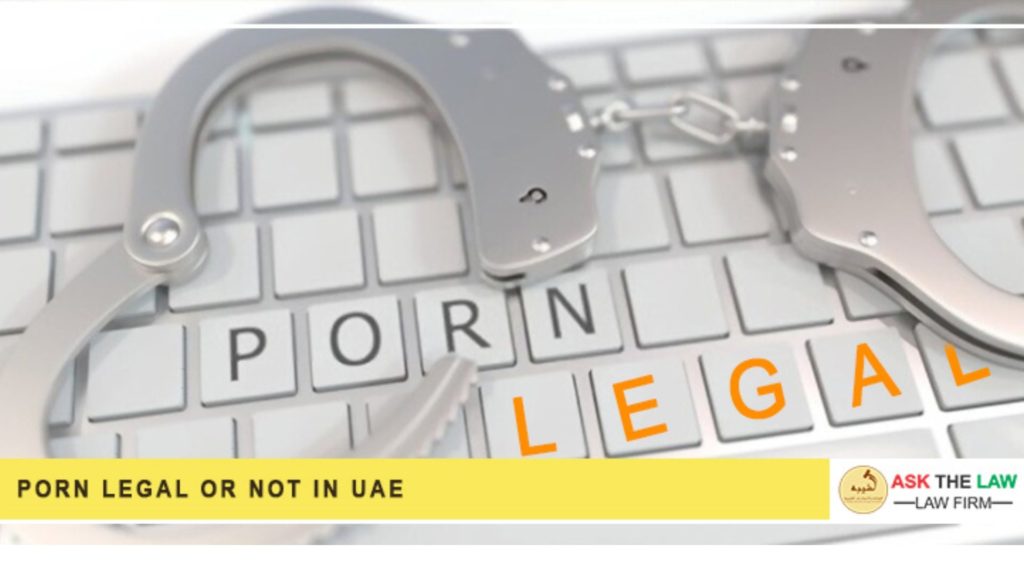 Dubai's all about being conservative and keeping things modest. Chatting about explicit stuff, whether online or offline, is a no-go here. The UAE's got strict laws against it, and you don't want to mess with that.
The city's internet rules are geared to keep their culture and religion on track, and that might mean you can't yak about those things in public places, online, or with folks who aren't cool with it.
Pro tip:

When you want to be more subtle in your language, go for softer, less direct words to convey your message. For example, instead of saying "sex," choose "intimacy" or "physical relations."

And if you're talking about the profession that's usually referred to as "prostitution," go with "working girl" or "lady of the night" instead. It's a way to make your communication sound more delicate and not so in-your-face. 
Don't Display the Rainbow Flag
As upsetting as this might be for some, waving the rainbow flag is frowned upon in Dubai. The UAE sticks to conservative cultural norms, and showing off LGBT relationships openly might not jive with that.
In the UAE, being LGBT or in a same-sex marriage is against the law, and these peeps often face social stigma and discrimination. Backing up the LGBT community in public can ruffle feathers and even lead to legal woes.
Pro tip:

If you have the means for it, why not consider another trip? Exploring LGBTQ+ friendly cities like San Francisco, Sydney, and London can be a good idea after visiting Dubai. 

This can offer you the freedom to express yourself openly to more accepting communities in this regard.