Underwater Zoo: Discover the Magic of the Dubai Aquarium
Are you ready for an adventure that'll take you deep beneath the ocean's surface? Now imagine you can do this without getting wet?
You heard that right! If you're looking for a truly unforgettable experience, then Dubai Aquarium is the place for you.
So, come on and join us on this aquatic journey and discover the wonders that await you at the Dubai Aquarium!
What Is Dubai Aquarium?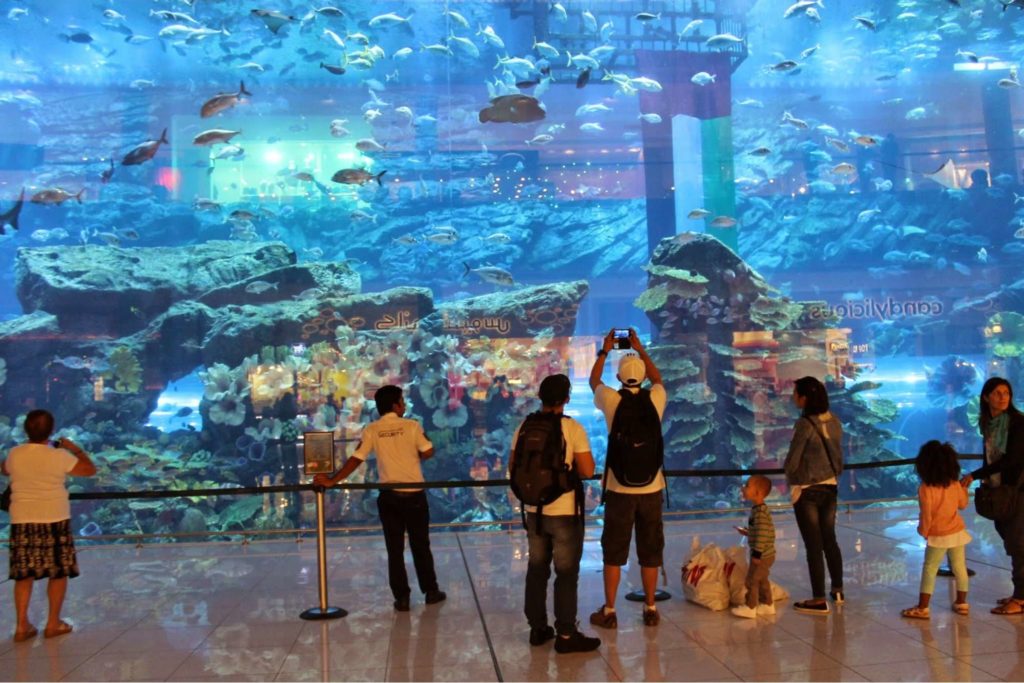 Dubai Aquarium is an indoor aquatic facility that currently ranks as the largest suspended aquarium in the world. It features an immense ten million-liter tank, providing a habitat for over 33,000 marine animals.
The Dubai Aquarium is one of the key attractions in city, located in the Dubai Mall, one of the world's largest shopping malls. 
The main highlight of the aquarium is its gigantic acrylic viewing panel, which is one of the largest in the world. It measures approximately 32.88 meters (108 feet) wide, 8.3 meters (27 feet) high, and 75 centimeters (2.5 feet) thick.
This transparent panel lets you experience an up-close view of thousands of marine creatures swimming in a massive tank.
You can see various marine species inside the aquarium, including sharks, rays, and various fish. The tank is home to more than 140 species and holds over 10 million liters (2.6 million gallons) of water, making it a remarkable and breathtaking sight.
The Dubai Aquarium also offers unique experiences, such as cage snorkeling, where you can enter a secure cage and snorkel among the aquatic creatures, and a glass-bottom boat tour, which allows you to glide across the top of the tank.
Best Time to Go
The best time to go to Dubai Aquarium is during the non-peak season, typically between April and September, when fewer tourists and you may find shorter waiting times.
Things to Know
Website: https://www.thedubaiaquarium.com/
Location: Dubai Mall, Sheikh Mohammed bin Rashid Boulevard, Downtown Dubai, Dubai, UAE
Operating hours: Monday–Sunday, 10:00 AM to 11:00 PM.
Age restrictions: Children under 15 years of age must be accompanied by an adult (15+ years old)
Entrance fees: The entrance fees for the Dubai Aquarium are as follows:
Adult: AED 145
Child (2-12 years old): AED 115
Child (under two years old): Free
Parking situation: There's a parking garage located at the Dubai Mall. The parking fee is AED 4 per hour.
How to Get Around
By car: From the airport, head toward the Burj Khalifa on Sheikh Zayed Road. Afterward, turn left onto Sheikh Mohammed bin Rashid Boulevard, and you'll find The Dubai Mall on your right-hand side.
By taxi: Taxis are plentiful in Dubai and relatively inexpensive. The fare from most parts of Dubai to the Dubai Mall is around AED 20-30.
By bus: The bus stop is on Sheikh Mohammed bin Rashid Boulevard, just outside the mall.
By metro: The metro station closest to the aquarium is the Burj Khalifa/Dubai Mall Metro Station.
Where to Stay Nearby Dubai Aquarium
Palace Downtown
Address: Sheikh Mohammed bin Rashid Blvd., Downtown Dubai, Dubai, United Arab Emirates
Phone: +971 4 428 7888
Pricing: $$
Book now
Palace Downtown is a resort combining classical themes and Arabian tradition to create a unique blend of past and present, Middle-Eastern heritage, and elegant Dubai modernity.
It offers an Arabian-style spa, a gym with a personal trainer, four different restaurants providing fine dining opportunities, ranging from Argentinian meat to Thai curries, and all-day eateries serving a buffet of Mediterranean and Middle Eastern dishes.
Address Dubai Mall
Address: Sheikh Mohammed Bin Rashed Boulevard, Downtown Dubai, P.O. Box 31166, Dubai, United Arab Emirates
Phone: +971-4-4388888
Pricing: $$$
Book now
Address Dubai Mall prides itself on providing a remarkable combination of classic Arab hospitality in a modern and cosmopolitan setting where elegance and sophistication reign supreme.
The hotel offers a range of fantastic amenities, including an inviting outdoor infinity pool with stunning views of the Burj Khalifa. You'll have access to free WiFi throughout the property, ensuring you stay connected during your visit.
Swissotel Al Murooj Dubai
Address: Al Mustaqbal St., opposite The Dubai Mall, Trade Centre, Dubai, United Arab Emirates
Phone: +971 4 321 1111
Pricing: $$
Book now
This hotel provides opulent and luxurious accommodations, featuring stunning views of the city skyline or the lush and inviting courtyard gardens. Alongside these lavish rooms, you can indulge in various dining options.
The award-winning Double Decker Pub is a must-visit spot for British charm. If you prefer a more diverse culinary experience, Pergolas, the all-day dining restaurant, serves a delightful selection of international dishes.
Where to Eat Nearby Dubai Aquarium
Carluccio's
Address: Lower Ground Floor, Financial Center Rd., Downtown Dubai, Dubai, United Arab Emirates
Phone: +971 4 330 5990
Pricing: $$
Website
At Carluccio's, you can relish a diverse selection of Italian delights, from delectable pizzas and savory pasta dishes to satisfying breakfast options and delightful chef's specials.
What sets them apart is their commitment to using only the finest ingredients, ensuring that each dish is prepared with the utmost care to maximize flavor while keeping things simple and fuss-free.
The Cheesecake Factory
Address: Dubai Mall, Near Aquarium, Downtown Dubai, Dubai, United Arab Emirates
Phone: +971 4 419 0223
Pricing: $$
Website
The Cheesecake Factory is a famous American restaurant chain in Dubai, renowned for its extensive menu featuring over 250 dishes made fresh daily, including pasta, seafood, steak, chicken, and a wide selection of signature cheesecakes.
You should try their classic New York cheesecake. Everyone loves this classic cheesecake, which features a luscious combination of cream cheese, eggs, sugar, and sour cream, baked to perfection until it attains a beautiful golden brown hue.
Taqado
Address: Unit SF-21, Financial Center Rd., Downtown Dubai, Dubai, United Arab Emirates
Phone: +971 4 376 9160
Pricing: $$$
Website
Taqado offers many Mexican dishes, including build-your-own salads, chicken burritos, fish tacos, and churros. These dishes promise a delightful mix of flavors to satisfy your taste buds.
They also offer special deals such as Taco Tuesdays, where you can buy one, get one free on three tacos every Tuesday, and the Crazy Combo, which includes a special burrito plus chips, dips, and a drink for AED 35.
What to Do at Dubai Aquarium
Explore the Aquarium Tunnel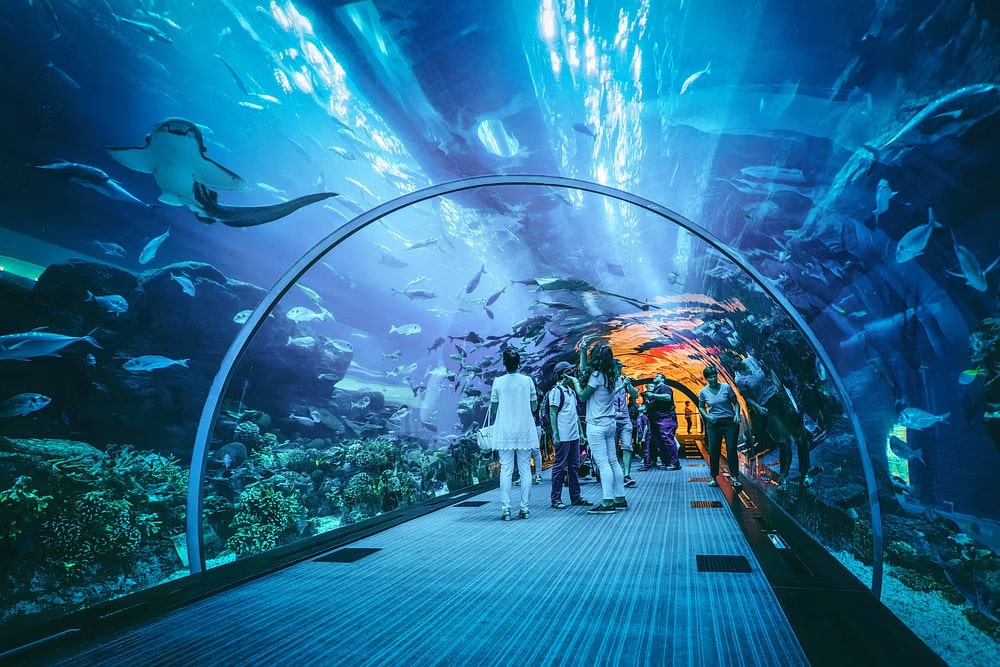 The 48-meter-long Aquarium tunnel on The Dubai Mall's ground floor descends 11 meters below the surface. This place is fascinating, as they roam around this perfectly made aquarium tunnel.
The tunnel gives you a complete fish-eye view, with sand tiger sharks and stingrays swimming overhead.
You can also watch the divers feed the Sharks and Rays throughout the day and meet an Aquarium Educator who will share these amazing animals' underwater secrets.
Visit the Underwater Zoo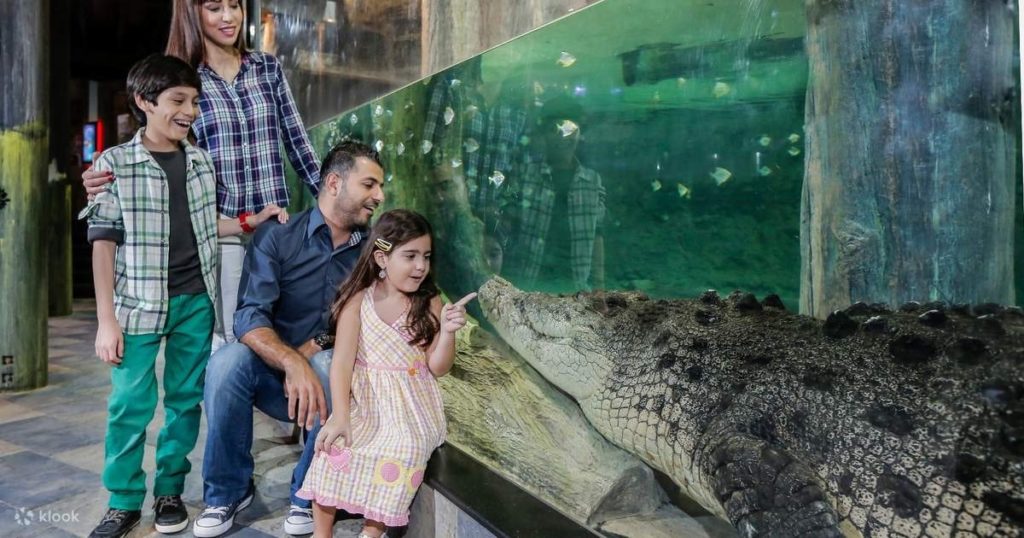 The zoo has thousands of aquatic animals, comprising over 140 species. Over 400 Sharks and Rays live in the ten million-liter tank, including Sand Tiger Sharks, Giant Groupers, and other marine species.
You can explore the Rainforest, Rocky Shore Living Ocean environments, and U.A.E. Night Creatures at the Underwater Zoo on Level 22.
There are also various encounters, like the Otter Encounter, for an exclusive behind-the-scenes tour of the otters' home in the Underwater Zoo, and the Ray Encounter, offering the chance to meet, touch, and feed up to 50 rays.
Go Cage Snorkeling or Diving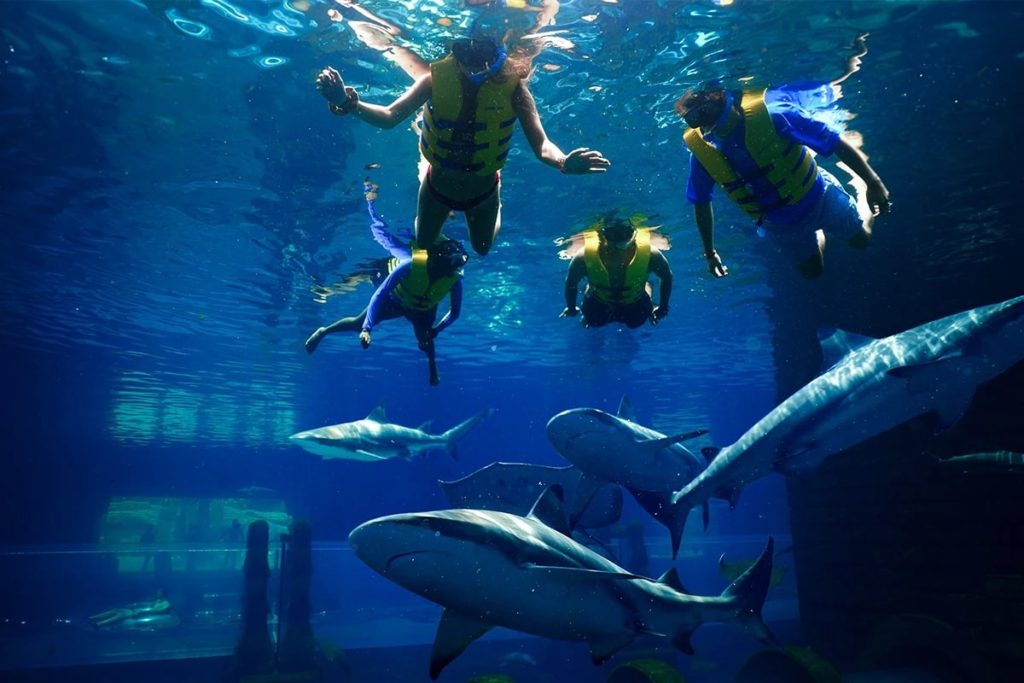 You can experience an up-close and personal encounter with marine life through snorkeling or diving tours that take you into the aquarium's main tank, allowing you to swim alongside sharks and rays.
Participate in a Feeding Show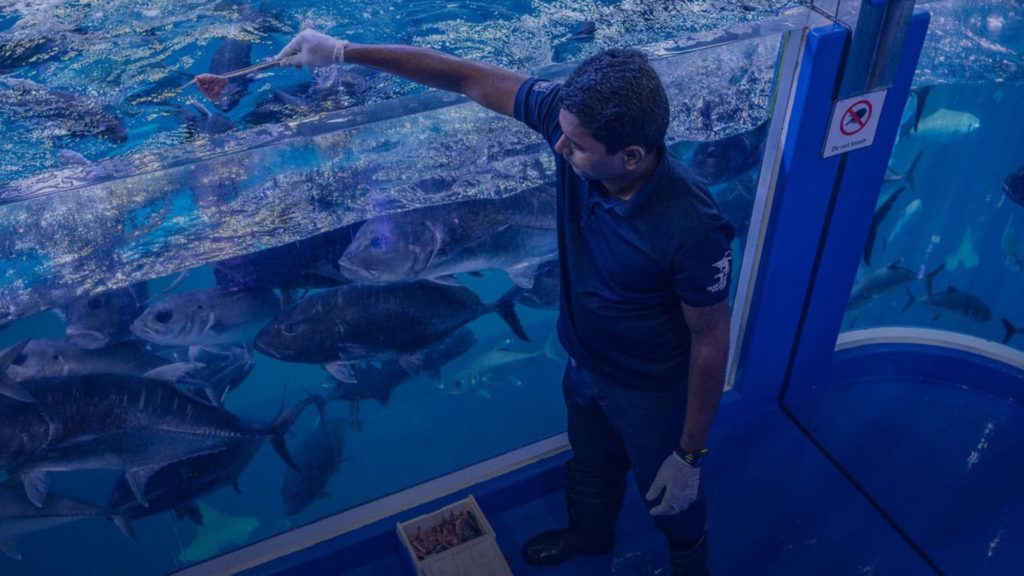 They have daily presentations at the aquarium, including Ray Feeding at 10:30 AM, where graceful creatures fly through the water and eat from the diver's hands, and shark feeding at 2 PM, with divers feeding the resident sharks in the tank.
Plus, regular daily presentations with the otters at 2:30 PM and the piranhas at 2:45 PM—for the best view, get an Aquarium Tunnel ticket and enjoy the vantage point 11 meters under the surface.
Enjoy a Behind-The-Scenes Tour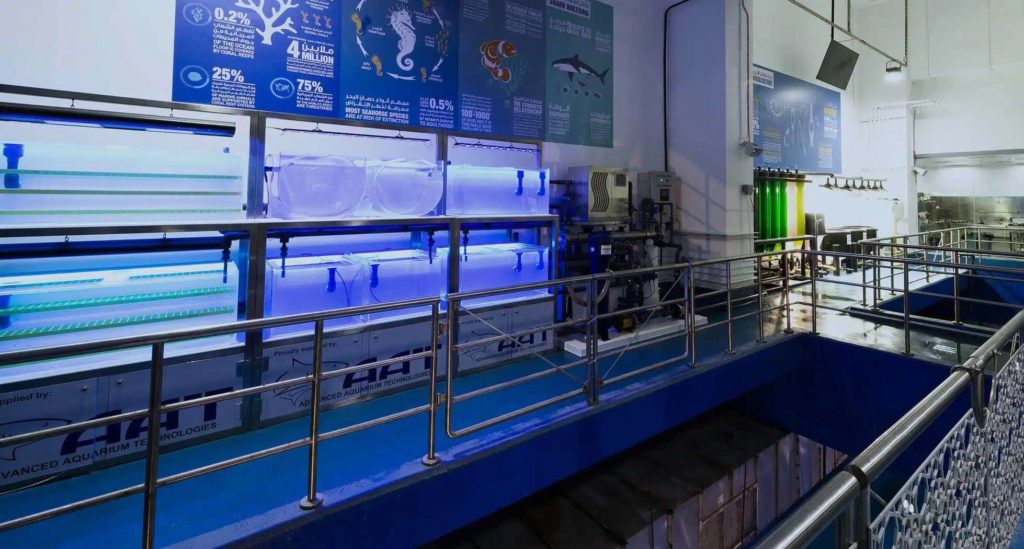 We recommend exploring the fascinating lives of marine animals at one of the world's largest suspended aquariums with The Ultimate Experience ticket.
This ticket takes you on a memorable journey with a glass boat tour, fish feeding, the Ocean VR experience, and much more. You can learn more about what's happening behind the scenes by spotting a penguin and seeing the other sea creatures.
Experience the Virtual Reality Zoo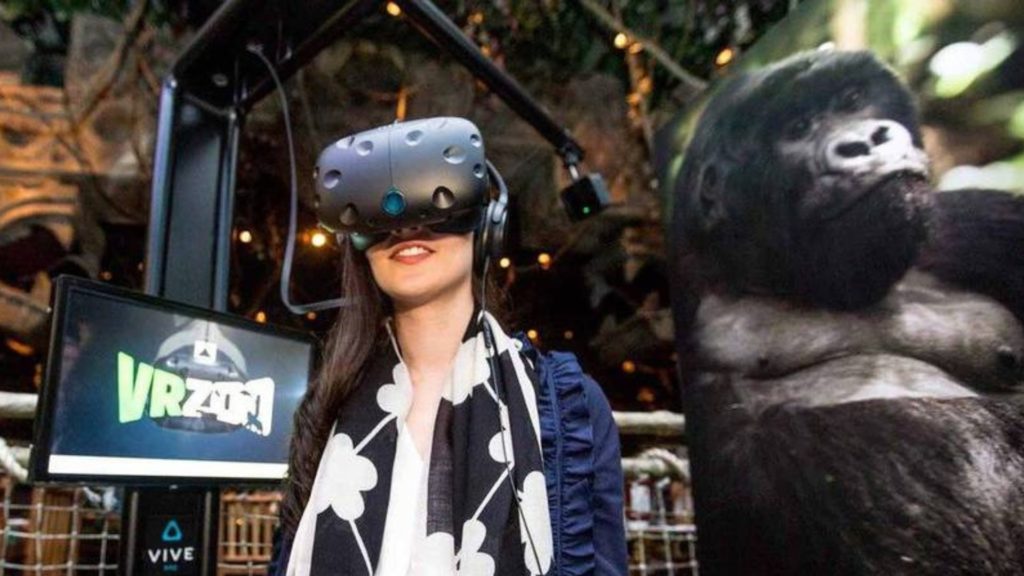 VRZOO is a virtual reality zoo experience that harnesses cutting-edge technology to deliver a conservation message by bringing guests face-to-face with endangered species.
You can experience the real thrill of the wild and get up close and personal with the world's most amazing animals. In fully immersive VR, VRZOO has traveled the world to capture nature's most threatened species in their natural habitats.
We like immersing ourselves in the company of a gorilla family in Uganda's Great Impenetrable Forest and swimming alongside magnificent whale sharks in the crystal-clear waters of the Maldives.
Where to Shop Nearby Dubai Aquarium
Dubai Mall
Address: Downtown Dubai, Dubai, United Arab Emirates
Phone: 800-38224-6255
Website
Dubai Mall is the largest mall in the world by total land area. It's situated at the heart of Downtown Dubai and is the world's most visited retail and lifestyle destination, welcoming over 100 million visitors annually.
The mall has over 1,200 retail outlets, including two anchor department stores, Galeries Lafayette and Bloomingdale's, with over 200 international dining experiences and a wide range of entertainment and leisure attractions for families.
The Souk Madinat Jumeirah
Address: King Salman Bin Abdulaziz Al Saud St., Al Sufouh 1, Dubai, United Arab Emirates
Phone: +97143665000
Website
Souk Madinat Jumeirah mimics a traditional Arabian bazaar. It's interconnected with waterways, lined with bars and lounges, and offers a picture-perfect view of the Burj Al Arab.
It remains true to its Arabian heritage while incorporating aspects of modern technology. It offers over 25 dining outlets, shops, and galleries, with the added perk of views over the water.
Al Ghurair Centre
Address: Al Rigga Rd., Deira, Dubai, United Arab Emirates
Phone: +971 800 24227
Website
Al Ghurair Centre is a shopping mall established in 1981 and was the first shopping destination in the MENA region. After an impressive renovation, this iconic landmark reopened in 2013 with 130 new stores, eateries, and service facilities.
The mall features renowned brands such as Marks and Spencer, Swarovski, Dune, Aldo, Early Learning Centre, and Mothercare. There are also 60 well-known dining options, including alfresco restaurants, ice cream parlors, and coffee shops.
Tips for People Visiting Dubai Aquarium for the First Time
Plan and Book Tickets Online:
Booking your tickets online in advance is the best way to avoid long lines and ensure a hassle-free experience. Booking in advance saves you time and allows you to explore various ticket packages to find the best fit for your preferences.
Visit Early or Late in the Day:
To enjoy a more relaxed visit, consider arriving early in the morning or later in the evening. These times are typically less crowded, allowing you to immerse yourself in the underwater world's beauty.
Capture the Memories:
Bring your camera or smartphone to capture the incredible moments you encounter throughout your journey at the Dubai Aquarium. However, be mindful of using flash photography, as it can disturb some more sensitive marine creatures.
Engage with the Interactive Exhibits:
Take advantage of the interactive exhibits and hands-on experiences at the Dubai Aquarium. Engaging with these activities enhances your understanding of marine life and makes for a more enriching visit.
Respect the Marine Life:
While it's tempting to reach out and touch marine animals, it's essential to remember that they are wild creatures in their natural habitat. Refrain from tapping on the glass or interacting with the animals directly.
Stay Informed about Feeding Times and Shows:
Check the feeding schedules and showtimes in advance to catch some of the captivating live performances and witness the excitement of the marine creatures during feeding times.