The 5 Best Used Furniture Stores in Dubai
Thrifting has seen quite a rise in today's shopping culture, and buying used furniture is no exception.
From finding rare discontinued pieces to buying at cheaper prices, there are loads of reasons why buying used furniture is better than buying brand new.
To save you the trouble of combing through the city's many used furniture stores, we've put together a list of the best places to find used furniture in Dubai.
The Best Used Furniture Stores in Dubai
Before we get right into our top picks for the best used furniture stores in Dubai, here are the factors we considered for our entries on this list:
1. Al Barai Used Furniture
SERVICES

In-store shopping

Furniture delivery

WEBSITE
https://www.albaraiusedfurniture.com/
ADDRESS
Al Nakhal Road, Sharif Abdullah Building, Shop # 25, Deira Dubai - Dubai - United Arab Emirates
CONTACT DETAILS
PHONE: 00971501468161
OPERATING HOURS

Open 24/7
| | |
| --- | --- |
| Criteria | Rating |
| Range of Furniture | ★★★★★ (5/5) |
| Overall Condition | ★★★★★ (5/5) |
| Curation | ★★★☆☆ (3/5) |
| Range of Services | ★★★☆☆ (3/5) |
With 25 years of experience of being in the business, Al Barai Used Furniture has built a network of suppliers that brings it high quality and affordable used furniture.
This store covers all the bases when it comes to used furniture. Besides home furniture, which is the most popular type when it comes to its customers, it also has a great inventory of office and hotel furniture and home appliances.
We love that it extends outside of home furniture because hotel furniture and office furniture is a niche that is often overlooked yet continues to be a necessity for almost everyone.
And since its suppliers scour not just the metro, but also neighboring cities, this store always displays good as new pieces or at least furniture with minor damages.
Because of its suppliers, Al Barai Used Furniture consistently only sells furniture that is still in excellent condition.
However, when it comes to its curation, there is barely any of it at all. It is definitely always a mixed bag when it comes to shopping here.
This means that you will never know what you find here, which can be a good thing, but we think that it is even better if a furniture store has a certain type of style it adheres to so customers know to come here when looking for something specific.
On top of that, it does not really offer any cleanup or moving services, which would have come in handy since it already offers shipping and deliveries anyway.
Excellent furniture suppliers
Good as new pieces
Does shipping and deliveries
Does not curate its pieces
No other services
Customer Reviews
They always offer the best price
"I have a very good reason to call them the best used furniture dealers in Dubai
I contacted 10 companies in Dubai to
sell all my office furniture
They offered the best price out of all the dealers and removed all the furniture quickly on the same day
Thank you so much, Mr. Hameed, for your help on that day" -Shahjahan Khan, Google Reviews
The no.1 furniture shop in Dubai
"To be honest
This used furniture shop is the no . 1 shop in Dubai
They offered me the best price for buying my furniture and they are very hardworking
Very polite and humble guys" – Saif Khan, Google Reviews
2. Used Furniture Buyer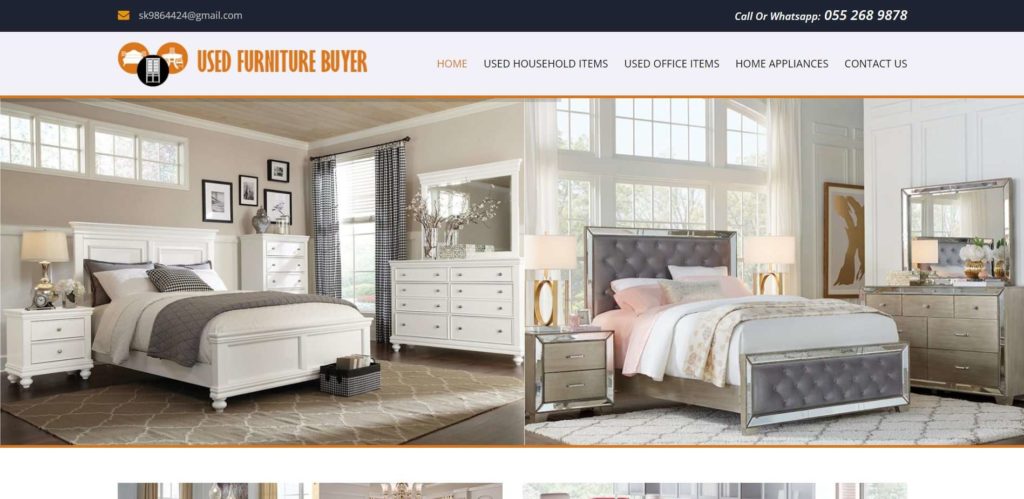 SERVICES

Shifting and moving services

In-store shopping

Furniture delivery

WEBSITE
http://usedfurniturebuyer.ae/index.html
ADDRESS
Naif - Dubai - United Arab Emirates
CONTACT DETAILS
PHONE: 055 66 99 349
OPERATING HOURS

Every day: 10 am - 11 pm
| | |
| --- | --- |
| Criteria | Rating |
| Range of Furniture | ★★★★★ (5/5) |
| Overall Condition | ★★★☆☆ (3/5) |
| Curation | ★★★☆☆ (3/5) |
| Range of Services | ★★★★★ (5/5) |
Another great used furniture store with a wide variety of furniture pieces for different spaces, Used Furniture Buyer buys and sells and also does moving services for its customers.
This used furniture store has a great range in its inventory, from necessary household pieces and home appliances to office furniture, such as desks and office chairs.
We really love the fact that its inventory offers a wide variety of uses, such as some home furniture chairs, that can fit right in an office space.
However, since it does not have its own suppliers and only buys used furniture from anyone, the condition of these pieces is definitely a mixed bag.
While none of these are unusable, some of the pieces definitely need some tender love and care before they are back to their best state. So we recommend that you inspect every detail of the piece you want from here before buying.
There is barely any curation either. It seems that the store accepts all kinds of furniture that are still usable, which is not bad if you are ever on a budget.
It is made up by the fact that Used Furniture Buyer does have a range of services that come in handy when you are shopping.
This store offers shifting and moving services that are perfect for companies, families, or anyone looking to move spaces while also having secondhand furniture delivered.
Complete range of pieces of furniture
Offers moving services and deliveries
Condition of furniture can be a mixed bag
Does not curate its inventory
Customer Reviews
They are amazing
"I want to share something with you. I bought some goods from them
And some of the stuff I sold to them they are fast and honest and the work is amazing
In about 2 to 3 hours they cleared everything pic up and installation oh my god its amazing" -Zeeshan ALI, Google Reviews
Good price, quality product
"Good price, quality product" – NISAM KK, Google Reviews
3. Dubai Flea Market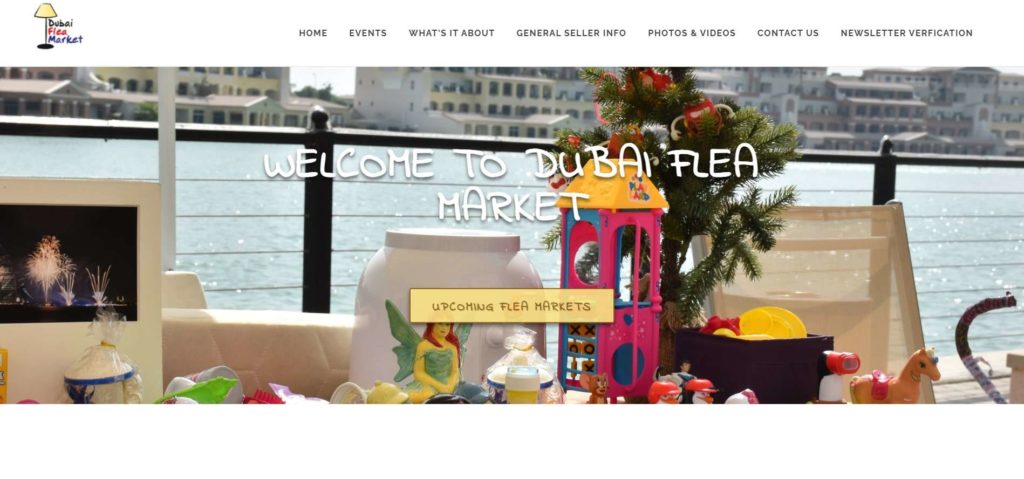 SERVICES

In-store shopping

WEBSITE
https://www.dubai-fleamarket.com
ADDRESS
Al Hudaiba Award Building, Block B, office 411, P.O. Box 390483, Dubai – VAE

Market's location changes every weekend

CONTACT DETAILS
PHONE: 0567882348
OPERATING HOURS

Tuesday to Wednesday: 9 AM - 5 PM
| | |
| --- | --- |
| Criteria | Rating |
| Range of Furniture | ★★★★★ (5/5) |
| Overall Condition | ★★★☆☆ (3/5) |
| Curation | ★★★★☆ (4/5) |
| Range of Services | ☆☆☆☆☆ (0/5) |
Flea Market Dubai is one of the biggest secondhand markets, with over 300 vendors joining it every weekend.
What makes Dubai Flea Market so fun for us is the fact that it has a different location every weekend, providing full coverage of the whole city.
With over 300 vendors, the range of pieces of furniture you can find here is almost limitless. The neverending changing of stocks, however, makes shopping here a lucky man's game.
Shopping here for the decor, accent pieces, and knick-knacks that can really make a space feel homey and alive always lends itself to an amazing time.
We definitely recommend visiting the Dubai Flea Market if you are in the mood to shop for furniture, but not looking for something specific. Being open and having a keen eye are key to finding rare pieces here.
Most vendors do not really curate their inventory, but we can really notice the taste level of each vendor, and it is all about finding the right ones that appeal to you the most.
The condition of the furniture can also be a mixed bag.
Lastly, be sure to bring a car or some way you can bring the furniture home because most of the vendors here really cannot deliver or ship the furniture to you.
Has over 300 vendors
Great for shopping for decor, knick-knacks, and accent pieces
Each vendor offers a different set of pieces of furniture
Condition of the furniture is a mixed bag
Does not deliver or ship purchases
Customer Reviews
Fine selections!
"This is a place where you can find a really good bargain of used items from clothing, shoes, bags, and even kitchen items. If it's not summer, would be a perfect day to spend time together with friends." – Amie C, Google Reviews
The place for bargain hunters
"If you're a bargain hunter then this is the place for you! I've found some amazing deals on home decor and books plus miscellaneous items that I wasn't expecting (bought myself a Didgeridoo for AED15). Also sold before, made some good money to the high traffic of visitors. Set up a table near the entrance, made upwards of 3k AED in a single day! If you want to sell a lot, I'd recommend setting up racks and making your stand as clean as possible. Some vendors just throw items in trash bags, which devalues their products. Presentation and location are key, but also make sure you've got enough people to man the table since it can get crazy during peak times." – Mariana De' Carli, Google Reviews
4. La Brocante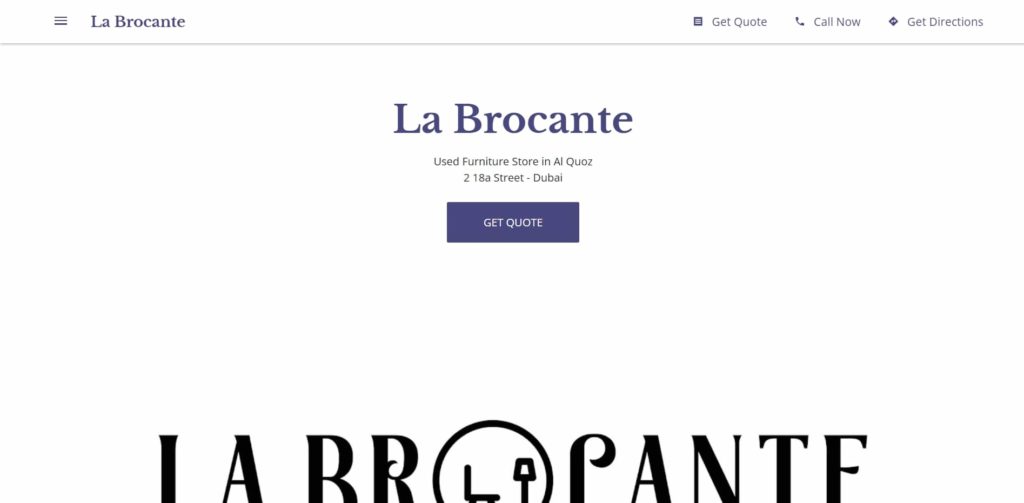 SERVICES

Furniture delivery and shipping

In-store shopping

WEBSITE
https://labrocantedxb.business.site/
ADDRESS
Al Quoz - 2 18a Street - Dubai
CONTACT DETAILS
PHONE: 050 186 5149
OPERATING HOURS

Monday to Friday: 10 am - 5 pm
| | |
| --- | --- |
| Criteria | Rating |
| Range of Furniture | ★★★★☆ (4/5) |
| Overall Condition | ★★★★☆ (4/5) |
| Curation | ★★★★★ (5/5) |
| Range of Services | ★★★☆☆ (3/5) |
If you're ever in the market for some French-style furniture in Dubai, then you'll definitely want to check out La Brocante.
This store is chock-full of beautiful and well-made furniture and the prices are very reasonable — feel free to try and bargain for a lower price too.
We were particularly impressed with the selection of tables on offer. There were coffee tables, dining tables, side tables, and more, all in a variety of different styles, with great chairs to match.
However, it definitely lacks other necessary furniture such as beds and sofas. We also noticed there are not a lot of offerings when it comes to office furniture.
We think these are missed opportunities because we know there is definitely a market for colorful and creative office furniture since these spaces tend to be disparate and dull.
The conditions of these pieces are still great despite most of the inventory being vintage. While some pieces could definitely use a thorough cleaning and polishing, the pieces are mostly ready to be displayed and used in your space.
And since these vintage pieces can be dense and heavy, and definitely unsafe to carry on your own, La Brocante ships and delivers the pieces themselves. However, they do not offer shifting and moving services.
Sells French-style vintage furniture
Great sets of chairs and tables
Vintage pieces are still in usable condition
Lacks other types of furniture
Some pieces need cleaning and polishing
Customer Reviews
Very unique and pleasant store
"This is a very unique and pleasant store that sells a good collection of pre-loved furniture and items at good prices. I was able to locate them on Google maps and drove to their Al Quoz location as per the instructions. They are open once every fortnight on the weekends and by appointment during the week. I was very happy with the personal and attentive service. They always have unique pieces." – Jin Peh, Google Reviews
Happy to have discovered this place
"Can't believe I didn't know about this place before! Talk about sustainability, they have good furniture selections as well as collector's items and accessories." – Rona Adolfo, Google Reviews
5. Quality Concept Used Furniture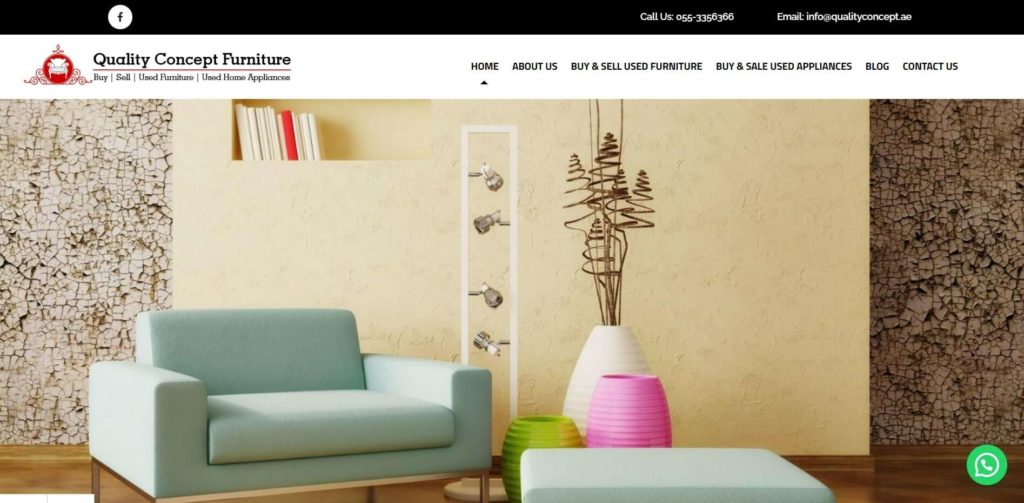 SERVICES

In-store shopping

Furniture delivery

Furniture assembly

Furniture installation

WEBSITE
https://qualityconcept.ae/
ADDRESS
25 C St - Al Quoz - Al Quoz Industrial Area 3 - Dubai - United Arab Emirates
CONTACT DETAILS
PHONE: 055-3356366
OPERATING HOURS

Saturday to Thursday: 9 am - 9 pm

Friday: 2 pm - 9 pm
| | |
| --- | --- |
| Criteria | Rating |
| Range of Furniture | ★★★★☆ (4/5) |
| Overall Condition | ★★★★★ (5/5) |
| Curation | ★★★☆☆ (3/5) |
| Range of Services | ★★★★★ (5/5) |
Quality Concept Used Furniture is a used furniture store in Dubai that sells high-quality, branded furniture at very affordable prices.
The store has a wide range of furniture from different brands and different countries. We were able to find a few pieces that we liked and that were within our budget.
The quality of the furniture is very good and the store offers a warranty on all of its products, which is great as defects and hidden broken parts are often left unnoticed until it is too late.
The store also offers a number of services such as home delivery, assembly, and installation. I was very impressed with the delivery service.
The delivery was on time and the furniture was delivered in perfect condition.
The curation, however, is weak in the terms of aesthetic style. The pieces of furniture are definitely a hodgepodge of high-quality brands and manufacturers, but there is no specific type of style that it is going for.
The store also offers a wide range of services such as home delivery, assembly, and installation.

We love it because Quality Concept Used Furniture really pulls out the stops to ensure that your purchases are sure to find their right place in your home and are installed safely.
Sells high-quality branded furniture at affordable prices
Offers a warranty for all of its purchases
Offers deliveries, assemblies, and installations
No curation
Lacks office furniture
FAQs about Used Furniture Stores
---
We hope this helped you in finding your new favorite used furniture store in Dubai. Also, if you're looking for other articles about furniture, then check these out: