Indulge the Inner Child: Best Travel Guide for Legoland Dubai!
Looking for the best place to take a child or even a kid-at-heart that's guaranteed to give them a good time? Well, prepare to pack a sense of adventure as we head over to Legoland Dubai!
With many different attractions, activities, and even rides to check out, it can be daunting for newcomers to figure out where to get started. Fortunately, we've come up with a quick travel guide for you to check out.
So is everyone ready? Let's go explore Legoland Dubai:
Some things to know about Legoland Dubai
Where is Legoland Dubai?
Legoland Dubai is located at Parks & Resorts, Sheikh Zayed Road, between Dubai and Abu Dhabi. It's a good 20 minutes of travel time from the Dubai Marina just to give you a quick idea.
How much is a ticket to Legoland Dubai?
A 1-day ticket to Legoland Dubai typically costs somewhere between AED 300 to AED 400 per person. This is dependent on the kinds of attractions you want to see, especially if you want to check out their water-based activities.
What is special about Legoland?
Legoland Dubai is one of the premiere theme parks and family resorts in the UAE, boasting over 60 rides and attractions for children and adults alike. The resort is also home to its own hotel and water park.
What age is Legoland Dubai for?
Legoland Dubai is best intended for children 2 to 12 years old, with certain height restrictions in place for some rides.
Is Legoland Dubai worth it for a 2 year old?
Yes! In fact, 2 years old is the minimum age to visit Legoland Dubai and partake in some of the rides and attractions, and children under the age of 3 are also given free entry into the park.
Does Legoland Dubai have rides?
Legoland Dubai is home to several rides. Among these would be their famous The Dragon and Dragon's Apprentice roller coasters, among other favorites like the Lost Kingdom Adventure and Beetle Bounce.
What's the best time to go to Legoland?
The best time to visit Legoland would be through the months of September to March, particularly in late October. The winter months usually ensure less crowds and a more pleasant atmosphere.
Where can I stay while visiting Legoland Dubai?
Legoland Hotel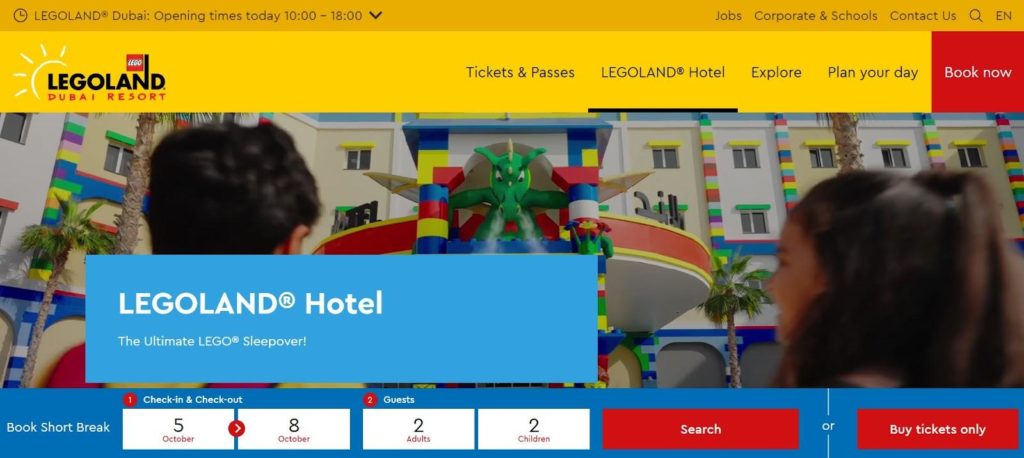 Address: Dubai Parks and Resorts, Dubai World Central, Dubai
Contact Details: +971 4825 1650, [email protected]
Website: https://www.legoland.com/dubai/legoland-hotel/ 
Social Media: Instagram; Facebook
Check-in and Check-out Hours: Mondays – Sundays: 3:00 PM to 11:00 AM
Price Range: $$
As one of the largest theme park destinations in Dubai, Legoland is home to its very own hotel complex for hosting guests. As with the rest of the theme park, Legoland Hotel is entirely themed after the iconic brick. 
With a large variety of room sizes and themes, Legoland Hotel is perfect for large groups visiting the theme park. Their rooms are able to host anywhere from 5 people to a full 26 with their Super Suite options.
Legoland Hotel's rooms are spacious and decked out in themes befitting the park, from pirates to medieval castles. The amenities are nothing to scoff at either, as each room comes with its own coffee maker, mini fridge and 2 televisions.
Children are also provided with their own sleeping area, along with DUPLO bricks for building. The welcoming treasure hunt upon entry into the room also helps kids start off their Lego journey on the right foot.
Finally, a stay at the Legoland Hotel guarantees access to both the park proper and the water park! It even comes with a complimentary tour of the Legoland Factory ahead of the park's opening times. 
Pro Tip: 

With its proximity to various parks, it's best to book yourself in for a full 2-3 days. As the hotel bundles in ticket access to other attractions, you'll need the extra time to fully explore! 
Lapita Hotel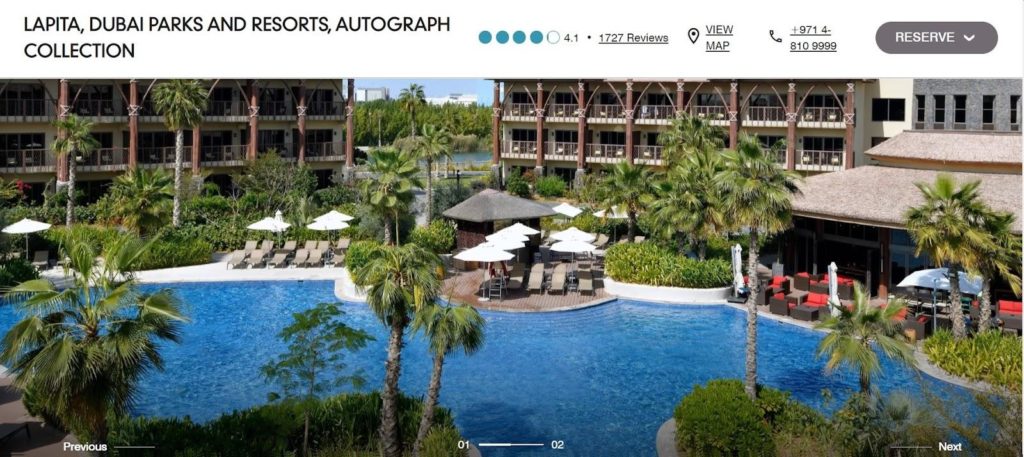 Address: Lapita Dubai Parks and Resorts, Autograph Collection, Dubai Parks & Resorts, Sheikh Zayed Road, P.O.Box: 334221, Dubai
Contact Details: +971 4810 9999, [email protected] 
Website: https://www.marriott.com/en-us/hotels/dxbak-lapita-dubai-parks-and-resorts-autograph-collection/overview/ 
Social Media: Instagram; Facebook
Check-in and Check-out Hours: Mondays – Sundays: 3:00 pm to 12:00 PM 
Price Range: $$$$$
The Lapita Hotel is one of the Dubai Parks and Resorts' best known hotels thanks to its close proximity with various theme parks. The hotel itself is a part of the Autograph Collection of premium Marriott hotels.
Decorations at the hotel are very Polynesian-inspired, with tropical linens, ceiling fans and coconut-scented products. The hotel prides itself on its tropical aesthetic, containing lush greenery to give guests a sense of serenity.
The rooms at the Lapita vary, each having access to a view from the hotel. These can range from a full view of the resort to pool and river views for those who prefer the natural scenery.
Each room comes with some very convenient amenities, from the complimentary Wi-Fi to the 24-hour room service. For those who booked family rooms, children also get their own designated space away from the master bedroom for comfort and privacy.
Guests can also find a world of fun and relaxation without even leaving the hotel itself– the hotel is home to its very own poolside restaurant and bar, and those hoping for a quiet time can visit their in-house spa for some pampering. 
Pro Tip: 

Lapita Hotel is a hotel where waking up early is a must! If only to avoid longer queues at the breakfast station, customers are encouraged to visit before the peak time of 10 AM. 
Rove at the Park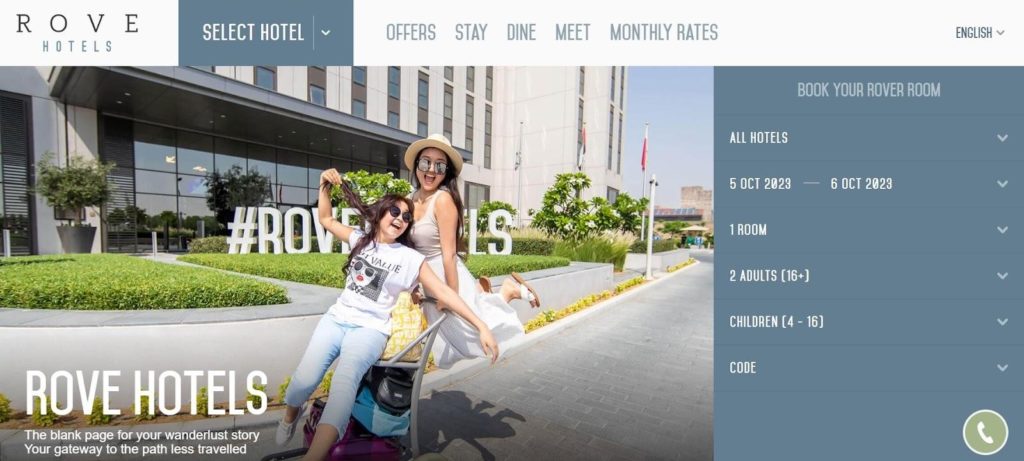 Address: Rove at the Park, Dubai Parks and Resorts, PO Box 119444, Dubai
Contact Details: +971 4241 9500
Website: https://www.rovehotels.com/en/ 
Social Media: Instagram; Facebook
Check-in and Check-out Hours: Mondays – Sundays: 4:00 PM to 2:00 PM
Price Range: $$
Just steps away between well-known theme parks such as Motiongate and Legoland Dubai, the Rove at the Park Hotel is widely considered to be a great destination for families hoping to visit any of these parks.
The hotel prides itself on its sleek and modern design, combining the relaxed atmosphere of a modern hotel with splashes of color for a decidedly eclectic but fun interior design.
Every room at the hotel comes with a wide array of amenities, including a mini-fridge, caffeinated beverages and roll-away beds for any extra members staying. The rooms generally fit anywhere from 3 to 6 people.
The Rove at the Park hotel also places focus on convenience, as the hotel already has interconnecting rooms available for larger families and parties, as well as a 24 hour laundromat and gym. 
Any guest wanting to visit any park under the Dubai Parks and Resorts label would find the Rove at the Park hotel as a reliable choice. The convenience, focus on sustainable solutions and comfort ensure a luxury experience. 
Pro Tip: 

Forgot to purchase tickets for the theme parks? No worries– hotel guests can purchase tickets to theme parks like Legoland and Motiongate directly from the hotel reception desk! 
Where should I eat while visiting Legoland Dubai?
Operation Falafel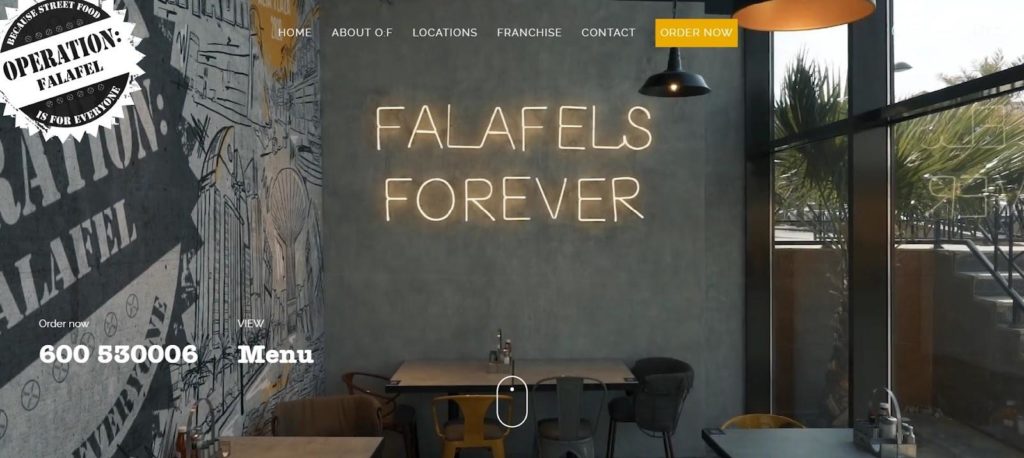 Menu: Falafel & Co., Salads, Sandwiches and Wraps, Pitas, Desserts
Address: The Outlet Village by Meraas, near Dubai Parks and Resorts, Jebel Ali Freezone, Dubai
Contact Details: +971 4273 1628
Website: https://operationfalafel.com/ 
Social Media: Instagram; Facebook
Hours: Mondays – Sundays: 10:00 AM to 12:00 AM
Price Range: $$
Operation Falafel is a restaurant that specializes in casual and flavorful Arabic cuisine. They aim to bring the authentic street food experience in the UAE to each one of their store locations through their menu and store design.
The store's interior design is designed to deliberately evoke this very experience, with their food stations kept individual and separate from each other. The fresh food and sorting brings to mind food carts.
The menu is made up mostly of classics from Arabic street food, such as the titular falafel and shawarma. The shop places their own modern twists on these recipes, making for a flavorful and fun combination.
Customers hoping for something heavier will find themselves in luck, as Operation Falafel does serve sandwich and pita wraps, stuffed with your choice of meat and their trademark falafel.
Sweet toothed customers haven't been forgotten, either. The shop offers a good variety of desserts like kunafa and rice pudding, all washed down with refreshing juices and hot coffee. 
Pro Tip: 

Groups dining at Operation Falafel can definitely get some good value for money out of their special platters, as these already come with a good amount of shawarma wraps along with breads, fries and dips to keep everyone satisfied. 
Bol Gappa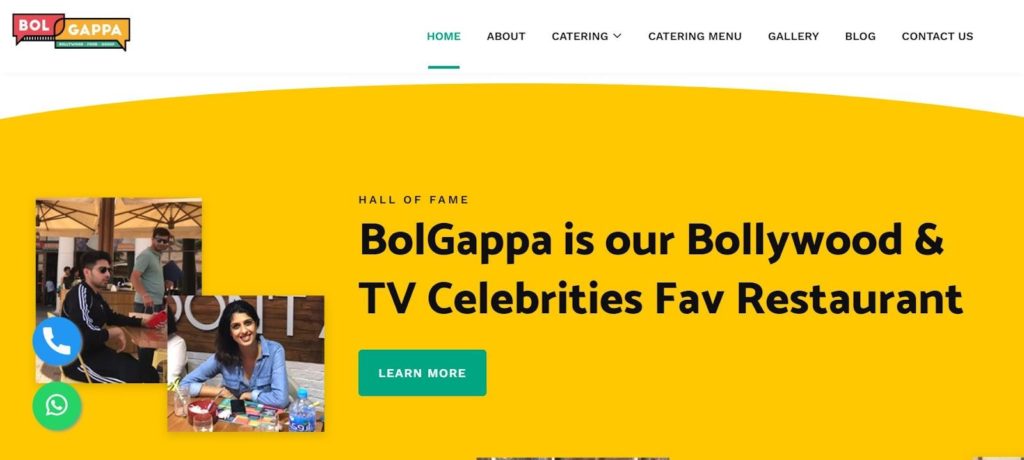 Menu: Starters and More, Chaat Bazaar, Wrapped & Stacked, From the Soup Kettle, Combo Meals
Address: Outside Bollywood Park, India Gate, Riverland, Dubai Park & Resorts, Jebel Ali Village, Dubai
Contact Details: +971 4886 0921, [email protected] 
Website: https://bolgappa.com/ 
Social Media: Instagram; Facebook
Hours: Mondays – Sundays: 12:00 PM to 10:30 PM
Price Range: $$
Bol Gappa is a restaurant that combines the best of their own cultural cuisine with their own love for Indian cinema– resulting in a collaboration well deserving of prime time.
Everything at Bol Gappa is dedicated to the aesthetic of Indian cinema, resulting in a light-hearted atmosphere. This makes them perfect not just for families, but even for friend groups looking to just relax and have a good time.
The menu at Bol Gappa combines a good variety of cuisines, from Indian dishes to Chinese and Continental classics. The restaurant also has quite the wide range of vegetarian and non-vegetarian options to satisfy every palate. 
A few popular picks from their menu would include their curries– which are on a rotating menu that differs by day. The roti at the restaurant are also a crowd favorite, served hot and crispy to accent the curries.
All in all, Bol Gappa's light-hearted interior and wide menus make it a great place to settle down for a meal before or after a trip to the park. As a bonus, why not play the restaurant's guess the movie game while waiting for your food? 
Pro Tip: 

Those seeking to dine at Bol Gappa on a budget are in luck– the restaurant offers combo meals depending on the cuisine! These can also be upgraded to include soft drinks or ice cream at a very low price. 
The Coffee Club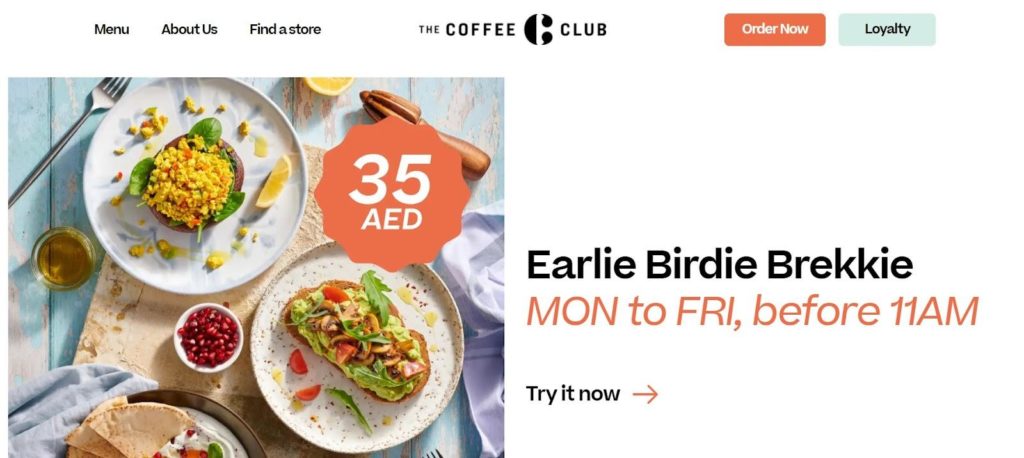 Menu: Early Birdie Brekkie, Salads & Bowls, Shares & Soups, Vegan, Classic Hot Coffee
Address: Unit 9A-3, Boardwalk, Riverland, Dubai Parks and Resorts, Jebel Ali Village, Dubai
Contact Details: +971 4886 1030
Website: https://thecoffeeclubme.com/ 
Social Media: Instagram; Facebook
Hours: Mondays – Sundays: 2:00 PM to 8:00 PM
Price Range: $$$
With a history originating in Brisbane, 1989, The Coffee Club made its way over to the UAE in the year 2015– officially opening its doors to reveal a cozy cafe backed by a menu of breakfast classics.
The Coffee Club bills itself as a cafe that not only takes pride in its cozy and relaxing atmosphere, but also becomes a regular, reliable place to meet up with friends, loved ones and even coworkers for any occasion.
Its menu focuses on classic breakfast items, as well as more homely, familiar dishes. Eggs Benedict and salad bowls are particular favorites on their all breakfast menu, providing just the right balance of flavor and nutrition.
As a cafe chain, The Coffee Club also doesn't fall behind on their own beverages and desserts. The cafe offers a wide host of coffee, from hot to chilled, with hot chocolate and tea on offer for non-coffee drinkers. 
All in all, The Coffee Club is the perfect getaway from the hustle and bustle of theme park hopping– after all, nothing beats a hearty meal, a hot drink and a sweet treat after a long day. 
Pro Tip: 

Due to the high foot traffic in the area thanks to its proximity to various theme parks, The Coffee Club can sometimes close up shop earlier than expected! It's best to order before 7:35 PM to ensure you'll have a seat and your order in stock. 
What can I see in Legoland Dubai?
Check out the sights at LEGO City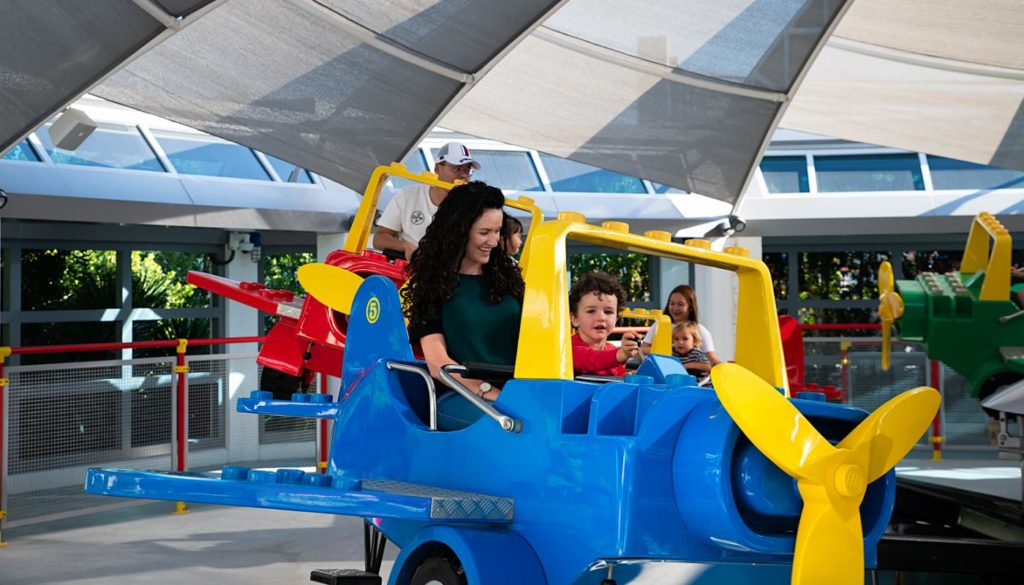 LEGO City is one of LEGOLAND Dubai's favorite spots to visit, and for good reason– this fully themed city is chock full of attractions that places kids in the position of pilot, driver, fireman, and more!
The area is home to various themed buildings and rides, ranging from common fixtures like police stations to a fully shaded marine playground. The city encourages kids to explore and get a feel of various careers in a city. 
Automobile loving guests will definitely want to check out the Lego Driving School attractions– kids are taught the basics of road safety and given an electric car to drive. Kids under 5 years old may even attend the Junior version of the attraction.
If you prefer the seas over the roads, however, then Lego City still has you covered. The Boating School attraction is always open to help kids steer their very own boat– but for a more relaxed time, they may want to play at the Sea Port shaded playground instead.
Lastly, for a fun time with the whole family, guests may take the Rescue Academy challenge! This challenge puts families to the test as they operate an electric fire truck to rush to save a burning building, getting the adrenaline pumping in no time.
Let your "IMAGINATION" run free in this play area!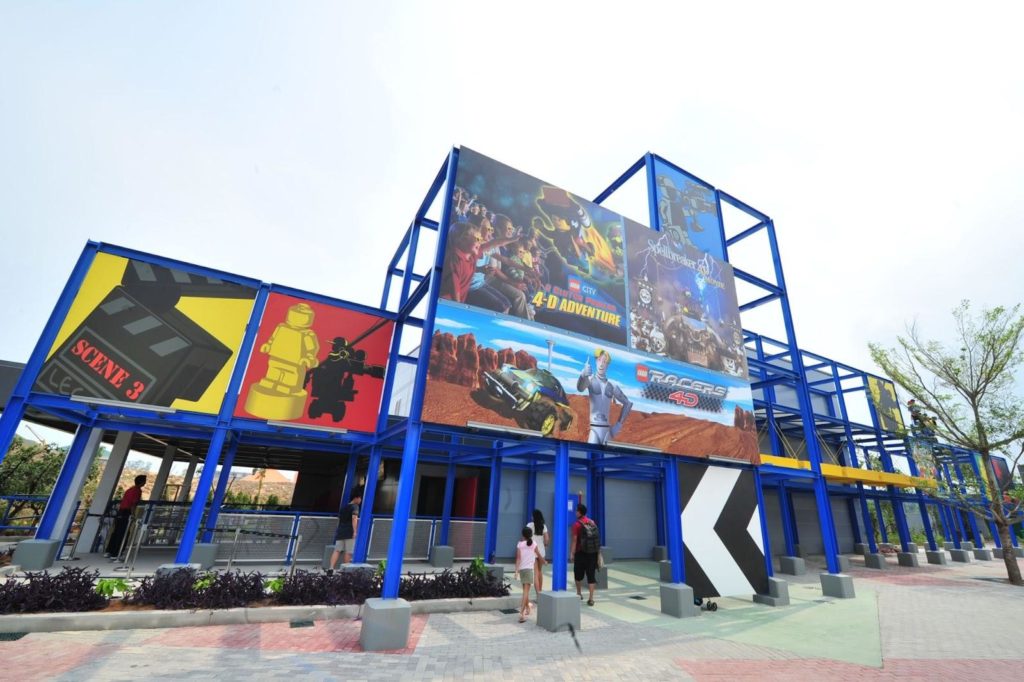 Of the various lands to explore at Legoland Dubai, IMAGINATION is the land that encourages exactly what it says on the tin– imagination! This area of the park deals mostly in the various workshops for building with the iconic toy brick.
IMAGINATION is home to a few well-beloved rides such as the DUPLO Express, along with a wide variety of building experiences for children and adults alike. Those feeling more adventurous can try to brave the Power Tower, or build their own race car!
Two particular building experiences stand out at IMAGINATION– the first is the Lego Master Builders Academy, where children are encouraged and taught to build various structures out of Lego, furthering their building skill.
The other would be the Lego MINDSTORMS workshop, for the sci-fi lover in every child's heart. MINDSTORMS focuses on not only the building, but the programming of Lego-made robots in order to heighten critical thinking and hone teamwork.
Finally, the largest feature of IMAGINATION would be the Lego Studios 4D– which is Legoland Dubai's very own, in-house 4D cinema! It features Lego-themed adventures and films for every child to enjoy and take part in.
See the city at a different scale with MINILAND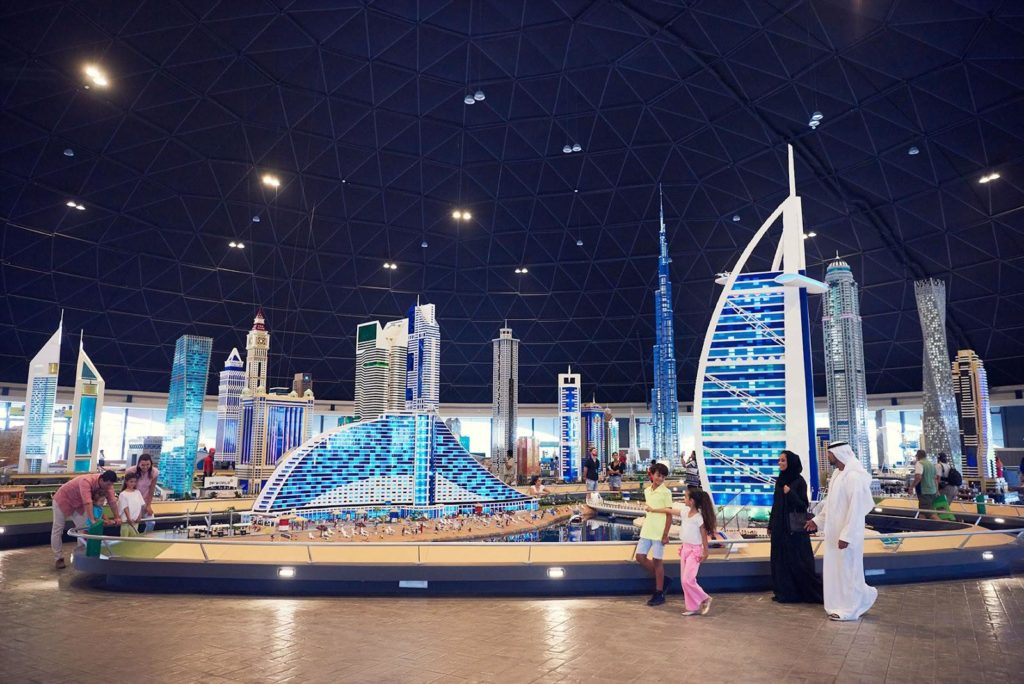 When visiting Legoland Dubai, one should never pass up on a tour of MINILAND– the fully interactive indoor area that features a full recreation of Dubai, along with iconic landmarks all over the Middle East.
This area contains over 20 million Lego bricks, all to create the 15,000 models on display within. MINILAND is also fully air conditioned, making it a cool escape from the heat outside.
MINILAND's models range in size and shape, featuring prominent sights such as the Dubai skyline and iconic buildings such as the Burj Khalifa. Landmarks from all over the Middle East, such as the Ten Tallest Buildings, are also represented. 
At evening time, MINILAND also completely transforms as it makes use of its 800 lighting channels to produce a light show unlike any other. We recommend getting a good view of it from the terrace areas!
Rides to check out at Legoland Dubai!
Have a roarin' good time at The Dragon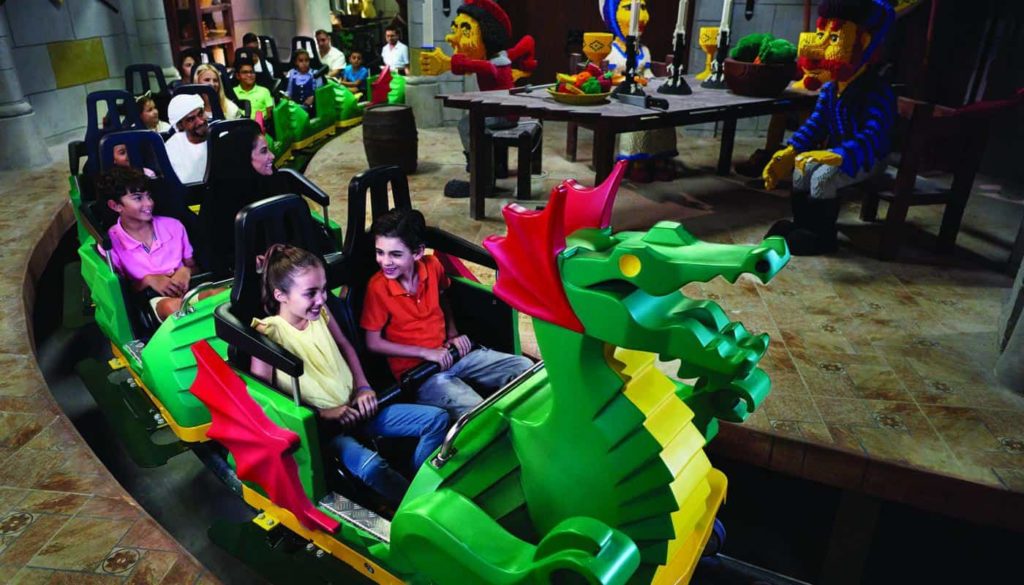 With over 10 cars per train and a location at the heart of Legoland Dubai's KINGDOMS area, The Dragon can easily be considered the theme park's premiere ride.
The Dragon lives up to its legendary namesake by taking its riders through an enchanting trip through a medieval castle before soaring into a full track of loops, twists and turns, enough to leave any rider breathless.
This experience is accented by the coaster's dedication to its theming. Riders are treated to a darker, slower area with animatronic wizards and a kingdom, acting as a calm before the storm.
As one of the fastest rides in the whole theme park, The Dragon is sure to make any of its riders feel like they truly are flying through the sky on the back of the legendary creature!
Additionally, younger riders who aren't quite prepared for The Dragon can opt to take its sibling coaster, the Dragon's Apprentice, instead– providing all the thrill at the perfect size for young riders.
Go for a whirl at the LEGO Technic Twister!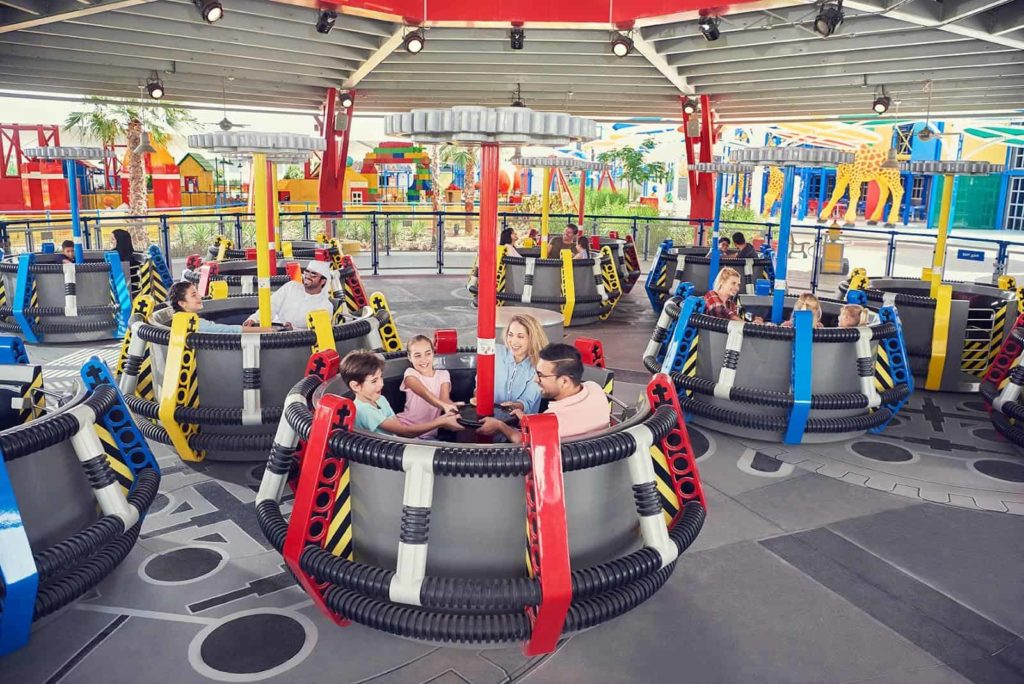 Riders beware– this ride isn't for those with weak stomachs! The Technic Twister is Legoland Dubai's very own local dizzy ride, located in the futuristic IMAGINATION area of the park.
The Technic Twister is a spinning teacup ride, and its intensity is determined only by how determined its riders are! The instructions are simple– the faster the riders spin the disc in the center, the faster their cup goes.
Of course, it comes to follow that the ride is naturally a very dizzy one– as such, the Technic Twister is not recommended for players who have back problems, heart problems, or are pregnant. 
Additionally, only riders of 4 years or older can ride the Technic Twister, with a height restriction of at least 120 cm. Riders who are below that must be accompanied by a parent or guardian.
All the same, the Technic Twister remains to be one of IMAGINATION's most well known rides, only next to the Kid Power Towers– both equally suitable for some wholesome family fun.
Surf the waves in style at Wave Racers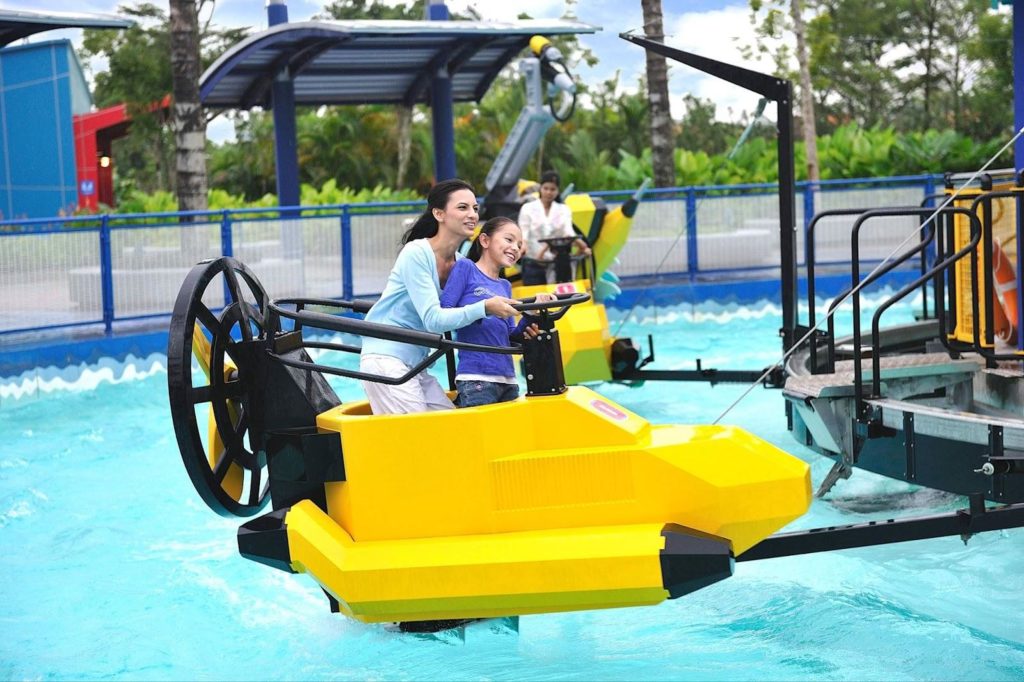 Thrill-seekers with a competitive spirit will find their limits tested with this aquatic ride. The Wave Racers ride, located at the ADVENTURES area sees its riders operating a power ski while dodging water blasts that seek to stop them. 
Wave Racers can be played solo or with a friend, as the ski can hold up to one adult and one child. The players are put in control of a high-speed Lego-themed jet ski and must maneuver it all the way to the end.
All the while, the ski has to dodge incoming blasts of water from the spectator stands– making what would otherwise be a quick drive through the river into a challenge to test any player's dexterity!
Wave Racers is one of ADVENTURES' two aquatic experiences next to the Submarine Adventure, which takes riders underwater to witness over 100 species of fish and an equally large collection of Lego models.
With the above in mind, Wave Racers and its challenge can serve as both the perfect way to start your adventure in the area proper or otherwise cap off a fun-filled day at Legoland Dubai!
---
We hope your tour of the amazing Legoland Dubai has been worth it. Make sure to follow us for more guides to other top attractions and activities in the city.
Alternatively, check out our travel guide to Old Dubai for those interested at a glimpse of the city's amazing history!