Where Are the Best Places to Photograph the Dubai Skyline?
Dubai is a very interesting subject from a photographer's lens. It offers a good balance between areas new and old, combining the sleekness of the Dubai Mall with the rustic facade of a place like old Dubai.
Photographing the Dubai Skyline
Taking advantage of high elevated places and the setting or rising sun should allow you to take a great photo of the Dubai skyline. This would make for a shot that would capture both the manmade and natural beauty inherent in the city.
It can be challenging at first but fortunately, knowing the right techniques and the best vantage points you could use can be very beneficial in helping you take a beautiful photo. Here are some of these vantage points:
Jumeirah Emirates Towers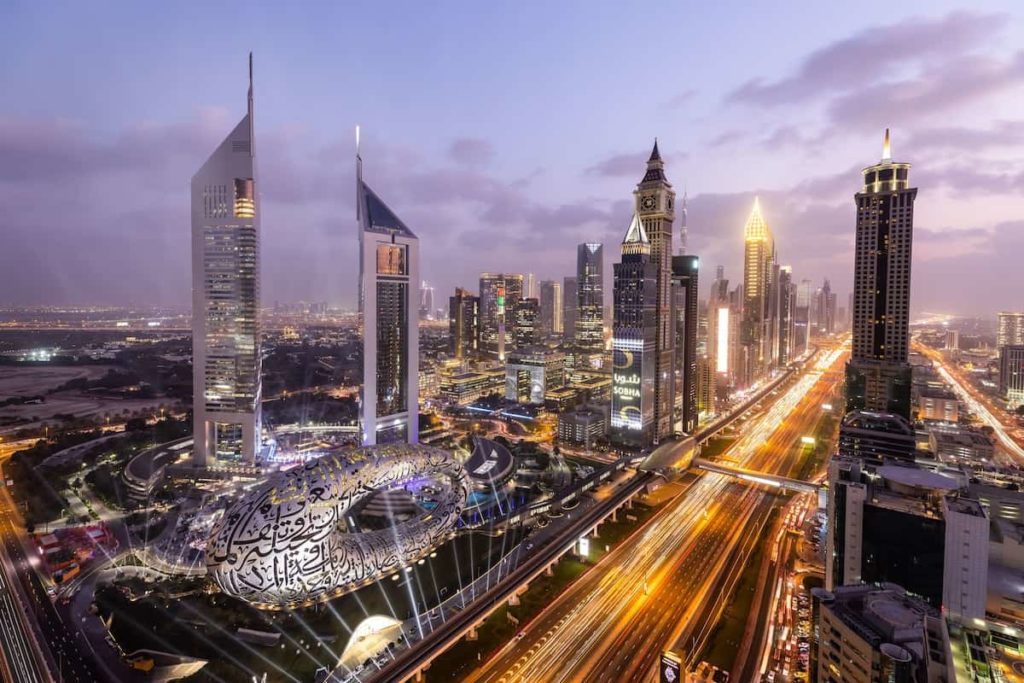 Photo from Expedia
This luxurious hotel is joined by a shopping mall and is only a few minutes away from the Dubai Financial Centre. As such, it is a bit of a popular destination and people can freely move to and from the location quite well.
The hotel itself is close to the metro station and there are several gyms and spas where people can relax and work out if they wish. It's generally a good place to wait for the right atmospheric conditions for your photography.
When visiting the Towers, it is best to head to the Upper Pool Deck, Clique's rooftop. This should provide a stunning view of the skyline near Dubai's International Financial Centre.
The view during night time, just a bit past sunset, is particularly beautiful. The surrounding areas also have a modern art beauty to them as well, making them a perfect companion for the picture.
Burj Khalifa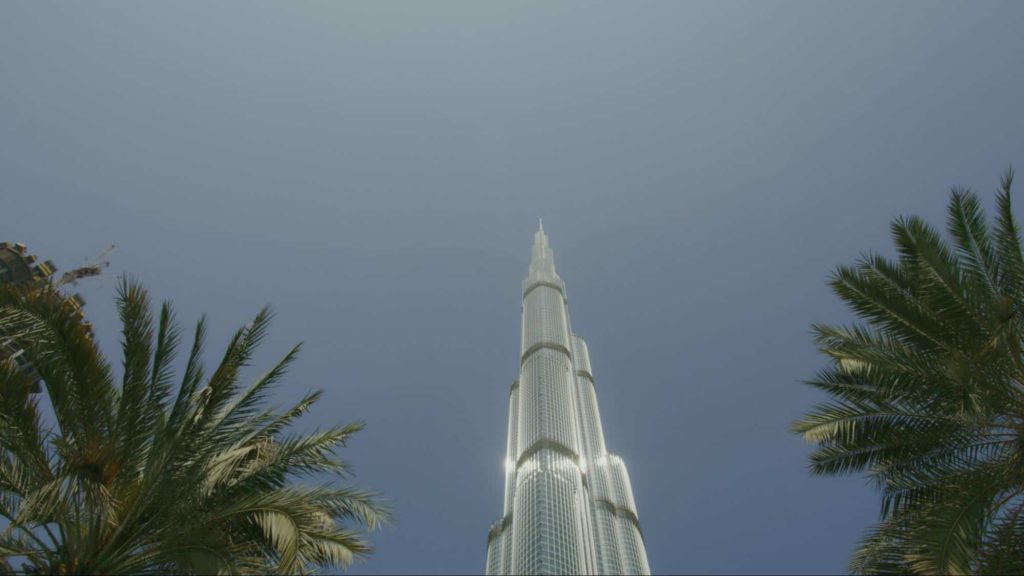 Photo by: Tima Miroshnichenko
There should be no surprise that the tallest building in the world would be a great place to take a photo of the sky and the sprawling city down below. In fact, this modern architectural marvel makes for a good photography subject by itself.
Once you are that high up from the ground, the views are simply breathtaking. It's definitely worth the price of admission just to take stunning photos alone in our opinion.
You don't even need to reach the very top of the building and deal with the crowds that gather there on a daily basis. Visiting the place between 5 to 7 PM should provide you with some really exciting scenes of the sunset and the city lights roaring to life.
Jumeirah Walkway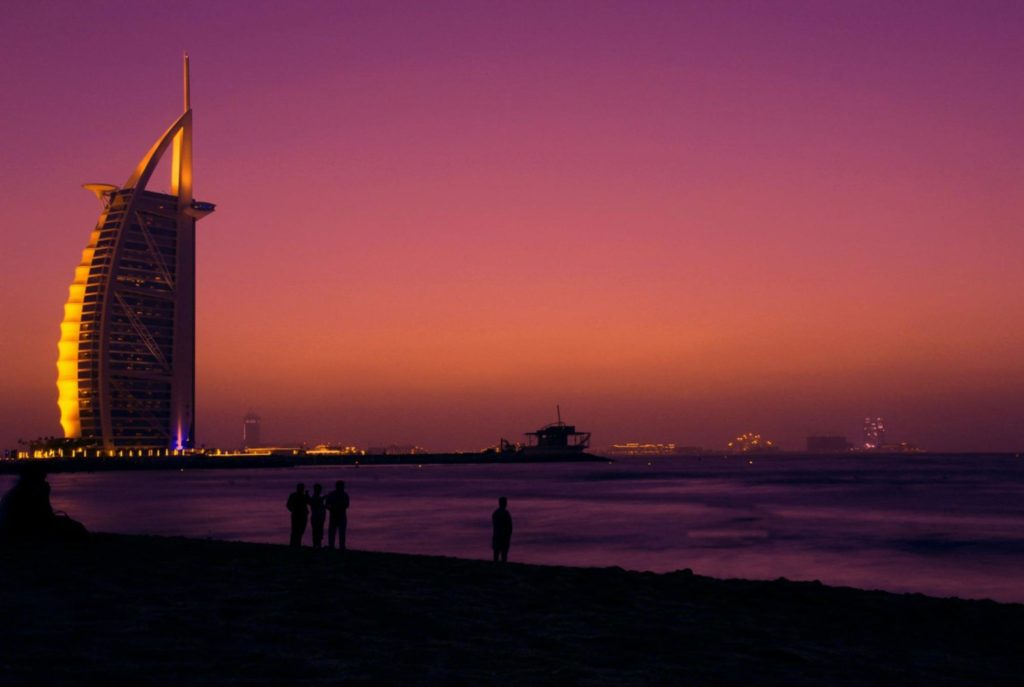 Photo by Tia Amparado
This place is treated as a popular entertainment destination for many of Dubai's residents. In a way, it represents the modernity and chic that Dubai has become known for in recent years.
You can always find something to amuse yourself here. You can choose to listen to any local or international DJ playing electronic dance music and livening up the party in the nearby bars, or dine on some delicious seafood as you stare out into the water.
Likewise, it's also a good place to just get away from the hustle and bustle of the city for a more intimate night if you want, coupled with a serene beachside view.
As for photographs, it is a good spot to take a picture of the formidable Burj Al Arab, with its distinct sail design lending a lot of character to the beautiful skyline filling the frame.
Dubai Marina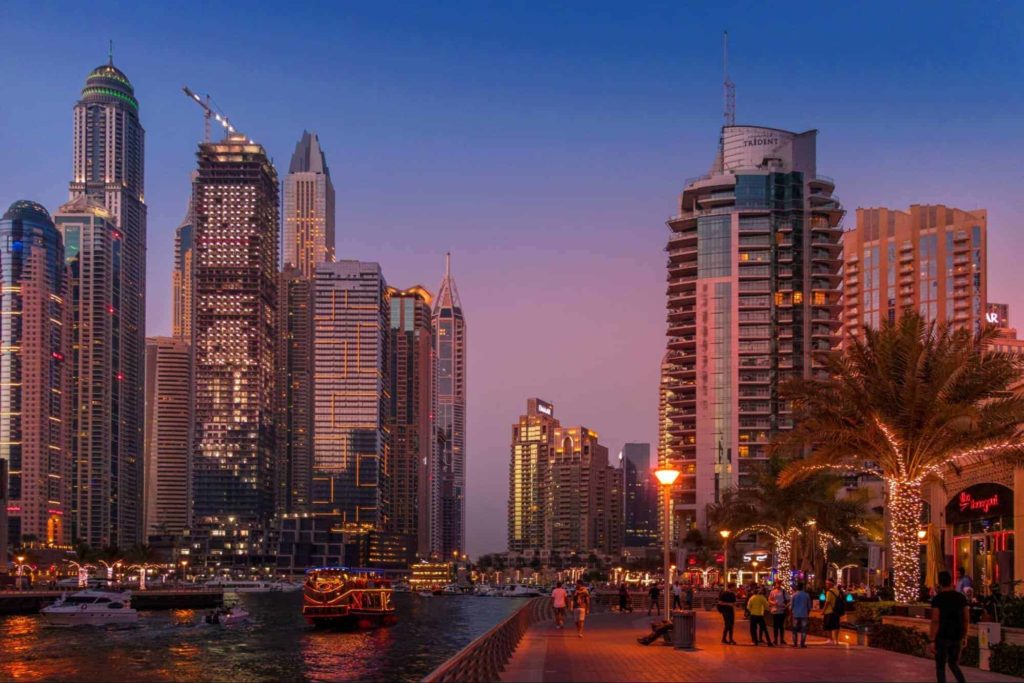 Photo by Nextvoyage
The Dubai Marina is a district alongside the man-made marina constructed along the shoreline of the Persian Gulf. It is close to a number of businesses, an affluent residential neighbourhood, and some nice beaches.
Simply taking a walk alongside the Marina Promenade should introduce you to a lot of interesting coffee shops, cosmopolitan restaurants, and all sorts of crafts markets and souvenir shops.
You can also find a significantly quieter area for you to just take your camera and start taking pictures. The Dubai Marina is a good place to photograph some of the newer buildings like the Cayan Tower by SOM.
If you're creative with your angles, you can easily snap a picture that captures the beauty of the sky, the cityscape, and even a bit of the sea, painting a more interesting scene of the city.
TOMO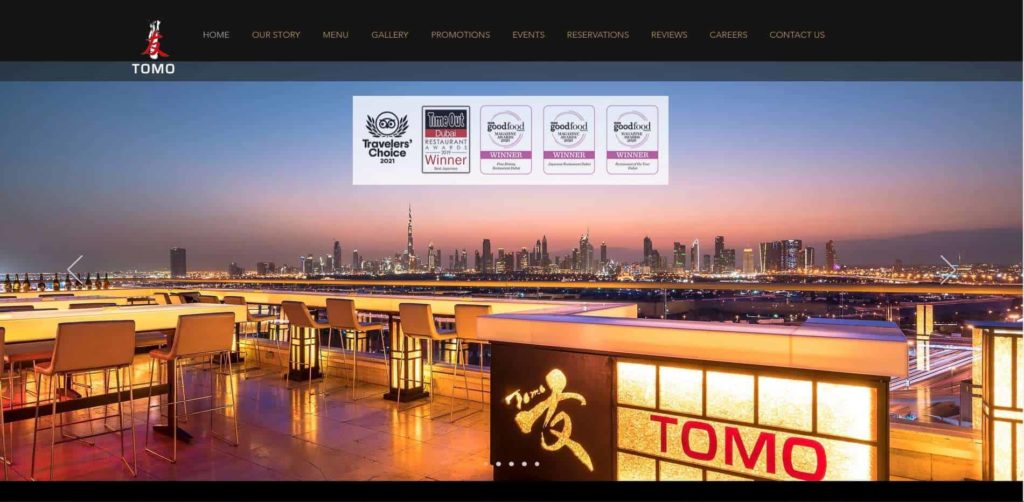 Photo from Tomo.ae
Fancy dining on some delicious and authentic Japanese food amidst the night sky? You're in luck because the TOMO lounge boasts some impressive scenery from their open-air dining room floor.
It sits at a decent 17th-Floor spot just below a bunch of other popular clubs in Dubai. Diners are given an option to eat both indoors and outdoors, offering them a set menu which gives them a chance to really try something new.
We recommend taking a seat outdoors, booking a table near the end of the rooftop. The views as the city slowly changes from day to night can be quite exhilarating.
Other Tips for Photographing the Dubai Skyline
Now that you have an idea of some of the best vantage points to start with, you can now start messing around with your camera settings in order to get the perfect shot.
Go Wide
When it comes to taking photos of impressive landscapes like skylines and cityscapes, going wide angle on your camera is highly recommended.
It will allow you to capture a nice and wide view without needing to go miles just to get more subjects in the frame of your camera. Most professionals recommend setting focal lengths between 12mm to 35mm.
Remember to Bring a Tripod
A tripod does more than just stabilising your camera and supporting its weight in case you have really shaky hands when taking a photo.
Tripods unlock certain settings and abilities for your camera, such as taking a photo with shutter speeds longer than 1/60th of a second. This is great at showing the contrast between stationary and moving objects.
For example, you would be able to take photos where the light of moving cars turns into a streak, highlighting the illusion of movement.
Otherwise, a tripod is very useful for low-light and night photography, since it eliminates the camera shake that could result in a blurry image when you use slower shutter speeds while holding the camera.
Want Details? Use a Deeper Depth of Field
If you want to capture a lot of details in your view such as, say, the different attractions around the cityscape, you'll want to use a deeper depth of field on the camera.
Something like f/11 or f/16 should be sufficient for night portraits. Try to use a tripod to balance your camera well though, in order to avoid noise and capture a generally bright image while retaining sharpness.
Take note of the 'Blue Hour'
If you're just starting out, try to take your photo during the so-called 'Blue Hour'. This is the short moment in the scene where the sky's still blue yet the city lights are already starting to turn on.
This should give your image an interesting azure background and it can also make it easier for people who have trouble shooting in the darkness of night.
In Dubai, this typically occurs in-between 6:00 PM and 6:30 PM. It's a decent window of opportunity but it does pass by fast so we recommend setting up earlier.
Fortunately, this is quite consistent throughout the year, given Dubai's warmer climate compared to other countries. Unless you encounter a rare thunderstorm, you should have plenty of opportunities.
---
A picture is worth a thousand words and these images will be helpful in preserving the memories of your trip to Dubai. So why not make the most out of it and seek some really interesting subjects to commit to memory?
With just a little bit of looking and walking through the lens, you're sure to always find something interesting to record within the city. So enjoy your trip and we hope you make plenty of fun memories you can look back on years later.