The 5 Best Pet Shops in Dubai
With hundreds of options for your pet's needs, it can be overwhelming to find the best place to get it all. That's why as pet owners, it's important to know the top pet shops in Dubai.
Your pet deserves the finest you can offer; that's why we looked all over the city to give you outstanding pet shops in your area. We'll also talk about the criteria we used in choosing our entries and answer FAQs for pet shops.
How much do pet shops cost in Dubai?
Your cost estimate at a pet shop can vary depending on what your pet needs at the moment, and additional costs are given if you choose to avail of their services as well.
We've compiled the estimated prices of a pet's common needs that you can buy at a pet shop.
| | |
| --- | --- |
| Food | AED36–AED190 per month |
| Treats | AED7–AED120 per pack |
| Toys | AED30–AED1,428 per toy |
| Grooming Supplies | AED25–AED160 per item |
The Best Pet Shops in Dubai
Before we get right into our list of the best pet stores in Dubai, check out the criteria we used in choosing them:
1. Dubai Pet Food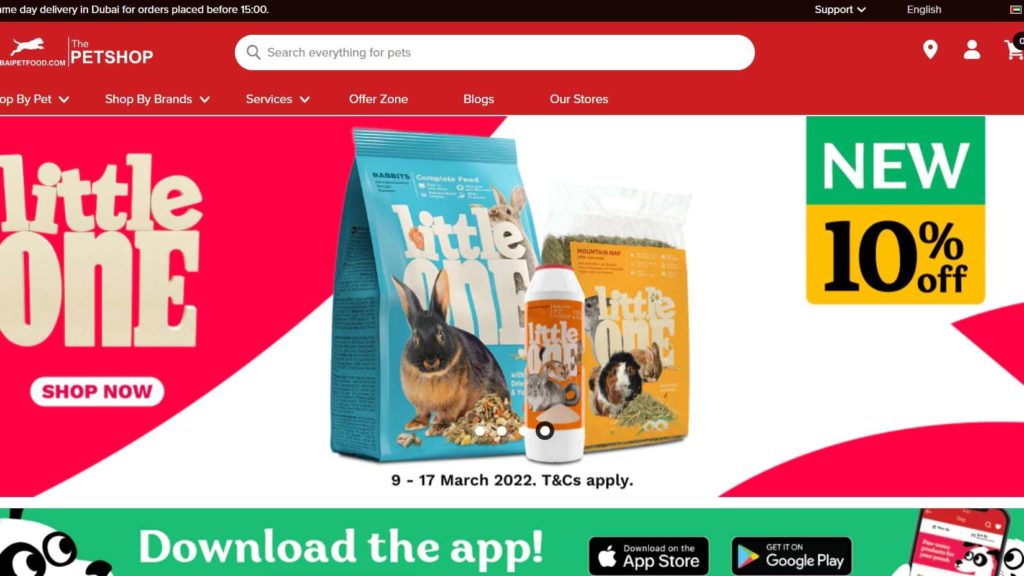 Test
Info
WEBSITE
dubaipetfood.com
ADDRESS

• The Pet Shop LLC Mega Store Dubai Investment Park 1 Near Premier Inn Hotel - Dubai

• 46J7+862 - Al Quoz Industrial Area 3 - Dubai

• Aswaaq Mall, Al Badaa - Al Wasl Rd - Dubai




Has four more locations all over the country

CONTACT DETAILS
050 419 5967
OPERATING HOURS
Every day: 8 AM–10 PM
| | |
| --- | --- |
| Criteria | Ratings |
| Cost | ★★★★☆ (4/5) |
| Accessibility | ★★★★★ (5/5) |
| Quality & Range of Products | ★★★★★ (5/5) |
| Customer Service | ★★★★☆ (4/5) |
Dubai Pet Food is one of our top picks for the best pet shops in Dubai because not only are they well-rounded in the products they offer but also in the excellent services they can do.
When we were looking for a new cage for our dog, Kenny, during our move to a new apartment, we were having trouble looking for decently-priced ones.
Thankfully, we tried Dubai Pet Food since not only did they have the cage we wanted but also other services like mobile and in-store grooming, aquarium maintenance, and most importantly, pet relocation.
The cage and their products, in general, are also reasonably priced, but we have some cheaper alternatives for those of you on a budget.
This pet store chain has seven branches all over UAE, with four being in Dubai. This is totally handy for pet owners who like to bring their pets when they go out of town for the weekend.
We're also big fans of their website because of its design. It's so easy to navigate, and you may customize your experience either by the species of your pet or by your preferred brand of pet supplies.
And even though we only have a dog, we're glad to see so much pet food, treats, and non-perishable supplies for cats, reptiles, and small pets.
Their good quality maintenance doesn't only show in their product choices but also in their services. When we walked in, we noticed how bright and orderly the store was.
The staff was welcoming to us and our pooch, and their hospitability just doesn't stop at pet owners. They also have an adoption section in the store for would-be owners, too.
Besides that, we're also happy to find out that they have a coffee shop in their pet store. This came in handy when we decided to give Kenny an impromptu grooming session.
However, the store is so big, that we noticed the staff are always in a rush. When we asked for some advice on their pet foods, they answered concisely before leaving us to our own devices.
All in all, Dubai Pet Food proves to be one of the top pet stores in Dubai because it doesn't just rely on its quality products but goes the extra mile with its other services and customer experience.
Four branches all over Dubai alone
Have products for a variety of animals
Offers a wide range of services
Store is clean and orderly
Staff was friendly and welcoming
They have a coffee shop
Not the cheapest option for pet supplies
Staff is spread too thin
Customer Reviews
The choices are endless here
"Randomly came across this place with my girlfriend. I needed to buy a new aquarium and they had tons of options. Their selection of fish is great and the staff knows what they are talking about. They have all sorts of accessories for any pet. For my friends who have animals at home, I really recommend this shop." —Brayden Ainzuain, Google Reviews
Organized and efficient
"Lots of different products under one roof for almost any pet you can think of! Great variety and if they don't have it in-store they can deliver it to you. Friendly staff and clear organization, as well as lots of parking nearby, make this our go-to store for our cats.." —Alex da Costa, Google Reviews
2. Petworld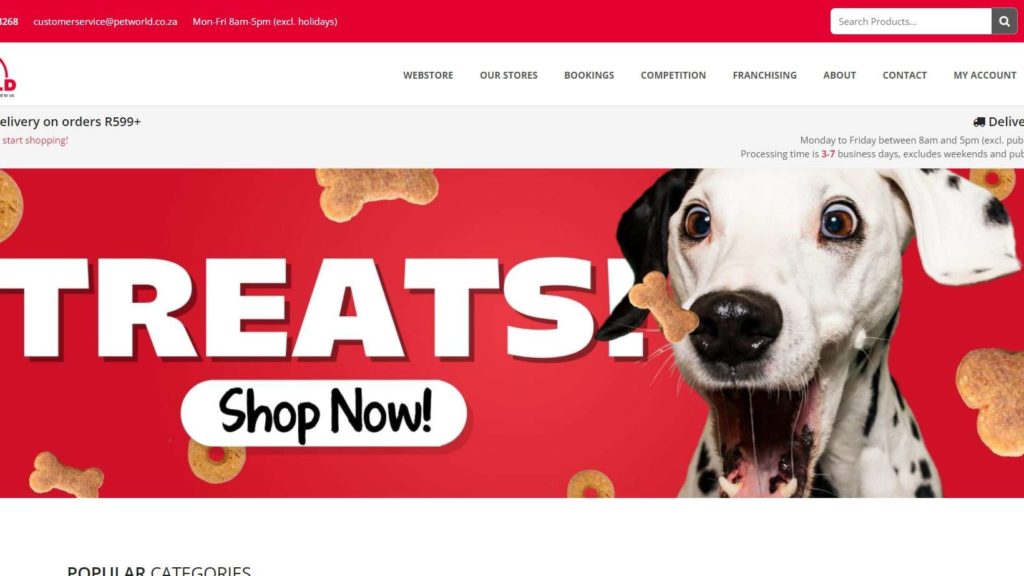 Test
Info
WEBSITE
https://www.petworlduae.com/
ADDRESS

The Springs Souk Mall, Shop 53A (next to Carrefour), Cnr Al Asayel and Al Afnan Street, Springs, Dubai




Has two more locations in the city

CONTACT DETAILS
+971 52 687 3882
OPERATING HOURS
Every day: 8 AM–10 PM
| | |
| --- | --- |
| Criteria | Ratings |
| Cost | ★★★☆☆ (3/5) |
| Accessibility | ★★★★★ (5/5) |
| Quality & Range of Products | ★★★★★ (5/5) |
| Customer Service | ★★★★☆ (4/5) |
Another prominent pet store in Dubai is Petworld—your go-to store if you're looking to stock up your knowledge about what's best for your pet.
On top of selling your usual pet supplies, they also have a small collection of books about pet care and its best practices.
We're big fans of their pharmacy for dogs where you can easily consult and buy over-the-counter drugs for your canine friend.
Aside from that, their services also extend to other species. You can hire an aquatic specialist from them; they also do grooming and kenneling for birds, rats, hamsters, rabbits, guinea pigs, and cats.
However, these niche services and imported goods make them the most expensive pet store on our list. Besides this, they also sell some premium-quality supplies that may be beyond the budget of some pet owners.
But looking through these products is effortless with their website. They did a great job laying out the home page to prominently display the brands they work with to emphasize their credibility.
And when you go to one of their three stores, be ready to learn a lot about your pet. The staff knew what they were talking about, and they were very friendly.
They were always ready to give some advice when we asked for it and confidently recommended products for our Kenny after getting to know us and our dog.
However, the downside to going to their pet shop is that it's noisy. The music was always blasting on high volume, which we're pretty sure bothered the animals in the grooming room.
Despite that, Petworld really stands out to us because of the staff's expertise on their merchandise, and their willingness to equip pet owners with the knowledge to take care of their pets correctly.
Website is well-designed
Has three branches in Dubai
Offers books for animal caring
Offers a variety of services
Staff is friendly and knowledgeable
More expensive than other pet stores
The store is overwhelmingly noisy
Customer Reviews
Gave us great advice!
"Anthony was very nice and accommodating to us even up until we get our Guinea Pigs he still open to give us advice whenever we need as it was our first time to have these pets and I am glad to get if from them and he is the best guy. Cheers mate keep it up" —Chathura Jayasekara, Google Reviews
Highly recommend this
"I've been going here for the last two years and I highly recommend it. They have all kinds of pets and they do grooming for pets. The staff is very kind, especially one who I forgot the name of but I think he's called Alfred." —Hannah Lopez, Google Reviews
3. Pet Corner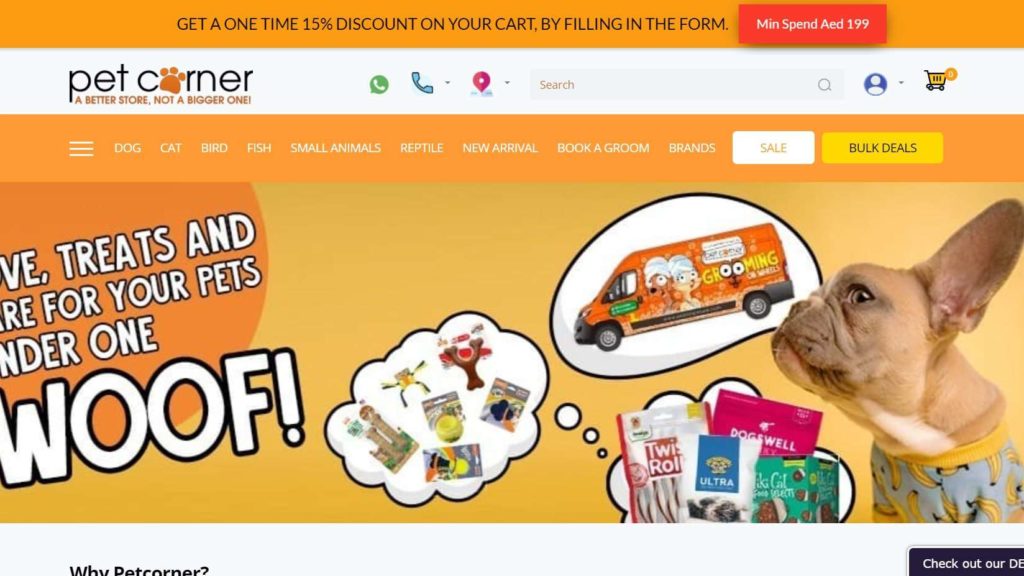 Test
Info
WEBSITE
https://www.petshopinuae.com/
ADDRESS

Al Fardan Building 1, Next to Deals on Wheels & Business Bay Metro Station




Has five more locations in the city

CONTACT DETAILS
04 5814443
OPERATING HOURS
Every day: 10 AM–10 PM
| | |
| --- | --- |
| Criteria | Ratings |
| Cost | ★★★★★ (5/5) |
| Accessibility | ★★★★☆ (4/5) |
| Quality & Range of Products | ★★★★★ (5/5) |
| Customer Service | ★★★☆☆ (3/5) |
Owning a pet can be expensive as they continue to grow over the years. It's important to find a budget-friendly pet shop so you can still provide your pet's needs without going bankrupt.
This is where Pet Corner shines. Their products are priced decently, but what separates them from the rest and what makes them truly budget-friendly are their competitive discounts, points system, and bulk deals.
Their points system really comes in handy if you've been shopping at their stores for some time now. You can redeem these points as a reward and use that to pay for your pet's supplies.
And if you're an owner with multiple pets, or someone who tends to stock up on supplies, their bulk deals will definitely help you with saving a lot of money. We often use those deals for our Kenny.
They also do deliveries for busy households or for when you know you'll have trouble carrying bulk orders home.
The website is also as well-designed as their points system, although it loads a bit slower than the other websites because of the subtle animation they included in it.
But we're big fans of the layout because it emphasizes that they value helping owners save money. They display the products that are on sale on top of the site.
And just because they're budget-friendly, doesn't mean they sell cheap knockoffs. They work with over 100 brands, and we literally got overwhelmed checking out the list on their website.
These brands cover everything a dog, cat, bird, fish, small animal, and reptile may need under your care.
And because of the number of brands that they have, we were so happy to find a brand of dog food that comes by so rarely in other pet stores. When we saw this dog food, we immediately ordered some in bulk.
While we were at the store, we also noticed how helpful the staff was. They took the initiative to ask questions about Kenny and helped us get items on the top shelf.
However, we kinda noticed the sketchy cage setups of the animals that were being sold in the pet shop. The aquarium looked like it needed some cleaning, and the cages for the hamsters were too small for how many they were.
We let it pass because the animals seemed healthy and they had their basic needs, such as food and water, ready all the time.
Another aspect of the store that we didn't like was how cramped it was. The aisles could only fit one person, and it was obvious the store was long overdue for some renovations and maintenance.
We suggest that if you already know what you need to buy, then go straight to their website rather than going to their stores.
All in all, Pet Corner will always be one of our favorites because of how affordable their products are and how their selections are so diverse. We will definitely never run out of options with them.
Competitive discounts and points system
Accepts bulk orders
Well-designed website
Works with 100+ brands
Diverse product selections
Helpful staff
Website loads slowly
Store is cramped and needs renovations
Setups for animals are sketchy
Customer Reviews
Amazing pet store!
"This place is amazing! What makes it different is all the variety of animals you can pet and play with and most stores only have supplies yet alone stores that let you play with the animals such as the Pomeranians and Maltese and there are the cutest little puppies ever." —Rania Almosa, Google Reviews
They had what I was looking for
"Best place to buy pet food. Golden retriever puppy dry food wasn't available anywhere in the market but I got the stock at pet corner. Friendly and very helpful staff too! Thank you Rey for being so sweet! 🙂" —Jyoti Devnani, Google Reviews
4. Petsky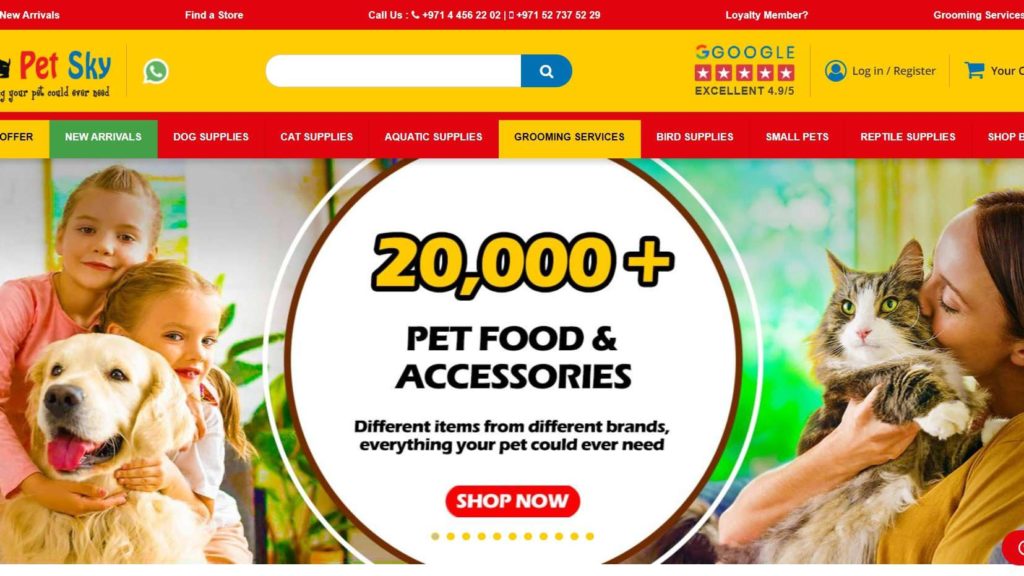 Test
Info
WEBSITE
https://www.petskyonline.com/
ADDRESS
Shop No. G04, Lake Shore Tower, Cluster Y, JLT, Dubai
CONTACT DETAILS
+971 4 456 22 02

+971 52 737 52 29

+971 58 567 52 29

OPERATING HOURS
Saturday–Thursday: 9:30 AM–9 PM

Friday: 12 PM–9 PM
| | |
| --- | --- |
| Criteria | Ratings |
| Cost | ★★★★☆ (4/5) |
| Accessibility | ★★★★☆ (4/5) |
| Quality & Range of Products | ★★★★★ (5/5) |
| Customer Service | ★★★☆☆ (3/5) |
If there is a pet store that embodies the meaning of one-stop shop, it's Petsky.
With over 20,000 products on hand, Petsky is one of the biggest pet shops in the UAE. They have everything for dogs, cats, horses, small animals, aquatic animals, birds, and reptiles.
And because of the diversity of products, it's really easy to find both budget-friendly and premium brand pet supplies through their website.
Don't expect to find everything in their store, though. Most of their items are sold online, and their store is for displaying the products and their other services.
So we definitely recommend you head on straight to their website. It's pretty easy to navigate, which is a miracle for the number of products they sell.
We really enjoyed perusing through their online shop and found ourselves being tempted to buy the things our Kenny doesn't even need. We are big fans of their bestseller section because of how interesting the products are being featured there.
Sadly, for a pet shop with so many things to sell, they only have one branch in Dubai. But this doesn't make them less accessible because they can do same or next-day deliveries.
What bothered us, though, is how slow their customer service would reply via their WhatsApp.
This was really inexcusable for us because we know how much they rely on their online shop, over their physical store, to sell their products.
It took them two hours to answer a simple question we had about their products.
The second time we tried them out, we decided to buy through their actual store and found out the dog food we wanted was out of stock.
So we decided to leave our number, so they can contact us when they have restocked. But two weeks went by, and we didn't hear from them anymore.
We had to drive down to the store again to check up on their stock just to find out that they have had the dog food a week ago. The lack of follow-up in their service was really disappointing.
Besides that, we have no complaints about their store. The store is more orderly and clean since most of their products are in warehouses.
Petsky really proves that they have everything for you and your pets. And despite the low-quality customer service, chances are they have what you need at any given time, which almost makes up for it.
Over 20,000 products being sold
Affordable options available
Well-designed website
Clean and orderly store
Only has one branch
Customer service replies late
Staff has no initiative to follow up inquiries
Customer Reviews
My cat loves them!
"I'll give it a perfect 5 since they groom well, prices of their products are affordable and they handle my cat very gently (since she's very picky and cautious to other strangers). Will definitely recommend this to my friends." —Jake DC, Google Reviews
Thank you for saving my cat!
"I've been in this shop for the first time
They have a huge variety of items
And they do fast delivery as well and reasonable prices
Even Christmas is done but still I got my gift for my pup
Thank you, Petsky for your kindness and good service" —Rose Ann Crisostomo, Google Reviews
5. Pet Zone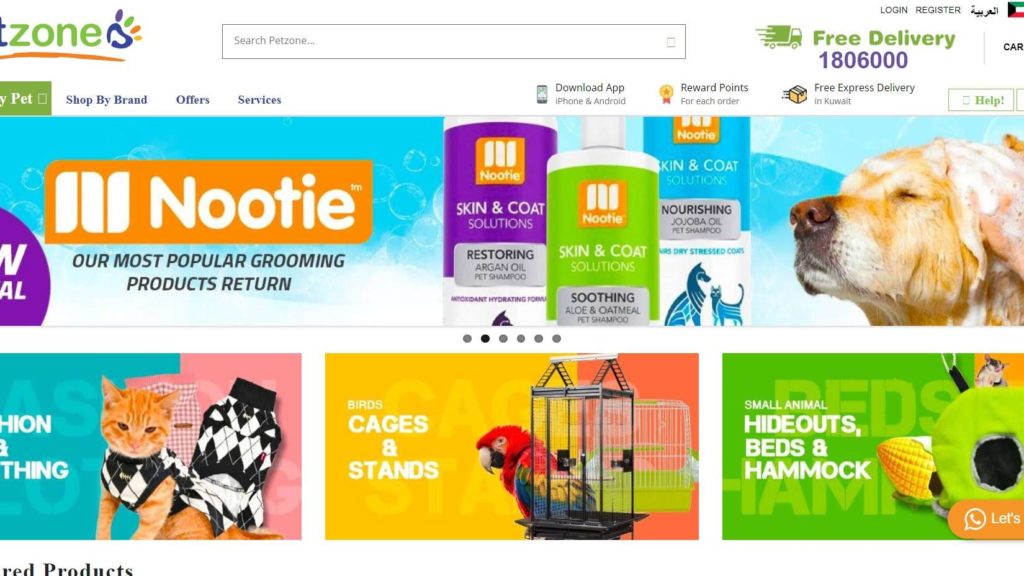 | Test | Info |
| --- | --- |
| WEBSITE | https://www.petzone.com/ |
| ADDRESS | Sheikh Zayed Road, (Near Mazaya Centre and Safestway & Al Thuraya Building), United Arab Emirates - Dubai - United Arab Emirates |
| CONTACT DETAILS | +971 4 321 1424 |
| OPERATING HOURS | Every day: 9 AM – 11 PM |
| | |
| --- | --- |
| Criteria | Ratings |
| Cost | ★★★☆☆ (3/5) |
| Accessibility | ★★★★☆ (4/5) |
| Quality & Range of Products | ★★★★☆ (4/5) |
| Customer Service | ★★★☆☆ (3/5) |
In terms of accessibility, Pet Zone goes above and beyond to let pet owners buy from their pet shop on all devices.
More than just a website, Pet Zone has an official mobile app that anyone can download and use to buy pet supplies and have them delivered to their doorstep.
These would have been perfect for pet parents who are too busy to stop at a pet shop to buy their supplies if only they were designed better.
We found the app to be disorderly and overwhelming to the point that we got tired of scrolling through it. There was simply too much text and icons on such a small screen.
The prices aren't something to be too happy about. They have decent options, but what we really didn't like was the steep pricing of their services.
We're not sure if these rates are justified, but we found their grooming and delivery and installation services to be way too expensive. We knew we were better off checking these services at other pet shops.
What we do like about Pet Zone—and it's mainly the reason why we think they're one of the best pet shops in Dubai—is the range of supplies they have.
Apart from common domestic animals, they also have products and food for horses and farm animals.
These are the kinds of animals that seem to have gone unnoticed by most pet stores, and while these may be niche, it certainly has their own customer base.
They also work with 20 brands to provide their customers with an array of options.
We recommend pet owners to go straight to their website if you need to buy from them because the service at their physical store is honestly not that good compared to the service we got online.
The staff at the physical store were not attentive. Nobody greeted us when we walked in, and we ended up spending the majority of the time there unattended to.
This was truly disappointing, but it was made up by the responsiveness of their online customer representative who was ready to answer all of our questions about the products we were interested in.
Although Pet Zone's customer service isn't ideal on all fronts, what sets them apart is their willingness to serve a niche community of pet owners that have always been treated separately from the majority of pet owners.
Their supplies for horses and farm animals are invaluable to owners who have these as pets, however small in number they may be.
Has a mobile app for online shopping
Offers supplies for horses and farm animals
Offers grooming, tag engraving, and delivery and installation
Great customer service online
Services are overpriced
Website design is disorderly
Staff at physical stores were inattentive
Customer Reviews
Free delivery is the best!
"This company possibly be the best in The UAU. I haven't seen any pet store with so many good things (not even from noon or Amazon).
Free delivery
No minimum charges
Cash on delivery & card on delivery 😍
Same day delivery 🚚
I literally ordered something worth AED12, and they delivered it on time.
The same product I tried ordering from noon my bill was AED 32 ( delivery + cash on delivery AED10)
For sure this won't be my last order from them.😍" —Omer Nameera, Google Reviews
Will keep coming back to them
"Amazing experience. We just went to buy goldfish supplies and the staff was super helpful, knowledgeable, and didn't try to upsell. We were behind the line of someone spending 20,000 dirhams and got the same, great treatment. Our sales associate added on a 100 dirham discount (I assume because we are first-time customers). We actually went to this location by accident, but will definitely be back!" —Michael Griffith, Google Reviews
FAQs about the Pet Shops in Dubai
---
We hope your pets get what they need from these pet shops. Also, if you have no idea how to deal with your pet as you move to a new place, check out our list of the best places for pet relocations in Dubai.