The 5 Best Places for Palm Readings in Dubai
When we're looking for answers, we can sometimes find them in unexpected places, like palm readers.
Dubai is no stranger to this mystical art and there are many palm readers scattered throughout the city.
So, we scoured the city to give you the best places for palm readings in Dubai. We also included the factors we considered in choosing.
Lastly, we answered some frequently asked questions about palm readings.
How much does it cost to get a palm reading in Dubai?
The cost of getting a palm reading in Dubai can vary depending on the scope and the length of the session. 
To give you a starting point, we made a table of the average rates of palm reading sessions.
| TYPE OF READING | AVERAGE RATES |
| --- | --- |
| Basic reading | AED40 per hour |
| In-depth reading | AED360 |
The Best Places for Palm Readings in Dubai
Before we get right into our top picks for the best places for a palm reading in Dubai, here are the factors we considered for our entries on this list:
1. Home of Wellness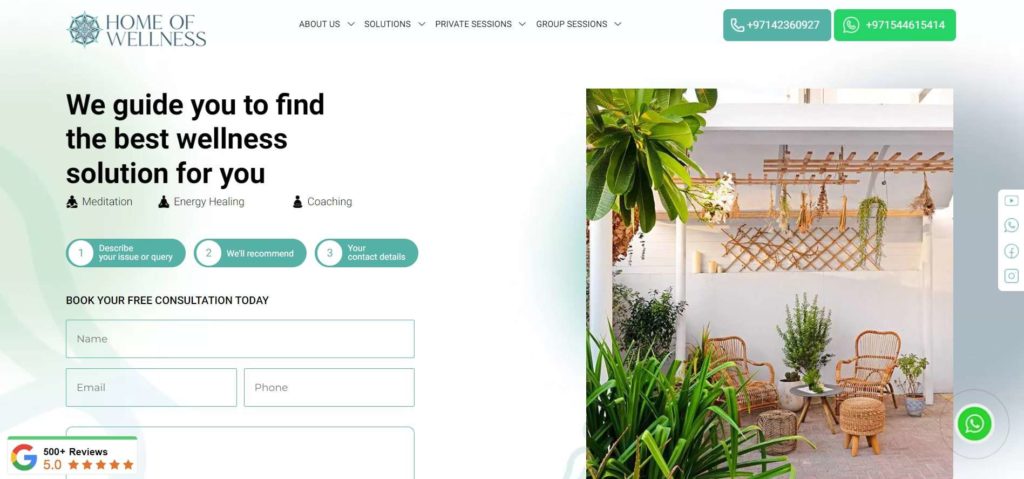 SERVICES

Palm reading, Spiritual healing

Reiki healing, Therapy

Tarot reading

WEBSITE
https://yourhomeofwellness.com/
ADDRESS
Umm Suqaim 2, Al Wasl road villa 1069
CONTACT DETAILS
Phone: +97142360927
OPERATING HOURS

Every day: 9 am - 9:30 pm
| | |
| --- | --- |
| Criteria | Rating |
| Training | ★★★★★ (5/5) |
| Accessibility | ★★☆☆☆ (3/5) |
| Reading Style | ★★★★☆ (4/5) |
| Other Services | ★★★★★ (5/5) |
Home of Wellness is a safe space for fostering spiritual growth through wellness services, including palm reading among many other services.
Its palm readings address its clients' less satisfactory areas in their lives in order to determine the trajectory of where their lives are heading.
Home of Wellness believes that with a bit of spiritual insight, its clients' lives become easier and clearer.
We love that its palm readers are not just trained in spiritual and metaphysical readings but also in scientific palm reading.
Scientific palm readings can help determine health conditions such as diabetes, infertility, chronic pain, and depression, which are areas that people face due to bad karma.
However, when it comes to accessibility, Home of Wellness is limited in the sense that it only does readings in person, and its online site can only be used for booking appointments.
But we do love its reading style in that sessions are always meant to be guides and insightful, and not as something that is the end all be all of the client's destiny.
It is always about bringing awareness to the client's karma so that they can make smart choices, and bring focus to the areas in their life to achieve healing and transformation.
Some of its other services, complementary to its palm readings are charka healing, tarot reading, and space clearing, among many others.
Trained in scientific palm reading
Insightful readings that bring self-awareness for karmic healing
Wide range of complementary services
Customer Reviews
Love everything about this place!
"Love everything about this place!
Once you enter Home of Wellness, you feel an instant calmness and disconnection from the world outside! I have so far done Gut detox with Imad and I highly recommend it! I really felt a massive difference and I am not even halfway through my sessions! I will definitely be trying their other sessions! They have free consultations for a lot of their services which is a great way to try out and see which best fits your needs. Amazing work Home of wellness!" -Diala Abu Issa, Google Reviews
One of my favorite spiritual centers in Dubai
"One of my favorite spiritual centers in Dubai 💗 The place is lovely and very beautifully decorated. The vibe is so high that you start feeling better when you cross the door. I love to attend Naresh's Sound Healing Meditations as they uplift all my subtle bodies and infuse myself with lots of joy and happiness." – Anna Raventós, Google Reviews
2. Tahreem Shah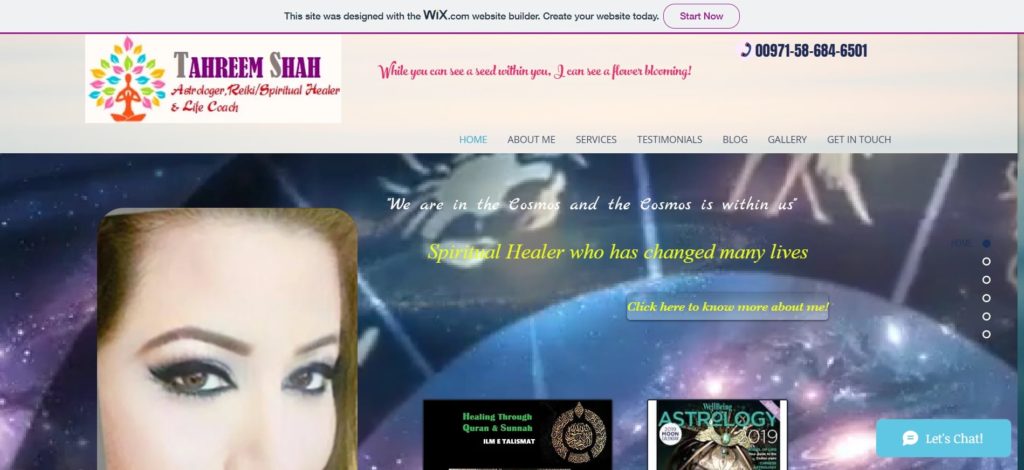 | | |
| --- | --- |
| Criteria | Rating |
| Training | ★★★★★ (5/5) |
| Accessibility | ★★☆☆☆ (3/5) |
| Reading Style | ★★★★☆ (4/5) |
| Other Services | ★★★★★ (5/5) |
With 14 years of experience of being an astrologer and as a life coach, Tahreem Shah has been helping over 300 clients to achieve happiness through making right decisions and obtaining lost hopes and confidence.
Tahreem has gone through several Vedic Astrology gurus and treats reading as a divine science that can prepare and guide people in advance about the difficulty ahead.
With comprehensive knowledge and extensive research in Jaimini Astrology and Brighu Bhindu she is able to provide solutions to the puzzles in your life and heal you spiritually through natural remedies.
When it comes to accessibility, however, Tahreem Shah only does readings in person, which means that clients will have to spend time and energy driving down to her space.
And when it comes to her reading style, we really appreciate the fact that Tahreem guides clients to take the right path that would bring them closer to knowing themselves.
Her experience of being a life coach also means that all her insights and readings are laced with recommendations on how to better their lives while also improving themselves.
She also offers life coaching as a separate service on top of reiki healing for those feeling the weight of negative karma.
Highly experienced palm reader
Utilizes experience as a life coach to provide great insights
Great range of services
Customer Reviews
A blessing to meet her
"Meeting Tahreem is indeed a blessing for me and my family. I always have a wonderful, and spiritual experience with her and that is a rarity in itself. Her knowledge and guidance helped me a great deal and I look forward to a more hopeful future. I truly recommend Tahreem for all your woes and trust me you will not regret it" – Ansar Anchu, Google Reviews
She gives the best guidance and advice
"Tahreem is the sweetest kindest soul ever and I'm so glad I found her. She gives the best guidance and advice. I had many astrology chart readings with her and she always helped me in the best way possible. God bless you Tahreem 🙏🏻❣️❤️🌙" – Sabrina Biljana, Google Reviews
3. Astrologer Ashish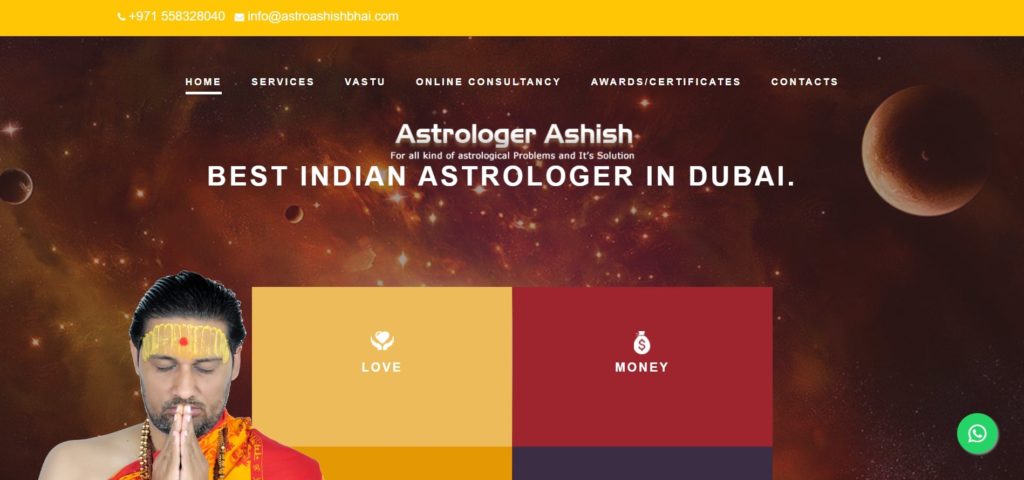 SERVICES

Palm reading, Astrology consultations

Horoscope reading, Gemstone blessing

WEBSITE
https://astroashishbhai.com/
ADDRESS
202, Al Farthan Bldg., Mina Bazar, Bur Dubai (U.A.E)
CONTACT DETAILS
Phone: +971 558328040
OPERATING HOURS

Sunday to Thursday: 10 AM – 10 PM

Friday to Saturday: 10 AM - 10:30 PM
| | |
| --- | --- |
| Criteria | Rating |
| Training | ★★★★★ (5/5) |
| Accessibility | ★★★☆☆ (3/5) |
| Reading Style | ★★★★☆ (4/5) |
| Other Services | ★★★★★ (5/5) |
Professionally trained by his well-renowned astrologer grandfather, Ashish practices Vedic Astrology that is considered one of the best in Dubai.
An acclaimed pandit in Dubai known for doing Pooja Vidhi's like Grah Shanti, Ashish Bhai is a famous palm reader with a powerful perception and associated analytical skills.
These learned skills allow him to give accurate predictions such as a customer's personality, future events, and positive karmic factors.
Ashish is kind of old school, so we really did not expect him to give out online readings, and he agrees with that principle.
He believes that in order to give an accurate reading to his clients, the physical and spiritual presence of the client should be in the same room as he is.
We love that his reading style involves imparting astrological solutions, which help solve various problems like health, wealth, and love life.
Although, he sometimes gets lost in the technicalities and advanced terminology of the craft that clients who are less than knowledgeable about the readings may find hard to keep up.
And when it comes to his other services, we love how well-rounded it is. He offers astrological consultation, and Kundali matching among many others.
Came from a family of pandits
Accurate and insightful reading style
Great set of other services
No online readings
Reading style may be hard to keep up
Customer Reviews
1000% accurate readings
"One of the world's best astrologers.
Unlike other fraud astrologers who are just behind robbing money,
Guruji is a true saint. And his predictions are 1000% accurate." – Suraj Raikar, Google Reviews
Great guru
"Ashishbhai Shastri is a Great Guru, mentor, and also down to earth. His guidelines not only help me in my bad times but also in my good times. Thank You" – Haren Kalsaria, Google Reviews
4. Ashok Maharaj Ji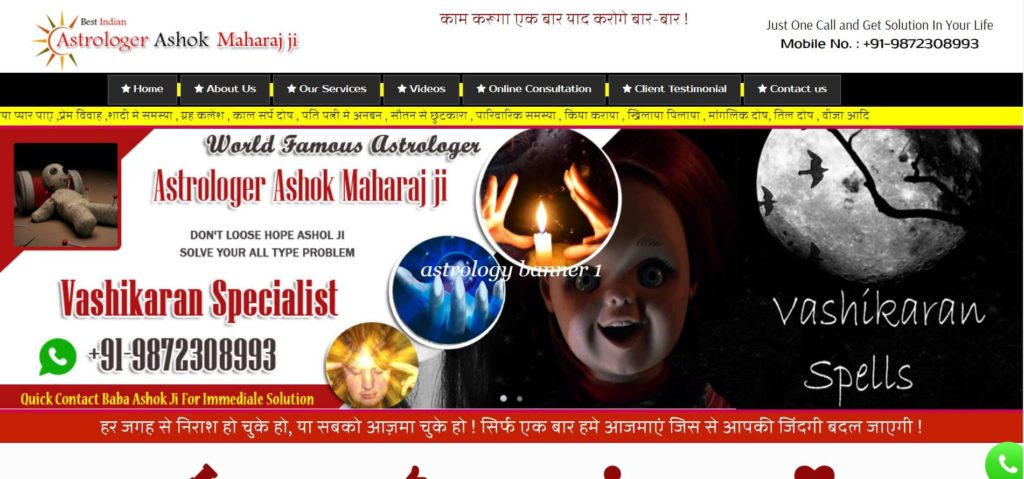 SERVICES

Palm reading, Black magic cleansing

Numerology, Horoscope reading

WEBSITE
http://www.vashikaran-baba.com/dubai/
ADDRESS
Ludhiana, India, Punjab region
CONTACT DETAILS
Phone: +91-9872308993
OPERATING HOURS

No info available
| | |
| --- | --- |
| Criteria | Rating |
| Training | ★★★★★ (5/5) |
| Accessibility | ★★★★☆ (4/5) |
| Reading Style | ★★★★★ (5/5) |
| Other Services | ★★★★★ (5/5) |
Experienced and exceptionally educated in the field of astrology and Vashikaran, Astrologer Ashok Maharaj Ji utilizes advanced and effective methods of palmistry to tackle issues one is facing in his life.
His work and effort in the field of astrology have been rewarded and recognized by more than 64 distinct associations in the world, which is no easy feat for this industry.
Ashok Maharaj's services are fully online, as he is based in India. And we do not mind, at all, because this means that his services are that convenient.
This also means that the services are always easier to access as a whole.
However, sometimes the reading struggles with choppy internet connections, and without sessions done in person as a substitute it can get in the way of the experience.
We are also impressed by his reading style, and his deep understanding of the duality of a person and how it can help them face the unknown and provide them with solutions to their challenges.
And this principle applies to all aspects of a person, from their love life, and to their professional life.
When it comes to its other service, we are glad that it has a lot to offer, most of which can be solutions to problems that have been discovered from readings.
Utilizes advanced and effective methods of palmistry
Fully online services
Deep and proactive reading style
Wide range of other services
Exclusive online reading dampens the experience
5. Rajat Nayar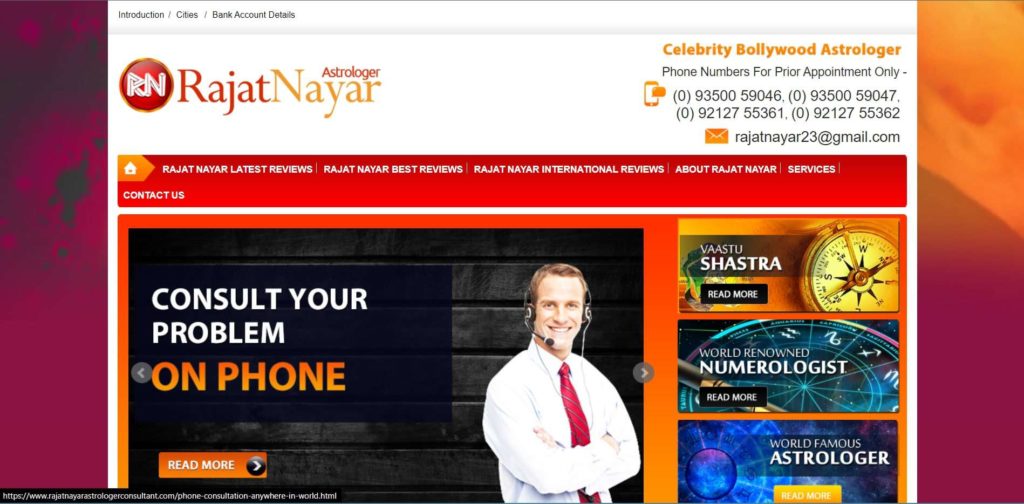 | | |
| --- | --- |
| Criteria | Rating |
| Training | ★★★★☆ (4/5) |
| Accessibility | ★★★★★ (5/5) |
| Reading Style | ★★★☆☆ (3/5) |
| Other Services | ★★★★★ (5/5) |
Known as a celebrity astrologer and one of the most trusted astrologers in the UAE, Rajat Nayar employs 37 years of experience giving counsel to some of the world's best celebs, more particularly the films and television stars of global fame.
He also has spent years mastering the core principles of Vedic astrology in order to offer accurate insights about every intricate aspect of human life.
Rajat is actually self-taught, and while the feat is amazing, we still think it is even more impressive if he landed himself mentorships with some great palm readers.
However, Rajat is probably our most accessible palm reader among all our entries on this list.
Not only does he accept reading sessions in person, on the phone, and online, but also has a regular TV segment that airs in both India and the UAE.
It is very impressive that an astrologer is this accessible, even for those who do not have the funds to have a reading. A free general reading from him is always one click of a TV remote away.
However, we think that one of his weaker points is his reading style. He could be a bit more grounded and practical in his reading.
Sessions with him entail a show and dramatic gestures that make the entire session less serious and almost unbelievable at times.
However, Rajat makes up for it with a wide range of astrological consultations at his disposal.
Has 37 years of experience
Widely accessible online, by telephone, and TV
Wide range of services
Nothing special in his training
Inauthentic reading style
FAQs about Palm Reading
---
We hope this helped you in finding the right place for palm readings in Dubai. Also, if you're looking for other astrological services, then check out this article on the best psychics in the city: