Best Low Budget Activities for Adults in Dubai
Traveling on a budget will not hinder you from having fun in Dubai. While you might not go to popular attractions such as theme parks, bus tours, and cruises, there are other options available for you.
Sit back as we list down some of the best low-budget activities you can do in Dubai during your stay!
What are the best low-budget activities in Dubai?
The best activities that you can do in Dubai on a budget are visiting the Dubai Fountain, Dubai Miracle Garden, Dubai Coffee Museum, or the Souqs.
Additionally, tourists can grab an Abra ride to get a view of the city or camp at the Love Lake. 
Dubai Fountain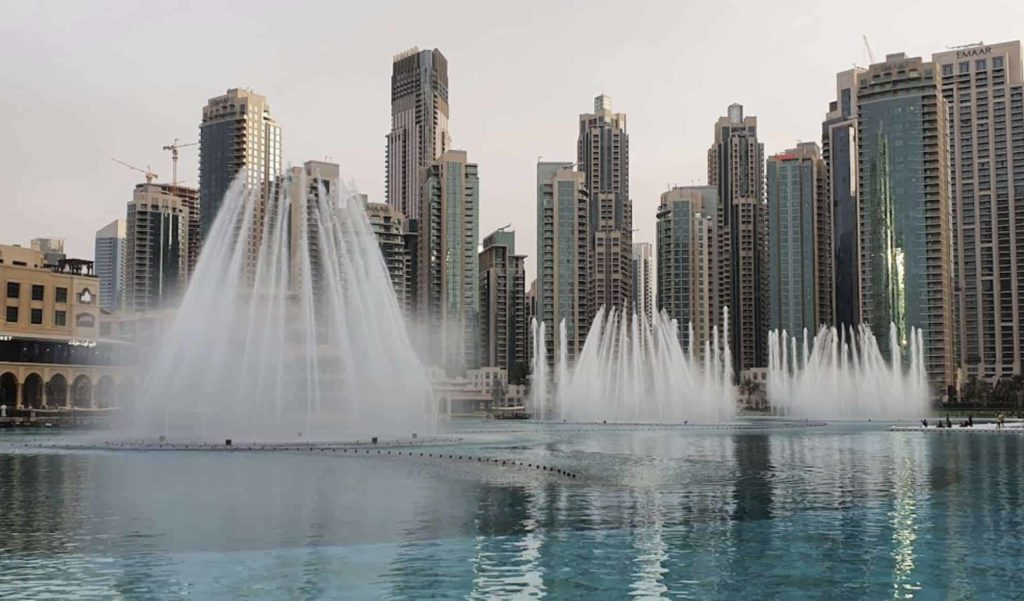 Image credit: Shaun Coppard 
| | |
| --- | --- |
| LOCATION | Sheikh Mohammed bin Rashid Blvd - Downtown Dubai - Dubai - United Arab Emirates |
| OPERATING HOURS | Open 24 hours. (Monday - Sunday) |
| CONTACT INFORMATION | Phone: +971 4 567 2030 |
The Dubai Fountain is one of the well-known tourist spots in the city. It is located next to Dubai Mall and the Burj Khalifa, so you can easily pass by here if you're from the mall.
You can grab a snack from nearby restaurants or food stalls, pick a place to sit, and watch the fountain shows for free. These performances are also accompanied with lights, which are pretty to look at, especially during the night.
The fountain shows occur everyday at different schedules. During the day, the performance will occur at 1:00 PM, 1:30 PM, and 2:00 PM..
On the other hand, the evening shows happen every 30 minutes from 6:00 PM to 11:00 PM.
Rides Near The Fountain 
| | |
| --- | --- |
| LOCATION | Sheikh Mohammed bin Rashid Blvd - Downtown Dubai - Dubai - United Arab Emirates |
| OPERATING HOURS | 5:45 PM - 11:30 PM |
| TICKET PRICE | AED 65 / person |
If you're not satisfied with watching from afar, you can actually hop on a boat and go near the fountain to see the shows up close and personal.
The Burj Khalifa offers a boat ride for shows that happen during the evening. You'll only have to spend AED 65 per ticket!
The rides are available from 5:45 PM to 11:30 PM. We advice to book in advance so you're sure that you'll be getting a ride!
Dubai Miracle Garden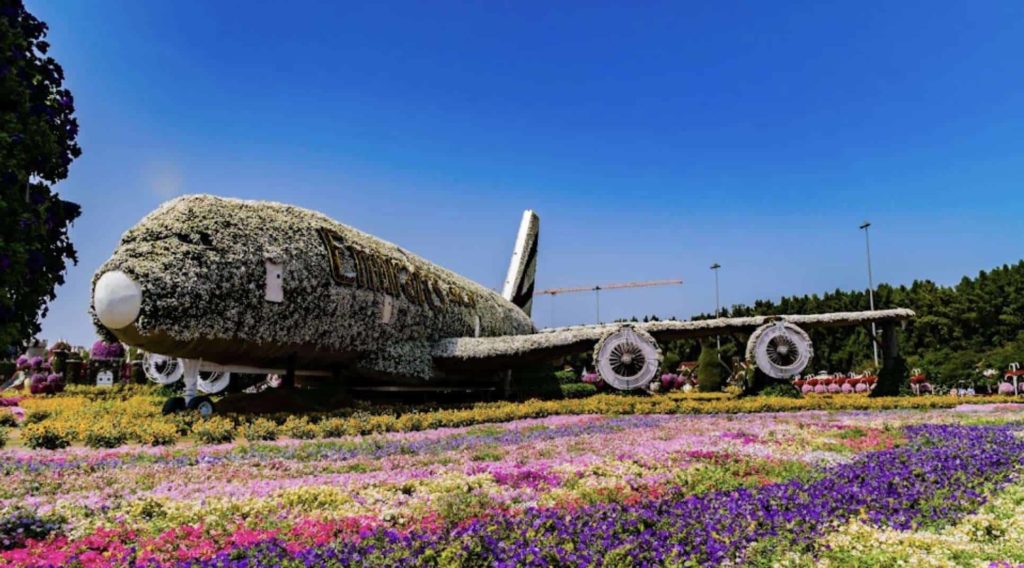 Image credit: PWDigitalArts by PW 
| | |
| --- | --- |
| LOCATION | Street 3 - Al Barsha - Al Barsha South - Dubai - United Arab Emirates |
| OPERATING HOURS | 9:00 AM - 10:00 PM (Monday - Sunday) |
| CONTACT INFORMATION | Phone: +971 4 422 8902 |
The Dubai Miracle Garden is a lush, flora-filled landscape that are a treat to the eyes!
The park frequently updates itself, showing new exhibitions or replenishing and taking care of the plants surrounding the area. This fairy tale-esque landscape is definitely social-media worthy, aside from being a visual treat.
One of its perks is that the entry fee is quite inexpensive. Entry tickets range from AED 40 to AED 55, depending on the age of the visitor.
Children below 3 years old can get inside for free as well!
Aside from its luxurious sights, the garden has open parking, sitting areas, a prayer room, and retail and commercial kiosks available for their visitors.
Things To Remember During Visiting The Garden
The Dubai Miracle Garden has a couple of rules that you need to consider while you're in the area, so you can avoid any inconveniences.
One of them is that professional cameras and drones are not allowed inside the premises. If you'd like to do a professional shoot (such as engagements, modeling, and more), the administrative staff will require you to get approval first.
Another rule to remember while you're in there is to avoid picking any of the flowers, as it is not allowed. You might get kicked out if you get caught!
Speaking of things that are not permitted, cars, scooters, bicycles, and pets are not allowed.
We recommend placing your furry companion under a sitter or a daycare before hand, so they will still have fun (and get taken care of) while you're having fun!
Coffee Museum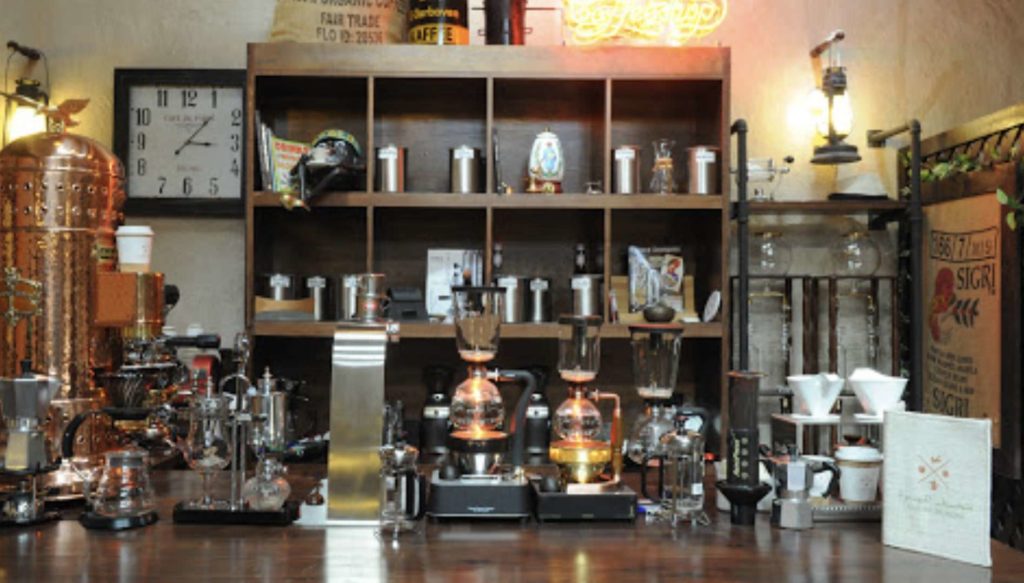 Image credit: Dubai Coffee Museum
| | |
| --- | --- |
| LOCATION | Historical Neighborhood, Bastakiya, Villa 44 - Al Hisn St - Al Fahidi - Dubai - United Arab Emirates |
| OPERATING HOURS | 9:00 AM - 5:00 PM (Saturday - Thursday) |
| CONTACT INFORMATION | Phone: +971 4 353 8777 |
Located in Dubai's Historical Neighborhood, the Dubai Coffee Museum is a great place for coffee addicts and enthusiasts alike.
This establishment showcases the history of Dubai's favorite caffeinated drink. They provide information on how the different techniques and flavors emerged from all over the world.
Additionally, you'll get more knowledge about the evolution of coffee-making tools, and the techniques used by baristas over the years. This is certainly a haven for all the coffee lovers out there.
Now, with this being a museum dedicated to coffee, you can't go home without taking a sip of their brew, right? Well, the establishment does offer their own coffee beans (which include Arabic, Turkish, and Decaffeinated), so you can take one home.
They are also in the process of opening a dedicated cafe, so you can get a taste of the baristas' expertise and passion in one cup.
The entrance fee for this museum is only AED 10 per person.
Things to Remember While Visiting The Coffee Museum
We do recommend visiting the museum around the late afternoon, as that's the timing we observed when the establishment isn't the busiest.
Additionally, there's no need to book in advance as you can just walk in during their opening hours, which are around 9:00 AM to 5:00 PM.
During your stay, we advise treating the exhibitions, artifacts, and materials displayed with care and caution.
Riding an Abra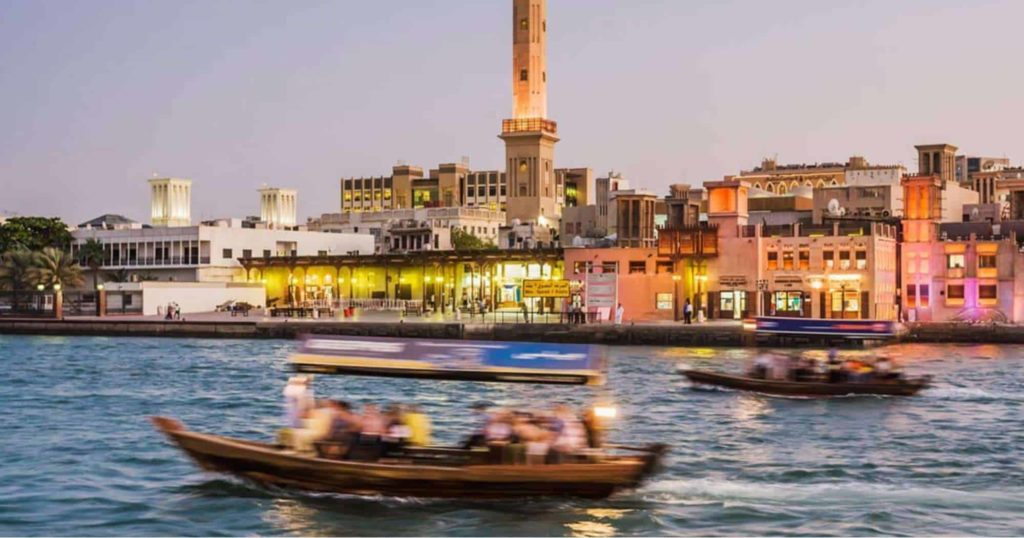 Image via Visit Dubai 
| | |
| --- | --- |
| LOCATION | 32 3 A St - Al Fahidi - Dubai - United Arab Emirates |
| OPERATING HOURS | 5:00 AM - 12:00 AM (Monday - Sunday) |
Now, here is an affordable version of a cruise around Dubai!
The Abra is a kind of traditional ferry system that crosses around Dubai Creek. Riding this boat can show you the sights of different places in the city.
These include the Deira Old Souq, the city's Gold Souq, the Dubai Festival City, and more! Fees will depend on what kind of boat you will ride on, but the range goes from AED 1 to AED 2 per person on a one-way trip.
It's pretty convenient as a transportation option, but it also serves as a discount ferry cruise in the city.
The Abra can also be booked privately for AED 120 per hour if you're interested in doing that.
Things To Remember While Riding An Abra
We recommend visiting the dock for a ride outside of its peak hours, which are around early morning to late in the afternoon. You'll still get a ride during that period of time, but we did observe that the lines were quite long.
Also, if it's your first time with boats, ask one of the boat crews for help during entering and hopping off the boat. It can get tricky to navigate, especially if it's your first time.
It'd be better if you have somebody to accompany you during the ride so they can take care of you.
Visiting Souqs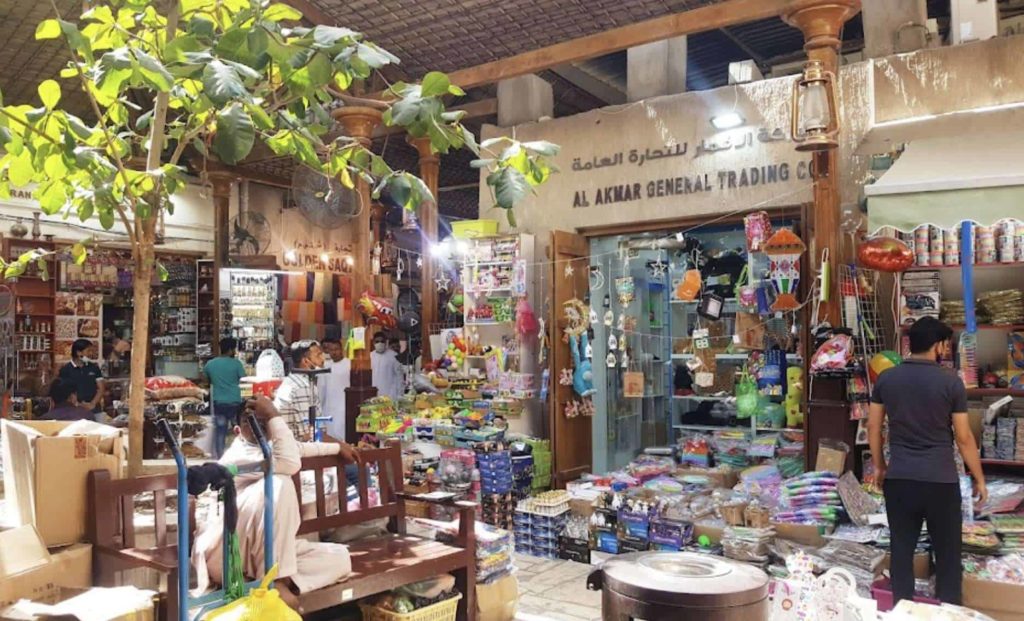 Image credit: Stefania Tomasini
Would you like to do a bit of window shopping? Bring home some of the best souvenirs and trinkets you can find in Dubai by visiting the city's Souqs.
These are marketplaces where you can get good deals on items such as spices, jewelry, and more.
We would recommend visiting two places: the Gold Souq and the Spice Souq. Even if you don't buy something, seeing the different items up for display and immersing yourself in the market culture in Dubai can be fun!
The Gold Souq 
LOCATION
Gold Corner Building, 3rd Floor - Gold Souq - Deira - Dubai - United Arab Emirates
OPERATING HOURS
9:30 AM - 9:30 PM (Saturday - Thursday)

4:00 PM - 9:30 PM (Friday)
Located in Deira, Dubai, the Gold Souq is one of the biggest hubs for jewelry. You can find mainly accessories and items made of gold here.
However, you can still find some precious stones, such as diamonds, emeralds, and turquoise being sold as themselves or as part of jewelry.
We recommend visiting here around 11:00 AM, as we find that people tend to flock to this location during the evening.
In terms of budget, we recommend bringing around AED 100 to AED 300 if you want to buy something. Like we've said, you don't need to buy one to have fun, but that money is just in case you find a piece of gold jewelry that you want.
Additionally, if you are eyeing a particular item here, get ready to haggle to get the best price! Make sure to remain polite to avoid alterations, though!
The Spice Souq
LOCATION
41 34th St - Deira - Al Ras - Dubai - United Arab Emirates
OPERATING HOURS
7:30 AM - 11:00 PM (Saturday - Sunday)

7:30 AM - 9:55 PM (Monday - Friday)
Alternatively called the Old Souq, Dubai's Spice Souq is located in Deira, Dubai as well. Actually, you can walk for just 3 minutes and arrive at the previously mentioned marketplace.
This place is open from 9:30 AM to 9:30 PM. If you want to enjoy looking around and shopping for spices without the hassle of going through a lot of people, try arriving here at around 11:00 AM as well.
The marketplace is home to popular items such as saffron, rose water, vanilla pods, and cinnamon sticks. Additionally, you can also grab some tea here!
People go here to buy tea variations such as hibiscus, rosebud, and lavender teas. This is the perfect place to go if you want to grab something inexpensive as a gift for a friend, family member, or a loved one! 
Visiting The Love Lake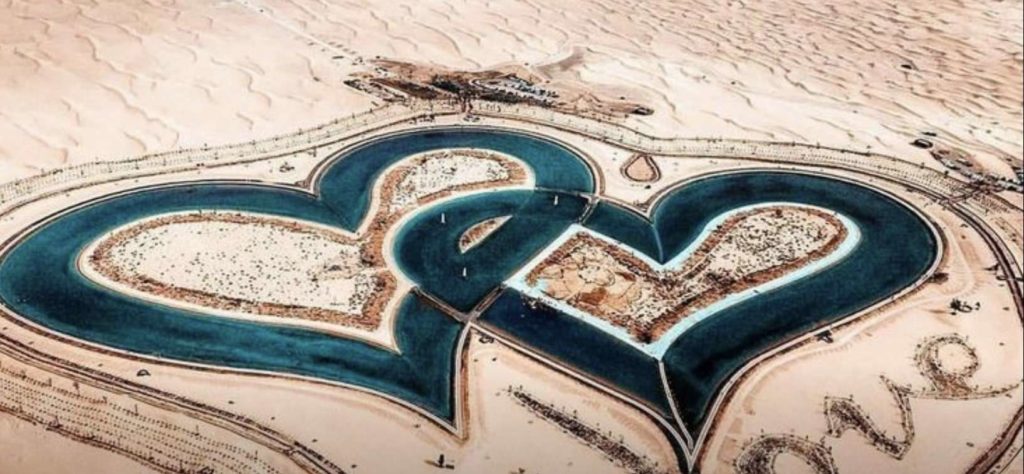 Image credit: Numaan Zahid
| | |
| --- | --- |
| LOCATION | RCP3+39C - Dubai - United Arab Emirates |
| OPERATING HOURS | Open 24 hours. (Monday - Sunday) |
| CONTACT INFORMATION | Phone: +971 52 692 8438 |
Located in Al Qudra on the outskirts of Dubai is a man-made wonder perfect for couples. You can also go here on your own if you want.
The Love Lake is made of two lagoons made in the shape of intertwined hearts. To add more spice to this area, there is also a nearby arrangement of plants that spell the word "love."
It doesn't get more romantic than that! This is a great place for picnics, camping, and just casual visitation for tourists and residents.
Pets and dogs are allowed inside the premises, so you can easily have them roam around the lake. Make sure to keep watch over them so they can avoid damaging nearby plants or structures in the lake!
This is a great low-budget option because you can enter the premises of the lake without paying for anything. You can bring your family and have a barbeque party in the location's designated areas.
Camp at the Love Lake
Dubai is home to multiple campsites that can allow you to spend a night under the stars. The Love Lake is one of them, having designated camping areas scattered around its premises. You can go here at any time and just set up camp.
The premises only require you to avoid feeding the birds and fish you can find in the location. You can still do barbeque, but only in select areas of the camping grounds.
Aside from camping supplies, we recommend bringing blankets, warming devices, and warm clothes. This is because the temperature drops here at night!
---
Remember: you can still have fun even on a low budget! Dubai has a lot of activities you can avail of for a low price or for free.
We hope that these suggestions will be of help to you when you're planning to visit the city.
Related Articles