The 5 Best Lip Filler Clinics in Dubai
Let's admit it: we all want Angelina Jolie's lips. But fate isn't kind enough to give that to most of us.
Thankfully, we live in the 21st century, when cosmetic enhancements can correct fate's miserliness. The beauty clinics that offer them are so common too that you can now find them in malls or just about any busy commercial road.
Today, we'll look at the ones that do the best lip fillers in Dubai. We did the digging for you, so you won't have to.
How much am I going to spend on lip fillers?
Let's start with the cost because it's a common concern. And yes, the old chestnut applies here: it's variable.
If we were all to sign up for the procedure, we wouldn't all get the same lip filler and pay the same price. Many factors have to be considered:
a.) The type of injection – It may come as a surprise, but there are actually different types of fillers that your doctor can use depending on what they believe would suit you best.
For instance, Juvéderm, Restylane Silk, and Volbella are much thinner in consistency and will be suggested to patients who want their lips to look "puffier". For those with really thin lips, Juvéderm Volbella XC may be used for that extra plump.
b.) The number of injections needed and the patient's goal – While the doctor will never neglect giving sound medical advice, it would still be up to the patient just how radically different they want to look by the end of the procedure.
Naturally, if they want to go for the really big lips, they're going to require more injections than what's commonly advised. This means a higher amount of money to pay.
c.) The physician – As with any medical cosmetic procedure, the more popular your doctor is, the higher your bill becomes.
| FILLER (per syringe) | USD | AED |
| --- | --- | --- |
| Juvéderm | 550-700 | 2020-2600 |
| Juvéderm Ultra | 1200 | 4400 |
| Juvéderm Ultra Plus | 1200 | 4400 |
| Juvéderm Voluma | 1500 | 5510 |
| Juvéderm Volbella | 675-800 | 2500-3000 |
| Restylane | 620-800 | 2300-3000 |
| Restylane Silk | 800-1000 | 3000-3700 |
The Best Lip Filler Clinics in Dubai
Now that we have the numbers out of the way, let's check out our options for the best lip filler clinics in Dubai.
1. Elite Plastic & Cosmetic Surgery Group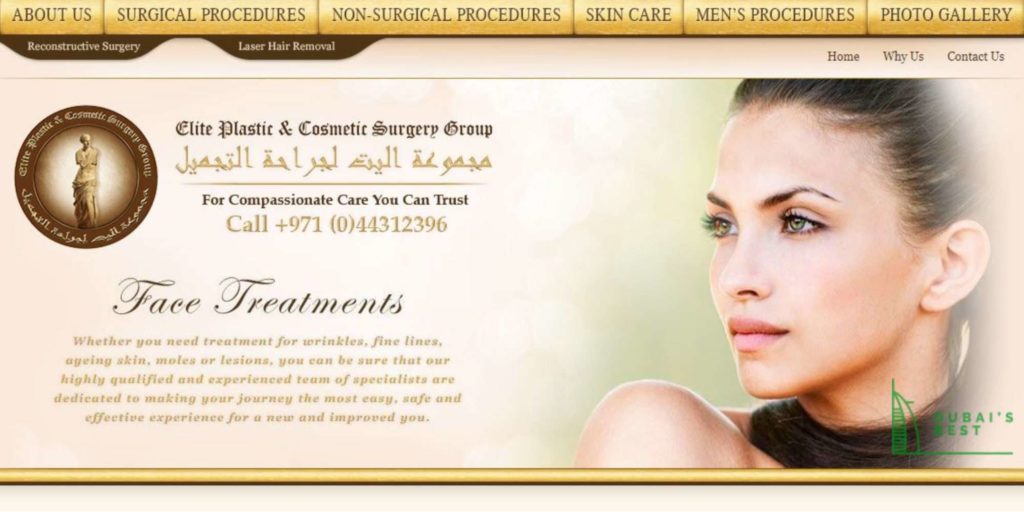 Test
Info
Address:
Al Razi Building 64, Block C 4th Flr, Clinic 4012 Oud Metha Road, Dubai, Healthcare City
Website:
https://elitecosmeticsurgery.ae/
Contacts:
+971-44312396 |

[email protected]

Services Offered:
Surgical: Breast Surgery, Facial Surgery, Body Contouring

Non-Surgical: Face Treatments, Body & Face Sculpting, Glutathione
Starting our list is Elite Plastic & Cosmetic Surgery Group. It's led by the world-renowned Dr. Allen Rezai, who's already made quite the career in Harley Street, London.
He has since brought his expertise over to Dubai where he is now working as the consultant plastic surgeon in this clinic.
The clinic offers a wide array of services that range from surgical ones like breast implants and liposuction to non-invasive ones like peeling facial or laser hair removal.
They (of course) offer lip fillers as well. They have the basic Juvederm and Restylane fillers, to be precise.
What we especially like about this provider is their "exclusive aftercare plan", through which they still give assistance to their patient even after the procedure.
After the procedure itself, for instance, you will be given an after-office-hour mobile number that gives you 24-hour access to your surgeon in case of an emergency.
Not only that, but the clinic will also call you every day for a week just to make sure that nothing untoward is happening. They will then set you up for an appointment with your surgeon at intervals of one week, six weeks, and one year.
Appears to only have the basic Juvederm and Restylane
Customer Reviews
I am over the moon with my results. Grateful for Dr. Allen Rezai.
"I am over the moon with my results and I'm so grateful for Dr. Allen Rezai and his team for the fantastic care and kindness they gave me. They answered all my questions and were so patient and understanding. I can't thank them enough!" – Mohsin Ashiq
Super happy.
"I have been seeing Dr. Allen now since 2015. It started with rhinoplasty and otoplasty (ear pinning) and I was in love with the results! Since then, I've been having lip injections plus facial treatments. My skin has never looked better! I'm only 27, and I didn't want to start the Botox process just yet, so this has definitely set me back a few years! I would recommend it to anyone who's looking for their skin to look tighter with a constant glow. Super happy!" – Nicole Drinkwater
2. Lucia Aesthetic and Dermatology Clinic
Address:
Jumeirah 2, Opposite Four Seasons Resort Jumeirah Beach Rd, Villa 323 PO Box 214260 Dubai
Website:
https://www.luciaclinic.com/
Contacts:
+971-43854525 | +971-561159194 |

[email protected]

Services Offered:
Lip Fillers, Chemical Peels, Cellulite Removal, Mesotherapy, Blepharoplasty, Face Lift, Hair Loss Treatment, Mole Check
Another internationally known figure by the name of Dr. Radmila Lukian heads the Lucia Aesthetic Clinic. She made a name for herself with her laser specialty and in the field of dermatology, specifically anti-aging.
Using only the latest equipment and technique, she and her expertly trained staff provide a host of dermatological, surgical, and cosmetic services for the face and the body.
However, it appears that the clinic only serves Juvederm fillers. While they may have the other types of Juvederm available, there was no mention of them using Restylane.
Just in case you prefer to use the latter type, it would be best to ask them to special-order it (though that usually costs more) or simply find a different provider.
Other than that, the clinic is beautiful and clean, and Dr. Radmila's fellow doctors are all experts in their own right. Testimonials from their past clients have all been glowing too.
The head doctor specializes in anti-aging procedures including fillers
Appears to only have Juvederm
Customer Reviews
Every time I visit, the quality of service and treatment gets better and better.
"It's been more than a year that I get treated at Lucia Clinic and every time I visit the quality of service and treatment gets better and better. The receptionists are very friendly and welcoming and the therapists are very professional. I even went so far as to recommend Lucia to a friend of mine as they never disappoint. 5 stars" – Abdul Rahman
I was not satisfied until I found Lucia Clinic.
"I never write reviews about doctors although I guess more people should do, because it is so difficult to find great doctors these days. I have tried several aesthetic doctors so far, but only because I was not completely satisfied with any of them. Until I found Dr. Aliya in Lucia Clinic. She is very skilled and honest about the predicted outcomes. I'm truly satisfied with her work." – Mili Lica
3. Dubai Cosmetic Surgery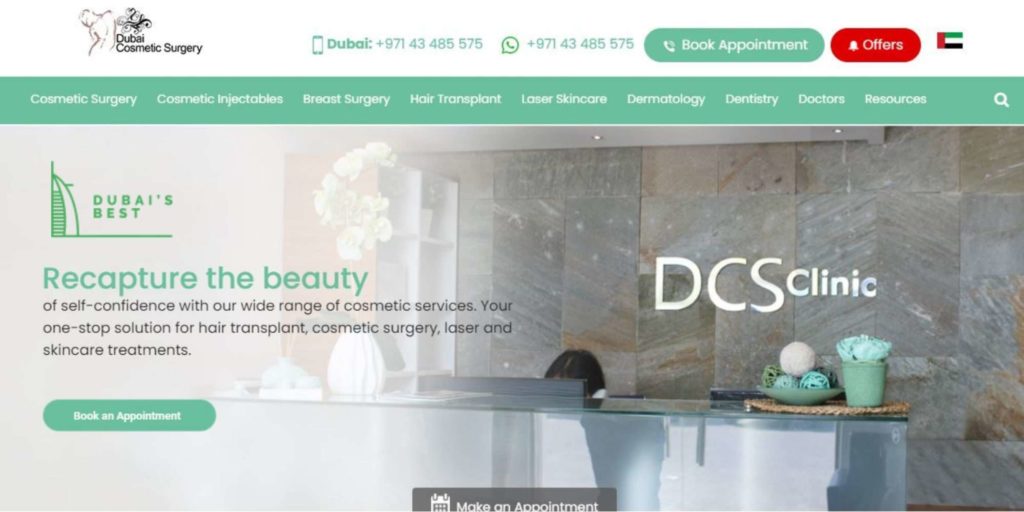 Address:
Jumeirah Villa 22, 25 B Street, Umm Suqeim 1, Dubai
Website:
https://www.dubaicosmeticsurgery.com/
Contacts:
+971-43485575 |

[email protected]

Services Offered:
Rhinoplasty, Lip Fillers, Hair Transplant, Liposuction, Cheek Lift, Tummy Tuck, Ear Surgery, Eye Surgery
This clinic was founded in 2005 by the late Dr. Farhat Bokhari, who performed thousands of cosmetic surgeries throughout his career. Even though he is gone, the remaining team of expert doctors continue to keep his mission and legacy alive.
Today, the clinic has managed to stay on top of the world of medical cosmetics. Their equipment is nothing short of what's best as they say they're constantly investing in upgrading them.
As for the people themselves, the medical team is composed of over 45 specialists, each of whom has years of experience, exposure, and expertise.
Which is why it comes with no surprise that their lip filler services are one of the best. They have more than one Juvederm type of filler, for instance, which is great if you want something specific or prefer more options.
However, just in case you prefer to have a female doctor to tend to you for whatever reason at all, you may have to look for a different provider. Every single one of their doctors is male, save for their beauty aesthetician who doesn't handle injections and their dental surgeon.
Has more than one type of Juvederm filler
State-of-the-art facility and equipment
Not ideal for those who prefer to work with female cosmetic doctors
Customer Reviews
You can sense the commitment and professionalism the moment you enter.
"This is the best cosmetic clinic in Dubai by far. Very comfortable place and you can sense the commitment and professionalism from the minute you enter there. The staff is so sincere and with a great sense of professionalism, and they try to give always a personalized tailored experience to clients. I would really like to thank Horeya and Yasmina for their great support and professionalism." – Ashraf Ahmed
My experience was fantastic from start to finish.
"I would highly recommend Dr. Faisal Salim and his team. My experience was fantastic From start to finish. He and his team are so kind, genuine, and helpful. I would not want to go anywhere else his work is amazing, very professional, and caring." – Holly Gribble
4. Florentia Clinic by Dr. Maen Al Khateeb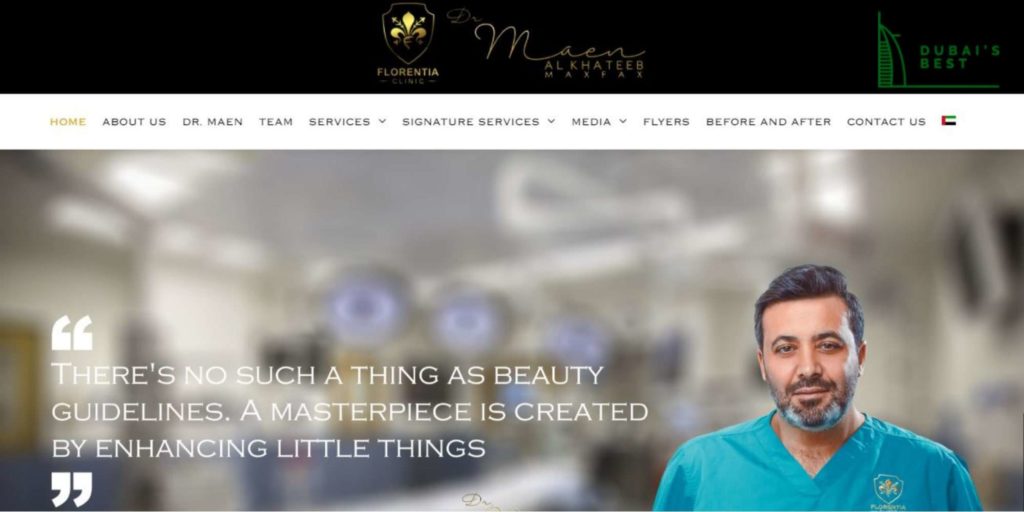 Address:
Villa 3 Jumeirah 3, Jumeirah Beach Road, Dubai
Website:
https://www.drmaen.ae
Contacts:
+971-43422000 | +971-588737444 |

[email protected]

Services Offered:
Signature Services: Max-Fax Lift, Max-Fax Surgery, Signature Smile, Lip Fillers, Lip Laser Depigmentation, Gummy Smile Correction
If the name "Florentia Clinic" doesn't make you think of Italy, paying them a visit should. Everything about this clinic's aesthetic, from the exterior to the interior design, will have you believing you've stepped into the European country.
But the real highlight of this place is their multi-awarded, world-renowned chief surgeon, Dr. Maen Al Khateeb. He is such a revolutionary in the field of medical cosmetics that he developed an innovative and modern technique he called the "Max Fax".
One Max Fax procedure is called the Max Fax Sculpting where Dr. Maen injects fillers in specific areas of the face to enhance facial features. And while this isn't necessarily the same as his lip filler service (it's separate), he thinks he employs the same scientific method anyway.
His lip fillers last anywhere from 8 to 12 months. However, it's not specified what kind of fillers this clinic uses.
Still, that's probably a very small concern when you take into consideration the fact that Dr. Maen specializes in fillers. Most of the clients we talked to actually went there for them – and looked pretty good.
Handled by a world-renowned doctor who specializes in fillers
Filler types are not specified
Customer Reviews
Advanced equipment.
"A wonderful center with advanced equipment led by the outstanding Dr. Maen Al-Khateeb." – Samir Tawfeeq
Dr. Maen is the best—an excellent professional.
"Dr. Maen is simply the best! A fantastic human being, an excellent professional, and a great friend. I can not recommend him enough." – Hani Dalati
5. The Private Clinic Medical & Aesthetic Centre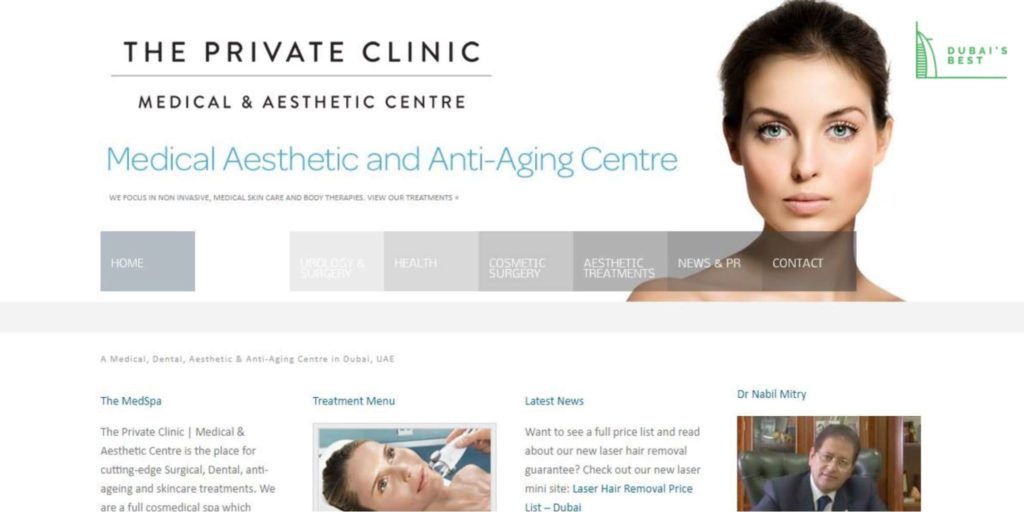 | | |
| --- | --- |
| Address: | Villa 469a, Jumeirah Beach Road, Jumeirah 3 PO Box 74750 Dubai |
| Website: | https://www.theprivateclinic.ae |
| Contacts: | +971-0581699822 | +971-043956400 |
| Services Offered: | Botox, Lip and Face Fillers, Breast Augmentation, Liposuction, Liposculpture, Brazilian Butt Lift, Facelift & Neck Surgery |
This clinic has been in the business for over twenty years now, starting out as Manchester BodyCare Centre that provided non-invasive cosmetic procedures.
Today, The Private Clinic has done more than just relaunch itself with a new identity. They've branched out and widened their scope of services to include not just cosmetic surgery, but also urology, wellness, and dentistry.
Their lip fillers are hyaluronic acid-based, although that's about as far as information about it goes. You will have to discuss with your doctor first if what they currently have in stock is what's best for you and your goal.
The clinic claims that their injectables can last from 9 to 12 months, with a natural fullness and volume that is balanced.
Just in case you're interested, you can check out their other services so you can have some of them done at the same time as your fillers.
It would also help to note that while The Private Clinic claims to use only the current best products on the market, it appears they currently have no popular doctor on board assigned to medical cosmetics. Just a heads up, if that's what you prefer to go for.
On the other hand, that almost guarantees that they won't be charging as high as the others. In fact, that's what most of the clients we talked to liked about them!
Uses the best products currently available on the market
May occasionally have limited filler options
There are no popular doctors here assigned to medical cosmetics
Customer Reviews
The results are unbelievable.
"I started my treatment almost a year ago, and the results are unbelievable. Very professional approach and the staff is super reliable. They don't just do their work but give you a lot of useful information and tips regarding your health and beauty. I always love going there and I do not regret any penny spent on my visits. Worth mentioning that compared to a few other clinics I've been at, the prices are very convenient and fair." – Michaela Zajacova
Your home away from home.
"This is a clinic that gives you the feel of home away from home. Very professional team and always smiling, very clean and sanitized place, always doing their best to accommodate their clients' requests. I highly recommend this place to anyone seeking a professional experience with guaranteed results. Charity is my all-time favorite: such an energetic professional, always with a wide smile on her face and ready to brighten up your day. She has helped me go through the painful experience of laser with so much ease and professionalism. Keep it up, Cha!" – Yara Tannoury
FAQs about the best lip fillers in Dubai
---
Now that we've gotten our lips plump and gorgeous, how about our pearly whites? Read up about the best dentists in Dubai to complete that perfect million-dollar smile!