The Most Scenic Lakes in Dubai: A Guide to Lakeside Delights
When you think of Dubai, you might imagine a city of skyscrapers, deserts, and shopping malls. But did you know that Dubai also has some fantastic lakes to explore?
Whether you're looking for a romantic getaway, a family adventure, or a relaxing retreat, you'll find a lake that suits your mood and taste in this desert city.
If you want to know more about these lakes in Dubai, read on. We have compiled a list of seven unique lakes you can visit in Dubai and what makes them unique.
Moon Lake
Address: Q8P4+QJ3 – Dubai – United Arab Emirates
Operating hours: Open 24 hours, 7 days a week
Entrance fee: Free
Moon Lake is a crescent-shaped lake located in the Al Qudra desert area in Dubai. It was first discovered by a UAE-based photographer, Mostafa. It's a relatively new discovery, first spotted in March 2023. It's about 45 minutes from Dubai city center and is approximately 100 meters long and 50 meters wide.
The exact origin of Moon Lake is unknown. Some believe that it's a natural lake formed by groundwater, while others believe that it's an artificial lake created by the Dubai government.
The area around Moon Lake is serene and calm espeially during sunset and sunrise. You can also spot some of the local wildlife, including Oryxes, around the lake.
There are many activities to do at Moon Lake, such as cycling, wildlife watching, camping, horse riding, and hot air ballooning.
However, keep in mind that you'll need a 4×4 vehicle to reach the lake as it's situated in the desert.
Pro tip:

If you want to capture the best photos of the lake we recommend using a drone to get a bird's eye view of the crescent-shaped lake.
Love Lake
Address: Love Lake, Al Qudra Road, Dubai, United Arab Emirates
Contact details: +971 52 692 8310
Operating hours: Open 24 hours, 7 days a week
Entrance fee: Free
Love Lake is an artificial reservoir that exhibits a unique interlocked heart shape. It covers an area of 55,000 square meters and harbors more than 100 species of animals, flowers, and plants, attracting visitors worldwide.
The Dubai Municipality and the Department of Tourism and Commerce Marketing came up with this name to highlight the lake's romantic vibe and make it a special place that celebrates love and affection.

At Love Lake, you have the delightful options of enjoying a picnic, embarking on an overnight camping adventure, indulging in bird watching, and taking a stroll along the designated walking path.
Pro tip:

For a cozy and comfortable stay with your loved one, you can book a private tent at the Love Lake Camp. You will have a queen-size bed, air conditioning, a private bathroom, and a barbecue area. 
Expo Lake
Address: V63X+J9V – Dubai – United Arab Emirates
Operating hours: Open 24 hours, 7 days a week
Entrance Fee: Free
Expo Lake is a man-made lake near Al Maktoum International Airport. If you're flying in or out from Al Maktoum, look out for this extraordinary spot from above.
It was built by the Dubai Municipality to celebrate hosting the first World Expo in the Middle East, Africa, and South Asian region.
The lake is free to visit and features a design that resembles the Expo 2020 logo, with sand and flora in the lake's center. The site includes walkways to get to the 'island' surrounded by water.
The area around Expo Lake is serene and calm, with beautiful views of the surrounding desert. It's a great place to relax and is widely known as a favored fishing spot and haven for bird watchers.
Pro tip:

If you want to see the lake differently, you can book a helicopter tour at Falcon Tours to fly over the Expo 2020 site and the lake. You can see the Expo 2020 logo clearly from the air and enjoy the stunning views of the desert and the city.
Hatta Lake
Website: https://www.visithatta.com/en
Address: Q4M7+W4 – Dubai – United Arab Emirates
Contact details: +971 56 616 2111
Operating hours:
Monday – Thursday, 7 AM to 11 AM, 3 PM to 9 PM
Friday – Sunday, 7 AM to 9 PM
Entrance Fee: Free
Hatta Lake, also known as Hatta Dam or Hatta Water Dam, is a picturesque lake in the Hatta enclave of Dubai. It's situated near the Hatta Fort Hotel and Hatta Wadi Hub, surrounded by the rugged peaks of the Hajar range.
The turquoise waters of Hatta Dam provide a calm respite just 90 minutes away from the bustling city of Dubai. The spot is especially popular in the cooler winter months.
You can drive your car along the water's edge, hike between photo stops, and spend some time soaking up the natural beauty of the mountainous area around the dam.
The best way to take in the views is directly from the water; Hatta Kayak offers rental services starting at AED 60 for kayaks, canoes, paddle-boating, and more.
While there, don't miss another striking feature – a large mural overlooking the water commemorates the UAE's founding fathers, Sheikh Zayed bin Sultan Al Nahyan and Sheikh Rashid bin Saeed Al Maktoum.
The mural is located on the slipway of the Hatta Dam, and it's visible from the road leading to the lake. It's a popular spot for photo opportunities, and it's a reminder of the UAE's rich history and heritage.
Pro tip:

Bring your own snacks and drinks when you visit the lake, as there are no shops or cafes nearby. 
Al Warsan Lake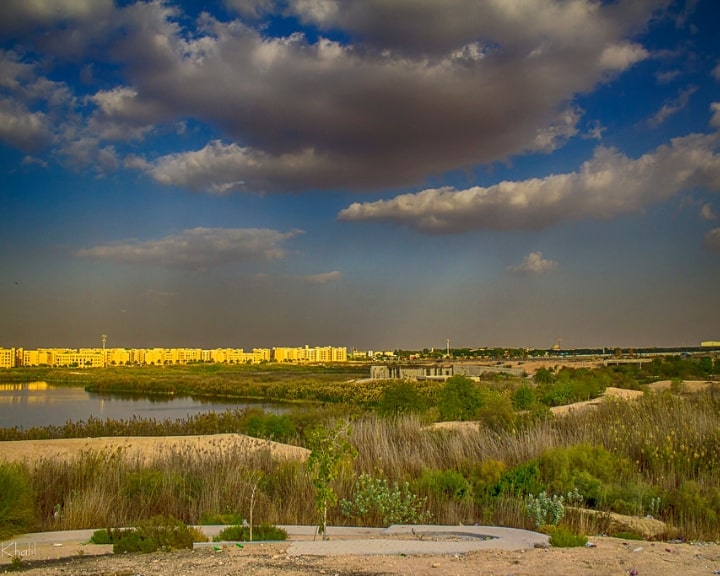 Address: International City – Dubai, United Arab Emirates
Operating hours: Open 24 hours, 7 days a week
Entrance Fee: Free
Al Warsan Lake, located in the Warsan neighborhood, is a man-made lake. It's now classified as an internationally important wetland under the Ramsar Convention.
The lake is home to over 180 species of birds, mammals, and plants, making it a well-preserved destination for nature lovers. You can spot various bird species, including flamingos, pelicans, and egrets.
You can also enjoy fishing in the lake, which is stocked with carp, tilapia, and catfish.
Pro tip:

Visit the lake during the winter season, when the weather is more relaxed and the birdlife is more diverse.
Burj Lake
Website: https://www.burjkhalifa.ae/en/downtown-dubai/the-dubai-fountain/
Address: Downtown Dubai, United Arab Emirates
Contact details: +9714 8888888
Operating hours:
Sunday – Thursday, 10 AM to 11:30 PM
Friday – Saturday, 10 AM to 12:30 AM
Entrance fee: Free
Burj Lake is a 30-acre man-made lake in Downtown Dubai, at the foot of the iconic Burj Khalifa. The lake is home to the famous Dubai Fountain, the world's tallest performing fountain.
Every night, the lake lights up with a spectacular show of sound and color, as over 6,000 lights, 25 color projectors, and 83,000 liters of water move in choreographed perfection to classic Arabian music and modern hits.
The fountain show is free from many vantage points near Dubai Mall and takes place every 30 minutes from 6:00 PM to 11:00 PM daily. The last show starts at 10:30 PM.
One of the best ways to see the fountains up close is to book a seat on a traditional abra (boat) ride on the lake. It's about AED 65 per person.
You can also walk along the Dubai Fountain Boardwalk, a 272 m-long floating platform that lets you get as close as 9 meters away from the fountains.
Pro tip:

If you want to have a fun and exciting time on Burj Lake, try the new Dubai Fountain Water Experiences. You can watch the fountain show from the water on different types of watercraft.

You can pick a swan boat, a donut boat, a water bike, or a raft. The prices and durations vary depending on your choice, from AED 40 to AED 80 per person and 20 to 30 minutes.