The 5 Best Junk Removal Services in Dubai
Featured Image Source:  Adobe Stock
If you're moving, renovating, or doing some major cleaning, you've probably built up a large pile of unwanted junk. Fortunately, there are tons of professionals in the City of Gold that will gladly take that junk off your hands.
Today, we'll be taking you through our list of the best junk removal services in Dubai. To help you choose a service we'll also be including customer reviews, pros & cons, and more!
How Much Does Junk Removal Cost?
First things first, let's discuss the cost of junk removal since it's probably something you're dying to figure out. We're happy to inform you that junk removal is free in Dubai—for the most part.
To be more specific, the cost of junk removal depends on the items that you have. If the items aren't reusable or recyclable, a reasonable price is charged to pay off dumping fees incurred by the service provider.
Let's break down these fees based on the various types of junk in Dubai:
| | |
| --- | --- |
| TYPE OF JUNK | COST |
| Home or office furniture | Free |
| Appliances (refrigerator, stove/oven, dishwasher, clothes washer, clothes dryer, microwave) | Free |
| Electronics (television, computer, cellphones) | Free |
| Mattresses | Free |
| Garbage, yard waste, construction waste | *AED 100 to AED 600 |
| Hazardous waste (batteries, pesticides, paint, kerosene, solvents, cleaners, motor oil, prescription drugs) | *AED 100 to AED 150 |
*Price range will depend on size and volume.
The Best Junk Removal Services in Dubai 
Now that you have a basic idea of the costs associated with these services, it's time to dive into our list of the best junk removal services in Dubai.
1.   Free Junk Removal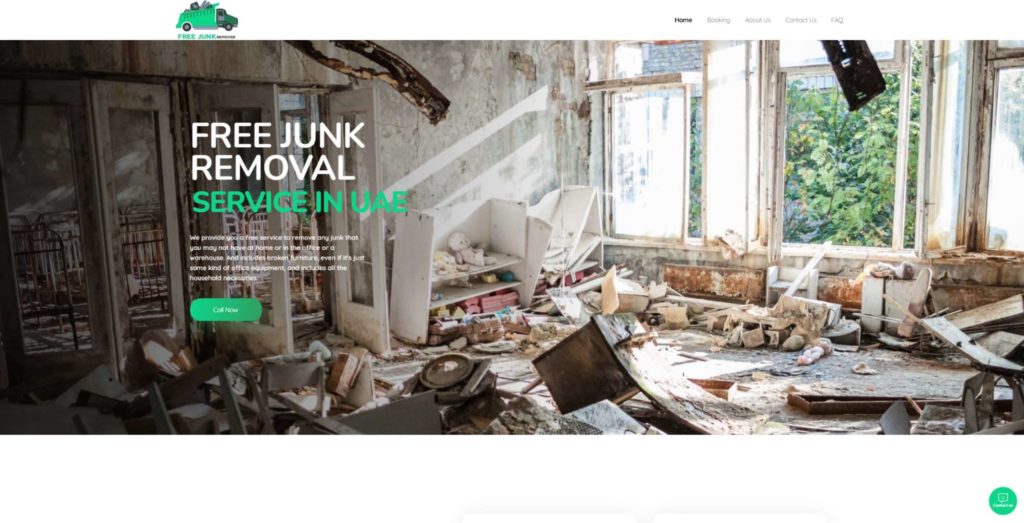 | | |
| --- | --- |
| SERVICES | Furniture Removal, Appliance Removal, Cloth Removal, Scraps Removal, Garbage Disposal, Yard Waste Disposal, Construction Waste Disposal, E-Waste Disposal & Recycling, Hazardous Waste Disposal |
| WEBSITE | Free Junk Removal Service in Dubai & UAE | Free Junk Collection |
| ADDRESS | Al-Jurf – Al Khail Rd. – Al Jerf 2 – Ajman |
| CONTACT DETAILS | Phone number: +971 508587796 |
| OPERATING HOURS | 24 hours a day, 7 days a week |
The Free Junk Removal company is a no-nonsense business that places a real emphasis on the word free. This is because they'll happily haul off any and all types of junk at no cost to you whatsoever.
We mentioned earlier that most junk removal companies will charge you for certain items that need to be disposed of. But, with these folks, additional dumping and processing fees are already covered so there are no hidden costs.
To add an extra layer of convenience, this company is also capable of working around your daily schedule. This means that once everything is settled, you can have your junk hauled away whenever you see fit.
The only gripe some patrons may have with this company is the fact that the minimum junk requirement is extremely high. As silly as this may seem, it serves to ensure that the company consistently works with large volumes of junk.
Free for all junk removal services
All types of junk are accepted
Quick turnaround times
Covers all of Dubai
Offers 24/7 service
Large minimum junk amount required for service
Better-suited to commercial/industrial applications
Customer Reviews
Though this company requires a large minimum junk requirement, many Emiratis will say that the free service is well worth it:
"I have an extra bedroom in my house that has a lot of old things that I don't use and they don't work at all. It includes broken furniture and pads and carpets. I was very anxious to get rid of the essentials so I contacted their company and they removed a lot of stuff from my bedroom in one day." – Andrea Smith
"In my office, the number of all the furniture heads that are broken or kept in our store due to old age had increased so much that it became very difficult to remove them from the store room. They vacated my storeroom in one day." – David Famor
"I was so worried about my household rubbish then I searched the internet and I found out about the free junk removal service that I contacted them and they gave me all the rubbish out of my house completely But I am very satisfied with their service." – Samanta Willaian
2.   Take My Junk UAE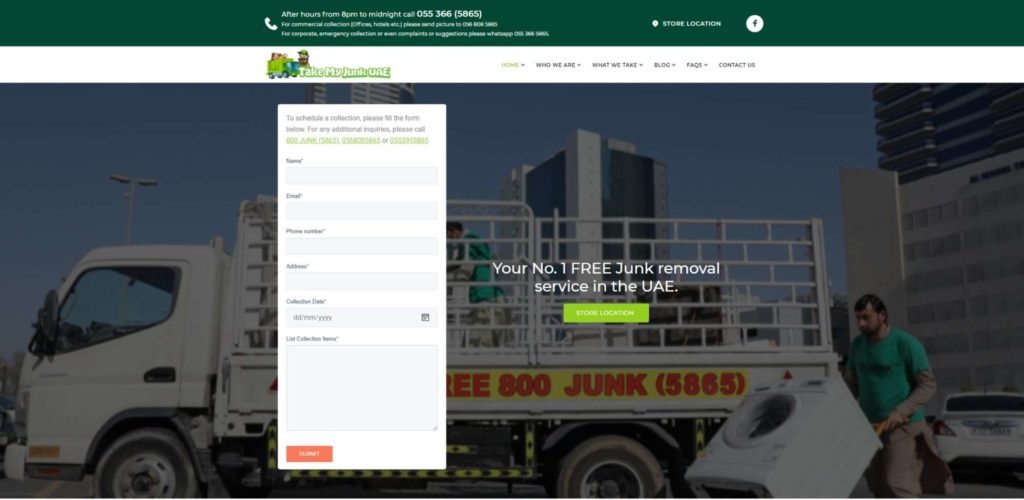 | | |
| --- | --- |
| SERVICES | Furniture Removal, Appliance Removal, Cloth Removal, Scraps Removal, Garbage Disposal, Yard Waste Disposal, Construction Waste Disposal, E-Waste Disposal & Recycling, Hazardous Waste Disposal |
| WEBSITE | Take My Junk UAE |
| ADDRESS | Al Jurf 2 Askan Holding – Al Jurf 2 – Ajman – United Arab Emirates |
| CONTACT DETAILS | Phone number: 055 366 (5865) |
| OPERATING HOURS | Monday – Sunday: 9:00 AM – 9:00 PM |
Take My Junk UAE is one of the oldest junk-removal services in the Emirates. As a result, they carry a wealth of experience dealing with both commercial and residential junk removal.
In its 12 years of operation, this company has built up a fleet of over 30 service trucks all around Dubai. As a testament to their skills and quality of service, these folks have worked with many large companies including Marriott Hotels, and Amazon.
Among your standard junk removal services, Take My Junk also has a special eco-friendly offering. In contrast to traditional removal operations, this service guarantees environmentally safe disposal practices for all your unwanted items.
Along with their green cleaning practices this company also makes various donations to local charities. When you pair this pay-it-forward attitude with Take My Junk's unparalleled experience you get a prime choice for junk removal.
Cost-free for reusable junk removal
Same-day service
Extremely reliable team
Does not offer 24-hr service
Only handles select types of junk
Customer Reviews
These clients are more than willing to vouch for Take My Junk UAE:
"Exceptional service once again. 2nd time using their service. Booked them 2 days ago, confirmation recieved yesterday for pickup today morning and as agreed arrived and cleared the junk I had all for a fee of ZERO dirhams. Highly recommended." – Nitin Narayan
"So grateful to TMJ UAE for their good work on recycling, and for the hassle free customer experience they offer.
Super fast and professional service.. All I had to do was put in a request on the website and follow up once on WhatsApp to confirm, and voila! TMJ is a one-stop shop for practically anything you want to dispose -cots/mattress ,furniture, electrical items, electronics, pots/pans, books ..…feeling so light 😄" – Shrimati Damal
"They r very humble , they came to pick on one phone call , really appriciate . And we r very great ful to them .they took our junk . No discomfort at all. Highly recommended. No lift up charges all free service👌" – Geetika Kochhar
3.   Take Our Junks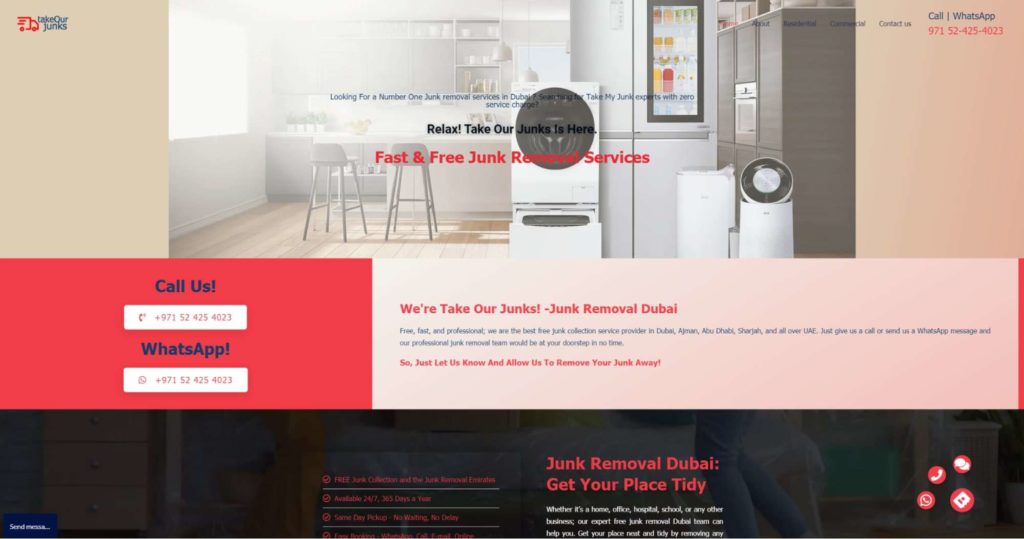 | | |
| --- | --- |
| SERVICES | Furniture Removal, Appliance Removal, Cloth Removal, Scraps Removal, Construction Waste Disposal, E-Waste Disposal & Recycling, Cleaning Services |
| WEBSITE | 1-800 Free Junk Removal Dubai | Take my junk removal services (takeourjunks.com) |
| ADDRESS | Al Jurf 2, Behind Safeer Market, Ajman, UAE |
| CONTACT DETAILS | Phone number: 971 52 425 4023 |
| OPERATING HOURS | 24 hours a day, 7 days a week |
Take Our Junks is a removal company that delivers free, fast, professional service all over the UAE. Along with this, these folks are also strong advocates of proper recycling and junk disposal
Part of this company's goal is to refurbish usable junk by encouraging folks to have serviceable household items collected. Once repaired, these refurbishable items are then donated and a few are sold at community bargain warehouse sales.
By refurbishing various reusable items, this company also helps to reduce the amount of waste that goes to landfills. Given the growing quantities of waste in the UAE, this is definitely a service we can get behind.
Last but not least, we'd be remiss if we didn't also mention Take Our Junks' helpful cleaning service. With this offering clients can gather their junk and have professional help sorting out any other messes that remain.
Free removal for reusable junk
15-30-minute response time
Restores reusable junk for donation
Additional cleaning services
Non-reusable junk removal fees
Does not handle hazardous waste
Customer Reviews
Let's look at some feedback from this company's satisfied customers:
"Excellent customer service. They arrived at my house within two hours of my call, which was excellent service. The workers were fantastic because they classified and packed all of the trash. They were professionals because I didn't have to supervise them; they took care of everything themselves. Take our garbage, you've done a great job. Keep up the excellent work." – Ragna Ioth
"I have never been able to trust a junk removal service in my life until I found this place.Excellent customer handling and service support from each and every person here.I strongly recommend Take my junks to everyone for their quality service and they have a good value for your time and its free too.you guys keep doing good things to make people happy and satisfied." – Malakiva Pradeep
"Easy to contact, same day pickup. Sent the photos of what I needed removed, shared location, and they did the rest; hassle free and friendly service. I will call them again for future needs and recommend them to others." – Mohammed Al-Kabour
4. Dubai Municipality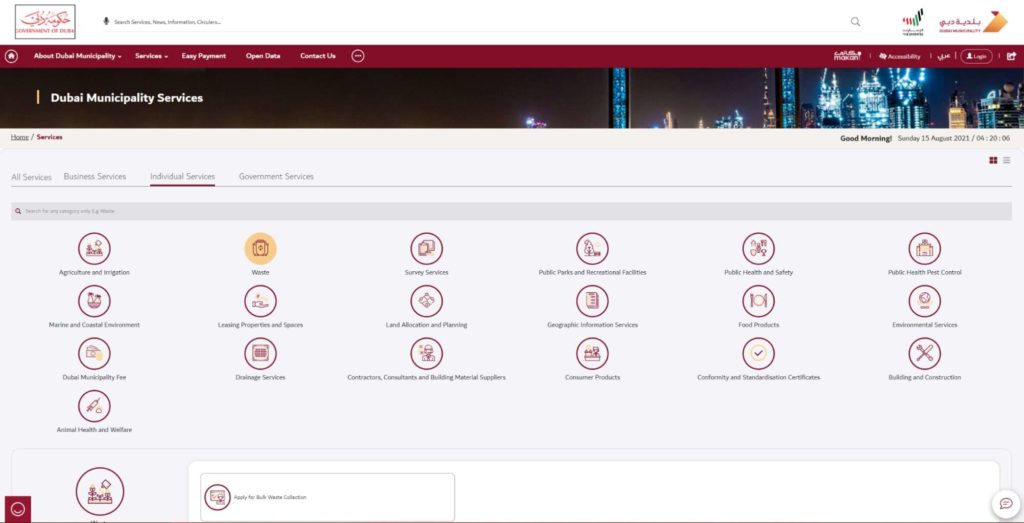 | | |
| --- | --- |
| SERVICES | Furniture Removal, Appliance Removal, Yard Waste Removal, General Waste Removal, Old or Abandoned Cars Removal |
| WEBSITE | Home | Government of Dubai | Dubai Municipality (dm.gov.ae) |
| ADDRESS | Dubai Municipality Headquarters: Building 20 Baniyas Road, Al Rigga Area, Deira. |
| CONTACT DETAILS | Phone number: +971 4 2215555 |
| OPERATING HOURS | Sunday to Thursday, 7:30 AM – 2:30 PM |
The Dubai Municipality is one of the few government-owned removal companies on our list. Thanks to their extensive resources, these folks can handle large volumes of waste with relative ease.
To make booking and scheduling as effective as possible, this company uses the Dubai 24/7 smart app. Through this app, citizens can choose from a menu of waste-management to find the best solution to their dilemma.
If there's one issue with this company, it's the fact that it only removes one type of junk with any service visit. This means that clients will need to make multiple bookings for each type of junk that they wish to remove.
While this process may seem tedious, it helps the company avoid mixing various types of junk together. Additionally, it also makes collection quick and simple since the personnel will know exactly what type of junk is being collected.
Offers free removal for select junk
Clients can book through an app
Handles old or abandoned cars
Separate booking per junk type
Does not handle hazardous waste
Random smart app glitches
Customer Reviews
We've gathered some interesting feedback from the Dubai 24/7 smart app users:
"Great App! It provides quick links to obtain the services" – MOKA
"Upon every time we need to use the service. This app is asking to restart. And I have to reinstall to use the service" – KASHIF MUHAMMAD
"xcellent app. Was very helpful in providing me the information and services I needed. Was easy to use too." – Hilario Goes
5.   Green Truck Recycling Transportation Service

| | |
| --- | --- |
| SERVICES | Recyclable Waste Disposal, E-Waste Disposal |
| WEBSITE | Green Truck – Subscribe Today For A Better Tomorrow |
| ADDRESS | Saih Shuaib 3, Site No. 30014 Dubai Industrial City |
| CONTACT DETAILS | Phone number: 04 – 580 82 64, 056 – 577 2014 |
| OPERATING HOURS | Sunday to Thursday, 8 AM to 5 PM |
To be frank, the Green Truck Recycling Transportation Service isn't exactly a junk removal company per se. With that said, this company still does offer removal services for certain types of junk.
It's common knowledge that recycling bins are great avenues for specialized junk disposal. However, not everyone has the time to lug their junk out to the nearest recycling bin.
With this in mind, this company offers a monthly subscription service where clients can rent recycling bins. At around 120 AED, you can have three bins delivered and picked up on a weekly basis for all your recyclable junk.
As a recycling company, Green Truck also ensures that all collected items are disposed of in an environmentally friendly manner. So long as you're disposing of non-recyclables, this company is a great option.
Extremely convenient disposal
Uses green disposal practices
Collects on a weekly basis
Only handles E-waste and recyclable junk
Requires a monthly subscription
Customer Reviews
Let's see what Emiratis have to say about Green Truck's services:
"We subscribed to Green Truck two months ago, and have been very happy with the service. Their hassle free and reasonably priced weekly pick up of all recyclable material is fantastic. Highly recommended!" – Zein Zabaneh
"Great, reasonably priced recycle service. No hassle with pick up, just pop it outside your door and they pick it up! Simple." – Mhairi Goodfellow
"I think you guys are great. I keep referring you any time I'm asked. I do get a little worried when the guy who comes never says "no" if I ask him if you recycle stuff. Keep up the good work!" – Kevin T. Millerick
FAQs about Junk Removal in Dubai
---
Now that you've finished reading our list of the best junk removal in Dubai, we hope you'll have an easier time picking a service. Each of the companies on our list have their own pros and cons, so it's best to keep this in mind when choosing.
If you intend to toss out your old sofa, why not check out a suitable replacement with the best upholstery shops in Dubai.  To help you pick a new piece of prime furniture we've also provided reviews, pros & cons, and FAQs.