Checking out Affordable Seafood Restaurants in Dubai
Dubai also has a lot of restaurants offering amazing seafood. You can easily find plenty of fancy places cooking up food like crabs, lobsters, and of course, fish dishes all over.
Fortunately, you don't always have to stick to more upscale and expensive places to eat seafood in Dubai. There's plenty of affordable places offering a variety of tasty seafood dishes to check out.
So whether you're craving for some grilled fish, mussels and clams cooked in a stew, or some delectable crabs and lobsters, check out some of our favourite affordable seafood restaurants in Dubai here.
Ibn Al Bahr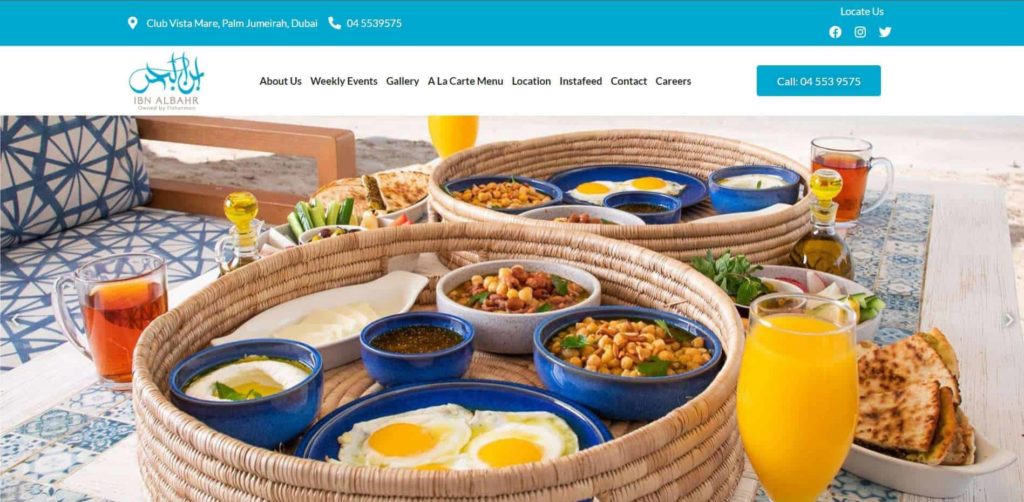 | | |
| --- | --- |
| MENU: | Cold Bait, Hot Bait, Fish at the Display, A Fish for Every Dish, For Our Junior Anglers |
| LOCATION: | Club Vista Mare, Palm Jumeriah, Dubai |
| SOCIAL MEDIA: | Instagram |
| HOURS: | Mondays - Sundays: 8:30 AM to 1:30 AM |
| PRICE RANGE: | AED 20 to AED 280 |
Ibn Al Bahr is a Lebanese-inspired seafood joint situated right by the palm. With a tagline "run by fishermen", this is definitely one of the best places to eat a heaping amount of fresh seafood without breaking the bank too much.
Its location gives it a very nice view of the nearby water, which does wonders in setting the overall mood. Pop in at the fish market as well which immediately showcases the wide array of seafood you'll like.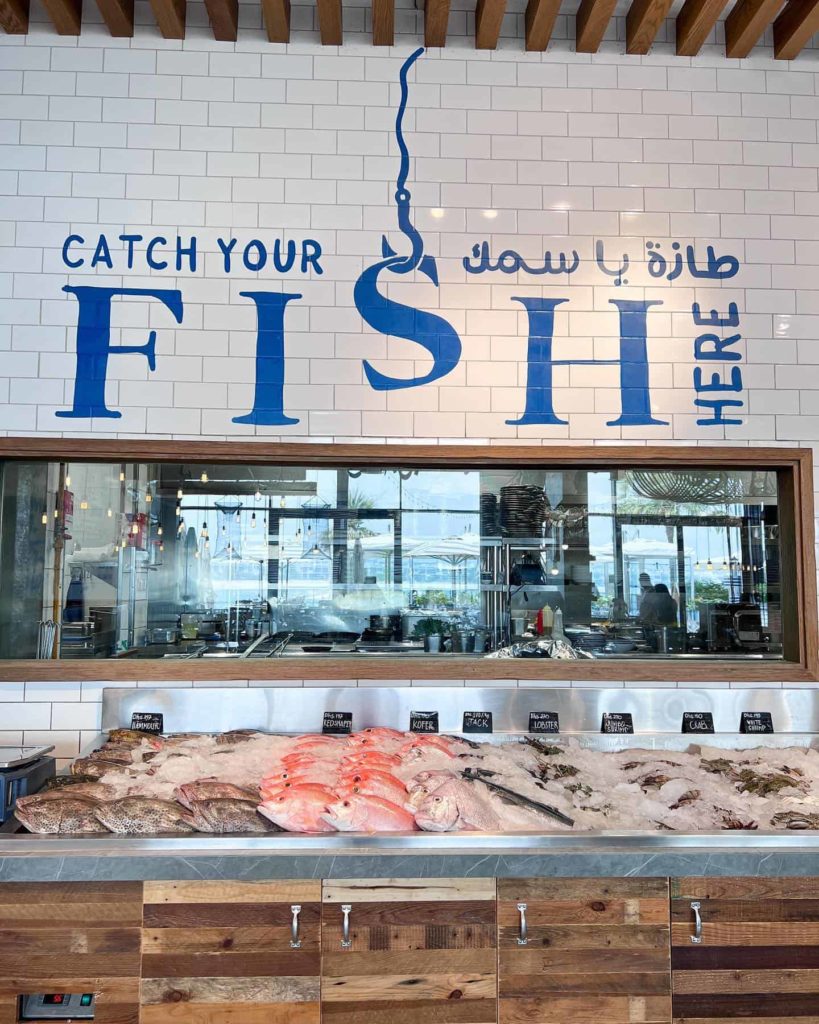 From there, you can choose how you want your chosen food prepared. You can go for a nice smoke by having it chargrilled or go light by steaming it instead.
While you wait, you can check out their sides and starters to whet your appetite. Their hummus is quite good and will make for a great companion to some of the hot appetisers like the squid and some of the vegetables.
There's also a number of usual favourites for those who aren't quite sure about how they'd like their fish cooked. Fans of crispy textures can opt for the house special fish and chips or perhaps the fish curry for a nice kick and some heat.
Other than that, you can pair your chosen fish with Sayadieh rice, Majbous rice, or even simple steamed vegetables. You get a range of different sauces as well like provencal, tajin, or simple lemon butter which pairs well with the lobster.
Kids can get fish or chicken nuggets served with fries if some of the options feel too intimidating for them.
Prices vary a lot in the restaurant but we think many of the dishes are quite affordable given the freshness on offer. You can easily get a nice meal for two for around AED 300 to AED 400 if you don't order some of the more expensive dishes like lobster.
Ibn Al Bahr combines a great location with big, fresh catch, and some amazing options. This is definitely one seafood restaurant to check out for any budget level.
Where to find Ibn Al Bahr?
What's nearby?
Got an interest in the aquatic? Riva Beach Club is just around the corner, providing a nice space to just unwind with a great view of the beach– it even comes with a swimming pool, outdoor lounge and even a gym!
Prefer to do your workouts away from the water? No worries– Chalk Training Ground is also open for group sessions, pushing the boundaries of every athlete in sports and fitness.
Finally, for the shopaholics around, the Nakheel Mall is also in close proximity, providing a good place to browse a great variety of stores, from fashion and electronics to furniture!
Urban Seafood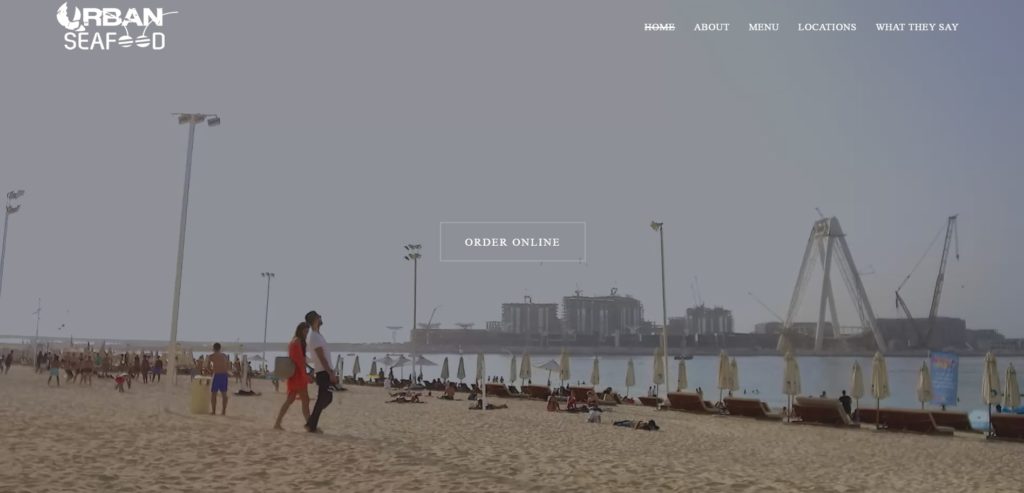 MENU:
Appetizers, Handhelds, Signature Mains, Soups & Salads, Fresh Juices & Soft Drinks
LOCATION:
THE BEACH at Dubai
SOCIAL MEDIA:
Instagram
HOURS:
Sundays - Wednesdays: 11:00 AM to 12:00 AM

Thursdays - Saturdays: 11:00 AM to 12:30 AM

PRICE RANGE:
AED 20 to AED 180
Urban Seafood is another seafood restaurant that makes effective use of its seaside location in order to deliver an amazing dining experience. It opts to take a more modern approach to its seafood dishes which still remain quite accessible for many.
The place has a rather relaxed atmosphere, with the use of decorative wooden boards and plants giving it the look of a seaside cottage. It even has some seats hanging by the rafters hammock-style, further highlighting the image.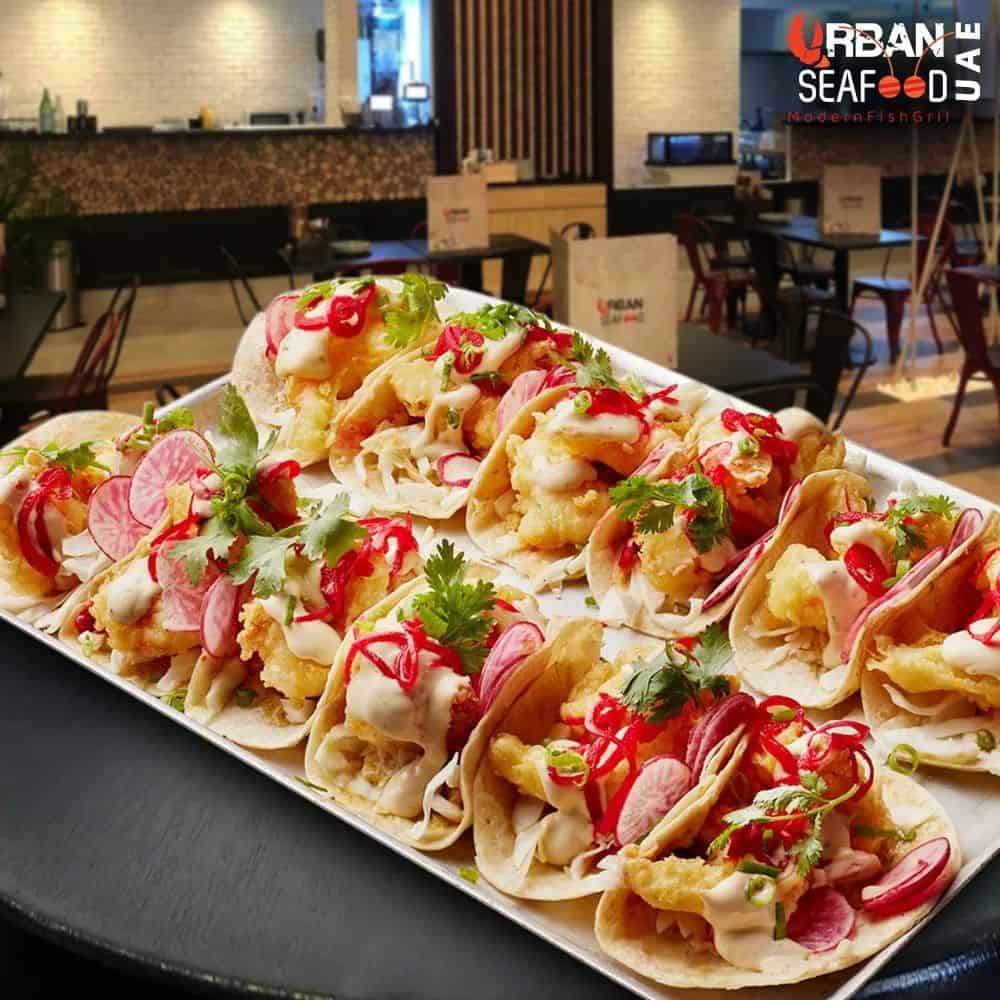 The restaurant primarily offers two types of menu when it comes to their seafood: fast casual and fine casual. Don't let the names fool you though; you can get affordable options for a quick brunch or dinner from either menu.
Fast casual's a bit more traditional and typically embody food that they can prepare and get out with minimal waiting time. Here you can try out their spicy seafood gumbo, traditional fish and chips, and even chili garlic shrimps served with steamed rice.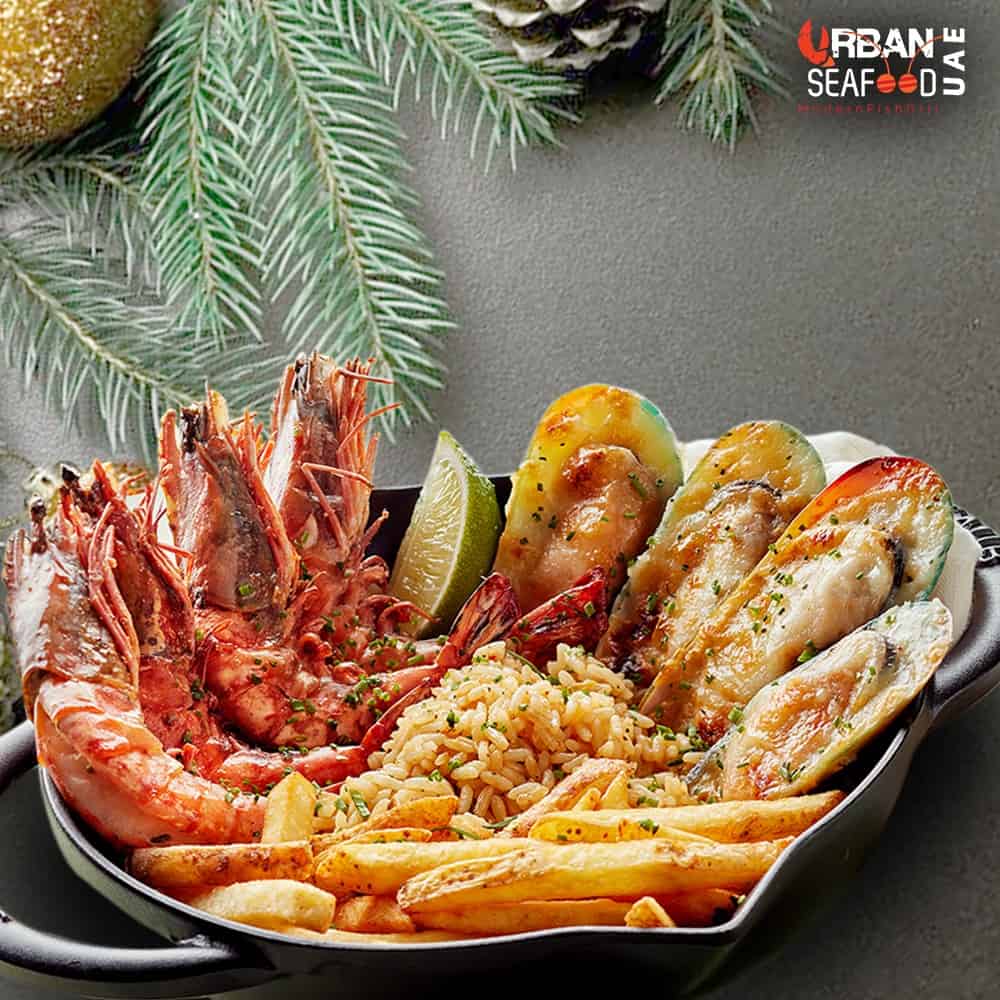 Hop on over to the fine casual menu and you get other options such as fish tacos, shimp and lobster quesadilla, a po-boy shrimp sandwich, and of course, lobster rolls served with a special jersey sauce.
Those going as a group may want to try their steamed buckets though, which already come with an array of sides and a choice from their signature sauces. Choose between a mixed catch, mussels, shrimps, or our favourite, blue swimmer crabs.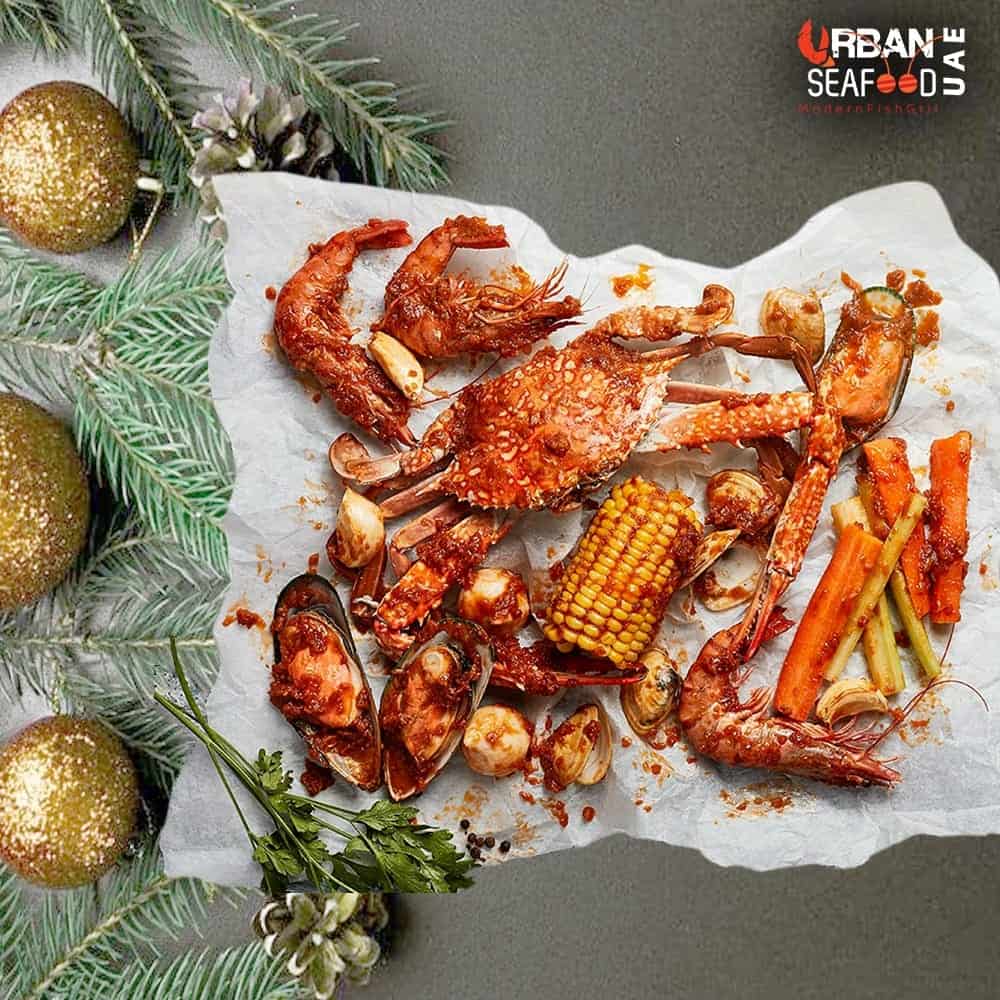 Portions are surprisingly generous here at Urban Seafood in our opinion, making it a great seafood restaurant that's really worth the money.
You can get a good enough meal for AED 300 for two people in this restaurant. We definitely recommend checking them out and ordering some of their amazing mains and seafood dishes.
Where to find Urban Seafood?
What's nearby?
An appeal of Urban Seafood's close proximity to Marina Beach— so why not come out and enjoy the beach waterfront for your own? Marina Beach is always open, always ready for visitors and tourists to enjoy the view, sunbathe, and play aquatic sports!
Prefer indoors? Catch a movie at the Roxy Cinemas! Catch the latest blockbusters in the comfort of stadium-style seating and impeccable surround sound for the ultimate cinematic experience.
To top it all off, visitors may also enjoy a couple hours of relaxation over at the Dreamworks Spa— offering everything from Thai massages to body treatments and wellness therapies to ensure customers come out refreshed, relaxed and rejuvenated.
Hot Fish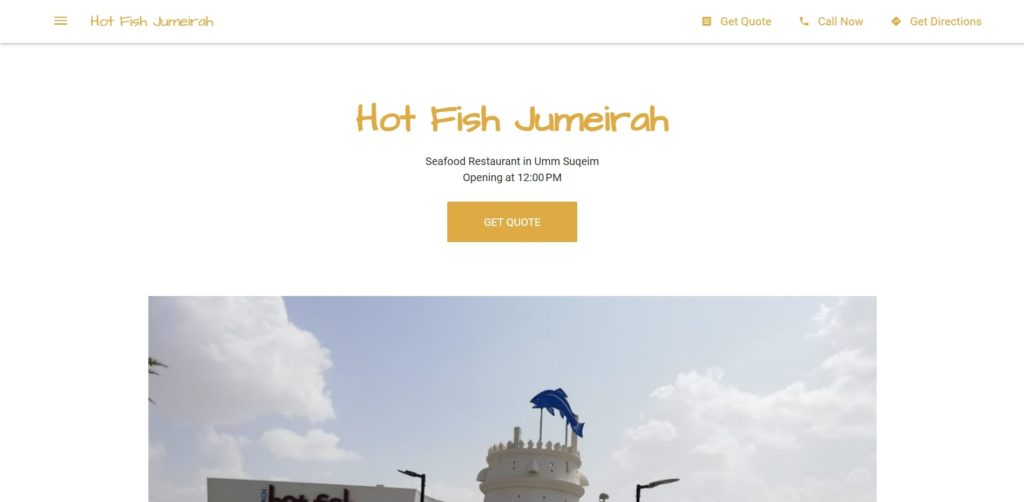 | | |
| --- | --- |
| MENU: | Burgers, Sides, Main Course, Lunch Meals, Seabream Combo Meals |
| LOCATION: | Hot Fish Restaurant, Umm Suqeim Park 2, Opp. Public Beach, Jumeirah Dubai |
| SOCIAL MEDIA: | Instagram |
| HOURS: | Mondays - Sundays: 12:00 PM to 12:00 AM |
| PRICE RANGE: | AED 10 to AED 90 |
The Hot Fish restaurant enjoys an amazing location by being situated at the Umm Suqeim Park, just a stone's throw away from the Jumeirah Public Beach. As such, it does manage to set the mood well for some fresh seafood.
There's a nice ambiance in the place thanks to the seaside breeze, whether you opt to eat indoors or outside, which does provide a great view of the surrounding park.
In fact, the whole place built with some nice bamboo and woven chairs reminds us of a tropical vacation spot of sorts albeit, one that's quite cozy and one that's capable of serving some great seafood dishes.
The restaurant serves up their food in the form of combo meals. Most of the dishes have already come with vegetables and carbs (usually French fries) in order to be a complete meal in their own right.
You have great seafood options such as poratta with its own homemade gravy, stir-fried prawns, and even a nice, grilled salmon steak with a dash of delicious hummus as a dip.
Or perhaps you're not up for fish just yet? That's alright since you do get large tiger prawns done with a nice char and a savoury, garlicky-flavour.
Those who are really hungry can go for the big sea bream combo, which coomes with the whole fish, some prawns, fries, a salad, and of course, hummus. While those who want to keep it light can go for a fish burger or an omelette poratta.
Drinks are simple; just tea, coffee, a mojito, and an avocado shake. A little basic but still done well and are quite good at washing down any aftertaste from the seafood binge.
Prices are quite affordable too, allowing you to have a great meal for two with just AED 100. As such, Hot Fish is definitely an amazing affordable seafood restaurant in Dubai to visit once you're done swimming or playing beach games.
Where to find Hot Fish – Umm Suqeim?
What's nearby?
Want a closer look at the ocean view? Head on down to Jumeirah's own Public Beach! Feel the sea breeze and take a walk down the sand, enjoying the view along the Palm Jumeirah all the while.
Or maybe you just want to unwind after eating? The Golden Taj Spa Massage Center is just nearby, offering a variety of massages, from deep tissue to hot stone for health, wellness and relaxation.
Finally, the biggest landmark one might see after dining at Hot Fish is the Mall of the Emirates, home to a vast amount of shops and attractions all on its own, anywhere from shopping to amusement!
Golden Fork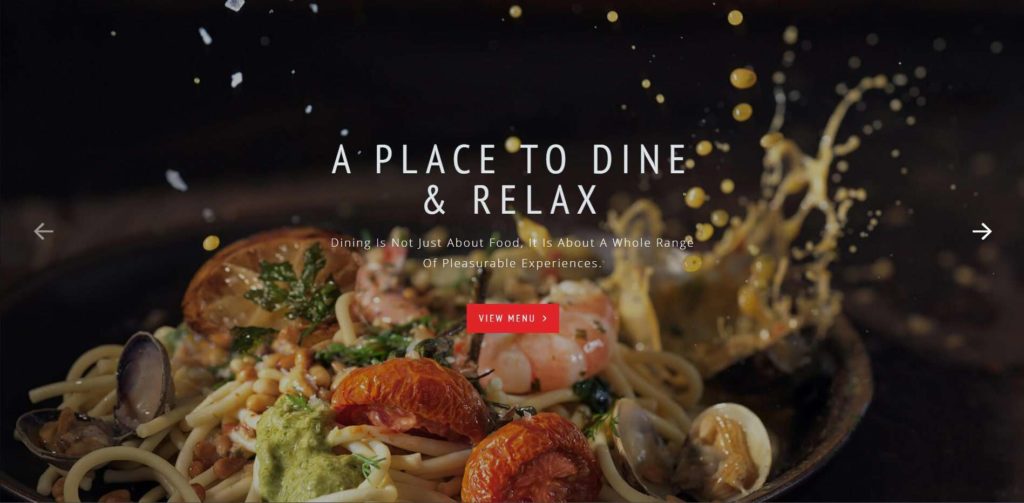 | | |
| --- | --- |
| MENU: | Fresh Seafood Specialties, Out of the Oven, Sizzling Platter, Fish, Crab, Squid, Mussels, Entrees, Golden Fork Signature Dish |
| LOCATION: | Ground Floor, Rose Park Hotel, Sheikh Zayed Road, Al Barsha, Dubai |
| SOCIAL MEDIA: | Instagram |
| HOURS: | Mondays - Sundays: 6:30 AM to 2:00 AM |
| PRICE RANGE: | AED 20 to AED 80 |
Affordable fine dining? Really? When it comes to seafood, you can definitely get something similar when you dine at the Golden Fork fresh food restaurant at Al Barsha.
The place has some touch of fancyness to eat, complete with decorative tiles and lamps giving the whole place a luxurious feel. It can feel a little bit dim at times but it does lend well to the fine dining atmosphere the restaurant is going for.
There's a decent number of choices to start with. Salads are available for vegetarians and those who wish to balance out the grilled and fried goodness by opting for a quic Casesar or Arabic salad.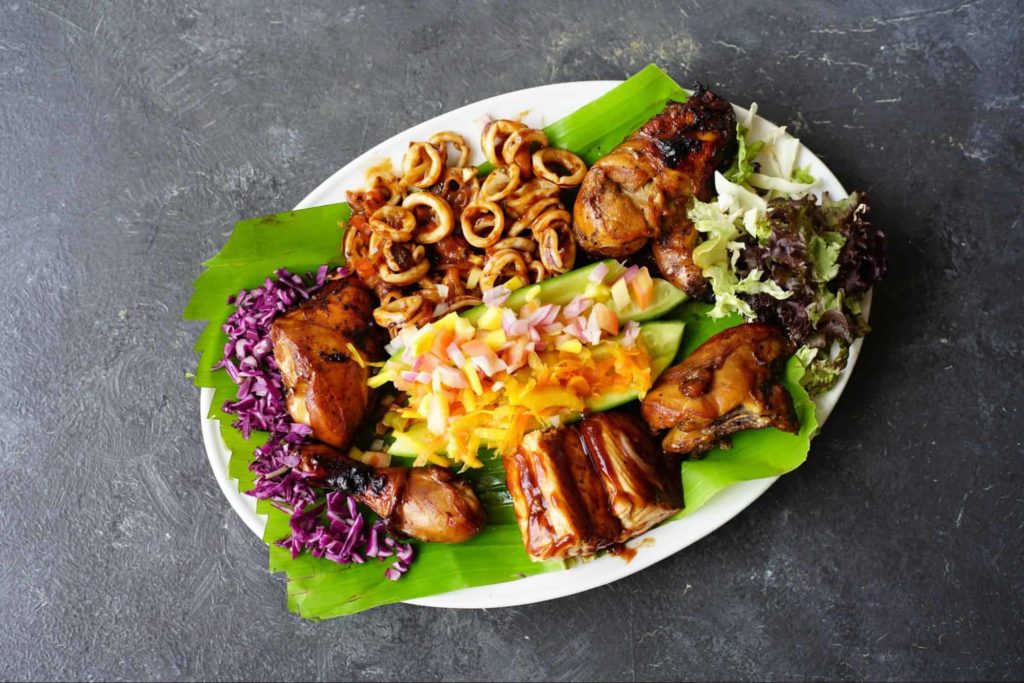 Finally, there's the seafood options. Admittedly, the menu is a bit smaller than some of the latter options on this list but the taste is still worth checking out.
Those interested in a fried option can choose between fried shrimp done with a nice coat of batter or a whole fried fish made from the latest catch of the day. Both of which should provide a nice texture and bite.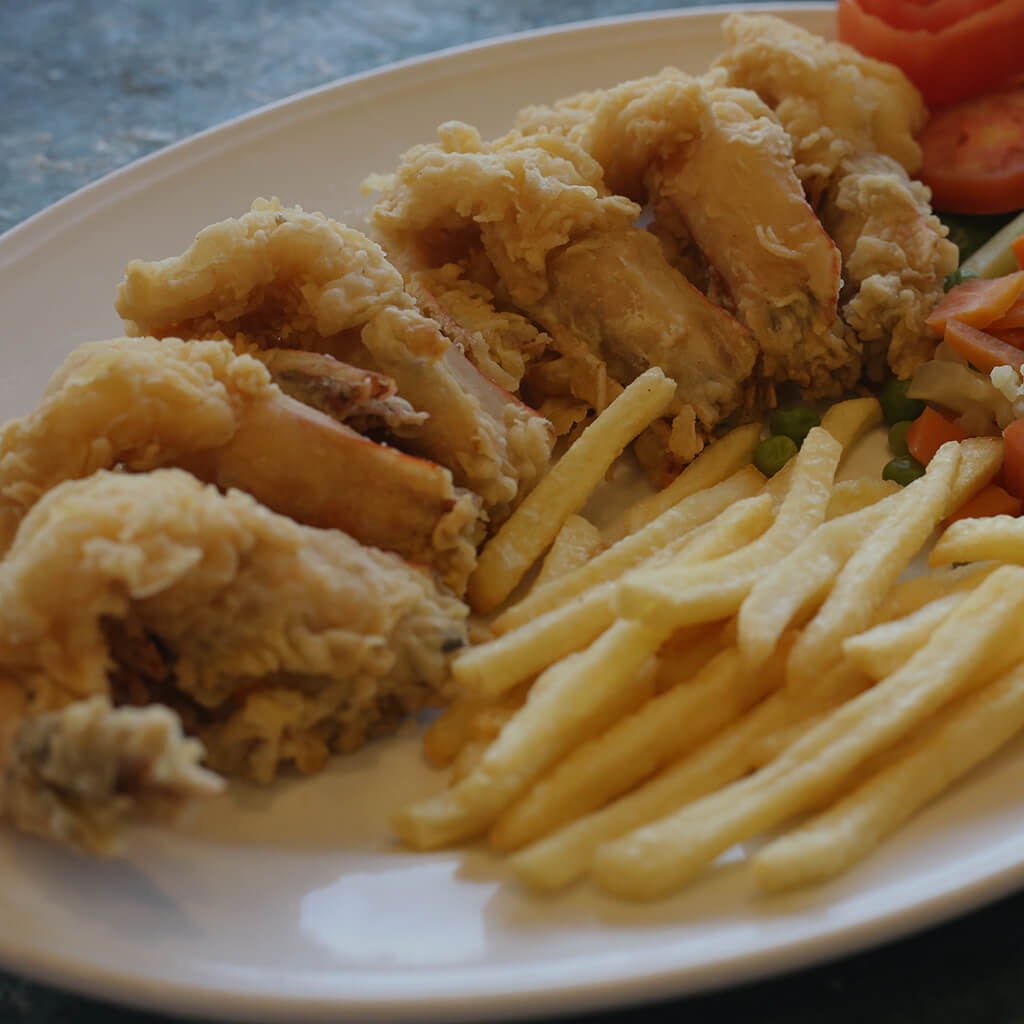 Alternatively, you can go for their grilled squid or crab as well as salmon teriyaki if you want something with a sweet and savoury sauce. There's also sauteed mussels for those who like shellfish dishes.
As for accompaniments, you can choose from a set of your favourite crabs like pancit canton, chowmien, spaghetti alfredo, buttered rice, and even nasi goreng. There's also meat like steak and lamb if you're with someone not craving seafood.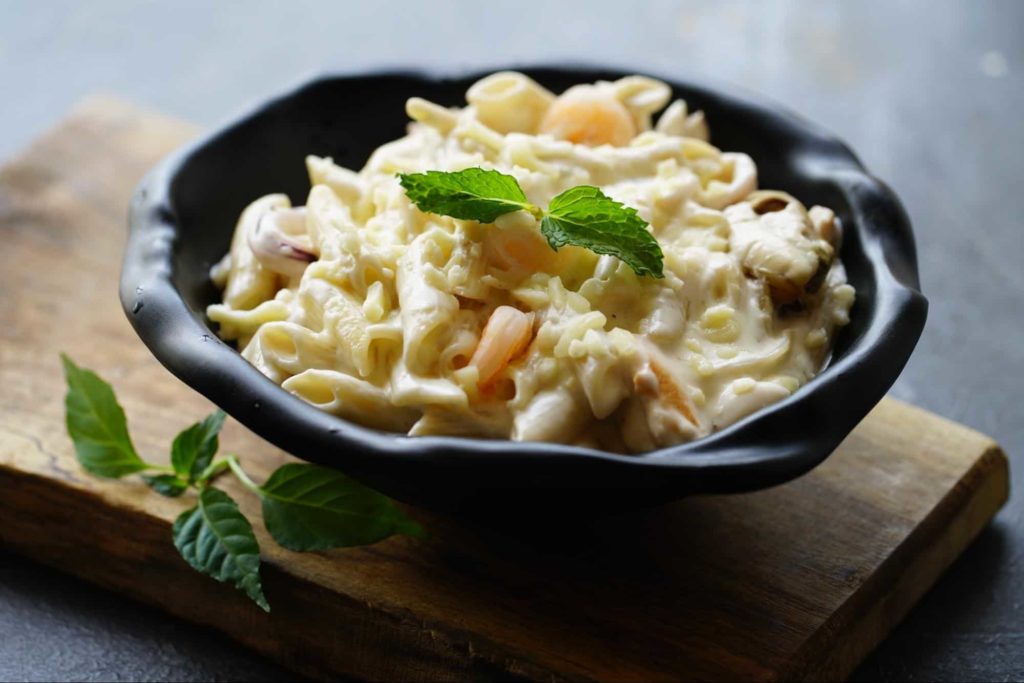 Prices of each dish range between AED 30 to AED 40 so you can definitely get a good meal for two for just around AED 200 for the food.
So if you're out on a seafood date on a budget, Golden Fork should make for a great option for you.
Where to find Golden Fork, Al Barsha?
What's nearby?
Prefer some high-speed entertainment? The Jebel Ali Racecourse is just within reach of the restaurant, where various flat racing events take place– feel the rush of the wind as the cars go by.
Or do you prefer somewhere cold to beat the heat? Take the slopes at Ski Dubai, or just wander around the snow park and maybe meet some penguins. Everything's cool at Ski Dubai– literally.
Al Barsha Mall is within a good proximity from the restaurant, leaving shopaholics spoiled for choice with the amount of businesses within. The perfect place to do some shopping!
Fish Hut Restaurant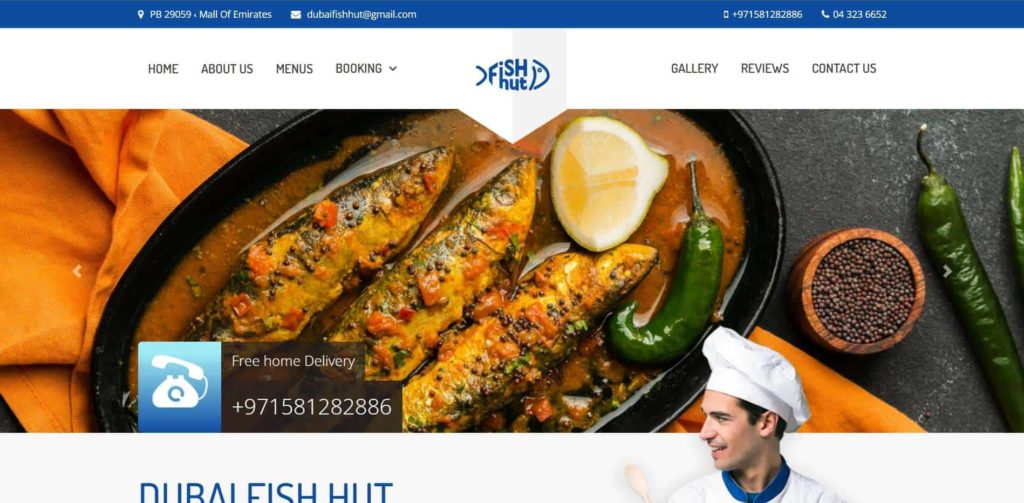 | | |
| --- | --- |
| MENU: | Pasta, Pan and Char Grilled, Deep Fried, Mini Platter, Kid's Menu |
| LOCATION: | Ground Floor, Oud Metha Building, Street 8, Oud Metha, Dubai |
| SOCIAL MEDIA: | Instagram |
| HOURS: | Mondays - Sundays: 11:00 AM to 2:00 AM |
| PRICE RANGE: | AED 20 to AED 200 |
Located at the ground floor of the Oud Meha building, the Fish Hut Restaurant is known for their amazing Arabian seafood dishes as well as their surprisingly large menu. You and your friends will definitely find something here.
You get a nice, traditional interior once you step in. It's not necessarily as fancy as the other options on the list but it's nice and clean, and you do get some outdoor seating options in the event the weather is just nice.
The main focus here is definitely on the food in our opinion. Even just the starters already offer plenty of varieties to sink your teeth into.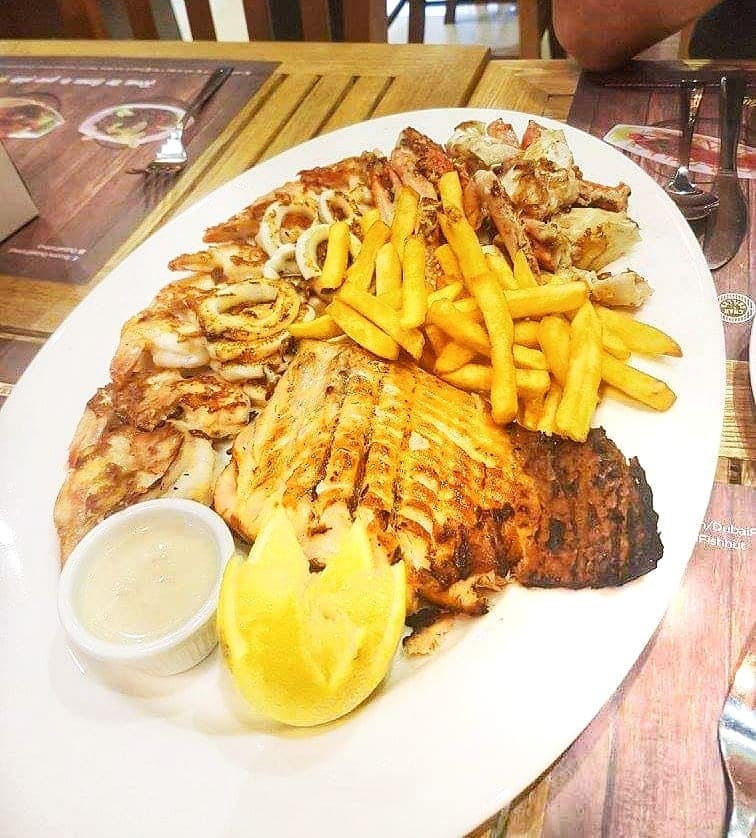 You can immediately get seafood options such as fish fingers and some crumbly fried shrimps, or you can opt for traditional sides like French fries, potato wedges, mashed potatoes, and a wide array of salads.
After that, you can now move on to their main courses, which do have a touch of Indian influences via their use of mild, and spicy curry.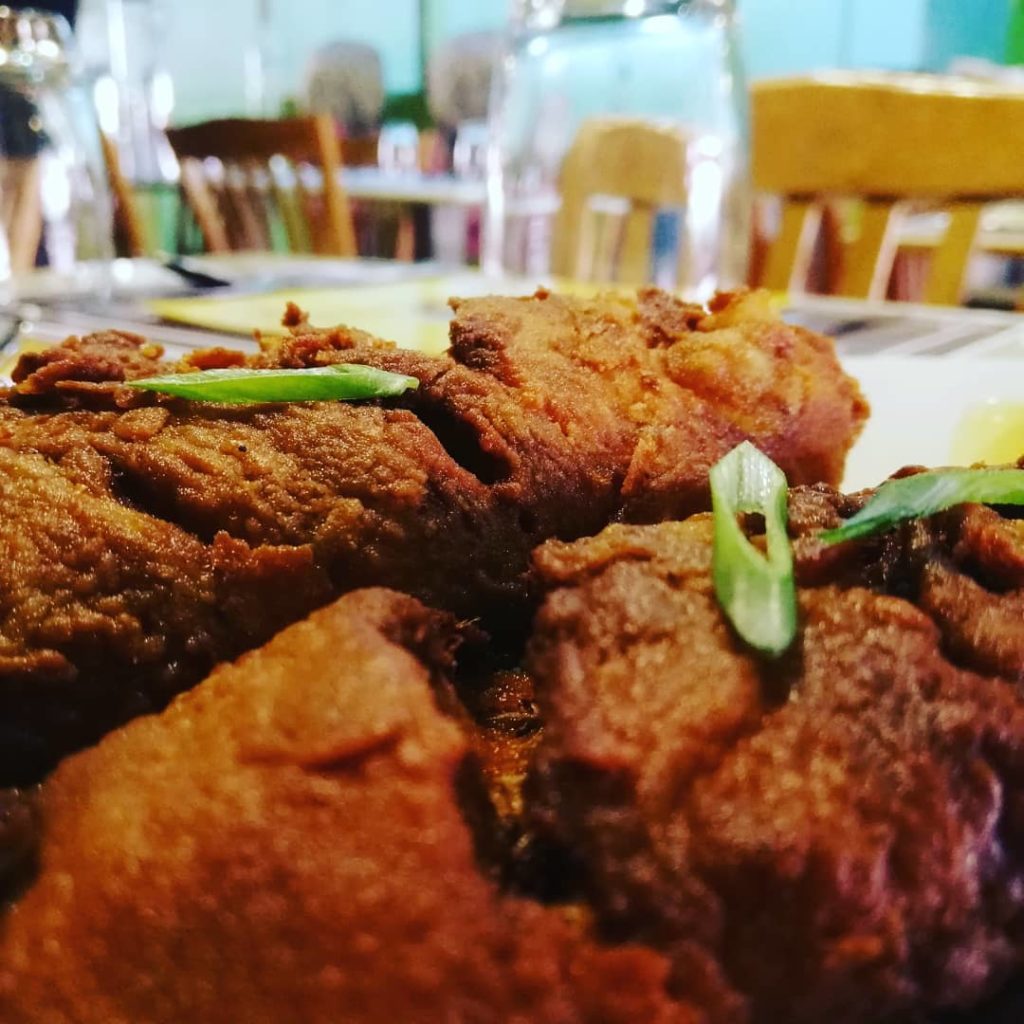 There's garlic fish made from hamour, providing a good mix of spiciness and even a bit of sweetness from the onions. You can also get a full plate of prawns in coconut curry as well as a roasted shrimp plate.
Of course, you don't have to eat these alone. You can grab them with a bowl of fried rice complete with vegetables, shrimp, and even lemon or you can opt for some thinly baked pita bread complete with dipping sauces.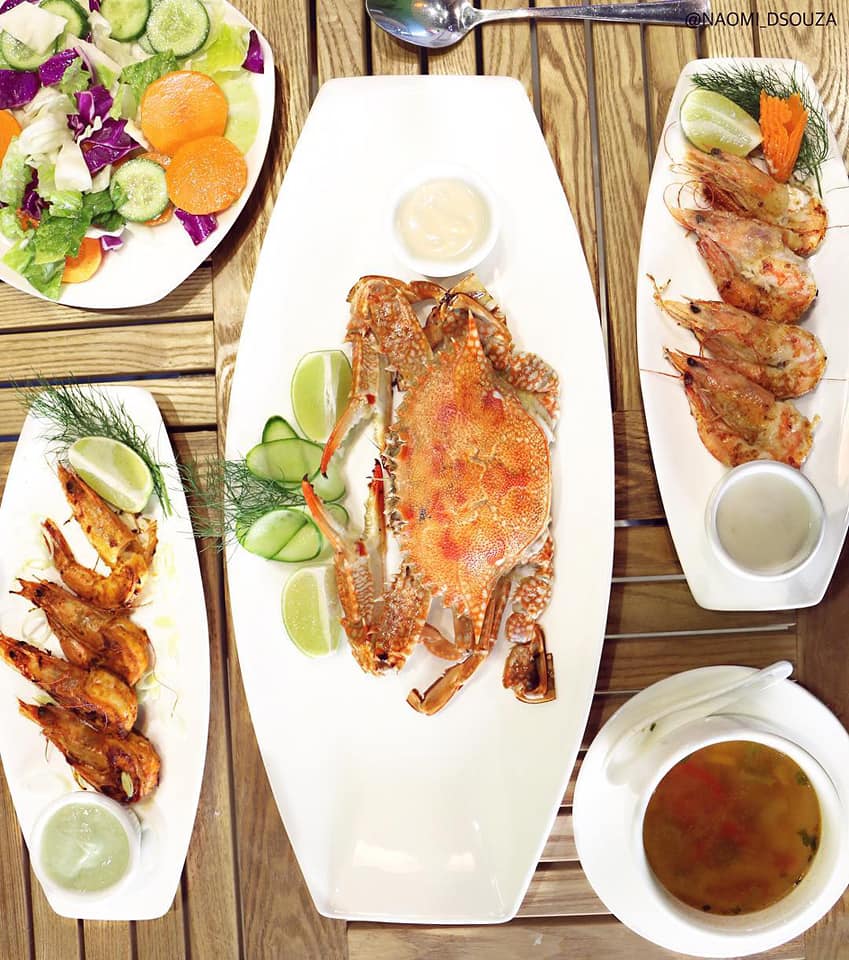 There's also drinks and desserts, mostly composed of mocktails and ice cream which should be nice for younger visitors.
Prices range between AED 100 to AED 200 for a meal for two people when opting for their cheaper options. So if you're craving affordable seafood in Dubai done with some spice and tang, then definitely check out the Fish Hut in Oud Metha.
Where to find Fish Hut Restaurant?
What's nearby?
Want to see a show between nature and technology after the meal? Visit Dubai Garden Glow for its glow in the dark attractions and the mindboggling optical illusions of their Magic Park– utilizing 3D artworks to create an unforgettable experience.
Prefer a trip down history? How about a visit to Al Seef, a waterfront promenade overlooking the shoreline of Dubai Creek that houses both a cultural heritage area and a contemporary site for those of a more modern taste.
Lastly, there's also Creek Park— take a leisurely stroll, enjoying the greenery and the atmosphere of Dubai Creek and getting a much needed breath of fresh air after all the hustle and bustle of everyday life.
Off the Hook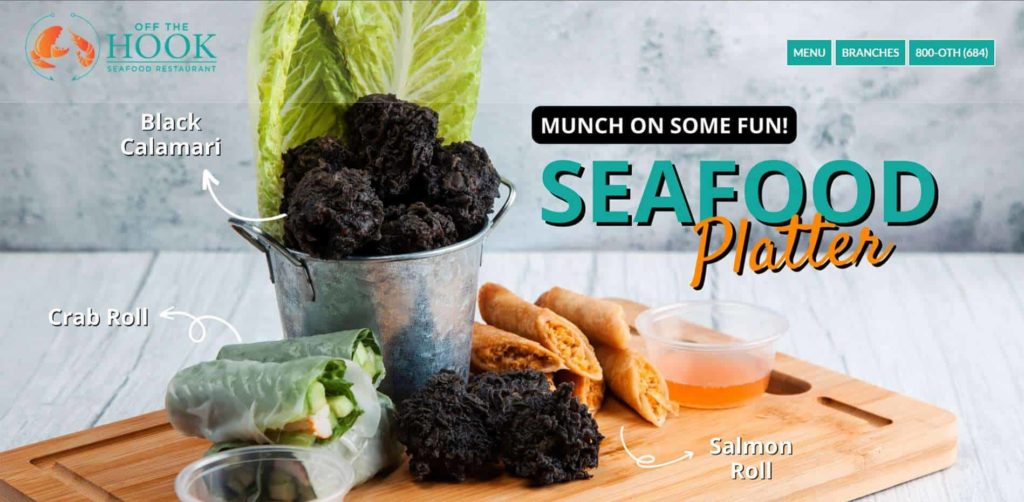 | | |
| --- | --- |
| MENU: | Fish Sets, From the Pot, Appetizers & Sides, Kids Meal, Set Meal |
| LOCATION: | Ground Floor, Block A, Centurion Star Tower, Deira City Centre Area, Dubai |
| SOCIAL MEDIA: | Instagram |
| HOURS: | Mondays - Sundays: 11:00 AM to 12:00 AM |
| PRICE RANGE: | AED 18 to AED 160 |
Ready to party with friends while indulging in some amazing seafood? Hop on over to Deira to eat at the Off the Hook restaurant.
The restaurant has a rather lively vibe, complete with bright lights and spacious floors. Decorative plants and some flowers give the whole place a pop of freshness and their tables are able to seat bigger groups of friends and families.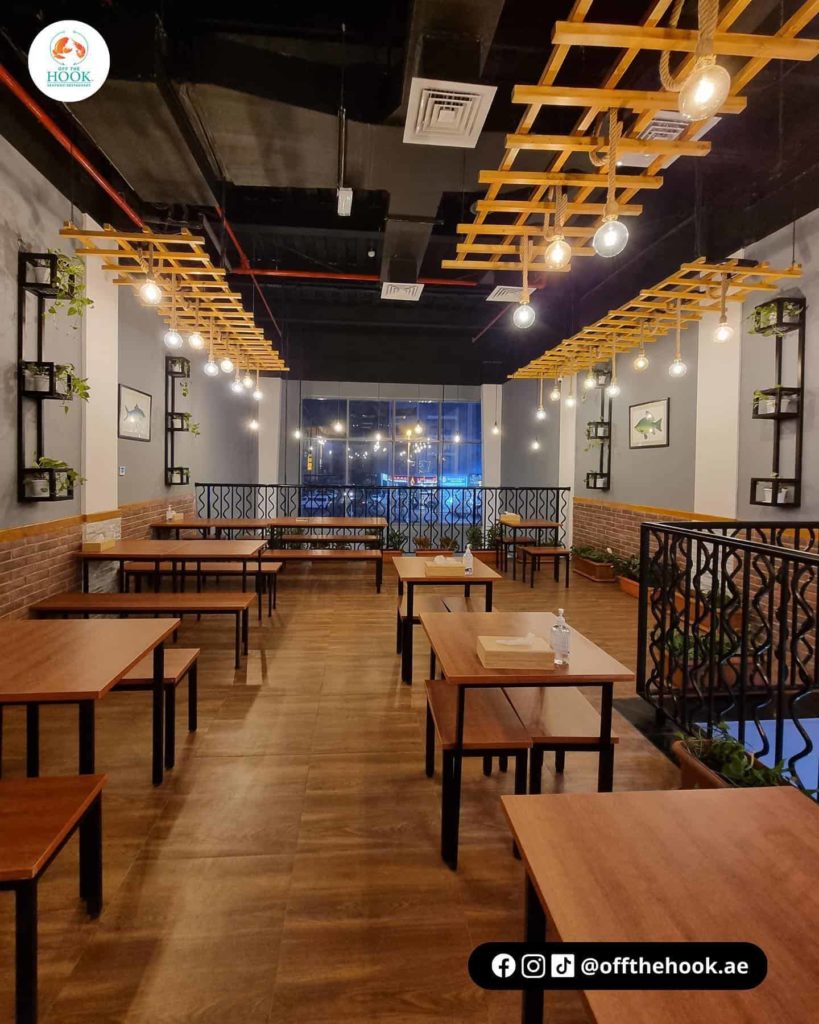 You can get food here both Ala Carte and as a set that's good enough to feed multiple people. So don't be too intimidated when you see some of the food costing a bit more on the menu; some of the pricier ones are for 1kg servings.
There's a good variety on offer as well, making it great for bigger parties. There's marinated king fish, lobster tails, crab legs, and mussels all done with a nice stew-like sauce.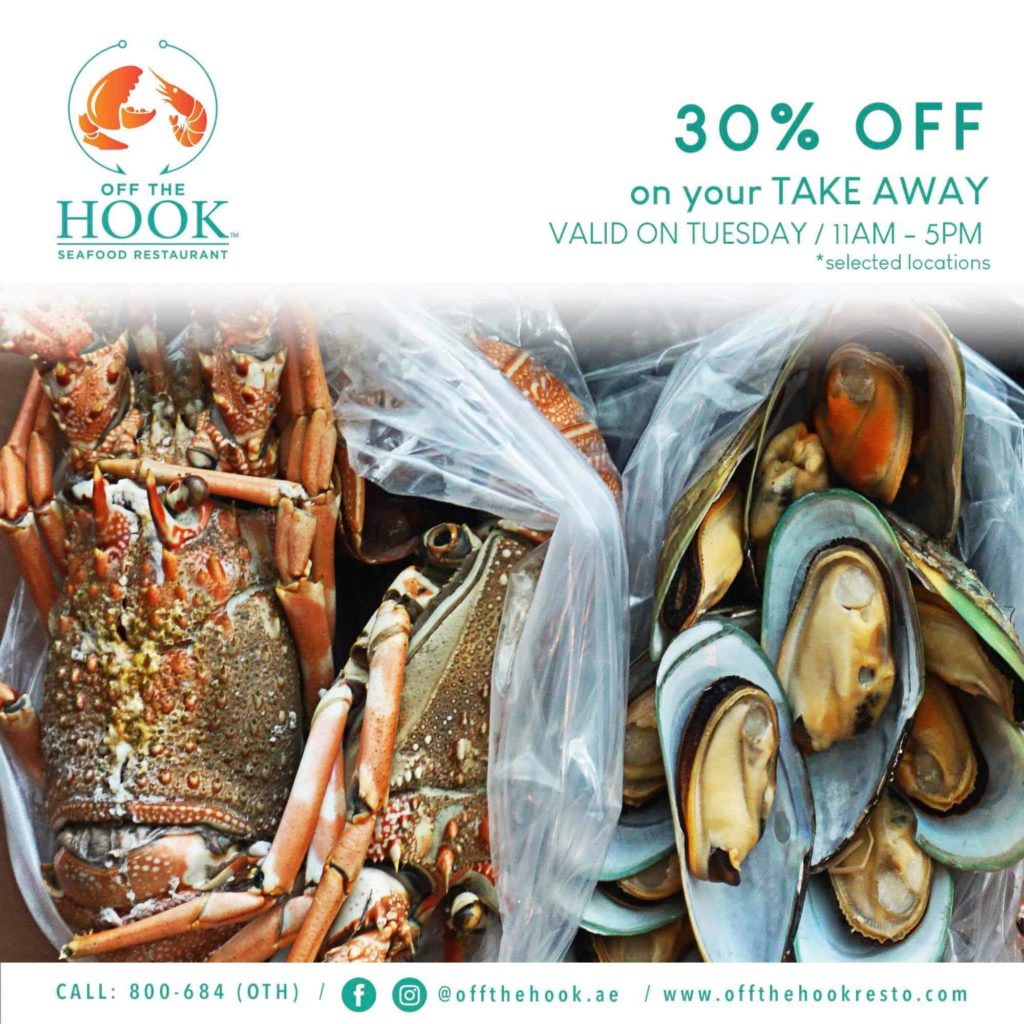 Or perhaps you prefer something friend and crispy, making for a satisfying bite? Check out their fried fish fillets and shrimp popcorns then; they have decently-sized servings as well as a nice dipping sauce.
For a more intimate dining experience though, you can opt for a grilled fish set. It's essentially a wrapped fish roasted with some accompanying lemons, tomatoes, and other vegetables.
Choose your preferred catch: whether it's hammered fish, sea bass, or sea bream. There's also bigger 'fiesta' sets that already come with bigger servings of fish, mussels, and crabs as well as rice, boiled corn, and iced tea.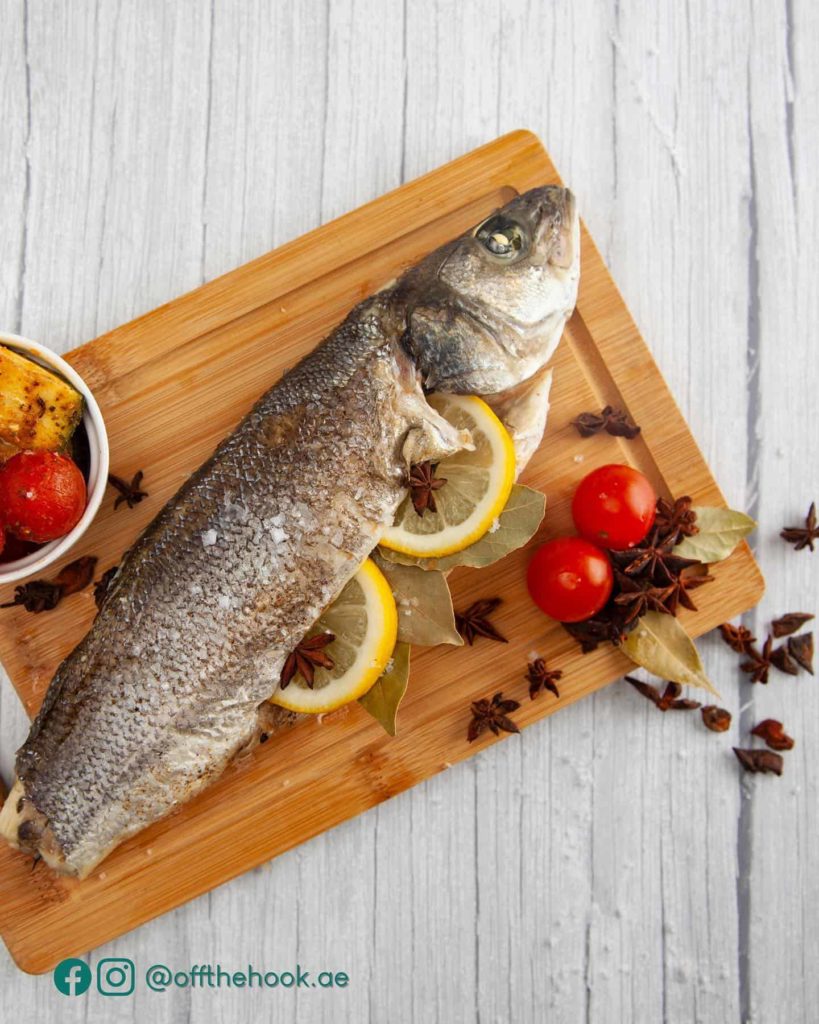 Prices can reach around AED 600 to 800 but of course, these are already servings capable of accommodating twelve people. You should be able to get a nice solo meal for around AED 100 to 200 though.
So if you're out with a lot of friends and relatives and just want to dine on some nice seafood on a budget, then definitely check out Off the Hook.
Where to find Off the Hook?
What's nearby?
Immediately, guests visiting Off the Hook at Deira can check out City Centre Deira; the largest shopping center in the area. Its close proximity to the cross road at Bur Dubai, the Dubai Airport and Sharjah, makes it quite a popular stop in the area.
Or maybe the hustle and bustle of the City Centre isn't quite your fancy? No worries– the Al Ghurair Centre also has its fair share of shops and entertainment, among which is Star Cinemas: home to a good amount of Hollywood blockbusters and local titles!
Finally, for the hobbyists around the area, Snooker World is always looking for more visitors to swing by and play a game of billiards with like-minded players, whether amateur or veteran.
Fish Beach Taverna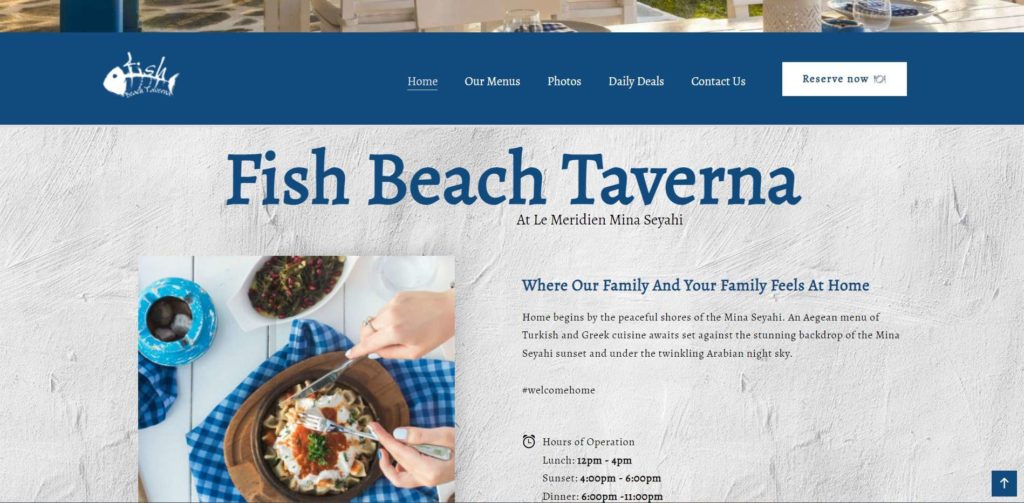 | | |
| --- | --- |
| MENU: | Soup, Salads, Cold Fish Plates, Hot Plates, Grilled, Casseroles |
| LOCATION: | Fish Beach Taverna, Le Meridien Mina Seyahi Beach Resort & Marina, Dubai Marina, Dubai |
| SOCIAL MEDIA: | Instagram |
| HOURS: | Mondays - Sundays: 12:00 PM to 4:00 PM | 6:00 PM to 11:00 PM |
| PRICE RANGE: | AED 40 to AED 200 |
Set by the picturesque views of the Mina Seyahi and under the twinkling Arabian night sky lies the Fish Beach Taverna. It's an amazing restaurant that offers a great mix of Turkish and Greek style seafood and cuisine.
At times, it doesn't even immediately feel like an actual restaurant with its more cosy chairs with pillows and even couches that have little tables. The ambiance is just perfect for a fun lunch with friends while enjoying the breeze.
Menu starts with cold plates and it immediately hammers home how specialized their cuisine is when it comes to seafood. There's the Aegean Meze which is a chef's selection designed to accommodate four people.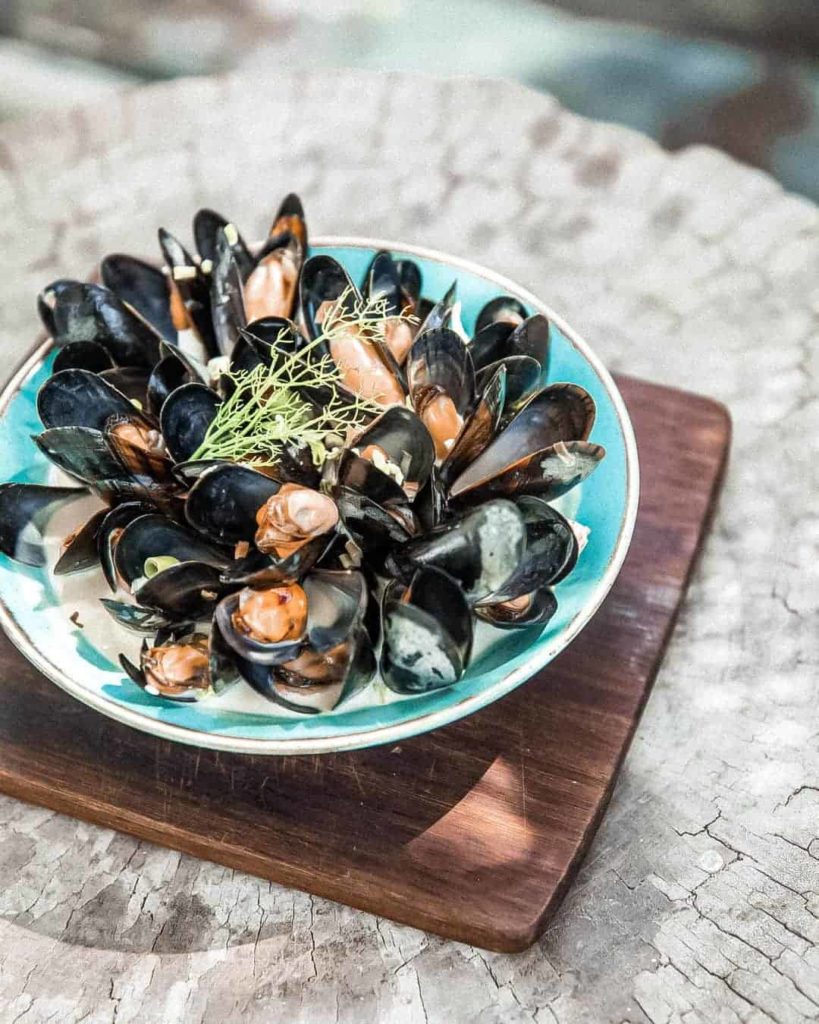 After that, we can finally get to the hot stuff starting with their grilled options. For us, we particularly enjoy the Ahtapot; grilled octopus served with olive oil and thyme as a fancy casserole dish.
You can also try something big like their bucket of mussels which is served with a creamy white sauce or their 'tereyagli karides' which is buttered shrimp served up with red chili powder for some added spice.
Surprisingly, there's some good vegetarian options as well. There's the enginar which is a marinated and grilled baby artichoke as well as the mucver or fried zucchini mixed with a special homemade yoghurt sauce.
And of course, those who wish to keep things simple will appreciate whole grilled fish such as sea bass, sea bream, or salmon.
Prices range from AED 40 up to AED 200 for the fancier plates such as rib eye, salmon, and their seasoned lamb chops.
Fish Beach Taverna provides excellent views as well as nice affordable seafood dishes. It's definitely an amazing dining spot for anyone here in Dubai.
Where to find Fish Beach Taverna?
What's nearby?
Fish Beach Taverna stands in closest proximity to the Westin Dubai Mina Seyahi Beach Resort & Marina— a low-rise hotel home to spectacular pools, a good amount of attractions, a private beach and, of course, luxurious rooms for any customer.
To beat the heat, there's the Jungle Bay Waterpark: slip and slide down the various aquatic attractions built for all ages and groups, from mat racing to a six meter wave pool that ensures fun for the whole family!
Finally, to relax, there's the Westin Heavenly Spa— promising a full engagement of all the senses for its customers, allowing them peace through their many massages and body treatments on offer.
All about Eating Seafood in Dubai
---
We hope you enjoyed all the available options and fish dishes offered by these establishments! Next time you're thinking of eating out on a budget, make sure to check out some of these affordable seafood restaurants in Dubai.
While you're here, make sure to also check out some other amazing dining destinations. Get some amazing sushi and sashimi at the best Japanese fine dining places in Dubai here or check out some delicious Greek options here.