The Top Places to Go Sandboarding in Dubai
They say that you've never truly been to Dubai if you haven't been to the desert. And what's a visit to the Dubai desert without trying one of the most popular activities that you won't find in many other places in the world?
Sandboarding has been a top attraction for desert safari adventurers in Dubai because of its unique nature and the thrill that it brings to those seeking for a wild ride down the dunes.
Here, we rounded up some of the best spots within and around the city to get your fill of fun in the sand.
What is Sandboarding?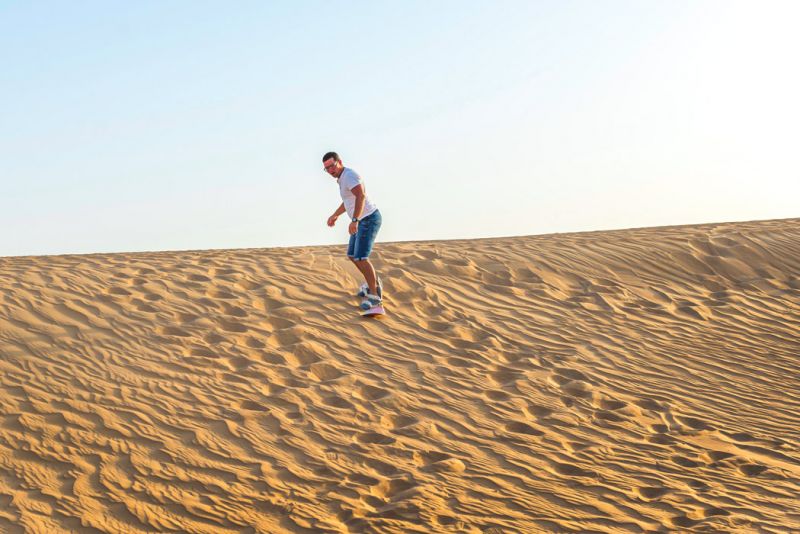 Sandboarding is an extreme sport and desert activity where you sit or stand on a sandboard while you ride down or across a sand dune.
Although it's not considered an official sport, a lot of people enjoy sandboarding because of the thrill of being on large dunes and enjoying views of the desert while riding down on them.
In Dubai, sandboarding is a popular alternative sport and tourist activity that a lot of travel agencies offer them as part of their package.
Dubai's location also puts it in the middle of some of the best sandboarding spots that you can find in the UAE.
So, if you're planning to go on a desert safari in Dubai, make sure to include sandboarding as one of your activities.
The Best Places to Go Sandboarding in Dubai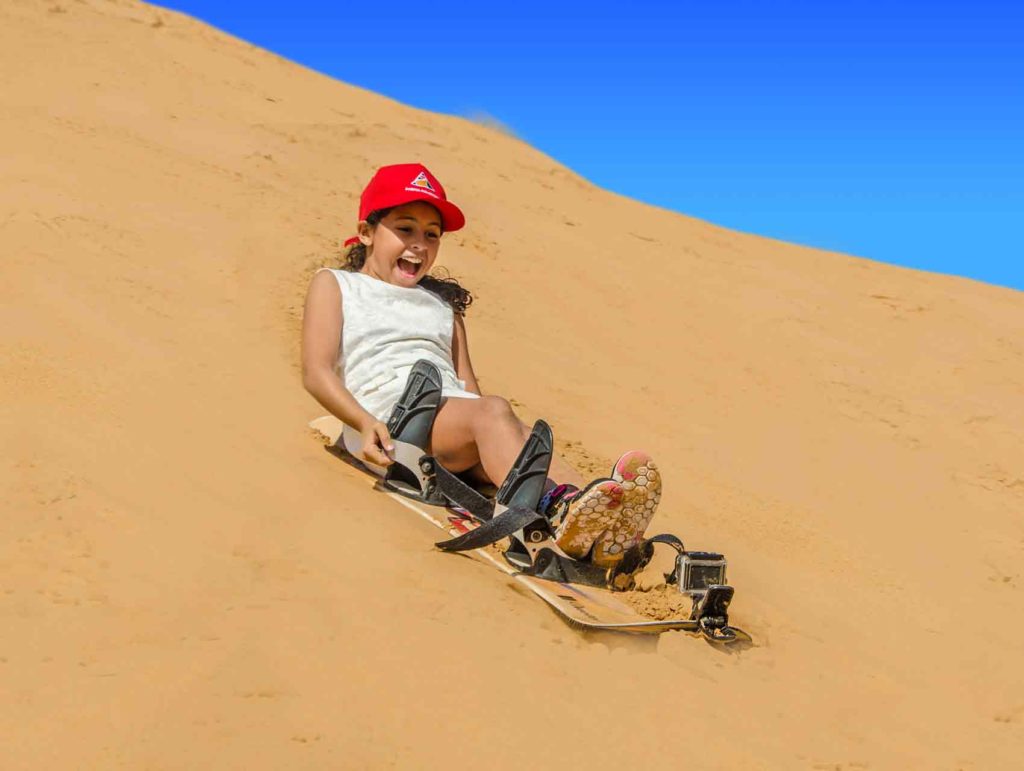 If you're ready to go on an adventure on the dunes with sandboarding, here are the best spots in and around the emirate of Dubai to try this fun and exhilarating activity.
Lahbab Desert
Address: Southeast Dubai – Dubai – United Arab Emirates
Contact details: +971 54 704 6373
Also called the Red Dune, the Lahbab Desert is one of the most popular locations for desert safaris in the city where thousands of thrill seekers visit every year.
Located in Sector 7 and 8 in the Southeastern part of the emirate, you need to travel about 50 kilometers from Downtown Dubai to reach the border between Dubai and Sharjah.
But anyone who's been to the Lahbab Desert will say that the trip is worth it, especially with all the activities offered on the desert including its most popular sport, sandboarding.
There are two communities in the Lahbab Desert and most of its residents are wealthy Bedouins who have a close connection to the Royal family.
The desert also has some of the best dunes for sandboarding and dune bashing, so most desert safari packages include these activities in their offerings.
The Lahbab Desert also has a huge camel track race and it's well known for its camel breeding facility.
It also has some of the most luxurious Bedouin campsites anywhere in Dubai to give you the ultimate Arab desert experience.
Since sandboarding is part of desert safari packages, the rates would depend on the type of experience that you book.
For instance, you can go for a day tour if you're on a budget where you just spend a frew hours trying different activities like sandboarding.
But if you want the full experience, you can go all out with an overnight desert safari package.
Pro tip:

Since you need to travel outside Dubai to get to the Lahbab Desert, it's best to book a desert safari package that has everything you need for the trip including food, transportation and of course, your activities.
Badayer Desert
Website: https://www.visitsharjah.com/regions/central-region/al-badayer/ 
Address: Al Madam – Sharjah – United Arab Emirates
Although it's located outside the emirate of Dubai, the Al Badayer Desert is a highly coveted spot for those who want to go sandboarding near the city.
The Al Badayer Desert is famous for "The Big Red" that's considered one of the best dunes for sandboarding, dune bashing and quad biking.
You can also find buggy, dirt bike and sand board rentals in the desert, so you can easily enjoy all the activities that it has to offer.
And if you want to spend the night in the desert, there's the famous Al Badayer Oasis, a luxury resort that offers tents, a hotel camp and different restaurants and cafes.
The resort even has a swimming pool and gym for the ultimate retreat in the middle of the desert.
Pro tip:

It's best to plan your trip to Al Badayer ahead to make sure that all your activities are covered, especially if you're traveling with a group. This is especially important if you want to stay at the Al Badayer Oasis that easily gets booked during peak season.
Al Qudra Desert
Website: https://www.visitdubai.com/en/places-to-visit/al-qudra-lakes 
Address: Al Qudra – Dubai – United Arab Emirates
Al Qudra is undoubtedly one of the best places to visit when you're in Dubai, especially if you want the quintessential desert safari experience.
A part of the Al Marmoom Desert Conservation Reserve, this desert oasis has massive sand dunes where you can slide down on your sand board.
These dunes are also safe for both beginners and pros, and you can always seek help from professional instructors if you're doing it for the first time.
The Al Qudra Desert is also famous for activities like camel riding, dune buggy and dune bashing, so you won't run out of things to do while in the desert.
Since it's in the nature reserve, you can also explore other attractions like the Al Qudra Lakes and Love Lake Dubai.
There are areas of the desert where you can spend the night in a tent to enjoy the full desert experience.
Pro tip:

The Al Qudra Desert is a popular tourist attraction, so it's best to book your trip with a desert safari operator ahead to secure your transportation, food and activities. You can find different packages that will fit your budget and preferences and take advantage of discounts, especially if you book early.
Al Awir Desert
Address: Al Awir – Dubai – United Arab Emirates
Located 35 kilometers away from the city center, the Al Awir Desert is another favorite spot for sports like sandboarding, dune bashing and quad biking in Dubai.
This area is also popular for its rich agriculture and camel breeding and it has some of the best dunes that you can find near the city.
The Al Awir Desert has areas where you can enjoy a good sandboarding session, whether you're a beginner or pro.
There are also sandboards for rent as well as buggies and quad bikes if you want to try other extreme sports.
Of course, you have the option to stay the night at one of the many campsites in the area, so you can spend more time in the desert and see what it has to offer.
Pro tip:

Whether you're traveling alone or with a group, it's best to plan your trip to the Al Awir Desert ahead, so you'll know exactly what you're getting when visiting this area. Many travel agencies offer a complete overnight or one day package for desert safaris, so make sure to check on your options to make the most of your trip.
Tips When Sandboarding in Dubai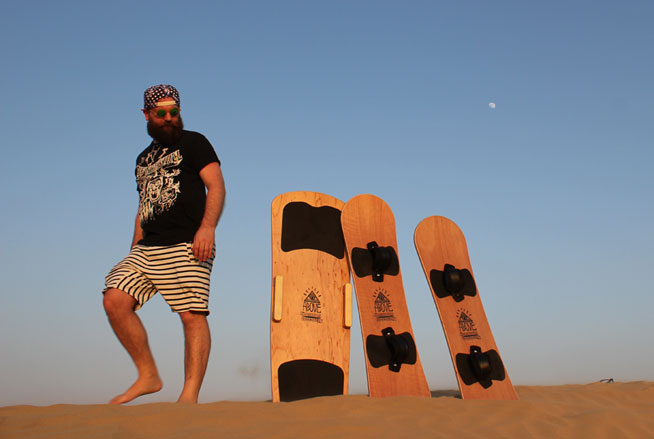 Sandboarding is definitely a fun activity to try if you're in Dubai. But being considered an extreme sport, it also has its set of risks.
This is why it's very important to keep some things in mind to make sure that you enjoy the best experience while keeping yourself safe while riding down and around the dunes.
The Different Types of Sandboards
You'll find different types of sandboards in Dubai's desert safaris depending on your skill level and experience in this sport:
This type of sandboard is ideal for use in smaller dunes and for those who are just learning the sport and don't have the skill to stand on the board yet.
An artisan sandboard is the simplest one you can find and it allows you to sit on the board while you safely ride down the dunes.
A basic sandboard would cost you around AED 700, but you can also rent one in one of the travel operators on the desert or arrange it with your desert safari provider.
This type of sandboard has pads where sandboarders can strap their feet to be able to stand on their board and maintain balance as they ride down the dunes.
An intermediate sandboard is safer because of the straps and it can be used by both beginners and professionals for small or big dunes.
However, it takes some time to master standing up and keeping your balance, so you need to be patient when using this type of sandboard.
If you already tried sandboarding or you play the sport, you can use a professional sandboard that's designed for bigger and more challenging dunes.
In Dubai, a standard professional sandboad would cost you around AED 1,500, but you can also arrange for a rental if you don't want to bring your own.
The Types of Sandboarding to Try in Dubai
One of the best things about sandboarding in Dubai is that you have options depending on your skill, preference and hunger for adventure.
If you're trying sandboarding for the first time and you're not confident with standing up on the board yet, you can try sit down sandboarding.
This means that you're just sitting on the board while sliding down on the dunes, so you can experience the thrill of the sport without the pressure of balancing yourself on the board.
If you want to challenge yourself and learn how to stand up on the board, you can go for stand up sandboarding with or without the help of a professional.
This time, your feet will be strapped on the sandboard to help you maintain your balance while sliding down the dunes.
You can also choose from different types of sandboards to see which one will give you the best speed, control and balance.
This type of sandboarding is not for everyone since it's a lot riskier and only recommended for professionals and daredevils.
If you're already comfortable on the sandboard, you can take the thrill to the next level by holding on to a rope that's connected to a dune buggy or desert vehicle.
Just imagine the thrill of riding up and down the massive sand dunes in Dubai at faster speeds.
Tow boarding can be risky, however, so make sure to do it only with the help of professionals.
Dress Code for Sandboarding in Dubai
While there are no strict rules for sandboarding in Dubai, wearing the right clothes will help you enjoy this activity comfortably and safely.
Since you'll be rolling and running around the sand, you need to wear light and comfortable clothing that will let you move with ease as you ride down the dunes.
It's also best to wear high-top shoes or any comfortable sneakers to make sure that you can ride on that sandboard without worrying that your shoes might fall off.
You should also bring an extra pair of clothes to change after your sandboarding adventure since there's a good chance that you'll be filled with sand, which could feel uncomfortable.
If you're planning to spend the night in the desert, you should also bring a scarf or jacket since it can get cold at night.