Deira Dubai: Exploring the Heart of Dubai's Vibrant Culture
Have you ever wondered what Dubai was like before it became a global city of skyscrapers, luxury hotels, and futuristic attractions? If you want to experience the authentic and historic side of Dubai, you should visit Deira.
Deira is where you can find the traditional souks, the bustling creek, and the cultural museums that showcase Dubai's rich heritage and diversity.
So, dear explorer, if you're ready to dive into a world where tradition meets innovation, and where every corner has a story to tell, join us as we unravel the captivating tapestry of Deira Dubai.
What Is Deira Dubai?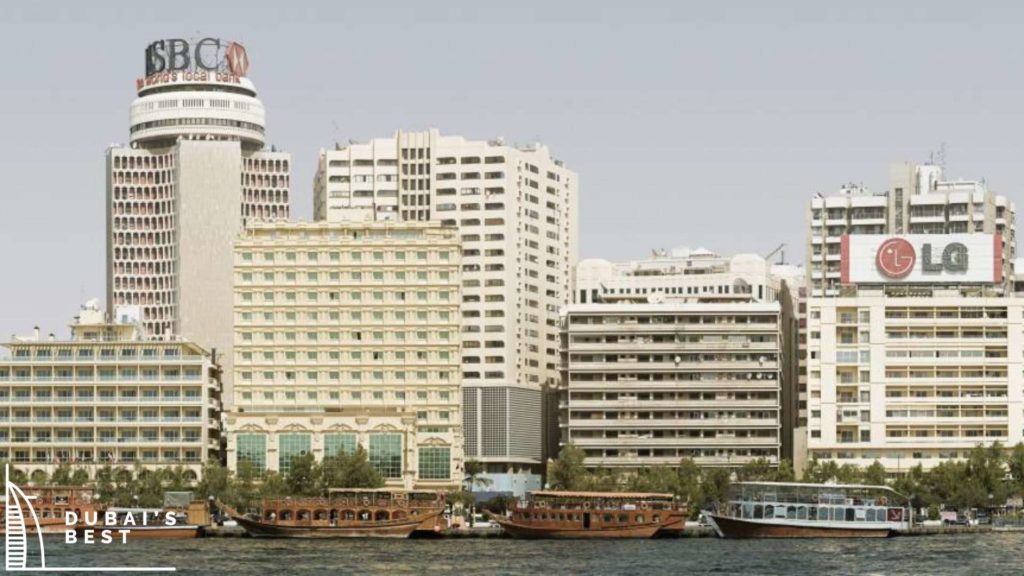 Deira is one of the oldest areas of Dubai, with origins dating back to the mid-1700s. Aside from its historical roots, Deira is also known for its vibrant and bustling traditional markets, known as souks.
These labyrinthine markets offer a sensory delight, where you can wander through the narrow alleys and be captivated by the aromas of spices, the glint of gold, and the kaleidoscope of colorful fabrics.
While it may not boast the towering skyscrapers of downtown Dubai, Deira is a fantastic place to visit, offering a unique blend of old-world charm and modern amenities.
The area is well-connected by public transportation, making it easy to explore other parts of Dubai. Additionally, Deira's affordability compared to some other areas in the city makes it a budget-friendly choice for travelers.
Time Zone
United Arab Emirates (GMT+4)
Best Time to Go
The best time to visit Deira Dubai is during the cooler months, from November to March. The temperatures are pleasant, allowing you to explore the outdoor markets and attractions comfortably.
Things to Know
Currency: UAE Dirham (AED) (Check the present currency conversion rate)
Language: Arabic
Calling code: +971
How to Get Around
By car: If you're coming from Bur Dubai, you can take Al Maktoum Bridge to get to Deira. From Sharjah, you can take the Al Ittihad Road to get to Deira.
By bus: You can take the 8, 10, X10, 91A, or X23 buses. These buses all stop at the Gold Souk bus station, which is in the heart of Deira.
By taxi: Tell the driver to take you to the Gold Souk. This is the most popular tourist destination in Deira, and the taxi driver will know where it is.
By metro: You can take the Red Line to the Al Ras Station or the Green Line to the Union Station. Both of these stations are in the heart of Deira.
What to Do in Deira Dubai
Visit the Gold Souk
The Dubai Gold Souk is a traditional market situated in the commercial business district of Deira, in the Al Dhagaya locality.
It's one of the oldest markets in the Emirates and boasts over 350 retailers selling tax-free gold in various carats, designs, and weights.
In addition to gold, the souk also offers precious stones, pearls, platinum, and silver. Bargaining is expected at the market, and you can often get better rates when paying in cash.
The gold is sold by weight and prices are generally lower than in other parts of the world. Whether or not you plan to buy gold, the Dubai Gold Souk is a tourist must-see destination. 
Explore the Spice Souk
The Dubai Spice Souk is a traditional market next to the Dubai Gold Souk.
It's a vibrant and aromatic place where visitors can explore new flavors while discovering the traditional spice market in Dubai's heritage area.
The souk consists of several narrow lanes lined with stores, both open and covered, and is a popular attraction for tourists. Spices are sold by weight or in packets, and haggling is expected.
At Spice Souk, you can find a wide range of fragrant teas, Arabic spices, nuts, oils, and saffron. It's also a great place to experience Arab culture, as the vendors are friendly and welcoming and always happy to chat about their spices and culture.
Discover the Perfume Souk
Perfume Souk in Deira is a colorful, aromatic, and sensory experience where you can discover new fragrances and scents. The souk comprises several narrow lanes lined with open and closed-roof stores and is a popular tourist attraction.
You can find various fragrant teas, Arabic perfumes, oils, and incense at the Perfume Souk. For a truly unique scent, you can even ask for a fully personalized aroma to be created based on your skin type and personality.
Take an Abra Ride at Dubai Creek
An abra is a small motorized water taxi which can hold around twenty people. It offers the cheapest and fastest means of traveling between Deira and Bur Dubai.
There are two main routes across Dubai Creek, with four stations; two on the Deira side, north of the Creek, and two on the southern Bur Dubai side. The fare for a traditional abra ride is just AED 1, paid to the abra driver.
It's a unique, affordable experience that offers spectacular views of old Dubai, including traditional houses, wind towers, and minarets.
Visit the Dubai Museum
The Dubai Museum is housed in the Al Fahidi Fort, which was constructed in 1787. It is the oldest building still standing in Dubai. It was inaugurated in 1971 to showcase the traditional way of life in the Emirate of Dubai.
The exhibits depict the general culture of the region, particularly during the 1800s. It includes local antiques as well as artifacts from African and Asian countries that traded with Dubai.
Stroll through Al Fahidi Historic District
Al Fahidi Historic District was built back in the 1890s, located right by Dubai Creek. It's like stepping into a time machine and checking out how people in Dubai lived from the 1800s to the 1970s.
Despite it feeling like a blast from the past, it's a hub for culture and art. There are art galleries, museums and places like the Sheikh Mohammed Center for Cultural Understanding.
Visit the Heritage Village
The Heritage Village Dubai is in the Al Shindagha Historical Neighborhood of Dubai, close to the Diving Village. Its origins trace back to 1997 and going here is like travelling back in time to Dubai in the mid-1800s to the 1970s.
The village is like a canvas dotted with classic structures – homes, shops, and mosques, each lovingly adorned with era-appropriate furnishings and relics. Beyond the architectural marvels, the village has workshops and demonstrations as well.
Here, one can delve into the intricate arts of pottery, weaving, and even the ancient practice of falconry. And don't miss the traditional market, a treasure trove of souvenirs and keepsakes just waiting to be discovered.
Be Enthralled by the Beauty of the Grand Bur Dubai Masjid
The Bur Dubai Grand Mosque, also called the Grand Bur Dubai Masjid, is a prominent place of worship that holds deep cultural significance.
Situated in the historic district, this mosque can accommodate up to 1,200 worshippers. Its most distinctive feature is the towering minaret, a soaring 70 meters (230ft) structure that bears a striking resemblance to a lighthouse.
Guided tours are available every Sunday, Tuesday, and Thursday morning, and they come at absolutely no cost. This enriching journey is tailored for both newcomers and those who are already familiar with the culture.
Take a Dhow Cruise
Cruising on a dhow in Deira offers a captivating view of Dubai Creek's charm. These traditional wooden boats provide a unique lens into the city's history and culture.
You can witness the Dubai skyline and Burj Khalifa as a stunning backdrop as you sail. For an enchanting experience, a dhow cruise at night comes highly recommended.
Where to Shop in Deira Dubai
Al Ghurair Centre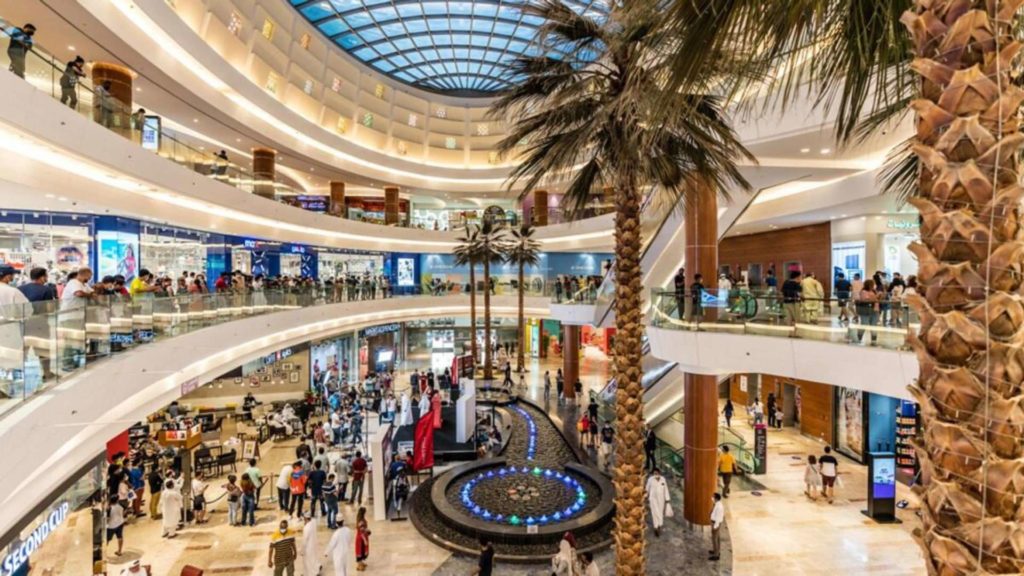 Address: Al Rigga Rd – Deira – Dubai – United Arab Emirates
Phone: +971 800 24227
Website
Al Ghurair Centre has a treasure trove of over 300 international brands inside its walls that includes famous names like Zara, H&M, and Marks & Spencer. This mall also has restaurants and cozy cafes, plus an extraordinary cinema complex to catch the latest flicks.
Deira City Centre
Address: 8th St – Port Saeed – Dubai – United Arab Emirates
Phone: +971 800 226255
Website
Deira City Centre is impressive because it has over 370 retail stores and services. Among its entertainment offerings is Magic Planet, a beloved indoor family entertainment center that's a hit in the region.
Also gracing the scene is VOX Cinemas, a grand 20-screen cinema multiplex decked out with 3,000 seats. As a special touch, the Centre provides direct access to the upscale City Centre Hotel & Residence, splendidly managed by Pullman.
Where to Stay In Deira Dubai
Hyatt Regency Dubai Creek Heights
Address: 20th Street, Dubai Healthcare City, Bur Dubai Hyatt Regency Dubai Creek Heights – Dubai 5668 – Dubai – United Arab Emirates
Phone: +971 4 553 1234
Pricing: $$$
Book now
The Hyatt Regency Dubai Creek Heights is a luxurious 5-star hotel in Dubai Healthcare City. With 463 spacious guestrooms, you can enjoy breathtaking views of the historic Dubai Creek or the city skyline.
The hotel boasts an outdoor pool, a 24-hour gym, a lavish spa, and a kids' club. There are also several dining options available, including Sufra, a destination restaurant; market24, a gourmet grab-and-go café.
Additionally, there's La Tablita, a Mexican eatery that has received recognition for its vibrant ambiance; as well as Eve Penthouse & Lounge, a rooftop bar boasting breathtaking urban vistas and an extensive array of cocktails, snacks, and shisha.
Carlton Palace Hotel
Address: Al Maktoum Street, Deira Near Deira Clock Tower – Dubai – United Arab Emirates
Phone: +971 4 205 1111
Pricing: $$$
Book now
The hotel has all the amenities you'd expect from a 5-star establishment, including a rooftop pool with a view. This roomy fitness center offers an excellent cityscape vista, a business center, an array of restaurants and bars around-the-clock room service.
The rooms here vary in size from 32 to 250 square meters and are all arranged around a striking Atrium adorned with balustrades, with a lovely fountain at the center, all surrounded by lush greenery.
Novotel Dubai Deira City Centre
Address: District Front Of Deira City Centre Mall – 8th St – Port Saeed – Dubai – United Arab Emirates
Phone: +971 4 292 5200
Pricing: $$
Book now
The Novotel Dubai Deira City Centre offers 188 rooms and suites, accompanied by four meeting spaces, two dining establishments, and a stylish bar.
You can take advantage of the temperature-controlled outdoor pool, 24-hour fitness center, complimentary daily parking, and full access to the facilities of the adjacent Ibis Dubai Deira City Centre hotel.
Ibis Dubai Deira City Centre
Address: Mall, Centre – 8th St – opp. Deira City Centre – Port Saeed – District – Dubai – United Arab Emirates
Phone: +971 4 292 5000
Pricing: $
Book now
The Ibis Dubai Deira City Centre is a cozy 3-star hotel situated in the Port Saeed Business district of Dubai, just a short 2-minute walk from the Deira City Centre Metro Station.
It's located right in front of the City Centre Deira Mall and is only a quick 5-minute drive from Dubai International Airport. The hotel also provides free public Wi-Fi, and each room has a wall-mounted flat-screen TV with satellite channels. 
Where to Eat In Deira Dubai
Al Mahara
Address: Burj Al Arab Jumeirah – Jumeirah St – Dubai – United Arab Emirates
Contact details: [email protected]; 800 323 232
Pricing: $$$
Website
This restaurant is known for its floor-to-ceiling aquarium that creates a seemingly underwater world for diners to enjoy. It's an ideal place for a special occasion such as a birthday, anniversary, or other celebration.
The menu at Al Mahara is focused on delicate fish, seafood, and other delights. It's headed by Chef Andrea Migliaccio, who brings innovation and tradition to his cuisine, highlighting the best Mediterranean seasonal ingredients.
Al Dawaar Revolving Restaurant
Address: Hyatt Regency Dubai – 25th – Al Khaleej St – Dubai – United Arab Emirates
Phone: +971 4 209 6912
Pricing: $$$
Website
Al Dawaar is the only revolving restaurant in Dubai, located on the rooftop of the Hyatt Regency Dubai in Deira. It offers stunning 360-degree views of the city's skyline, Burj Khalifa, and Dubai Creek.
The restaurant combines culinary excellence with an International Buffet in a chic, tropical colonial setting. We particularly like enjoying handcrafted cocktails while enjoying the breathtaking views.
The Boardwalk
Address: Dubai Creek Resort – Port Saeed – Dubai – United Arab Emirates
Phone: +971 4 205 4647
Pricing: $$-$$$
Website
The Boardwalk Dubai is located along the edges of Dubai Creek Marina. It has a distinctive maritime-themed interior and an outdoor terrace beside the creek.
The restaurant features a striking fresh seafood display, reminiscent of a Mediterranean market. It offers a variety of dishes and drinks to enjoy while taking in the breathtaking views of Dubai Creek.
China Club
Address: Dubai Deira Creek – Baniyas Rd – Dubai – United Arab Emirates
Phone: +971 4 205 7033
Pricing: $$-$$$
Website
The China Club is an upscale restaurant in the Radisson Blu Hotel. It serves various Chinese, Asian, and Cantonese dishes.
The menu offers a wide selection of authentic Chinese dishes, including dim sum and Peking duck, as well as vegetarian and vegan options. The restaurant has a warm and welcoming ambiance, enhanced by a floor-to-ceiling aquarium.