Mamzar Beach Park Dubai: A Visitor's Complete Guide
Close your eyes and imagine a place where the sky kisses the sea, where soft sand tickles your toes, and where the sun's warm embrace invites you to unwind.
Welcome to Mamzar Beach Park Dubai, a hidden paradise nestled within the heart of the vibrant United Arab Emirates.
Whether you're yearning for a peaceful sanctuary away from the city's hustle and bustle or seeking thrilling beachside activities, Mamzar Beach Park has something for everyone.
Want to know more? Read on!
What is the Mamzar Beach Park in Dubai?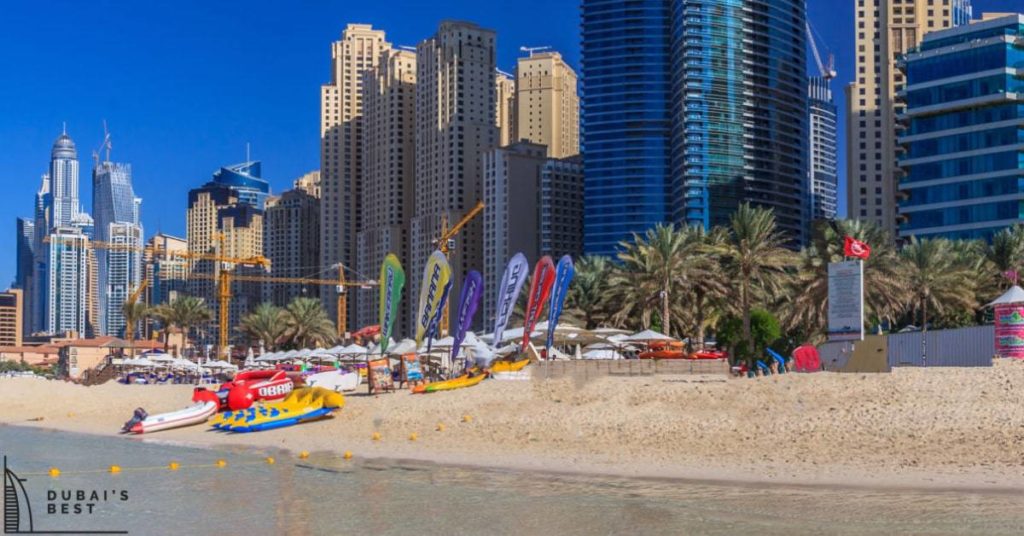 The Mamzar Beach Park is a popular public park located in Dubai that features a pristine beachfront, lush green spaces, recreational facilities, and amenities for visitors to enjoy outdoor activities and relaxation.
Visitors can relish the unspoiled coastlines, partake in delightful picnics or barbecues, and engage in various sports activities. For a more exclusive experience, the park offers rentable chalets and cabanas.
Lifeguard services, convenient facilities, and a range of dining options are provided. Remember to bring essential beach items and indulge in a day of serenity and enjoyment at this remarkable park.
Best Time to Go
The best time to go to Mamzar Beach Park is from November to March when the weather is nice and not too hot. The temperatures are around 20 to 25 degrees Celsius, which is just right.
However, on Mondays and Wednesdays, only women and children are allowed at the beach. But don't worry, the beach is open to everyone on all other days, including public holidays.
The 5 Beaches in Mamzar Beach Park, Dubai
Main Beach
Main Beach is the largest beach in the park and is known for its size and popularity among visitors who seek a refreshing swim or a relaxing sunbathing session. It offers plenty of space for beachgoers to relax and enjoy the sandy shoreline.
Additionally, this beach serves as a hub for exciting water sports activities, including thrilling options like jet skiing and parasailing.
It attracts adventure enthusiasts and those who love water sports, as they can enjoy the thrill of these activities in a beautiful beach setting.
Family Beach
Family Beach is a smaller and more secluded area compared to Main Beach, and is a favored destination for families with young children. This beach is specifically popular among families due to its characteristics.
It features shallow waters and a sandy bottom, ensuring a safe environment for swimming and playful activities.
North Beach
The North Beach offers a peaceful and quiet experience away from the crowds. It's a great place to take a leisurely walk along the shore or find a calm spot to sit and enjoy the sun.
It's a popular destination for people who enjoy kayaking and paddleboarding. Moreover, it's worth mentioning that this beach is dog-friendly, making it a great choice for pet owners who want to have a fun beach day with their furry friends.
South Beach
South Beach is a quiet and isolated beach that attracts visitors who enjoy picnicking and observing birds. It's a habitat for various water birds, including beautiful flamingos, pelicans, and egrets.
The beach offers stunning views of the Al Mamzar Creek, adding to its charm and appeal.
Night Beach
The Night Beach area in Mamzar Beach Park, Dubai is a special section of the park where you can go swimming at night. It's open from 8 PM to 1 AM and provides a calm and romantic setting under the starry sky.
Many couples and families choose to visit the Night Beach for a peaceful and memorable experience by the water during the evening hours.
Things to Know
Entry Fees: AED 5
Parking fee: AED 30
Rentals:
Chalets – AED 200
Air-conditioned cabins – AED 150
Hours:
8AM to 10PM from Sunday to Wednesday
Thursdays, Fridays, Saturdays, 8AM 11PM
Open all year round, including public holidays from 8AM to 11PM

How to Get Around
By car:
From Downtown Dubai: Follow E311 and D62 to D92. Continue on D91 and turn right onto Al Mamzar Corniche Street. Follow signs to Mamzar Beach Park.
From Dubai International Airport: Follow D89, then take D78, D92, and D91 to Al Mamzar. Follow signs to the park.
From Sharjah: Head southwest on E11, then take exit 69 onto Al Mamzar Street/D91. Turn right onto Al Mamzar Corniche Street. Follow signs to the park.
By bus: There are several bus routes that stop near the park, including the C28 and X13. The bus stop is located just outside the park.
By metro: The nearest metro station is Al Qiyadah, which is just a short walk from the park.
By taxi: Taxis are readily available in Dubai, so you can easily get a taxi to the park.
Things to Do in Mamzar Beach Park Dubai
Experience Thrilling Water Sports Activities
The water sports activities in Mamzar Beach Park in Dubai offers an array of exciting adventures for water sports enthusiasts. You can expect to see and participate in thrilling activities such as jet skiing, banana boat rides, parasailing, and flyboarding.
Have a Fun-filled Picnic
The picnic area in Mamzar Beach Park, Dubai is a specially designated space where visitors can enjoy outdoor dining and leisure activities.
It provides shaded areas with tables, benches, and barbecue facilities, creating a pleasant environment for picnics, cookouts, and social gatherings with family and friends.
The park also offers amenities like children's playgrounds, walking paths, and bike rentals, making it an ideal place to relax and have fun.
Play Basketball and Football Pitches
The basketball and football pitches area in Mamzar Beach Park, Dubai is a designated section where you can play basketball and football. You'll find well-kept courts and fields with clear markings and equipment.
It's a great place to have friendly matches or practice your skills in these popular sports.
Whether you're a casual player or a sports enthusiast, the basketball and football pitches provide a fun and recreational setting for enjoying these activities with your friends and family.
Where to Eat in Mamzar Beach Park Dubai
Happy Dolphin Restaurant
Menu: Seafood, Italian, Mediterranean
Address: Al Mamzar Cairo Street, Al Mamzar, Dubai, United Arab Emirates
Contact details: +971 4 251 1990
Pricing: $$
Website
Happy Dolphin is a casual restaurant with a relaxed atmosphere. They have a menu with a variety of seafood dishes, as well as Italian and Mediterranean cuisine.
The restaurant is located right on the beach, so you can enjoy your meal with stunning views of the Arabian Gulf.
Happy Dolphin offers a variety of dishes, such as grilled fish, pasta, and pizzas. We highly recommend their seafood platters for sharing with friends and family!
Community Cafe Restaurant
Menu: Middle Eastern, Mediterranean
Address: 100 Al Mamzar Rd, Al Mamzar, Dubai, United Arab Emirates
Contact details: +971 4 223 8440
Pricing: $$
Website
The Community Cafe Restaurant in Mazar Beach Park, Dubai, is known for its tasty food. They offer dishes like Grilled Salmon, Sweet Potato Fries, Pasta, and Coffee.
People love going there because it feels cozy and comfortable, like being at home. The place looks really nice with its decorations, and you can also enjoy a beautiful view while you eat.
They're famous for their breakfast options too. Besides eating, you can play games there, which makes it even more fun. Overall, the Community Cafe Restaurant is a great place to relax, have a good meal, and enjoy yourself.
Karak and Rigag
Menu: Emirati Cuisine
Address: Beside Union Coop, Al Hamriyah Port, Al Khaleej Road, Mamzar, Dubai
Contact details: +971 4 328 8067
Pricing: $$
Website
Karak and Rigag is a popular Emirati café chain in the UAE. They have two locations in Dubai, one in Mamzar and one in Umm Suqeim.
Their famous drink is Karak tea, which is a strong and milky tea made with black tea leaves, milk, and sugar. It's a favorite in the Middle East.
Rigag is an Emirati pastry made with semolina dough and served with different toppings like cheese, honey, or nuts.
At Karak and Rigag, you can also enjoy other dishes like pasta, pancakes, and desserts. They have different pasta sauces like alfredo, pink sauce, and bolognese. The pancakes come with toppings such as chocolate, fruit, and nuts.
For desserts, they offer baklava, kunafa, and ice cream.
The cafe is popular among locals and tourists because of its tasty food, friendly service, and reasonable prices.
The Lighthouse Restaurant
Menu: Modern European
Address: The Westin Dubai Mina Seyahi Beach Resort & Marina, 2nd Floor, West Crescent, Dubai, United Arab Emirates
Contact details: +971 4 399 9000
Pricing: $$$
Website
The Lighthouse Restaurant is a fancy rooftop eatery located at the Westin Dubai Mina Seyahi Beach Resort & Marina. It offers stunning views of the Dubai skyline and the Arabian Gulf.
The restaurant serves a modern European menu with a focus on using fresh ingredients that are currently in season.
Some popular dishes include roasted cauliflower with truffle risotto, grilled branzino with roasted vegetables, and chocolate lava cake with vanilla bean ice cream. Additionally, they have a good selection of wines from different parts of the world.
Where to Stay When Visiting Mamzar Beach Park Dubai
Movenpick Al Mamzar
Address: Corner Cairo Road – 46th St – Al Mamzar – Dubai – United Arab Emirates
Contact details:  +971 4 607 2777
Operating hours: Open 24 hours, 7 days a week
Pricing: $$
Book now
The Movenpick Al Mamzar is a famous hotel located in the lively Al Mamzar area. The hotel has great facilities like a swimming pool for swimming, a fitness center for exercising, and a spa for pampering treatments.
One of the best things about the hotel is its delicious dining options. They have different restaurants and cafes where you can try tasty dishes from around the world or local specialties.
The hotel provides a free shuttle service to the beach, making it even more convenient for you to relax, take walks, or have fun by the water without any trouble.
Hyatt Regency Dubai
Address: Al Khaleej St – Deira – Dubai – United Arab Emirates
Contact details: +971 4 209 1234
Pricing: $$
Book now
Hyatt Regency Dubai is a fancy 5-star place located in Deira. It has 602 guest rooms and suites, all equipped with modern stuff to make you comfortable.
When it's time to eat, the hotel offers different options. You can try the revolving restaurant with its amazing views of the city.
If you want to relax or have fun, the hotel has a spa for pampering, an outdoor pool with a nice area for sitting in the sun, and a fitness center for staying active. They even have an ice skating rink for a unique experience!
Crowne Plaza Dubai – Deira
Address: Salah Al Din St – Deira – Dubai – United Arab Emirates
Contact details: +971 4 262 5555
Pricing: $$
Book now
Crowne Plaza Dubai – Deira has 322 rooms and suites that are comfortable. Your room will have things like air conditioning, a TV, and a small fridge.
The best part of the hotel is the rooftop swimming pool. It has a great view and is a nice place to relax.
Ramada Plaza
Address: Beside Metro Station – Abu Baker Al Siddique Road – Dubai – United Arab Emirates
Contact details: +971 4 214 7200
Pricing: $$
Book now
Ramada Plaza by Wyndham Dubai Deira is a 4-star hotel in Dubai's Deira district, just 15 minutes away from the beach park. It belongs to Crowne Plaza Hotels & Resorts, which is part of InterContinental Hotels Group (IHG). 
It has comfortable rooms and suites with modern amenities like TVs, minibars, free Wi-Fi, and work desks. Guests can enjoy various dining options, including international restaurants, a lounge, and a cafe.
Where to Shop in Mamzar Beach Park Dubai
Century Mall
Address: Al Wuheida St – Hor Al Anz East – Dubai – United Arab Emirates
Contact details: +971 4 296 6337
Operating hours:
Monday – Thursday 10 AM to 10PM
Friday – Sunday 10 AM to 12 AM
Century Mall in Dubai is a famous shopping center loved by many people in Dubai. It's in the middle of Dubai and has lots of things for shopping, fun, and eating.
The mall is really big and has many different stores with things for different tastes. You can find famous brands like Zara, H&M, and Marks & Spencer.
They have clothes, accessories, and things for your home, so everyone can find something they like.
Dubai Marina Mall
Address: Sheikh Zayed Road – Dubai Marina – Dubai – United Arab Emirates
Contact details: +971 4 436 1020
Operating hours:
Monday, Tuesday, Wednesday, Sunday 10 AM to 10 PM
Thursday, Friday Saturday 10 AM to 11 PM
Marina Mall is a luxury mall located in the Marina district of Dubai. It has a wide range of high-end brands, as well as a number of restaurants and cafes.
This mall is a must-visit, located by the beautiful waterfront. It has a wide variety of stores where you can find everything you need. Plus, there are delicious dining options and stunning views to enjoy.
FAQs on Mamzar Beach Park