How Much Does Yacht Rental Cost in Dubai?
Renting a yacht has become a quintessential part of the Dubai lifestyle. Just imagine cruising around on a yacht with the wind in your hair while partying with your friends! Exciting isn't it?
However, renting a yacht in Dubai doesn't come cheap..
In this guide, we'll talk about these factors and what you can do on the yacht to make the most of your experience.
How much is it to rent a yacht in Dubai?
On average, renting a yacht in Dubai can range from $130 and $1,089 per hour. Factors like the size and type of yacht, the type of service and the length of your trip will also affect costs.
Let's take a look at how those factors can affect the total price.
Factors That Affect the Cost of Yacht Rental
The Size of the Yacht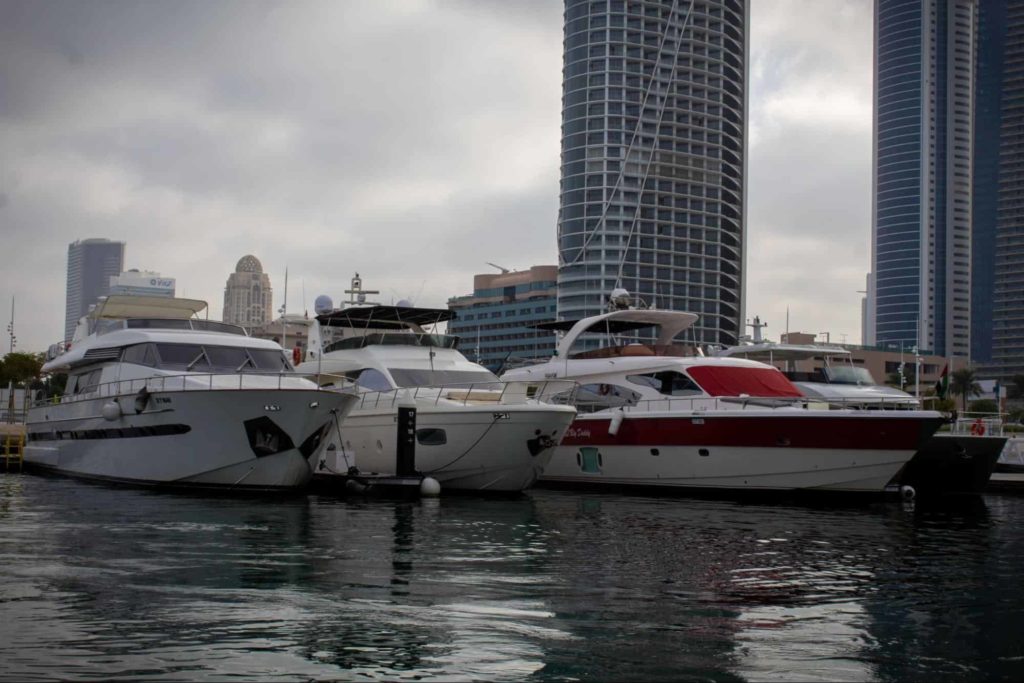 The cost of renting a yacht in Dubai will depend mainly on the size of the yacht that will accommodate your number of guests.
The bigger yacht you rent, the higher the costs. Here are some of the common hourly rates for different sizes of yachts in Dubai:
| | |
| --- | --- |
| $108 - $245 per hour | 55-foot yacht (can fit 2 to 8 people) |
| $190 - $408 per hour | 62-foot yacht (can fit 10 to 22 people) |
| $299 - $626 per hour | 77-foot yacht (can fit 12 to 30 people) |
| $381 - $816 per hour | 88-foot yacht (can fit 16 to 36 people) |
| $408 - $1,225 per hour | 101-foot yacht (can fit 30 to 100 people) |
If you just want to go out on a leisurely cruise around Dubai with some friends, you can opt for a smaller yacht. But for parties, bigger yachts are more ideal.
The Type of Yacht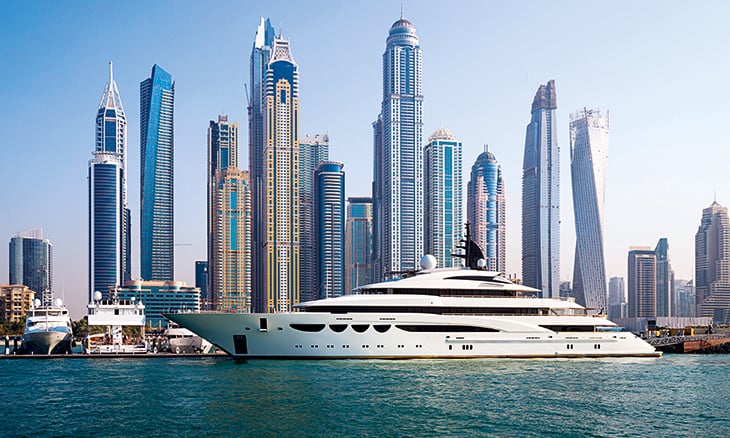 Another factor that affects rental costs is the type of yacht that you choose to rent.
Yachts in Dubai can range from simple sailing yachts to luxurious mega yachts and they come with different amenities that also dictate their rental price:
Sailing yachts. These are smaller and cheaper yachts that's perfect for sailing. These yachts don't have amenities like bedrooms, lounges and decks.
Sports yachts. These can range from small to large yachts that combine design and power making them perfect for a day of adventure on the water.
Motor yachts. These are the most common types of yachts for rent in Dubai and they can range from simple 77-foot yachts to 101-foot mega yachts complete with all the amenities you need for your party or trip.
When it comes to costs, the more amenities a yacht has, the more expensive the rental will be.
For instance, a mega yacht that you can rent for $1,200 per hour will have amenities like:
A lounge and sundeck
Bedrooms
A jacuzzi
A fully equipped kitchen
Cinema
Bar
Washrooms
Packages and Services Offered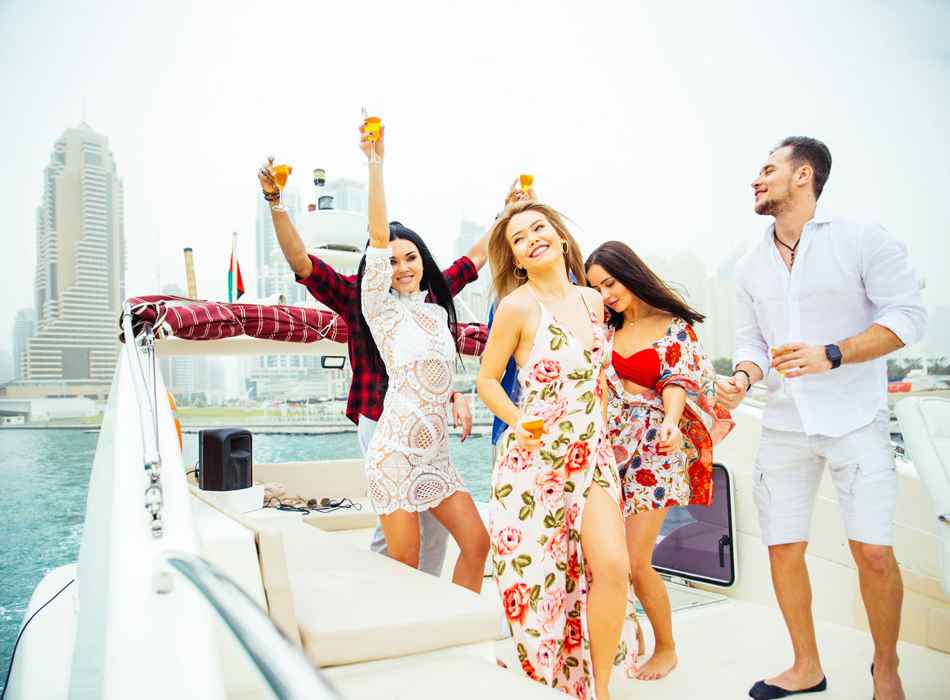 The rental cost of a yacht in Dubai will also depend on the type of service that you want to use during your trip.
Yacht companies in Dubai offer different packages for yacht rentals and they include everything from just the trip to a full party set up.
There are two common types of yacht rental packages in Dubai: all-inclusive and plus expenses.
Most yacht rentals in Dubai offer all-inclusive rates, especially catamaran, sailing and mono-hull yachts.
This means that your rental fee already includes everything that you need for the trip like fuel costs, crew fees, water activities and food and drinks.
On the other hand, dockage fees and taxes will always be charged separately.
Renting an all-inclusive charter is beneficial since everything will be taken care of for your trip.
You can also choose the inclusions for your rental depending on your budget.
For instance, if you're planning a yacht party, having a chef onboard to prepare your food would be more expensive than bringing your own food.
But having everything on the yacht is also more convenient than planning the party yourself.
A lot of yacht rentals also offer equipment for water activities like jet skis, snorkel and diving gear as part of the all-inclusive package.
This type of rental means that you're only paying for the yacht and all the other expenses including port taxes, dockage fees, fuel, crew fees and food and drinks will be charged to you separately.
Whether you opt for an all-inclusive or plus-expenses charter, here's a breakdown of your rental costs and fees:
Base rental fee
This is the cost of the yacht itself and will cover the operation and maintenance of the vessel except for fuel costs. This would also include the wages and food expenses of the crew during your charter.

The base rental fee is more expensive during peak season and cheaper during low season.

Advance Provisioning Allowance (APA)
Every yacht rental includes an Advance Provisioning Allowance (APA), which will help the yacht owner to manage the expenses during the charter.

The APA is the amount you will deposit to cover for expenses such as food, dockage fees and fuel.

In Dubai, the APA is equivalent to 5% of the yacht rental for an all-inclusive package and 20-25% for a plus-expenses package.

This fee is paid to the yacht rental company before the date of the trip, so the crew can prepare the vessel.

The captain will also give you a report of the expenses during the cruise and provide detailed documentation of everything at the end of the journey.

If you go over this amount you'll need to give the captain money to cover the cost for the rest of the trip.

But if there's any unused money, the captain will give it back to you after the charter.

Insurance
When reviewing your contract, determine if insurance is included in your rental cost or not.

In most cases, you'll need to pay insurance costs separately and it's important, especially if you're taking a multi-day cruise.

Fuel and dockage fees
Fuel costs will already be covered in an all-inclusive package, but you'll have to pay for it separately on a plus-expenses charter.

Aside from the fuel of the vessel, you'll also need to pay for the fuel consumed on tenders and jet skis.

If you're doing a multi-day cruise, the fuel used on generators on the marina where you're docking will also be charged to you.

Dockage fees, on the other hand, may vary depending on the location and season.
To know exactly how much you're going to spend for renting a yacht and what you're getting from it, make sure to review your contract before committing to a rental.
The Season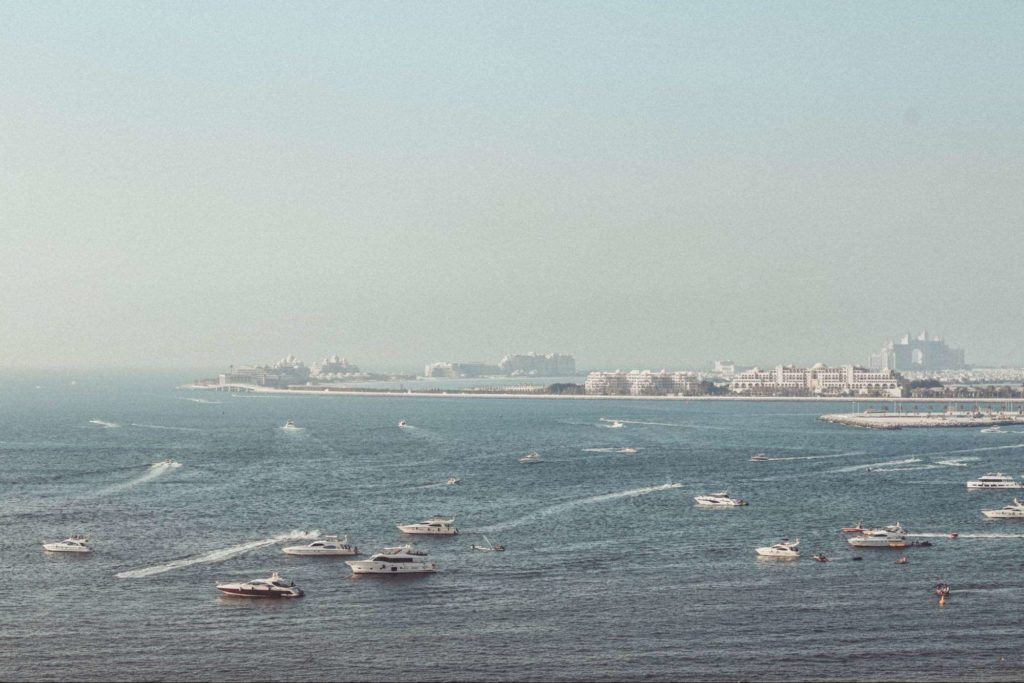 Yacht rental costs will also depend on whether you're renting during the high or low season.
Peak season in Dubai for yacht rentals is during winter, which runs from September to March.
Since the weather is warmer, a lot of people choose to sail and host yacht parties around the city. With a higher demand, rental fees are also more expensive during this time.
Yacht rentals are also more expensive during the Dubai International Boat Show, which takes place in the first week of March every year.
Summer is usually the low season in Dubai for yacht rentals since the weather can get very hot and humid and a lot of people choose to stay indoors.
The Length of Your Cruise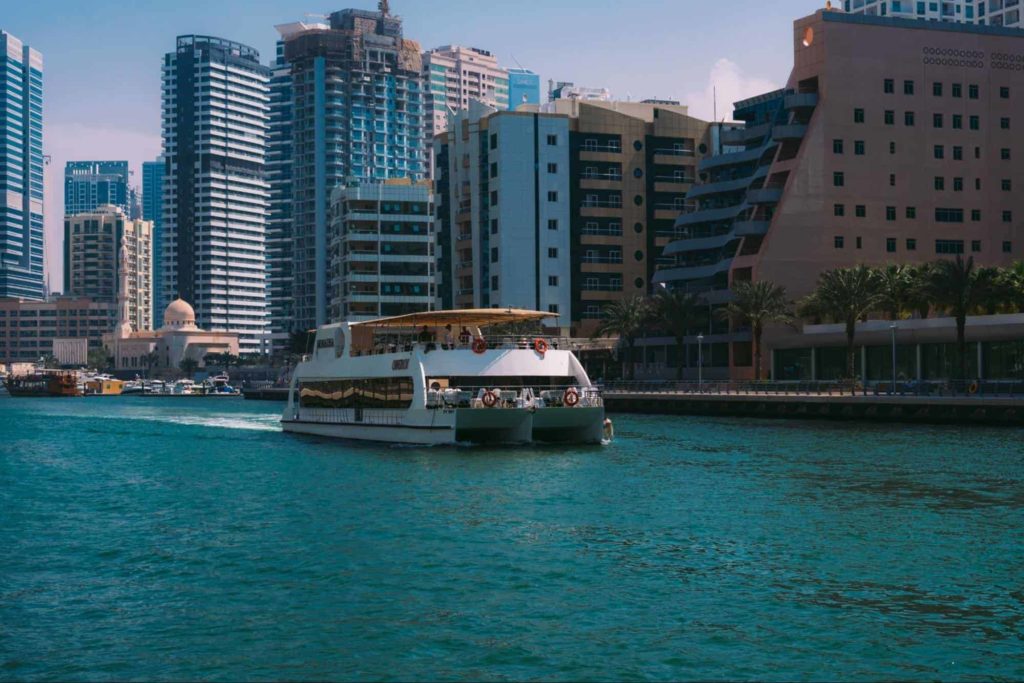 Another factor that affects rental cost is the length of your trip.
In Dubai, you can rent a yacht for an hour or an entire day. This will depend on your purpose for the cruise.
In most cases, guests will rent a yacht for a few hours if they're just cruising around Dubai while those who host yacht parties usually rent the boat all day or even overnight.
A lot of yacht companies also offer packages for long-term rentals, so make sure to compare prices before booking one.
The Activities You'll Have on the Yacht
Rental cost will also factor in the activities that you'd want to do while on board, and you have a lot of options.
Aside from cruising, you can also:
Most yacht companies in Dubai offer romantic date setups on yachts.
You can talk to them about the specific details that you'd want on your date, so you'll know how much you need to pay for the service.
You can choose from a simple dinner to a glamorous cruise that will surely wow your date.
They say that you've never fully lived in Dubai if you haven't been to a yacht party.
Whether it's a birthday, anniversary or any special occasion, a yacht party is a unique way to celebrate the special moments in your life.
The cost for hosting a party will depend on your number of guests and the type of party that you want.
You can go for a simple dinner onboard or you can go all out by hiring a DJ and a full dinner and cocktail bar for guests to enjoy.
Renting a yacht in Dubai means you get to enjoy a host of water activities that your yacht company can prepare for you.
You can go jet skiing, snorkeling or swimming while you're cruising around Dubai. Fishing enthusiasts can also go fishing on board and cook their catch for the day.
Finally, you can host your corporate event on a yacht for a change of scenery and to give your team time to relax while enjoying the fresh air on board.