The Green Heart of Dubai: Al Quoz Pond Park
Escape the Dubai bustle at Al Quoz Pond Park! Did you know the park's lake covers one-third of its area, making it the city's tiniest garden lake?
But the lake isn't just a pretty sight; it waters the park's plants with treated wastewater. This is a perfect example of Dubai combining beauty and sustainability in its urban design.
If you're eager for an eco-conscious adventure, read more about this park's delights!
What is Al Quoz Pond Park?
Al Quoz Pond Park is a beautiful public park in Dubai with a large pond, picturesque landscapes, walking and jogging tracks, shaded seating areas, and children's playgrounds.
You're in for a treat at this huge oasis spanning 127,000 square meters. Right in the middle is a breathtaking 45,000 square meter pond offering fantastic views of the famous Burj Al Arab.
Inside this lovely park, there's a carefully crafted, man-made pond that preserves the area's natural beauty. Both locals and tourists love it, especially birdwatchers who come to see different birds.
You'll likely feel peaceful and relaxed in Al Quoz Pond Park. For one, you can find something fun to do, such as a quiet walk, a picnic with your family, or an exciting adventure.
And don't miss out on the stunning pond with its elegant fountains – it's like a front-row seat to marvel at the beauty of Mother Nature.
Best Time to Go
The best time to go to Al Quoz Pond Park is from November to April, when Dubai's weather is more chill and pleasant for outdoor adventures.
If you like mild temperatures, mornings and evenings are your best bets because they're way cooler. Weekends and public holidays can get crowded too, so it's smart to go on a weekday for a quieter experience.
Things to Know
Address: Al Quoz 2 residential, Al Maidan Road, Sheikh Mohammed bin Rashid Gardens vicinity
Contact details: 050 960 0613
Operating hours: Open daily from 08:00 AM to 11:00 PM
Entry fee: Free for all visitors
Parking situation: With parking right by the park's main entrance, it's easy for visitors to come and go utterly free of charge.
​​How to Get Around
Here's how to get to Al Quoz Pond Park using different transportation options:
Car: Just enter "Al Quoz Pond Park" in your GPS or a navigation app like Google Maps or Waze for a seamless drive.
Bus: You can hop on Bus No. 21 or Bus No. 7, both part of Dubai's public transportation system. Get off at the bus stop closest to the park, and it's just a short walk to the entrance.
Taxi: Taxis are quick and easy in Dubai. You can catch one from almost anywhere in the city to get to Al Quoz Pond Park.
Metro: The nearest station is Noor Bank Station. From there, you can either take a short taxi ride or one of the buses mentioned earlier to reach the park.
That metro combo with a short bus or taxi ride works well for lots of folks, whether you live here or just visiting.
What to Do at Al Quoz Pond Park
Walk or a Jog around the Pond
Walking or jogging around the pond at Al Quoz Pond Park is a fantastic way to exercise and soak in the park's natural beauty. The pond is roughly 1.4 kilometers around and has a comfy synthetic running track.
And just so you know, going for a stroll or a jog has some fantastic health perks. It can boost your heart, help chill out your stress, and put a smile on your face – your body and mind will thank you later!
The best part? You'll catch breathtaking glimpses of the Burj Al Arab, the world's tallest hotel, reflected in the pond's shimmering waters. It's like stepping into a sunny fairy tale.
Play at One of Their Sports Facilities
Playing sports at Al Quoz Pond Park is a great way to bond and encourage healthy competition with friends and family.
The park offers a variety of sports facilities for all skill levels. You can pick from basketball courts, volleyball courts, football fields, and beach volleyball courts. These facilities are in top-notch condition and have lights for nighttime games.
Plus, there are spectator bleachers that can hold up to 200 people, so you can either join in or cheer on your favorite teams.
Let Kids Have a Fun Day at the Playgrounds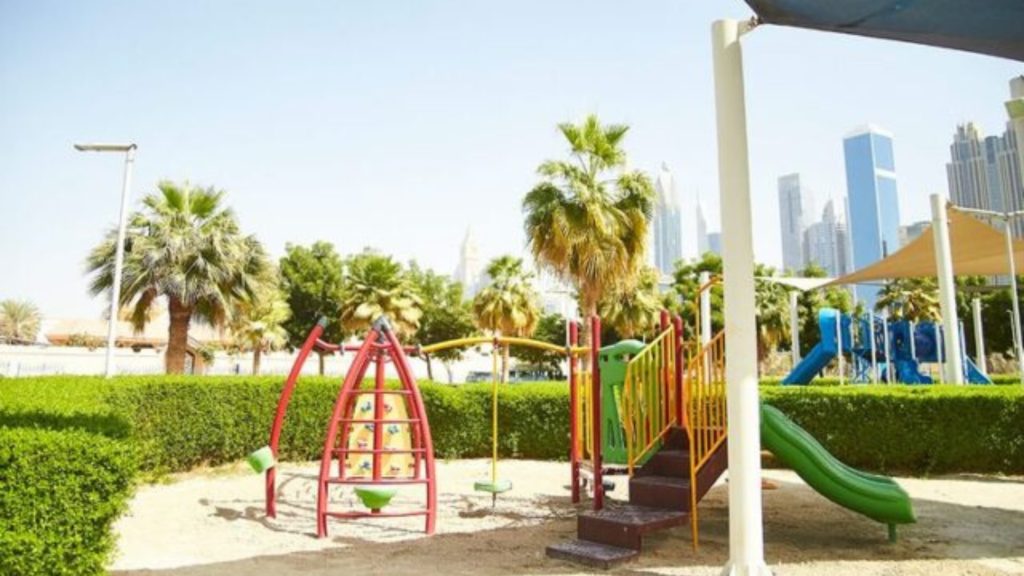 Spending quality time with your little ones is the best, right? At Al Quoz Pond Park, there are two playgrounds designed for different age groups to encourage the kids' creativity and imagination.
These playgrounds offer swings, slides, climbing frames, and other fun games to keep the children entertained and smiling. And don't worry about the sun; there are several shaded areas here to keep them cool.
As a parent or guardian, you can just sit back on nearby benches, have a little me time, and watch your kids play safely.
Have a Picnic Date on the Grassy Lawns
Picnicking on the green lawns at Al Quoz Pond Park is a relaxing and romantic way to cherish time with your loved ones.
When planning a picnic date, you may pack various snacks, from fresh fruit and finger sandwiches to some sweet treats. Also, don't skimp on the cozy blankets and a portable speaker for some background music to set the mood.
As you sit on the grass, you can bask in the cool breeze, bird songs, and the beauty of the pond and the park. But if you're not in the mood to pack a picnic, you may also check out the restaurants nearby.
Admire the Beauty of Nature
Taking in the natural beauty of trees, flowers, and plants at Al Quoz Pond Park is a calming and enlightening way to connect with the environment and expand your knowledge.
The park boasts over 200 species of trees, flowers, and plants that bloom in various seasons and colors. You might even spot some birds and fish in the pond, adding to the rich diversity of life in the park.
To capture the best shots of this lush paradise, make sure to adjust your camera settings for vibrant colors and play with different angles to frame the beauty of this botanical wonderland.
Where to Eat near Al Quoz Pond Park
Fujiya Restaurant & Bar
Address: ​​ Al Mustaqbal Street, Trade Centre 2, Dubai
Phone: +971 4 547 7171
Pricing: $$-$$$
Fujiya Restaurant & Bar, near Al Quoz Pond Park, is where you can indulge in the flavors and vibes of Japan. It's got a sleek, modern look, a roomy dining area, and a comfy bar.
They offer a variety, from crispy fried chicken (karaage) and deep-fried veggies and seafood (tempura) to thin buckwheat noodles in a delicious broth (soba) and grilled chicken skewers with various sauces (yakitori).
Plus, you can even grill your own meat and veggies on a charcoal fire with their barbecue menu!
Rossovivo
Address: Millenium Tower, Sheikh Zayed Road, Dubai
Phone: +971 4 380 5833
Pricing: $$
Website
Located around 5 km from Al Quoz Pond Park, Rossovivo is all about genuine Italian pizzas. This place is cozy, with a brick wall and a wood-fired oven.
They whip up the pizza dough fresh every day, using top-notch flour and natural yeast. For toppings, they keep it fresh and in season, with mozzarella cheese, tomato sauce, basil leaves, mushrooms, olives, ham, salami, and more.
What's special? The pizzas cook up in just about 90 seconds in that oven, giving you a thin, crispy crust and a soft, chewy middle.
Daily Express Restaurant Al Barsha
Address: Lobby Level, MiNC Al Barsha Hotel Apartments, Sheikh Zayed Road, Al Barsha 1, Dubai
Phone: +971 4 323 2341
Pricing: $$
Website
Craving some Indian and Pakistani flavors? Daily Express Restaurant Al Barsha, not far from Al Quoz Pond Park, is the spot for you! It's a no-fuss place with comfy seats and colorful wall art that sets the mood.
Their food is a flavorful adventure with a range of choices, including biryani, curry, and tandoori, all infused with a mix of herbs and spices.
For those into vegetarian or sweet options, they also offer delectable dishes like dal, paneer, halwa, and kulfi.
Qahwaty – Huna By The Pond
Address: Inside Al Quoz Pond Park
Phone: +971 56 491 4394
Pricing: $$
Website
Looking for a chill spot with a fantastic view? Qahwaty – Huna By The Pond is a café inside Al Quoz Pond Park, offering a laid-back vibe and a lovely view of the lake and downtown skyline.
You can kick back indoors or on the terrace, soaking up the breeze and the soothing sounds of water.
They've got a range of beverages too – hot and cold, like coffee, tea, juice, smoothies, and milkshakes. And if you're feeling peckish, you can also order a couple of sandwiches, salads, and cakes.
Where to Stay near Al Quoz Pond Park
SLS Dubai Hotel & Residences
Address: Marsi Drive, Business Bay, Dubai
Phone: +971 4 607 0757
Pricing: $$
Book now
SLS Dubai Hotel & Residences near Al Quoz Pond Park is all about Dubai's luxury and elegance. The hotel has a striking design, with a glass front and a shiny golden crown.
On the rooftop, you'll find a super-high pool that gives fantastic views of the city and the park. The rooms are comfy and stylish, with a king-size bed, a smart TV, a minibar, and a Nespresso coffee machine.
Plus, there are many places to eat and drink, like Carna by Dario Cecchini, where you can have steaks, and Fi'lia by Michael Schwartz for Italian.
Rove Downtown
Address: 312 Al Mustaqbal Street, Zabeel 2, PO Box 119444, Dubai
Phone: +971 4 561 9000
Pricing: $$
Book now
Rove Downtown, near Al Quoz Pond Park, is a hotel designed for young and adventurous travelers. The hotel exudes a cozy, inviting atmosphere with vibrant decor.
In the lobby, you'll discover foosball, ping pong, and PlayStation games for entertainment. Plus, the rooms are comfy and neat, with a mini-fridge, coffee maker, and an interactive TV. Staying active here is easy with the on-site gym as well.
The rooftop pool also offers a great view of the Burj Khalifa, the world's tallest building. And as a bonus: it's pet-friendly, so you and your furry pal can both enjoy it!
Al Khoory Courtyard Hotel
Address: Al Washa St., Al Quoz, Dubai
Phone: +971 4 492 7777
Pricing: $$
Book now
Al Khoory Courtyard Hotel, about 1 km from Al Quoz Pond Park, offers roomy and well-equipped apartments for short and long stays. It's all about simplicity and cleanliness in the decor, with comfy seating and colorful paintings on the walls.
The bathroom features a shower, a bathtub, and toiletries from Al Khoory. And here's a nice touch: some apartments have a balcony with views of the park or the city.
For your leisure, the hotel offers a pool and a gym. When you're hungry, just head to Spice Restaurant & Cafe Lounge Dubai Al Quoz 3 Branch, where they can serve you some international cuisine.