How to Move To or Out of Dubai
Featured Image Source: Jcomp via Freepik
Did you know that 85% of Dubai's population is composed of expats? With ethnically diverse communities, liberal tax policies, and numerous scenic attractions, it's not surprising to see people migrating to this city.
Living in Dubai can be an exciting opportunity, but the process of settling in is not easy, especially if you don't even know how to get started.
Luckily for you, we've created an easy guide on how to move to (and even out of) Dubai.
How to Move to Dubai
If you have plans to move to Dubai, whether because of work, family, or business, it's essential to be aware of what it's actually like to live in this city.
In this part, we will cover the things that people moving to Dubai should know – from basic facts to tax policies, healthcare system, and living costs. We will also talk about Dubai's local laws and customs to help you efficiently navigate a new culture.
After that, we'll give you a guide to moving into the city.
What to Know Before You Move to Dubai
Before we look into the essential factors you have to keep in mind before you make the big move, here's some basic information about Dubai.
Test
Info
Total Population
• 2.9 million
Total Expat Population
• 2.4 million
Total Size
• 4,114 km²
Government Type
• Elective monarchy
Official Language
• Arabic (but English is also widely spoken)
Currency
• Arab Emirate Dirham (denoted as AED/Dhs)
Climate
• Dubai has a year-round climate, especially during the summer months.

• January is the coldest winter month, and the temperature can drop to about 15 ℃ (49℉).

• July is the hottest summer month, and the temperature can be as high as 40℃ (104℉).
Aside from that, there are a few other notes you may want to keep in mind, like the following:
1. There's no income tax.
In Dubai, there's no personal income tax, so you can receive your salary without deductions from taxes. Besides that, there's no sales tax on most goods and services.
However, not everyone's exempted because the UAE still levies corporate taxes on foreign banks, energy companies, and oil businesses.
2. The cost of living can be high.
Even if there's no income tax in Dubai, the cost of living in this city is actually high. However, if you look at the bright side, your budget is dependent on your lifestyle, so you can still save more if you want.
To give you an idea, we provided a table that shows the estimated costs of basic expenses in Dubai.
| Title | Info |
| --- | --- |
| Accommodation | House or Villa - 200,000 AED - 300,000 AED/ per year |
| | Furnished Apartments - 40,000 AED - 200,000 AED/ per year |
| | Serviced Apartments - 400 AED -700 AED/ per night |
| Utilities | DEWA Bill (Dubai Electricity and Water Authority) - 600 AED - 1500 AED/ per month |
| | Basic Internet and TV Package - 300 AED - 400 AED/ per month |
| | Basic Mobile Postpaid Plan - 125 AED - 500 AED |
| Transportation | Nol Card (for Public Bus, Dubai Tram, Metro, and Waterbus) - 200 AED - 300 AED/ per month |
| | Taxi Tariff - 1.82 AED/ per kilometer |
| | Fuel - 2.39 AED - 2.45 AED/ per liter |
| Schools | Public Schools (Primary and Secondary Education) - 6000 AED/ per year |
| | Private Schools - 5,000 AED - 85,000 AED/ per year |
| Home Maintenance | Maid Service - 30 AED - 45 AED/ per hour |
| | Cleaning Service - 35 AED - 50 AED/ per hour |
| | Plumbing Service - 129 AED/ per hour |
| | Carpenter Service - 150 AED - 200 AED/ per hour |
| | Handyman Service - 109 AED - 129 AED/per hour |
3. The weekend days are different.
Compared to other nations, the current weekend days in the UAE are Fridays and Saturdays. However, in 2022 there's a plan to adopt a 4 and ½ working week, so individuals will still be working half day on Fridays, and the weekends will be switched to Saturdays and Sundays.
4. There are unique local laws and customs.
If you plan to stay in Dubai, it's vital to understand and follow local laws and customs. While learning every law is not really necessary, becoming familiar with the basic rules is a life skill you'll need.
Here's a list of things considered illegal or inappropriate in the UAE.
Swearing in public, flashing aggressive hand gestures and using swear/rude words on any social media or messaging platform
Trafficking, smuggling, or possession of illegal drugs or herbal spice (even residual amounts)
Drinking liquor in public places and purchasing alcohol without a liquor license
Cross-dressing and women not wearing clothes that cover the tops of their arms and legs when going out
Any sexual relationship outside marriage
Fundraising or any charitable act that is not approved by the Islamic Affairs and Charitable Activities Department (IACAD)
Snapping photos of people without their permission or taking and sharing pictures of government buildings, courts, military sites, and airports
Public display of affection (even hugging)
Handing over something, opening doors or greeting someone using your left hand
Cohabitation of unmarried couples
Dancing or playing loud music in public places
Eating in public during the holy month of Ramadan
5. Healthcare insurance is mandatory.
All UAE Nationals and expats in Dubai, together with their dependents, are required to have health insurance. Public healthcare services are free or at a very low cost for UAE citizens, and employees are mandated to provide a basic health plan for their workforce.
How to Relocate to Dubai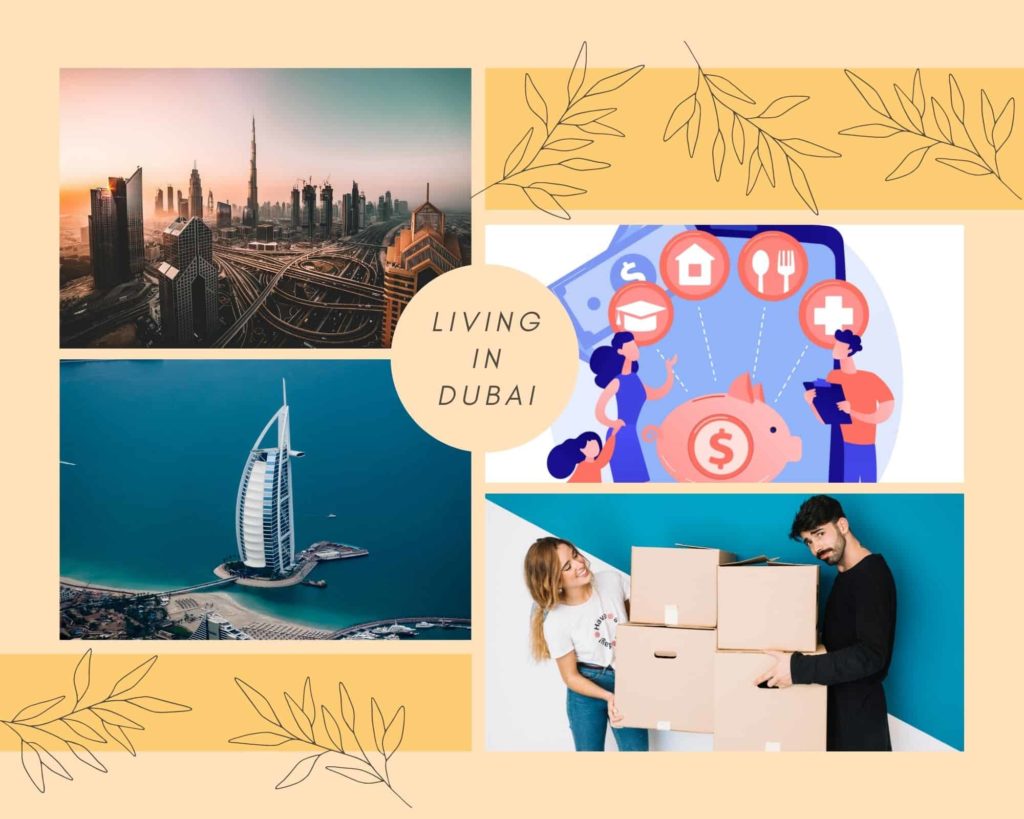 Now that you understand Dubai's way of life, it's time to know the things you need to do to properly settle in this land.
1. Get your immigration documentation processed.
Before you can stay in Dubai, you have to get a residence visa or work permit that is renewable after a specific period of time. Fortunately, there are several immigration options, among which are:
Securing an employment offer from a local company, obtaining a work permit and getting an employment visa
Obtaining a student visa or a family reunification visa
Getting an investor visa (for those who plan to start a business in Dubai)
Purchasing a property and obtaining residency through an investment program (minimum amount to be invested in real estate is 1,000,000 AED)
2. Make sure to set up your finances as soon as you can.
Since you will be starting a new life in this place, it's essential to open a bank account and get your finances sorted. With all the well-established banks in the region, you can easily open a savings account online.
If you think you need professional advice or help with your investments and savings, you can also consult a financial advisor firm or accountant in Dubai.
3. Find a job prior to entering Dubai.
Getting a stable source of income is a necessity, so make sure to secure a work offer before you enter the country. In case you haven't landed a job, you can also reach out to fully-qualified recruitment agencies in Dubai.
Among other things, your employers can also help you get your employment visa, and health insurance sorted more efficiently.
4. Get a place to live in.
If you plan to live in this city, you will have various accommodation options. You can purchase a house or rent a condo, villa, or apartment.
Just note that renting or buying a property in Dubai Marina and Jumeirah can be expensive. Most landlords will also require an upfront payment, so take the time to consider your options.
5. Choose your movers wisely.
Moving into a new state or city can be a tedious and stressful experience, so it's best to hire a professional crew that can handle the entire process of moving for you.
You can look at the offers and quotes of several movers before picking one to ensure that you'll bag a good deal and get the quality service you require.
How to Move Out of Dubai
There are unexpected events that can cause you to bid goodbye to Dubai. Before you jump to your next plan, it's vital to carefully consider the factors we listed below to ensure a smooth transition.
1. You should cancel your visa.
If you plan to resign or your contract is about to end, and you need to leave the country, make sure that you cancel your visa along with your dependents' visas.
We recommend that you prioritize this step so you will not experience delays in your departure. Note that when your application for visa cancellation is approved, you will be given 30 days to leave the country.
2. Make sure to sort out your debts.
Make sure to pay off any existing loan or debt before leaving Dubai to avoid a potential arrest or prison sentence. The same goes if you have debtors: you should collect the money they owe you before leaving, or you may struggle to get it back later.
Fortunately, you don't have to manage the latter in particular by yourself: there are a lot of Dubai debt collectors that can do the job for you.
3. Close your bank account before leaving.
Closing your Dubai-based bank accounts before you leave is also a must. To do this, you just have to bring your passport and Emirates ID to your bank's branch and accomplish and submit a closure form.
Once approved, you can ask the bank to transfer your money to another bank (outside of Dubai/UAE) or opt to have your savings in cash.
4. Take the time to speak with your landlord.
Speak with your landlord and review the contract's terms and conditions. If you end the rental contract earlier than discussed, you may have to pay an additional charge.
However, if you own a property and you plan to sell it, we recommend that you reach out to a property lawyer to get things sorted legally and efficiently.
5. Give proper notice to your employer.
Make sure to inform your employer within the discussed notice period. This is to ensure that they can find a suitable replacement and deal with the necessary procedures.
FAQ about Moving Into, Out of, or around Dubai