Exploring the Restaurants at Dubai Airport Terminal 1
As a popular gastronomical stop, it's no surprise that Dubai has an impressive number of restaurants, even inside its airports. Terminal 1 alone already has a great selection of delicious treats that you can try as soon as you arrive.

Want to know more? Then read on!
Choosing our Favourite Restaurants at Dubai Airport T1
There are plenty of restaurants to choose from in Terminal 1 of Dubai airport – there is something for everyone despite having your own preferences. From pizza, to fine dining, and even sweets and pastries, here are some of our favourite picks.
Giraffe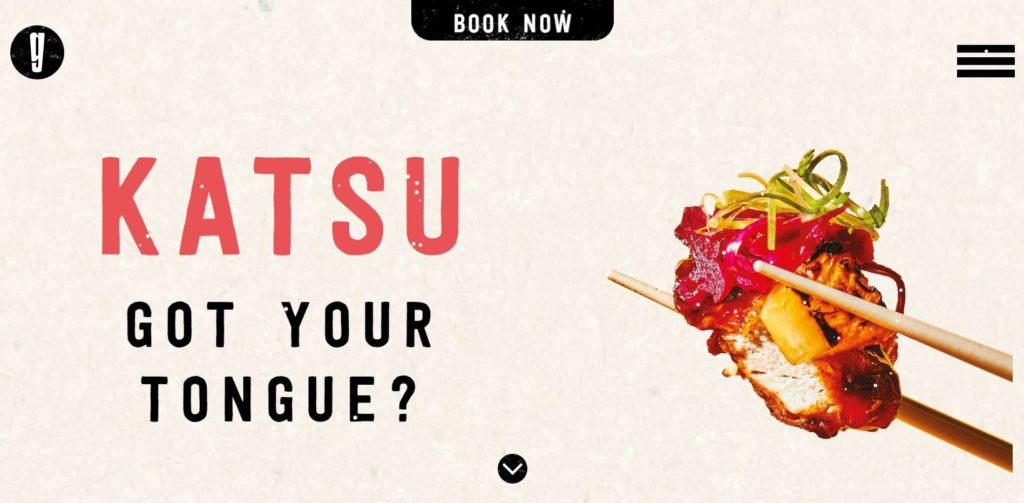 MENU:
Burgers, Curry, Salad, Sides, Vegetables, Tostadas, Fish Fingers
WEBSITE:
https://www.giraffe.net/
CONTACT DETAILS:
Phone: +971 4256 6848

Email: [email protected]

OPERATING HOURS AND DAYS:
Open 24 Hours, 7 Days a Week
Upon arriving at the airport, having a good lunch is just the thing we need to shake off the exhaustion. As such, we find Giraffe to be an excellent cafe to choose for an afternoon meal at Terminal 1.
You can get a number of popular lunch dishes that are both filling and delicious. They serve items like burgers, meat main courses, vegetable courses for vegetarians, and even a few international dishes like chicken katsu.
Visitors having a sweet tooth will also appreciate the freshly-baked goods the cafe serves with their coffee. Their croissants just have the nice type of crisp and flakiness we've come to expect with the treat.
Interior is rather comfortable. It's reasonably bright with some decently-spaced wooden tables and comfortable booths if you want something a lot more private with friends.
Dining is quite affordable as well, and you can expect to spend around AED 200 to AED 400 for two people already, depending on how big you chose to go for your meal.
It's also open pretty much the whole day so even if you're departing on a late night flight or arriving early in the morning, you can be sure one eatery is still open for you to get some snacks.
The Kitchen – Wolfgang Puck
Photo from: TripAdvisor
| | |
| --- | --- |
| MENU: | Pizza, Burgers, Fries, Espresso, Dessert, Pasta |
| WEBSITE: | http://wolfgangpuck.com/ |
| CONTACT DETAILS: | Phone +971 4236 7180 |
| OPERATING HOURS AND DAYS: | Mondays - Sundays: 12:00 AM to 12:00 PM |
If you're looking for something a lot heartier before a late night flight or for when you arrive early in the morning, then look no further than The Kitchen by the famous chef Wolfgang Puck.
This is the place to visit if you're looking to be brave by trying out their spicy meat pizza which we think will really clear out your sinuses. Still, it's good taste does shine through so you don't have to worry about just dealing with the meat.
The Kitchen's breakfast menu is nothing to scoff at either. You can get a filling steak and eggs, Belgian waffles, mushroom omelettes, and even some Arabic favourites like hummus wraps, and labneh made from strained yoghurt.
In terms of pricing, it is a bit high compared to fast food but they're not too expensive for most travellers arriving at the place. You can expect to spend as low as AED 220 for two people when you stick with some of their more budget options.
Taste of India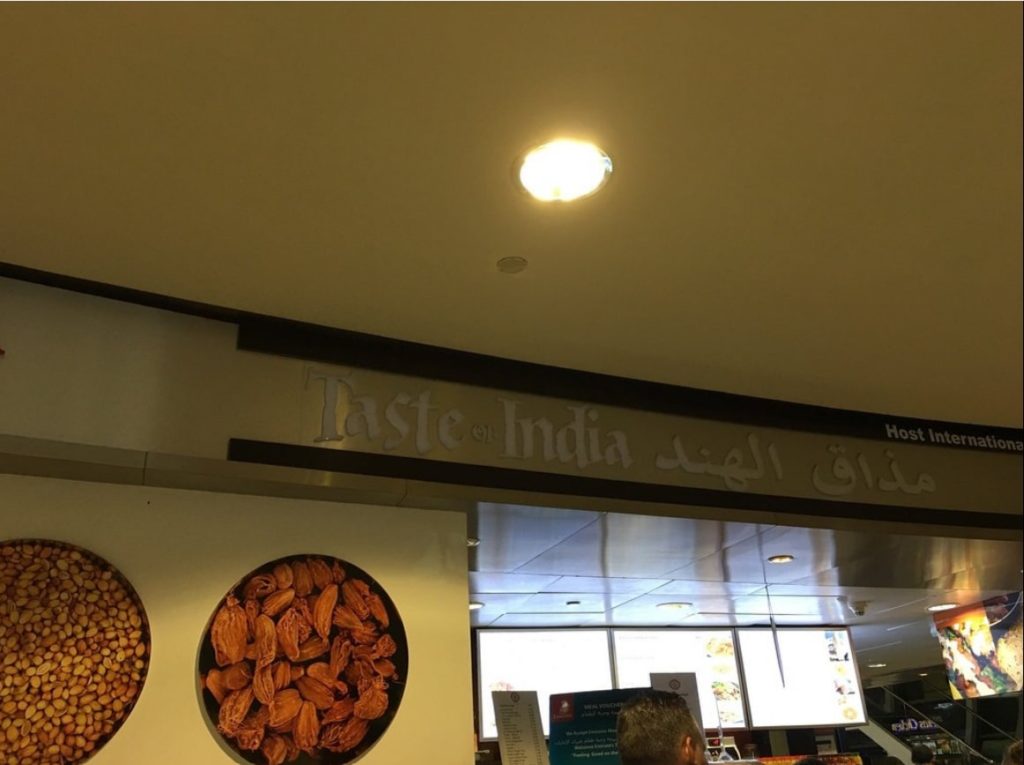 Photo from: TripAdvisor
Craving for some delicious, authentic South Asian flavours? You may want to check out the Taste of India in Dubai Terminal 1.
It is a rather affordable joint where you can eat some authentic Indian dishes such as all sorts of curries, basmati rice, and tandoori chicken. Serving is based on a cafeteria style, with trays and compartments for your sauces.
The interior looks quite good however, with nice earthy tones creating a comfortable environment to finish your meal. And for roughly AED 100 per meal, Taste of India is a treat for budget travellers.
From what we gathered from speaking with different customers, the opening times for the restaurant can be quite inconsistent, with the place closing down every now and then.
Still, Taste of India makes for a very good and affordable spot to try out dishes you may not always be able to order in the bigger cities. We definitely recommend checking it out should you find them open.
Texas Chicken
MENU:
Chicken Tenders, Fried Chicken, Chicken Sandwiches, Desserts
WEBSITE:
https://uae.texaschicken.com/
CONTACT DETAILS:
Phone: +971 4282 3344 / +971 600 52 2224

Email: [email protected]

OPERATING HOURS AND DAYS:
Sundays - Wednesdays: 10:00 AM to 10:00 PM

Thursdays - Saturdays: 10:00 AM to 12:00 PM
Perhaps you're in a bit of a rush and would prefer to get your snacks fast. In this case, there's no harm in checking out a delicious fast food joint like Texas Chicken at the Dubai Terminal 1.
There's no need to be in an experimental mood here. Texas Chicken focuses on cooking up familiar, simple dishes well while implementing the flavours of Texas spice in their fridge chicken offerings.
Their variety is good for all sorts of different tastes and preferences. For example, travellers in a rush can get chicken tenders and sandwiches, removing the need to wrestle the bone and eat your food on the go.
Prices are also quite affordable too as expected of a fast food place. You can eat for as low as AED 40 here, including sides and drinks so it can also be a rather filling experience.
YO! Sushi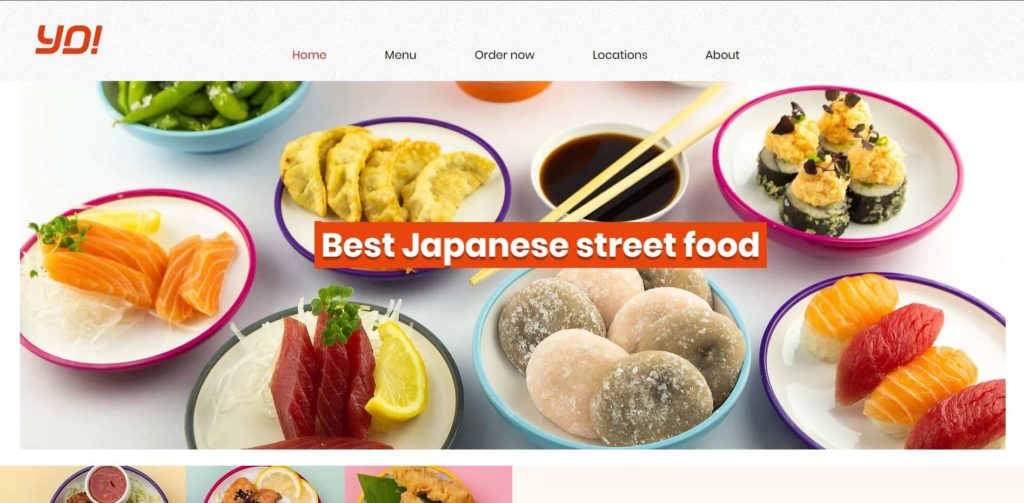 MENU:
Sushi, Rolls, Sashimi, Ramen, Gyoza, Tempura, Karaage
WEBSITE:
https://www.yosushi.me/
CONTACT DETAILS:
Phone: +971 4339 8130

Email: [email protected]

OPERATING HOURS AND DAYS:
Mondays - Sundays: 12:00 PM to 12:00 AM
Perhaps you want a hint of seafood in order to remind you of the water after flying for so long. In this case, you can try out Yo! Sushi at the Dubai Terminal 1.
As per their name, they specialise in providing all sorts of sushi and related Japanese dishes to customers in the airport. They're all at affordable prices too, with a small costing as low as AED 40.
They have an assorted selection of fish to enjoy, ranging from tuna sashimi to salmon, and even sea bream if that's what you're after. You can also enjoy other seafood such as shrimp tempura with a nice, crispy exterior.
Those looking to take shelter from the cold can also enjoy some hot ramen as well as Yo Sushi's own blend of different hot teas. Dessert is mostly fresh fruits with a few chocolate dishes.
All-in-all, it's a great selection given the low prices most of their menu items start out with. Whether you'll be leaving for another country or arriving at Dubai for the first time, we definitely recommend checking out YO! Sushi.
---
We hope you enjoy these amazing restaurants in Dubai!
Regardless of what you want, Dubai is sure to provide thanks to its excellent selection. We think it's really good at setting expectations of what kind of gastronomical journey people can expect as soon as they arrive.
How about you? What kind of food do you usually crave after a very long and tiring trip?