Dubai Marina Walk: A Trip to the Trendy Waterfront
Have you ever dreamed of strolling along a picturesque waterfront with skyscrapers, yachts, and palm trees surrounding you?
If so, you'll love Dubai Marina Walk, a charming promenade adorned with trendy cafes, boutique shops, and dazzling lights! It's a lifestyle destination where you can mingle, enjoy the stunning views, and indulge in some of the best cuisines. 
So, why wait any longer? Let's dive into a world of splendor, adventure, and relaxation, all at Dubai Marina Walk!
What Is Dubai Marina Walk?
The Dubai Marina Walk is a scenic seven-kilometer waterfront attraction in Dubai, lined with palm trees and bordering the renowned emerald-hued waterway.
The best part of Dubai Marina Walk is the stunning view of yachts on the water and the beautifully lit city skyline at night. It's a fantastic spot with an open-air setting, making it a go-to place for hanging out, shopping, and enjoying a great meal.
Taking a stroll around Dubai Marina is popular among both locals and tourists! And it's perfect for exercising, enjoying the views, or simply unwinding and people-watching.
Dubai Marina vs Downtown Dubai
When you compare Dubai Marina to other trendy places like Downtown Dubai, each area has charm and offers unique experiences.
Dubai Marina Walk gives you a peaceful coastal paradise and a relaxed vibe, making it ideal for those seeking a luxurious waterfront lifestyle and a more laid-back, upscale atmosphere.
On the other hand, Downtown Dubai is a bustling urban area with iconic landmarks, bustling streets, top-notch shopping options, and a vibrant atmosphere that draws people in with its record-breaking architecture.
Here's a simple table comparing Dubai Marina and Downtown Dubai:
| Dubai Marina | Downtown Dubai |
| --- | --- |
| Modern and upmarket | Historical and cultural |
| Relaxed atmosphere | Vibrant atmosphere |
| Walking, running, biking, swimming, boat riding, shopping, and dining | Shopping, dining, sightseeing, and visiting Burj Khalifa, Dubai Mall, and Dubai Fountain |
| More expensive | Less expensive |
Whether you prefer the serene elegance of Dubai Marina Walk or the energetic excitement of Downtown Dubai, both destinations promise an unforgettable journey through Dubai's captivating and modern charm.
Best Time to Go
The best time to visit Dubai Marina is during the cooler months, from November to March. We recommend visiting after sunset for the best experience at Dubai Marina Walk.
During this time, the area transforms into a picturesque setting, with yachts and Dhows glimmering in the water's lights and the cityscape adorned with a beautiful display of lights.
Things to Know
Location: Dubai Marina Walk, Dubai, United Arab Emirates, along the shores of the Arabian Gulf.
Operating hours: Open 24 hours a day, seven days a week.
Age restrictions: There are no age restrictions for visiting Dubai Marina Walk. 
Entry fees: There are no entry fees to visit Dubai Marina Walk.
Parking: There are many parking garages, including Marina Walk Parking, Marina Mall Parking, and The Walk Parking. Parking fees are around AED 10 to AED 25.
How to Get Around
By car: You can easily reach Dubai Marina Walk by taking Sheikh Zayed Road.
By bus: The closest bus stop is the Jumeirah Beach Residences 2 bus stop. You can find the bus schedule on the RTA website.
By metro: The Damac Properties station is the nearest metro station to Dubai Marina Walk. From there, you can walk to the walkway in about 5 minutes.
By taxi: You can hail a taxi on the street or call for one in advance.
Where to Stay Nearby Dubai Marina Walk
Crowne Plaza Dubai Marina, an IHG Hotel
Address: Al Yahoom St., Dubai Marina, Dubai, United Arab Emirates
Phone: +971 4 378 0000
Pricing: $$
Book now
This hotel is next to the Dubai Marina Mall and provides direct access to the Marina pedestrian promenade, lined with bustling cafes and restaurants.
It boasts 273 elegant rooms, a club lounge with panoramic views of the marina through its floor-to-ceiling windows, and gourmet treats.
You can choose from five dining options: a specialty Thai restaurant and an all-day dining venue. The hotel also offers many meeting and event facilities, making it an ideal choice for business travelers.
Millenium Place Marina
Address: Al Marsa St., Dubai Marina, Dubai, United Arab Emirates
Phone: +971 4 550 8100
Pricing: $$
Book now
Millenium Place Marina features three contemporary and versatile conference venues for meetings and events. You can relax by the pool or work out in the state-of-the-art fitness center.
There are dining options in this hotel, one of which is the MasterChef TV Experience. Chefs who have previously competed on the cooking TV program MasterChef have curated the menu at this unique restaurant.
Furthermore, if you love Japanese cuisine, a restaurant named IKIGAI serves various secret Asian delicacies, including ramen, sushi, tempura dishes, and unique Japanese tapas.
Marina View Hotel Apartments
Address: Al Marsa Street, Dubai, United Arab Emirates
Phone: +971 4 457 1000
Pricing: $
Book now
You can enjoy a lagoon-style swimming pool and spa amenities at Marina View Hotel Apartments. The interiors of Marina View Hotel Apartments feature beautiful mosaics, enhancing the overall aesthetic.
The hotel also offers saunas for those who want to relax and and take advantage of its therapeutic benefits.
Additionally, the Mosaic restaurant provides a delectable dining experience, offering Arabian and Russian mezze, along with a variety of international cuisine and seafood. You can savor their meals indoors or outdoors on the terrace.
Where to Eat Nearby Dubai Marina Walk
Asil Restaurant
Address: The Walk, Jumeirah Beach Residence, Dubai, United Arab Emirates
Phone: +971 4 520 0055
Pricing: $$
Website
Asil Restaurant, located within the Rixos Premium Dubai Hotel at Dubai Marina, is a dining destination known for its exquisite cuisine, captivating ambiance, and vibrant entertainment.
You'll be transported to a world of elegance with its luxurious fabrics and antique furniture that perfectly complement the sparkling chandeliers.
We recommend visiting Asil Restaurant at night to immerse yourself in an enchanting atmosphere. The night brings a lively vibe with a DJ spinning captivating beats and mesmerizing live performances by belly dancers and musicians.
Bread Street Kitchen
Address: Atlantis The Palm, Dubai, Crescent Road, Dubai, United Arab Emirates
Phone: +971 4 426 2626
Pricing: $$$
Website
Bread Street Kitchen is an extension of the renowned London-based restaurant owned by celebrity chef Gordon Ramsay. The eatery offers a delightful array of contemporary British cuisine with a touch of European and international influences.
The restaurant's ambiance reflects a casual yet chic warehouse vibe, reminiscent of its legendary counterpart near St. Paul's Cathedral in London.
Black Tap
Address: Financial Center Rd., Downtown Dubai, Dubai, United Arab Emirates
Phone: +971 4 330 5103
Pricing: $$-$$$
Website
They serve the most delicious craft burgers, salads, sides, and CrazyShake milkshakes. The ambiance is a delightful throwback to the golden age of hip-hop and R&B, featuring private pods and cassette tapes that set the perfect mood.
You must try those CrazyShake milkshakes, which are an adventure in themselves—enormous and adorned with wild toppings like cotton candy, lollipops, and even whole cake slices!
Indego by Vineet
Address: Grosvenor House Dubai, Al Emreef St., Dubai, United Arab Emirates
Phone: +971 4 317 6000
Pricing: $$$
Website
Indego by Vineet is an exquisite Indian fine-dining gem within Dubai's Jumeirah Emirates Towers hotel. With renowned Michelin-starred chef Vineet Bhatia at the helm, the restaurant astounds with its inventive approach to Indian cuisine.
Their menu is a delightful fusion of street food-inspired snacks and dishes from the skillet, tandoor, grill, and stew pot, all perfect for sharing and savoring the flavors.
What to Do at Dubai Marina Walk
Rent a Private Yacht
Dubai Marina Walk offers various options to suit your preferences such as dinner, sunset, and sightseeing cruises, to name a few. Moreover, live entertainment and engaging activities will enhance your cruise experience.
We suggest considering Xclusive Yachts for your rental needs, as they provide a diverse selection of yachts, catering to both couples with small boats and accommodating up to 120 guests with large vessels.
Take a Stroll along the Marina Walk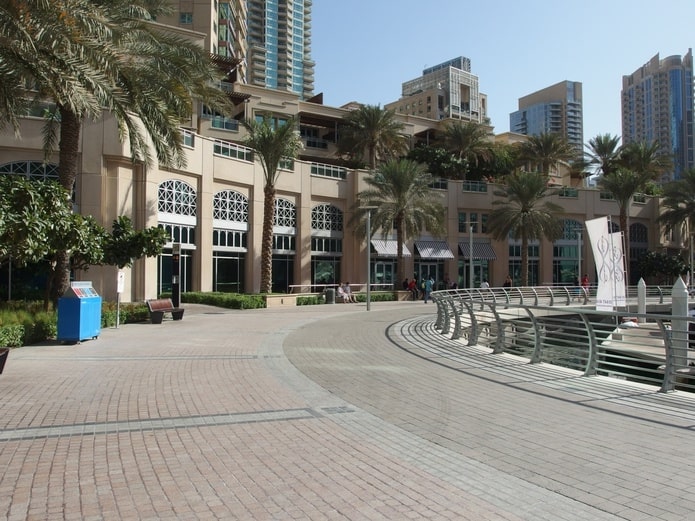 Strolling along the Marina Walk is a great way to enjoy the stunning views of the emerald-hued waterway, elegant yachts, and the city skyline. The walkway is 7 kilometers long, lined with palm trees and landscaped greenery.
Shop at Dubai Marina Mall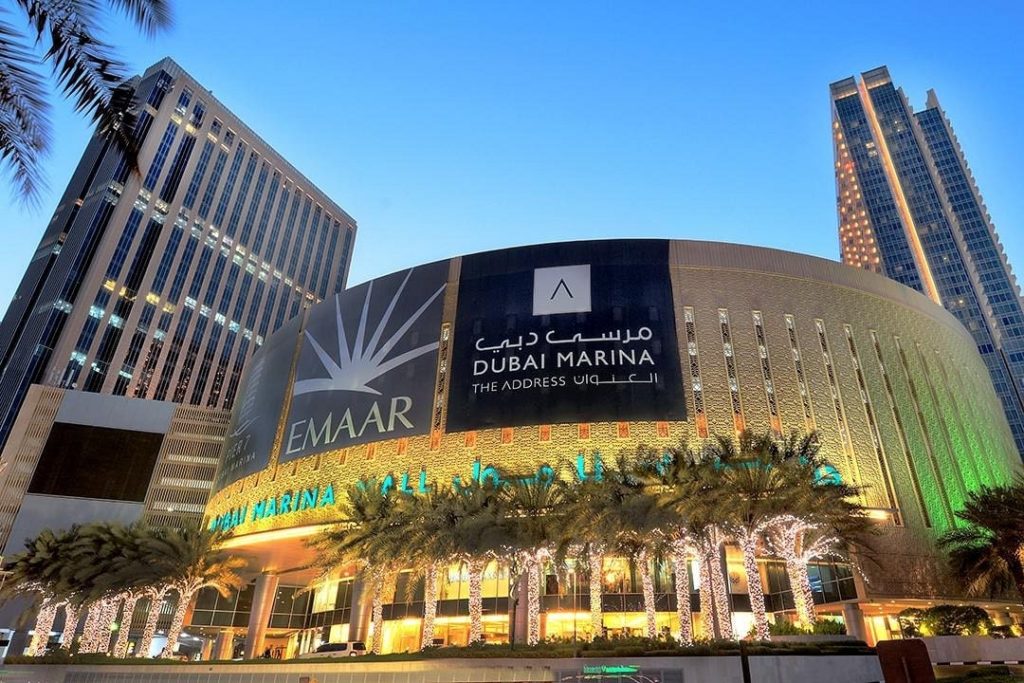 At the renowned Dubai Marina Mall, shoppers can revel in a paradise with 140 stores catering to every desire, from luxurious designer labels to daily necessities. It's an ideal destination for all shopping enthusiasts.
After an exhilarating day of retail therapy, the mall offers a treasure trove of nearly 26 restaurants. With a delightful blend of tourists and locals, Dubai Marina Mall provides the opportunity for people-watching and forging new connections.
Unwind at the Spa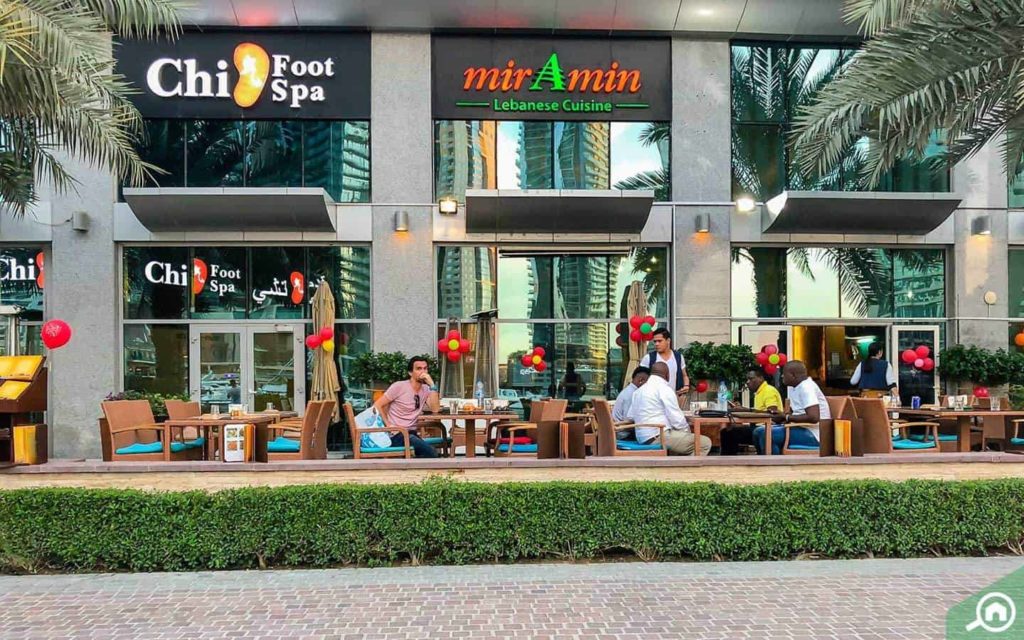 Dubai Marina Walk is home to numerous renowned spas where you can unwind and relax. Among the top options are the Chi Foot Spa and B/Attitude Spa. 
These spas offer various services and treatments to help you rejuvenate and refresh. You can choose from massages, facials, body treatments, and more to help you unwind and feel your best.
Visit the Covent Garden Market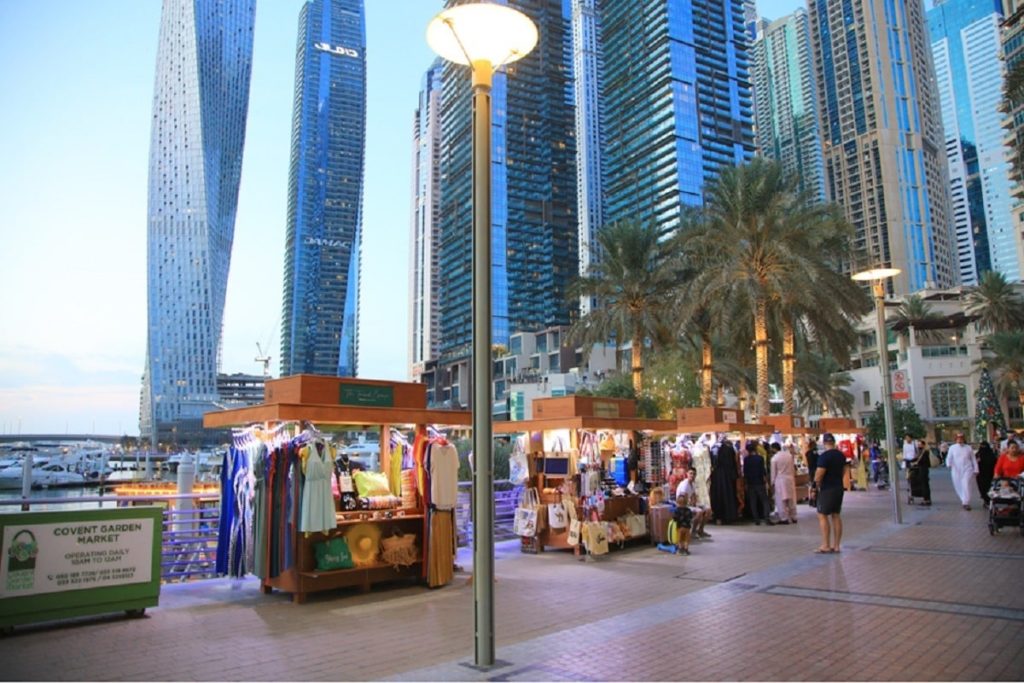 The Covent Garden Market, established in 2005, is an open-air marketplace featuring diverse products from local designers and businesses.
You can explore various items, including fashion, accessories, home decor, gifts, food, and souvenirs. Notably, it holds the distinction of being the pioneer market operator in the area.
It's a popular destination for shoppers looking for unique, high-quality products and is a friendly alternative to the high-end fashion and glamour of the malls. The market is open from October to April and attracts visitors from all over the world.
Visit Al Rahim Mosque
Al Rahim Mosque was built in 2013 upon the request of Sheikh Mansour bin Zayed Al Nahyan from Abu Dhabi, the Deputy Prime Minister of the UAE. The Al Rahim Mosque is the only mosque in Dubai Marina and is a real hit with tourists!
You'll love the traditional Islamic style of the mosque with its prominent dome and four minarets. It's simply stunning, with beautiful carpets, chandeliers, and lovely calligraphy. It can hold up to 2,000 worshippers!
If you're curious about Islamic culture or want to soak in its beauty, the Al Rahim Mosque is the place to be. They welcome visitors of all faiths and have daily guided tours available from 9 a.m. to 10 p.m. It's a must-visit spot!
Did you know?

The Al Rahim Mosque means "the merciful" in Arabic.
Take your children to the Promenade Kids Play Area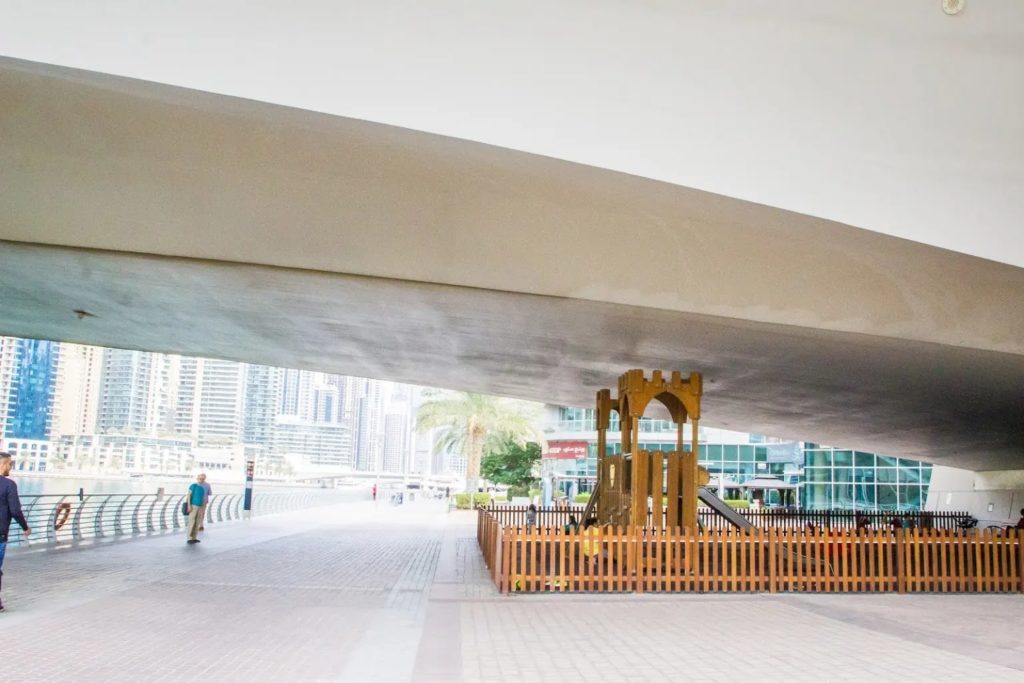 The Promenade Kids Play Area is a beloved spot for families with young children, and the best part is that it's free to use!
Your kids will have a blast as they enjoy the various play areas scattered along the promenade, with slides, swings, and climbing frames.
Rest assured; there are ample benches for parents to relax while the rubber flooring ensures the safety of the little ones.
What to Expect from Dubai Marina Walk Weather
Winter: During the last week of October until the beginning of April, expect daytime temperatures between 20°C and 30°C and cooler evenings ranging from 15°C to 20°C, making it the peak tourist season perfect for outdoor activities and sightseeing.
Summer: From June to September, the weather becomes extremely hot and humid, with temperatures reaching 40-50°C (104-122°F) and high humidity, making it less suitable for tourists and outdoor activities.
Apps to Download for a Trip to Dubai Marina Walk
Visit Dubai: Attractions, hotels, tailored itineraries, offline maps, and expert tips
iOS | Android
Careem: Specialized transport, book bikes, order food & groceries.
iOS | Android
RTA Public Transport Dubai: Bus, tram, marine, metro maps, cost calculator.
iOS | Android
The Entertainer: 2-for-1 deals on restaurants, spas, attractions, and fitness.
iOS | Android