Dubai Desert: The Landscape of Wonders
Imagine standing amid an endless sea of dunes, their graceful curves like the rolling waves of a tranquil ocean. This is the Dubai Desert, a place where time stands still and where the ancient spirits of the Bedouins still roam.
If you're feeling trapped in the monotony of daily life or yearning for something more, the Dubai Desert beckons as a haven for your weary soul. So turn the page and let us guide you through this mystical landscape!
Let's take an unforgettable journey together through the heart of the Dubai Desert, a treasure chest waiting to be discovered.
What is the Dubai Desert?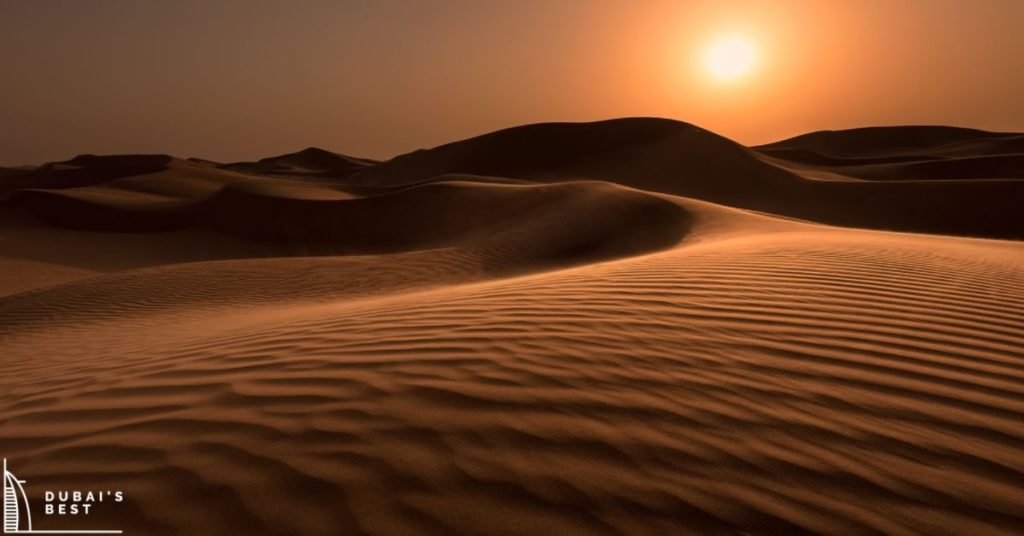 The Dubai Desert is a large desert area that lies to the south and east of Dubai, United Arab Emirates. It's part of the Rub' al Khali, the largest sand desert in the world.
The weather in the Dubai Desert can be quite demanding, with scorching hot and dry conditions during the day followed by cooler nights that bring some relief.
But here's the fascinating part: despite the challenging environment, the Dubai Desert holds an abundance of culture and history.
For countless years, the Bedouin people have made this desert their home, embracing a nomadic lifestyle that has been shaped by the desert's unique characteristics.
Their presence has left an indelible mark on the desert, making it a place of rich heritage and traditions. Today, the Dubai Desert isn't just a testament to the past but also a thriving tourist destination that attracts visitors from far and wide.
The Dubai Desert Safari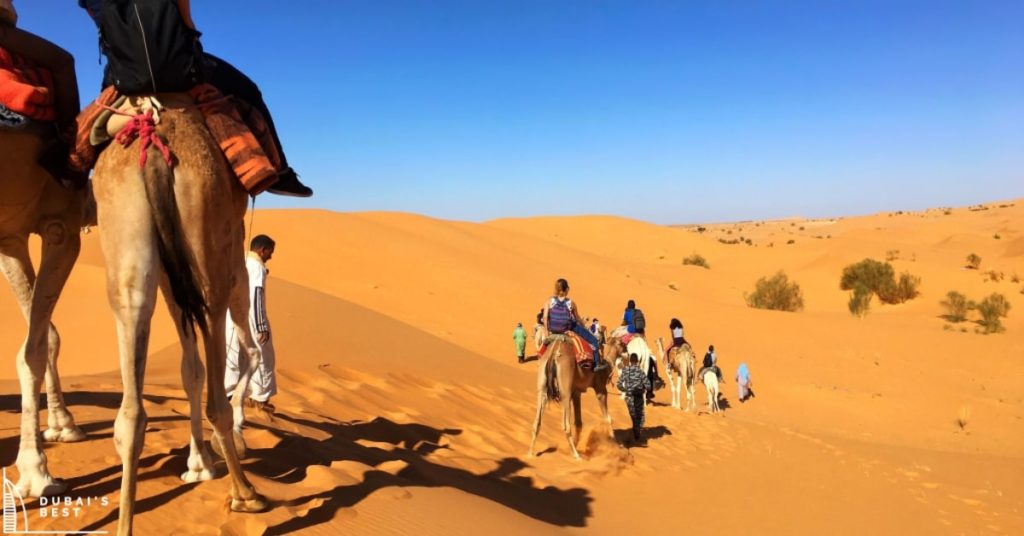 The Dubai Desert Safari is well-known worldwide for its thrilling adventures, cultural experiences, and beautiful scenery.
When you visit, be prepared for an exciting adventure that will surely make your heart beat faster. You'll have the opportunity to take part in thrilling activities specifically designed to give you an incredible adrenaline rush.
In addition to the thrilling rides, the desert safari offers various activities that let you fully experience the unique desert environment.
Furthermore, the Desert Safari provides a glimpse into the captivating Bedouin culture. You can enjoy watching entertaining dances and trying delicious local food.
However, it's important to consider your preferences and physical abilities, as some activities might be challenging.
What to Do in Dubai Desert Safari?
Experience the Excitement of Dune Bashing
Website: https://thedunebashing.com/ 
Address: Tiffany Tower – Cluster W – Jumeirah Lake Towers – W2 – Dubai – United Arab Emirates
Contact details: +971502348228
Operating hours: Daily 8AM-6PM except for Friday 8-11:30AM; 2-6PM
Dune bashing in the Dubai desert is an adventurous activity that involves driving specialized 4×4 vehicles, such as SUVs or dune buggies, across the sandy terrain.
Skilled drivers maneuver the vehicles over the undulating sand dunes, providing an exhilarating experience for participants. This activity is particularly popular in Dubai due to the vast expanses of desert surrounding the city.
It offers a unique opportunity to explore the natural beauty of the desert landscape while enjoying adrenaline-pumping moments, such as tackling steep slopes and performing controlled slides on the sand.
The safety measures, including experienced guides and proper equipment, are in place to ensure a safe and enjoyable dune bashing experience for all participants.
Pro tip:

If you're prone to motion sickness, take a Dramamine before you go dune bashing.
Discover the Exhilaration of Camel Riding
Website: https://www.desertsafari.com/camel-ride-safari.php
Address: Alphamed Building, First Floor office A1671 – Abu Hail Road – Hor Al Anz East – Dubai – United Arab Emirates
Contact details: +971 55 556 2591
Operating hours: Open 24 hours, 7 days a week
Camel riding in the Dubai desert usually lasts between 30 minutes to an hour. During the ride, you'll sit on a camel's back and be guided by experienced helpers.
The camel's gentle swaying motion gives a unique feeling as you travel through the sandy landscape. The routes for camel rides are carefully chosen to show you the beautiful dunes and scenery of the desert.
The guides will also tell you interesting facts about camels, helping you understand more about the local culture and the desert environment. It's a calm and enjoyable experience that lets you relax and connect with nature in the peaceful Dubai desert.
Pro tip:

If you're riding a camel in the desert, don't be afraid to ask your guide to stop so you can take a break.
Set Off on an Epic Sandboarding Adventure
Website: https://www.desertsafari.com/sandboarding-dubai.php?safari
Address: Office No – 143 Al Nahda St – Al Qusais – Al Qusais 2 – Dubai – United Arab Emirates
Contact details: +971 54 572 3275
Operating hours: Monday – Sunday 5 AM to 11:57 PM
Sandboarding in the Dubai desert is a thrilling activity where you ride a special board down the sandy slopes. It's like surfing or snowboarding, but on the sand instead.
With the right equipment, like a sandboard and wax, you can glide down the dunes, feeling the rush of excitement and enjoying the soft sand beneath you.
Sandboarding is suitable for beginners and experienced riders alike, and there are different ways to ride, like carving or jumping off the dunes.
It's a fantastic way to experience the beautiful desert scenery, feel the wind in your hair, and make unforgettable memories.
Pro tip:

Make sure to apply wax to the underside of your board before each run. This  can increase the friction and make it more difficult to slide smoothly and enhance your performance and overall experience.
Enjoy the Excitement of Quad Biking
Website: https://www.desertsafari.com/quadbike-safari.php?info
Address: Al Noaimi Building, First Floor office A1686 – Al Khaleej St – Deira – Dubai – United Arab Emirates
Contact details: +971 54 572 3275
Operating hours: Daily 24 hours except for Saturday 5 AM-11:57PM
Quad biking in the Dubai desert is a really fun activity where you can ride special bikes called quads or ATVs. Quad bikes is a vehicle that travels on low-pressure tires, has a seat that is straddled by the operator, and has handlebars.
It's an exciting adventure as you drive these bikes over the sandy ground and tackle obstacles along the way. With experienced guides leading the group, you can explore the desert and enjoy the beautiful views.
Pro tip:

Be sure to wear a bandana or a scarf to protect your face from dust and debris.
Take a Tour in Desert Wildlife
Website: https://www.platinum-heritage.com/
Address: RJJF+6M Murqquab – Dubai – United Arab Emirates
Contact details: +971 4 440 9827
Operating hours: Monday – Sunday 7 AM to 12 AM
Desert Wildlife in Desert Safari is a great way to see cool animals that can survive in hot, dry places. You'll get to see animals like camels, desert foxes, hyenas, antelope, snakes, and birds that are good at living in the desert.
Along with seeing the animals, you'll also get to enjoy the beauty of the desert. The big sand hills, tall cliffs, and clear night skies are really amazing. You'll also learn about how the desert ecosystem is important for the environment.
Desert safaris are an exciting adventure where you can explore the desert on a camel or in a jeep. You might even get a chance to see the animals up close.
Pro tip:

Book a tour guide who has extensive local or firsthand knowledge of the area. This will greatly enhance your experience and increase your chances of spotting wildlife.
Savor an Authentic Bedouin Dinner Experience
Website: https://dailytoursdubai.com/en/tour/desert-safari-overnight-at-bedouin-camp-private-room-453
Address: 801 Wasl Business Center. Port Saeed. 184910  Dubai, United Arab Emirates
Contact details: +971508615955; [email protected]
Operating hours: Check with your tour operator to confirm the operating hours
After a day of activities, you can enjoy a traditional Bedouin dinner in a desert camp. This includes delicious food, live entertainment, and the chance to learn about Bedouin culture.
As you arrive at the Desert Camp Zone, prepare to be warmly embraced by traditional Arabian hospitality, accompanied by a steaming cup of aromatic Arabic Coffee.
Pro tip:

Don't miss the opportunity to engage with the friendly locals. Take a moment to strike up conversations, ask questions, and listen to their fascinating stories. They are eager to share their heritage and traditions.
Decorate Yourself with Beautiful Henna Tattoos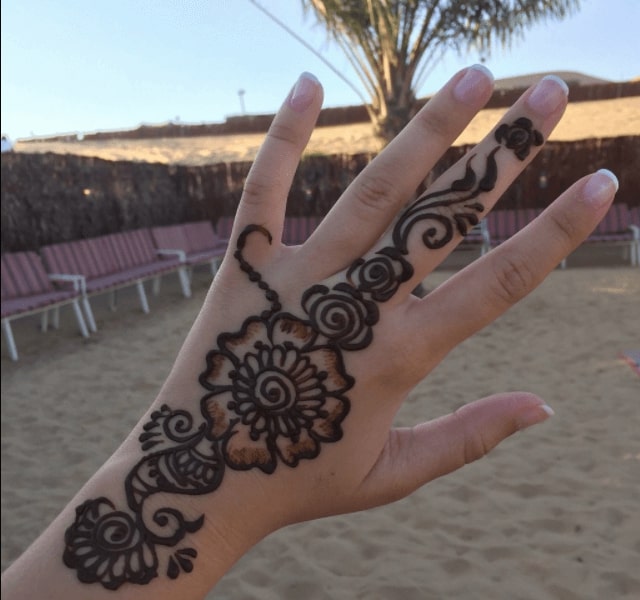 Website: https://www.abudhabi-desert-safari.com/henna-painting-in-abudhabi/
Address: Khalidiya tower, Mezzanine Floor, Room No. 32, Khalidiya, Abu Dhabi
Contact details: +971-504728001; [email protected]
Operating hours: Check with your tour operator to confirm the operating hours
Henna tattooing in the Dubai desert is a popular activity where temporary designs are drawn on the skin using henna paste. Skilled local artists create beautiful patterns on hands, arms, and feet.
During the session, people can relax and enjoy as the artists carefully apply the henna paste. The result is a temporary tattoo that lasts for a few weeks.
Pro tip:

Be sure to choose a skilled artist who uses natural henna paste. This ensures that the design will be vibrant and long-lasting. 
Explore the Cosmos through Stargazing
Website: https://www.visitdubai.com/en/articles/summer-desert-safaris
Address: One Central, building 2, 4th floor PO Box 594 Dubai, United Arab Emirates
Contact details: +971 600 55 55 59
Operating hours: Monday – Friday 8 AM to 6PM
Stargazing in the Dubai desert is a wonderful experience where you can enjoy looking at the beautiful night sky. In the desert, away from city lights, you get a clear view of the stars and constellations.
It's a peaceful and calm setting, perfect for gazing up at the sky filled with twinkling stars. With the help of knowledgeable local experts, you can learn about planets, galaxies, and other celestial objects, and discover their importance and stories.
It's a special chance to feel amazed by the vastness of the universe and feel connected to nature in the quiet desert surroundings.