A Dubai Digital Park Travel Guide
Dubai has always been known to think ahead and one of its goals is to be a pioneer in smart technology solutions.
To make that possible, the city created a space where these solutions can be integrated into daily living, thus, the birth of its first smart city, Dubai Digital Park.
In this guide, you'll learn more about the first integrated free zone technology park in the country and what it has to offer.
What is Dubai Digital Park?
Dubai Digital Park is a mixed-use development designed to follow the 6 pillars of Dubai's strategic direction on smart cities: life, mobility, society, economy, environment and governance.
This smart city project is located in Dubai Silicon Oasis and covers more than 150,000 square meters divided for residential, commercial and retail spaces.
Dubai Digital Park has 235 smart residential apartments, 8 fully integrated smart office buildings and over 17,000 square meters of retail units.
The project's master plan includes plug and play offices, retail areas, residential buildings, serviced apartments, conference centers, boutique offices, a hotel, central square and fitness center.
The community is also designed to be self-sufficient and fully integrated wih over 60 smart services including:
In-House Government Services
The Dubai Silicon Oasis Authority offers government services like processing visas and requesting permits to make it easy for companies to establish themselves in the community.
Being a smart city, Dubai Digital Park and the rest of Dubai Silicon Oasis has one of the strongest IT infrastructure systems in the city.
Businesses can rely on the best telecommunication and internet services, data center hosting and other electronic solutions.
Best Time to Go
Dubai Digital Park is open all-year round, so you can visit this community any time.
But if you want to avoid the sweltering heat, it's best to go in the winter when the temperatures are ideal for exploring this smart city.
Things to Know
Dubai Digital Park is divided into different areas, each designed to offer smart features to businesses and residents.
Plug and Play Offices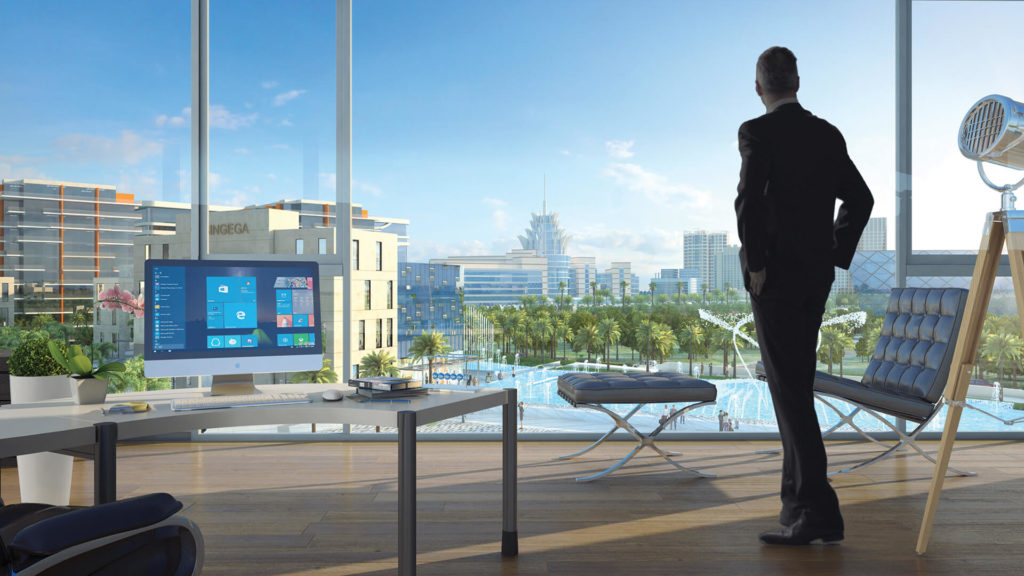 One of the highlights of Dubai Digital Park are eight plug and play office buildings ranging from 4,000 to 6,000 square meters.
Businesses can lease these office spaces according to their needs and they're already fully integrated with smart services, so all they need to do is move in and start working.
The average annual rent for offices in Dubai Digital Park reange from AED 280,000 to AED 10.3 million depending on the size, location and feature of the space.
But if you're just starting out, you can opt for a co-working space where you can share an office with another company, so you can cut down on costs.
Signature Boutique Buildings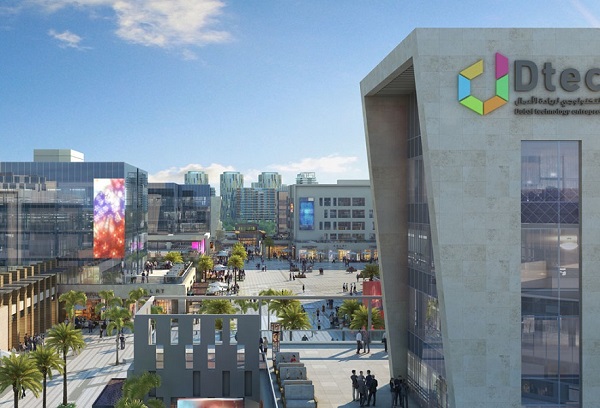 For businesses that want to be in the heart of Dubai Digital Park, there are eight signature boutique buildings designed to be the perfect smart headquarters.
Located in Central Square, these 1,200 square meter office spaces are designed to offer the best working environment while overlooking the lake.
These boutique buildings have all the smart solutions that you need to work seamlessly and you can have them fitted according to your exact business requirements.
You also have the option to go for a small space or take up an entire building or two if you're a big organization.
Retail Space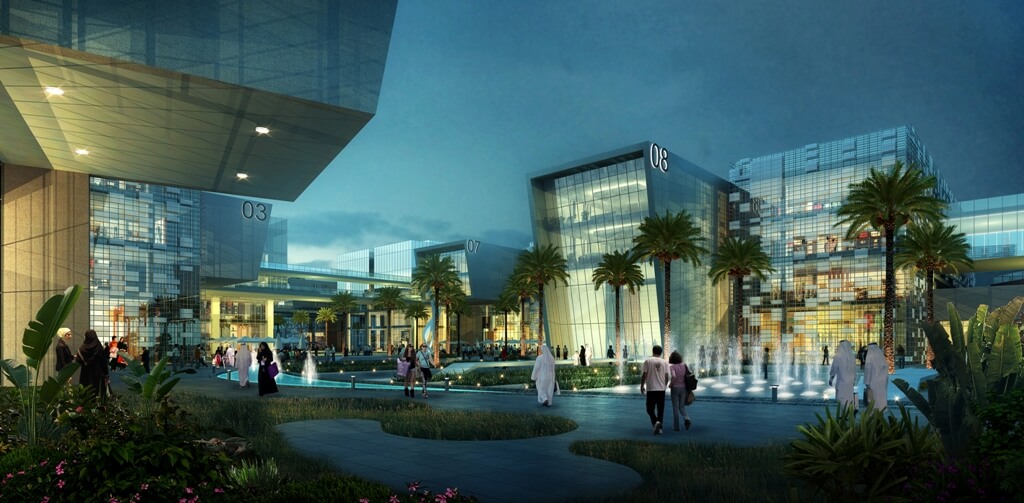 To create a balance between work and play, Dubai Digital Park has Central Square, a massive mixed use commercial space in the heart of the community.
Here, you can see hundreds of local and international stores, fine dining restaurants, cafes and bars, and an open space for festivals, concerts and other events.
This space is also has a wide outdoor space with water features, so residents and visitors can enjoy going around during winter when the weather is warm.
Residential Complex
Dubai Digital Park has a massive residential complex spread over 46,000 square meters of land.
Here, residents can enjoy living in well-appointed apartments that were made and designed to follow the highest standards of sustainability.
Parking spaces in these residences all come with electrical charging areas for smart cars and charging stations for smart devices in all common spaces.
Properties in Dubai Digital Park include studio, 1-bedroom and 2-bedroom apartments that are all fully equipped with smart home automation systems.
These apartments also come with water and electrical analysis, natural emergency and even air quality sensors.
Being a smart city, all residences in Dubai Digital Park are fully sustainable to meet the government's goals.
How to Get Around
Trains: There are no direct metro stations to Dubai Digital Park. But if you plan on taking the metro, the nearest stations are Rashidiya Metro Station and Etisalat Metro Station. From here, you can take the bus or taxi to Dubai Digital Park, which is a 20-minute drive.
Buses: There are also no direct bus lines to Dubai Digital Park. But you can stop at the DSO Operation Center Bus Station, which is 7 minutes away from the community. The Silicon Oasis Lagoon Bus Station and Silicon Oasis Headquarters Bus Station are also nearby.
Taxis: Taxi is the most convenient form of transportation in going to and from Dubai Digital Park. You can book a ride through Uber or Careem.
Car service: You have the option to book a chauffeured car service or self-drive car from one of the many car companies in the city. You can also arrange a ride with your hotel to take you to and from Dubai Digital Park.
Where to Stay in Dubai Digital Park
Radisson Red Hotel
Address: Dubai Digital Park – Dubai Silicon Oasis – Industrial Area – Dubai – United Arab Emirates
Phone: +971 4 571 4343
Pricing: $$$
Book Now
If you want to experience what it feels like to live in a smart city, stay at the Radisson Red Hotel right at the heart of Dubai Silicon Oasis.
This modern hotel has over 112 rooms and suites and 59 apartments that have everything you need for a comfortable stay.
You also get to enjoy amenities like the hotel's fitness center, game area, rooftop bar and pool.
Premier Inn Dubai Silicon Oasis Hotel
Address: Sheikh Mohammed Bin Zayed Road – Dubai Silicon Oasis – Industrial Area – Dubai – United Arab Emirates
Phone: +971 600 500 503
Pricing: $$
Book Now
Combining convenience and comfort, the Premier Inn Dubai Silicon Oasis Hotel is ideal for business and leisure travelers who want to be near the city's tech hub.
Here, you can enjoy the hotel's many amenities including its swimming pool, restaurants, business center, meeting room and gym as well as accessibility to important tourist spots.
Al Habtoor Polo Resort
Address: 611 Emirates Road – Wadi Al Safa 5 – Dubai – United Arab Emirates
Phone: +971 4 435 4444
Pricing: $$$
Book Now
Whether you're a polo fan or not, you'll love the elegance and timelessness of the Al Habtoor Polo Resort.
The first polo-themed resort in the world, this beautiful resort is set around four polo fields and designed according to Andalusian architecture giving it that unmistakable old world charm.
You can choose from 30 suites and 10 villas with overlooking views of the polo fields. Al Habtoor Polo Resort also has world-class restaurants for you to wine and dine during your stay.
Where to Eat in Dubai Digital Park
Grand Beirut
Address: B6 – Dubai Digital Park – Dubai Silicon Oasis – Dubai – United Arab Emirates
Phone: +971 4 546 4040
Pricing: $$$
When it comes to authentic Lebanese fare, Grand Beirut has always been a favorite among locals and tourists in Dubai Silicon Oasis.
This beautifulr restaurant is fully decked in colors for that truly relaxing ambiance and you can enjoy a wide array of Lebanese food.
Some must-try dishes include its Shish Kebab, Msahhab BL Markouk, Tlametna, Sujok and Labneh. 
Baofriend Dubai
Address: A3 Building – Dubai Digital Park – Dubai Silicon Oasis – Dubai – United Arab Emirates
Phone: +971 4 287 5120
Pricing: $$
Website
Baofriend Dubai is more than just its bao buns, although they're some of the best that you'll taste in your life.
This restaurant offers an extensive menu that includes breakfast items like Matcha Pancakes and Smashed Avocado and Nori Toasties.
You also get to choose from a wide array of baos including The Short Rib That's Braised, Indo Beef Tendo, Baofafel Bao and Saudi Date and Sweet Soy Glazed Tofu.
The restaurant also serves Wagyu Baoger, Thai Red Curry, BF Fried Chicken on Bao's and Hambagu Rice.
Mogao
Address: Street 73 – Dubai Digital Park – Dubai Silicon Oasis – Dubai – United Arab Emirates
Phone: +971 4 554 8220
Pricing: $$
Website
Named after the Mogao caves in Northwestern China, Mogao is a Pan-Asian restaurant specializing in contemporary Chinese food.
At Mogao, you get to go on a culinary journey through China with dishes like dimsums, sushi, baos and grilled meats.
What to Do in Dubai Digital Park
Explore the Dubai Technology Entrepeneur Campus
Address: Technohub – 1 – Dubai Silicon Oasis – Dubai – United Arab Emirates
Phone: +971 4 501 3905
Website
If you're a budding entrepreneur or innovator, you'll surely find a lot of inspriation at the Dubai Technology Entrepeneur Campus.
DTEC is the largest technology innovation hubin the MENA region and it's designed to help innovators, startups and entrepreneurs get a good headstart in their business.
Aside from fully integrated smart co-working spaces for rent, DTEC aso has funding and accelerator programs to help entrepreneurs put their ideas into companies.
Where to Shop in Dubai Digital Park
Silicon Central Mall
Address: Dubai Silicon Oasis – Dubai – United Arab Emirates
Phone: +971 4 372 5001
Website
You don't need to go far to enjoy an amzing shopping experience because right within Dubai Silicon Oasis is Silicon Central Mall.
This shoping, leisure and entertainment destination is home to hundreds of retail stores from local and international brands.
It also has an extensive list of dining options covering different cuisines from around the world and entertainment features to ensure that you have a grand time on your visit.
What to Expect from Weather in Dubai Digital Park
Winter: With temperatures between 16 to 24 degrees Celsius, winter is the best time of year to visit Dubai if you don't want the sweltering heat. Winter runs from December to March in the city.
Summer: Dubai is known for its very hot summers since it's in the desert. With temperatures going up as high as 40 degrees Celsius, you need to prepare yourself for the extreme heat and humidity from June to September.
Transition period: In between seasons, Dubai has two transition periods from April to May and October to November.
Apps to Download When Visiting Dubai Digital Park
Visit Dubai: A useful tool in planning your trip to Dubai, especially in putting together an itinerary with its trip planner feature
iOs | Android
Dubai Travel Guide: Offers useful information about the different parts of Dubai including detailed maps to help you get aroud the city easily
iOs | Android
GetYourGuide: A detailed app that lets you search for tourist spots, tours and events around Dubai
iOs | Android
RTA Dubai Drive: Useful if you're driving your own car around Dubai because of its detailed maps and directions
iOs | Android
Uber: Booking a car service
iOs | Android