The Best Things to Purchase in Dubai
Dubai is known to offer one of the most diverse shopping experiences anywhere in the world.
In fact, there are more than 40 malls and more than 11 souks in Dubai where you can buy anything from designer items to real gold jewelry.
But before you get overwhelmed with your choices, we round up some of the best things that you can purchase while in Dubai.
These include camel milk chocolate, Arabian coffee, Arabic lanterns, Aladdin lamps, Middle Eastern spices, Arabian dates, oudh and bakhoor and of course, gold.
In this article, we help you plan your shopping itinerary by looking at these products and where you can buy them.
Camel Milk Chocolate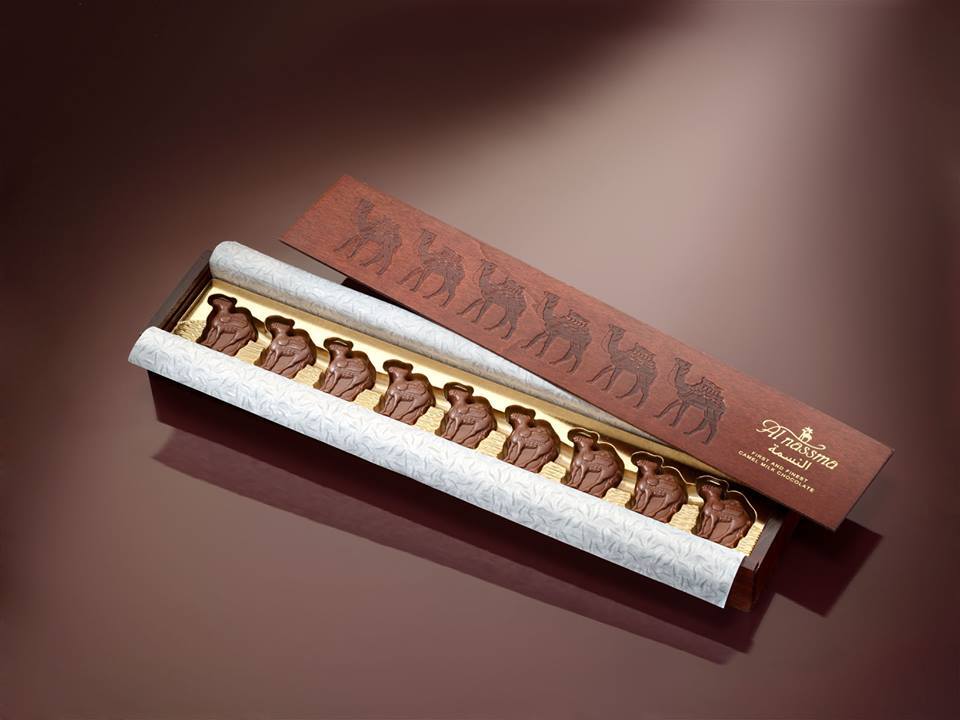 Camel milk chocolate is truly an authentic delicacy of Dubai.
Made by Al Nassma, the first camel chocolate maker in the world, this chocolate combines fresh camel milk and a low profile cocoa roast to highlight the natural salty creaminess of the camel milk.
Camel milk chocolate is quite exquisite not only because of its unique flavor profile but also because of its exclusivity since camels can only produce less than 3 gallons of milk daily.
All of Al Nassma's chocolates are also gluten-free and all the ingredients used to make these products don't contain any additives.
Al Nassma camel milk chocolate has five varieties:
Whole milk
70% cocoa
Dates
Macadamia
Spiced (Arabia)
Aside from the classic chocolate bars, you can also buy a gift box containing camel-shaped chocolates, which is good for souvenirs.
Al Nassma camel chocolates cost between $12 to $45 and you can buy them in these locations around Dubai:
| Where to Buy Al Nassma Camel Chocolate | |
| --- | --- |
| Dubai Mall | Burj Al Arab |
| Burj Khalifa | Souk Madinat Jumeirah |
| Jumeirah Hotels and Resorts | Bab Al Shams Hotel |
| Emirates Towers Hotel | Atlantis, The Palm |
| Kempinski | Grand Hyatt |
| Anantara Hotels and Resorts | Duty-Free Shops |
| Camelicious camel farm | |
Arabian Coffee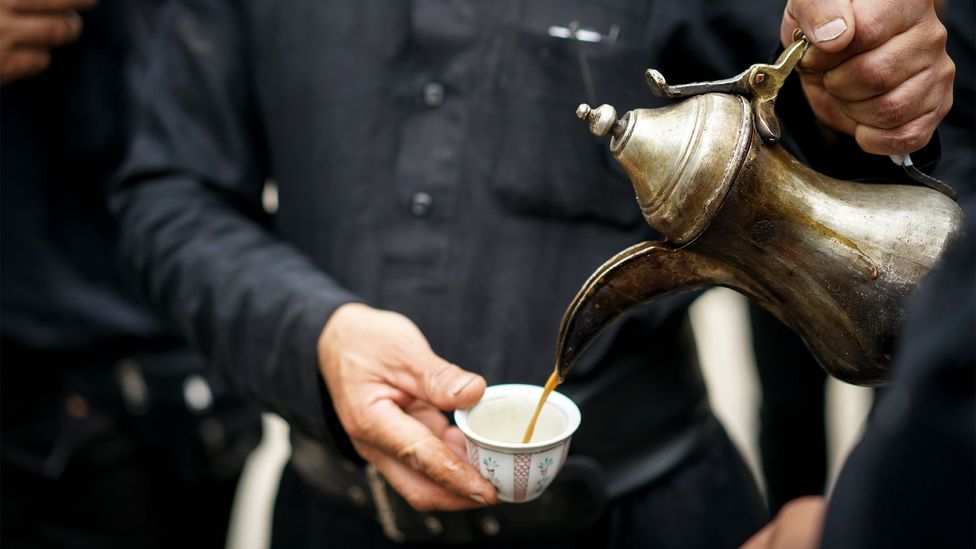 You can't visit Dubai and not try its famous Arabian coffee known for its strong and bold aroma and flavor.
Made with Coffea arabica beans that originated in Ethiopia, Arabian coffee is defined more for its preparation rather than the beans used in it.
In Dubai and the rest of the Middle East, you'll see a different way of brewing and preparing traditional coffee, and it's usually added with cardamom for that distinct flavor.
Arabian coffee is also prepared without filter, so you can expect it to be bitter and strong.
Now, if you want to take that traditional Arabian coffee experience home, you can buy yourself a bag of Arabian coffee beans and a coffee pot called "dallah" to serve the coffee on.
These pots are made of copper to keep the coffee hot for a long time, but some are made with gold and silver, which can be more expensive.
A kilo of Arabian coffee beans usually sell for $35 while a coffee pot starts at just $6. You can buy them in these locations:
| Where to Buy Arabian Coffee | |
| --- | --- |
| Dubai Coffee Museum | Dubai Mall |
| Dubai Souks | Major Supermarkets |
Arabic Lanterns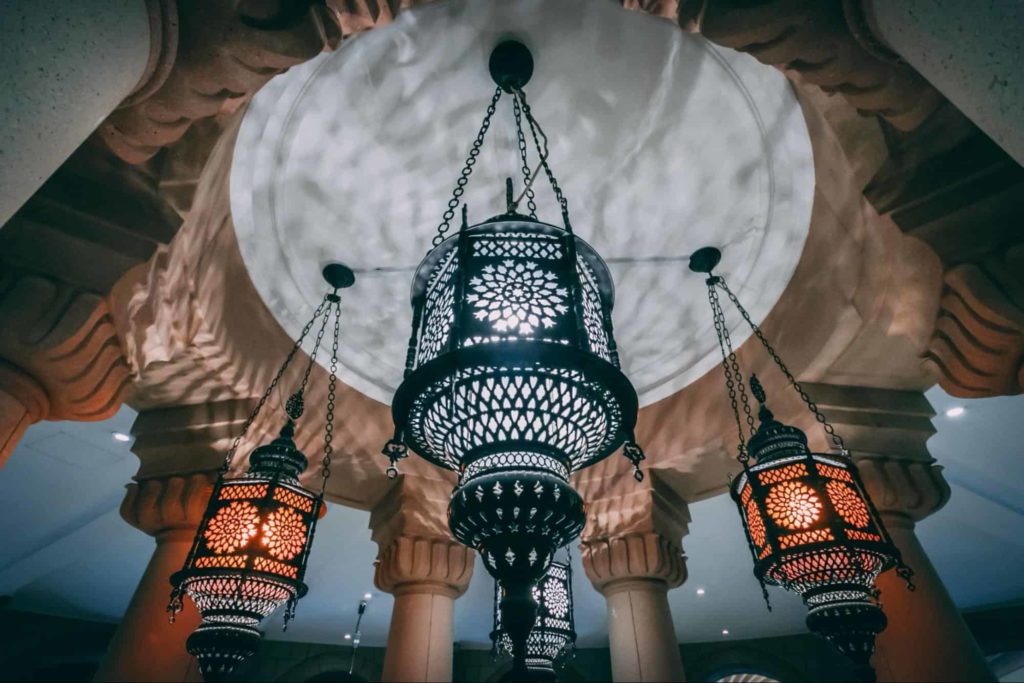 One of the things that define Arabian design and architecture in Dubai is the presence of beautiful Arabic lanterns almost everywhere you go.
In fact, these lanterns are staples in every Emirati home and you can also find them in restaurants, malls and other establishments around the city.
Each lantern is intricately designed using different colored glass that could instantly light up any space where it's hung.
Traditional Arabic lanterns are made of copper and tin, but you can find cheaper options made with aluminum if you're shopping on a budget.
Depending on the material, size and intricacy of the design, an Arabic lantern would usually cost between $8 to $137, and you can find them in these locations:
| Where to Buy Arabic Lanterns | |
| --- | --- |
| F-Zone at the Dragon Mart | Karama Souk |
| Homes R Us | |
Aladdin Lamps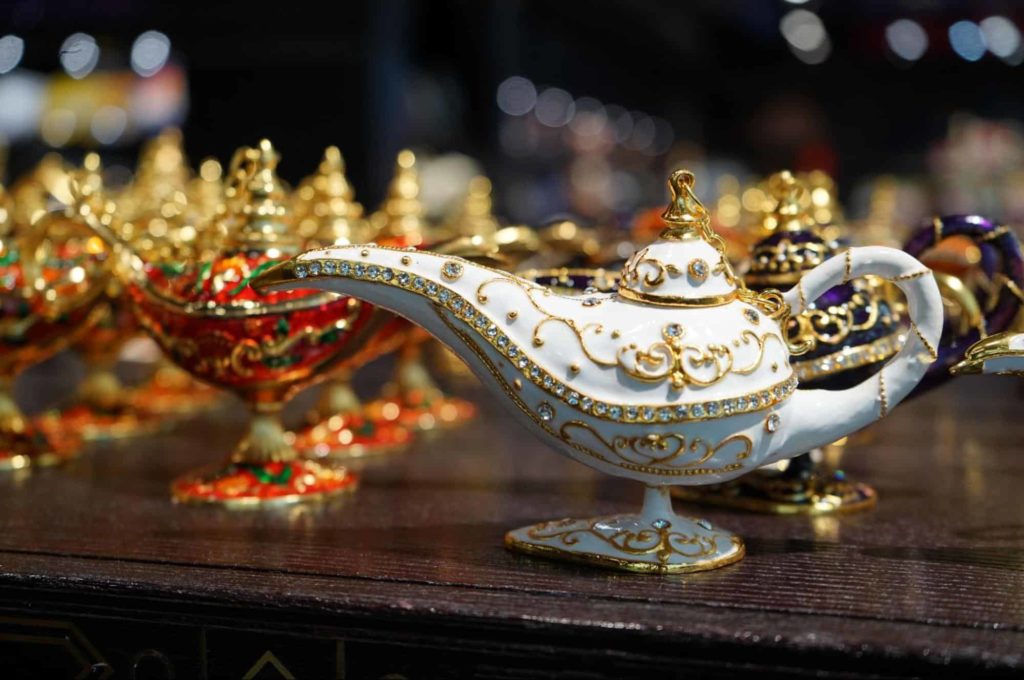 We all dreamed of owning a magic lamp at some point, didn't we?
Although the magic is only in the movies, you can still take home your own Aladdin lamp to commemorate your trip to Dubai or give to someone who loves the movie that inspired it.
These lamps are also used as decor in Emirati homes and they come in different sizes and designs to suit your style.
Aladdin lamps usually cost between $6 to $99 depending on the size and intricacy of the design. You can buy your own lamp in these locations:
| Where to Buy Aladdin Lamps | |
| --- | --- |
| Karama Souk | Al-Karama Market |
Spices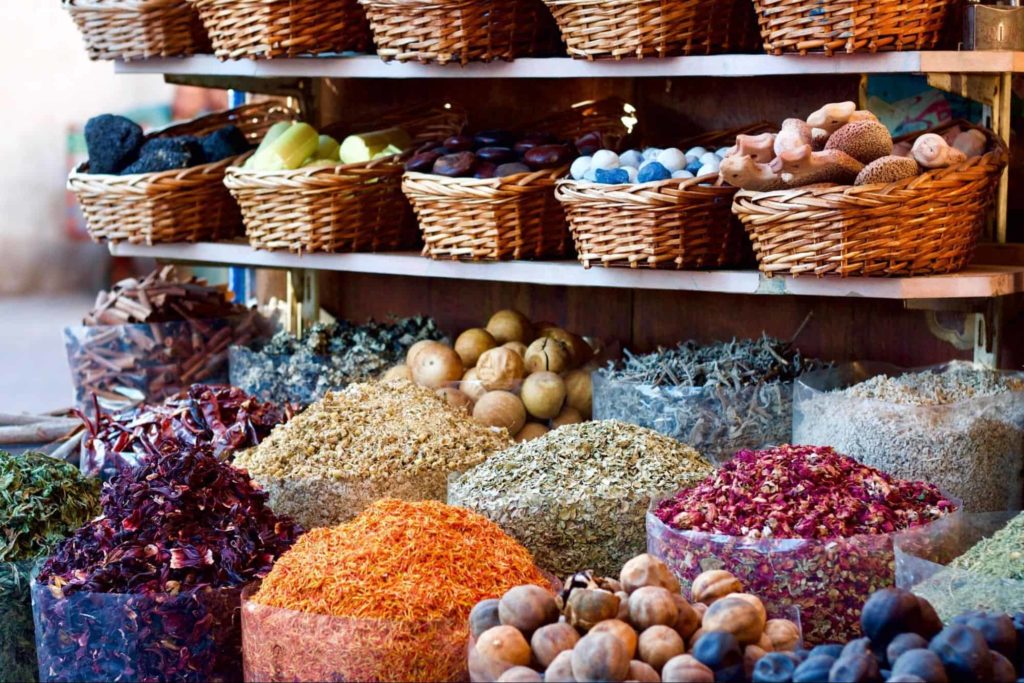 Middle Eastern cuisine is one of the best in the world, and the secret to that is the spices that locals use when cooking their food.
Dubai is one of the best places to buy authentic Middle Eastern spices and you won't run out of options with the types of spices and the stores to buy them.
The best part is that you can buy these spices at an average price of $3 to $7 per pack.
You can go with favorites like sumac, turmeric, cinnamon, pepper, saffron, thyme, cloves and cardamom.
But you can also ask local spice sellers to create a special mix for you to take home.
| Where to Buy Middle Eastern Spices | |
| --- | --- |
| Spice Souk | Spice Room |
Arabian Dates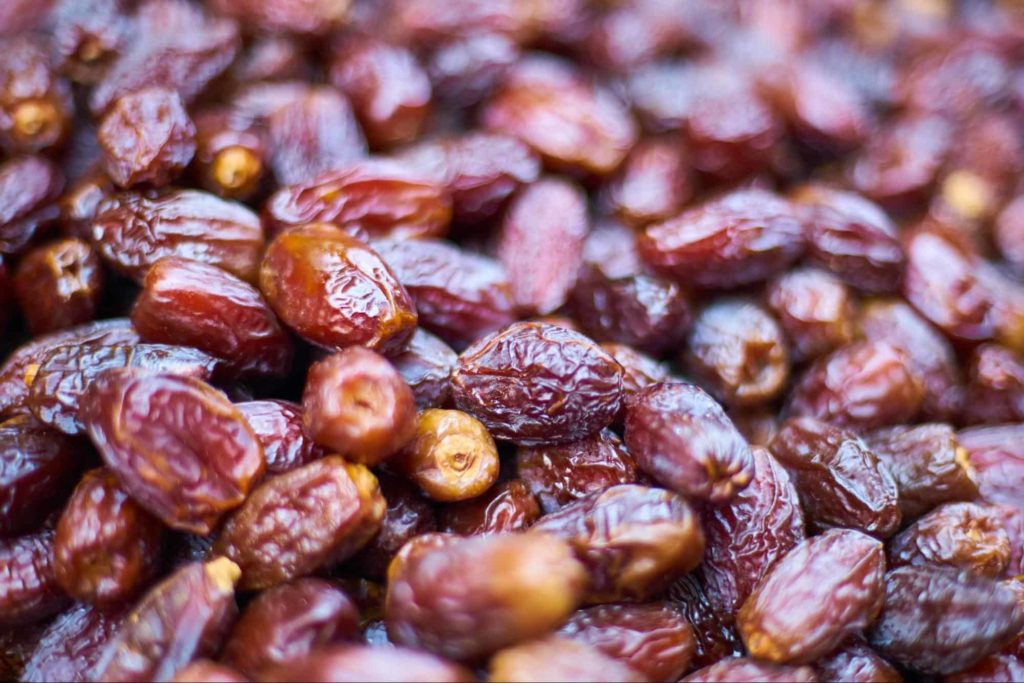 People from the Middle East love to snack on dried fruits and dates are a staple in every Emirati household.
In fact, the history of dates goes back to 7000 BC when these dried fruits were traded in exchange for silk on China's silk road.
Eating dates is also proven to be healthy as it's packed with nutrients that will help prevent certain medical conditions and promote better brain health.
Dates are traditionally served with Arabian coffee, as it counteracts the bitterness of the latter.
These dried fruits are also consumed by Muslims during Ramadan because they help to nourish the body after fasting because of its high vitamin and sugar content.
Dates are also a staple in the feast table of Arabian homes during Eid al-Fitr or the "Festival of the Breaking of the Fast."
There are actually more than 200 varieties of dates, but these 14 varieties are commonly cultivated in the Middle East:
• Barhi dates

• Deglet noor dates

• Dayri dates

• Halawi dates

• Khudri dates

• Khadrawy dates

• Medjool dates

• Fard dates

• Mazafati dates

• Rabbi dates

• Piarom dates

• Sukkary dates

• Safawi dates

• Zahidi dates
Depending on the type and quality of dates that you're buying, prices are between $10 to $69, and these are the best places to buy them:
| Where to Buy Arabian Dates | |
| --- | --- |
| Dates Souk at Deira Food Market | Supermarkets |
| Bateel Outlets at Burjuman Center | Dubai City Center |
| Dubai Marina Mall | Festival City |
| The Avenues Atlantis | Old Town |
| The Walk JBR | Dubai Mall |
| Al Naeem Mall | Ras Al Khaimah |
| Town Center Jumeirah | |
Oudh and Bakhoor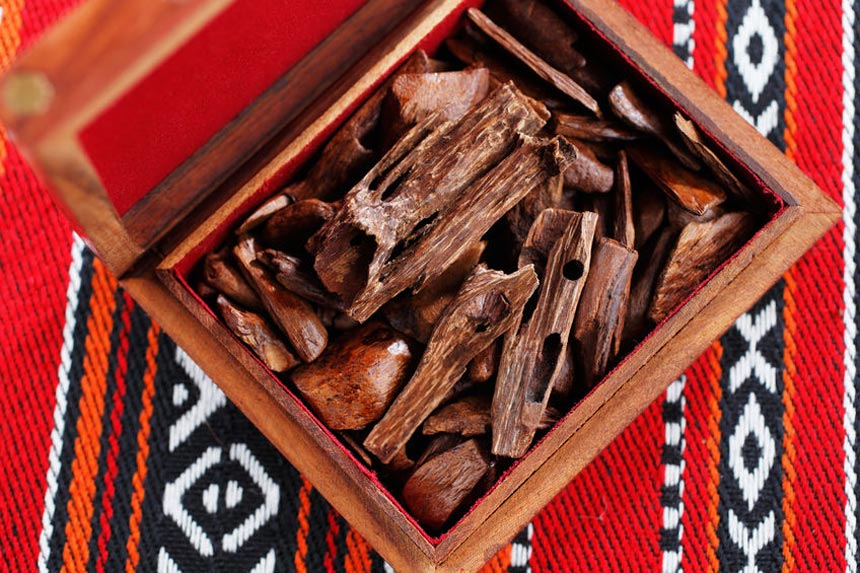 Dubai is not only a feast for the eyes because of its eye-catching colors, but it's also a feast for the smell because of those distinct aromas that make the city so fragrant.
The secret to this Arabian scent is oud and bakhoor, two of the most distinct aromas that would remind you of Dubai.
Worth more than gold, oud is a traditional fragrant oil made from Agarwood, a Southeast Asian tree that's usually infected with mold that becomes a thick oil called oud.
Oud can be quite expensive because 70 kilograms of Agarwood would only produce 20ml of oil, which is why it's more expensive and in-demand in the Middle East than gold.
Most Emirati men and women wear oud as their perfume, which gives the city that beautiful aroma.
Bakhoor, on the other hand, is simply agarwood chips that are burned using an electric burner or charcoal stove to release fragrance in a room.
The beautiful smell of bakhoor would welcome you upon entering an Emirati home, but it's also used in five-star hotels in the city to give guests an authentic Arabian experience.
Be ready to splurge when buying oud and bakhoor because the average price for a bottle of oudh is between $273 and $10,891 depending on its purity and size.
Bakhoor blocks cost between $27 and $136 depending on where you're buying them.
| Where to Buy Oudh and Bakhoor | |
| --- | --- |
| Spice Souk | Perfume Souk in Deira |
| Perfume Shops in Malls | |
Gold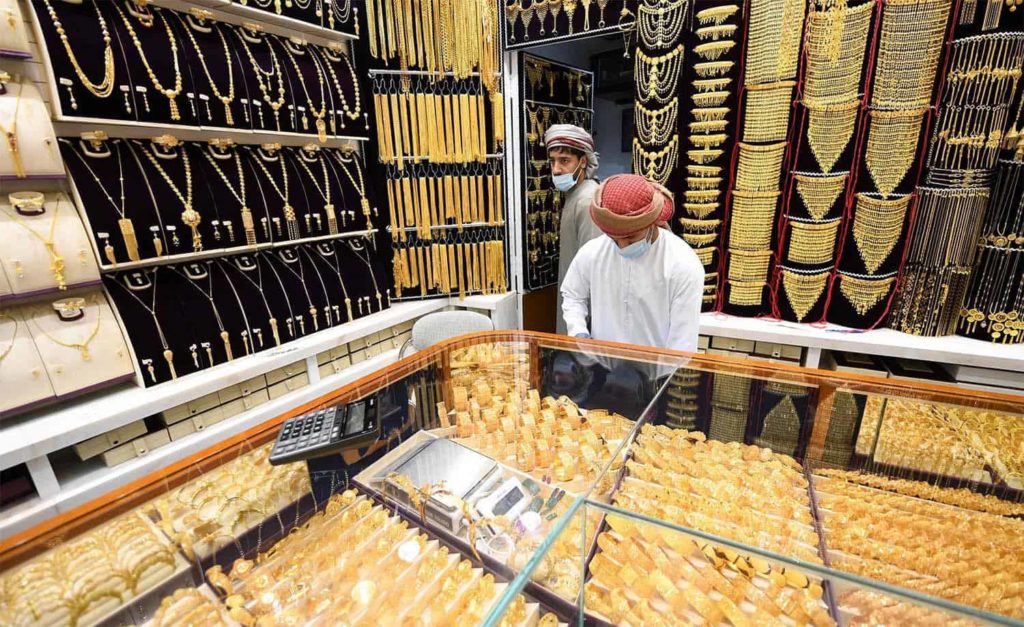 Dubai is known as "the city of gold" for a reason, and that's because it's one of the best places in the world to buy pure gold.
In fact, a visit to the city's gold souk is a must for anyone traveling to Dubai, and you would be surprised at the quality of gold that you can find in the city for its price point.
The Benefits of Buying Gold in Dubai
When in Dubai, you can't miss the opportunity to invest in gold jewelry for yourself or your family and friends because of these benefits:
Dubai Follows Strict Hallmarking Rules for Gold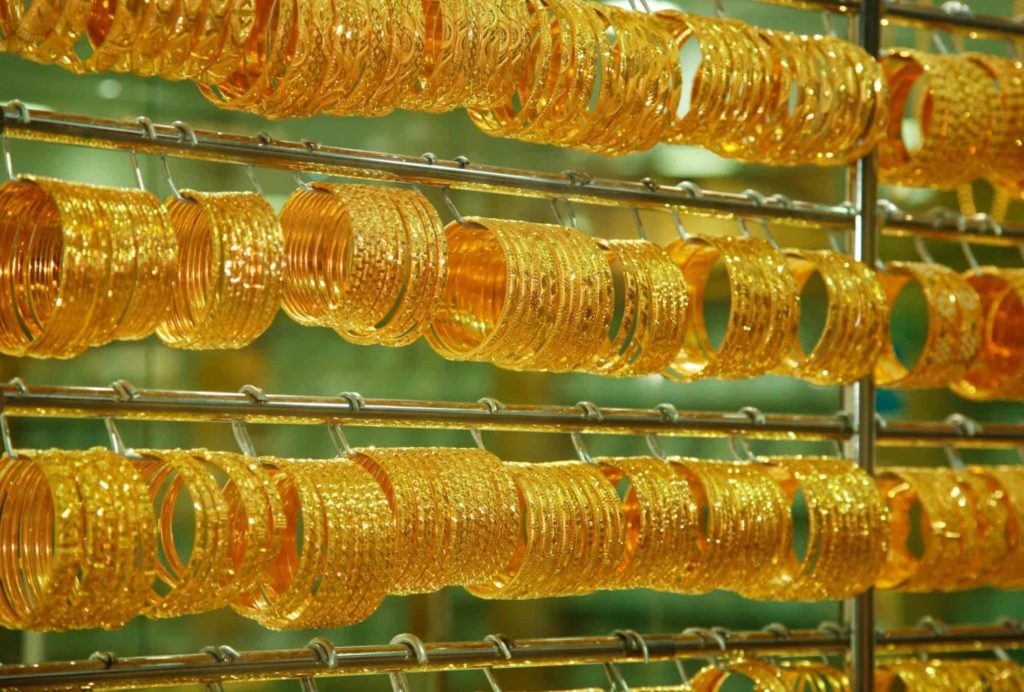 To preserve the quality of gold and the credibility of gold sellers in Dubai, the government imposes strict hallmarking rules regarding its purity.
The Dubai Central Laboratory Department conducts regular inspections to test the purity of gold being sold in local markets.
If a store passes the test, a Bareeq Certification will be issued, so make sure to look for one when shopping for gold.
Dubai gold usually comes in 18, 21, 22 and 24 karats with these characteristics:
18K
21K
22K
24K
• 75% pure gold mixed with 25% other alloys

• Most affordable type of gold

• Used for making jewelry with diamonds and stones

• 87.5% pure

• Made with 21 parts gold and 12.5% other alloys

• 91.67% pure

• Made with 22 parts gold metal and 2 parts alloy such as silver, zinc or nickel

• Hard texture

• Used for jewelry because of its durability

• 100% pure

• Bright yellow color

• Soft and pliable texture

• The most expensive type of gold

• Used for jewelry, gold bars, coins and some electronic devices
Gold in Dubai Is a Lot Cheaper than Other Cities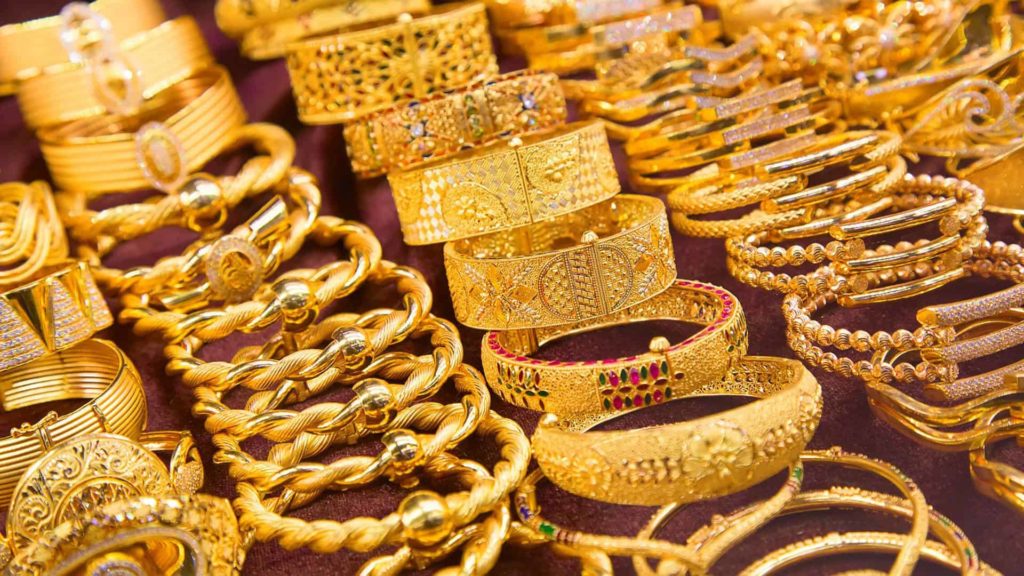 Dubai offers some of the lowest prices for gold in the world and it's mainly because of its zero-tax policy for buying gold bars and only a 5% flat tax rate for gold jewelry.
According to the latest numbers, the price of 10 grams of gold in Dubai are as follows:
| 18K | 21K | 22K | 24K |
| --- | --- | --- | --- |
| $49.35 | $57.58 | $59.42 | $64.18 |
You can also ensure that all the gold stores in Dubai have the same prices since the city follows international gold rates when deciding on the prices of gold.
You Can Make the Price of Gold Jewelry Lower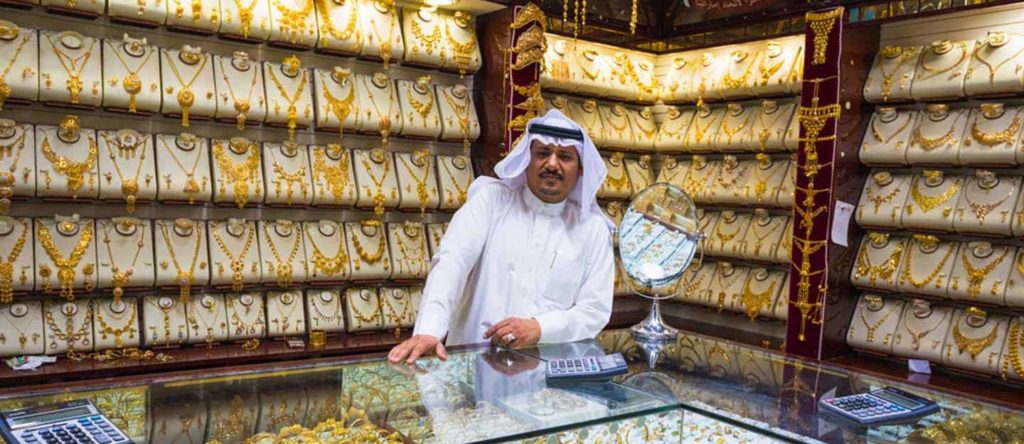 If the prices for gold jewelry in Dubai are still not within your budget, you can use your haggling skills to make the price a lot lower.
Although you can't ask for a bargain on the price of the gold itself, you can negotiate for the "making charges" or the charge for making the jewelry to be lower.
Here are some of the best places in Dubai to shop for gold:
| Where to Buy Gold | |
| --- | --- |
| Dubai Gold Souk | Gold and Diamond Park |
| Joyalukkas Outlets | Jewelry Stores in Malls |
Shop for the Best Products in Dubai
Dubai is definitely a shopper's haven because of all the stores and products that you can find around the city.
But if you want an authentic Arabian shopping experience, these products should be on your list because they're not only locally made, but they also represent Dubai in many ways.
Whether you're shopping for souvenirs to give to family and friends back home or you're looking for Arabian pieces to add to your home, Dubai will never disappoint when it comes to choices.