The Best Places to Visit in Dubai During the Summer
Despite the heat and humidity, Dubai still has some amazing destinations to check out
in the summer. After all, the city does have some very consistent weather so most of the attractions remain the same throughout the whole year.
As such, the best places to visit during the summer are the Atlantis Aquaventure, the Deep Dive, the Museum of the Future, the Coffee Museum for the coffee connoisseur, and the various malls hosting the Dubai Summer Surprise.
We think off-season visitors will enjoy all there is to do at these locations, leading to a memorable visit despite the heat. Read on and find out what awaits you at these places:

Atlantis Aquaventure – The Palm, Dubai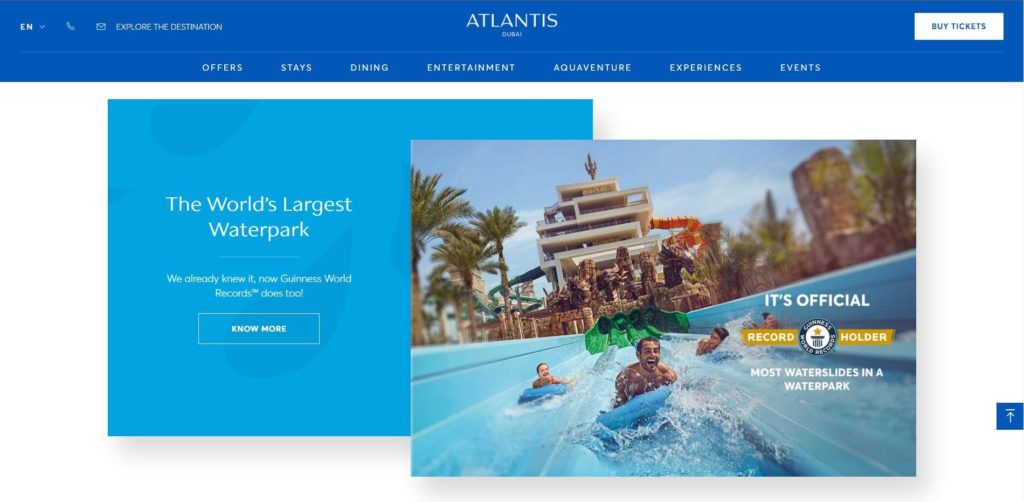 Swimming is a very popular attraction come summertime. The feel of the cold water is great for staving off the hot summer winds and Dubai has plenty of water both natural and man-made to check out.
One of these places is the Atlantis Aquaventure Waterpark, which boasts a wide array of slides and swimming spots for your family to enjoy throughout the year.
You can experience different kinds of thrills which include surprising vertical drops, double-slides for racing with friends, and even a transparent tube-like corridor passing within a tank that gets you close to the marine life.
Check out one of the slides at the video below:
Access to the Atlantis Aquaventure Waterpark is often included in the hotel price at the Atlantis Hotel, allowing interested customers to get experience both an amazing attraction and decent accommodations for the price of one.
Some tips to make the trip go smoother from experienced visitors is to go early in the morning around 10:00 AM. This helps you avoid any long queues that will form later in the afternoon.
Expect to spend around AED 250 to AED 400 per person when visiting the Aquaventure. It all depends on what kind of pass you got and what kind of snacks or add-ons (such as a waterproof phone case) you will buy within the park.
Deep Dive Dubai – NAS Sports Complex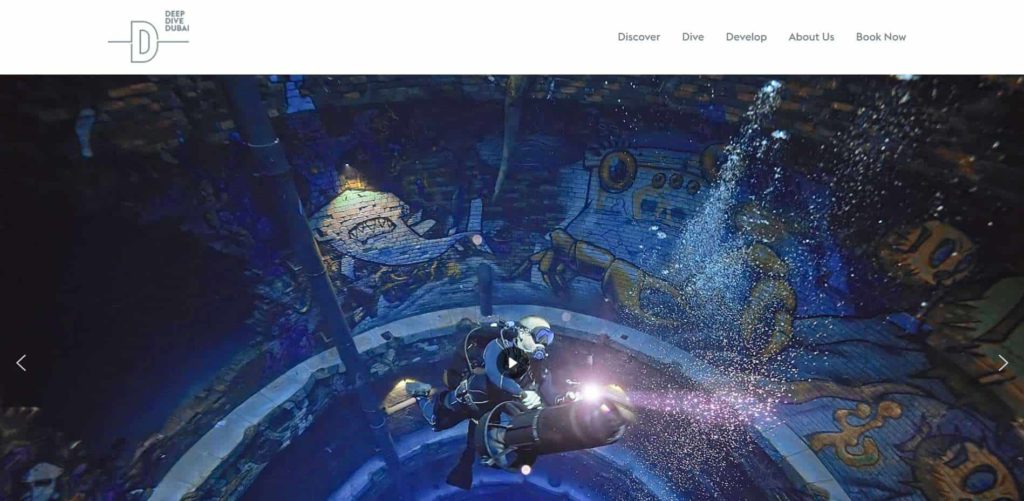 | | |
| --- | --- |
| WEBSITE: | https://www.deepdivedubai.com/ |
| ADDRESS: | NAS Sports Complex, Dubai |
| OPERATING HOURS: | Mondays - Sundays: 9:00 AM to 6:00 PM |
| TICKET PRICE: | Courses range from AED 400 to AED 2,000 |
Sometimes, you don't want to just skim the water on the surface. Sometimes, you want to explore and head deeper and deeper for a more memorable and even challenging adventure.
Fortunately, you don't need to head on to the Mariana Trench to prove yourself. You can start with a more controlled experience at the Deep Dive Dubai at the NAS Sports Complex.
Considered to be the deepest pool in the world, Deep Dive goes as deep as 60 metres, taking in around 14 million litres of fresh water, making it four times bigger than any diving pool in the world.
What we like about this place is that they have made the underwater experience a lot more accessible. In addition to the diving attractions meant more for certified divers, they also have a beginner's course to help first-timers find their sea legs.
Scuba diving lessons are offered at the establishment, and Deep Dive will also provide all the necessary equipment as well as all the needed certification fees for when the course is done.
Experienced divers on the other hand, are treated to a wide array of sunken cities and underwater caverns, providing a glimpse of what life is like for creatures of the abyss.
You can see things like a shopping mall, apartments, streetlights, and even a foosball table that you can actually play around with. All of these meant to reflect a form of post-apocalyptic, sunken city.
Check out some footage detailing parts of the Dive here:
Price starts at AED 400 going up to around AED 2,000 depending on whether you want to do simple surface snorkelling, a beginner's diving course, or more experienced diving in the caverns.
Museum of the Future – Sheikh Zayed Road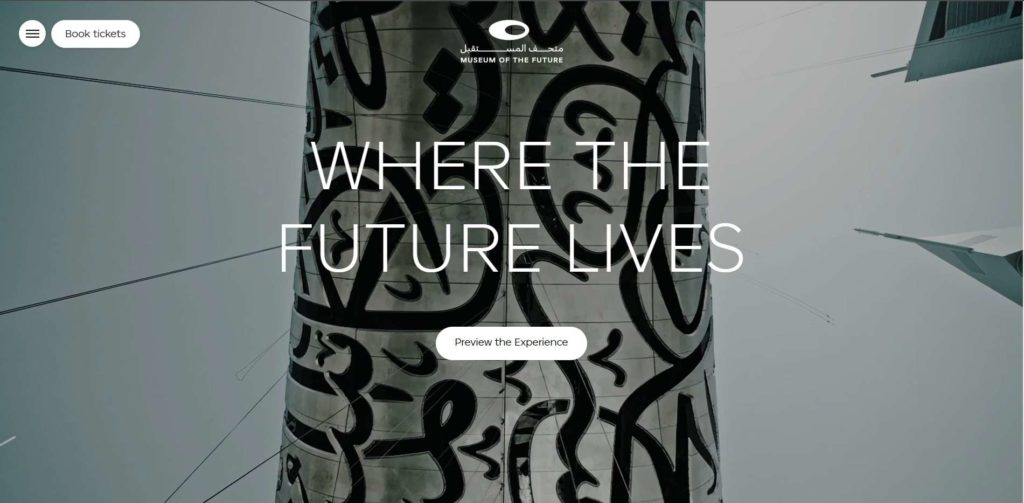 | | |
| --- | --- |
| WEBSITE: | https://museumofthefuture.ae/en |
| ADDRESS: | Sheikh Zayed Rd., Trade Centre, Trade Centre 2, Dubai |
| OPERATING HOURS: | Mondays - Sundays: 10:00 AM to 7:30 PM |
| TICKET PRICE: | AED 145 for General Admission |
Of course, it's also understandable to want to avoid the hot climate by staying indoors. Fortunately, Dubai does have some fun attractions to check out while keeping a roof over your head.
If you want to explore something unique past the usual shopping sites, then we recommend checking out the Museum of the Future, located near Emirates Towers.
Those with an eye for architecture will probably marvel at the complex torus shape inspired from Chinese Feng Shui concepts representing the earth and the sky. This allows a more interesting way of getting around the museum itself.
Step inside the museum though, and you are then fast-forwarded into a look at the city's vision of the coming future while keeping sustainability in mind. Check out some of the features here:
You can explore a virtual Amazon while learning about the effects and changes caused by climate change. Or if futuristic exploration is your preference, then you can also imagine yourself as a space explorer in a virtual space station tour.
They even have the 'Future Heroes' exhibit, which they dedicate to children's activities. In it, they feature different courses related to things like robotics, AI, and even aviation.
We think children will enjoy the activities they provide, allowing them to work with others when it comes to problem solving, free play, and critical thinking skills. It's not a bad place to spend a weekend if edutainment is what you're looking for.
An entry ticket costs AED 145 but if you have children under three years old, then they get to enter for free! Not a bad way to spend a summer family weekend.
The Coffee Museum – Bur Dubai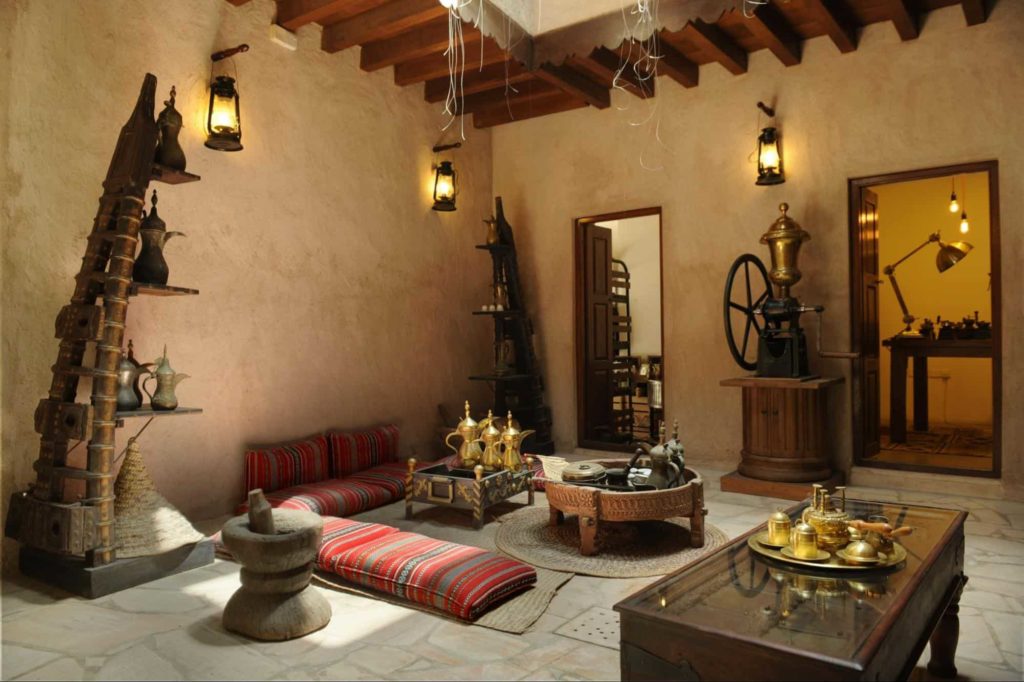 WEBSITE:
https://www.coffeemuseum.ae/index.php
ADDRESS:
Historical Neighborhood, Bastakiya, Villa 44, Al Hisn St., Al Fahidi, Dubai
OPERATING HOURS:
Saturdays - Thursdays: 9:00 AM to 5:00 PM

Closed on Fridays

TICKET PRICE:
Free
Are you an avid coffee lover? Well, if you have a big interest in how the iconic drink is made in Dubai, then you can check out the Dubai Coffee Museum at Al Fahidi, Bur Dubai.
We think this is a good stop for when you're already exploring the historic streets of Al Fahidi, letting you see an inside look at how coffee is made from beans via live demonstrations that they conduct inside the shop.
Go up the second floor and you are treated to a nice collection of antique items and souvenirs related to the art of making coffee from all around the world.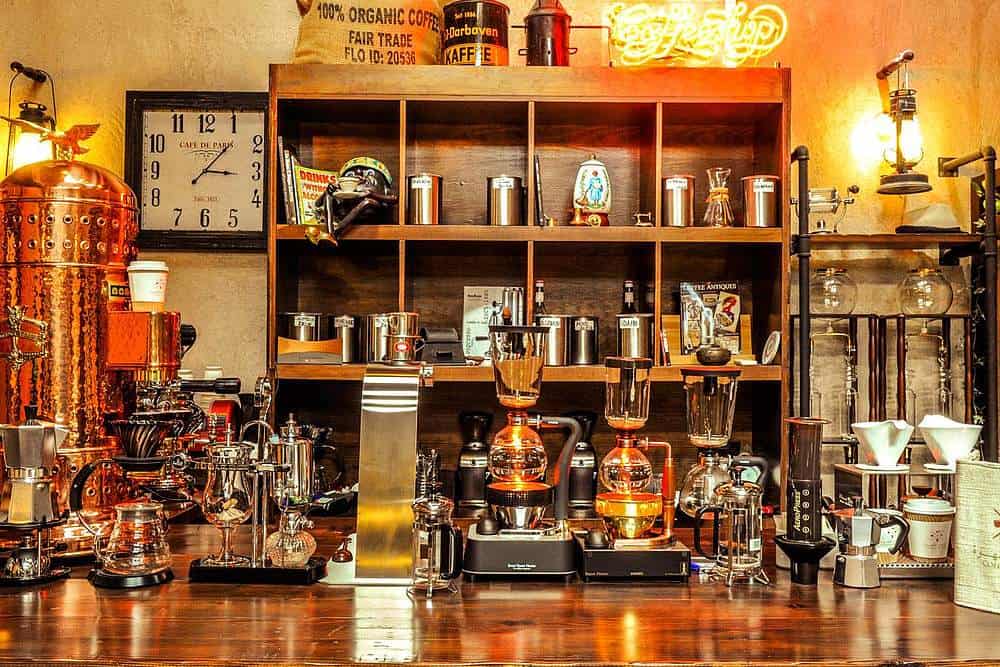 It is also the location of their coffee shop and we think coffee aficionados will enjoy the rustic ambiance and java aroma that permeates throughout the building.
Of course, feel free to order a cup of joe while you take in the atmosphere. Locals also recommend buying one coffee-flavoured popsicle which is just the perfect light meal for the hot summer day.
Admission to visit the museum is FREE and you can visit them almost every day except for Fridays. We definitely recommend stopping in for a tour and drink after you've enjoyed the different restaurants lining the historic neighbourhood of Al Fahidi.
Dubai Summer Surprises – Mall of the Emirates and Others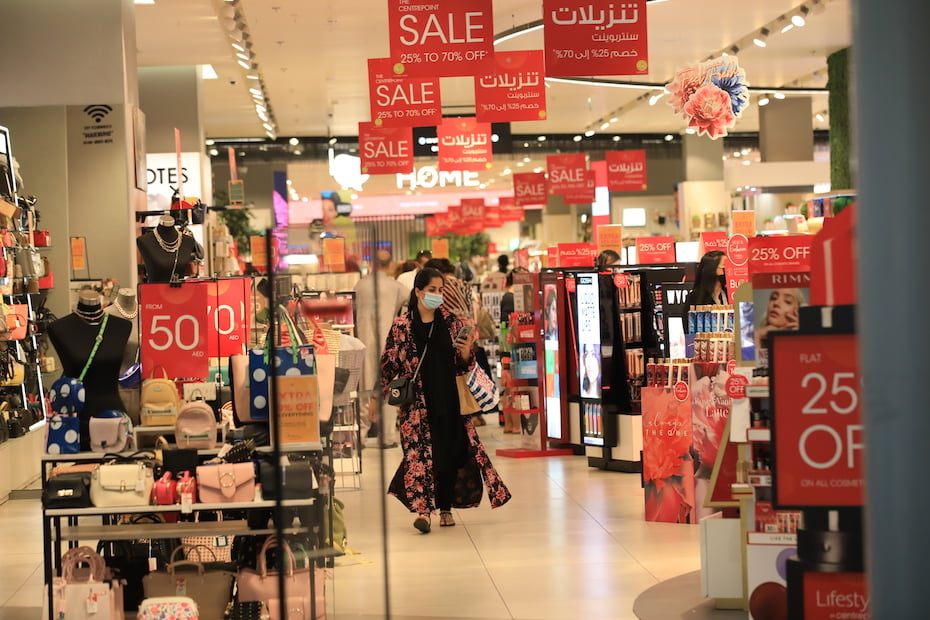 WEBSITE:
https://www.malloftheemirates.com/
ADDRESS:
Sheikh Zayed Rd., Al Barsha, Al Barsha 1, Dubai
OPERATING HOURS:
Mondays - Thursdays: 10:00 AM to 11:00 PM

Fridays - Sundays: 10:00 AM to 12:00 AM

TICKET PRICE:
Free (Shop til you drop~)
Dubai is not known to be a top shopping destination for nothing. While the winter season is generally seen as the best time to go on a big shopping spree in Dubai, their summer sales are nothing to scoff at either.
For one, Dubai is also well-known for its Dubai Summer Surprises; an annual event typically held from July to September across different shopping malls like City Centre Mirdif and the Mall of the Emirates.
You can expect a wide range of fun activities, prizes, and even live entertainment in these locations during the duration of the event. You can even take part in the parades and spot the official Modhesh and Dana mascots across the city.
For most people though, it's generally a good time to just buy souvenirs and gifts from these shopping malls. The 2022 iteration of the event even saw goods get discounts of up to 90% at select retail outlets.
Check out some footage of 2022's Summer Surprises below:
Personally, we think this is a good time to shop for presents for other upcoming holidays like Christmas, especially since winter crowds can be a lot tougher.
In addition to the retail treat, Summer Restaurant Week also takes place around August, giving diners the chance to feast on special courses served by restaurants at discounted prices.
All-in-all, not a bad trade-off for doing the bulk of your shopping activities in the summer rather than the usual winter season.
Are there Benefits to Visiting Dubai during the Summer Months?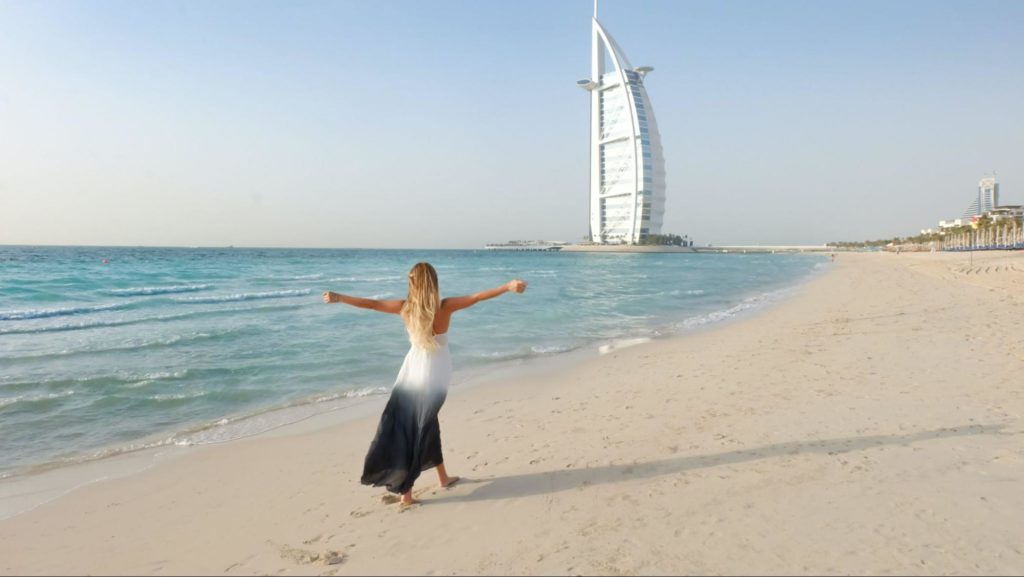 There are a few advantages to visiting Dubai during the summer months of July to September. A lot of it has to do with the fact that this is considered off-season, leading to its own set of benefits:
Cheaper Accommodation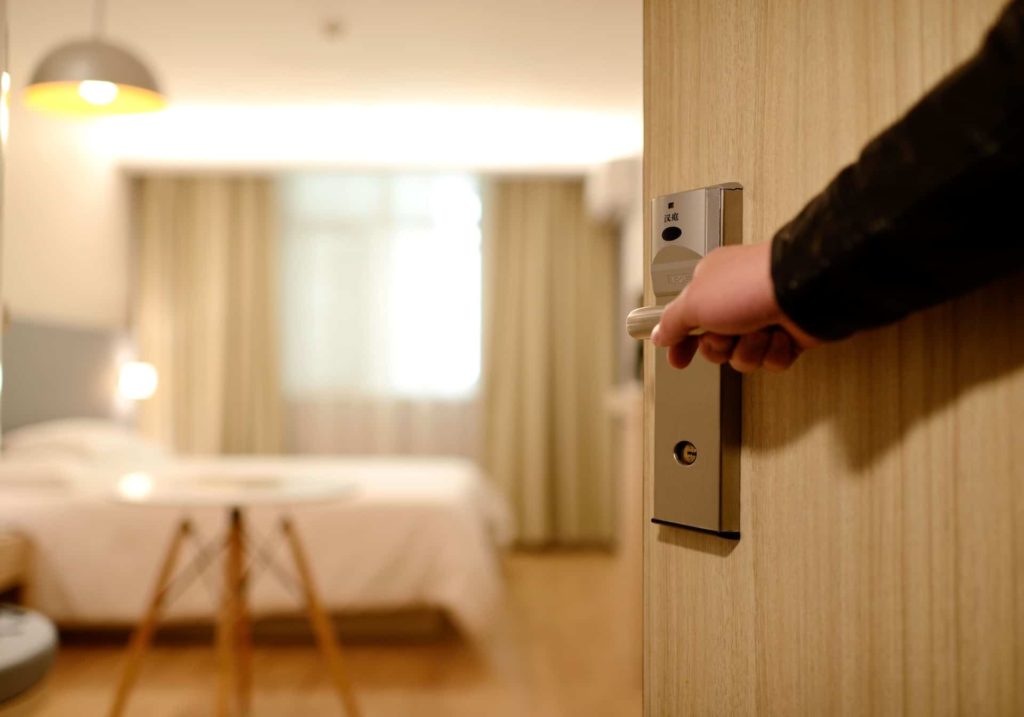 As summer ramps up, a lot of hotel prices drop significantly. So if you've been holding back on splurging on fancy accommodation during your travel, now may be a good time to really let loose on your choice of room.
In addition to reduced prices, some hotels even offer freebies like room upgrades, complimentary spa treatments, and even complimentary meals in order to attract more tourists.
Cheaper Airfare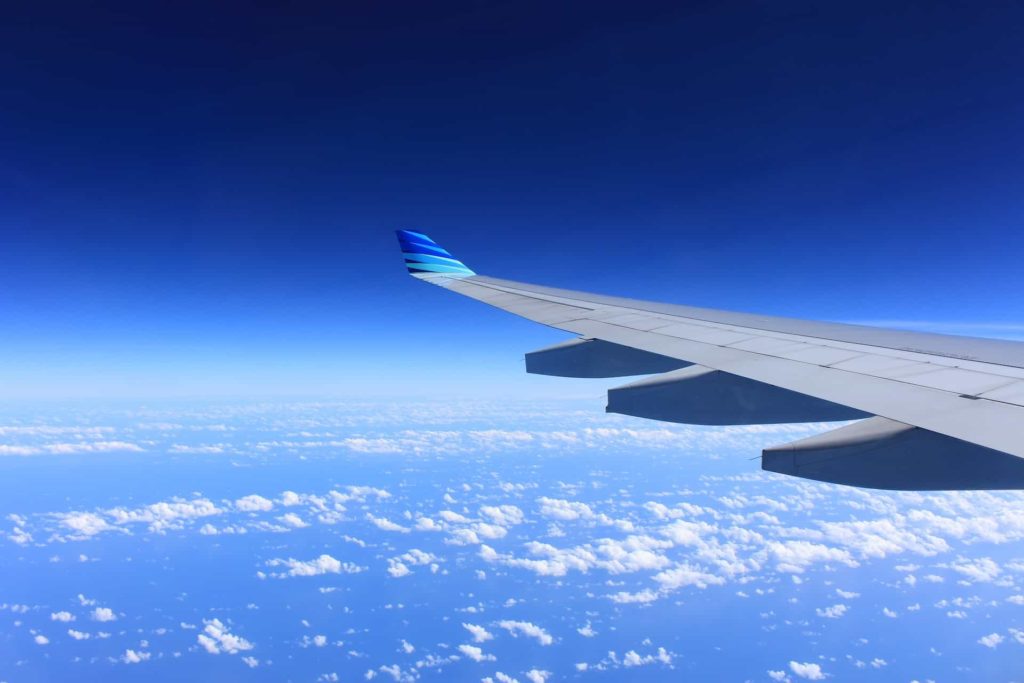 In addition to cheap hotel stays, some airlines also reduce their prices to fly to Dubai from another country. Of course, due diligence in picking the best flights still apply when travelling in the summer months like comparing your options.
The National News reports that the last week of July is one of the best times to fly out, with airfares costing up to 8% cheaper than usual. It fluctuates a bit depending on the time of week it lands but it is usually preferred to travelling at the start of July.
You'll also be able to catch the ongoing Summer Surprises this way too, since it runs all the way to September.
Smaller Crowds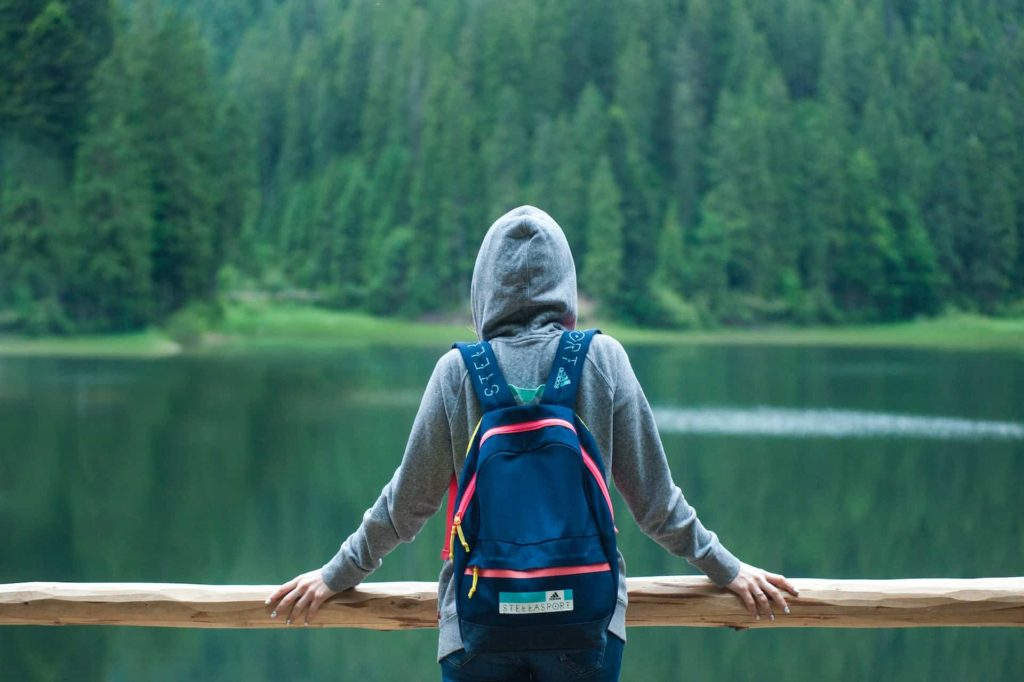 In a bit of a reversal, the usual crowds at Dubai typically thin out during the summer months. For locals, this is often the time when they travel to other countries in order to beat the summer heat.
So when you go to the activities and attractions you want to visit, you will experience less time waiting in lines and more time actually enjoying yourself.
Of course, there's also some downsides to this. For example, some attractions like the Dubai Safari tend to be closed down during peak summer months.
You'll have to get creative and actually take this chance to go exploring places you probably haven't visited much yet. And speaking of creativity:
More Opportunity for Photos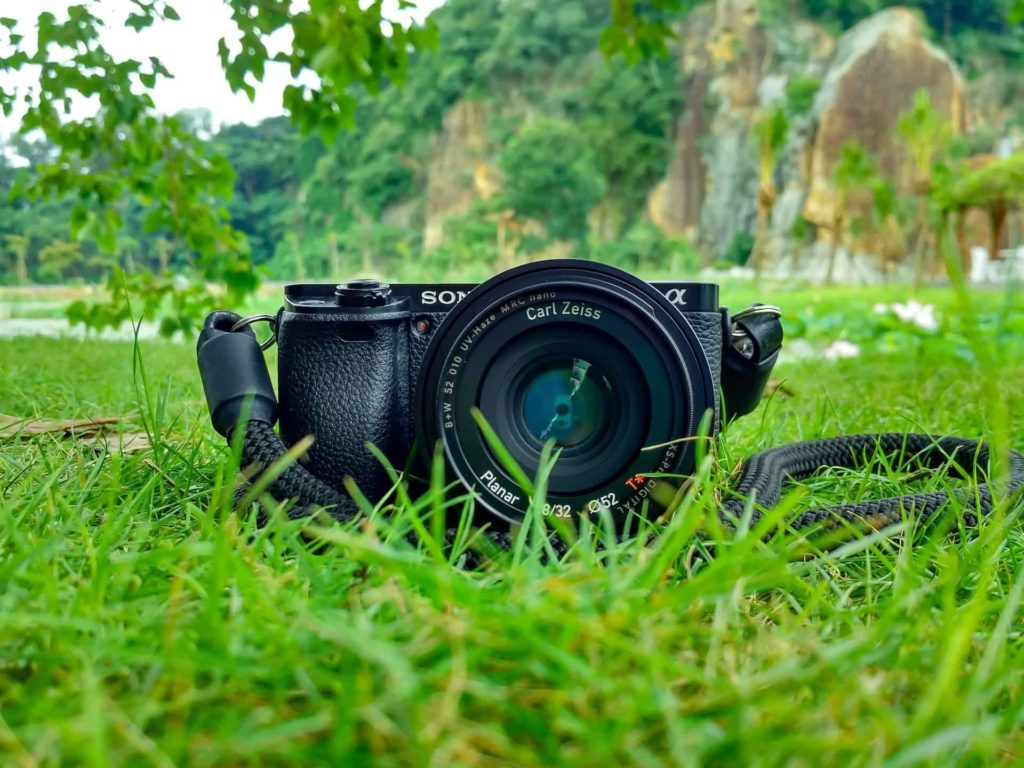 Less tourists means less lines around popular destinations and attractions. This can be a big boon for people who love to take professional photos or for those who may just like sharing their adventures on social media.
And while Dubai's weather can be very consistent which leads to less variety in terms of temperature, it might be a very good time to take dazzling photos of the cityscape without the usual hustle of the tourists going around.
So if you're travelling off-season, it might be a good time to finally dust off that DSLR camera or even just your phone camera and take your time to really compose a shot you might like.
---
With its wealth of attractions, amenities, and world-class facilities, Dubai is definitely a destination you can enjoy any time of the year. There's always excitement to be found wherever you look within the city.
So if you're able to brave the heat, then we do recommend checking out some of the best attractions the city has to offer. Stay safe and take care though and we'll see you in the next summer months!