Checking out the Best Laser Tag Venues in Dubai
Ever wondered what it's like to fight aliens out in space? Well, while you can't have that experience in real life yet, you can have the next best thing: laser tag.
Laser tag is a great way to spend some time with your friends! And you're in luck because Dubai is a great place for you to do just that.

Let's check them out!
Laserdrome
SOCIAL MEDIA
Instagram
LOCATION
26VQ+V5W Motor City, Dubai
OPERATING HOURS
Mondays - Sundays: 9:00 AM to 11:00 PM
ESTIMATED PRICE
Annual Registration Fee of AED 11

Session Price: AED 65 - AED 160
The Dubai Autodrome is one of the first, fully-integrated entertainment facilities in the UAE. Additionally, it also boasts the massive, 400 square metre Laser Tag arena perfect for people aged 7 and up.
The venue can accommodate up to ten players, with five people playing in one team. When ready, the combatants enter a cool and glowing Medieval-esque maze giving both teams plenty of cover and vantage points to exploit.
Ambiance at the actual centre is quite cool as well. The dark areas really do give off some suspense and tension as you strike your targets like you're in a secret covert operation.
There's no need to worry about the atmosphere either. The arena is air-conditioned so feel free to wear some dark attire in order to really make use of the environment.
Laserdrome prices start at AED 65 to AED 160 on top of the annual registration fee. However, you can get in touch with them if you wish to book the venue for a corporate team-building event or a kid's birthday party.
Also, remember that you can make reservations online up to 48 hours in advance, adding to the convenience.
How to Get to Dubai Autodrome (Laserdrome)
Visitors hoping to play a round of laser tag at the Laserdrome may reach it starting from the Thomson Reuters Building– at the Royal Mirage Hotel, they may wait for a bus at Quoz, Al Khail Gate 1 stop.
From there, ride to Classic Crystal – 02 and transfer to the Mall of Emirates Metro Bus Stop to take a bus ride to Studio City, Operation Office – 02. Walking to Dubai Autodrome, Laserdrome is located in their Indoor Kartdrome complex. 
Things to Do around Dubai Autodrome
If you don't mind staying in just one place, there's plenty of other events to enjoy at the Autodrome than just laser tag. For one, adult drivers can check out all sorts of driving experiences like getting behind the wheel of a Ferrari 488 GT on the track!
Or for a less extreme yet still thrilling experience, you can also try out the indoor karts and race against your friends. The venue also holds different motorsport events if it's something interesting to you.
Check out the Cars Cafe within the venue as well in case you get tired and hungry. Their signature coffee blend and sandwiches are great for filling up before or after a day of fun activities.
Thrill Zone Dubai
| | |
| --- | --- |
| SOCIAL MEDIA | Instagram |
| LOCATION | 3/F Oasis Centre Mall, Sheikh Zayed Road, Dubai |
| OPERATING HOURS | Mondays - Sundays: 10:00 AM to 10:00 PM |
| ESTIMATED PRICE | AED 95 to AED 180 |
First opening in Dubai before expanding to a new location in Abu Dhabi, Thrill Zone offers another interactive and fun activity in the form of their very own laser tag arena in the city.
The venue is quite spacious enough; around 280 square metres in terms of total space. This allows them to open the venue to a group of up to twenty players.
In contrast to the Medieval-themed dark rooms of the arena at Laserdrome, Thrill Zone opts to go even older. This time, you get to hunt your friends or coworkers in a prehistoric jungle where fierce dinosaurs lurk around every corner.
Who knows, you might just make a quick turn and find yourself coming face to face with a fierce velociraptor! Scary!
Aside from that, their themed arena is also boosted with UV lights, futuristic techno music, and even a few fog machines to really up the park's atmosphere.
Corporations can book the place for their own team-building events, and they also have packages for kid's birthdays where they can help set up the place for the best experience. They can even lay out tables for eating after the games.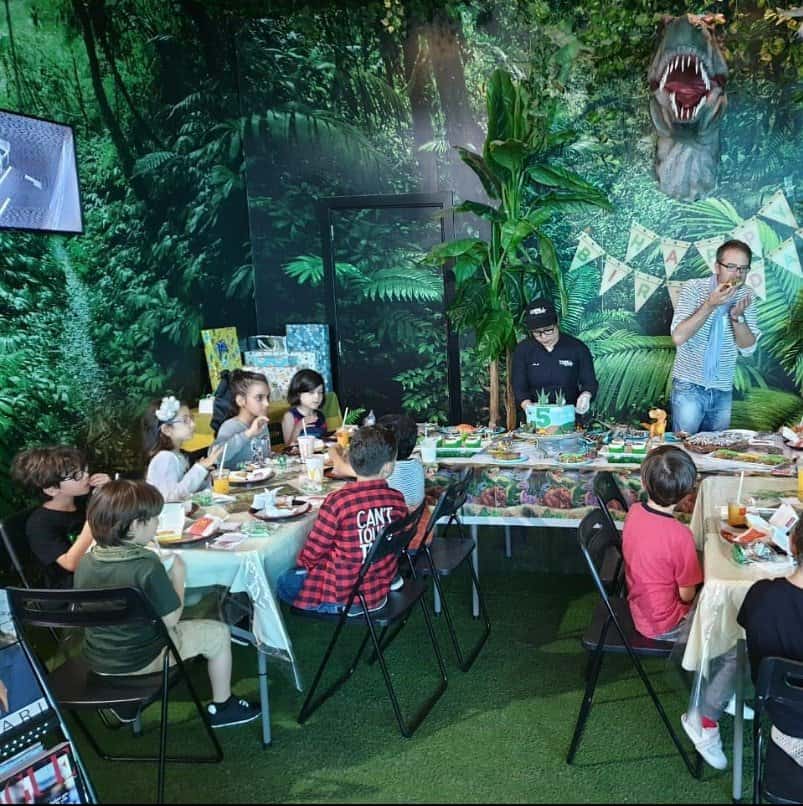 Prices start at AED 95 going up to AED 180 per person or package. So if you're near the area and are looking for something fun to do with some friends, then we definitely recommend checking out Thrill Zone in Dubai.
How to Get to Thrill Zone Dubai
From the Palm Strip Mall, visitors may take a bus at either the Lulu Village bus stop or the Deira City Center Bus Station to ride for Al Jafiliya Landside Metro Bus Stop -1.
After walking to the Al Jafiliya Bus Station, they may then take another bus at Al Quoz Bus Station, riding to Al Quoz Bus Station – 05 to transfer to the Gold Souq Bus Station, which can take them directly to the Oasis Center.
Thrill Zone is on the third level of the Oasis Mall.
Things to Do around Thrill Zone Dubai
Aside from their Jurassic Laser Tag, you can also check out Thrill Zone's 6D Cinema. It's basically an interactive, virtual roller coaster ride that has you going through a virtual ride complete with chair movement as well as wind, rain, and fog effects.
Additionally, adults can explore the Oasis Mall as well, checking out the different dining spots, shopping spaces, and even wellness spas within the place after the kids have had their fun.
XStrike
SOCIAL MEDIA
Instagram
LOCATION
6A St., Al Quoz, Industrial Area 1, Dubai
OPERATING HOURS
Mondays - Thursdays: 3:00 PM to 12:00 AM

Fridays: 1:30 PM to 12:00 AM

Saturdays - Sundays: 10:00 AM to 12:00 AM

ESTIMATED PRICE
Tickets start at AED 89
Powered by iCombat USA, a well-known laser tag gun designer, XStrike aims to be a more competitive combat simulation tag for a slightly older, more gaming-oriented crowd here in Dubai.
Compared to the other themes, XStrike seems to shoot for a more "gritty" military-esque aesthetic, and this reflects on their equipment design and play environments. Fans of games like Call of Duty might enjoy this look in our opinion.
Customization is definitely the name of the game here at XStrike, and this reflects on their different mission modes and equipment as well.
For example, you can try out the "Hell's Bell" game mode where your team and the enemy team try to land the most hits on a bell hoisted up high before the time runs out.
Alternatively, you can also try out the "Juggernaut" game mode where a team chooses a player to become a valuable asset that the entire team must protect like the VIP challenge in Counter Strike: Global Offensive.
Tickets start at AED 89 though you can also pay for upgrades to your gear such as advanced red dot sights for a more accurate shot at your opponent's body.
XStrike definitely mimics the feel of real-life video games. As such, we think older, gaming-oriented guests will have plenty of fun competing against each other here!
How to Get to Xtrike
Xstrike is easily accessed from the Oasis Mall. On the 2nd interchange on Sheikh Zayed Rd, visitors driving may head northeast before turning left at 43 A St.
From 4th Street, drive to 315th Rd/Al Waha St and then take the First Al Khail St. to 17th St– where Xstrike is located on 6A St, Al Quoz Industrial Area 1
Things to Do around XStrike
Surprisingly, XStrike is in a spot with other distinct attractions to check out as well. For example, you can head on over to the Just Play Sports Complex if you want to play non-combat competitive sports like football after a round.
There's also woo-hoo!, a sprawling indoor kid's museum for the little ones who may not fit as well with the more militaristic theme of Xstrike. The museum runs different interactive programs meant to teach them things like art and math in a fun way.
Xtreme Laser Tag
SOCIAL MEDIA
Instagram
LOCATION
J3 Mall - Al Wasl Road, Dubai
OPERATING HOURS
Mondays - Thursdays: 9:00 AM to 8:00 PM

Fridays - Sundays: 9:00 AM to 9:00 PM

ESTIMATED PRICE
AED 59 to AED 159 per person
Looking to provide a high-tech atmosphere and gaming arena in Dubai, Xtreme Laser Tag positions itself as a fun activity centre for kid's celebrations, corporate team building, and even just regular fun days.
They immediately sell the atmosphere by ushering in the competitors into an 'airlock' complete with glowing LED lights. They're then greeted by a reasonably big field with obstacles and cover like towers, blocks, and partitions.
The environment also blasts all sorts of sounds and lighting effects, providing a little bit of challenge as the lights can suddenly give away your position to your competitor.
Xtreme Laser Tag has three popular game modes: Solo, All Against All, and Team-based games. There's also the 'Flag' game mode which does offer a novel challenge at the venue.
Based on our experience, 'Human Flags' can be quite a fun way to unwind with colleagues as your team tries to reach the opposing team's base in order to drop the flag and score a point.
It's definitely a different experience than just blasting your 'phasers', as Xtreme Laser Tag calls them, at the opposing team. We found ourselves having a lot of fun coming up with fun ways to sneak an ally into the enemy base.
Prices start at AED 59 per person, going up to AED 159 for four consecutive games. Not a bad price for an hour of fun while visiting here in Dubai.
How to Get to Xtreme Laser Tag
Starting from the Jumeirah Beach Residence Bus Station 2 at Hilton Dubai Jumeirah, visitors hoping to play may first ride a bus from Quoz, Al Khail Gate 1 to Al Barsha A – 02.
Transferring over to Ghubaiba Bus Station to take a bus ride to Wasl, Road 6 – 02, J3 Mall is only a 2 minute walk away, where the Xtreme Laser Tag game is located on the 2nd floor.
Things to Do around Xtreme Laser Tag
Being located at the J3 Mall in Al Wasl Road, you can check out the other shops and stalls inside the venue. For example, DUFLIX is a popular game store while Shiny Petals is a nice clothing store to buy your wife or girlfriend some new fashion.
Just a couple of blocks away from the mall, you can also visit Cinema Paradiso; a popular outdoor movie theatre in the area if you're interested in watching some nice classics under the setting sun or the evening stars.
How is Laser Tag Played?
Laser tag is a player-versus-player (PVP) activity that requires at least two people in order to play. The objective is to shoot your opponent with the laser in order to score.
The team with the highest number of points after a session, is declared the winner of the round. Each session can last for a few minutes up to fifteen minutes depending on how well each team performs.
What kind of equipment does Laser Tag need?
Equipment is key to how laser tag works. Players are given a laser gun that's attached to a vest with sensors that you have to wear during the game.
Players earn their points by pointing at the sensors on the opponent's vest and shooting them with their laser tag gun. If a player is shot, they can't be shot again nor can they shoot other players for a few seconds, effectively stunning them.
Apart from these, which are usually provided by the venue, there's no other special equipment needed. Just remember to wear closed-toe shoes to avoid injuries and of course, darker clothing so you become harder to hit.
Are there any rules I have to follow while inside a Laser Tag course?
Yes. First, players are discouraged from making physical contact with other players since the venue is quite dark.
Most venues also discourage players from running as well as laying down on the venue in order to avoid any injuries from occuring (though crouching behind obstacles is fine).
Lastly, players should not cover the sensors on their vests since that's technically cheating.
Is Laser Tag safe?
Yes, laser tag should be quite safe. The light coming out of the equipment should not be harmful to your eyes or vision even in the long-term.
However, do avoid pointing it directly at another player's eyes during the game. After all, the target is on the vest, not at the head.
---
While playing FPS video games at home can be fun, experiencing the thrill in real life can be a worthwhile experience as well. After all, it's nice to stretch your legs and get out every once in a while.
So do you fancy a game of laser tag with friends? Make sure to check out our list of other things to do here in Dubai, such as our article on the best water activities here.